Introducing x-runner mobile system (piloting in Lima, Peru)
38.7k views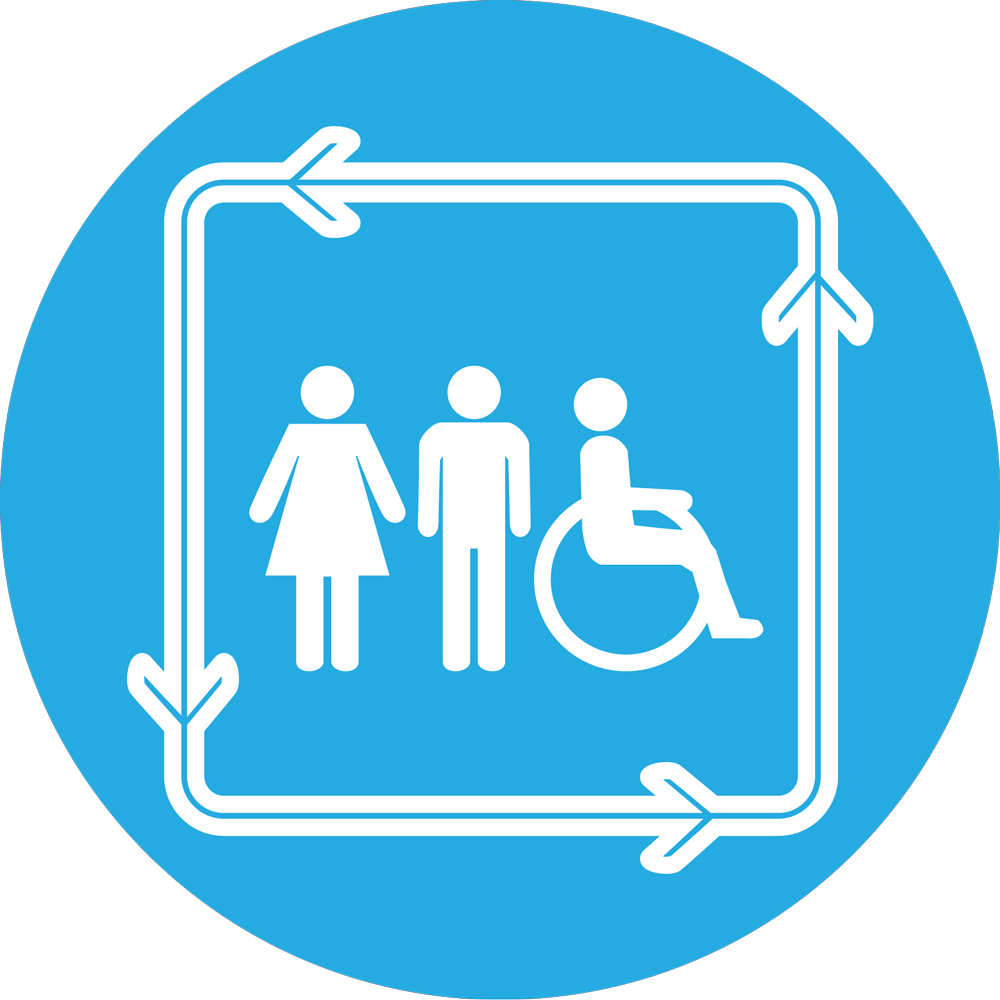 Re: Introducing x-runner mobile system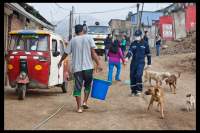 29 Sep 2013 16:38
#5801
by

Jessixr
Dear Elisabeth

Thank you very much for your "Like" and for bringing the CGC voting to or attention. We weren't informed that the online voting is open - and you might have saved us from missing out on many votes!

The GCC is, similar as the Gates Challenges, highlighting a certain topic every year and solicits application therefore. This year it was in the sector of health and one of the sub-categories was water and sanitation.
Jessica Altenburger | Lima |

This email address is being protected from spambots. You need JavaScript enabled to view it.
You need to login to reply
Re: Introducing x-runner mobile system
28 Sep 2013 20:52
#5798
by

Elisabeth
Dear Jessica,
Someone else mentioned on the forum the Grand Challenges in Health competition from Canada (seems to be
unrelated
to the Bill & Melinda Gates Foundation "Grand Challenges Exploration" grants (?)).
When filtering for sanitation, I spotted the 2 minute video of your project with the mobile toilets in Lima (with 40 families now?). Very nice video, very interesting and only few likes to far. So I "liked" it and maybe if you tell us more about this competition and why you entered it, more people with "like" your project?
The video is here:
applications.grandchallenges.ca/en/viewV...5E6AA1EC37B5483C6D34
Good luck with it all!
Regards,
Elisabeth
P.S. Finally I know what you look like, Jessica - since your profile photo is only of a toilet.

You need to login to reply
Re: Introducing x-runner mobile system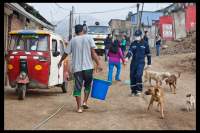 06 May 2013 16:28
#4338
by

Jessixr
2. Financial analysis.
We charge 25 Soles (approx. 10$) a month for our pick-up service. This might seems like a lot, but is aligned with other services our customers use and in our surveys the price has been rated satisfactory. Older systems such as pit latrines (there are no public toilets) have been proven to have a very high installation costs: at times 800- 1000 Soles and then they also have to be either emptied or closed again, which also has its costs. Bucket toilets do not have any direct costs. It has to be understood here that our families really see the toilet as an upgrade in their lives and as a clear improvement of their housing. They say that the fact alone that they have a reliable toilet and a reliable service brings great ease of mind to their lives.
We need 500 households to achieve a service break-even.

Compost: We are just conducting a study about the composting landscape in Lima together with an engineer from the Agraria University. Lima has a very high need for compost since it is all desert. Many municipalities, parks and gardening companies here produce and use their own compost. There are also many companies that buy compost in very large quantities. We are just re-calculating some of our costs regarding the compost, so unfortunately also here I cannot give you a full answer at this point.
Jessica Altenburger | Lima |

This email address is being protected from spambots. You need JavaScript enabled to view it.
You need to login to reply
Re: Introducing x-runner mobile system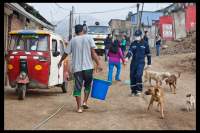 06 May 2013 15:38
#4336
by

Jessixr
Dear Ben
Thank you for your questions. I will try to answer as many of them as possible.

Evolution of the design.
Our initial design, the rollable-mix-it-all toilet was designed for squatting and for the Indian market. It was a great concept, but proofed then in testing that there were too many difficulties with it, such as right kind of material, emptying, cleaning, and smell.
It was clear, that when we changed geographies that we would have to start over again. And so we did. But in Lima we decided to involve the users much more in the development process (not only in design research) and that's why we also went through so many versions: Our customers come back to us and give us feedback on how they want things differently and how we can improve. We listen to them and try to implement the changes as good as possible. The toilet changed from squatting to sitting solely for cultural/habitual reasons.

About the transportation of the feces.
We actually started a new logistic system that we tested with 10 families and that has proven to be quite successful: We asked families to bring their buckets by themselves to collection points (you can read more about it in our newsletter) in order to allow them a more flexible timeplan to replace the bucket.

We have been communicating with Cleanteam Ghana over the past 2 years and both parties have exchanged many of our experiences. Both projects are now at a stage where we can really compare results of our testing. However, we are still in an ongoing conversation and we might be able to jointly share some insights later on.
Jessica Altenburger | Lima |

This email address is being protected from spambots. You need JavaScript enabled to view it.
You need to login to reply
Re: Introducing x-runner mobile system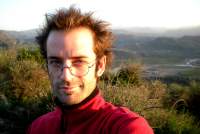 06 May 2013 10:16
#4332
by

ben
Dear all x-runner team,
Thank you very much for sharing news from this thrilling project. First of all, congratulation on this implementation, I bet you're very excited about the gradual scaling up your project is taking, I wish you the best for all the oncoming upgrades your project will get.
I've been following your work from the beginning and I'd like to ask you a couple of questions.

1. Evolution of the design.

What made you do an evolution from your initial design, which was on paper amazing, with the rolling drum and people bringing it themselves to the treatment plant. Was it sociological or technical barriers that made you go toward a chair toilet rather than a stand version? Was it unrealistic to ask people to transport it to the treatment plant?
Did you communicate yet with WSUP to compare dry systems like yours (necessity of ventilation, necessity to clean more often?, price of saw dust, lighter to carry, etc … ) with the ghanasan WSUP design (liquid system more expensive, maybe more appealing, longer time between cleaning?, heavier to carry, etc …). I would be thrilled to hear from you what you estimate being the pros and cons of both systems.

2. Financial analysis.

I would be extremely interested to see the financial analysis of the Mosan and Ghanasan project, still not available. Would you share with us the financial set-up of your project, like what are your projections of Capex / Opex? For how many house the system starts to be viable? How much cost the service compared with the average household income? What is the price difference between this nice services compared with the cost of old habits (i.e. public toilets etc…)? Is compost a rare good in Lima and therefore can be saleable for a good price, what does it represent in your balance sheet? Can the compost sales at least cover the treatment price, or can it even pay a bit of transportation too? Did you think of collecting all the household organic wastes in order to increase your compost production?
I know this is always a bit complicated to communicate figures of an ongoing project, but so far I haven't seen rough estimates of financial set ups for urban sanitation services.
Thanks a lot for what you shared already and I don't want to push too far your generosity, it's just that I'm very very curious to see if these systems can one day be stamped as "sustainable" being financially viable without constant subsidies inputs.

Good luck for you all,

Ben
The following user(s) like this post:
Elisabeth
,
franckconcern
You need to login to reply
Re: Introducing x-runner mobile system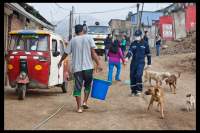 05 May 2013 16:11
#4321
by

Jessixr
I forgot to attach our latest newsletter!
This attachment is hidden for guests.
Please log in or register to see it.
Jessica Altenburger | Lima |

This email address is being protected from spambots. You need JavaScript enabled to view it.
This message has an attachment file.
Please log in or register to see it.
You need to login to reply
Introducing x-runner mobile system (piloting in Lima, Peru)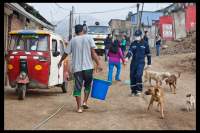 05 May 2013 15:52
#4320
by

Jessixr
Hello everybody
I would like to share some material and information on our x-runner sanitation project in Lima. (Thanks Elisabeth for the encouragement). We are just working on some new documents/plans and I will share more as soon as possible. We are also working on a new design with integrated sawdust flush and I hope to share soon some pictures and receive some feedback from you!
Also we are very active on
Facebook
where you can find many more pictures and videos.
Here again a quick overview:
X-runner brings waterless toilets and a weekly poop collection service to families that do not have toilets.
The x-runner toilets have been created with the customers for the customers: We use the urine-diverting principle and use sawdust (which is widely available in Lima) as cover material.
X-runner's customers subscribe for a monthly fee to the poop pick-up service that replaces the families' full toilet waste buckets with clean ones. The full containers are then transported to the x-runner service hub where the buckets are emptied and the content is treated through composting. The used buckets are cleaned and disinfected for future service rounds. The water that we use for cleaning we then filter and re-use it to irrigate our compost and our plants.
Here is our Video from October 2012:
Here is our latest
brochure
Our
first
and our
current
toilet models:
Jessica Altenburger | Lima |

This email address is being protected from spambots. You need JavaScript enabled to view it.
The following user(s) like this post:
RodrigoBIS
You need to login to reply
Time to create page: 0.247 seconds
DONATE HERE