An Alternative to the Pit Latrine - based on a barrel
8466 views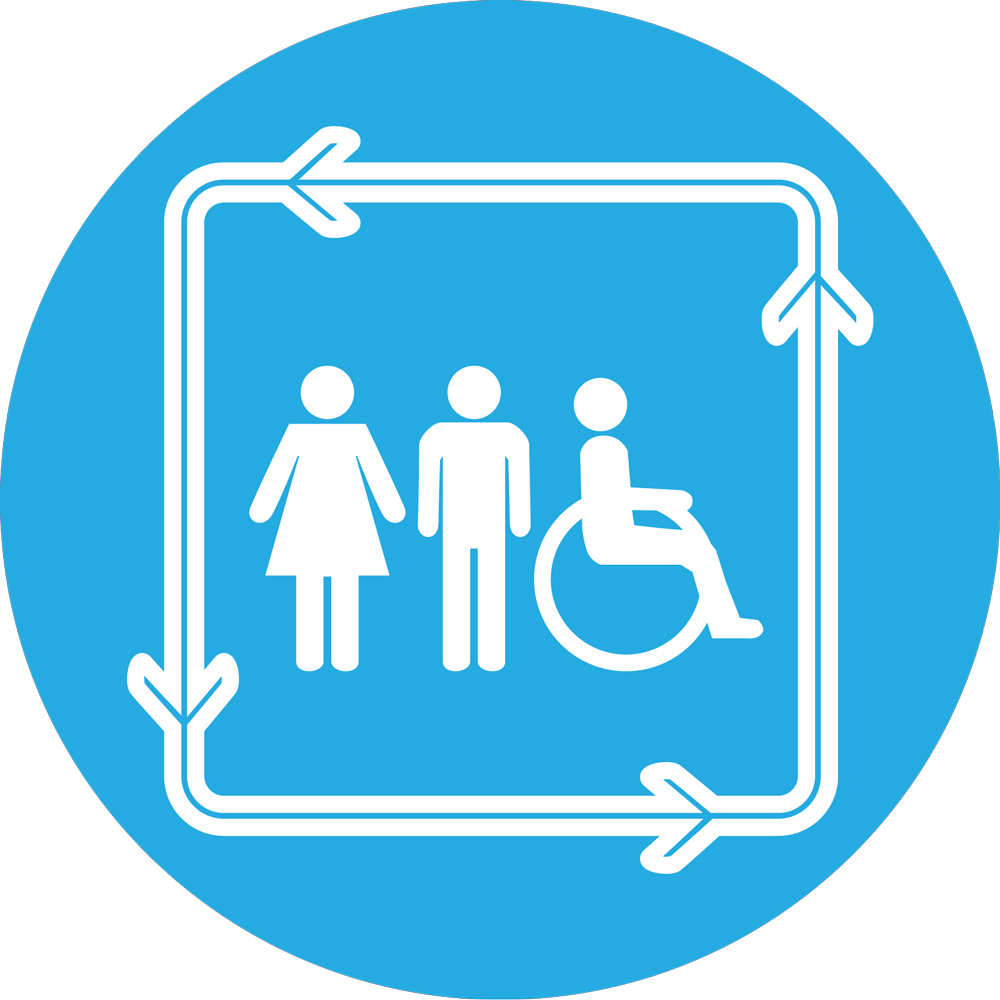 Re: An Alternative to the Pit Latrine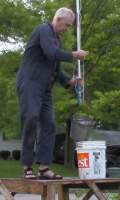 07 May 2017 18:44
#21465
by

dandreatta
This is somewhat of a reposting of a previous post, but I've learned that not everyone saw my original post. Apparently people who get daily updates didn't get the original post, but people who get semi-weekly updates did. I've added some new content to pique people's interest.
This is an alternative to the simple pit latrine, It uses a barrel on its side, then the barrel is emptied by one of two means. The simplest version just has a spout, into which the contents of the barrel can be poured. The more complex version has a flexible tube attached to the barrel, which can server as part of a VIP style chimney, and as the barrel emptying method. Either method is neat and tidy.
The best way to show the system is the following video:
and I've attached a few still from the video below.
I expect this system will work well in places with a high water table or flooding, since it is a sealed container above ground level. I expect this will work well in places with loose soil, where an unlined pit latrine would collapse. I expect this would work well in places where sanitation must be set up in a hurry, and leftover barrels from some other task could be pressed into service. Perhaps a refugee camp? Of course, some organizational system must be in place to empty the barrel and transport the sludge away.
One person asked about the liquidity of the barrel contents. If it's a combination of urine and feces, it will be liquid enough to pour. Trash will flow easily through the large openings. Any flush water will make the content even more liquid. I would think this will not work with a composting or urine diverting toilet.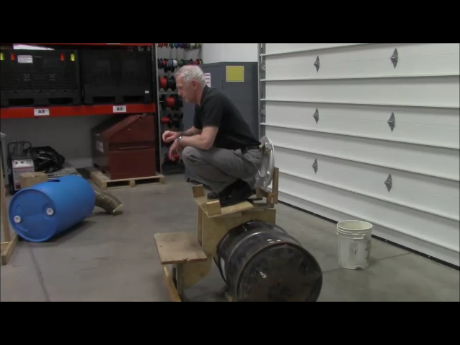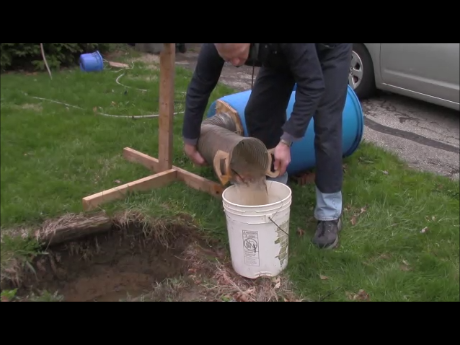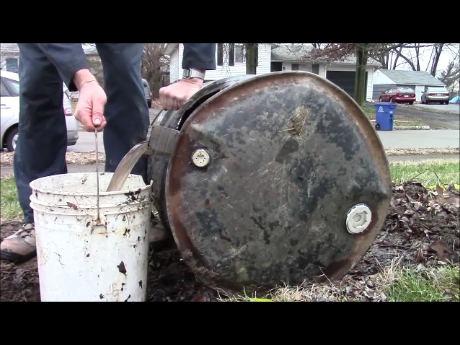 Thanks,
Dale Andreatta
Dale Andreatta, Ph.D., P.E.
Mechanical Engineer
You need to login to reply
Re: An Alternative to the Pit Latrine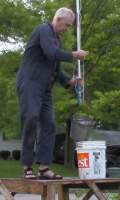 18 Apr 2017 19:21
#21274
by

dandreatta
Thanks to all for the interest and the good questions. I'll reply:

Regarding JKMakowka's question, the barrel idea would not work with a urine diverting toilet, but a mixture of urine and feces (and trash) should be liquid enough to flow. In every photo or video I've ever seen with pit latrine contents coming out of a pumper truck, or coming out of a gulper, or being dipped in a bucket, the contents have seemed pretty liquid. My own "shit-in-a-bucket-and-see-what-happens" tests support this, that a typical mixture of urine and feces is very liquid.

A pour flush latrine would probably not be a good match for the barrel. While the content of the barrel would be very liquid, it would need to be emptied very often. A microflush toilet might be a good match.

Downstream of the latrine, I was thinking the disposal issue would at least be no worse than the current situation.

Regarding Godwin's observation, yes, I was thinking that this might be good for emergency situations where you have lots of people and only time to set up a few latrines. If that emergency situation is a flood, so much the better because this system is above ground. And if you are sending in barrels of something like fuel, you can reuse the barrel.

You could keep the barrel stationary and have the flexible tube at the bottom (or add a flexible tube to the bottom of any above-ground latrine). The possible problem is that it's not easy to make the flexible tube connection free of leaks, at least not without special fittings. It took me several tries to get the connection almost free of leaks (just a few drops).

Regarding Elisabeth's questions, the difference that I see between this and a container based sanitation service is the size of the container. A bucket container serves a family for a week or less, and that might be a better option for a family. This device could provide several hundred people-days of service. In a refugee camp or heavy urban setting there could be 100 or more people using a single barrel and it would need to be emptied every day or two. Of course, some organization with responsible people would need to be involved to empty the barrel. Would it be simpler to just employ people to empty every barrel every day vs. deciding when or when not to empty larger pits? That would take a decision point out of the process.

The barrel is not transported, it is only rolled.

No one asked this specifically, but yes, some maintenance of the system is required, both to clean the wooden structure and to empty the barrel and dispose of its contents. In general, I think low-capital high-labor solutions are more workable, and this idea is designed with that in mind. I envision that 2 men with a cart and a bunch of 5-gallon buckets with lids would empty each barrel every day or two and hopefully have a good way to dispose of the contents. Perhaps a burial pit where the water table is low or a trunk sewer line in an urban area. Obviously the details would depend on the local situation.
Dale Andreatta, Ph.D., P.E.
Mechanical Engineer
You need to login to reply
Re: An Alternative to the Pit Latrine
17 Apr 2017 20:50
#21260
by

Elisabeth
Thanks for your forum post and video, Dale.
Your proposal resembles to me a heavier version than the so-called
container-based sanitation
systems (see here on Wikipedia:
en.wikipedia.org/wiki/Container-based_sanitation
or see here on the Forum:
forum.susana.org/component/kunena/253-mo...ts-bag-based-toilets
).
Do you see it the same way, too, or do you see fundamental differences?
I would be a little bit concerned that your barrel would get too heavy for transport. Also it is not clear where all the water would come from, are you planning this for a pour-flush toilet?
You need to login to reply
Re: An Alternative to the Pit Latrine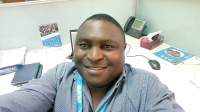 15 Apr 2017 18:21
#21247
by

Godwin
Excellent idea. Sounds like it's good for emergency situations! the only concern would be the handling and disposal of faecal material. Wondering whether it could work if I I keep the barrel stationed and install a fixed conveyor pipe for an offset pit say 10 metres away..
WASH Specialist - Consultant
You need to login to reply
Re: An Alternative to the Pit Latrine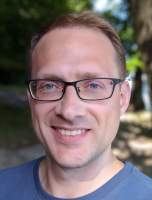 15 Apr 2017 06:51
#21242
by

JKMakowka
The idea of rolling the drum to empty it is interesting, but relatively dry "pit latrine" contents with little or no flush water will probably be difficult to empty this way. I also see some difficulties in making such a design fly proof to prevent vector breeding.

Last but not least, a replaceable container is likely safer to handle in the downstream treatment chain.
You need to login to reply
An Alternative to the Pit Latrine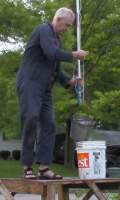 14 Apr 2017 19:27
#21241
by

dandreatta
The simple pit latrine works well in many situations, but it doesn't work so well in places with:
High water table
Flooding
Soft soil (unless the latrine is lined, which increases cost)
An alternative might be based on a barrel. The video given here shows my idea (moving pictures are worth at least 10,000 words, so I'll let the video do the explaining).
In addition to overcoming the above obstacles, this might be a good way to set up sanitation fast in a refugee camp.
Emptying the latrine is easy, so this might be a way to overcome emptying issues. The barrel must be emptied frequently, but it's easy, as seen in the video.
This could be a good fit for a microflush toilet, which could easily be added.
This could also be a good fit for a composting process, with the composting done nearby to minimize transportation of fecal sludge.
Thanks,
Dale Andreatta, Ph.D., P.E.
Dale Andreatta, Ph.D., P.E.
Mechanical Engineer
The following user(s) like this post:
JKMakowka
You need to login to reply
Time to create page: 0.585 seconds
DONATE HERE