Single vault or double vault UDDTs - what are the pros and cons?
4660 views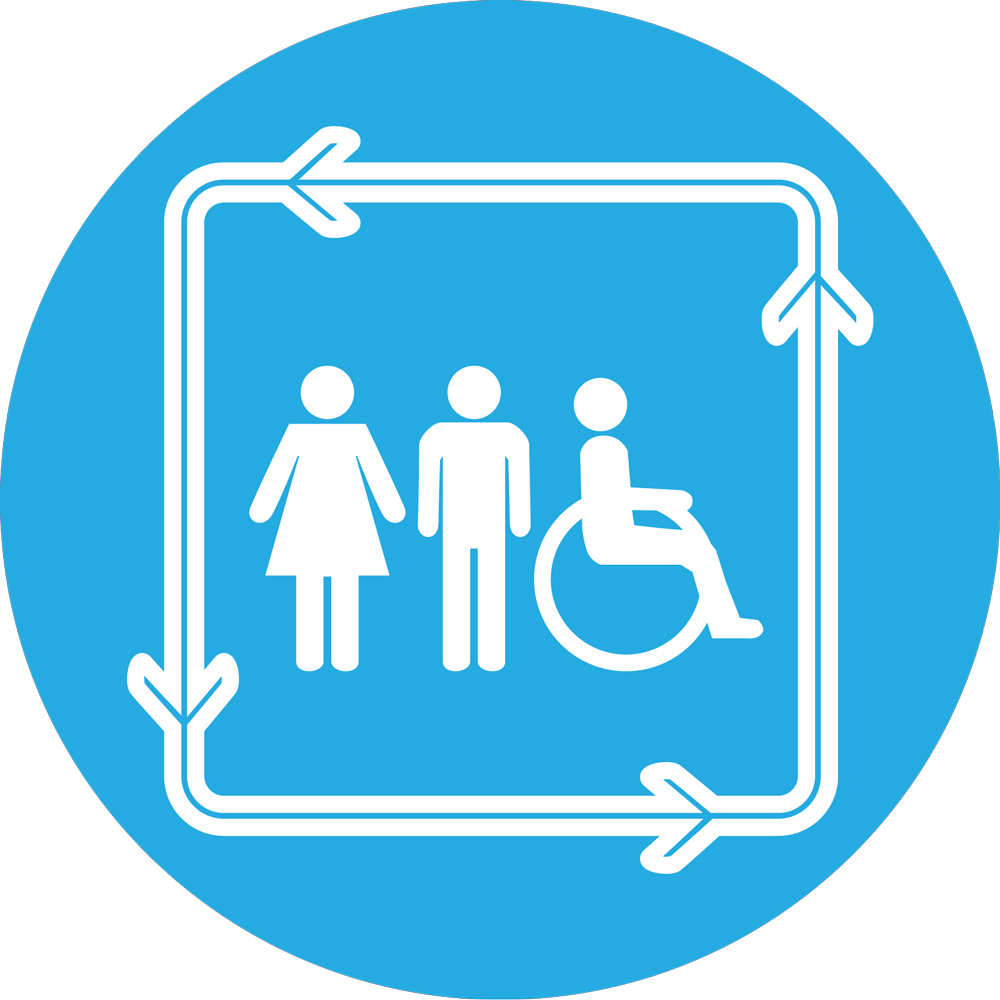 Reply: Review of the new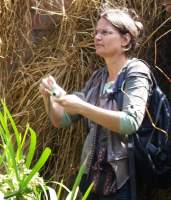 06 Apr 2013 16:52
#4063
by

hoffma
Note by moderator (EvM): The posts below until 22 April 2013 were originally in another thread ( forum.susana.org/forum/categories/34-uri...by-giz-now-published ) but I have moved them here to focus them on the main topic.
+++++++++++++++++
Concerning the single vault- container solution and Chris' question why we didn't mentioned rice sacks.
- First of all; in comparison of the single vault (with recipient) system with a double or twin vault system the main point is not the better ventilation, it is mainly the time factor. The capacity of twin vault systems (2 vaults have together perhaps 1.500 L) compared with a recipient which has to be movable after filling (perhaps 50 L) is incomparable, so it is impossible to achieve the same product, even with the best ventilation.
- On the other hand my experience showed that rice sacks do not offer better ventilation than other recipients. 1) Rice sacks have an extremely dense tissue (the rather small grains of rice should not fall through); 2) Fresh feces clog the tissue and 3) and after first emptying it is not cleanable anymore. Those who accept this for private use, ok - (I find it disgusting) but for an operational concept is it completely unacceptable from a hygienic point of view.
- In operational concepts feces from single vault/container or mobile toilets always need an organized and controlled post-treatment, that why I called it "challenge" – I forgot to mention the largest implantation approach I know for a single vault service concept, it is in Bolivia/ El Alto, where a NGO Sumaj Huasi (
www.susana.org/lang-en/case-studies?view...eitem&type=2&id=1583
) collects weekly barrels from 1.000 households UD-Toilets, to treat and reuse the fecal material and I know another beginning experience from X-Runner in Lima with UD-mobile toilets.
It is extremely important for all these concepts, that the recipients
(containers)
are totally tight and that they can be cleaned. I hope that I could answer all questions. Heike
The following user(s) like this post:
Elisabeth
You need to login to reply
Re: Review of the new UDDT Review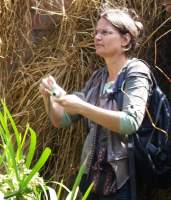 09 Apr 2013 19:36
#4093
by

hoffma
Dear Chris, it seems that we are talking past each other, let me try it again:
1. You can be absolutely sure, that I always and exclusively discuss my own experiences, of course I tried "the option in question" in our own and other UD-toilets. EXPERIENCE: it is no solution to offer IN SCALE because it is not better ventilated and less water proof than other options.
2. Of the 800 UD toilets we have built (in very different climates, environmental- and urbanization situations) perhaps 15 UD toilets are used with recipients (containers). EXPERIENCE: Who began with sacks, is using now barrels or plastic baskets protected with paper. But you are totally right, the UD twin vault system works only for family- or comparable user frequency (as it is commented in the review).
3. You are also right about the fact that twin vault can be changed into container solution (the opposite it is not possible, this is the main reason for us to recommend double vault systems first). We always explain to users the "additional" container option; EXPERIENCE: "common" users are not interested at all to deal once or twice a month with own feces.
I do not have any doubt that you are doing a great job, but the (disgust) level of people is different. Let's think about people, who do not have the choice, who need the UD solution as the only hygienic option, but they may work outside all day or for other reasons do not have time, interest or sense to care about evaporation in 15 stored container (= ONE vault volume) or more. Up scaling means that we cannot stay with every user nor take care of every toilet. Nevertheless we have to ensure, that the whole sanitary system (of 100 or 100.000 UD-toilets) runs safely. The aim of the review was to resume the basis for this, certainly it is not the last word, but it is what we (three authors) can justify in this moment with all the available experiences and contributions. Thank you, Heike
You need to login to reply
Re: Sanergy question on squat plate
19 Apr 2013 09:40
#4192
by

EMu
Dear Elisabeth!

An interesting discussion. One of the main reason, why we (the EcoSan Club Austria) are supporting singe-vault UDDTs with baskets or drums, is the simultaneous support of a collection system. In Arba Minch for example, the collectors come with a donkey cart. They put the jerry cans full of urine and the covered baskets with faeces on the cart and transport the material to the composting site. During the last years, it has appeared that baskets made of local material are rotting very quickly. So normaly our local partners are very innovative and chose what they find appropriate and is locally available.

I will include here some photos from in Arba Minch, Ethiopia.

Kind regards,
elke
DDIin Elke Müllegger
EcoSan Club KG | Austria

E-Mail:

This email address is being protected from spambots. You need JavaScript enabled to view it.
You need to login to reply
Re: Single vault or double vault UDDTs - what are the pros and cons?
22 Apr 2013 08:02
#4201
by

EMu
Dear all,

I have asked by colleague Markus Lechner from the EcoSan Club about his opinion on the double / single vault discussion. Here his comments:

Certainly I do have an opinion on this issue, after all we have given it a lot of thought before discarding two chamber UDDT's as a viable option (the first ones we constructed 15 years ago were 2 chambers):

a) two chamber systems have – obviously – a fixed storage volume. If the number of users exceeds the design limitations – which in practice is frequently the case, sufficient storage period for proper treatment, hygienisation, etc. cannot be guaranteed.

b) a single chamber system with exchangeable storage containers is not the entire system but in our case always accompanied by a secondary storage and treatment area. The advantages are obvious: i. the storage volume is flexible and thus the storage period, ii. drying inside the chamber only might eliminate pathogens but certainly does not stabilise the material, the process cannot easily be controlled so post-treatment will in many cases be required in any case to be on the safe side before reusing (or discarding) the material, iii. handling is much easier and flexible (I am using such a system since almost ten years at home and before changing to a two chamber system I would go for a flush toilet – I have a sewer connection and even pay for it) and fit's the experience from the ROSA project, that acceptance improves by far if emptying can be outsourced.

c) the almost double cost of a two chamber system can in my opinion not be justified by the non-existent advantages.

d) personally I actually see two chamber systems as outdated since many years. In my opinion they are history (or should be).

Actually there is a lot more arguments but I can probably more easily discuss all them personally than start writing a novel at this point.

Best regards,
Markus
DDIin Elke Müllegger
EcoSan Club KG | Austria

E-Mail:

This email address is being protected from spambots. You need JavaScript enabled to view it.
You need to login to reply
Time to create page: 0.240 seconds
DONATE HERE