New "Technology review of UDDTs" by GIZ now published
34.2k views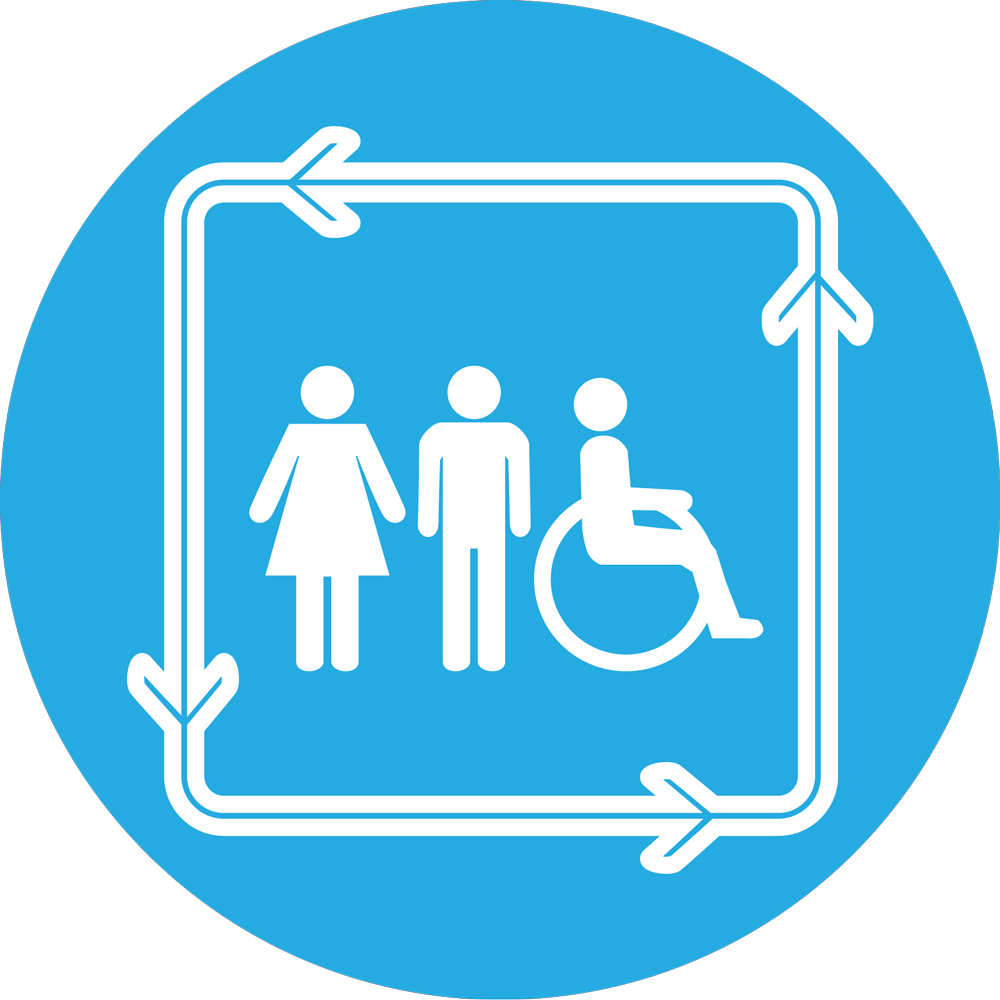 New "Technology review of UDDTs" by GIZ now published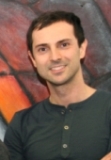 01 Mar 2013 16:56
#3688
by

christian.rieck
(note by moderator (EvM): we had an earlier discussion during the review process of this document here on the forum: forum.susana.org/forum/categories/34-uri...ogy-review-of-uddtsq )
Dear all,
now it is official. I and my co-authors Elisabeth von Münch and Heike Hoffmann have finalised the publication "Technology Review of UDDTs". It is dated Dec. 2012, but it still took sometime to get it printed. Thank you to everybody who was part in it with contributions and quality checking which was essential.
The publication is available on the SuSanA website:
www.susana.org/lang-en/library?view=ccbktypeitem&type=2&id=874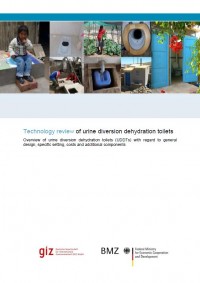 Feel free to comment and give feedback!
Cheers
Christian
GIZ Uganda
Enhanced Water Security and Sanitation (ENWASS)
Sanitation for Millions


This email address is being protected from spambots. You need JavaScript enabled to view it.
The following user(s) like this post:
Elisabeth
,
tmsinnovation
,
joeturner
You need to login to reply
Re: Review of the new "Technology review of UDDTs"
01 Mar 2013 20:27
#3691
by

Elisabeth
Dear all,
I am happy that Christian has now announced that the "Urine-diverting dry toilet (UDDT) Technology Review" is now completed and printed. (I assume hard copies can be requested from GIZ, is that correct, Christian? It would be an e-mail to:
This email address is being protected from spambots. You need JavaScript enabled to view it.
).
It has been a very long, partly frustrating but also enriching process to write this document - took us about 2-3 years since we started.

The document has benefitted tremendously from all the inputs of our co-author Heike Hoffmann (who came in after the first year or two of working on it), a practitioner with heaps of experiences with UDDTs in Peru. At this point a great thank you to Heike for being so patient with us... And secondly it has benefitted from a great number of reviewers (they are listed in the acknowledgement section).
Actually, let me copy the acknowledgements to here because many of the forum contributors were part of this:
Acknowledgements:
We thank all reviewers who have provided substantial inputs namely Chris Buckley, Paul Calvert, Chris Canaday, Linus Dagerskog, Madeleine Fogde, Robert Gensch, Florian Klingel, Elke Müllegger, Charles Niwagaba, Lukas Ulrich, Claudia Wendland and Martina Winker, Trevor Surridge and Anthony Guadagni. We also received useful feedback from David Crosweller, Antoine Delepière, Abdoulaye Fall, Teddy Gounden, Richard Holden, Kamara Innocent, Peter Morgan, Andrea Pain, James Raude, Elmer Sayre, Dorothee Spuhler, Kim Andersson and Moses Wakala.
What makes this technology review unique compared to other documents which speak about UDDTs:
I think we really explained well that a UDDT will not, never, get "complete" pathogen kill and one should not expect that from a UDDT.
A UDDT can but does not have to be operated in conjunction with reuse. Even without reuse, a UDDT can be a very good toilet with plenty of benefits compared to other toilet types.
The differences between single vault and double vault UDDTs, their pros and cons.
Explanations on UDDTs with containers inside the vaults and without.
It is extremely comprehensive, covering all design and O&M aspects in different contexts.
It contains a good section on costs - something with other publications about UDDTs often gloss over or omit completely.
There are actually a couple of discussions going on in the forum right now, where I would like to point out that this document could be useful to you.
Here on the forum you are discussing about
odour from UDDTs
:
forum.susana.org/forum/categories/105-hi...y-urinals-and-others
Please read Section 3.8.3 on
Odour control at the toilet seat, squatting pan or urinal
; and Section 5.4 on
Odour control for piping and storage systems
.
Also interesting in this context should be this Section 3.5 on
Waterless urinals
. (also see in this document which I wrote together with Martina Winker in 2011, there is a whole chapter on waterless urinals with all the details on odour control:
susana.org/lang-en/library/library?view=...peitem&type=2&id=875
)
A note to Joe (Turner) (thank you, by the way, for all your interesting posts of late): you had written here that a UDDT toilet is nothing more than a
bucket toilet
:
forum.susana.org/forum/categories/5-clts...dividual-rights#3538
This particular group has been offered UDDT which are basically buckets for reasons of cost.
This shocked me a bit - a UDDT has nothing in common with a "bucket toilet" (a term that is, by the way, highly politically charged in South Africa and in Namibia due to apartheid legacy where "white people had flush toilets and black people had bucket toilets" (even though it was of course not that clear cut)) - it makes all the difference whether urine is
not diverted
(resulting in a stinky mess!) or whether urine
is diverted
(and the faeces and toilet paper goes into a vault which may or may not have a bucket in the vault) - resulting in a dry, odourless toilet. (NB: I am happy to have this discussion but if we do, let's start a new thread for it. I think when you read this document you will clearly see how a UDDT cannot be called a "bucket toilet" and that it cannot be stamped as "inferior to a flush toilet" and hence as undesirable).
Finally, let me copy here the summary from this document, so that you can see what it is all about:
+++++++++++++++
Technology review of urine-diverting dry toilets (UDDTs)
Overview on design, management, maintenance and costs

This technology review deals with a type of toilet designed specifically for dry excreta management called the urinediverting dry toilet (UDDT). It is a sanitation system for households and public facilities as well. The functional design elements of the UDDT are: source separation of urine and faeces; waterless operation; and ventilated vaults or containers for faeces storage and treatment. UDDTs may be constructed with two adjacent dehydration vaults or one single vault with interchangeable containers.

This publication offers a complete overview of UDDT functions, design considerations, common operation and maintenance issues and generalised installation costs. Its focus is on applications in developing countries and countries in transition, although UDDTs are also applicable in developed countries.

The UDDT technology was originally promoted in connection with safe reuse of excreta. However, the primary focus of UDDT implementation has gradually shifted from that of excreta reuse to the broader objective of creating an odourless, dry and versatile toilet that is applicable across wide range of geographic and economic contexts. Many successful examples of large-scale UDDT programmes, such as those found in Lima, Peru and eThekwini (Durban), South Africa, dispose of treated excreta instead of reusing it, as it is considered more practical, convenient or acceptable to the users.

The primary advantage of UDDTs, as compared to conventional dry latrines like ventilated improved pits (VIP) latrines, is the conversion of faeces into a dry and odourless material. This leads to an odour and insect free toilet which is appreciated by users and to the simple removal and less offensive and safer handling of the faecal material once the toilet has filled up. Moreover the risk of water pollution is minimised through the safe containment of faces in aboveground vaults which also allows the toilets to be constructed in locations where pit-based systems are not appropriate. The faeces are however not entirely sanitised when removed from the toilet, so precautious handling is obligatory. In scenarios with reuse of excreta in agriculture, a post-treatment of faecal matter and storage of urine is advisable to ensure adequate sanitisation.

This publication provides comprehensive design guidelines for all functional UDDT components, including urine diversion (UD) pedestals, benches and squatting pans, dehydration vaults, single vaults with interchangeable containers, and urine piping and storage systems. Possible design modifications are discussed to ensure the toilet's suitability for small children, the elderly and persons with disabilities. Additionally, all relevant aspects of excreta management are described including treatment, disposal, reuse and maintaining hygienic quality standards.

Emphasis is placed on recent technical innovations that allow the UDDT to be integrated in a wider range of applications. The bench design, a sitting type of UD interface that minimises the need for stairs leading up to the toilet, is presented as a possible solution for indoor installations and means of providing barrier-free access. Other designs are presented for a variety of contexts, including indoor and outdoor installations, schools and public toilet blocks, flood prone areas and floating villages.

This technology review also describes common O&M problems, such as blockages in urine piping systems, wet conditions in the dehydration vaults and faulty construction. Possible fixes and preventative maintenance routines are emphasised as a means of ensuring the toilet's sustainability.

This publication challenges the common perception that UDDT installation costs are prohibitive for the poorest members of society. A number of low-cost UDDT designs are available that take advantage of locally available construction materials and can help tailor the toilet technology to available budgets.
++++++++
I hope that some of you will find this publication useful and enlightening. If you spot errors or omissions (and I am sure there are still typos in there; you never find them all...), please put them here or e-mail them to
This email address is being protected from spambots. You need JavaScript enabled to view it.
- so that they can be corrected for the online version and the next print run.
Regards,
Elisabeth
The following user(s) like this post:
tmsinnovation
,
Doreen
You need to login to reply
Re: Review of the new "Technology review of UDDTs"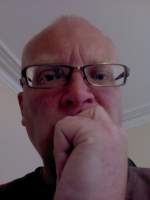 04 Mar 2013 10:05
#3708
by

joeturner
I think this is a really excellent document. I wish everyone who is advocating and installing VIP, UDDT, ecosan and composting toilets would read this and make sure they understand exactly what it is they're doing, the risks and the benefits. If everyone stuck to using terms defined in this document, the whole thing would be a lot easier to understand.

I really like the sections on risk, the emphasis on secondary/post treatment and on the multi-barrier approach to infection.

It might have been helpful would have been to have a table placing different local names into different categories - such as UDDT or VIP (or both). For example, I've been reading about the Abonera Seca Familiar in El Salvador (which seems to be a conventional non-urine diversion VIP). There must be lots of local terms for innovations which can be put into one of these general classes.
You need to login to reply
Re: Review of the new "Technology review of UDDTs"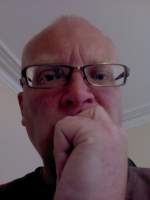 04 Mar 2013 10:25
#3710
by

joeturner
Also, what do you (or anyone) think of the attempt
by Akvo
that seeks to redefine terms into toilet, collection, conveyance, treatment and disposal stages?
According to that schematic, comparing any UDDT to a VIP is a non-sequentir because the toilet is the initial collection system and the VIP is the latrine/pit/storage system. Hence a UDDT can be attached to a VIP and a VIP can be attached to either urine diversion or non diversion toilets.
I'm not sure that the Akvo system really reflects how people use the terms (usually when referring to toilets, people mean the whole system including the superstructure, whereas latrines are taken to be a part of the system).
You need to login to reply
Re: Review of the new "Technology review of UDDTs"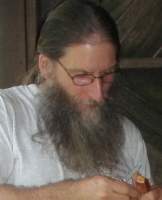 15 Mar 2013 10:48
#3901
by

canaday
Dear Elisabeth, Christian, and everyone,
Thank you for posting this new edition of the Technology Review of UDDTs:
www.susana.org/docs_ccbk/susana_download...f-uddts-dec-2012.pdf
This represents a major revision and not just an incremental change from the text we analyzed before. This is a very important document, as it goes into quite a bit of detail on design and management options. For this reason, it is worthwhile for all interested parties to contribute to it being accurate, authoritative and an excellent reference for everyone. I congratulate your openness to constructive suggestions.
Although I have not had time to read the entire document, from start to finish, I would like to offer the following comments and suggestions:
1. In the previous round of editing, we achieved the inclusion of single-chambered UDDTs with interchangeable containers, together on equal footing with two-chambered UDDTs. The current draft, however, states many times that the process of using interchangeable containers produces inferior, less-sanitized compost, without apparently giving any justification for this. I suspect that this criterion may come from the use of air-tight, plastic buckets. If these are stored closed, I would agree that the decomposition of the material and the pathogen die-off would be inferior. On the other hand, if they are stored with their lids removed (potentially covered with plastic mesh), I would think that drying should be more efficient than in large chambers, as the depth would generally be much less.
Optimally, these containers should be permeable to permit gas exchange and thus allow for evaporation of water and infiltration of oxygen. As I have mentioned, the ubiquitous, woven, polypropylene sacks used for rice, flour, etc. are excellent containers for storing feces, given their low cost, easy access, and this permeability. At first glance, one would fear that liquids may ooze out, but this does not happen if a cup of dry material is added with each use and the sacks are in good condition. These sacks can be stored under the floor of the UDDT or in any dry, ventilated space (which could have screened windows and locked doors, if one chooses). As no solids move from these sacks to water or the general environment, nor can flies come or go, there is no significant risk. Very seldom have vertebrate animals, such as dogs or rats, shown interest in these sacks and, so far, only when sawdust was used as cover material, not when finished compost was used as cover material (see 2, below).
I obviously disagree with the following point in Section 4.7 (page 18): "The containers should be watertight to prevent leachate resulting from misuse or diarrhoea from leaking into or even out of the vault. If porous materials such as sacks or woven baskets are used for faeces collection, a watertight receptacle should be placed underneath to catch possible leachate." The amount of leachate is minimal (unless there is gross misuse) and, if the floor of the chamber is simply soil, it can just soak in, thus avoiding anaerobic conditions and the corresponding smell. This in no way can be compared to drainfields or cesspools with blackwater from flush toilets, as there is not a large amount of water pushing the fecal contamination toward the groundwater and the environment in general. If the chamber has a cement floor, a layer of sawdust, straw or dry soil could be added, below the sacks, baskets or other porous containers. Any fecal contamination there would not be going anywhere and would help to generate a population of beneficial, decomposer microbes that can then find their way into each container. (Has anyone else noticed that new UDDTs have a greater risk of problems with smell, as compared to UDDTs that have been used for years?)
2. Section 6.2 states on page 25 that "There is some anecdotal evidence suggesting that the use of compost as cover material may adsorb odours very efficiently." I recommend strengthening this in the following way:
"Finished compost is an excellent cover material that efficiently absorbs odours. It has been found to eliminate 75% of the reduced sulfur compound emissions that most contribute to the odour of faeces (
en.wikipedia.org/wiki/Feces#Odor
) in a laboratory study of conditions similar to those of commercial composting operations (Büyüksönmez et al. 2012), and up to 97% of the odours from landfills (Hurst et al., 2005). Canaday uses and promotes the use of finished, pathogen-free faecal compost as cover material, to inoculate the new faeces with beneficial, decomposer microbes and to more sustainably reduce the transport of materials to and from each toilet or neighborhood (
forum.susana.org/forum/categories/34-uri...er-material-in-uddts
). This will be more acceptable to the average user with mechanisms that add the cover material mechanically, thus avoiding contact with the user (e.g.,
www.susana.org/images/documents/07-cap-d...n-terris-ecuador.pdf
)."
(Büyüksönmez F, Rynk R, Yucel A, Cotton M. 2012. Mitigation of odor causing emissions--bench-scale investigation. J Air Waste Manag Assoc. 62(12):1423-30.
www.ncbi.nlm.nih.gov/pubmed/23362761
Hurst C, Longhurst P, Pollard S, Smith R, Jefferson B, Gronow J. 2005. Assessment of municipal waste compost as a daily cover material for odour control at landfill sites. Environmental Pollution 135(1):171-177.
cat.inist.fr/?aModele=afficheN&cpsidt=16548526
)
3. I do not agree with the statement that compost from UDDTs should never be considered pathogen-free. I think it is more a matter of refining which cover materials and detention times to use in the different zones of the world. Secondary treatment may be seen as a way of speeding up the process ... or being doubly sure that pathogens have been eliminated.
In a brief study we did of our compost, here in the Amazon, no Ascaris eggs were found beyond 4 months of detention, and independent trials confirmed that 6-month-old compost was free of Ascaris eggs. This may be due to the greater biodiversity of soil organisms found here or the better conditions for composting inside woven sacks (see 1, above).
4. Sanergy's "Fresh Life" UDDT seems very practical and well thought-out. Thank you for adding this to the text. How did they make such a strong but lightweight and hygienic plastic floor?
5. At the risk of starting a polemic, I would like to state a preference for saying "two-chambered UDDT", instead of "double vault UDDT". "Double" makes it sound like it is twice as big ("double whiskey", "double bed", "double room"; would a double pole vault be with two poles or two jumps?), but not necessarily that it has 2 chambers. This is even more confusing if we say "double dehydration vaults", as it sounds like there is twice the drying. I prefer "chamber", although "vault" is roughly equivalent, so I recommend "two-chambered UDDT" or "two-vaulted UDDT".
6. I recommend clarifying, early on, that this is a batch system and not a continuous system (as in the Clivus Multrum). The current draft seems to only have the word "batch" on Page 31: "long enough to completely sanitise the entire batch (Niwagaba, 2009)".
7. Section 8.3.1. states among Daily and Regular Tasks "Checking the volume of faeces in the dehydration vaults and levelling the pile when necessary". This is an important point in the use of two-chambered UDDTs, which deserves more development in the text, since the feces tend to form a mound under the drop hole. This levelling might optimally be done with a stick that is kept in the chamber itself (to avoid fecal contamination elsewhere) and can be reached and used via the drop hole, but how can the same stick continue to fit as the chamber fills? The levelling of this mound is key for the control of smell and flies, because the mound often causes some feces to roll into sectors of the chamber where they do not receive the proper amount of cover material ... and a considerable amount of the cover material to slide off to where it is not needed. This, of course, is another advantage of using smaller, interchangeable containers.
8. The text could be improved considerably with further proofreading for English grammar and style. I would be glad to help with this, if you like.
Best wishes,
Chris Canaday
Conservation Biologist and EcoSan Promoter
Omaere Ethnobotanical Park
Puyo, Pastaza, Ecuador, South America
inodoroseco.blogspot.com
The following user(s) like this post:
Carol McCreary
You need to login to reply
Re: Review of the new "Technology review of UDDTs"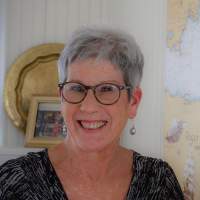 17 Mar 2013 22:42
#3915
by

Carol McCreary
Christian, Elisabeth, Chris,
We're extremely grateful to have this updated Technology Review of UDDTs as Oregon starts to think seriously about the need for more resilient sanitation systems.
www.susana.org/docs_ccbk/susana_download...f-uddts-dec-2012.pdf
The Oregon Resilience Plan assesses the risk to our state's infrastructure of a 9.0M Cascadia Subduction Zone earthquake and makes a strong case for more resilient systems. Since PHLUSH has been thinking about implications and earthquake preparation - at least for the household and neighborhood levels - we have gotten some attention at the state and federal level. For a brief overview of risk to sanitation systems and time required for restoration of service see our page Earthquakes and Sewers.
www.phlush.org/emergencysan/earthquakes-sewers/
PHLUSH has been invited to present to senior emergency response policy makers from throughout the US in May. This publication looks like one to share (along with the Compendium and Sustainable Sanitation in Cities). I'll communicate with the Secretariat to see if we can beg a couple of hardcopies to hand over to the right people; otherwise we'll continue to make photo copies.
We feel pretty good about having introduced the notion of urine separation to hundreds, maybe thousands, of North Americans who'd never heard of it before. Now people are getting comfortable with it. Our Twin Bucket Emergency Toilet displays based on the Christchurch, New Zealand model, continue to circulate to neighborhood associations, schools, and churches.
www.phlush.org/emergencysan/diy-christchurch-twin/
We're calling the people we train to give short presentations the Twin Bucket Brigade. We hope to receive a grant for a larger, more comprehensive, self-explanatory display based on the Sewer Catastrophe Companion, prepared by Molly Danielsson and Mathew Lippincott and their students building on their work at cewas.
www.phlush.org/wp-content/uploads/2011/0...stropheCompanion.pdf
So thank you again for providing such compelling resources. I look forward to a careful read of the new Technology Review of UDDTs. As I do, I'm happy to join Chris in keeping my eyes open for typos and sections that could be more clearly stated in English.
Best wishes,
Carol
Carol McCreary
Public Hygiene Lets Us Stay Human (PHLUSH)
1240 W. Sims Way #59, Port Townsend, Washington 98368 USA

Toilet availability is a human right and well-designed sanitation systems restore health to our cities, our waters and our soils.
The following user(s) like this post:
christian.rieck
You need to login to reply
Re: Review of the new "Technology review of UDDTs"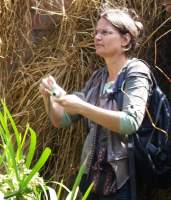 27 Mar 2013 01:17
#4004
by

hoffma
Hi to all, this is my first post, I am co-author of the UDDT technical review and we (Rotaria Company) already published some of our experiences with dry sanitation in Peru on SuSanA site.
As Chris noticed the document is oriented to operational options of UD-toilets, the reason is that we feel that upscaling experiences are needed, especially in urban areas and this means UD-DRY SANITATION services.
For me the concept of the Durban Municipality is pioneering. In URBAN context all decisions about appropriate sanitation solutions have to be planned until the final destination, which means, ALL products (wastewater, sewerage/ fecal sludge, biogas, feces, urine, greywater...) have to be SUFFICIENTLY TREATED for the specific destination/reuse objective.
Normally the service provider cares only about sewerage and treatment, mostly do not have any solution for no sewer served areas. New solutions are uncomfortable, unusual, perhaps threatening, not only for users, but also for institutions. Nevertheless they can be a solution.
We mentioned 3 UD-Dry toilet principles which have the potential to be sustainable dry solutions; these are (and please, feel free to "play" with the naming):
- UD "classic" = UD double/twin vault, 120.000 installed by 2 municipalities in South Africa;
- UD-"light" = UD-VIP; more than 60.000 installed by at least 3 municipalities in South Africa
- UD-"challenge" = UD single vault with container or UD mobile toilet – any up scaling experiences?
Let's discuss here more about these and less about personal feelings. Up scaling is our challenge. HEIKE
The following user(s) like this post:
christian.rieck
You need to login to reply
Re: Review of the new "Technology review of UDDTs"
30 Mar 2013 23:39
#4016
by

asuprof
We are working in Peru and bringing a work team this summer and would like to be able to see what you are doing. Can you tell me where in Peru you are working? Thanks.

Mark Henderson
You need to login to reply
Re: Review of the new "Technology review of UDDTs"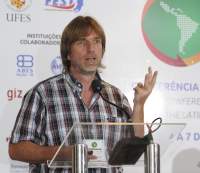 31 Mar 2013 21:13
#4021
by

christoph
Dear Mark,
very interesting.
We have been working in the Cusco region, currently we are still active in Moyobamba, Lima and Juliaca.
Could you tell us a bit more about who is "we"? It would be also interesting to know where you are working.
Yours
Christoph Platzer
P.S. normally we do a presentation of ourselves in our first post, would be interesting to reads something about you.
You need to login to reply
Re: Review of the new "Technology review of UDDTs"
01 Apr 2013 03:04
#4023
by

asuprof
Sorry for not introducing myself. Here is some background.
I am a professor of engineering and direct GlobalResolve (
globalresolve.asu.edu
) at Arizona State University at the Polytechnic campus. We are a social entrepreneurship organization involving about 8 faculty members from various departments and multidisciplinary students to help co-create solutions to developing world community problems including clean water, sanitation, energy and agriculture by partnering with organizations on the ground. The eventual goal is to help create sustainable economic development. We currently have about 140 students in 6 courses working on 35 projects in 6 countries, sometimes by visiting the community to identify problems and sometimes by connecting with resident partners remotely. We work in India, Ghana, Mexico, Nicaragua, Bolivia and now starting this summer in Cuzco, Peru. Some current projects include a microbial fuel cell pit latrine to generate electricity from urine (funded by the Gates Foundation and presented at the Fecal Sludge conference in South Africa last fall), redesign of a prosthetic foot for amputees (funded by ASME), smokeless cooking fuel, a weather warning system for coastal fishermen, electricity generation from waste heat, various water purification projects, improved fish smoker, and other projects. Quite a diverse set of projects, each of which comes about by listening to community members and our partners.
We recently received funding from NCIIA to develop a joint water and sanitation course in collaboration with Prof. Vijay Chariar at IIT Delhi's Rural Technology Development Centre, which is the reason for exploring this forum. We have a couple of courses at ASU in water resources, but none specifically for developing-world applications and none in sanitation. We will be developing the course over the next year and welcome any input on similar courses elsewhere.
You need to login to reply
Re: Review of the new "Technology review of UDDTs"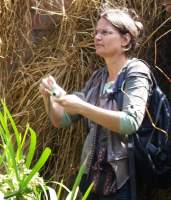 02 Apr 2013 23:00
#4043
by

hoffma
Hi Mark,
thank you for your interest and sorry, I didn't introduce myself either: I am microbiologist and I am working in sanitation area since 18 years, often related with investigation and teaching at universities (Germany, Brazil, Peru, Costa Rica) and I am responsible in our company (Rotaria do Brasil) for operation of wastewater treatment plants and training of engineers and operators. This is the "conventional part" of sanitation and my interest in "alternative part" began in Lima/Peru, where I realized that water based sanitation cannot be the only solution. In this area I am working mainly as consulting for development institutions, for instance in the project in Peru, mentioned before.
In Cusco we built together with the regional authorities UD-toilets in 3 traditional communities, some in Adobe; here is a link:
http://www.susana.org/lang-es/library?view=ccbktypeitem&type=2&id=858
In other regions (coast and Amazon) we used different materials, our main manual is here in English:
http://www.susana.org/lang-es/library?view=ccbktypeitem&type=2&id=858
other information can be found in our internet site in Spanish
http://www.rotaria.net/peru3/rotaria/
and a very special experience was the contribution to the concept of a course in the National Agricultural University of Peru "Saneamiento Sostenible",
http://www.lamolina.edu.pe/FACULTAD/AGRICOLA/Diplomado/
as I know it was the first course based on an integral understanding of sanitation
Now a question: Generate electricity from urine, great option, but, why Pit Latrine, as I understand your Ghana ASU link ("nitrate in urine is oxidized in a chamber"; by the way, it means that Ammonia is oxidized, right?); it should be possible with pure urine from UD-toilet as well, and it would be easier, less contaminating and more economic or not? You are welcome to test it in Cusco (I guess you mean the Peruvian winter time?), I can send you the contacts to your e-mail account, HEIKE
You need to login to reply
Re: Reply: Review of the new
04 Apr 2013 21:59
#4056
by

Elisabeth
Dear Heike,
Thanks for your explanations! I think Gertrude asked specifically about the 5 municipalities in South Africa that you mentioned here:
- UD "classic" = UD double/twin vault, 120.000 installed by 2 municipalities in South Africa;
- UD-"light" = UD-VIP; more than 60.000 installed by at least 3 municipalities in South Africa
Could you please clarify which ones these are (I only know of eThekwini; others like Buffalo City have only been mentioned in passing to me but only with few pilot units?)
Oh and I am not sure if the questions by Chris on 15 March, regarding the use of sacks, have been adequately answered yet?
He also said:
The amount of leachate is minimal (unless there is gross misuse) and, if the floor of the chamber is simply soil, it can just soak in, thus avoiding anaerobic conditions and the corresponding smell.
Do you or Christian have an opinion about that?
Regards,
Elisabeth
You need to login to reply
Time to create page: 1.581 seconds
DONATE HERE