How to include images in your posts
6645 views How to include images in your posts
08 Nov 2011 17:20
#549
by

jkeichholz
Including images in your posts
is simple and there are
two
options:
Option A
Include a link to an image that is already hosted elsewhere on the internet
Copy the link the existing file, in this example an image from the
SuSanA Flickr photo collection
:
farm5.static.flickr.com/4056/4547794820_66dbb0fc04_z.jpg
Then paste this into the address bar that pops-up once you click on the "image link" icon in the "Boardcode" section (editor options) and click insert.
Attachment not found
The image will be pasted into the post where you positioned the cursor and it will look like this:
[img]http://farm5.static.flickr.com/4056/4547794820_66dbb0fc04_z.jpg[/img]
...which will display this once the post has been saved:
If available - like on Flickr - it's even
better to use the BBCode option
which provides the photo caption and also a link back to Flickr / the source of the photo. (
Added by Trevor:
copy the BBCode from flickr and paste it directly (as it is) into the body of your post. In other words directly into the message box where you normally type you post.)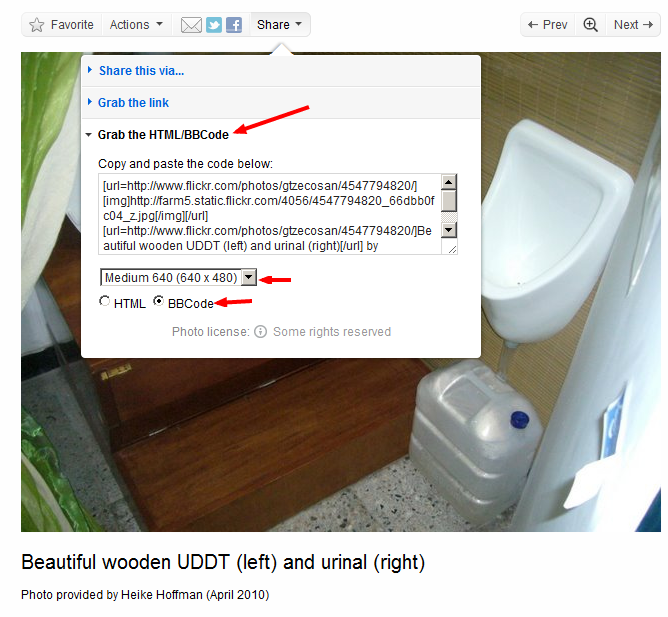 The result:
Beautiful wooden UDDT (left) and urinal (right)
by
Sustainable sanitation
, on Flickr
Option B
If you own the copyrights
to an image and would like to share it with the SuSanA community, you can also directly upload it using the "attachments" options below the editor window:

The result: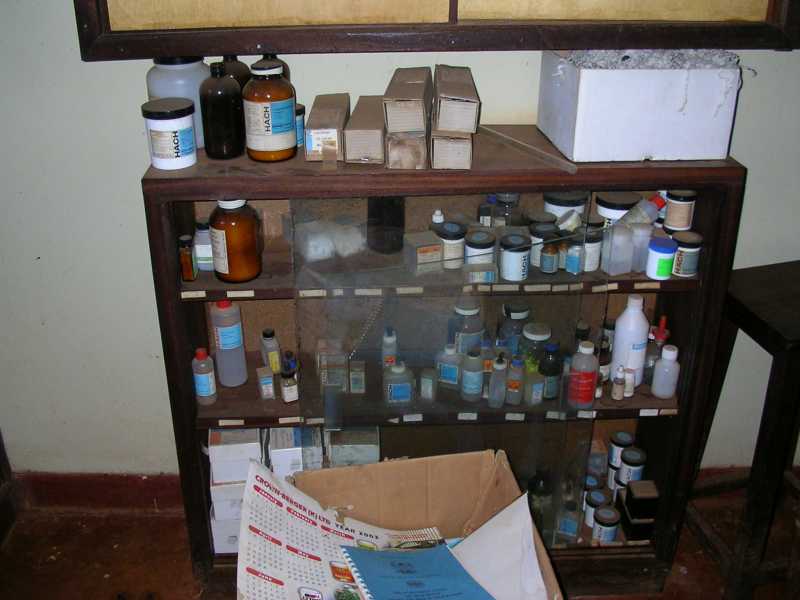 (nb: i own the copyrights to this image as I took the photo some years ago at WRMA in Embu, Kenya)
Allowed image file types are *.JPEG, *.JPG, *.GIF and *.PNG and all images will be automatically resized to a maximum size of 800kb.
Also, we would like to encourage you sharing your photos under a
Creative Commons licence
which enable an easier sharing of information and have been ported to over 50 different jurisdictions worldwide.
If you have any questions regarding the upload of images to the SuSanA forum or to this tutorial, please don't hesitate to reply on this thread. Thank you!
The following user(s) like this post:
christian.rieck
,
Doreen
You need to login to reply
Re: How to include images in your posts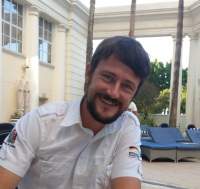 12 Jul 2012 09:23
#1860
by

tmsinnovation
Hi

Just a quick question in the troubleshooting direction:

Do you have an ideas what went wrong with for example the post by Doreen yesterday on Ecological Sanitation in Pastrolist Muslim community in Kenya with respect to inserting the images?
She could not get some of her attached images to appear in the post, although when I had a look at her post, I did not see anything that she had done incorrectly.

Perhaps you could take a quick look and spot the error.
Thanks.

PS I also added one sentence to elaborate on the BBCode step in your post above. I hope that is ok. I had a few questions come in asking what one should do with the BBCode, hence my elaboration.
Trevor Surridge
Project Coordinator
Climate-friendly sanitation services in peri-urban areas of Lusaka (CFS-Lusaka) project
German Development Cooperation

GIZ Water Programme office
Chaholi Rd. No 5, Rhodes Park
Private Bag RW 37x
Lusaka, Zambia
You need to login to reply
Re: How to include images in your posts
12 Jul 2012 10:40
#1862
by

jkeichholz
Done!

The copied BB-Code wasn't complete and some of it was deleted, which is why the fifth picture didn't show up. After reinserting the BB-Code provided by Flickr and copying it 1:1 into the body of the post, all is well now.
The following user(s) like this post:
tmsinnovation
,
Doreen
You need to login to reply
Re: You can also view this video which explains how to insert photos into a post
09 Mar 2015 12:42
#12416
by

Elisabeth
You can also view this video which explains how to insert photos into a post:
Video 4: Creating a new thread and inserting photos or files
Content of this video:
- hint to the forum rules
- posting a new topic and chosing a sub-category
- embedding a picture into the post
- embedding a video into the post
- attach a pdf file
- making a back-up copy of your post in case of bad internet connection
- hint to the mobile version of the forum site
- hint to the help section where questions can be posted
More tutorial videos for this forum are also available here:
www.youtube.com/playlist?list=PL0gMdVBup...s5PV4wPW6h7lfWdA_z93
See also this forum post for more details on the other videos:
forum.susana.org/forum/categories/132-fo...ana-discussion-forum
Regards
Elisabeth
Head moderator of this Discussion Forum
(under consultancy contract with Skat Foundation funded by WSSCC)

Dr. Elisabeth von Muench
Independent consultant located in Brisbane, Australia


This email address is being protected from spambots. You need JavaScript enabled to view it.


Twitter: @EvMuench
Founder of WikiProject Sanitation: en.wikipedia.org/wiki/Wikipedia:WikiProject_Sanitation
My Wikipedia user profile: en.wikipedia.org/wiki/User:EMsmile
You need to login to reply
Time to create page: 0.569 seconds