FSM in extreme hilly area with winter conditions (Leh, India)
13.6k views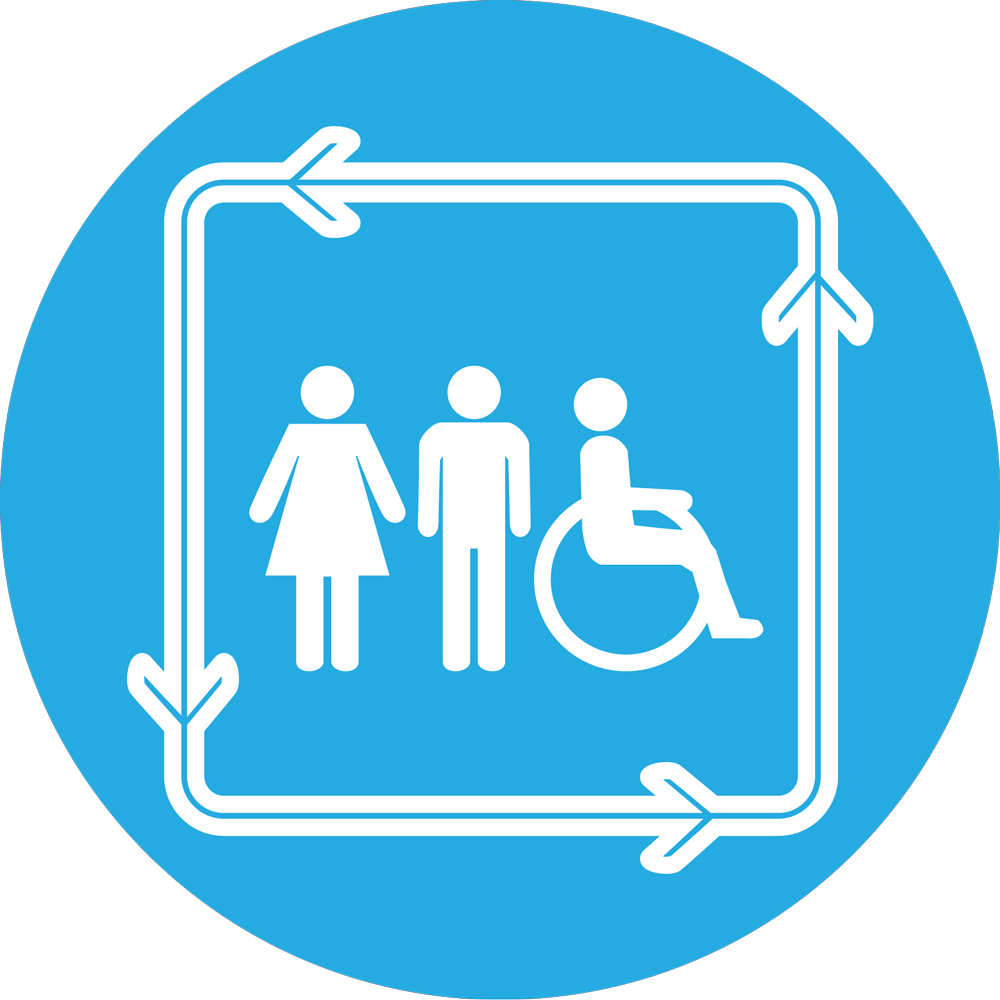 Re: FSM in extreme hilly area with winter conditions (Leh, India)
04 Nov 2019 05:59
#28378
by

Elisabeth
A presentation from Snehit Prakash about
FSM in Leh
fits into this thread (it was given at FSM5 Conference in Cape Town in February 2019:
fsm5.susana.org/en/downloads/conference-materials
):
Link to presentation:
fsm5.susana.org/images/FSM_Conference_Ma...ndustry/FSM5_BWC.pdf
The Conclusions Slide: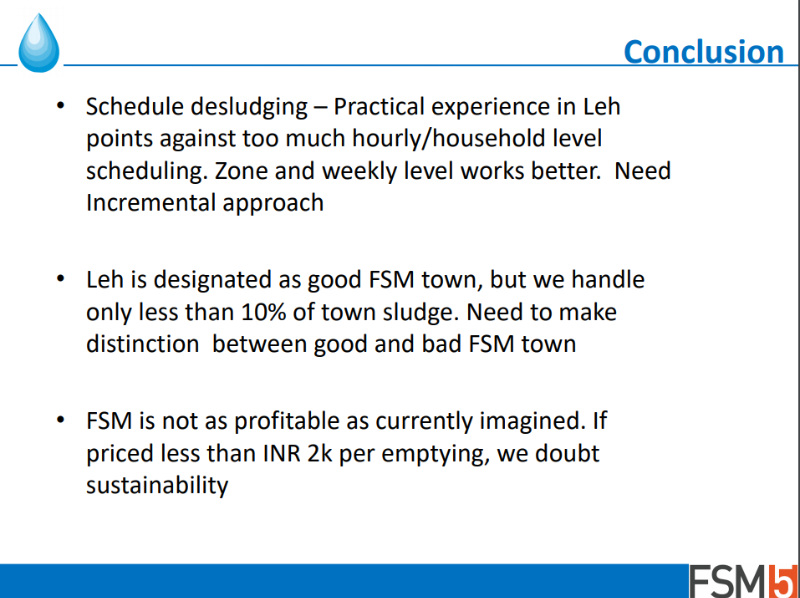 Leh has been mentioned in this forum a few times. Wikipedia tells me this about Leh:
Leh is the capital of the union territory of Ladakh in northern India. Leh, located in Leh district, was also the historical capital of the Himalayan kingdom of Ladakh, the seat of which was in the Leh Palace, the former mansion of the royal family of Ladakh, built in the same style and about the same time as the Potala Palace in Tibet. Leh is at an altitude of 3,524 metres (11,562 ft), and is connected via National Highway 1 to Srinagar in the southwest and to Manali in the south via the Leh-Manali Highway.
I wonder if there is any particular reason why Leh has been chosen for these high-profile (better known) FSM activities or if it's just a coincidence?
And I have merged some other threads into this one to keep it all together.
Regards,
Elisabeth
You need to login to reply
Re: Fresh/Undigested Sludge in Planted Drying Beds
16 May 2018 05:37
#25095
by

Elisabeth
Dear Snehit,
I think your observation makes sense and fits to the general observation also made with sewage sludge: it is easier to dewater and dry after it has been anaerobically digested. But anaerobic digestion of fecal sludge is probably a fairly complex step in your setup and one that you might not be keen on.
What does the literature say about planted drying beds for fecal sludge? For example, does the FSM book by EAWAG have any helpful information for you?:
www.susana.org/en/knowledge-hub/resource...library/details/2100
Strande, L., Ronteltap, M., Brdjanovic, D. (Eds.) (2014). Faecal Sludge Management (FSM) book - Systems Approach for Implementation and Operation. IWA Publishing, UK (ISBN: 9781780404738)
Chapter 8?
Let us know what you find. Always interesting to hear from practitioners working in the field (in difficult conditions in your case).
Regards,
Elisabeth
You need to login to reply
Re: FSM in Extreme Hilly Area with Winter Conditions
26 Apr 2018 08:48
#24896
by

DhwaniShah
This message has attachments files.
Please log in or register to see it.
You need to login to reply
Re: FSM in Extreme Hilly Area with Winter Conditions
23 Apr 2018 05:05
#24835
by

waste123
Dear Forum Members,
We are working on City Sanitation Plan for Northeastern state of Arunachal Pradesh in India, where certain cities have extreme winter conditions and the terrain doesn't permit to have any on-site treatment system. In such case, i seek your guidance, as to how, we can plan for FSM for these areas.
Regards,
Dr. Bharat B Nagar
Solid Waste Expert
IPE GLOBAL LTD
India
++++++++++++
Note by moderator (EvM): The first reply to this post came from Stuart and has now been moved to a new thread here: forum.susana.org/280-faecal-sludge-treat...ent-of-faecal-sludge :

Dear Bharat, *
I work at
Biomass Controls
, who currently produces a Biogenic Refinery, for the off-site treatment of organic materials and faecal matter. Briefly looking at the information you've provided, it ticks some of the boxes that you've mentioned:
- It's a thermal treatment process, so we're capable of serving as a cold climate solution. We have a cold climate demonstration in Alaska where we've seen temperatures of -40°C.
- It's a small footprint operation (the refinery is housed in a 20' shipping container), so it would be appropriate for mountainous regions where space is limited due to the terrain or currently existing infrastructure.
- The 'users served' in terms of sanitation service delivery is highly dependent on the type of sludge used, but we're in the range of 10 000 people per day.
Many Thanks,
Stuart
You need to login to reply
Re: Fresh/Undigested Sludge in Planted Drying Beds
01 Apr 2018 10:48
#24602
by

Snehit
Hi,

Any experience of using fresh/undigested sludge in Planted Drying Beds?

Our experience so far shows that fresh sludge tends to clog the beds, have a lesser to dewater, and takes a much larger time to dry as compared to digested sludge.

But considering the fact that we need to cater to the demand of treating fresh sludge overflowing from temporary shelters, establishments what might be the possible technical solutions?

Best,
Snehit
You need to login to reply
Re: Opportunity for bright professionals to work in Leh on EU and BORDA funded project!
05 Mar 2018 12:39
#24265
by

raina
We are going an exceptional length hiring best people in and around Leh. If you are interested in making Leh a better place to live, come join us for LEH VISION 2030.
We have the following positions available...
1. Project Manager
2. Training Coordinator
3. Documentation and Publication Expert
4. Integrated Water Management Expert
5. Coordinator- Planning and Development
6. Senior Sanitation Expert
7. Communication and PR
Please refer the attached document for detail info on the positions available. All positions are full time job to be stationed in Leh, Jammu & Kashmir, India. Please email us your resume to
This email address is being protected from spambots. You need JavaScript enabled to view it.
. An applicant must not apply for more than one position. Last date for submission of application is 10th March 2018. We encourage you to forward your application as soon as possible for early processing and scheduling of interview. Interviews for short-listed candidates will be conducted on 13th & 14th March 2018 at Leh, Jammu & Kashmir. For out stationed candidates, we will conduct skype-interview.
Best Regards,
Raina Khwairakpam
This message has attachments files.
Please log in or register to see it.
You need to login to reply
Re: Low Temperature Desludging Pipe
08 Jan 2018 11:56
#23599
by

Snehit
Thanks Kris.

Well, working only in warmer times leaves us with only 4 months of operations. Plus as the desludgings have to be performed at night(mostly), the temperatures even then are comparatively low. And winter is the time when the tourists return and the locals packup to leave, and hence this is the time when most people will be willing to have their tanks cleaned.

I will have a look at this pipe.

Any suggestions on availability of pipes which still bend (and don't break) in low temperatures?
You need to login to reply
Re: Low Temperature Desludging Pipe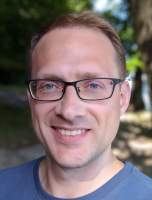 08 Jan 2018 11:18
#23598
by

JKMakowka
Well... is it really necessary to empty the tanks during this especially cold period? Maybe scheduling the emptying during warmer times is the easiest solution?
But for what it is worth, I have been working with really heavy duty suction pipes in Germany that barely bend at all (regardless of temperature, this kind:
www.helpi.com/images/Feuerwehrprogramm/A...augschlauchAS-16.JPG
). They are made out of some kind of rubberised fabric with metal rings. Availability for larger diameters (>25mm or so) is only in short pieces of 1.5 to 3 meters (mainly to be transportable, as you can not make a roll out of them) and you need fully metallic elbows for sharp bends etc. Not easy to work with, but usable in sub-zero temperatures and nearly indestructible.
You need to login to reply
Low Temperature Desludging Pipe
08 Jan 2018 10:07
#23595
by

Snehit
Hello,

I am looking for mechanisms to continue our desludging process, from septic tanks, in extremely low temperatures. The major obstacle is that the honeysucker (suction truck) pipes get extremely rigid and unmaneuverable at low or subzero temperatures. This renders a problem of accessibility(as the pipe can't be bent) and of pipe breakage.

There's seems to be a distinct lack of information on the performance of desludging pipes at low temperatures, on the internet.

Our faecal sludge treatment plant is located in the state of Jammu and Kashmir, India, at an altitude of nearly 12,000 ft. The temperature here at the onset of winter would be around -5°C and around -20°C in the peak of winter.

Are there any particular types/material of pipes being used in low temperatures? Are there specialised manufacturers for the same?

Thank You,
Snehit
You need to login to reply
Time to create page: 0.329 seconds
DONATE HERE