Re: Integrating Water, Sanitation and Solid Waste Management
4946 views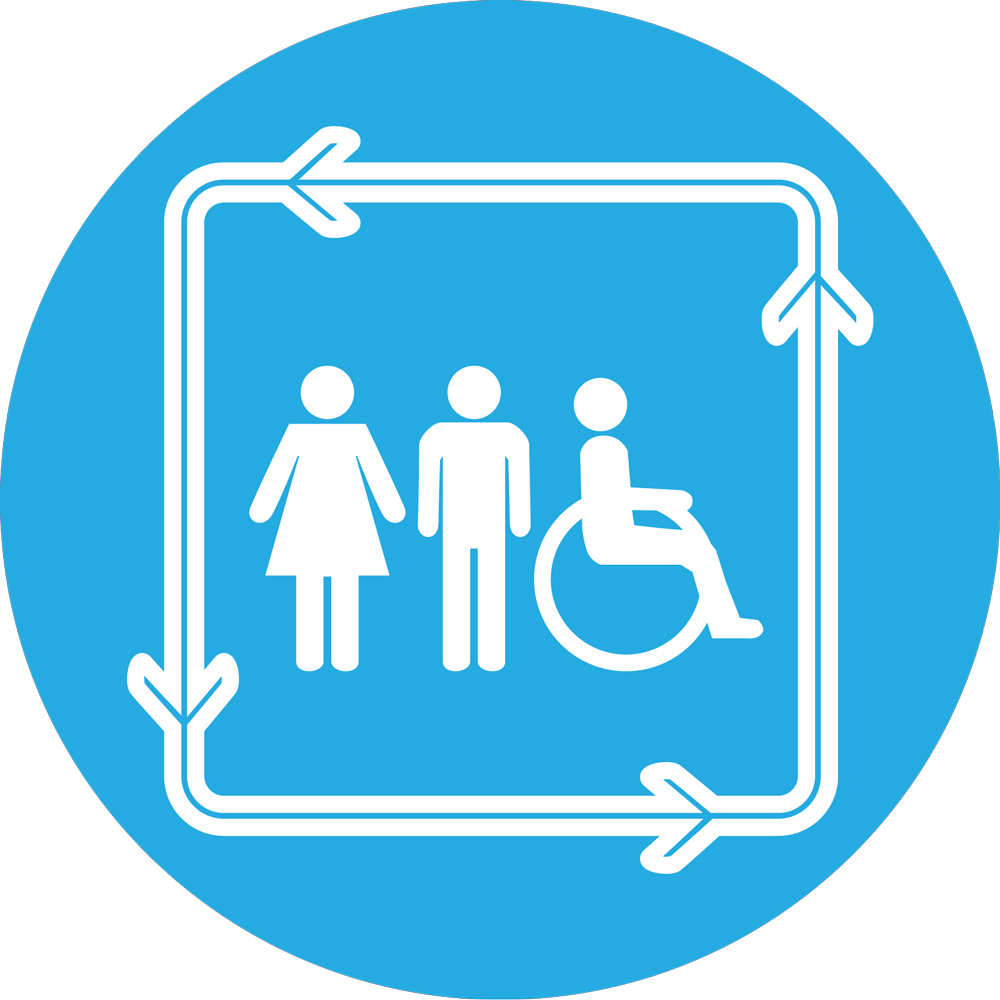 Re: Integrating Water, Sanitation and Solid Waste Management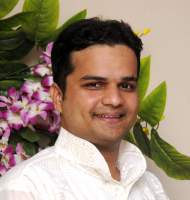 18 Oct 2021 15:15
#32896
by

aasimmansuri
Hi Paresh,
Thanks for sharing this.
Yes the City Sanitation plans (CSPs) that had prepared for Wai and Sinnar had details around integrated Waste management.
Also as you may recollect that for Sanitation it had a phasewise approach - to first focus on making the city ODF and implement FSSM and in 2nd phase then take up management of greywater through settled sewer and treatment system.
Also one more point to highlight that apart from integrated planning of the sectors, it is also important to look at the potential sources of finance and whether this investment helps us attain the outcomes that we have envisaged. This has also been captured in the CSP
Here are some reference documents related to the CSP that were developed for
Wai
 and
Sinnar
Also happy to share that these CSPs are being implemented by these cities.
Also see this paper by Prof Meeraji and Prof. Dineshji on -
City sanitation ladder: moving from household to citywide sanitation assessment
 . This talks about integrated management of Wastewater, Storm water, SWM and how cities can move up the Sanitation ladder.
Hope this helps.
Regards,
Aasim
Aasim Mansuri
Senior Program Lead
Center for Water and Sanitation
CEPT University, Ahmedabad-380009, Gujarat, India
M: +91 98 98 324874 | O: +91 79 26302470



This email address is being protected from spambots. You need JavaScript enabled to view it.

l

This email address is being protected from spambots. You need JavaScript enabled to view it.

| www.pas.org.in
fb.com/pas.cept | linkedin.com/in/pascept
You need to login to reply
I lead Athena Infonomics' strategic initiatives and operations pertaining to WASH portfolio in South Asia. My research and consulting experience spans social marketing, inclusion and gender equity, ICT for development, monitoring and evaluation, impact assessment, and building the WASH innovations ecosystem.

Less

Posts: 10
Likes received: 7
Re: Integrating Water, Sanitation and Solid Waste Management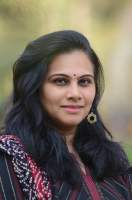 02 Oct 2021 22:50
#32817
by

Malini
Dear Abhishek,
The importance of looking at Water, Sanitation, SWM and Hygiene is well ingrained in various national policies and missions in India. In November 2008 the government of India launched a national urban sanitation policy with the goal of creating what it calls "totally sanitized cities" that are open-defecation free, safely collect and treat all their wastewater, eliminate manual scavenging and collect and dispose solid waste safely. The templates of City Sanitation Plan always look at WASH and SWM in an integrated manner. (
mohua.gov.in/upload/uploadfiles/files/NUSP_0.pdf
). The recent Safaimitra Suraksha Challenge by the Ministry of Housing & Urban Affairs there is a direct integration of SWM and drains clogging and how this impacts the sanitation workers. (
swachhbharaturban.gov.in/
). The launch of Swachh Bharat Mission 2.0 and AMRUT 2.0 on the same day yesterday is again an example of looking at integration. 
Hence the understanding exists and is deeply acknowledged. What is missing is availability of time, human resource capacities and funding for taking up integrated approaches to implementation. 
Dr. Y. Malini Reddy
Director, WASH - South Asia



This email address is being protected from spambots. You need JavaScript enabled to view it.

| +91 98480 25043
www.athenainfonomics.com
T: @a_infonomics | F: athenainfonomics | LinkedIn: Athena Infonomics


The following user(s) like this post:
paresh
You need to login to reply
Re: Integrating Water, Sanitation and Solid Waste Management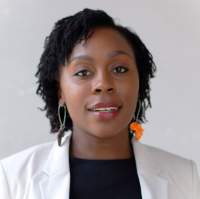 16 Aug 2021 23:44
#32624
by

Chaiwe
SuSanA Forum Moderator
Skat Foundation (With financial support by GIZ and SIRWASH up to November 2023)

Chaiwe Mushauko-Sanderse BSc. NRM, MPH
Independent consultant located in Lusaka, Zambia
Emails:

This email address is being protected from spambots. You need JavaScript enabled to view it.

,

This email address is being protected from spambots. You need JavaScript enabled to view it.



LinkedIn: www.linkedin.com/in/chaiwe-mushauko-sanderse-21709129/
Twitter: @ChaiweSanderse


You need to login to reply
Re: Integrating Water, Sanitation and Solid Waste Management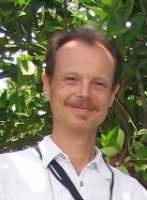 06 Aug 2021 15:06
#32581
by

HAPitot
Dear Abishek, dear all,
An interesting proposition!  It has always bothered me that WASH and SWM are seen as separate fields which are usually dealt with by different people with little interaction with each other.  I personally have been seeing sanitation and waste management (also known as home sanitation and street sanitation) as a continuum, both with great relevance to water supply.
Some 10 years ago, when I was working as an advisor for the Town Council of Adjumani in Northern Uganda, I tried to find a way of integrating solid waste management and sanitation in the town.  I am attaching a short paper that is introducing the approach that was taken.  The practical link with water supply was that the water of some hand operated wells within the town area had high nitrate concentrations and/or coliform counts, a lot of times due to nearby pit latrines.
In hindsight, I'd say that the most successful component of the project was the construction of household ecosan toilets (as opposed to communal ecosan toilets, which were less successful).  When I left as an advisor, more than 100 household ecosan toilets had been built with private funds of which many are still in operation.  The two larger facilities facilities, however, which were constructed as part of the project, a sludge treatment facility and a small composting facility, are nowadays both dysfunctional - see my other post "
Looking for funding for the renovation of a composting and a sludge treatment facility in Adjumani, Uganda
".
Hanns-Andre Pitot
M.Eng. Environmental Pollution Control
presently in Seesen, Germany
This message has an attachment file.
Please log in or register to see it.
The following user(s) like this post:
paresh
You need to login to reply
Integrating Water, Sanitation and Solid Waste Management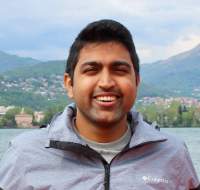 05 Aug 2021 15:58
#32577
by

abisheknarayan
Dear All, 
Many of us have surely talked about the interactions between Water, Sanitation and Solid Waste Management. We might have even seen how in our projects, we cannot truly reap the benefits of safe sanitation, without proper solid waste management or access to clear water. For e.g., littering from poor solid waste management clogs toilets  / small bore sewers, or how poorly built septic tanks/sewers affect the water sources and diminishing the health benefits of improved toilets. 
At Sandec (Department of Water, Sanitation and Solid Waste) at Eawag, this thought has been in name already. So during the lockdowns of last year, different groups came together and really explored the synergies and similarities between these three inter-twinned sectors. 
The result of it is this publication "
Advancements in and Integration of Water, Sanitation, and Solid Waste for Low- and Middle-Income Countries
" published in the Annual Reviews of Environment and Resources. It will be available on open access starting October 2021. But should still be available for subscribers. If someone wants a copy earlier, I am also happy to share the pre-print via email. 
Link to publication: 
www.annualreviews.org/doi/abs/10.1146/an...nviron-030620-042304
The article has 3 parts:
1. Review of advancements of Water, Sanitation and Solid waste between 2000-2020 as technologies, planning, and management. 
2. Synthesis of these advancements and seeing where the similarities and difference lie. 
3. Proposing the basis for an integrated approach to reap co-benefits from positive interactions. 
Attached is an image of the negative interactions that are widely seen in the current settings.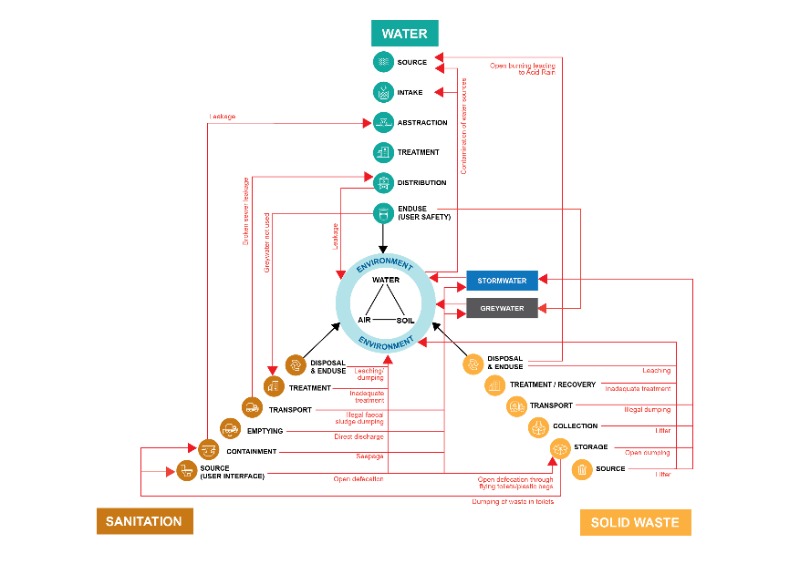 One aspect that we think needs to further research, is how exactly integrated planning could happen. If the SuSanA community could help with the following questions - that would be great!

1. Are there any good examples of integrated planning / implementation of these three sectors? 
2. Are are ideas on how such an integrated planning could take place? 
3. Are there reasons why we did not actively pursue integrated and synergistic planning ? 
Thank you !!
Abishek S Narayan
Co-lead for SuSanA WG-6: Cities
Researcher, Eawag-Sandec
Email:

This email address is being protected from spambots. You need JavaScript enabled to view it.


Twitter: @abishek_water

You need to login to reply
Time to create page: 0.458 seconds
DONATE HERE