Request for Concept Notes in Lusaka, Zambia – Citywide Inclusive Sanitation (CWIS) Innovation Grant Program Deadline: 30th June 2020
2823 views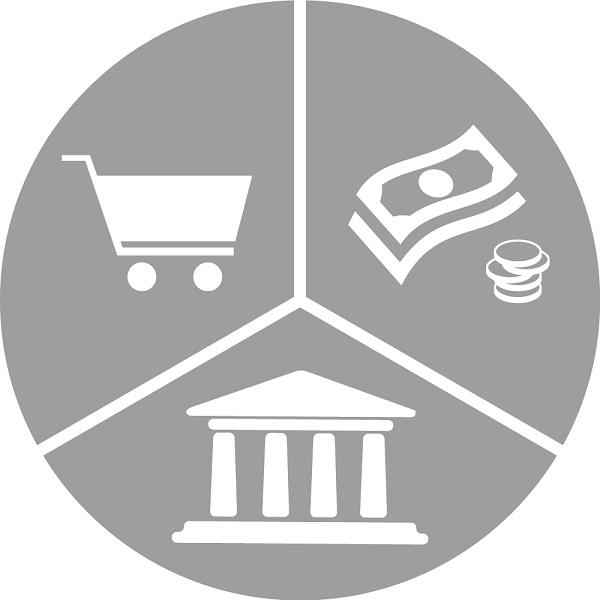 Re: Request for Concept Notes in Lusaka, Zambia – Citywide Inclusive Sanitation (CWIS) Innovation Grant Program Deadline: 30th June 2020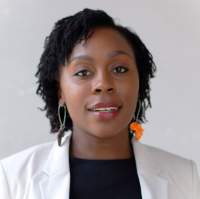 23 Jul 2020 23:09
#30344
by

Chaiwe
Hi Elisabeth,
Thank you for sharing a link that works. That one does take you to the official Lusaka Sanitation Programme (LSP) website. The call is closed now, and I am quite keen to hear about the successful innovative approaches and ideas that scooped this grant.
So the programme is not only funded by KFW Development Bank, European Investment Bank (EIB), World Bank (WB) and African Development Bank (AfDB), recently the programme also pulled in additional funding from the Bill and Melinda Gates Foundtation (BMGF), embracing a City Wide Inclusive Sanitation  (CWIS) approach. See further discussion about that here: 
forum.susana.org/278-cities-sanitation-p...back-and-suggestions
Originally (and is still the case), the LSP emerged to respond to theLusaka Sanitation Master Plan (SMP), a plan that was coined to study and evaluate the existing sanitation system serviced by the Lusaka Water and Sewerage Company (LWSC) to identify sanitation improvements for a 25 year planning period for the City of Lusaka.  Approximately 16 percent of the population of Lusaka has household sewer services. The remainder is served by onsite systems, primarily pit latrines. Review of previous studies, existing data and plans, field inspections, and hydraulic modeling were used to assess the condition of the existing infrastructure and identify the needs of the sanitation sector. A goal of 100 percent access to improved sanitation by 2035 was established. A total investment need of approximately 1.9 billion dollars was identified over the planning period. The LSP addresses both on-site Sanitation, off-site Sanitation and drainage improvement for a 5 year period ending 2022.
SuSanA Forum Moderator
Skat Foundation (With financial support by GIZ and SIRWASH up to November 2023)

Chaiwe Mushauko-Sanderse BSc. NRM, MPH
Independent consultant located in Lusaka, Zambia
Emails:

This email address is being protected from spambots. You need JavaScript enabled to view it.

,

This email address is being protected from spambots. You need JavaScript enabled to view it.



LinkedIn: www.linkedin.com/in/chaiwe-mushauko-sanderse-21709129/
Twitter: @ChaiweSanderse


The following user(s) like this post:
Elisabeth
Please Log in to join the conversation.
You need to login to reply
Re: Request for Concept Notes in Lusaka, Zambia – Citywide Inclusive Sanitation (CWIS) Innovation Grant Program Deadline: 30th June 2020
22 Jul 2020 06:45
#30315
by

Elisabeth
This is a very interesting call for concept notes, thanks for sharing, Chaiwe. I notice that it's already closed now and the time period to apply was really short (probably it was widely advertised amongst actors in Lusaka already earlier).
I am just wondering how all this came about and if there is some external donor support for this (GIZ maybe?) or if Lusaka Water Supply and Sanitation Company (LWSC) is in fact able to fund this on their own, based on their other revenues. 
The link given in the flyer sends me to here which doesn't seem right: 
lwsc.com.zm/
Council of churches in Zambia
Probably the correct link is this one: 
www.lwsc.com.zm/?page_id=1510
Oh wait, here I also found the answer to my question:
Funded by: 
The Lusaka Sanitation Program is funded by the following four international financial institutions.
Please Log in to join the conversation.
You need to login to reply
Request for Concept Notes in Lusaka, Zambia – Citywide Inclusive Sanitation (CWIS) Innovation Grant Program Deadline: 30th June 2020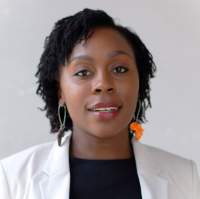 20 Jun 2020 22:56
#30141
by

Chaiwe

Request for Concept Notes – Citywide Inclusive Sanitation (CWIS) Innovation Grant Program

Issuance: 3rd June 2020 Closing Date: 30th June 2020
Lusaka Water Supply and Sanitation Company (LWSC) is implementing the Lusaka Sanitation Program (LSP) which aims at improving sanitation services in Lusaka and strengthen LWSC's capacity to manage sanitation services. This project aims at "increasing access to sustainable sanitation services to Lusaka's 2.5 million residents, especially the urban poor". Under the LSP onsite sanitation (OSS) investment component, LWSC plans to construct 5500 household on-site sanitation facilities, two (02) FeacalSludge Treatment Plants (FSTP), and 100 public toilet facilities and to develop a sustainable Onsite Sanitation (OSS)and Faecal Sludge Management (FSM) citywide
business to cover both urban and peri-urban non-sewered communities of Lusaka.
In addition, a newly funded Citywide Inclusive Sanitation (CWIS) service is designed to benefit residents of low-income communities to ensure they receive safe, equitably priced sanitation services. Part of the CWIS grant will be applied to support research and development (R&D), problem-solving, and innovations in Non-Sewered Sanitation (NSS). This grant item will be used to support organizations, private service providers, and individuals working in the sanitation sector to troubleshoot and improve the functionality of NSS services and hardware. In this regard, the CWIS Project under the LSP is inviting
LWSC Staff, Private Service Providers, Individuals, Research and Academic institutions, Non-Governmental Organizations NGO), Community Based Enterprises (CBEs) and Students from
institutions of higher learning and others
to submit Concept Notes on research and innovative solutions with a focus on the following:
1. NSS service delivery improvement targeting both hardware and software components of the sanitation service chain;
2. Innovation in technologies for emptying, transport, treatment, resources recovery and ICT for improving sanitation service delivery;
3. Innovative sanitation marketing and demand creation approaches;
4. Innovative sanitation business models;
5. Gender and Social inclusion in sanitation;
6. Hygiene promotion and behavior change; and
7. any other topics related CWIS and NSS as a utility service.
Grants will be for innovations in NSS that result in improved service or access for the poor in peri-urban areas of Lusaka. Activities may also include FSM business models and hygiene-related mechanisms for service improvement. The grants are open to all (organizations and individuals) with innovative ideas and solutions that will bring about change and improvements in the NSS as a utility service for LWSC.
1. Individual applicants should be Zambia residents.
2. Organizations should legally be registered as a non-governmental organization or for-profit private entities and operate in Zambia; Have a physical office in Zambia; Preferred to have been active / operating for at least one (1) year and Have three (3) or more full time or part-time staff.
The grant value shall range from
$100 to $1000 (small grants window) and $1,001 to $5,000 (large grants window).
Applicants may submit as many concept notes as they wish however only one award shall be granted per applicant. Applicants that do not meet the criteria above will not be considered.
Applicants are invited to submit a concept note not exceed 2 pages. See Leaflet attached for the link to the  submission details: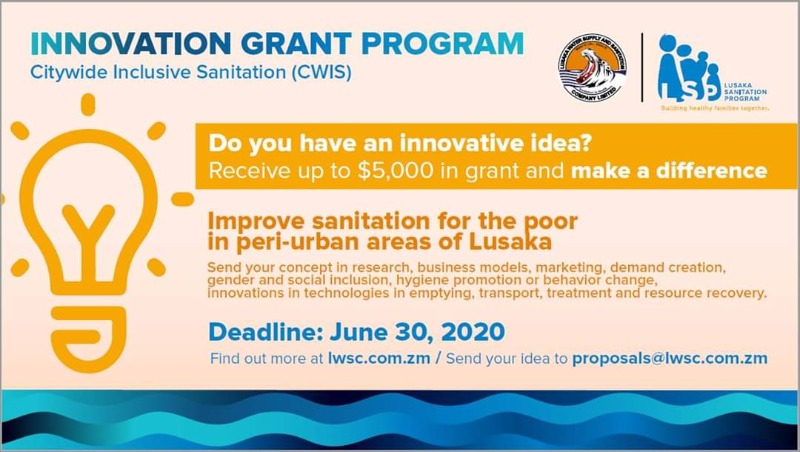 Chaiwe
SuSanA Forum Moderator
Skat Foundation (With financial support by GIZ and SIRWASH up to November 2023)

Chaiwe Mushauko-Sanderse BSc. NRM, MPH
Independent consultant located in Lusaka, Zambia
Emails:

This email address is being protected from spambots. You need JavaScript enabled to view it.

,

This email address is being protected from spambots. You need JavaScript enabled to view it.



LinkedIn: www.linkedin.com/in/chaiwe-mushauko-sanderse-21709129/
Twitter: @ChaiweSanderse


Please Log in to join the conversation.
You need to login to reply
Time to create page: 0.334 seconds
DONATE HERE