Community Hygiene Output-based Aid (CHOBA) - Cambodia and Vietnam (Thrive Networks, USA)
7073 views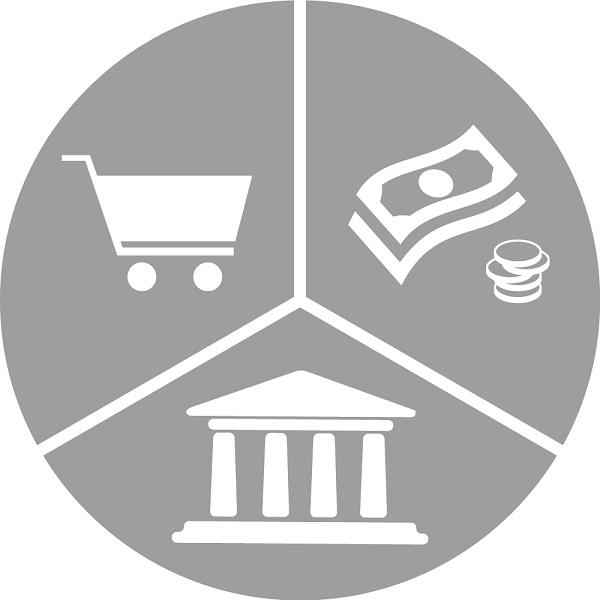 Re: Community Hygiene Output-based Aid (CHOBA) - Cambodia and Vietnam (Thrive Networks, USA)
29 Apr 2015 12:01
#13110
by

Elisabeth
I asked the project team two questions about their project and got the answer by e-mail from Minh Chau Nguyen who designed the CHOBA project and supervised its implementation until January 2015 when she handed over to Jeff:
Is this project solely funded by the BMGF or also by others?
Answer: the project is funded by entirely by BMGF but financially leveraged with Vietnam Bank of Social Policy and beneficiaries. In total, it is 1 to 8.
And if it got 11 Mio USD and you say on your website that you nearly reached 1 Mio people with this ( thrivenetworks.org/program/community-wat...-sanitation-programs ), then you spent 11 USD per person. Is this a figure that you also monitor and report on? 11 USD per person is not bad. (or is that too simplistic?)
Answer: The 11 million dollar from BMGF includes also research costs. So far, Thrive Networks / East meets West has undertaken an RCT* research on incentives in Vietnam, an institutional research in Vietnam, a credit study in Vietnam, and an experimental study on the spill over effect of OBA in Cambodia.
The way to reach the cost of person is the agreed contract we had with BMGF, $50 per latrine for a family of 5 in the rural area. So the actual cost is $10 per person. Thrive Networks / East meets West has now moved to the stretch goal, which put that number even lower at $8 per person due to economies of scale.
Hope this helps answer your question.
* RCT = Randomized controlled trial
* OBA = Output based aid
The following user(s) like this post:
cecile
You need to login to reply
Community Hygiene Output-based Aid (CHOBA) - Cambodia and Vietnam (Thrive Networks, USA)
29 Apr 2015 09:39
#13107
by

Elisabeth
I am introducing to you a project today that is being carried out by East Meets West, a division of Thrive Networks, with funding by the Bill & Melinda Gates Foundation. The description below was sent to my by Jeff Albert who is the Vice President of Thrive Water. He would have put up this post himself but we were pressed for time as I wanted to have it up before our webinar where this project will be featured - in three hours from now (see here to register, it is not yet too late:
forum.susana.org/forum/categories/164-fi...015-1400-london-time
)
Title of grant:
Community Hygiene Output-based Aid (CHOBA)
Subtitle:
Accelerating delivery of improved sanitation to low-income populations of Cambodia and Vietnam using a results-based financing approach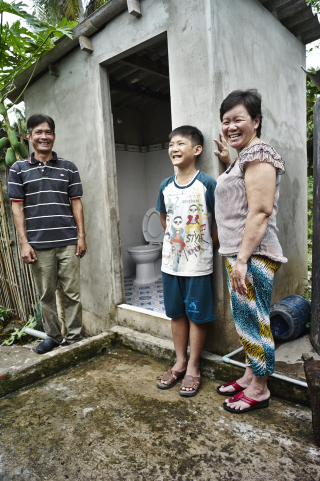 Name of lead organization: East Meets West, a division of Thrive Networks
Primary contact at lead organization: Jeff Albert, Vice President, Thrive Water
Grantee location: Global Headquarters: Oakland, CA USA. Vietnam: Hanoi, Da Nang. Cambodia: Phnom Penh
Developing country where this project takes place: Cambodia, Vietnam
Start and end date: May 2012 to August 2016 (further funding until 26.05.2018)
Grant type: Building Demand for Sanitation
Grant size in USD: $10,892,820 (see grant database ); further funding in 2016 for $2,260,192
Short description of the project:
The CHOBA program is intended to increase sanitation coverage and the adoption of safe hygiene practices in rural communities across Cambodia and Vietnam, dramatically scaling up a previous output-based aid (OBA) latrine program. Under CHOBA, East Meets West (EMW) teams in Vietnam and Cambodia work with local implementation partners to facilitate the purchase of hygienic toilets and septic systems by vulnerable households. Going door-to-door, CHOBA program personnel encourage households to build improved household sanitation facilities and connect them with both approved local construction contractors and consumer lenders. Households are offered a consumer rebate upon verification of a properly built and used toilet with an associated handwash station, and the program also offers conditional cash transfers for the achievement of community-wide improved sanitation coverage benchmarks.
CHOBA targets ~155,000 low-income families across 289 communes over a 44-month period, and we estimate that when completed, an additional 45,000 households will also benefit from spillover effects among the "near poor." The target beneficiaries earn <US$30 per capita per month and are generally regarded as the most challenging group for sanitation delivery.
By targeting poor families, EMW aims to help their rural communities achieve open defecation free (ODF) status on a sustained basis, thereby improving living conditions and combating sanitation-related health problems.
CHOBA's programmatic activities complement existing government policy as well as civil society efforts to further each country's millennium development goal (MDG) targets. Key government institutions play formal, active roles in project implementation, and CHOBA's innovative OBA mechanism is a means of directly addressing sanitation market failure
Goal:
To improve health outcomes by expanding improved sanitation coverage among low-income communities in Cambodia and Vietnam
Objectives:
CHOBA aims to deliver at least 155,000 improved hygienic latrines and septic systems to low-income families in Cambodia and Vietnam.
Research or implementation partners:
Vietnam:
Vietnam Womens' Union
a wide array of regional and local government authorities (Peoples' Committees),
the Vietnam Bank of Social Policy (VBSP),
Vietnam Environmental Management Agency (VIHEMA), a division of the Ministry of Health
Mekong Development Research Institute (MDRI).
Cambodia:
Ministry of Rural Development (MRD)
Provincial Departments of Rural Development (PDRD)
Water and Sanitation Program (WSP)
International Development Enterprises (IDE)
WaterSHED.
Links:
Program page:
thrivenetworks.org/program/community-wat...-sanitation-programs
Program video:
Media Mentions:
vietnamnews.vn/society/263755/rural-resi...rough-programme.html
thrivenetworks.org/uploads/media-documen...MW_Release_FINAL.pdf
Publications:
thrivenetworks.org/uploads/downloads/ADR...prise-engagement.pdf
thrivenetworks.org/uploads/downloads/Out...r-Briefing-Paper.pdf
thrivenetworks.org/uploads/downloads/OBA...over-Letter-Size.pdf
thrivenetworks.org/uploads/downloads/RES...final-with-cover.pdf
Thrive Networks publication page:
thrivenetworks.org/impact/publications
Previous webinar about this project:
forum.susana.org/forum/categories/164-fi...-networks-in-vietnam
Webinar on 29 April 2015:
forum.susana.org/forum/categories/164-fi...015-1400-london-time
Current state of affairs:
Over the course of nearly two years, the CHOBA program has helped to rectify a market failure in sanitation provision, demonstrating that there is vast expressed household demand for improved sanitation among low-income populations in Cambodia and Vietnam. The program puts into place incentives at multiple levels, including those for local governments, households (in the form of consumer rebates), communities (in the form of conditional cash transfers), and local motivators of household sanitation adoption (in the form of rewards for each latrine built and verified).
Based on performance to date, we expect CHOBA to meet or exceed its program goals in mid-2015. Future activities will focus on transitioning this program into a self-sustaining commercial model, with the intention of expanding improved latrine and septic system delivery in Vietnam, Cambodia, and potentially other markets.
Biggest successes so far:
As of the end of February 2015:
CHOBA delivered nearly 128,000 latrines to low-income households (86,000 in Vietnam and 42,000 in Cambodia) in 22 months, with the bulk of the costs borne by households themselves, indicating clear consumer demand and valuation
Average latrine output during the main program period averaged >4,000 and >2,000 per month in Vietnam and Cambodia, respectively
37 communities have been awarded conditional cash transfers for having achieved increases in sanitation coverage of at least 30 percentage points.
Main challenges / frustration:
This is a program that targets the poor, and our biggest difficulty has been to locate reliable information on the locations of households living under poverty thresholds. Given the paucity of these kinds of data, we were forced to commit considerable resources at the outset of the project to poverty mapping.
If you have any questions or feedback please put them into this thread and Jeff or someone from his team will answer them.
Regards,
Elisabeth
The following user(s) like this post:
cecile
You need to login to reply
Time to create page: 0.473 seconds