Seeking volunteers to evaluate SuSanA website - Results of second user experience study now available
4720 views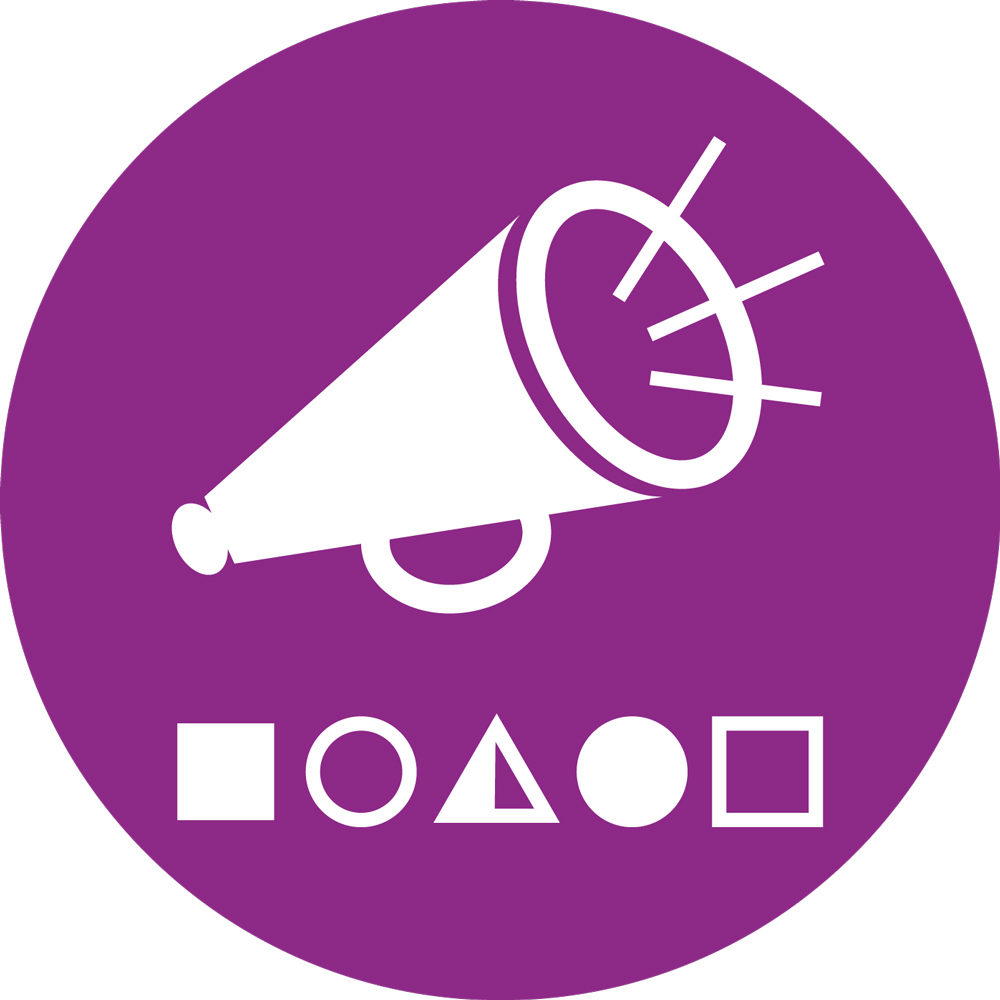 Re: Seeking volunteers to evaluate SuSanA website - Results of second user experience study now available
17 Sep 2019 09:50
#28145
by

Elisabeth
Following on from yesterday's post:
These are
the changes to the website and forum we implemented
based on Michele's UX study recommendations:
For SuSanA main website:
• Reduce long scroll of library search results
• Improve site map (at the bottom of home page)
• Apply the filter automatically when a filter is selected (no need for "Apply" button anymore)
• Improve "get me to the forum" from SuSanA website by addition of a fifth mega menu tab
• Improve download button in library (providing it at the top and bottom of the page, more modern image)
• Shorten registration process for new members
• Improve "Join discussion" button from front page
• Add persistent SuSanA logo to home page
• Provide option to "select all WGs" upon member registration
For Discussion Forum:
• Provide tool tip to explain how to shorten the daunting long topic list when making a new post
• Streamline the help section on the forum
• Add dates on Forum search results – enable ordering of search results by relevance AND date (and make it more prominent)
• Reduce section description texts on forum
• Make attachments of forum posts more obvious (grey box, vertical green line, bigger font)
• Improvements to weekly forum digest (show also the posts without replies)
• Fix the problem with cutting off user profile texts
And these are tasks where
we are still pondering over
how best to tackle this and if we have enough money available:
For SuSanA main website:
• Clarify "Integrated Content" label
• Include more diverse imagery on home page
• Revise home page overlay box
• Refresh home page content and make more timely
• Reorganise social media share links
• Mobile version improvements (start with library page); Maybe create an App (but very expensive)
• Establish a new mega menu page for Discussion Forum
For Discussion Forum:
• Set up language specific e-mail digests, new translation button
• Forum Editor improvements (change over to WYSIWYG editor which Kunena is now offering) - I think this would be important. Unless we change over to a different Forum software, see discussion here:
forum.susana.org/148-your-suggestions-fo...s-discourse-software
When I say "we" in this post I mean Franziska Volk, Steffen Eisser, Michele L'Heureux and myself. In case you are wondering how we organised our discussions, we used Asana which I can highly recommend for efficient team work. Here is a screenshot of our project in Asana: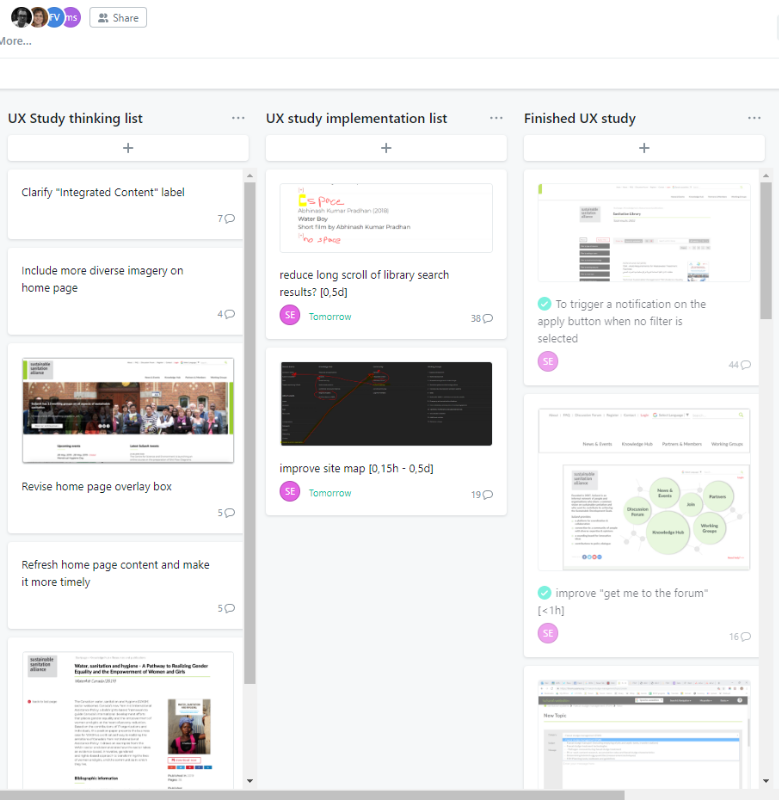 Regards,
Elisabeth
You need to login to reply
Re: Seeking volunteers to evaluate SuSanA website - Results of second user experience study now available
16 Sep 2019 15:42
#28144
by

Elisabeth
In March of this year, Michele L'Heureux introduced herself and her research project here on the forum and asked for volunteers to take part in a second user experience (UX) study of the SuSanA website and discussion forum. I am happy to announce today that she sent us her report in May and that it was an excellent, very well written and interesting report! We had a small amount of money left over from the BMGF grant that SEI had, and used a part of that left-over money to pay our IT developers to implement as many of her excellent recommendations as we could.
You might have already noticed several small and subtle improvements to the SuSanA website and forum which have led to improved user experience, we believe.
I share with you today the two reports that she prepared. One is called "SuSanA Website Usability Study" and is a powerpoint file. The other one is a report called "Improved Web Design to Support Sustainable Sanitation". They are both over 20 MB so I am not attaching them but I am giving you the link on Google Drive where I have placed them:
drive.google.com/drive/folders/1j0R4IFzz...qkEyJVxw?usp=sharing
I encourage anyone with an interest in how UX studies are done or how the SuSanA platform could be improved to read her reports. Keep in mind that this was a student project that she carried out in the short space of 2-3 months and you'll see why I was blown away by the quality of her work! We were really lucky that she did this work and made it available to the SuSanA secretariat (thanks to Diane Kellogg for facilitating this).
In a follow-up post I will highlight which of her recommendations we were able to implement so far.
If you have any feedback or suggestions they are of course very welcome.
Elisabeth
The following user(s) like this post:
fppirco
,
JKMakowka
You need to login to reply
Re: Seeking volunteers to evaluate SuSanA website
13 Mar 2019 03:43
#27125
by

Elisabeth
Dear all,
I fully support the evaluation of the SuSanA website that Michele is doing as part of her university course. It's basically a follow-up study to the large User Experience (UX) Study we got done three years ago by Bentley University's User Experience Centre (see
here
). It will be very interesting to see whether the changes we made to the website and forum after that study had the intended effects, i.e. making it all more user friendly.
If you are interested in helping Michele out and volunteering about one hour of your time for an online interview please contact Michele (details see below).
If you can't spare an hour but have small or large comments to make about the SuSanA digital platform (meaning this forum and mother website, i.e.
www.susana.org
) then please don't hesitate to put them into this thread and Michele can consider them for her study. Anything that's been bugging you, just put it into this thread! Thanks.
Regards,
Elisabeth
You need to login to reply
Seeking volunteers to evaluate SuSanA website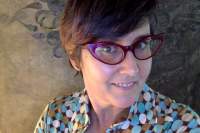 08 Mar 2019 22:00
#27099
by

MicheleL
Fellow SuSanA members,
I am a new SuSanA member who became interested in sustainable sanitation issues after a trip to Ghana a few years ago where I visited Biofilcom. Currently, I am a graduate student at Bentley University in the United States, and I am evaluating the SuSanA website as part of my coursework. I am looking for volunteers to participate in a one-hour usability test online. During this session, I will ask some general questions and then ask participants to do some basic tasks using the website. This process is designed to test the website, not the participant, and to generate suggestions for improving the site.
If you value the SuSanA website and you meet the following criteria, I'd love to hear from you:
- You are a current SuSanA member who uses the website occasionally or more frequently.
- You have read or posted a comment on the discussion forum in the past.
- You have access to a desktop or laptop computer with speakers and a microphone.
- You have reliable internet access.
- You are comfortable expressing yourself in English, as during the one-hour session you will be asked to speak aloud about the experiences you have with the website.
If you meet these requirements and would like to participate, or if you have questions about the sessions, please contact me at
This email address is being protected from spambots. You need JavaScript enabled to view it.
. If you are selected, sessions will be scheduled at your convenience before March 30.
Thank you for your interest, and I look forward to hearing from you!
Best regards,
Michele L'Heureux
USA
You need to login to reply
Time to create page: 0.323 seconds
DONATE HERE