Statistics report about use of the discussion forum, time period 2011 until April 2015
5483 views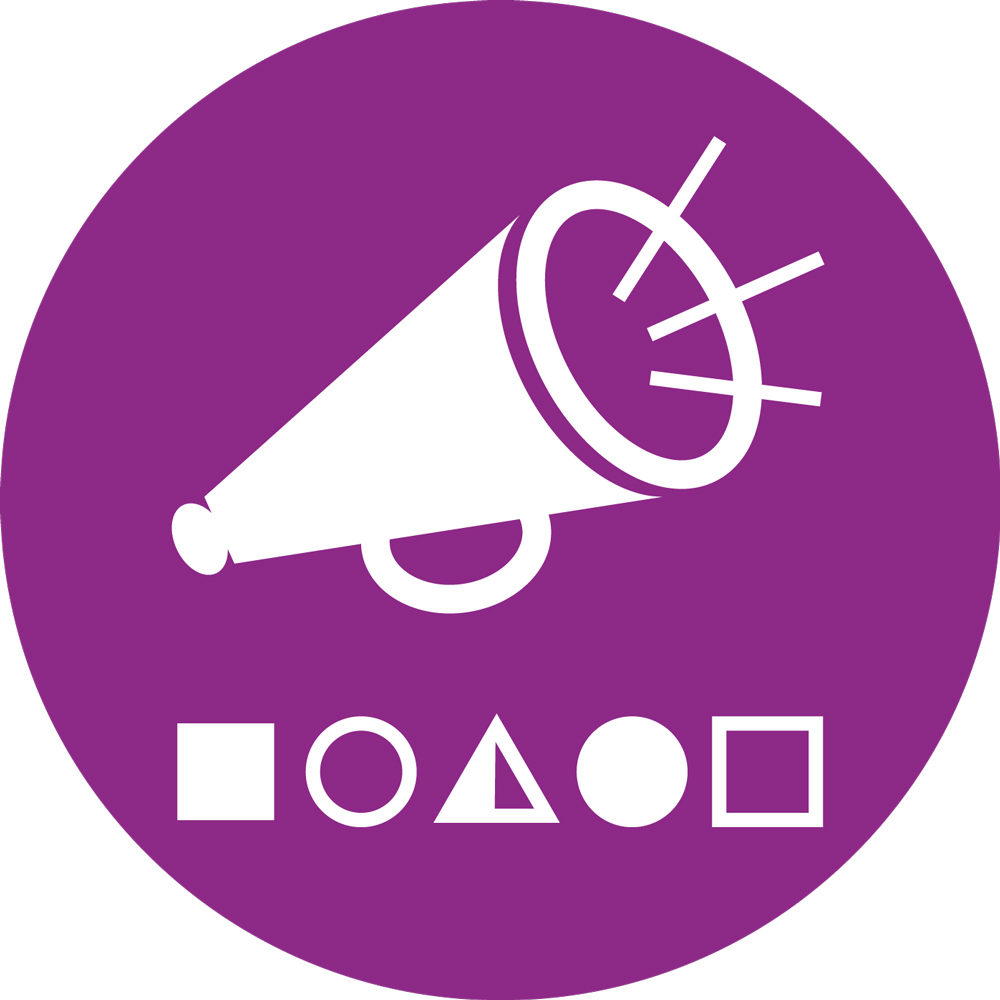 Statistics report about use of the discussion forum, time period 2011 until April 2015
12 Jun 2015 09:03
#13667
by

Elisabeth
We have recently prepared a statistics report about the use of the forum and SuSanA library which covers the period 2011 up until 30 April 2015.

The report is still under review, but I attach the current version of the report to this post, see below. It is full of graphs and data, some of it is a little hard to understand like the referral figures which we got from Google Analytics and from Piwik (trying to analyse how people get to the forum page when they use the internet)...

I have copied part of the summary and some graphs that I found particularly interesting from the report below.

+++++++++

Summary and conclusions (excerpt)

Membership activity levels are high

The Forum continues to increase in popularity with SuSanA member figures continuously increasing at a rate of about 70 to 120 new members per month (to write on the Forum and to download files which are attached to posts, one has to be a SuSanA member). The total membership figure will hit 5000 people shortly, by mid June 2015. The Forum has become a major tool in knowledge transfer within and outside of the wider WASH community. Our analysis indicates that the so-called "90:9:1" participation rule for online fora also applies to this Forum. This means that 1% of members are extremely active and 9% are very active, measured by number of posts. As community moderators, we try to focus on encouraging the next 10-20% of members who have made only few posts so far. However, the impacts of merely reading posts (and not making own posts) should not be under-estimated even though this is harder to measure.


Outreach to under-represented regions is required

At the present time, Western and Northern Europe together with Northern America account for about half of the Forum visits. Of the developing parts of the world it is Southern Asia (14%) and Eastern Africa (10%) that are the most represented, and the proportion of visits from Southern Asia (from India in particular) is steadily increasing. The Top-10 countries with the highest number of Forum members are currently the U.S., India, Germany, UK, Kenya, South Africa, the Netherlands, Uganda, Bangladesh and Ghana.


To achieve a truly global reach, more "recruitment" of active users is needed particularly in Central America, Latin America and the Caribbean (LAC) as well as in the MENA region (Middle East and North Africa), and in Muslim countries in general, for example Indonesia, parts of Nigeria and Western Africa. More virtual events like webinars on special topics engaging speakers from these regions might help. In some regions, the language divide (e.g. English/Spanish or English/French) may hamper further Forum participation even though Google Translate is helping a lot in this regard.

Mobile access is on the increase

Access using mobile devices is increasing steadily (currently over 20% of users). Therefore we should put more emphasis into improving the mobile version of the Forum and SuSanA platform in the future. Of the two types of mobile devices, access via mobile phones is increasing at a faster rate than access via tablet computers.


Outreach to associated sectors to further increase Forum activity

The number of posts per day (new threads and also new posts in existing threads) is still increasing at present, showing high activity levels on the Forum. About 300 to 400 Forum posts are currently made per month, or 8-12 posts per day. The number of Forum members is also continuing to increase. Also, the time spent per page is quite long (visitors spend around 5 minutes on the forum per visit and view around 3 pages) and the percentage of returning visitors is also high (50%). On the other hand, a plateau seems to have been reached in terms of Forum page views and visits since about March 2014. This plateau is at a high level of around 30,000 page views and 8000 visits per month.

Such a plateau could be temporary or it could be interpreted that the Forum might have saturated the "first segment" of participants within the WASH sector, or at least those who were easy to reach with this kind of medium (as opposed to those in the WASH sector who continue to prefer email and closed, smaller groups for interactions, or who are focusing more on peer-reviewed academic publications).

To go beyond this level might require more outreach into different sub-sectors such as public health, nutrition, agronomy, urban planning, solid waste, human rights, renewable energies and alike. For example, we have already started to see a shift from a more technical focus to one in the direction of market development and behavior change issues. Users interested in those areas still need to be activated much more in order to increase participation in these new areas.
A certain degree of face-to-face events as well as regular webinars or other virtual meeting options are likely to be necessary to reach out to these new groups of people. Increasing the functionalities of the mobile version might also help to speed up this process. Also, via the work on Wikipedia, other types of participants might also get attracted to the SuSanA platform, including members of the general public (this occurs via cited references from the SuSanA library, as the Forum itself cannot be cited on Wikipedia). Further marketing efforts through other social media like Twitter, Facebook, LinkedIn, YouTube and Flickr are all ongoing.

Wikipedia is an important route to affect internet traffic to SuSanA

In this report we have tried to examine in detail the highly diverse traffic sources leading to the Forum and SuSanA website, using Google Analytics and Piwik. It is not easy to directly influence the internet traffic behavior. The efforts to improve the sanitation content and linkages on Wikipedia pages should continue in future as this is one route of referrals that we can relatively easily influence, as the increasing referral data since October 2014 shows (October 2014 was our starting month for the Wikipedia work).

+++++++

Looking forward to your feedback, either in this thread or at the webinar next week or both!

Regards,
Elisabeth
You need to login to reply
Re: Have a chat with us: "Open microphone" SuSanA online webinar Thur., 18 June at 16:00 CEST (Geneva time) - and statistics report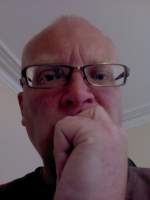 12 Jun 2015 09:31
#13669
by

joeturner
To be fair, Elisabeth, I suspect many of the wikipedia generated links will be us checking the links to the SuSanA library are working etc!

It would be interesting to know if people who are directed to SuSanA from wikipedia spend much time reading around (in the sense of us understanding a bit about the kinds of people who are reading the wikipedia pages etc). This info may well be impossible to extract.
You need to login to reply
Re: Have a chat with us: "Open microphone" SuSanA online webinar Thur., 18 June at 16:00 CEST (Geneva time) - and statistics report
12 Jun 2015 09:46
#13670
by

Elisabeth
Well, the increase cannot be due to my own activities in the library because I have been busy with the library for years (not just since my Wikipedia engagement). So, if anything it would be YOU, if you are using the SuSanA library now more than you used to.

The
other members
of the Wikipedia Project Sanitation are not yet so active that it could explain the raise in referrals, so I do think that there is a real impact of our Wikipedia work here.
As I mentioned above, the whole referral data and sources of traffic etc. is a bit confusing, I find. Would love for an IT person to get stuck in and disaggregate it all and explain it to me...
Here is another graphic from the report where we compared two different analytical tools: Google Analytics and Piwik (this is overall sources of traffic, not Wikipedia referrals):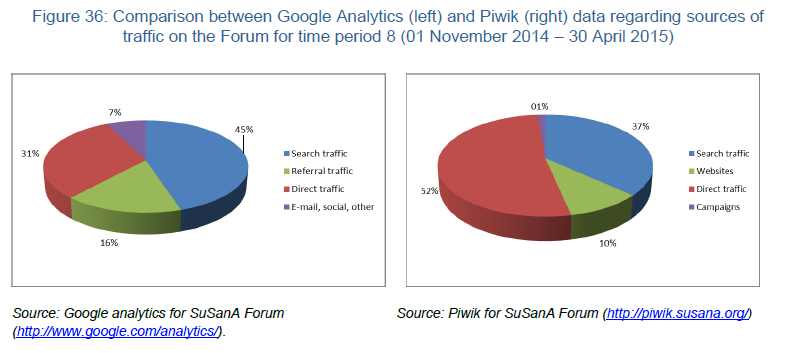 You need to login to reply
Re: Have a chat with us: "Open microphone" SuSanA online webinar Thur., 18 June at 16:00 CEST (Geneva time) - and statistics report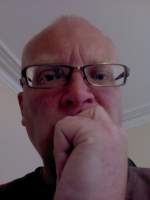 12 Jun 2015 09:50
#13671
by

joeturner
Well, I very rarely read papers in the SuSanA library, so the only clicks from me would be to check if the wikilinks were working correctly.


++++++++++

Edit by moderator on 23 June:

Here you can also view a short video by Elisabeth von Muench giving some highlights of the statistics report during the open microphone SuSanA webinar on 18 June 2015:


You need to login to reply
Time to create page: 0.830 seconds
DONATE HERE