Mapping risk factors for the spread of COVID-19 in Africa (by Africa Centre for Strategic Studies)
273 views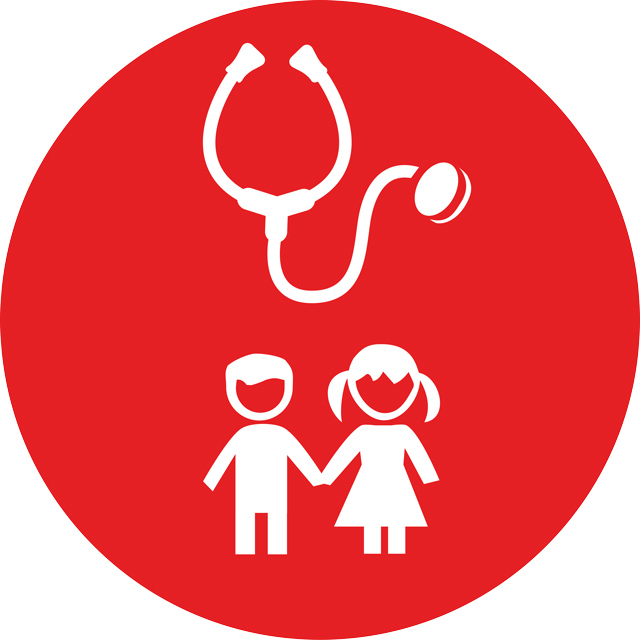 Mapping risk factors for the spread of COVID-19 in Africa (by Africa Centre for Strategic Studies)
01 May 2020 04:35
#29691
by

Elisabeth
I came across this page which I found very interesting: 
Mapping Risk Factors for the Spread of COVID-19 in Africa
: 
https://africacenter.org/spotlight/mapping-risk-factors-spread-covid-19-africa
It was developed by the Africa Centre for Strategic Studies.
Much remains unknown about the  trajectory of the transmission  of COVID-19 in Africa. Many fear that with its high levels of poverty, weak health systems, and crowded urban areas, the virus could be particularly devastating. Others hope that with its warmer climate, youthful population, and experience fighting infectious disease, that Africa will be able to avoid the worst of the pandemic. This analysis provides a review of relative risk factors associated with the novel coronavirus as a means of generating potential insights into the varied and at times overlapping levels of vulnerability faced by each African country.
The risk factors that they have identified include: international exposure, health system, urban density, urban population, population age, government transparency, press freedom, conflict, displacement. 
Sanitation is related to many of them, in particular health system, urban density and urban population. But isn't it interesting that something like lack of press freedom is also a risk factor?
Regarding "urban population", the report states "Stay-at-home orders will be particularly difficult to maintain in African cities where many residents lack adequate shelter, sanitation, and the monetary means to stock up on supplies and to stop work."
Here an example of one their maps, showing the risk factor "density of urban areas":
Density of Urban Areas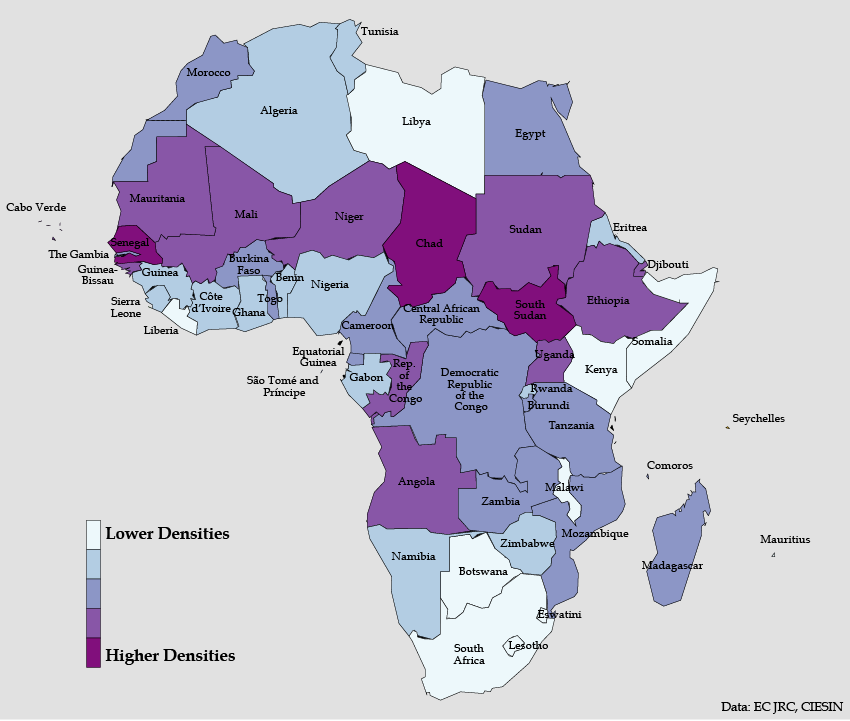 They also did up a
"Composite Chart of Risk Factors"
. Results:
At the top, i.e. most at risk, are South Sudan, DRC Congo, Nigeria, Sudan, Cameroon, Egypt, Ethopia. 
It put South Africa, Kenya, Zambia, Tanzania somewhere in the middle.
Towards the bottom of the table, i.e. lower risk, are Malawi, Benin, Namibia, Botswana.
Regards,
Elisabeth 
Head moderator of this Discussion Forum
(under consultancy contract with Skat Foundation funded by WSSCC)

Dr. Elisabeth von Muench
Independent consultant located in Brisbane, Australia


This email address is being protected from spambots. You need JavaScript enabled to view it.


Twitter: @EvMuench
Founder of WikiProject Sanitation: en.wikipedia.org/wiki/Wikipedia:WikiProject_Sanitation
My Wikipedia user profile: en.wikipedia.org/wiki/User:EMsmile
You need to login to reply
Re: Mapping risk factors for the spread of COVID-19 in Africa (by Africa Centre for Strategic Studies)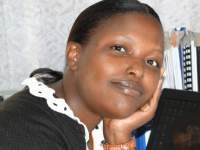 28 May 2020 19:32
#29953
by

CharlotteM
Dear Elisabeth,
Thank you for highlighting this. Since the first Kenyan incident on COVID-19 which was on 12th March 2020, much of the risk factors that have been highlighted here have come to play:-The first record came from someone who had had International Exposure and did not undergo any self-quarantine or isolation.
-Majority of the cases, have been in the densely population urban towns (i.e. Nairobi and Mombasa). Cases that have been recorded in
smaller towns have been of people who have migrated from the said cities.
- Citizen cooperation with government guidance to mitigate the effects of the pandemic is closely tied to trust in the government. Initially the people would really follow the government directives. However, over time they are getting impatient and many people are moving around to fend for themselves.
-On May 26th, the first COVID-19 case was discovered in Kakuma (refugee camp). Given that the risk factor (forced displacement) ranked high as written in the story, we are yet to see how this plays out. Fortunately, some individuals are taking it upon themselves to sensitize on the need to curb this disease. You can read this as captured by Al Jazeera.
Still hoping for the best as we wait and see.
Regards
Charlotte




Charlotte Mong'ina Maua
Water and Sanitation Consultant

M +254 (0) 723 571 463
E

This email address is being protected from spambots. You need JavaScript enabled to view it.


L: Nairobi, Kenya
You need to login to reply
Time to create page: 0.246 seconds