Update regarding working groups and regional chapters category
1557 views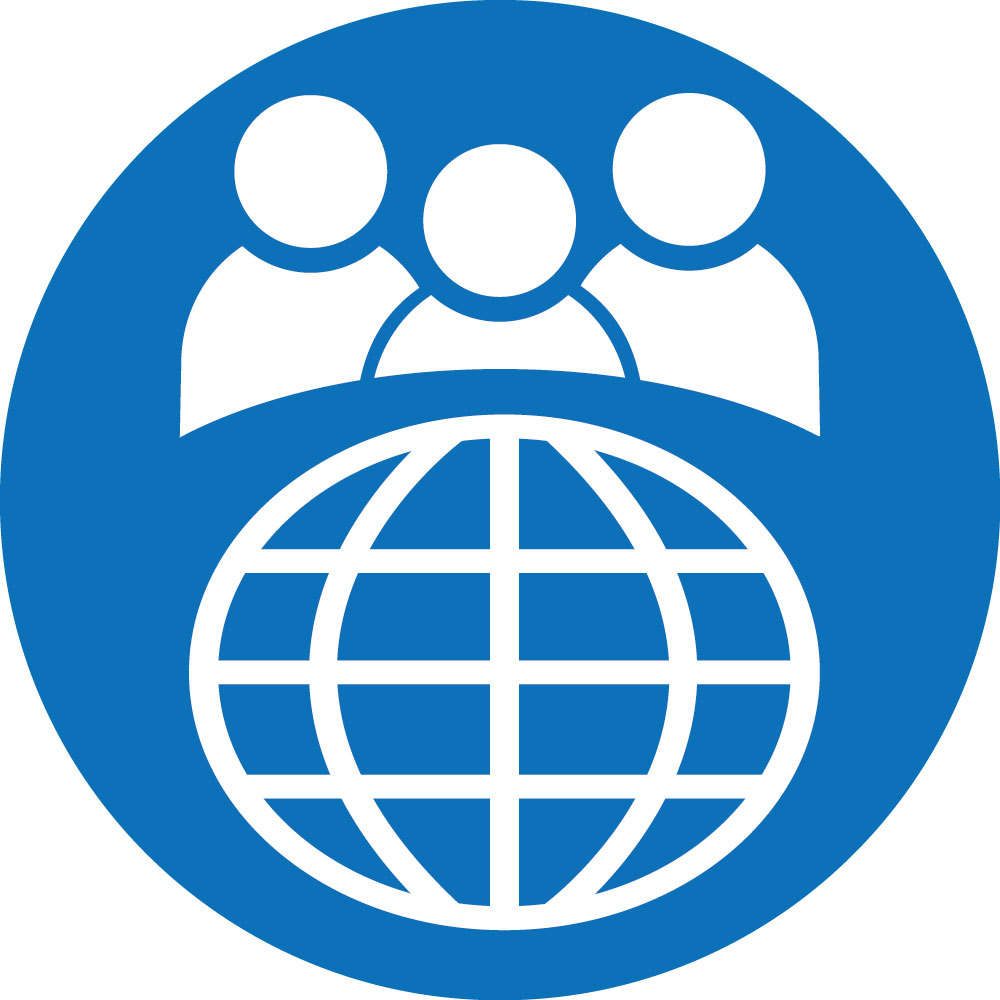 Update regarding working groups and regional chapters category
14 Dec 2020 11:09
#31377
by

paresh
Dear all,
On behalf of the Secretariat and the moderators, I am happy to bring to your notice change that has been recently effected in the category "Working groups and regional chapters"
We have updated the
page
to include a direct link to the respective WG and RC on the SuSanA website and included names of the respective leads and coordinators (See screenshot below). This was felt necessary to give better visibility and representation to the SuSanA Core Group members. We also hope this will lead to better integration of entities within SuSanA.  
Please let us know how do you feel about the move as well as look and feel of the page.
Regards
Paresh
On behalf of the Secretariat and the moderators
[img]data:image/png;base64,iVBORw0KGgoAAAANSUhEUgAAB5IAAAXqCAYAAAAyCSYGAAAgAElEQVR4Aey9fWxb15nuyz+CMXD7hw7QC82FgVMDvDc6Cq6jIAcR4IsmhJFYGBswx0FN1FOY0SkcwjgOjw9q8LiIwbERH9aFwevBMegZKN5KrVDXlUvVlak4tYfqKKUy8ZjO2KESawacasaMoVxvR07YTnqnM6f5eC7W/lx7c29+SLKtj8eAQYri3nutd/3W2lvvs973DYD/aAFagBagBWgBWoAWoAVoAVqAFqAFaAFagBagBWgBWoAWoAVoAVqAFqAFaAFagBagBWgByQIB6T3f0gK0AC1AC9ACtAAtQAvQArQALUAL0AK0AC1AC9ACtAAtQAvQArQALUAL0AK0AC1AC9ACoJBMCGgBWoAWoAVoAVqAFqAFaAFagBagBWgBWoAWoAVoAVqAFqAFaAFagBagBWgBWoAWoAUcFqCQ7DAHf6AFaAFagBagBWgBWoAWoAVoAVqAFqAFaAFagBagBWgBWoAWoAVoAVqAFqAFaAFagBagkEwGaAFagBagBWgBWoAWoAVoAVqAFqAFaAFagBagBWgBWoAWoAVoAVqAFqAFaAFagBagBRwWoJDsMAd/oAVoAVqAFqAFaAFagBagBWgBWoAWoAVoAVqAFqAFaAFagBagBWgBWoAWoAVoAVqAFliwkFyr1cD/tAEZIANkgAyQATJABsgAGSADZIAMkAEyQAbIABkgA2SADJABMkAGyAAZIANkYOUz4JbOKSRTEOeGADJABsgAGSADZIAMkAEyQAbIABkgA2SADJABMkAGyAAZIANkgAyQATJABtY4AxSS1zgA3A2y8neDcAw5hmSADJABMkAGyAAZIANkgAyQATJABsgAGSADZIAMkAEyQAbIABkgA0vNAIVkCsncTUIGyAAZIANkgAyQATJABsgAGSADZIAMkAEyQAbIABkgA2SADJABMkAGyAAZcDBAIZlAOIBY6p0KPB93v5ABMkAGyAAZIANkgAyQATJABsgAGSADZIAMkAEyQAbIABkgA2SADJCBlccAhWQKyRSSyQAZIANkgAyQATJABsgAGSADZIAMkAEyQAbIABkgA2SADJABMkAGyAAZIAMOBigkEwgHENwNsvJ2g3DMOGZkgAyQATJABsgAGSADZIAMkAEyQAbIABkgA2SADJABMkAGyAAZIANLzQCFZArJFJLJABkgA2SADJABMkAGyAAZIANkgAyQATJABsgAGSADZIAMkAEyQAbIABkgAw4GKCQTCAcQS71Tgefj7hcyQAbIABkgA2SADJABMkAGyAAZIANkgAyQATJABsgAGSADZIAMkAEysPIYoJBMIZlCMhkgA2SADJABMkAGyAAZIANkgAyQATJABsgAGSADZIAMkAEyQAbIABkgA2TAwQCFZALhAIK7QVbebhCOGceMDJABMkAGyAAZIANkgAyQATJABsgAGSADZIAMkAEyQAbIABkgA2RgqRmgkEwhmUIyGSADZIAMkAEyQAbIABkgA2SADJABMkAGyAAZIANkgAyQATJABsgAGSADZMDBAIVkAuEAYql3KvB83P1CBsgAGSADZIAMkAEyQAbIABkgA2SADJABMkAGyAAZIANkgAyQATJABlYeAxSSKSRTSCYDZIAMkAEyQAbIABkgA2SADJABMkAGyAAZIANkgAyQATJABsgAGSADZIAMOBigkEwgHEBwN8jK2w3CMeOYkQEyQAbIABkgA2SADJABMkAGyAAZIANkgAyQATJABsgAGSADZIAMLDUDFJIpJFNIJgNkgAyQATJABsgAGSADZIAMkAEyQAbIABkgA2SADJABMkAGyAAZIANkgAw4GKCQTCAcQCz1TgWej7tfyAAZIANkgAyQATJABsgAGSADZIAMkAEyQAbIABkgA2SADJABMkAGyMDKY4BCMoVkCslkgAyQATJABsgAGSADZIAMkAEyQAbIABkgA2SADJABMkAGyAAZIANkgAyQAQcDFJIJhAMI7gZZebtBOGYcMzJABsgAGSADZIAMkAEyQAbIABkgA2SADJABMkAGyAAZIANkgAyQgaVmgEIyhWQKyWSADJABMkAGyAAZIANkgAyQATJABsgAGSADZIAMkAEyQAbIABkgA2SADJABBwMUkgmEA4il3qnA83H3CxkgA2SADJABMkAGyAAZIANkgAyQATJABsgAGSADZIAMkAEyQAbIABlYeQxQSKaQTCGZDJABMkAGyAAZIANkgAyQATJABsgAGSADZIAMkAEyQAbIABkgA2SADJABMuBggEIygXAAwd0gK283CMeMY0YGyAAZIANkgAyQATJABsgAGSADZIAMkAEyQAbIABkgA2SADJABMrDUDFBIppBMIZkMkAEyQAbIABkgA2SADJABMkAGyAAZIANkgAyQATJABsgAGSADZIAMkAEy4GCAQjKBcACx1DsVeD7ufiEDZIAMkAEyQAbIABkgA2SADJABMkAGyAAZIANkgAyQATJABsgAGSADK48BCskUkikkkwEyQAbIABkgA2SADJABMkAGyAAZIANkgAyQATJABsgAGSADZIAMkAEyQAYcDFBIJhAOILgbZOXtBuGYcczIABkgA2SADJABMkAGyAAZIANkgAyQATJABsgAGSADZIAMkAEyQAaWmgEKyRSSKSSTATJABsgAGSADZIAMkAEyQAbIABkgA2SADJABMkAGyAAZIANkgAyQATJABhwMUEgmEA4glnqnAs/H3S9kgAyQATKwvBn4FLWa+M9xog3IABkgA2SADJABMkAGyAAZIANkgAyQATJABsgAGSADMgMUkuk4pvOcDJABMkAGyMCaYODT2ieY/aiIG/84iKm/fwUTN/fj8vt7tf/ivfhM/E58R3xXfmDiez5AkwEyQAbIABkgA2SADJABMkAGyAAZIANkgAyQATKw1higkEzxgI5yMkAGyAAZIAOrmoFPPr2LD6o/wcTN/2oJx6aA7PcqviuOEceutYdD9pd/EJEBMkAGyAAZIANkgAyQATJABsgAGSADZIAMkAEyIBhw/wu4P2j1ZwJFoMgAGSADZIAMkIHlxsA/fjSFyZn/1rKA7BaWxbHiHMutX2wP5xoZIANkgAyQATJABsgAGSADZIAMkAEyQAbIABkgA/ebAbdOTCGZUWl0lpMBMkAGyAAZWBUMzHz4swULyG5BWZzrfj+U8fx88CcDZIAMkAEyQAbIABkgA2SADJABMkAGyAAZIANkYDkxQCGZYgEd4wtmQEV1pgJ1fvUtatXrBeTH8vr/8SIqcw+hj/NVlK+VULqi/y9XVLK6YFYfwvjd97au3vm3nB4SVnJbbn740yUTkU1RWZyzmU1+81EZ//OvEvjyZyHgx4HF/T/Xhy/fSOH301V89ulqnMfsUzOe+HsyQgbIABkgA2SADJABMkAGyAAZIANkgAyQATLwMBmgkHzfxQ4C7gRcRWkwgdjuKKJ+//fEkTyhIDteQlVdnvZTp3NIbAkgEAgg8HgMypVqU3HBaYfl2S+9jSpKJ8N630T/1keRnV64iKvOFJEbSCGxJ4K+Rw2bifN2hBDZk0BqII+Sl0g8k0NM+n7f8SJUzteHwll1SkFijzFn+2NIDpfbHovKVBapvX3YIMbe+N+1O43CbPtzYXXPv/btsXLWlgfXt9mP3lpyEdkUk8W5/Wz+2a/y+OJ8x+LEY0/xuQdfTpXw208enA39+sjPOQZkgAyQATJABsgAGSADZIAMkAEyQAbIABkgA2Rg7TBAIZnClK9D/P4sBFUUDocsIckUlHxfO/qQGCyispwE5fkK8gd6HH3o2K2gvJzauCiul0ZIVmcKUA70oUMSDn3HOdCF6NEcSlVp8V0tQvJcBYURBcqAgvy1FbjhYL6C3H4n74HNKRTlsWrIm4ryUBw9Xhw8nkC+XSF51c8/aQ40tCu/53ePmv9kDr+4+b3WhOT3XsRI/ttQfvYdjFzd29Ix4tziGu7r//rjCn7/Zs99EJHNqOYwPv9AxW/IRZ3t3WPBn7k+kAEyQAbIABkgA2SADJABMkAGyAAZIANkgAyQgaVhgEIyHbIP2CHbppBsiE+hQ7nlI9SqZSi7OxxCcmBLO8La0kze+7cILl5IrlxKI7Lejjz1F5Bd39mSRO66Ef28KoRkFaVTEYOVTkSHyg94vi2eNXU6i1jQNU6BHiTGKi31Rb2SQeTr7uP1n3v3L2Ber/r5t/gxu39rw8poW/nWcHNB+L3vQvkfvfjmH8ps/jv80cs7MPJuc0FZXMNt53/+VQ5fnjNF3/vz+tUvSvgtU1zX2d49Fvx5ZcxVjhPHiQyQATJABsgAGSADZIAMrEUGVBSP92m+sp4DeVTbKBlYncog+ngAPf2ZNgIcVoaN1TkV2v827MH5U0NNrSB3qA+dnX1IjlXazqC4am04X0F2T6c2z5ZLls8Fz9/ZPBKPC/9dL5KXVmCQ1irRHykkr5KBXDmLnltI7kT4YBqZUxnrf+pg1JkCWROTuxBbQDrd+2MXFeXhOLqsCMsORE6VVtGNanFCcmUsiZBlG0mkeTyM2GFprI8lEN2s39BsobkT0QHDlqtBSJ6vIn+wdwULySpKA1HPqPKufbnmmQLmqygcMvsvWAghMVxq64+E+jm82uffyvgDp35clke7731yB3/5/n9uIiS/iKFMD/53bZ36X/DEtm780bZv4N8bP//R8e9g/P3GYrK4hriWbIfPbmbwlWda6qUTlb96M49/ubc8bC33ne85JmSADJABMkAGyAAZIANkgAyQAYMBS/SQfGIOP1kPwntTUC61XzZsQTYWG/J36QExoaMFVP184SIj3d4uS+Ct+Amakq+n92B7QrDe/oUKyVUUj5lZLnuRmlhFgpLFTA8S46uoX36sLeXnIgDmG/pc6+jPLp9AtKXs40LO1aaQrE6lvP35jrVLt3PocIN1xLeti5i/1vygkLyge4DvmLT33EIheYkM+TAHcWVd2y0kh5Ca8qi/q1ZQOBFBp7xY7cygNNce4PfPNirKE1ktXXF2vLxIYWy59Mlsx8KFZPV6FrHHXA/Km2LIjPs/HFenskhs1R9ou/YoKJtjvBqEZLWMbL8Zvb4CI5Lnikhvd42nOSc7o1DM6HG/dXSu5Di+c8ke6Fbz/DPnIV8Xsn7/w9xEExF5Ly5f/Ta+t01w/b/iT/4iaonGQlwWYvIfbH8WQy1EJYtryW387QdeQnIIX/x1Af/6fhH/Vsri859H8dXIIoTlixSSZZvzPdcJMkAGyAAZIANkgAyQATJABpYdA5bo4eNPMf0qgQD6DrWwSd/P59Ly5yrKAxGsE9dtVKpM9sM9mUC+4sPWbAHJTaJvvQsUPRcqJNegXskisb0X4QPZZeQj9rFTy+NTQ81ihkJy3XyeLSCzP4ro3hRy094aQv54FKFnokhfai17Yt012hmrlfLdZSckL2L+WvODQvLDZHdNCcmVsRRiu6OItvu/P44MFyKHw3zh0LYoJItFea6EzA7poesbMWSnl+DmvFIW/IfWzgUKyV61a3ekUfB78JT7p1ZRvlZGxRSRxe/kB1jxcH28uPKivueKSG0xGV55QnJ1wrkbrXdHWIrEDyB8skkkftX840K3QcOdrzIPq/3930/irHIap0+fwYW/ra+1u/D19QGtj3du4I3XT+O0cg6/bLfG9X0e23dn/6K5kDy1A9/7bjfC8T4oUl3k8Z99E73iD+ttIcfnl32ik8W15LHyFpL1usa/lvv9qYp/mc7ii7EF1FOmkOywuWx/vn9A819mme/JIxkgA2SADJABMkAGyAAZqGegkegxr6JyJQ/lUBgbDEE50sy3sgQ2Vq8rRtmxEFKT3hGv5eGY1aZAoMu3pFn1UlL/2/mpBPIL8gksXEhetX/3WcxQSK4bY8s/HEbmioeQvATzo+6aq+GcCxWSH40hN7PM/AvW/KCQ/DBZXUNCsoryqbCRYtYUdtp4faQPqXHualk8rG0IyVKqFC318SNhZK753TCMB7HjCcT6jc0C+5JIDxVQrjZZ/NQKiqMKUgdj1iaD2ME0lPESqqr3sepMAdkBRYtIVgayyHvtiDJuOupMCfnBNBJ7jXb1xxA/mkFuwj+SWT5//prxgGe2c7/Rzj1xpAbyKDV7aJtXUZ7MQTkm2WZPAqnBPEqetlmYkCxq4Ya/Js2pR2PINotYbXRjth4U9HNqQvJ8FeWJHDKHDBv0x5A4nkXhuvdDsMxr9XoB2ZNJxPfY45A4kUXBZ+yqUzl9fAdzKFYM7qpl5AdT9jn2JHTGZAHc6pOKymQGUalWdPhYDsUrJZTM/9Ne7W6fZUdbZ/S2qpUScqeSiIv5YNjJ6ofVRm++Nbu5NwaICOSpgiPC2Hcna7Wi9bF4KYOoVF+590AWBbPv4vV6Bep8De22X54fjeefhy21eZND0Wfctb7PVVAcU5CW14T9KSij/muCzFrD93du4MIZISKfxtnJ2fo/OBuMzYfFszh9+gJuNPhOw2sv0XEfTp3T2i/6cPridFt9uN/t++XfJZsLyV7C8Dvfxp+++IfaM8I3X/6WFaXsJyKLz8W15P54C8kBfHU+gi8vpvB5MYd/+7sqPjNrHH+i4nfvZvDlT9qIUKaQ7LC5bH++b7CeL9Hcp41pYzJABsgAGSADZIAMkAEy0AIDLYkeVRRPGH7qTUkUPHx76mwZxVE9G6IynEfRy4c0X0VpLIvsWJMyYs3SW4uMens2OPzmXftzqEtvLZVw6z1UqMvQWJ0uIj+s+0uzo0WUZ738uPVCsvBhmceJvpYM35abN8sfNFKwy60JG4yKaxr+WSHWT+Utv212rNjEN6yict1ut3aeqbLmr3JfvzZXRn5IgWL6VDX/kRijLAo+ba47h9ffZxYzLiHZfT21gtK4wcSAgtxk2dt3vWibCM5VVK8XkRP9HVCQHS04x1Mto6CNdRb5Rv5f4c8ekcZH9F8EFIkxGtTPrQzlUXT7do2+Z47FjZTLXYgeziBj+ONzU4ZP1eqrAuFDVytF5MR3BnM+fm9jDs+WkBPXN8fSGJeW5p3XGMqftdI/4/umTzQ7odd3FnNIa5foQ4O5IHOlaQ/GvNOOEX7s+yokqygbHJrtlttjv1dRvmRkdJ2o4ENTT5Hnr2y3morKtYLVfzF3taAza374C8ktrT0WKwtdK1pY/x39WV3fp5AspROx67RKYpj8e4rJS+DAbU9Izh/osR9i1keR9RB/1Jk80v3S9+Qx096HkBgqeT4AVC6lEdWKtfuMuftcRgoYa/ed9vsuxEc9NhnMlZE7FnFEcNYxtjkOxbzxSQuN4/zPJJAdySD2lE8b14e1TQ6qdLy5YFcmFSS2rLNt6O7P+ohH2o+FCMkqSuYDsHGN8GIjiF1Cck9/Eomdeq2WOjsGuhA9Wax7gBV2EA+Zmb1ynV63HbsQO+U+1n6oFdfq2ZdFfiiJcKf7WOPnx2PSOLoZ9zkmEEDnnqzjoXxhLDvb2rUvi+JoCuGO+uuG26jlrYoaI5IIrNdEVlE6ZaRD0sa5x3OHamVUriFe3w5r/LT51H77HfMj4D3/1Olm68IGhA/n7FTqYv6IB4rhJMKS+G+11Zw7W5MNN46Yc8/79RZ++WNdRD79k7fxocec9T5Of/CYviiOffhCck1EJGdP4/Rryy8iufDBS+0JyVPb8Sf/wWb0f9v5LJR3GtdHNsVlcS15vPyEZLjrJp+L4ot3Svj/PtbH9bPZAr4Y24C677mPEz9TSHbYXLY/36+uP1A4nhxPMkAGyAAZIANkgAyQgRXLQAuih+ibFiWs+W76kJYjLdUy8sciUnSw/Tdr754MCmawQ62Gyojpf/H2jdg2VFEejKJD+DY80luLtmiBEJ0RpE4m9Ijjx+L1kYmib5p/0inoqJUCMp6+2S5EjuVddWttP9CG3SlkDoadpQ0N/0vvXmdfRV8sf5DcB00kF77PTkQOpRDfbNvL8uk8EkJi2O0bVlG5lEF8i1mSznXclgRyboHU8lWGED8UR+gR8xinPWy7tziPLWZcQrJ5vUf6kDiW8PZLPiX7JI3rLdgm+vHVazkkd3R6+JM7ED6U1QVasangkO5v1X2G3n21sh0+Hkfu/SqKAwmEJX+jNUaBAHr3Kbb4a/bd9Me5Xq3MlVJfo0Nl1KpFpLeKcelAdMAvk6Lt++7creh8tjHvfMd3vo3+aT5Bey709KeQ6vfyX3cifNQ9h3Rba/Nuj88xB9NIGuUKLVs18ENaNZJbjEiujBgZDHw2wmg2quQR13SXEJKXqt7z12hTdUrxnbvxYylEtTrY9fOsrbVHYqW9tcKbbV8OGth5JR9DIdm1CMmLl+f7rzEyeXHAu0U2nxrJYsJV8khoNTeMm/KWFIquyE9RkzfuJ7A6xnYDooPOm0d1Mu2MoHV833wQcL2KNlSlBxftGI+HtbkSlH4/0dN1zkAfkq5od+vBqJU2ie8Eo1DkaG1x4xqM6w9+zc7hPrZm30y1OeAj4Ds4EGnId8r96kPaq/Z1OwtpkweG+vnZg/iIsxZzZSKD6KNyu/zeu4+1b+T11/E5x2NmBHYVxWMhj4et+uNkIXnhLLvb6vMA3CAtkWMstTFSURow/sDQ+LEFY0+Bed55Q62OJ9DTjDvxew8hWTzoedvcTqvknB/18691WwawQdTlFpkHxMaPg30+13aN3Y60tg7U281pB/fvZydFRPFpnD5zATfuNP6u+9habQ5v/2SZCMntzOMH+t1P2xORRWTyO9/G91/8P9CrPZCKcf4G/tNr0ZbPI49Ty0KyKRD/NIHf/72K39Rq+M1cCZ+/0dtcTKaQTCH5gc6pdtcpfl9eE/iePJABMkAGyAAZIANkYI0yYImC9aKHgwnL7yWlm54TkcG2P7F3ZwzJYykk9oRtP8uWpFVGrnUhWReuo1qAhHQ9wwdkisyaqDZTQEoTY+v9LcLfo5WEksQjdSZniMvib+oehEUWxGNJxHbaAleviG62sj66/VjiuC70ieOOJxGXjgtsTjpqNVv+IE8h2fbdrNsURnRPHLH+CEJWsECvw/8q/Fu6OBVAYH0IEZHZ8kQKif4+W8TfqvuBrXGzxsy+VuczYUT7E1DkzQDt/t1mMeMjJEs+tp7tEcT2xRHb1WcHLwmfpBx8ZQlmdjtbsYnoZ3Uqg4hks/DeJNLHk4jtsIO4OnbqfjF1Ko0+0bav+aSdnq8gt0/nue9YEe+O2f7CdZsiiB1KIyPOvV1i/mAeWiS8FZEcsyKSI4cyyJwS/xXkpoygLquvZklBadPElhQKXtk4RZ3vZ4RtDH9nm/PO4sE1zpV2+mfMveJxly9SsCiyme6NIrzJDg4TAVtVyf/qnHcdCO2KI3lcrBUSFwY390NIrlk23IDYkNMfr9vHHod1OzNaTXPP+attEEnpHGnt7YUXc7qv2LmmOm3QwtpjsdL+vPAb87X0OYVkaSH2Fi9ssKzff02PAF1LoCxdX1sUkmeLUPbYNyghLkXc0ZRCrN3t3B3Vtz+D/GRRT6s7rjh3T8k3NbFwyMd2hpEcLKB4vYzytSLyAwn0yWmaA70I9ye0Wtki8tda+DR+XA9WQsQ97kqj/mQUyYEcClNFFC9lkT7Q59xt57rhO89vMtiL6KE0lNE8ckMZJHY4U870HsrbNxSRkmavfRMWN8bIwTSyYwUURBpv126l3oPSsQsRkq0HHqOt0gPlgtnxeDgTHIT2pJAZyiM/qiC933Wz3SoLfHr0rLbb0pjnvf1JZIbzKIyL9NhR+4FL/N7YJKC31+uhNoDAU1EkTyjIjReQG0gh5trl2HNAf9hRr+eQ2h9FZKs8BgGIh7aIVKM9fsJIA7QYlms+bdX63IvwrrD+0CxSjcsPla6HHcc4zRWdKayfkdIsSQ+B2pq4PgrFvUNTRPaOKcgcjdp/6Ij2iIchqf8xsYtxrv32O+eHa/552LJzaxzp4QKKU0WDf1Po70F82HjYcW9cCYYRP64gd6mgpaaPOyL7NyA2XG5L0Lpz/QLOCBFZOYtJj5RVDvt7jk0FE6Iu8XKISPZs3/JwELQdkWyluX4RQ3/xJJ4QnD69CX/eQlRyaxHJPfiykMHnf5XGlxdC9ULxSARfvFvR0l1rYvKFJpHJFJLbmnfN59Xy4Jbt5DiQATJABsgAGSADZIAMkIFVxIDlI3OKHu4xtkS4jojhV9GFl07NfxJBesKZ/VBkXktqkZYBhMy00kYZvKaprcXf8ZIvNHS0gKr5t732udjU36kLQqLU4FHdb9K1V0pvLZVAs9JaCx/RfsN/KzK4OdI7i4jftCFKdiE+YvbH6Qfq2JFyRFkLO1WvKIg9qfsYhc/STLFt+YN8heQuRE8VJdG6htpsEemdetBChxl9Kvou/Len4kicktJkGzYRYqqe6a+BsPtIH5JjXgLaAli2mGlwPZFVclxPf2yypAo7GQE0DrFQjOkuU4RswyZWNG8AG3ZnUHT5r6qihJ95vWMFVIX/uV/3zYcO16c6V69lEBH+9a9H9AAo4bM7GEd63G03wb4R4foN4b+UbGj5h33EaquvppCsB6fpkbA9nllEy2Y9cM2PvIB5Z84d92vb/XPOhd79RrS3eV61gvxRw/ctRwrL8+7JGJQrztKJIko3tcMO1HGwYZ7b9WpFJAdCiB+zU4iLtOby/+wlc+ykQLQdaU0oNrnUXqtFpLaIObwBMWPue85fIUgb/vVmzAUC0poq26DVtcdiRbSrjXnhspWjn2vodxSSNbHFEL/aeU8xeYHOXLeQ3Imw2H1kLEqZU2kk90m77Mwx2S4LhPrNRKTPtaMePYRmMZHFomU8ZAnRS7upic9F2l4rAq0T0UFzETRvVC4R8skE8tLN01r4tPY5hSwtHYx17gAC21MetU5UlIdiDiFTvuE6zx/Auu1J5NwiYLVgLMgGvy7xVp3OIbkzhPC+dH0qXrFwykK641jpRiD610pEssOeAQSMnUaLWlitBwWjf9/Q03A7UnhLD7H6Rk/XMVMAACAASURBVA9XJPRcCdkDYYR2JqAYtSbsNombtSz4y8c6b+Ti3D17pPQq5k1i1jUGQadYa9+ERR+kBxrzeON1USx7Csk9erpua7enyXVrr1baGWP+iV2Dst3lHXbCNuGTzmh/y8bWg7A+hkJol3fP6d+rt7XY+KClG/dpv3N+OOefu20iLbkWcey2+VQeuXFnnXIt1f3mPsSOedRRmckh/pjBYiAALW2PtBPQ6rPrOtrnVl3kM7hw/U6ba+c0Lr9+Bq8pRkpsIUZL/89O3nKe79M53Jx6A7nh1+zv/SiL3MW3cdOV0UG07ZYRJZ37mznUtGMv4NyPjGsor+Fc3uu4G7igteEsJv/Jg6n5W3j3cg5Z8zynT+O1M+dwYeom5sz6wMJO7uuJ7w3ncPndW7jnZccWPmulRvL45Lfw3//vZ/HfR7/rjDye2oE/6Qkg8Ifd+NPLLzp/ZwnOdtrr1mokh/H5Byp+bbT9s2oJv//LqEtQ7sMX1yr4rFbDZ/+Qa1wzmUKyk/cWmGg4N3k87UkGyAAZIANkgAyQATJABsjAUjNg+UIk0cN9jWoRmX4jQGSHHq1X07L9CfHPx8cpBNaJlB6d+XjcEanb2t89kmAmAgaMSE31moLI10W2Q9unVZ00IgRl8UpswNfEXbtfdta6PqQmnWKW3ibbx9jZb/pnJD9QRwQZOcOiZCfLvyO361JSj4j2EZI37DGv4fRVWJnzHo0jV3H+ztN2kuDkKBMn+SrdvjLP80j9afh7ixl/IbkuwEo7t4riMV1odIjkUvvbsYmXzZ3tVlE2RdindF+5FaVelwrd3pDQ41Vv220by7auiHnr8zaEZOErNexipa42ryfm2Q7DTyv0gPs+7wzerH7I/ZPmgrCnF5viOC0VeC+SE/ocs+ednUHSOU41aCK+UfawPSHZ9n3qvnbnzw7frtUne00w22GxtNkOTrL8udL8tb4nzXPzHPqrxJwkJNs2aGPtWeC8cLanhfXDZG2VvVJINoXKBb12oW9nFFEpwm5R7w94CFWrDLhazS0kOxcjrwVqw640Co4dbfouuuweKSLXL1VFTX9IsqJSRUqSuRrUKxmErTH3Tq8tHppC5ndcu6GshU/7vSxkua4X6EVi3OtBSqTSFemgzd1hAQQkMdd5/vrF2FxIHekvOj0iQ335UVEeiNhpfK3dj2IxtB/ytPFoQUjW6rqIh07DXo6HF982NFl4rZuRfl6/m57TVvJYNDm/qEczlbbHWNohJWzgsK1r/O0biPQQXseCOL/EkJ+QLHbvLYLlurYGAugTO0tbFTnd4+MW5x/xeFATGzTkaGxHNLdkd+tBWB9Dx8OGdV2XrVtov++YtxItbV1Xamcrn4lz73WuOe5U+zYX0rk/ncWkURf5bOFd3Ji8jDcuvoE3Ll7G5LsVp7Dq2Y5bKF0W388hq4m3QhQWP+v/J96bs//ovzONN4clEfi8+M55SRjO4s1pp5BtCsnZX7yLX46IiOnXcE4cd/6cLV7XpeJuICTPvo3cGVcb8jlkXzM+y10xakNL9aKla54xvnd2ctbul6ddJBtLv3939i+aCsDn/59NeuRxby+OT9rC8PjoN/FNMY//w5M4PmV/btZEdr+Ka8lj7p3augtfXcrg878p4ndVW1D+lxsZfDkSsAXlczEtzfWvP63hd+/E7c/NNNjmK4Vkh81l+/O995ygXWgXMkAGyAAZIANkgAyQATLwgBmwfCFdiA0UULxS0jMnTuaRHVCQEbVuzY3qj/QhZYhDNcsPtgFaCl9XJKAykEHmeNzwY3n7MpuNtRb8oqW3Nn2NeiDNukAAG/Zm7Uhej2hCIfh0ib+Zpax1ln+mow+J4xlH5KIWxXgqg/TBsF6b2QrSsf1A63YZ5cakv+utPswW7HrMho2s60lClBZpbUTfOkRf6ZxCVAuLesYevlN1uojcoILMSRHcZPr57ZTYDn+kNUa2qGe1Vy0jdzSO2J6Y8//eBDLmGEttso4Tn1nM+AnJsvjo5LkyHNOzXm6XokIlwax1m9jjskGORHe3WdhAEzaN2t5WVkPXBggrICNkM66dS0XlijEXTiQR32PY3ErVbbJp9NOyuYd/UpzP6qszgMdm3Sk0WgyZwq11/qWad+30z7a52GhhRt472LDmou3zlvtQkALfHMdpdmnsU5e/b/uwQ4iJiGQthbj7VYEdkaxH9RfMOtl7pU0c4tpGAJu8AcJqtzV/7f63xpzNhnWudtYei5UAWp8Xzvkm22ytvaeQbAhfpgD2UF8fd0a9rk4Y2xCSn4khNVxE1SsqUdxgjRQn2ph1hBD2EfQjWyTx5zFjx54jgtauvSrb3HpAEoy4xsZarDR+7IW85hayrIckr0XHJdgG7IhY5/ntRVJun3hv1jDRufW5obpv+MbPdh0VcVORj3W1qwUhWXvY1R4i9BtUwNxN6XNtdz88f7Zu5I1ves5NAc6HBs/zSm1yCuDysfaNTLOtvANTOl6c33n9AMIn7Ohc+yYs+iCfX+JhsSy7RW+Ph+JmdpB/b+/o0u1et3NP67/LPn4bJqwHYf1cLQnJLbTfOT+k+SfSoUh11e3drpK9XeMn973he5HayXg40piwHnoan/tW0aiLLERgr6hi5RwmK/daEMdM8fYCbnj24Q5K53Wx9szPruCWYyPBPdz6m/PQU2ufR0mqz2wKySLKOfvzaaewPV+xRPDX3pyW2mi2xRWR/GkFE1mjDfl3neeq3cOtdydRMh9wP3gTrwmbnJ1wPSjfw60PbmBWamPDcXHZ4h/mJpoKyZevfhvf2/4H2saXP/i//k/EjoTwvZefxDf/UOe098AOnH+vuZAsriW3zVtIlsTiH3fhq7/M4V9v68z89qaCL89Jv7+g4Hd3avjN/1vC5z9b5y0mU0h22Fy2P983XotoH9qHDJABMkAGyAAZIANkgAw8IAZcvhDdZ6f/vel4/2QU6Utmume9hrEWGdySr9olOLr+NvYda3cq4qoZnWmnn9WPtf0+QmAuz1WQP6CnsLayPdZqcPoWPfoo98UK0rDP3TDb21zJKLtm+30sf5Dsk7HEIR+/m/DdXVeg1YeWfU6iLNtATMp26d1+byFZ9qMaXFntdZ/HbVsPDi1mXONq+UY9rmeMuchyqAn8nkJyGzaR/F5W6nIvrqqm7830V0tBNlagl53p0+FXFLWID5rl5tx2Mn82z2vYqZkN/MZfSn0s/JGaSCuVghQ1h0X2Radv2GyD36trfNz2abt/9lzw9pnqgWjp7aI99jyojBhpwEVqbo/sg9ocljQKB8PuNhs/Wz7sBj5wr3XF8otLJUWtjAauKPW6+TtfRf6gXku9PeYWuPb4sSLZxHOtkH7vZYO18hmFZPmG9rDfu8TK1QmhW0juRPhgGpmTKSR26QuH9VC1JYmCV0oHMXkdQrDf4u7xufnQopaQ2WXXCghsSSAn1XmtXssiIUVcuh9srIVPY8ZeyLUoYy09hnHtJoKq84HLvhk5z++6gUqLV3koKtVa9n+oUGdKyA8rSB+K6xH01i4v00bysQsQkq1dgsb5jPQmi2LYelDQz+l307NuWNpY+D8g1aplFMeyyBxPINYvdrvZuwt15uRj7Ru59rtGN1EXi/IDtXUTbtQ21/EW/83WI5Nlt5DcqK0SO95jo6I0ENV3ihrX79md1HahyfUwFHlHqfE99xzRzm89COtj6P1Q1IatjfY754c0/wQz0oaGhg8hDW2honJN1MHOILU/ps2ZyHa5ZnsAAfmPFr9zfVzCeVM8fj2HyQ8+xMdaaud7uPOrG7gsIoA1gdkp7nqPjSne+gjJlQk9YlnxO5ctNGd/Yf+hagnJo1dwx6sf04bgq1zADSsttdkWp5D8cem83p/sBCrWdz3+QKrV8KEpsF94d0mFwXuf3MFfvv+fm4rJ45e34z89q4vJ8px74sU+KC3URxbXENeSx6q5kGyIxudT+J+zNS3d9b9cS+IrM9r4x7344t0q/lmLSo5RSPbikZ85mJP543vvtYZ2oV3IABkgA2SADJABMkAGHjgDki9kw+aIM5PlzpDhx+tBfNhVZs/yg/UiMWRHMpeMiGb3a8VPQGr4d5Neak+rw/xMErnxtJ6x0cOXZNVwfjSG7KWsUe7L6aO0/DOPxpC5VNQir93ttH6+ZpYXk/xADSOS81ZEshm1bV1P9sksUByy6vcGRNlFBflJqf1TeWR264FJDn+kNUayH9WYY/MqylMF5Mfzzv+XCihV1MZ/y1nM2L5hjdtG1zPGecmEZMm/qEWnOwIUpHXE8r0ZEcmiHSLtuRbYodckVq1SgM4axWUzLbaow3sih8KUHq0vGCleUqDXNXYyZkfqe9hcXLvB+FuC5jf0LJ6aD1nUbF4vZfW0bLz4edd+/+y54O0z9RaSrXnQyP+u2aWxT11eGy0ftsdaIH+v7r0kzms+cVHXWd50InFktduav3b/W2POZsM6VztrTwNWzH5RSJbmuphf0n8Kyc3Emgf5+zUpJEupWNQKcvudYk2vqKHgEZFsTeo2x6dzt1F3RNQVuWTU+5DP0dmLXi3FiyGIit+tjyBzxXnDtxYr7VhJyLLSTejHN0zRorXBqO1hnsddfF773F4k5ckr3jcTkqtTWSR3dVkpp2XBxPlevhkvQEiWdjTq53WnLXEuPO5+eP5s3cgb3/SaCcnqTAHKwbAkuEtjq9nX/HmBQrKrnfKN37oJa9eRz2/bY/Es2zddzfbt3vClG0LNSkdj2qSNV/khzDyn9SCsn0e2jT3m7bffb/65bel42Dfb1OhV7EYdTSMmRTU754lkD+uhxx5Lu0/6Zx9fNYTVH13Au14RtiLt9VldTJbFXfd59J9N8dZbSLaE2fMlfOzTR6s9P/6lkV7arpF8On/D8XBgt8G8bhaTZjRxzfzMKSRPXzSikQu2UG2fx2UnU/g+fQa5yZv48GPX73364Hs+6fvlW8NNhWQtTfV7L2JodDv+9Niz+P7/2I4/v+yqmexRF9lMby2u4W5Ly0KyEI7HMvjXuRp+fbeC31/ssUXjfBa/u1vDP/8q54xWNsVmRiTX2d09Dvx56eYSbUlbkgEyQAbIABkgA2SADJCBBTBg+UK8/HlVFE9G9A38QqCVglpqUtCL8Gf4lSxTPfyk7YyTyEQXXS/8G50IbdZ9hp7BAVKEbWh7SG+zVFtZu6blE+tFctzfF6BKYpKjRJsopzbl9LmafbGCbyQ/l+UPkn0yCxSHrCyPO21fsXltkXEya5Q3c/iWrP7KftQFMCL5MLRrWsw8TCG5BqvesfDxedaulqKPNyWRt/xEwrcX1vzPnbsyyA8aUdJWhLJIgyz8/jpvoWNFVL1s8JTg0jVvmtm80fiL3xkplvuO5ZAzol+Ff9JKI71U825B/bN9ot4+U28h2c4m2YW4oSVY7Bp2FRtBzLKeDobddre+b5RnlOab+5x+P1fHDX3jsRiUsQwiQluRIpTN47zmr1UjuRXmZDYsLtpYexqxYtrBK3uBj83Mfq2VVwrJDiFJEgkexudrXUgWk3LG3G1mjsUGRAftVMHWxKzkEH/U/E4ArSyI1rHW5K9aNzlfsSgYcaSZMc9hLXwaJ5KQLOoeL4uIZLHDMO6TnkXU9o4g/EynJDDLD0ALEJLddZUDAThuypbN23i4sm4I+jj7jXEjIbk6lUFU4kQe557tEUS2y1HwstBr38ibibNu8VJ+GGpFSK4tmuXW22ry6/danZBrOtvzS7Zbo/fhk665aj0I6+fyfihqv/2+808ws9CIZLGR5ZBPep31IUR2RdAnnbuViORWhFUvcdd7fEzx1ltIvpE3opsvyimoXfPt+gUjAvoNTBtz0opI9hWSK5h4XT/3hevm+cy2yELyHN7+if69s8UPWxL7PvzbN3DWjNg+fRqvZXO4/Dd/hznHH5jmNVt/nf9kDr+4+b3WxOQGYrEpGrtfxbnFNdzj5Csk/zSBz6ey+PxSxBaMf9yJL4tlfPZpDb8tp+2o5JEYfl+p4TdqGZ9f6JS+b0QzU0ius7t7HPhz63OFtqKtyAAZIANkgAyQATJABsjAfWDA8oW4BDHTNyZ8h4a4JUS3khRZXBlNGL68XsQH3eX+VJRHkwhvidsCtFpBcUSBMur+boN+iWCQPVIZQCllrpMHFaUTujho+oLkLHzad0U65KN9un/xsSgylypaumDrPCI68XgEof4MSlWzTS4/0NYk8tNOMbk6pSBm1JHuPZS3RHXLH7QEQrKVHliq+ay3W0VlLGnUonb5nC1fpexHNfu1iFeLmYcrJGuZNnfqGTw7dqRQcEVSVy6lEdE2IYjSfnpqaHOsNf+o8bsOzV/egeiA5CeU0hj3iMAx2fcjODoehqjVXSckC9to5S2dpSnVqsFME3FQRGz3GO3RORalJasO30Lb886cy/LrgvpnzwVvn6m3kFwT1zLL7z0aRcbVH3U6h+RW26/r51M3x068Wj7sBQjJgpu0qYd8Xb+utjnFtenFc/6KoDyjrfXMqZCZc7CxkLWnCSuaHdoQkqvX8sgOZlEwNwR5rMd135GZWWHvKSRrC4k9scwb40N5pZCsLeJ1kcJfr48IFpGTqS32uHXuyXpGLssLovu9ek1B1BKGetC3K4Lw5i70bIkguieB9FABZeshx/kwYC18Gj+SkCzVH9AYetyoyey5MLgE24XUSPZJbW2l6jD53iTqTRdQmrUfzKzUJ9p35AcgV7taqZEs1xsxryn6M+m8MbvHoOHP1sOZPs5+Nz1fIblacDAS6OjT0qYUr9ttcorACxOSneJrB6KDdmoi6yas2UQ+v8TTolm2Hzo05hZywxd8ztupR8z1r3e7KwWTuw75rj7nZoUtKRTlOWM9COtj6P1Q1H77feefqNPyjL0udOxWUHY9tHgzp6d22mCxG0DPriSU8RLsVFGutPzyHy2e87sGU9y1BVhp3M1jTHH37CRumZ95vpribWMh+bWf33Q8DDv6a15LaUdIvok3f9SKkPwhfvnj9oRkrW2ffozZD97GxPlzeM0UlZVz+KW1q9XDZp72cX5v9qO37puQLM7tsKvRHm8hOYQv3qviN7Uafv1xBb9/o8sWh3+awr/N1fCb20V88VOzVrKR3voTFf9W6LO/y4hkT5t7jQM/c84F2oP2IANkgAyQATJABsgAGSADD5gByxfiIyRrPrQsYlrgQwciJ6XoTOGbOWwIs8JH8VQY0T1xxPdGEd5kluhbh8gpXaCzxFBfMdir71J6a3GNBr5Lzef2iOln8elPtYj0DrNtAXRtjSC2L454v1xSrg9mempHRLLlh+lEaGcUsX0xRLdKmRW3CjHT7oPlD5J9MgsUh7SoTjP4ZHMMqZMZrbRbaq8RfW20zeGPtHyVsh/Vbt+C55rFzEMWkgWbDn/5BvTtiiG+P4bIFnvzwYbdimMDhNZvSUj184lbEc+BAHp3J5E+ldHKXca32+d2iIXC3yICP/YZTHT2IXY4heSeELoEG8IH2Wz8XdlDO/uz9b7CNued3zi33z/bJ+rtM/URkoVdKgVLgBX27toaRWx/HDErfb45b12bIXx8arYPuxOhHaIkpP//2KFs3fiXrbTl4rremUo956/I2DplRDFrc86bOd1X7VqD2l17mrEi6xtyPXUvm8n+fKNWdd167PEdP3ZWwucUkq0blj25TBHlgb9SSDYcxVKaF3N8dqSdApX75mTUOmh50oldK+bOnUAAdTvqvBYI6TNr4dPaJwnJNT3Fh77zSjDVi8S4LVw62id2IO6UuNuURMEQT5zndy2SUju8U1urKJ2SdgwGY8i6dvaJdiy1kOwlRAaeiiN7xaf/Vj9UVMbTiO2KIjVqi7B2DQzdRo4HN+vYGvyEZFEHI2TyE+hBYqw+xc6ihWTB0WE5ilXsarPFevsmLPrgIyQvlmWphom2Zi1QSLbTohhMbk/XPRQ4+NXGwN1/F+/Wg7B+Tu+HIvuhqdX2O+eHNP/cGzma3fRNjtQKsnvsCP11XmmNaq6+yn+0mOdxvd78+WtaBPC5v66PXrVs+bdGlLCUbtr6neN8jYXk+5baWtR5FnWcT5/FL61NAmZb5IjkGlqJwPbum/FH16dzuFk4q0dN/+RtzDn63/4fZjc//OmSi8ninH598BaSDWHYFJIvSkLyj8P4/AMVv3EIzB34ckqPVP7dVJRC8iIZ8Bsrft7+fKLNaDMyQAbIABkgA2SADJABMtAiA5YvxN+fJ8TU8rAZKSmLrGKjfxXFwQT6Ogz/jOXbCkAESSREpLIRzWn79rz9Xn5jZqe3bpJRUM682MgPUi0he8inrNymGDITsk/O9gP17stA8TkutE9B0bXJ3PIHyW1ZhDhUncx4lzfbFEF0q+4ncvgj14CQLJhRr+eQ8iyV2IXI4RzKUhS9zFh1Ko0+g9c+r/TVoqTckDfbPTujCGvCfv28Ua9nkdjsmg9BI/120/FXURqI6qnZffzDWh/amHdynx3v2+6fPRe8faYNhGThL5ktQtkn+6VNG3UiclhBul8X4B0M+/hZnD5s8zw+r/L8M883m0fSKBXo7VcVZUaNFNgex1evZZEw5pxDk/taHxInM4h7pT0X125n7WnKimBfQVSk5m7mU5aisM3+1q3HHt9x8GLaboW8Uki2bsY9CO/y32nRaBfGkv3ugCKl+Wjx4WSFgGZPEpcYI3aoSMKb9T3xoLLLFnbEAhI6JNUvELtVJp01jjf0Z5xis2mb2RKyx+KIHcjYDyBuwUmkYpajL/tjSBzLIDOgIHepVBftbC18Gj+SkCVuttNZR3rdwJakY/ec3kcVpcEY5AhIcYNVjTY7z19/AzXt5C0ki7Qy0k1EEqjN40TKiex+Oa2zvJNuYRHJ4tzqTA4JbWGXbjQdIcRP5h3R0GY71Jmi60EzhOSYkQbHejjTz+V30/MTkkWNhS5rfjsFXu364gHhVFT6jiz02jdy/ebVi4QscpvjNJlGWHqwN28cVv+u2A9QgcA6RKRo5ZqUwmVRLC+JkCw/VAl7OyOrzf54vbrb7qirY/3xpI+h90ORy9YtCOHO+eGcf1ZtDWPsu/Zm6x9wtYfDJOL7U3r6JPkPI7GLb58rxY42r3NISlkQWklt/XHJqJE8egV3zPXI8XoHpfN6FO9iayTXzJrDynmUPOsNe1+rWWrrO2ad5+wEKlbbvYVkq78/ehPTny7wHvZPkzgrhOumEdqtnX/mw58tmZgszuU1B8zPvIXkAHAugi9+kcHnP3cLwx346s00Pp9M48vzUhrrsRQ+n8zgi3yIQrLFXGvjbY4FX2kvMkAGyAAZIANkgAyQATJABh4aA2oFhSEFmYEsCjN2sEFde4ToNKogc0qBMlayxGHre2oV5akCcoPiXApyE/X+SSE6l8ayyI6X649v9PeUcW1lIIu8mZbV8/sqKpM5KKcUZC9JwR+e3xWiThmliRyUgQyUwRwKVypw1kfWuaxMie8oyE7oPkB1toziWFa/zlgRJVdKZdMm6kwBWXHu4YLtq7X6oiB/zSeYpVpCflCBMpiv973PV1G+ottZs8eUaLOKykRWa2NuShLB58rID4nz5Gwfs58t2vlcraI0nkduLO/sewvXU6fzuk1G7A0GGhejitb+BdnEaHt1poSCSJ1u+Mf9Mnea4yOCjLRU6wM5FH3GUPvuXEXjRBvLoRyK01XU1KpxrM+8EfNhUvRVQXa0aPv6Whx/MY8EN00zF7Yy75qNbRv90+ZCo/klfJgj+nriTgFv2l2tlBzzp6xlJFVRvqTPKQfDfm2vFDWOMiJKvMl/x/yzzifSUBtzxieozHP+WseLtUFF9XoR+WHXmifWVO0zHzbEOVpZe1pkxXetcLRV6CAF5AS/Juvi/K71uO47rnOYY7gSXikkm2KDOzf/Ch7U5Q1ei0Kytvspa9XD0MW8HsSHpYcWkdrigCyGBhAIhhE3BGCx6KUORBypd3v2mekrxM6/mCQiSsKnJT5KnwUjSI3bdT4aCVnazsHjUkSwON/6Pq1dynBOW5RFCg7H7pon48hJD5fO87crJLujojsROZZD8VoJpStFFEbSHrvtlkZIFuyJVM+yuCr3c4NIG66lxoig73HJvpbNQ7Zgu0ghWZV2wYk29OzJID9VQulaCcXxLFK7e5xj4IgYdombWvs60LcvhcxwHvlRBelDUQdbWvS5O+pZbCr4htTPJ6NInchApMlZJ6LVze8vkuXicSntUQtCbN0aMVdEervUTp8o9rrjxDqpRdavs225PgrF/CPkIQjJWnuMWkMWeyJF0aks8pfyyJ5KIS7tcBP1iIr/KKXJEWP9SB+SIhW8NmcKyJ2M1+8E9tg9V2efTyuYyBrpnv+qgnvyfUWOvj3zBqY9xV/5D39TvD2DyzPG5/Mf42NLsLWF4jM/u4Jb0kYF0a4Pr57HGSHQCqH5jn1eS0hWzmKycs8hlN67dQXnz+jtP/fXct1jsy3OiOTapzfxpvH9M/l3MWe1rYaa6O8vcsgVZ/Vr/FMJly9fQcXV79lJIyL5ZyV8LNtrEe//8aMpTM78twULyuJYcY668XW16bObGbvWsZmKeolfv3ozj3+5Z49fszbx97QVGSADZIAMkAEyQAbIABkgA2SADJABMkAGyAAZIAOLYYBCsiYQrUNkQBcoqxMZxPsfcmRygxz00b0p5DzSFC8Gggd7bOtCsmiXKHbfa4mMQiiWRCrhxJ8tIL3TGblsiUfycdr7LkRPmbuzVJRHk+iz6nxIIlrdccbvOiNQruk7CZ1CrzMiUrOniPjd5xK5/c7bEdZEankcnOdvV0g2oqLNOh9+13V8vnRCsuhHdUpB9LEWbCq3Yb0u1lt2WKSQrAmKu+waLf5cmO1sFJFsfsf/te9ooX73p0iZ4RY15T5vttOZL4blxQrJzjrP3hG51ri4xDMtHdOgmSJGt0/4pF6rp/YwhGQjelhPeeI/XjoP6xA+jM8fOwAAIABJREFUqmc6EJHMjrVGHiev960Iydoa9TZyhrh6+rUscvk38Mb5czjzmi7Qnj6Tw9uuVE3etp7DlVHjGOU1nHn9jFZT+IxcE/nONN4ctr9z7vwbeOPieZwzahyfVrJ4c/qOQxC1hOQzZzSh+bVsDhcuvoHzI3pa7tOnT+NM/oYrotpHSNb6+0ucM2sdv3YGWhvyOWSN/p4ZvYJbtXu4eTmrp7AWfRk5jzcuXkAua1xTiNot2aT1B8BPPr2LD6o/wcTN/9qyoCy+K44Rx3qPifP6//yrHL48Z9Y6vj+vX/2ihN/KAn3dfHS2qZV28zu0GRkgA2SADJABMkAGyAAZIANkYGkYaO57auan4O9pQzJABsjAamTgj//4j1vyLy7X+zGFZE0gCCE1KVIoVJA7JFIaK8hPiujN5fS/iNzRCHp3ZVqoW7o0Dz/3B9r2hGSt7u5hKdoyEICIICzJtRhELvzDYUea6LrFZnMcmUt2RHFl3MjJL8Zf5NofzCMvUnXIqRuOJxB9xilERk7pAplT6PUQkoVzX6RdOBlrKE5t2JH0rCHsPH/7QrIQ9ypjDYTyp2LIjOWR3mHemJZWSNbYqZaQOx5t2H99nDoRPlhf92SxNZJFG0QNjbhRn6GOiUBIG/ecVeO4kZDciR5fYbwX8QFzg0L93KteURD1FPVFpHjeTsUjmFkAy2KsFyUkz1eQPyBHZ4eQvOSTCshPtJrJIS7bZ0tKTzP/kIRkbexn8kj3y/0yWTde14eRHJLGTdS7Ph5Bp5doLNJd704jN64gakaYtyokC5vN38K7vziPc2dscfa1M+dwYfJGXeRww3X3zjQmcrYAm81dxru3nFHEWuTv1BvIDdvXOv2jLHIX38ZNed00xtISkoVYPPM2LkgCshCVL797yxlJrR3XQEgWv5+r4MpFSSzXxOILmHzPea65m+J6uiAuBOvTQnjOe7ezoV2MvrTynU9rn2D2oyJu/OMgpv7+FUzc3G8Jy+K9+Ez8TnxHfLeVc5rf+bWodfxmT3066iWLSjZqKrfRX7NtfK1fm2kT2oQMkAEyQAbIABkgA2SADJCBpWag3vfk8kX4+Bx4HO1EBsgAGVjdDFBINqTopb7xLv35VJRPudINmzfvx+LIV/QozuTRLPLutMTm9x7m69YUciMpJIek1M4r0pls1JgwBduBLIqVJg+uIr/8uMjpb+To96nfIeoBiBz66cNxPX3y/iTS4rtabQvpGloqXnNh6kB0wIie9LJntYj0VvO7AZh1jM2c/lrNAHGNBlHiWp0PUfPkeBKx/ihiB1JanZS8T50Qwb77/H41VarX8lrdEdEOr/ocaqWI3EAKiT16lH38cAbZ8RKqqm4P9bpRW8RV26Nq1CoRNTCUIY/6IV628vtM1JYQ9VG0VOMxe2xE/YfxEioe4pY2/406IHpdBgW+9Rxmi3q9GMHHgEc9lLkyCiMZpPbrNtDsL2piVA0mRJ0UrXaNfKyHODtt9MMYx/jhNJSRAvS6ExJfHnbQxuFUUs920B9H8mQORSmVuXu9a5ll41p6PQ19fojxKvvZ1KNtNbWs15nQ5peoT7OwNUawKGqb6HPCqBVj1gUyz+1TT6fd9rvnh//8U1G5IhhPI7k3iujeBFInjbrnPjaqXslDOZ7Q5mq0P4bkcZ09vX65WL90lr3rgTTmwD3Oy+FnWUheDu1Z6W34bLaAL8533AcxuQdfTpXw209WHmMrfUzZfjJHBsgAGSADZIAMkAEyQAbIABkgA2SADJABMrCWGWBEciCAjl0KynMqykNJpEZySEnC4XLZCRI+kUf2aBLZBoLlWga5rb5XC0haUaobEBsu+0adqSLS8klTSO5EbLji+9222uAl6PGzZWRbDyHZrEvLcVpG48QHmMWuOxSSl56h39yp4N/eSuLLn4UWLyif68OXb6Tw+w+q+GeuPVx7yAAZIANkgAyQATJABsgAGSADZIAMkAEyQAbIABl4wAxQSA4EEDpWRLVagnIojdxIEqGHGXnsde3OCDJjWSSP5lCZX3qn92KFiBV3vKhbK9fOFSluB/IoTtvpfPUo4jRiz5gicgCBTQktcn3F9fcBLyqrwz4UklfHOHK9bDaOFJLJSDNG+HsyQgbIABkgA2SADJABMkAGyAAZIANkgAyQATJABtYuAxSSA3p92+pUBomTeeQO9mK5RCGb7djQryA/mERqjNGwS7VYVS+l0Ocl2vt+1ofUOO2/VPZf/uehkLz8x2jt3riXcmwoJJOjpeSJ5yJPZIAMkAEyQAbIABkgA2SADJABMkAGyAAZIANkYHUxQCG5IwLlWgWFE0kt6tdOYyxFovqKiw/iO12IDea1aOnC7OqC7+EuJioq4ylEHm1hDDfHoUzZ0coPt91k4MHYn0Lyg7EzeaadyQAZIANkgAyQATJABsgAGSADZIAMkAEyQAbIABkgA2SADCxXBigkb06hcC2P9CER9RtD10MVjT1EzSfjyI5lkDxRQJUpipc+9/1cBcVRBakDMUR3hdHbEUBgfQiR3VHED2WQnSijynTiS2/3FcByZSoH5VQGmVMZKEN5lOd4I1uuNzK2i2ySATJABsgAGSADZIAMkAEyQAbIABkgA2SADJABMkAGyAAZWHoG1ryQ3LU/h+JoCkkR9du/Ydmlte49mEP+ZAIZRsSuSTGTi97SL3q0KW1KBsgAGSADZIAMkAEyQAbIABkgA2SADJABMkAGyAAZIANkgAyQgeYMrHEheR0iJ/PIHk5qUb+RTo+I4IcaoRxCciSnRUuXGA1JIXkFRPFy0W2+6NJGtBEZIANkgAyQATJABsgAGSADZIAMkAEyQAbIABkgA2SADJABMrASGFjjQnIIyYEMkkezyB8PL7to5MDWFHIjKSSHylApIlJIJgNkgAyQATJABsgAGSADZIAMkAEyQAbIABkgA2SADJABMkAGyAAZIANk4AExsLaF5EejSB1NIDWSQ2rrcotGDiB8Io/s0SSy0yonxAOaECth9wfbyF1KZIAMkAEyQAbIABkgA2SADJABMkAGyAAZIANkgAyQATJABsgAGSAD95uBtS0kb44hvk9E/SYReqgprD1E7M4IMmNZJI/mUJnnRLjfE4HnJ2NkgAyQATJABsgAGSADZIAMkAEyQAbIABkgA2SADJCB5gxUpzKIPh5AT38GxWrz79OmtBEZIANkYOUysKaF5M5nwogdzyN3sHfZpbXe0K8gP5hEaqzCaGRGI5MBMkAGyAAZIANkgAyQATJABsgAGSADZIAMkAEyQAaWPQNFHAkG8cLrsw98rNSplB4s9WgMuRk/wUJFeTiOHi2oqguxwdICSipWUTwWMvzpvUhNVB94XylI+Y0vPycbZIAMLD0Da1pIDqyPID2aRfxJj4jghxqhLG7ieSiH0ijMLv2gcyLRpmSADJABMkAGyAAZIANkgAyQATJABsgAGSADZIAMkIGlZmA5C8kqyiMJ9BoicvRUEdUFZsJUr2SR2N6L8IEsSnOmDcX5k4j1R5EQ5172or/Z7jZf5yvIH4sj2h9H+hKDwLiGtMnPap0X7Neq3lCzpoXkjl0Z5Adj6HqoorGHiP1kHNmxDJInCqv3hsuFZVUvLHyA4AMEGSADZIAMkAEyQAbIABkgA2SADJABMkAGyMDaY2C5CskqKqOmiNyJyImFi8j+Y6qieLxPi1TuOZBfsEjtf/5lMp/UMpRd6xAIdCI6VKaPl35+MkAGVj0Da1hI7kR0IA+lf8OyS2vdezCH/MkEMlNMC7LsHxy4SK76RZIMLpOHdM41zjUyQAbIABkgA2SADJABMkAGyAAZIANkYNkzsByFZBWV8ST6jGCq8LGCr8irzpZRHM1CGVCgDOdRnPb2T6szBWTFd0YKqKg1VKdyUE6lkdxp+Nq3xJE+ldHPM5RH2Yharl7L65+N+gjZ81UURxXtO/lr0rXnysgPKVAG8yiJmsxzFRTHjHYOZlG4VnWm6J5XUZ7K620cUJC7VELFipz28XWpFZQmcnr7xDmvVKDKEdvzVZRE206mEDUynPbuSSFzSm+vMlpy2lW0cdxo44CC7GgBpRnVdw5Xp4vID+vnyo4WUZ71/y79lT5juOzXB7ab7K5MBtaukPxYDMpYBpFOj4jghxqhHEJyJIf0IUVKC7Iy4eKiwHEjA2SADJABMkAGyAAZIANkgAyQATJABsgAGSADZGDtMCAJyfdmUXz9CGLPPoFgMIjgxl5se/EIht6S6yffxvl93QjuHcHtBiLY3beO4OlgDCO3/FnyrpHsFJH7juZRkcVR85pqGfljEWzw8Iv37smgUHGKmtVLST1F9uYUilU7EjngcXxAqtlcHoqiU3xne9rb9z1XQnq78Ne7on1ncog9Kj4PIX44jr6v1fv0u/ozKM6qqExmEHuq/veBYMQ7FfW8itJwEn0dHsdsjkMxg72sSGSP7wUCWLdLQVmtoaadL4HQI97f69mdQm7atqdaKSDT3+MR7NaFyLG8fk5znPjqK8SvnTXGfw2gDWib+8XAmhWSe/ZnkT8e9ligvRd4z5ug141xsZ9tTSE3kkJyqOzcRcWbBG8SZIAMkAEyQAbIABkgA2SADJABMkAGyAAZIANkgAyQgWXMgCEk/6iAoe92o3vrS8icK6D4zlUUL48gs28buoPd2PbDIu6a4/jOCTwdfB6vvucngtzGyN4gug8V7GPMY6VXLyG5OpFG2AikCh3MeYuSc2Vk93RZfvLenTEkj6WQ2BNGj+nr3pJEoWK3zykk11BxRyRv1iOSMyIqWYpIXryQbPruOxDaEUVsfxzR7bYIu+6pPqvN6zaFEd0bR7w/bNSFDiCwPgrlmi3i1mpVFE9G0GH0s3NzBPHDaaQORNGnCdcBBDrCSE9WUTMikjMiIvlxvR16RHJGj0o2IpKFbULm+bbEkDyeQeZYArGdIf06j8WQNYRkdSaHhCV69yC8J4HUsSRiO3vt8dif06K+75dAxPPaXNMWtAUZ8GZgjQrJvUgM55Daat54ls9r+EQe2aNJ62ZCcL3BpV1oFzJABsgAGSADZIAMkAEyQAbIABkgA2SADJABMkAGlhcDupDcvbEbz71SwO179eNze+IIngt244WzZmTyDF7d0UAofv9VPC+E5vfrzyX33Skkq6hIInLvAR8RuaaiPGhECa+PID1RcYj06nQeScOHHjpkp8R2C8l6O+zIZL8ayUsiJNe1U0V5OG4JyIFAByLH9ZTbpn3UaVuw7ZX6oV7JIKyJvl2IDbjSbc+VkD1gCLrb0yiKlNpCuLcik11R05qoX0XhcEgTgTfsydYJ9+pMEflLRgDZfAW5/YYIvjWJvCPttYrKpTQi64Vu0YX4iHNczH7xtfGcoH1oHzKwNAysTSFZpLUesncGPbBoY3MHl9/r1yPIjGWRPJrzTjEi7TDjBFiaCUA70o5kgAyQATJABsgAGSADZIAMkAEyQAbIABkgA2SADCwNA7qQHHz6CIp3/Wx6F8VXnkbw6RO4avh7715+Gd2eqavvonCoeepr0XZLSA7GkBk2RUgjctZPSJ4rIbNzHTTx9VTJM0NmdSKlR9g+HkfeiEp+mEJyxKudVkpsPW12sa4esorSKSM76Y6MkVa7iuKxPk307dpbL/pqPMzkENfqIYeQmjBqNrcsJCtWbWgvttTpLGJBMT59SImI5zrfv4rSSb3Nnf0+7as7xo85fl5vX9qENiEDrTKwNoXkHSmk99vpIZaLkLyhX0F+MInUGHcYtQowv8fFjgyQATJABsgAGSADZIAMkAEyQAbIABkgA2SADJCB5cGAEZH8w6KHMCiN0cQRBIMvYMhMF33vKk48HcRzf3bVedytEcSCT+PEO9KxPuKhJSTLQUydnUaK5HWInHBF3IrzWLWHNyByKIPMgALF8T+DzPG4kao5hNSUnhb64QnJIW/RVUT37tPTc8sRxzIT1fGEHrWs1XWWI4sD6OlP6empHX1XINJYm/WWLQG7oZBcQ3XcqB8txuHRPkQPpJAZyqN4rQJVqk9t2bCjD4njGZfdFSinMkgfDOvpsJ9MID/bnAG5v3xPe5EBMrBUDKxJIbl3TwLRx5ZPOmtdyO5CbDAP5VAaBd4UnA9MPg9HSzUJeB4uqGSADJABMkAGyAAZIANkgAyQATJABsgAGSADZIAMLJ4Bo0by62baah+bVobwQjCII2/Zv799LobgxpdRkCKZbww8j+COVzHTgn/ULSR37kqjWKmgcMyIxBUpkoeNtMrG+dTrCiJfb9VP3oPEuB45a4mgpiirne9BpLYOI3NFrnFs2G++ivwBPU103/Gid2T1JUPgNds8V0S6jdKXoWNFVEU/mwjJWi3loQT6jNrUjiC2YBjJ4RKq8zVURuLokkX/Ru+/Ieoq26wsnlOeizYkA2SgdQbWoJDcgdCOENY1Wpgfxu+ejCM7lkHiREG/IbXwcEDQWwedtqKtyAAZIANkgAyQATJABsgAGSADZIAMkAEyQAbIABm4vwwsMCJZ+ILvFvDyxiBi527rQTbaz914adT4uYm/WBaSNRFZqumbM2v9fi2MtJmiWZzPikjuRWKogOKVEkoN/leMlNELFZIrIzFsEL73LSnUp5+uoVYtIrVFCNuu+sNWO5dQSLYE4QD6Duea9r1cMQRs6zhXG93jM19FeSqP7EAayX0RhLR6x6JvPUiMVmDZ8NEYMpeKDe1eulbWxOf7yy7XBtqXDJABbwbWoJDch+Rok4W5wc2y0Y104b8rojCSQXJfHJkpr3oI3oNHqGkXMkAGyAAZIANkgAyQATJABsgAGSADZIAMkAEyQAbIwHJhYGE1ks3xu/pnz+m1k+/VoEUoizrK91rrmyUkr48iO+2K2q2WkNltpLl+LIbsdVMULSGzq0NLfy0ieUWkrNkW+VVVnZ9bIqgZ3auJqHZEctf+HCoe57KOezSG3IzznOJ66pUMwo88ICG5plo1kjt3K0bd5Po21VSXLS0huQPRwbKnvWTbWe/nysju1dNv9xzIozqdQ+xR0ddeJMf9S13K6bCtc7lFa/7c+jjQVrQVGWibgbUjJM9XUTyVQHR3dNn+jx3Oouy6KfPm4HHz5kRve6KTI3JEBsgAGSADZIAMkAEyQAbIABkgA2SADJABMkAG7jcDRkTyxm4890oBtz1E4NsTR/Bc0CfSWKuJ3I2X37yKV3cE8bwy07If0BKSfUTaWiWPpBbtG0Bga8oqr1gZNWoHB3oRHyyi6vBPqyiPJhHeErfF51rNjqZ1CcmlUxG9JvOOjC3MqlW7NrAVWRxA39E8KtK11JkC0rs2GDWdXdG+1nFLGJEshOvrWcSCQswNoO9QFiUzitvwP1evZBHfGkZyrGKny56vILtHb2foqJ1dVK1WodZUlIeTSBzPoew6V03Ucd6vp9/WhOQ7VRSO9un9fSyKzCXpGuL6agX54xGE+jN17eI8vt/zmOcnY2RAZmDtCMkUH1t+6JAB4XsuGGSADJABMkAGyAAZIANkgAyQATJABsgAGSADZIAMkIFWGDBqJP/5CE58qxvdW19C5lwBxXeuonh5BJl929Ad7Ma2HxZx19NffReFQ90IbuxGt6tecjP7NxWShXB6TTGiYAPo2mNE4c5XkD9sCJoi7fRTYUT3xBHfG0V4kx6tHAisQ+RUyRJTrchih5BcQ3UqjT6jbGTPrgRSR+MIP9mD2JBRm1kEex03azYH0LEprAd97QqjV4tE1kXdB5LaWrO/ivJIHD1mqcuOECK7Y4jvjyG6XRd9hci8YY8cAKaiNBBFh3bMBoT3p5A6GEXv4xFkLl1EcpPZhw0I7YohcTSN1AHZliEkjVrTIpV3eodp4wC6tkYQ2xdHvF9Ohd2HlJyO3JObVtjkd5rNIf6ejJABbwYoJHPhpcBMBsgAGSADZIAMkAEyQAbIABkgA2SADJABMkAGyAAZIAOLZsAQkl+fRe3eLIrKy9j17BMIBoMIbuzFthePYOit2cZ2fv9VPB8M4un01cbfc7W1FSFZiCTViTTCXzOicA/n9RTUQuAdTKCvwxRBpdeOPiREpLKUqtpPSK7NV1E4EdXrIJvibCCA0OG8fbyItD0WqfuOFhW8L4n4M+LaDyYiWReNVFQuZRCzBGCp74ENCB/O2dHVps2rJSh7e43oafP7PYiPXMO18Qxim21xWPTL+i9sOVyyI7TF+aolZA+F0Sl/z3y/KYbMhH/aa4pe3qIX7UK7kIGlZYBCsrn487WtBxNOxKWdiLQn7UkGyAAZIANkgAyQATJABsgAGSADZIAMkAEyQAbIwN23juDpYAwjt9q0RaWI7EAGylAe5blGx6qoTOagnMogM5BFYUaqAaxWUZ4qIDeoIDOgIDdRcqSfNvkUaai1aw0XPH9fnS6hMKJAEee/JlI+17dHnS2jMJqFckqBMlJAqaJCCNGlUXGcgvy1qu2vnisjP6RAGcyhOFt/rppIKX1JP1duylt4bdZmcY7K9SLywwoypxRkx4ooz0q2cfdhXkXlmm4rYfOSbEch2Js2MOycnyy70oa7+lEtozSRgyLGcDCHwpWKU3B2X58/23zQFrQFGbivDFBIJmD3FTDz4YKvrgcDckfuyAAZIANkgAyQATJABsgAGSADZIAMkAEyQAbIABmQGbg3g6FoEN2HCj6pr+ljpJ+ZDJABMkAGHiwDFJLlGzXf88GNDJABMkAGyAAZIANkgAyQATJABsgAGSADZIAMkAEyQAYeBAMzQ4h95wRGLl/F1Xcu4tXvPYfgxhcwUmldJJiamrJTJ5spkfm66mzy3HPPcU4+iDnJa5AzMlDHAIVkQlEHBXdztP6gRlvRVmSADJABMkAGyAAZIANkgAyQATJABsgAGSADZIAMLIiB21cx9P3n0bsxiGCwG73fPYFCGyKyuCaFZKkG8SoW0Ckkc41Z0BpD/Yv61xIwQCF5CYzICcxFnAyQATJABsgAGSADZIAMkAEyQAbIABkgA2SADJABMkAGyAAZIANkgAyQgdXEAIVkCskPbEfG6ev/Hvzfmg1W0yLDvvCmSQbIABkgA2SADJABMkAGyAAZIANkgAyQATJABsgAGSADZIAMkIGVxwCFZArJFJKXocDNxXTlLaYcM44ZGSADZIAMkAEyQAbIABkgA2SADJABMkAGyAAZIANkgAyQATKwmhigkEwhmUIyheQHxsBqWjzZFz4MkAEyQAbIABkgA2SADJABMkAGyAAZIANkgAyQATJABsgAGSADq5kBCskUkh+YiMi01q2ltRZ2Ws2LDvvGmyoZIANkgAyQATJABsgAGSADZIAMkAEyQAbIABkgA2SADJABMkAGlj8DFJIpJFO0JANkgAyQATJABsgAGSADZIAMkAEyQAbIABkgA2SADJABMkAGyAAZIANkgAw4GKCQTCAcQHD3x/Lf/cEx4hiRATJABsgAGSADZIAMkAEyQAbIABkgA2SADJABMkAGyAAZIANkgAzcbwYoJFNIppBMBsgAGSADZIAMkAEyQAbIABkgA2SADJABMkAGyAAZIANkgAyQATJABsgAGXAwQCGZQDiAuN87F3h+7o4hA2SADJABMkAGyAAZIANkgAyQATJABsgAGSADZIAMkAEyQAbIABkgA8ufAQrJFJIpJJMBMkAGyAAZIANkgAyQATJABsgAGSADZIAMkAEyQAbIABkgA2SADJABMkAGHAxQSCYQDiC4+2P57/7gGHGMyAAZIANkgAyQATJABsgAGSADZIAMkAEyQAbIABkgA2SADJABMkAG7jcDFJIpJFNIJgNkgAyQATJABsgAGSADZIAMkAEyQAbIABkgA2SADJCBBTMwi6FoEMGg/P8FDFV8BI7ZIoZeieG5/6h/v3vTNsReGcHV2z7f92lX8RX5eq73G3ux7Tsv4QevFzF7r73z3m9RQpz/9nsX8er3Y9i2qduwWzd6t8ZwpEl7775/EZn/8jx6N+r9feLZXXjpZMG7j/du40b+Vbz84jbr+0FhlxePYGhqtgHvdzGTz+Clb/WiWxvTJ/Dcd15C5nKjY2wbz77+gouFIF54XTr2rSN1v3eyI/rWgB+DB6/rOM7zSlHvY2UILzjYdLFi/O7IW3YfHgQDvAbtTQZWBgMUkn1uwgR4ZQDMceI4kQEyQAbIABkgA2SADJABMkAGyAAZIANkgAyQATLwsBm4e/s2bt8y/udf9hUC7771A2zbGMQT3zmCoXwBV9+5isK5DF7a2o3gxhcwNNP6WOpC8su4aF7XeJ15p4DC5YsY+uFLeF6I1Rufxw8mJCHzYfrE791G8c+eR3ewG9v2/UCzQfG9G7h6uYCRky9ptun+7hBmPMTvmbMxPKEdl8HI5SKuvlPExdePYJfo47NHUPxIst3tIk58S9h0G1764RAuXi7ixntXUbg8gsy+bdr1X3h9pl5MvjeDkb1P6MedHEHhrau4+tZFDL2yC08Eg3julSLuNrPfXYmFWxfxctAlJN+7a7PiGrvbM+dxoDeI7n3ncbvJdW4MbEPw26/iqvsc5s+mPRpdb7aIzLeE/U7gqofNH/a84vUlppvwQFvRVveLAQrJnHz1N0vahDYhA2SADJABMkAGyAAZIANkgAyQATJABsgAGSADZIAMLIwBLeLUI6K0MoIXNgoxsoDbbtHu3gyGvttdL4g2GANdSD6CYoPv1O7NovBDXbj1FE4bHXs/fvfRDby6Twjbt71t+96reD4YxPOKU+S9O/UDPBfsxgs/cn6uCScfFXHk2SBkAfru376Kl771AxR8orxvDDyPYPB5vPq+LD7dRfGHz+mCvuNz/Tt33zqit8FLgPa1VRFH3EKy73fvovCnTyO48WVcNEVg3+/WoI1/C4JzI3Fp5kcievp5vPqebAe+b2Qz/o58rDUGKCQ3WIjXGgzsLxdAMkAGyAAZIANkgAyQATJABsgAGSADZIAMkAEyQAbIwCIZ8BGSr6bzp2yxAAAgAElEQVSfRvDpBpGfH13EyxvrRVS/8WhJSNb833dRfOU5PUq6jYhnv+ve38+NNOEOgfQ2RvYGEdw74h+lqwnQ3Xj58l1vgdqtAxjpnl8alQTtWyOIBYOInZM+cx2nCdAbX0bhbquMtC4k333zZXQHn8ORtzz6IKKKHdecxch3gwia6atd7WxpjAybLYsNBgtpP49pjXXaiXZaJAMUkhdpwJYWZF6DE5UMkAEyQAbIABkgA2SADJABMkAGyAAZIANkgAyQATKwNhjwEpLvFXFkYxDbBm40tIElNrfASutCcg21e1dx4ukgug8V6lMzi6jlky/hebNe8cZePP9fMij41XgWbavodZ6tGsdG7eGRkr8I25ov3UNINkTfl9/0EFgtOxlis0OAbiD2egjJes3hl3HRIdi6zmGIzQ4B2mqD67va5y0KyVa0ulfq7BvIPCtSlB/AeSvCegZD3w5il1eEdsP2GG28W8QPXFHcrY2PVx/5GW1HBlYzAxSSW1lU+Z2GDzereYKwb7wBkAEyQAbIABkgA2SADJABMkAGyAAZIANkgAyQATLQFgNeQvJ7r2JbsBs/mGpsSxGVGgx6pMX28FG3JSTXatBq6m48gqKcVntmBLH/GET31peQOVdA8a2iVEf4ORwYrU8lPfvmEaPO88t4VRzzzlUUrdrDTyB2tv6Ylu13t6BFZcuCu2mTkdnGttP6F2yS6tuw493LIvp3m5TS+S4ufj+I4HdHMOtha7v9N/Dq9nYigVsQkq205n7R6rNa3eburSdQtERu47xnF1L72ohQ3/gSzt9qbFO73/webUEG1ioDFJIb3hQ4MdbqxGC/yT4ZIANkgAyQATJABsgAGSADZIAMkAEyQAbIABkgAwtiwEtI9vrMyzddOoGng0Eceau57dsVkmvuNty7gVd3OGsLy/2d/f/Ze//YuK40Ta/+aMABJoA7aERoNBbjbCUWqgG1OC00AS2gUQypBYgdE2JsbhNuU06PVSOsSDtognBDAtuE3KQNg6AnQtlYsSm7aSpteinIDh22rS1tpJR2ZJNem6KdZtzMcFYcQs4WY2XpIIONMOjZeYNzf99b99YvFUWKfAQIVayqe+8573nOuVXnPd93pk5qnzG1g+mwF8Z0NG32eY6LnF3Twps96nlzrjTqOa6uMa/NvOKk4A5EQ9uRwpUN4pULXdWZ8CY620T4do4FTGMnErpiqugVXTwRPbZcW1U2kuvap3hpwmqHdDqt4P+mAy3Knh5TIaBfsE3N89XL/dqXzqh8hHe5OvFeVFP+homtzABGcszNais3OHVjQIMBGIABGIABGIABGIABGIABGIABGIABGIABGICBdWQgatiaOei41+Lmpp2Uy+tnJLdp5HO77nZUbrno51VN/yytjGeurip/KqP0kRHNBaOa4+pRx2tLvz2pg+mMonv2VmskV6Xx7SVNnzqo9K6IQb5WrZG8JsvAD5nQ5ViqZCTb77tmcGZvm7rO5LVUSV+zZ/LNldD/het5Tb85qK7DGaV3tWgwbq9lt56uAb3noLKnJzTjpcwuVxfeY9yEge3IAEZyHTe07QjKetV56eqYBp/pkLeXRjqj5sNZnRyd1tz9fPOK/WK4ouneJqX39JAypBH9bnXB2rul43CzMoEvPi3HTmpkak4rlb5sNaIM9+E5rC+6B5LS5CR8EXBWp6a9Hw0Jn6tCj9gv/ivT6tmTVtPPLmoleI4afjit1xjV+PNW/6PEurY1llRehWxWrmbMDyDnh2Dt5WZ8ql2z+vtB2Ws53Ls/ICs+Vv3D9e7KW9uP5Lu7Vll9gmMEz9l6BAZgAAZgAAZgAAZgAAZgYLMyEDc3GPdaXPnvYURy4aWM0j8e00JcOZzXrCjffcOasf4uaLCKfZ7r+V3nmshtr8yURDPHzifFlLliRLJnIrdp+Hp0v+Vq52waH5G8ahnCS5q7Oq2x0x1qSidHiVelrZsqe9dJ5b1U2P5v9dUV24A2xvPEmS4rTXn6QL8KX/qfqeo6MW3AcWgIA1uPAYxkBruN+cK5UlDuiSal001qe2ZQY1PuXhpm1VS/ju61V031/7aePR42QUeN/WJovmSYem3g3hMrBY28NKiLdZtNm0Bb02fdvVv2HlX/m9PKX5rR3I2C8lNmYUKbmnel1ZSQXme738gsMyidVtvZuar7/tJvjtpm/XoZyTcvqmtXWpkTGMklfFZhJC+8adrnoPpjV5lW22eTx6eFdwY1OFoIm/xb7t65osLooAbfuYs9nBqlScyK4pWb0zppFsycmg6tNLZWHq9Ef/hW2+a1fQ4juTa9Svpyo/jgPFXfu2gDmIUBGIABGIABGIABGNhQBuLmBjfhHsnuPFHFRczevsOVomvr466ciWzasSF7JJc1kU25N3CP5MhvPTv1dFpdF1bq/w1kLUiovCe31U+cdOX7Xpmp/3qROmxo/6MstCMMNJQBjGSAaihQVd0gviyo/0BamcP9mk7aq+H2igqvtKnpsZzmYlZNVXWdjWzbuC+LG1ke99pbIsJzRRPHzT4kI1pIijpemdFMcO8Wt/482ql3jCFV7YKGL6d1cpez18p6GclJ7bIleI3+gKp2datzXAUjeeE3WTUZE/nyXfywSNLfeX17GIg1tksFzRp/j3LSXDWgD9Zbtu3BQbS/8ne9vHAc7MAADMAADMAADMAADGx7BuLmBm8X1F9FNO/M0D6lvQjg8izZRnDlvYOt9jD7Au9LK3Mq70X8zryyT+kfj2gmkiI5mjJ55aa7iNk+R0sNAQqVWKhkIlvHO3NE5ff0deYMo4EK5jd8RRPZ1tmOfD6p6XLz0TcnlE3XYvLWY77bOt9VdsCa5tVqjbIuz2WlNud99IOB+4sBjOR7Phl8fwHS+A69pImfZlR1qowko3Czt1vcl8XNUOaavkBsAKtfrmi1UpsvTehoTV/WNqAem6GtE8pg/cD48UmdPJLWviqitmdeOaj0kZM6+eO07urLq1OealMRWWPPZuc1QePy42aNhmUZI3nlcn/svkHlr197f9geBmKN7VJX29euvd+WGMm+FnejI8eiIwzAAAzAAAzAAAzAAAzAwD1iIGFu0DOJk+a/nAX9baPVZcyq3kheVeH0QaXT4X2B7T2Ss5q4Wa0ujd0juSoT2foN7pjExyeSM6bdGFFbOqOTl1zT26lTlSay1Tcckzj7dvKC/bmzbUonpIyO71/1GMl2CvG7ihC+Pqx96X0anq2mbc2cfVrpOBP+ns+BVFNePhPPGrqgy/owgJHMQHhvI5KdG1jdKVhvr2huKqeuJw5ae0WYtCtNB7Lqf7OgpaQvYGtrWrkxrdwzHTq4x4ms3HNQ2dNjKsRGRAdu7iszmjidtfdwjkaCLeZD58zsbVH29IRmzN7OCV8W4w2ZwPW+XND0mS61mdTeVtRos9qeySkfW057NV3hzcGQHm455oJ7WjiGXGyammi91kOviFbpXc1qeaJLg8F2+ySng2b/j+g+udE+Wq+RfHtJVWnlXi9oYgbKf/TNSLp16z07nbbRN7O3TV1n8sk83l7RzNv9yh4wqd0Nj006eKxfE7PxX1B9Zla1YNh/zN0TOqPmx7qUuxQpj1v+hEf3fAuzwzqYPlj+y6SlwT71X53TWGeCkbxY0NhLXerw6mPvc97/9py3ujV4A483kgN9IFjuYBsEX7eer2rurNkXuEWDVUTjmjFg5OdOX3Z1f6JLucvx+rk6La3Vobvbxt7+3U06aK5ltVWNhmWCkbx61TGR3yj/w3JldkL9xyLj5dszsXuI+3W2v3BYf1taOeOm9/yoxgJjUnybBr+0VNG+gT4W249qHRsNI1X1Tac9vLoF6xpZ0R0pY+w45nLqMuD1i/L9PNhH4p/bGpZbzLF0KXxvNPeCDrN1xNUw49F2LrleQr8LHrd0bSzAldPng+O5q4N5tO7bIzp5rMXadsAa9/YcVIe5ty0FOXGeB6+/VNDY6Wzk3u3cZ4PXCD6vqt1jrhs8B8/v7XdD9EZvGIABGIABGIABGICBrchAwtzgmrO918HT+dLf5u6+tjXsVWv/do/8fo3qeXtJ+ZfalElndPTNyDyCc83MT8cSMv+tau5qZI7HSYN8MCFAYem3wxqeCv8WLfntubam6k1k5zecNZeV0dG4uRA3A2a0HrWYyI5uVlDFrqMai9ka0JuPieoY1Tz0d+m8yNLbwxpJmAs0Wq1MnbS2MQuZwGYrLC9SekkTJ7qSz+GxNKyZ22tavZYr3yaf5CwT/q5SaYfqzO/uOOZ5DS7uVwYwkhng7umX1cLpTNWpWUo61ZdzGjHRzLta1HVmQvmrc5q7bu+p3GEM4gMnNV0yKe2YTemMWk7kNHGpoLkbM9Zeuv3WHs0HdbJkH2bn5v7amPoPZNTSO6LpSzNaCBizCxd6LNOz6Yl+a3/nmRtzKlyaUO5EizJ7spp4o99e4RcwW0x9ghPxfv0i1wuVc0Q9h+06D1+LrKZbmdbJPca4PKqToxPWPsEzIT0GVXC/XLh7bs6OqCOd1smpFX+fzUC9zF4gljnXSL3Ml0uzZ7GjVeHGnGYu5TUxelIdewJG5uKEsnsyahkqxBqQvl4LGjmS1N4JN6NatHLHBNfMeMOUv0kdQzZzS66ma2uy0wr7bBWu5pV/O6cu02YHenQxml77y4IGzXt7Ouy9na8WVLg0rbHTHWpKZ9T2ykxJ3W1mcho7fVCZw13KvZ2XreG0RnpbrB8BlTXzdfEZNPu+ZJTuHNOSW+fQo/1+5ufTWl2LNz9XfnvSKnfzT09q5O288tdnNOPVJ62DL5W2ZbzpWPqF2mpvtw2u+uW3Xr+9ovxLLcrsatPw9Ui/CNXBPs6sFM2U7Mfu9FfzI+o3pT9u6tb9yxkNP5Y0TmXU8tKYckmmfEzZ7UUpafUHNFi9Pqy2XWkl/WCz+8qqCkajdJM6To9p+lJBhk+zB70ZLzOPDWsm1Pdjxqcv7XFi+lS6JM1VMHNAfJsG26x8+558Jae2QB8z4/rEmS61mH2zzQ/Azy+q54A7hrhjuDs2hldSu+NELX1zdcXUc0YjJuo+tAdxgK1qxzHThnX0c7fcyY+2hklGsr1Ptt/W1n3u0oRGft6hpgP2j0b33P4YEGyjwPOEfucelzd7cnv34RnNXA201+FBFUJczWnkiBnz2tT1ks3hzPWCP07uOqqJyH1yzb2+O/Za/M5o7oY5btjiN23us9Hj6hmT4/ocr93T74UulzwG+iAMwiAMwAAMwAAMwAAMbA0Gkoxks9/v1UHrN687VzZzfSb0O2ksOp9Uhgnrt1r6pKajqak/n1HezNG81KU2M2+6p0PDCYvpg79j7TlGew7BmuM60qT0ni5djMy5Lv2236mDPSdUuD7jz43GGdaROtgmcloHT01rIVr24N+BeTjzuyH6e9/8xnTnOkoyYLomcvqgTk4t+HOhwfM7z4PzHGu3FzRxvCkwB21++7rzd5XmY+K+20fnRVZUGDJzVWk1HTGBNtPKu3PWZn75mbaYecI55Q6Yrep6dNEEMd1e0MWfmQjzjLx5OWeu3Jub9ObNVrXwtj2X7c8j52XPZ5t6HbUWfh/82cWExQRxdeI1fsfCwHZiACM5chPbTo1/7+vqmFG/yNfxhXBV+V/sU9qsBov7MmXMG2MuHhnRXCAyefVyv/YlfnlZ1cxQm9LpNo3cCA58zoR90nFWmpTkLw32hL6JagtH7Rm93Yn4sHFX4XpmBZkxno6MaCHC69y1QunqRfMZZ2VgafTsmJUWOmhKBTlYD70KL2WUfjQXahfvmoG28l6L1DH29QVjOtvRvG0m4u7SnJZC5kWwPe3n9WqVNvvPXg0YSm75nHQ5sasgzRfVn++zTFp/H2fHuD3Qr7z5wueex3lc/SSno+l96r8cvpb9g8Ax1GL0WnjjqM1wzCrJ6DXM3yEGFyd0dFdGcfvLmBWW+zyG443ktdtzKlyLj6S2y1XaB+JNx+gXakcf11AKmKj+njZHNfJJWKu4+lqv3ZxRIVYfd1zpVyGibX26O22cOE7Z+8NbEZkxmQBiyx+NSP7cXphR3kRe0+pv7ZWrsXsnfzlnmdn7fuHviVTCRoDPEDOB193yxrdpkPHy7ZvUx9xVvk17MvGmubPaOB1Na1Vz3zRlTWDcqW/141h9/dzVMvnRuU/EcmOnu2p5ba5kXLHOF8d24gISE8kdf5+wONiVUSZhDFtbyav/gBmrJkKLU1auF+J/iH6ZV7/ZmytaJ+f6SVysuccF9vSy6llXuwc55Xkyf2iDNjAAAzAAAzAAAzAAAzBQMwNljGTrXJEMTG6GQSvTYcxv76Tru/MXdta7YJYtYzrGZARMOrebWcvLrmayQHao68y05mLmsazymCx1biZHk+nLXK9M1j2/Ds5v8NjsYOE6lMxtGiP+c5N50s8OaJczJjug9/syfM5SrUrnr0ywTTgzYDDbXK39IWlexMnyF9A8bWXwGozJXLhkmduZw8N+4JCTVdLKwOdlRDPtFsiaGWzvlTlNj55U9lE/c53dZic1UmPGQ78ta9WCz6MdDNyPDGAkBwdTnsdPQjdMl/IT9WU70OfOHhe/LWMcOZPI/j4YduSqHVGZMEDdNtFSaWVCE9LOhH2McWu+RORPZUoM63DZHSPBM+H8a8cbMuWuZx9rTCFjTE9EVv+Fr+tfJ9EUSTAI7POsh16OcfnjsRITPLnswXqUeW6lqg6miLbTnJ8cndZc1fu6mPMncOloFWbDLY/DQTkz5stp9aQzfiSpxbBJE53M8NxrLSURwvYPgjaNxBqha1pbndbJdDo2qjZO4yiD1r4u+/pDX0KNQWz6xcFXZpwxIUGjcmNDAmvxpmPSF+qIoWUWVVgrQuPTC8XVt+JrCT/s6tK96nEqIU14nJ5BI9mJijU/eJJTThlG7b5cdg/sT3JqiYxRUTZc7ZJed9+Pb1O3r5jH8u0b38fMcXMaedT82Dup6cgKZPfaC290RN6vo29aupdn3NKgmnGszn7u1if50blPRE1Xq+z2ex1xqb1imKrUnmWNZLPYpcwYZi9AqXb/pcjCFresZcdem6u5sy1K7xpUwT3GvTfXMiZ7xwZZ5Xkyg2iDNjAAAzAAAzAAAzAAAzAAAzAAAzAAAzCwHRnASGYicZ3N4+DA4kzU1xGRvPQbE3WZbCbYndc2HTIvFew6OXvpxkVbBjt76YS0PSnvnSfEiBP5dTYh8sv5rGv8BvcRNdeMn8Avdz1HP8tMaolETge1LX0ee60Ec8/SY130MntwDOqgSZXdO6L8jaXAXh6lZQ62S03Pv1zS3KUxDXqrEQ+q50Jkz5dQO4avXU6ruLTHxhgb3JVWeeNmRRdPpLXPMWNthvuVj0QHhuo5O6x96S47RY1TXqtsIcMkXHbXpGupwKR7nZK6rhasqMC2wPErF7qU2devvBflXd5kc88dfrS5jq4cjTcd4z8bMrTclNHpg8rNRjW4i78T+kQ9utcyTiWlKA5r6O63nlb/G3Z6Z2Mgz1w2+yMnZ0VYc/py/+VyusxoeF9awb1vStgIMljGoItv0+C1y7dvfB+zj8//Il2yuCKkUclCgNr7pn2+8oxXO47V289DdYodq2wN47kxacwPWim3ekbzmltcUSglV+R8Se3slaHuPmFSa+XVbxa2RPeSj5TBvVYsO871y3FhHxf8TlBvuwc55bnbLjzCAgzAAAzAAAzAAAzAAAzAAAzAAAzAAAzAgMsARnLC5KYrEI+N7Sz17pEcO9lc0nYRIyBhMjzapqXnTjA9rOuVey+gVYm5Yb8XP4FfxTmDUYmBeq9+MqH+Y4F0JNGUMFHzp5wm5d4LXLM2vex6r8xOBExes69zizpMSuprpXvTRtun5r/dvbTTWU0EIpMbqpUTYVmaCicmVY4TQWjrFvN+tM2qjBL1dSlnMAWYdNowjkErDfKuLl00elnGciZkMCZGbZs9td8OR4VHNYkaSqX8mDIm9AGXyXeclLmHj6rDSp07Fp8qN8Cpr48xt5aUP9Oltr0ZRcvn/h1N9x6nU+icLgOBCNH4ukXbIDJOJZXZfd3p+6acwShkO4V+RkffjFkw4ejm1q3cY7B9kuqc9LqrR+V6V2jfYOpyt97OY6Vr23tIB1NQOf2hpF/F9L1A2yUz7rdfNeNYvf3c1TL5sUI/t1KQDarrsWZrjyVrj6TDHda+xIVIJouKmrr9LtIuFY+z2iyG76V8KOVYKY/9gcji5NTaQW1snRvR7n77Bs/Pc3SBARiAARiAARiAARiAARiAARiAARiAARiAAZsBjOTIpDVgrPPgcN1EXJZPjRnXBiZCsuaI5JWL6kqnY/d/DV4jKSI5aLD4n1+/iOT46zntEWckW/vbptX0xLAmrs5p6eaKVgL/p0/FRPIlGARW/dZFr1KeVleWNHd1QrkTLcqYfah/sw5m8sKYOtJpeRGZjdZqzY7m7Dg7E9I8qL/33Inq9RgOtJH3mchrwWjCyuZNBYMpMsbFn882f0wa+MLZtpjU7THm0NqaTPRlJt2kjqEJFUy0eageTsrtSGRivOlY3mi0TdQRzRktnfTOlfYI9vtsMFpzWjOfh/vJyuyIzUrNplmp7usZkZz5qVN/rz1XVTh9ULH7yLp9eSpS11D7OO8FUkbHs5GUScHv2/Ft6r9fcaFARHu/7Spfu9RIrr1v2teLZzxYluDzpHGs3n4ePHf881Le4j9nFk6samVxToW3c+o6nFF611FNLPrtkdTO3vkS7hPWcWWzI8REJK8WNGgWfxzu0cjUjBYiDM6cNanJG2Ek19vuvi5e/b0+xntoAgMwAAMwAAMwAAMwAAMwAAMwAAMwAAMwAAMYyUwY3sPU1qbDLWnipxmlD/Sr4KXNraIjVr33aEaN2iM53thdvz2S46/naBNjJFdKoRqbEjbBILBvBne3R3LZ8if0s5mhfUo/OqK5hPfrvkm59XRS+zZeK4eD4xNaqbbszt6pw9er4D1wzoqmT0xkbDndEs83O2ylSzbG5OC16D7OcSab6ctppZNS1SekuI03HcsbyU3HJ0IRyGYfVpMuPTYaN6CdrUOFlLfuooOImZmok3f+GGOv6nGqzj2SvWs7DN1eUd6YybuOamwhyJWzR/KQu8d18L3k50l1Tnrd5cw2T8MZANz3rEdrP+aYdMduP41oHzy20rVLjeQ6+qalaxzjyVoFyxgax+rs58HzxT+P4S3KQ9zft22DNZj6fuaVfUrvG9ZMQpr91akeK3I/Nkq/wkKwkj2Srw0qk+6I8Onrau9x3Qgjud5298sSrzvvowsMwAAMwAAMwAAMwAAMwAAMwAAMwAAMwMD2ZgAjOW7ildfW11z+sqB+K0KpX9OBKKnoYLTwdo86Tk1ryZrsdqLvSgwTpwOb/VOP2BG4C4HJ8fKG06pmhtqUNqmEQyZMgqnlcnFjRG1l9ie1U86aNKrBtJt2OeNNkQrXM9eNMZJt86ZH03GG/OdjOrorJiLZ2Ts1+/ZKbBuvh14rn89pJdAmwXa2Up3/eEwLrrZflt/b0zr28xFlfzammZWkwdtlxUnVvLamurSqZHJZkbEZHX0jJrWwqc+Xcyp8EjRknXId6Fc+oexL1wohw9TUN56ZYN1rM5iSz2fKt08mKnnVbQ/vMc5ks/eATv8s7vNrWnjDRCuXmof1GMlRQ8voYvezg+q/GtQ4qIv73DHSXovZ19w1Yk30esTMTNbJPW+c7qua/rkdARoeU5xjnLHPSu0bSqvsnjPmMabvB/vQ2u0FjcUszrH78kH1X47v62tLBRVC414ya4WXMmWNx7WbE8qm0wrus+2V0S1fDAuhPbA91sIaVGwHS5/IWFtz3zTXdBZGJCwOqX4cq6+fe3ol6OBGdcfvkbyihRsJ7Xy7oP7ofu5WZpBMfLaOAKOxfWJXRpmkMWzFSUF/4qK/wMba971FuU/C7WrV1/l8YyKS3WwFtYzJMWVK1J/PVmYUjdAIBmAABmAABmAABmAABmAABmAABmAABrYiAxjJTBrGGorrDvtKQbknmpRON6nN7JU7lVf+6oxmruY1/eaguo7Y72VH53xT6/aCJo43Kb2rRV1nJpS/Oqe56+bz/erYY1Jn9ms6shekqcfCb7JqSmfUciKniUsFzd2YUX5qTP3m+rta1P/baGrlysbuwoUeK3qz6Yl+q+wzN+ZUuOSkazZm9xv9624kr3mGfJdyb+dVuDGnmUvTGjt9VM17e9RzPMZIdiPC92SVmyqocDWviaGc8oH0tg3Vy+y3uyet9J42a6/O6Ut5zVyfUd6U8xdtVlrknnccA+STnKVp5mcBEyKufy5cVI9J1xpk5/qCFq7n/XZNH1TPhYDBW49WlYzktTWtXh1Uyy6TXvykRt42DBdUuJTXhNmPd09aTScuailYhyDDL43J6FG4WrDL/dNmZXa1aDgSDVzRSGtURHKwnCXP44xkU387Mrikb/20Wc0/67HMxWikeqOM5LU1Y2Qb09ZfMJA0btmmc5M6ThvNZzR3o6C8Sft7pFktP+tqWGpr6/pmUctjplzx49TB02PKdTYoItltJ5fvn4b3jvb7sjvGGj6dMWJXRi2vFPzxtcyihdVrg1YEeMsvxmzGp0Y0/Hagf3nGvj/Ozlx3ND6ckVvnKAvrZiTX0zcDqdqzZ6btfvn2sHKXV+19w6sdx0yb1NHPk9j1X49buGB/MTf9sCmdVtORLg2+Oa38pRnNuOOhYXFPj73/ucvLmmN2m7T0Tp8wn7fvpSbSf0z9iYsrcpp4pc0aq+z7sH3fNmOeGQszhwfD2UbchQR7OtRvynZ9TnPmvmPtWd6inhONSm3talHjmOxpwo8cnzW0QAsYgAEYgAEYgAEYgAEYgAEYgAEYgAEYgAGfAYxkJhE3xkh2dF+6OqbBZzrUstcYgyaKN6Pmwx3qOjOtuZs+qF6nvb2iuamcup44aE2c25/Pqv/NgtKup/kAACAASURBVBO5HHOMiUi9Ma3cMx06aMyAdFqZvS3Knh5TITYiurKRbJVnMR9zzgk7UjYuSi7RqKnieklRiSszmjid9eqV3nNQ2dN2GRINyC9nNPJMm6Nfkw4eG1YhonVD9VpdUMEsDvDaLK30rma1HOvXxGwgim5xQtk9GbUMhc0tr+2DffX2qhZK2Emr6UCZdq1VqyqMZKtsznl9hpt08Iku5aaSI7GXLgUZLs9jYjt6eiQbTHHaVT5fXB+KN5LN+VdmJ9R/zO2Ppg2y6n97RismEjImCrVxRrKJ+nayG0QM1Lh6W5o/1mxFSVvjxmNdyl1aUpKZWVmnMrrfXtHM2/3KHnav5zBhrreWrGVcueOyEcR+zts7Oh/OABAZp9y+N3Y1uoAmOSLZXG9hql9HnXE6s7dNJ38TWOTjjuchrs1YntXw1IJWnTrfSyPZ0qjmvrmqmVF7EYi5TxiWh686Y1S145jXL9dUSz+PbdPAucpHJK9pdaGgsZe61HHALMIK3uece1LoXMbsjmP0pEauGS5stmMjkjvHrMUxS1dHdNIb0+22TrwP315S3jKOnfv8rma1PZNTfnFNseNBFWOvfVwkEt2tY83tHjfm8VplJtEIjWAABmAABmAABmAABmAABmAABmAABmBgOzCAkexOPPK4oYbyduhs1JGbCgzAAAzAAAzAAAzAAAzAAAzAAAzAAAzAAAzAAAzAAAzAAAzAwP3CAEYyBjIGMgzAAAzAAAzAAAzAAAzAAAzAAAzAAAzAAAzAAAzAAAzAAAzAAAzAAAyEGMBIBogQEPfLCgjKyWodGIABGIABGIABGIABGIABGIABGIABGIABGIABGIABGIABGIABGFg/BjCSMZIxkmEABmAABmAABmAABmAABmAABmAABmAABmAABmAABmAABmAABmAABmAgxABGMkCEgGDVxvqt2kBbtIUBGIABGIABGIABGIABGIABGIABGIABGIABGIABGIABGIABGLhfGMBIxkjGSIYBGIABGIABGIABGIABGIABGIABGIABGIABGIABGIABGIABGIABGICBEAMYyQARAuJ+WQFBOVmtAwMwAAMwAAMwAAMwAAMwAAMwAAMwAAMwAAMwAAMwAAMwAAMwAAPrxwBGMkYyRjIMwAAMwAAMwAAMwAAMwAAMwAAMwAAMwAAMwAAMwAAMwAAMwAAMwAAMhBjASAaIEBCs2li/VRtoi7YwAAMwAAMwAAMwAAMwAAMwAAMwAAMwAAMwAAMwAAMwAAMwAAP3CwMYyRjJGMkwAAMwAAMwAAMwAAMwAAMwAAMwAAMwAAMwAAMwAAMwAAMwAAMwAAMwEGIAIxkgQkDcLysgKCerdWAABmAABmAABmAABmAABmAABmAABmAABmAABmAABmAABmAABmBg/RjASMZIxkiGARiAARiAARiAARiAARiAARiAARiAARiAARiAARiAARiAARiAARiAgRADGMkAEQKCVRvrt2oDbdEWBu6SgeK8Rp/coVRqp7onFjdk7Fq+3KfmVEqpw0Mq3LrL+nD/2ZA23Lb9cBP0n22r/Xbv67DHWLfd+wD1pw/AAAzAAAzAAAzAAAzAAAzAAAzcxwxgJN/HjceELCYODMDAdmKg+Omo2r+VUup73Zpc3IC2/2pZ+VPNSqVSah2eVZH7B18A7yMGNrz/3Edabadx9V7UFfY24H5Ff+P+BAMwAAMwAAMwAAMwAAMwAAMwAAMw0CAGMJIbJOS9mIjjGkzEwQAMbF8Gipp9td0ycXf3TGnxqw1gYWlKvT9IKfWNVuU+/BsVXj7klWd5I8pzT+5fRc0Ot+rBVErN6637V4saf9pEnKd06OXCJjXqi/e83Zc/cKLgHxlQYble7jdB/4nhdflaTp3fS2n3U7m7qFu9mtR5nImufWqnlRkhOzbPD5KYdg3fp+6WvaIWL4+q99GHrLHBjA+7nxzQ5MfL1Wm/lNfQ4w/pgb3dGv+0WN0xFetUJzt3cd7GjAP3vtxhFrg+esAADMAADMAADMAADMAADMAADMDA/cgARvJdTOrcjw2+oWVendbJdFptowvlJ/IWx3Q0nda+oZnyn1u5qK50Wid/u1r+c0lt7Fyn/+p6DV4rmu5tUnpPjy7eXK9rcN4NZTqJLV6vr0+W0+3WrHKPp5RK7Vbve1UaCOXOV8d7i+/2ancqpQc6cpot3ntDcWNY9+u588Tk+hr4GMmx/aYhBtIm6D+l/C6r8OJ+xxxs1sDljenXpeWqcF81RnLHg0qlHlTnuflNuuChQh3qGP9q1sm9xl2yt3xlSIfMdgKh/81V3weW37PHbSuTxJn7N5NEQ8YBt014jB1r62YcPdETBmAABmAABmAABmAABmAABmBgizOAkbzFG3hzTYqsavrnaaWPjGihjO5Lbx5VOp1Wet+wZm4nT4auXOhSOn1S06vJnylb/3tgJF88kVF6V1eJkbzwzqAGRwtaKaND2bJzHDenbcZA8cOcWo2RsLdP+aU6+/zdaPbVoiaf3a1U6gG1nzXmkW+wmgjprRyR7EZeYyQb7u59uzfCQNrw/pPQ94ofjqv30Wa19oxr9n7Zc3yTGMnFD0fV+3Snsqc2t3Z3xd5Xy5p6zt5OYOfTozYjxUUV3s1rvlpelgrKHT+k5sf7NPkZEcnr+d3yfmFyPTXg3Bvw/Szh/kJb0BYwAAMwAAMwAAMwAAMwAAMw0DgGMJL58XlPDbnV355UOt2mkc+TIF7QyJG09h1p0770Pg1fT/qcY0qfuFi/GbvuRnJS2ddUOJ1WunNMS/B3T/nj5pHM5ObWpqjCcKsVkbb/+fzGmLYLk+r+bkqp73Rq1EqPeu8NxY1pI7+eGMmm//h63KsFBHdvJG+C/rOV7nWbxEi+ey7uxf3gLtkzWj/pR39vzBh4L3SqfI37ob3vhzJuZ4aoe+V+hkZoBAMwAAMwAAMwAAMwAAMwAAPxDGAkb6XJzfuhLpXSW38+ojZjIF8raHhfmfTWznm6LqzUb0RuJSP59qpWykRmL1+b1OjZUY1/kJCGs7io/PlRjZ7Pa7EYN1iYPQrHNXrmJT3/whmNnpvUbEJU6PLHU9a1ppL2L1ye1eSvzuiFnpN66cyoEj+3VNDkuVGNv5dQ5q8WVZgY1ejZceUXEqKMbi2q8N64VR6r/hfymo181i3v6IVCvEH51bIKF8x1Ysr61bLmr0xp/Kz9/uj5KRU+XYxPdbo8r9kP7HYw5xo1ZVmKL7fXXpftcy1/ZmthHXd+qqQO0RtccWFW+Qt+vSc/mNVitdFb7jhi6nbNr1u5c5SU9+O8xs+ZOs6GNf2qqMUPnfccDeatPV+Lmn8vQWNTnuWCBg6b1Kb7w+lvI+ebvDwbz+9Xy5q12nBcUyYizRwXqNv4uwXZ5Yhj335tcSKrh1Ip7XhqXPNWH6lsKBq2XDYmry1r7da8psZGNXpuSrOm3sVFzQb4nLwyr+XY/hcoV6V28a5xl33UtN+Yifrz65loJJt6XHbYPjeu/IeLKlbYM9owOmXGHMOBYXrRtEvlPZKLS/MqeGyPa8pcyzCyWLC1nkgYw6plxeU/8dHXwzWSq+2f9Y41JeaMGdfedfr3uUnlP04Yc9w6RPpP1f11bU2mbm47jV8oaD5hzPLGoIjOZpwr18eLC/ny7bZW1PKnBU2afmPuYeZ8CWXwzuWM5YaVvHWPMH2uGp2qHKMbaSRHxyajuTt+mvrGjE12PXMa6jmkB0yWhu+0qnc459zn4u+HVbVjtCxmrHH6tTV+uTzVdN+LG7uLWvzU58rcw6euzYfHDLcsZwbU+X07rXXz0wPKveqMGYF7S0m7Lzpjy9iUHbUcGBMLCd9bikvmnumc24xhHy/H38fXqii7q1Mtj7cWQ98PJi/Ph++dhovIXunrxrervWkXJ4J7w5g09Xa/v7rfh9z+EWDAG39q0ZzP1v/7Ce3QDgZgAAZgAAZgAAZgAAZgAAa2HQMYyUB/j6F3IokTonEXRtu8lNYzr+zznkcniezI5i5dXAkYLKYtby8pf6ZLbXszdnrsXc1qeyan/GLkc+azQSP5ywVNB4/bc1Adz+Q0fSPeqF66lFPXEwfVZFJwp9PK7G1RxzODGru6FNIzGnls/e0cY6Xv9p4f1Vi0jFXXZU65A2mld/WU6uHwvXx5QPvNhPOfxqcFXr4y4OxBeEgDV2L2qTRGxCNmMnefnvhv/vPkvSGLixo//pAVOfrQ8fEYU6+o+bGsdqRS+s7+H1ifizenipp9td2eJP9Br6ZiJn+tdJnfSCkV9/5XRc2e79V+835oX0X7791PDngpLufHOq3ypB4dik+temtWQ4+a43aoc2zea9/la6PK/iD+/Km9WQ194Jg7y7Maf77d2lu3tCw71XkmGmEbMKqeGtDAU3Zaz/CxO9T6wpRjaPpsFz+dSvi8bTYMvFfBcLJ4KWr+3QG1m+jbEu32q/ts1HD3y7vzyT71duz0jnugY9Qr4+KVUXX/adw5d6rzxVENPG6izsIau/3e8Gnx+8MBFSzj2UwuJ5zvO63qm5gNmxKW8fOAdf72UwPqtliOlOUb+9V7PnKc03/WivMaf9pwvUPZ8y4Dfr1dQ9Etr3lc/GBIrTvsazQ/O24bGguTyj6cUuobh9T7Yq/3fkjnH2Q1akxn99reY5XtYsr61I6G9FG7D/v1LOmrVj/r06EHI1oabh7pjq1HcTGv3NMJTD83pD6rr6V06OVC2Mi5Na/JF9otMz+kl7nWD3uVO9OtZuu6PiOuhjWx4unt9yv3PPajr8eOI73qfdKkO4/WP75/1j3WuAbSD7IaGu6OHdce+GGvxmO5WVO4//jlL9dfrXZ6Kq5uO9X+YunYY7Spp49HzbGg1ssfT6rviGE5qu+DajXpnJ2xwD3GO9efdmvgVLt2lhyX0s4nh5Q3ixaC7VzrGN1II9kbmx5S58ujGuiw75/hOu9U58u+5l49Y+qXSjWr7wN//KipHb2yPKjWnj51Bu5vbn+s+r7n6Btlb/GDnLp/aMb6aJva/XjSyvZgFtmYfajNmB3zOWufev/e4unxg6z6nm217+fmuIezmlxY05o77qZalfsw0vZLBY0+6+7THb7WQ48PyCuPMZCrLXuQrUrPzSK+M1l77IrW9Xud/veIoJH8cKd6e+LHwsbxbbTfBEwGMkCUG69C/bmS5rwfHv/QAz1gAAZgAAZgAAZgAAZgAAZgAAaqYAAjuQqRmKBImlCv73XbBI4xTtectNavzNidd3Y4Ib11QlrrhQll96SVOdyl3Nt5Fa4WlL80odyJFmXSB9VzYSE8KLhG8lRB/QfSanqiX2NTec1cn1F+akz9TzQpnW5S9jfh4xbePKpMukkdp8c0famguRsz1nVGft6hpgPhfZ2jRvLalytaubmi6VNppX88opmb9t/mtdXgftA11WVJE8eblDk8rEJSVPJyQUNWROdu9b67GNbB7EF4yjd2rNTBkX7hTdQ+OqT3f21HZj7weK7EeC1+PKr2bzmTsV4K4AAnZnLYSlO5U//sfxi2P5vOajy6b6FXXnOuneq+EClzYHIxqbyW8WgiSH+YVd/LOeVe7FX28f160EzWfte/Zl3mjklz/D2nng+3qvuFIeWGB9T9VKszIdysvvdMmZeVf8GfpN79aFa9L+Y09Hy3Wr1J+p2WOWlFVVq6+0aPN4n+nf1qfyqr7uOdat3rT663vhwwdW/NKnfEnQjfqUNP9mpgeEgDz7Zrv2v0fau9dCI91NZFzZ7L+gbM91qVfW5AQy90qz1w3UPPT2nRiziNKW9qtw51dCr7ov25xff6bCPYmihvVuvxPg0ZvZ485E/6W+/FGcm+hp6Z8YG78MGYBYfU2TNgadr+iGs6PaTOc7O+ERljSjywt1WdT3cr+1S79n/H1c1ttwCza2sqfjauTvMZ15iItFPYSC5q/kKvV9/9z036e3l6hoZ7vZR2P9qu7IluZTsO+boH+LTvP7W1ixs9fbd91O53fvuGjeRlFc602/3J9LNH2tX9/JAGejp1yJjlpj0fbNVQYGFKcWFSvR73D2p/R7f6Xh5Q79OBulscRIzkW7Mafco32B76Yad6XxjS0KlsoB8513wkbCQv18pKqD+EOXDbwt0zuqb+ubamusaaoIHkaGOuu/uIGdeG1He81V+k8kdhve3yRvuP355e+SP9NdxOu9X6dK8GXuxT9nH/PtH87GRooVC9fdy7t0Tb7VpO7YF+aY0ZL/cpe8Q3tx98fMhbWGLq6p3L02mnPQ6dyKrzUf+4HU86e+1abe3rY+lazRhtjSd+umV/7I7jpcJrMWNT6jv77THthV51emNaSrtP2NkQYiOSzT3u1ZxygQwdNbdjXFnSh9T+ZFZ9E/My56vuvufW2dfWjN1/Y8bRP3b6qbmnnbDvA71PHfIXiBx2+q8TFZszEcnOvdaOSDb1DGe7KG33lJofbVfnsznlzSI0b9yNGMlLeSfThV2m5se7vXumtSjFcPSDXk0uFO17QLVlrziGOPoUFzXZ4/epHY8449rzWbW63y9ShzTgLAwored68u1/z7DGiY1iMvBdL2m8ssc5lzke0QMGYAAGYAAGYAAGYAAGYAAGYAAG1oMBjORqJ3z4XNh8vBs9nLTUR98MR++uuWmtZ93OPhOf3jourfXtOWtv5cxPx7QQNGSdci5NndS+9FGNmegUt+yOkZzZ1aSjb4TNYvczC28Y0/igBq+tOscVNLgrrZbX5vzzuOczj5FrlxjJzmeTXreuW09dgmWIfV7U7Bl7j1ljevkmoInMnvInh52J01AE8FeLmuoxk/APqP3VWRXdz38jMim75l/DnvBzPh8oTyiKeMGNnNyh7Fg4fbUXQe0YAiXRzV6EdFwE9bLyz9vm7UNPu2mI/XYvLhQ0FUjxXY+5s3ih2zb9TDR0NJL81rzy7/rpdYufTarvxIAmo6m+g5PIIVM+bPSYaNZQ5F1xUVMvHLKNupCxaYyUAXWfGldJ+k4zYf5De7J8/4sFLQfaxGXdPFoLAZwoWhPxHEpzbqJPx7od06o5sCAhXN7dT4+Gr784pd699rVL3rNM2kn1OWWLjUheyqvPimQ+pKFrRa2Zv52I4uYeJ9LXrY9JQ37WMcKDCxlCBslOdb5aCNdtqaAhKyI6pQef9CPdbG2Kmj9nR62HjVS/3p6RbDQ652qUkmW4B1NVe4aGiRBv11AkQrz44agdsZwKG6k1t0uj+qiVCcCvZ7D+Vl+2+udOZaNR6rdmNe4aJI86Zt9Xi5p81jHzvp/V6Id+1KTF3mJeA0f8SEV30YDZk9hkJ7AWgHzjkPreDY8Va6bNX+30TfigIVkPKy5LiY++Hmacq6V/1jPWGG1CBtLDncoFzHmL0aWCck86RrtrxLnlj/afiDFT0ieD7XS4T1OhrQBMVOaQY/DuVPeEs8DnLvq4V7dguwUWEj30ZC48nhg9ruTU6SxWOPRi3hvPvHMZLn/YF4gmNeN/UfMTvf5Cn2DUbq1jtDWerI+RvP/UpJfFwRt/JtyFKeFFR159g9q57V5PO4bGyR1qf9m/j5my1HLfs7mMjN1WX+1W76vh85rPLl/LqdVa8LRbve8FxgavTHGLjOz7uqeDafc/7dX4x5GoY2/cDXxnCS6gSxyPHtLOI05Ucj1ld9si4dEs+LGj5ver1xj1wc8V5zV5ar92fL/Tu0+E6rnufPtG8oYyWWm8CmrG8/jfJeiCLjAAAzAAAzAAAzAAAzAAAzAAAw1gACO5ASLak32+UcXflbSIT2/tpbUOtElceuu4tNarl04qY4ziqKnnnWtV0z9LK3O64A8cjpGcTkizbbfjksY600qfuKgV61wF9afT6kgwnqNtn2QYJ71ujq+rLl49k7X3ooUj5qMbvfjgo93KWoZeJALYnYTd0alRk3YyMAHrmz32PrZu1HPns05a0VC6aN+AcaOIvWsHzbvA+fcf71ariUoLmoJBYyV0frfuQSN51I8GTdCoHnMnOKE+GY2mTrhOlA3ztzcx/L1g+m5fJyttdxzTpk3SxpxtVt/lwKR74rX9c5o9fkMLCbxjllV40Tao4yJZrfKbRQXP2RFUvrnvnzscsWu3h9vGqe9322lGveu57bWm4rUhtVqmZKlZ4GnktPXiu722mb03xsQ35zbGgxO92nrGiUr2zIiU4hYXWG3xnnPeh7s1GdTcHOtE0Ycj4/16W4szisvKD3d6kXWHjBHvRW07dXX7UiplL8oo0aLotYFvaNfRLrf8LAN320eNAedG4PpGsl+mncdLF2tYrJjoRWtvU3tfaxPVbTMbkxXB0aH4cU7tTvS8V+5b7h6rKXntGdUtaJoFTLW6WImeu+RvX49a+2c9Y01onEg9FMleEOhDCfpG+0+wPeP6q99OcYt0zPX8BUPufuF308e98sW1W1y2Cqs9ipo/b2fGCG5t4J0rupe624bWOGAvamkdDmQscN+PefTOGRyjrfOsg5EcSN1v9SG3PF8tKx8zNntlC2jnHldPOwbTST/YkdNscBFMxEiu5r7nlS/2Pu2za5XZ0tQ2L1vNgjW37t7rpfcGt67edVLNYRPaPYc37vpGsq9P8ni0dmu5ZJ9i95qhR6+MKYXK7l4/7tFkEHncrq+1GCJ6rzDHfLWs5Vu+Tn497TE1VAbzeascjeLbMZI3msnA/SduvCrRIE5rXvN/96AFWsAADMAADMAADMAADMAADMAADNTJAEZyncIxeeFPbtWjRWl66zmNPJpWy9lIpO+NEbWk92n4unu9+LTWhZcySv94TAtl2nPlQpe957L7GcdIPvqbSGS0+77zuPBGh9LpfhWsv1dVeOmg0rta1DOa19xiJCV15NgkwzjpdaNlXXWJXDe2Tby9UwMRwN5rxqCY1ezZTivyL2gSunsaWyaSM7HsRQwHJrC91w4PKP/plBdF6u25HIgiHnL38oyLnHRf+1a7Rq/Na/KE2XM3EN3sRUg/qM6zgQnngAbL7/X5ew46qY9zY1MqfLwY3ju33nSzxiTz9hA2qV/7NHR2XFPX5rUcmXy32qK4rNn3xjV6NqfcC73KPtWpzic71e6mWw2Z+75RlWj6Gi3jTH+jwfK88hOjGn01p4HnstZ1zLVa99rRnsF9i0OcBCbD289GoqNC2rpGbp/y1h6lfnl989Ptr8ZwtKPDvajdwLm86yfsQ20tWnCMa9tE9K+VMvugvprT6NnR0H+T3rXP2afZmMaWmRuoW9JEvzExW82e2u6CCaec1gIMY25+P2pc+2XZ+XROo6ecKHGT5jm4MCJYX8/Q2B+/F7kxa87be4h7e3YHyl5Lu3j98W77aGAi3zOSA2Xa/dSAnWo22g5nBrw9xE0mg//D2+e31043G9TFfW6d1zZCPCPZGKRWSlnfBPK4cY8Lmlxeff32qYUVE+3aezyr7NPh/90vuJGi/nlr7Z93bSSHxgm3jzmPxkx39qf3TFKzKCfUf8xn/fKX9tfA4pYHD6n35dL+ZcaVoeda7Qhx0yeW7q6Pe+ZYTLs9dHxSJYsx3Db3FtMc0pCz7613rqDp637ePBo9rOwaKbmLmTyWahmjLU4bbyQfejGyL3ig7GaxzSGz2Caw0MWrr6edz4T3XtXt6BqRjpkbZ7TXct+LZc8uX/GzgibPjSp3Zkh9J+x7YeeT/hYDXt839ffGmiqM5IA2Xruac3jjrj+GePr8oMx4FNDfPV/VZV/Ma+jZ8BhijSnPDmkqtG+zk2kj5lruNd1Hr8z3hG/X5N5gJiuMV642PPp9Hy3QAgZgAAZgAAZgAAZgAAZgAAZgYD0YwEiuYvJmPYTf9ueMpre2DOMWjdyIdnTbYN435OybHJfW2pivp9NKp6v57xrCJqXzmI6m0+q/Gr1m5O+r/UoHo51vr2jm7UF1PdasjHXNjJoPd6jrpbGSFJxJhnHS64aLuupSJcdu5JhrIHhRyk6KZi9Kx5i4Jj2kmcS1ojEjUTte6tFm9ZkUoYEoYiv9tUkD6URQNZ+asqJ63EnQULRr4Dh38tgtoxs56kUVHnZS5LqTwonRarZhMDvWq0NOmmZ/b72UUulW9Z2f9SKN6jZ3ruTUbaVcto0v/xq71fnilBcJXVyYCqXs9T8XOC5kEPlGT6L56hmv4ejx5ctD6rQilQPntiJ9/b8TjeRb7j7agZS1MVwVP3QNjawTYeyXd6fZNzUUWeVHhzc/Z3MQO/ZZZoEpY8QsMClzTVTrH7UrZ3g0kXmB/bxjtQzW100ZXoUZUfx0VJ2Gl5CRbKdVNtcpbQu/3qXlCKb+DownLrsp39CI6uFFu7tRfPW2S6P6aGAi3zOSvTL5XJVq4L9n0qn/mwkngtT040CUXaj+xgy1Fo74qb29dnmw3c6IEMOkOceyG1Hummp1suLpH+TIPPfK7bd7KRNOWyf0z7rHGteE3+su3ggw5enh9zXPJI32H+uzfvlL++uaFiectP3R+sf9/cdmr3n/uvX0cfe+kIppt+ZTeW+cDnFi6rGcV5+VMt+5BwUzPLjn8rRx9fLL6mlk0uvXOkZb40mjjeQH1H4ueQGP1w8C41OJdoH61t6OQdP2QXWem49doWsWWlRz3zNbZoTGblM2s+/x2ay/p3ccU5G0/jUZyX+a0D9ixl1PH69fu4wkPNZYdq+9onV0xjHzfvu3UkqZ71om00ug7ZKel2tv+5hG8m2M5E3AZPD+U/L9IqGtqtAySWNeR1MYgAEYgAEYgAEYgAEYgAEYgAEYiGcAI5kJh6omsBrfgVZ08URablrpubMtSj86ormY9rDe2zesmdtriktrbcpmpcD+8Yhmbq5opex/d69j30iuLSI50pFur2plcU6Ft3PqOpxRetdRTQTS4iYZxkmv112XGN1i28yN9rX2N15Uwdk32ZtU96J9U2o9U9Dih06UppmgtfZLdevvpzc1ZsriZ5P2PsuBSW5vP+TvdWvyM3efZXuC2ktbVPTUyAAAIABJREFUaSb/Lw9ov5lsfWRAeW/f5IBB6kUym3SOiwpFSIdMS7dsgcevljV/bUrjZ03kkx/xlErtVu8Fe39P17hOmRSOcQaXF/0bMTktzYta/rSgqTETpZdV614nHaSZDH8hr+V/50cEpn6Q1dBEXoUPZzXr/M+fd/a+bISR7JUzpYc6+jT6XiFwrYImX7T3yE40kj2zNSntsq2rZ9h5ppZvTJUaa74RmzqS02ycvkZHl8uIkbz4rm1qPdjh7lvsX+vBx4c0dc3X0tU09PjZsp0i1atbXBva9fIm/gMMr5n0o0eMIdqsvuC+nU7buymfbRN1v3rPTWn0hLMP8MOd9mKMYN+MMTSi/dQzMl0j2St77e0S2he97j7qa+4ZyYEyHXp+MsBZfHvMLxb9NO5m0UpoLAn0V+u8tgHtLixZW3IMqdTOwL7cgWOctnDr6hmSAQOiFlaKi7PKfzClqffC//NX5h1T09ejlHenXAlGcr1jjWcgpd3FG9H6G5NuUeNuRLKT0r20/5jjypffu9bDWeU+KHhjVahfuWPYx0aTu+vj3vU889cvn5UZI2mMN33JWjQTE5HsnSuqU4zRFoicrXqMtjhttJGcUrmI5OUrzn3yu92acr5jlGrn19d7r+p2DBrJyeOkPV5VuO99taY49qzU9X9k+vcOtZ4a1dSVAF/Xprx9vr2+b/q2N9Ykl8mra1K7x4y73jHlxqPA2F1z2W8tqnA5PIZYY8oHBS2a+6BXpuTsFNF7g1fmpHquNZLvyhHJ94TJCuNVVCP+9scAtEALGIABGIABGIABGIABGIABGICBRjKAkRyYKGqksJyrcke1Uk2ns5q4aUcdt40uxJvan4+ozUpvHZ/W2mht7ytszlX5ul7b1LVHcpnz357R8L5weu4kwzjp9brrUi3HwQjgUzn1WumRw3thepOVP+zV0HN2ul4zwb0cuYYXzfxwVkMv23vD+imx3QlgM9n+kDpfHFDnwyYa2ESwRaJvApGT3cMDajVphEOTu76x0HxiyInujURIR8rmtXH09VvzGj9uUmX7EaZefUNmrt/OniEeMTljr+GYKg8aY9wY05/nnRTfu2P3bvQmYkPX9utbi1FlldNc14oS9Mtvl9M3exKNZDNh60SRp4440d9R/UzEqJMa1k91Xr68/gT8bnWfj4m4M5GjL9smdygi2YtODS8+MEZ2s6nnd7NK3Kfzq2I4hXkVZkSckeylky1ZSGH09eud+larBt6zFyasLeU18KhthqYeHQgvwPDMgxoikutulzU1po/69fSM5ECZTBrvxAUCRb+ve9kOUskR7/5e2X5EspXtwEnPnMSlObe9H7O9IKVgpVy3o5RrZiXKfMnfvh619E/TD+sda7zjzBiUELVq2rrT7CdvFj1YWSLc6O5w/wlyG1t+j1GzeMJhukSDtVD/qruPBzUJmGNeH/9OzGIMqyxFzZ/r1A4zDuzt8xYmeDoFzhUep2OMNhPZbGWWqGGMXicj2VpMFbfIwoyRz9tbBAT3LvbqGxeJW0c7VmPahvV07jPR+95fx7Nn2sy6N7qZIoJcBRZC3Asj2Tdyk8ej4B7JdZU9WL/o8+Ksch3m+5GTZj1uwUTSHsn3hG9nUZxZ4LeRTAbus7HjVVRX/o7/HYUu6AIDMAADMAADMAADMAADMAADMHCXDGAk36WAsZNqnLO6jrlyUV3ptLK/6FdLuk0jn0fNL/fvBY0cSWvfL/rVk06r68JK6flvL2jspxllfjqmhdvuccHHVc1dndNqsG0cIzmzq0lH34g3sRfeOKpM+qCGZ91zrWjhRsz1zXlvF9S/K62OwLmSDGNrH2QnyrqEoXrqYiKjV90yln/0IoDNJLz5H40UDUS22pGWCXv4efsrO+cxUb7vho2H+fNOOlvnWr4RFSyjH91sXy+l/SaaN9BWvlHhXCti7C1/PKXxc+PKWykii5o/36felyc17xhKnsbGnHzWjhj1JiW9CXcTRTylxcAex8WFvIY6HrJ1ChjJxQ9H1ftcTvmoKb4WMDiMkfy/u3sZxxhAy7Mafco5dyOMZJMq05jwqVYNXfMNPFP34qfj6v6BrV3QSA7rZn/OjvJL6dApd09Yp61MuvKzWe202nK/bVZZbVTBWDNR7qdsEySV2qn2500kmh25Wrg8qdwJ9z1TvkDUmdsuxkwKpv40UcKP2xPwOx4f0FTwPVOepYJyT+9X+8uBtLh1Gcl+vayI/ZKJfv99jyWHWWPqZc3CiVRKzSYdp8uUW6daUls77Vd7u9iLOcaf2uHwa8pTTx/16xnsv4Ypv0zjmo30teUPx9V9uFV97y7aUeGBRSyphzuVc/dJdzX7bFJ9h23NjG5BM8n0t05rn2RjFHcr50X2FzR1rk/twXTuQZOlHlac8nhjRsnfvh7RdveOSYhI9s2r6scac07PMDR97zvtGvogPM4WzX6sjzvtfHhAlpHushbtP5WMGWNavuDs9/3dTuU+cNrP1aG4qKmX27X/qZzf5vX28WDdEtrtwSMDyi+Gx7PFD4bUbpnmKbUO+3u4ejoFz+WW23r0DVkvC8etOsboBCM5Op6uFRdVMPvVXyho2RoDipr/YFyjY1O+dt7Y5I4X4+GFGcakPe8snkntVPa8n3K66EYpf6fTX6D1VVHLJuK1nnb0yhIYhwP6VX3fm5m0x78Ie15EfuT+bRY3LL7bZ2cmifT9asztiu3u9oXguGv0ce9LcePRwpT6Dj+oHY/2afLTouoqe0A7b2wIvOal107tVvfYbGhxxppZ9NazX6mH261FSiaLS8V6xkUk1823n12l+dkNZLLSeBXQM05jXgt+1+Y5PMAADMAADMAADMAADMAADMAADNTPAEYykxClpuw908RJb232GT4yooUy110YbXP2QC4TdfxlQYMmvfSeDp0cnVD+UkGFq3nlTdrpI01K7+nSxWBkhbtH8hsX1XMgraYn+jU2ldfM9Rnlp8bU/0ST0ukmZX/jm8yrV/vVlE6r6UiXBt+cVv7SjGau5+3PP2au3aOLgajoJCN59dqgDqYzavnFmPJXCypMjWj4bf86azXVZU65A2mld/Xo4koVg4EXAWwmrqPRaub4sLEb2tM40kbe5KoxOEomh4Mpi+NNLHfw9iInLZMyxriOmNahCGlvotTZx9REAVt7Z5prPqT9HVn1vjCkgZ5Ote61DchUar+fqtgYpF5EbEoP7m1V55Od6uxoVfM37Ml92+B2JteLbrSV/d7Ow+3KPjeggee71fmok9Y4lVLryyaK298r2jJRnxtS7tWcci/3qv17gXM3wEi20jA7EU6p7xxS94s561pDpzrtCF5L25Q8Izmqm5V2uqj5iW5/D8sH96v96W51H+/UoUB5W4MmbTUTvbdm7UlxpwzuggHv8TvNajb7RQaM5HlnEYK7V7bLinm0oi8989C0caeyz3Yr23HIMbqdqHY3zXwFg8Q6Z3SPZG9BhUmpvhwzTpY3FH1jZIc6X3XMrjhDI9qnLjh71Lqpra3362kXeyy4+z7q1zNoJJtxooSVJ7PqfjYb6geh9lvMayBgFu887LTb4/vt6NIAH0Ej2bSPZR56bR7oO84xO39gZxrwU1vb9a+ZlUh7BLmzn/t61Gwk1zrWOGXxDKSAPg/9sF3ZEzbzD7mv72j3DPr5xP5TRfnNPeKIO1amZI1xJ7rV/VRwe4BD4X5RRx83enp1i5i/0XY71GGz1f5Dd2FPSg9FouGTzuW3YYyRXM8YHWckx4ynft+zt2qw9sW1Fvuk5O3/7I1NAaa/0axW05eOd6rVWQBkxsrdwUUpho2lKf9e96ed6ntxQNnDO7XfbDdhFr7U2o5eWWKM5Brue/86gT0rK4GzwCb1SFYDZ+x71MDx/XakssNxqO+XK1O0f0QY8to9adw1+rjZI1KG85j7yCN9mlooqq6yO+XzyhH9O7QAw9yzWtV5vFvdTwf62R+1asi5/9xbvn0j2bpPbxST1Xy/iOrK3zHfV6r4bYBu6AYDMAADMAADMAADMAADMAADMFCGAYzkMuIkTv5wTMM6lZ3eOq3EtNau1lZ667TSxye04r4W93h7RTNv9yt7uFkZY1Ab0/dAh7rOTGsuarK6RvLVNa2tzGl6KKuWvRnbsN5zUB3P5DQdE328ulDQ2Etd6jhgjGb7Gpm9LcqentBM5BpJRrJha2GqX0ed62X2tunkbyIR01XXZUkTx5uUOTysQlVRyQGjOC7VtGPUtVvGXpzRHJiQ8va2tfd3DEYRW/0nGIUYZzS7bRgwipOMa39SPmI0m+g/ax/blOxji5p/L6fsI74R4hmWZqL6wUPqPR+J/jFRdi+2yzNkXGPGREed6FO3lfrUn1wvfjqpgaeaA5GeARMg9ZDaX5jSvBuFemtek8+3lhhlxuRufardNm0bYSSbdluY0tCTvpnt1ftb+9X5pB356xvJUd3cdi1q8b0hdQYMDO88Ow6pd6zg7BXrf97dKzjRWLPauaj5y+MaeLZTh75r69V8JKu+Vyc1+5k7oe+kGTU8PG0Mo4dCEXjBMbn42ZQG4upqDJcnhzQVjBavwoyIprb2IvdNZHkk2tYuRyVDblmFM+2OQXJIAyaKNMnQcPuBMUxjjWSjda3t4rTPXfdRv55hI9kp0wc5Zb2FG+F+0Pr8ZDi60tRzqaDRUBS6e8wOK1p96CnbEA6ZSa4+S7OafLVP2ccd4+nhQ+rsGdD45XnL1Lai5Q8Plex1XhMr7rUSH309EnlPikg256xxrDGseQbSD/s0eqZX+0MLXGz9dhzu1fjHzoKHsv2nivKbci7PavxU3Lhl0klnlbscjop2+0TVfdzR16tbjAlojbMdzgKBwJhsZzaY1Ly1+MUdhwI6xZzLLl+ckbwmE/1Z0xhtjSfm/hK4P5bchwJ92ckEYI0xTiS1txjKG5seUOsLOQ08FTN+p3arczjvZzbw2DSRvANq3eH2IfvxgeDWBLW0o1cW/15n62ZrXNV972/Kj93LVxLGi73t6jxsR9WH+n6FMoX6R1K7lxt3jT7PxXO+88mB0H2k5rJ77eQzGtTTem4Wl7zarf3W3tHhdjR7dpt+ZqKRq6pnXESyObYuvo2RvAmYxEhu2O+tEvaq4ZPPoD8MwAAMwAAMwAAMwAAMwAAMwIDDAEYynYHOsA0ZKC4WNHnWpNycjZiCzoSnmdw0KTnPTaoQjOIu0cqYtuMaPTuu/EI4/ag7aWVMnPGzoxr/IGZ/3MD5lj+c1OjZUU1eizMobGNj6tyoRs+XTqibFNSTY5MqRFKgLn82q7yph4kCPjuuqSvzTorR+Ind4tK88hfGNfrqqEYn8po15/tqWbMXRq2yTblGjVNu8/mCVX8TWTWq8fcKml9K0GHR/azRPW9/bnlWVp3GpkKmyOK1SasMiZo57WPVKWiYWuUqavnTgqZMvY2eH8xaBoTbDsE2T9LNnuAuavFjo6s5z7imriVrV7G8xuQuSQ0daANvot9eJOAZLiGDPfD5ADfFhVkV3jVtltPo+SkVPouJHi7Thi6nxjiz2uLclGb/2jecQqZG4LrmuIr1/spObWui0EcnClpcnteU0bNMv7Lbyf78cpxmX1XfLnbd7r6PLn+a19SFSU1d800NTzeHuUXD3PlRux+8m9wP3OOKi267jWrc+7yT+vfVmHEgTguvPXxz9KHjk7KiMb33fG6qYiXmOLfM7mPldrfHz/j+aZenlrHG9FMzhhqGLCaKi5q9bMZLh/lPlz2zyZSxUv+pWP6gBsvz/rXOTSr/4WJiX66lj7ta2nUz9Sgd193PLC8447gznpVsWeCUt/K5ilq8bI/v4wGDzr1Oseoxuqj5K1OavGDGG3+8LxlPzbjz7rjG35v37rPL1yY1fj7vj/cxRunyZwVrnMiZ+l6e1WLEMHfL6z769yHzef9a7vvWYzXtWM04afgqc9+rxJ5Vlq+WNf9hXpPmfm7dWwxTTtuYOge/A1RRportfquKcTdQp8T7iOGslrIH+1Gl58Vli6lx06cT+lnFeprFRo3gezMxWc19tpK2vM/vPBiAARiAARiAARiAARiAARiAARi4awYwkoHoriEKTVaiJ3rCAAyEGChqfiyr/Uf6NB7ZF9caO0yE5vPOnqyP9Cm/VNT82U4rkrc0AtY3Bdd13Fly06NHot9D9bpHZeGaWlvKa+DIIWXPhBdcuAwsmz2UrZS5MXuRbzv9NqL/1NrH6Tsuu9XsAex9dtOzvBHswVLD+Ygxkht+jU3PMlzR5jAAAzAAAzAAAzAAAzAAAzAAAzAQZAAjmckMTK9twMDly5cT0jBHUimG0ofynpfSGV3q4se62QT3Dk2ltOORdnU/b+8VPfR8Vq3e3su71X3eRK3bEbRoT/9zv6z4ae2NJrvV+nSvvb/qmQH1PhnYX/nRIS8NOfzcG37q6+NrdY0nW61NLe0STLutVlfqc2/6493qfL8xubwck4FkG3ynd++NPDKpAwMwAAMwAAMwAAMwAAMwAAMwcK8YwEhmwgEjeRswgJF8f0zi3u0k8GY73ruRmX1xT7XG7kFtldnsWz0WTrO+2epCee59H/L4MYsL3h1S1tqrPL4cu58a0lQgvT7tFa9To3Xx2qjGPt7octyP57O0w0hmUcEmWqh2vzGJkcyEiXcP2ga/5agrvMMADMAADMAADMAADMAADGwkAxjJ/PDESIYBGICBe8OA2afzA3tvV7NvsLUHqNnDucIeoBt5k+Tam+lLWlHWXsxjZi9msy95TqNjUyp8SlTapuGUPl7bWFrFHsCbpm25T9bWtverXjC5Pdr5fuWTcsMnDMAADMAADMAADMAADMAADGwIAxjJgLch4DExupnMGcoCjzAAAzAAAzAAAzAAAzAAAzAAAzAAAzAAAzAAAzAAAzAAAzAAA2EGMJIxkjGSYQAGYAAGYAAGYAAGYAAGYAAGYAAGYAAGYAAGYAAGYAAGYAAGYAAGYCDEAEYyQISAYKVFeKUFeqAHDMAADMAADMAADMAADMAADMAADMAADMAADMAADMAADMAADMDAdmQAIxkjGSMZBmAABmAABmAABmAABmAABmAABmAABmAABmAABmAABmAABmAABmAABkIMYCQDRAiI7biagjqziggGYAAGYAAGYAAGYAAGYAAGYAAGYAAGYAAGYAAGYAAGYAAGYAAGwgxgJGMkYyTDAAzAAAzAAAzAAAzAAAzAAAzAAAzAAAzAAAzAAAzAAAzAAAzAAAzAQIgBjGSACAHBSovwSgv0QA8YgAEYgAEYgAEYgAEYgAEYgAEYgAEYgAEYgAEYgAEYgAEYgIHtyABGMkYyRjIMwAAMwAAMwAAMwAAMwAAMwAAMwAAMwAAMwAAMwAAMwAAMwAAMwAAMhBjASAaIEBDbcTUFdWYVEQzAAAzAAAzAAAzAAAzAAAzAAAzAAAzAAAzAAAzAAAzAAAzAAAyEGcBIxkjGSIYBGIABGIABGIABGIABGIABGIABGIABGIABGIABGIABGIABGIABGICBEAMYyQARAoKVFuGVFuiBHjAAAzAAAzAAAzAAAzAAAzAAAzAAAzAAAzAAAzAAAzAAAzAAA9uRAYxkjGSMZBiAARiAARiAARiAARiAARiAARiAARiAARiAARiAARiAARiAARiAARgIMYCRDBAhILbjagrqzCoiGIABGIABGIABGIABGIABGIABGIABGIABGIABGIABGIABGIABGAgzgJGMkYyRDAMwAAMwAAMwAAMwAAMwAAMwAAMwAAMwAAMwAAMwAAMwAAMwAAMwAAMhBjCSASIEBCstwist0AM9YAAGYAAGYAAGYAAGYAAGYAAGYAAGYAAGYAAGYAAGYAAGYAAGtiMDGMkYyRjJMAADMAADMAADMAADMAADMAADMAADMAADMAADMAADMAADMAADMAADMBBiACMZIEJAbMfVFNSZVUQwAAMwAAMwAAMwAAMwAAMwAAMwAAMwAAMwAAMwAAMwAAMwAAMwEGYAIxkjGSMZBmAABmAABmAABmAABmAABmAABmAABmAABmAABmAABmAABmAABmAABkIMYCQDRAgIVlqEV1qgB3rAAAzAAAzAAAzAAAzAAAzAAAzAAAzAAAzAAAzAAAzAAAzAAAxsRwYwkjGSMZJhAAZgAAZgAAZgAAZgAAZgAAZgAAZgAAZgAAZgAAZgAAZgAAZgAAZgIMQARjJAhIDYjqspqDOriGAABmAABmAABmAABmAABmAABmAABmAABmAABmAABmAABmAABmAgzABGMkYyRjIMwAAMwAAMwAAMwAAMwAAMwAAMwAAMwAAMwAAMwAAMwAAMwAAMwAAMhBjASAaIEBCstAivtEAP9IABGIABGIABGIABGIABGIABGIABGIABGIABGIABGIABGIABGNiODGAkYyRjJMMADMAADMAADMAADMAADMAADMAADMAADMAADMAADMAADMAADMAADMBAiAGMZIAIAbEdV1NQZ1YRwQAMwAAMwAAMwAAMwAAMwAAMwAAMwAAMwAAMwAAMwAAMwAAMwECYAYxkjGSMZBiAARiAARiAARiAARiAARiAARiAARiAARiAARiAARiAARiAARiAARgIMYCRDBAhIFhpEV5pgR7oAQMwAAMwAAMwAAMwAAMwAAMwAAMwAAMwAAMwAAMwAAMwAAMwsB0ZwEjGSMZIhgEYgAEYgAEYgAEYgAEYgAEYgAEYgAEYgAEYgAEYgAEYgAEYgAEYgIEQAxjJABECYjuupqDOrCKCARiAARiAARiAARiAARiAARiAARiAARiAARiAARiAARiAARiAgTADGMkYyRjJMAADMAADMAADMAADMAADMAADMAADMAADMAADMAADMAADMAADMAADMBBiACMZIEJAsNIivNICPdADBmAABmAABmAABmAABmAABmAABmAABmAABmAABmAABmAABmBgOzKAkYyRjJEMAzAAAzAAAzAAAzAAAzAAAzAAAzAAAzAAAzAAAzAAAzAAAzAAAzAAAyEGMJIBIgTEdlxNQZ1ZRQQDMAADMAADMAADMAADMAADMAADMAADMAADMAADMAADMAADMAADYQYwkjGSMZJhAAZgAAZgAAZgAAZgAAZgAAZgAAZgAAZgAAZgAAZgAAZgAAZgAAZgIMRAw4zk6In4GwVQAAVQAAVQAAVQAAVQAAVQAAVQAAVQAAVQAAVQAAVQAAVQAAVQAAVQYGsokNoa1aAWKIACKIACKIACKIACKIACKIACKIACKIACKIACKIACKIACKIACKIACKIACjVIAI7lRSnIeFEABFEABFEABFEABFEABFEABFEABFEABFEABFEABFEABFEABFEABFNgiCmAkb5GGpBoogAIogAIogAIogAIogAIogAIogAIogAIogAIogAIogAIogAIogAIo0CgFMJIbpSTnQQEUQAEUQAEUQAEUQAEUQAEUQAEUQAEUQAEUQAEUQAEUQAEUQAEUQIEtogBG8hZpSKqBAiiAAiiAAiiAAiiAAiiAAiiAAiiAAiiAAiiAAiiAAiiAAiiAAiiAAo1SACO5UUpyHhRAARRAARRAARRAARRAARRAARRAARRAARRAARRAARRAARRAARRAARTYIgpgJG+RhqQaKIACKIACKIACKIACKIACKIACKIACKIACKIACKIACKIACKIACKIACKNAoBTCSG6Uk50EBFEABFEABFEABFEABFEABFEABFEABFEABFEABFEABFEABFEABFECBLaIARvIWaUiqgQIogAIogAIogAIogAIogAIogAIogAIogAIogAIogAIogAIogAIogAKNUgAjuVFKch4UQAEUQAEUQAEUQAEUQAEUQAEUQAEUQAEUQAEUQAEUQAEUQAEUQAEU2CIKYCRvkYakGiiAAiiAAiiAAiiAAiiAAiiAAiiAAiiAAiiAAiiAAiiAAiiAAiiAAijQKAUwkhulJOdBARRAARRAARRAARRAARRAARRAARRAARRAARRAARRAARRAARRAARRAgS2iAEbyFmlIqoECKIACKIACKIACKIACKIACKIACKIACKIACKIACKIACKIACKIACKIACjVIAI7lRSnIeFEABFEABFEABFEABFEABFEABFEABFEABFEABFEABFEABFEABFEABFNgiCmAkb5GGpBoogAIogAIogAIogAIogAIogAIogAIogAIogAIogAIogAIogAIogAIo0CgFMJIbpSTnQQEUQAEUQAEUQAEUQAEUQAEUQAEUQAEUQAEUQAEUQAEUQAEUQAEUQIEtogBG8hZpSKqBAiiAAiiAAiiAAiiAAiiAAiiAAiiAAiiAAiiAAiiAAiiAAiiAAiiAAo1SACO5UUpyHhRAARRAARRAARRAARRAARRAARRAARRAARRAARRAARRAARRAARRAARTYIgpgJG+RhqQaKIACKIACKIACKIACKIACKIACKIACKIACKIACKIACKIACKIACKIACKNAoBTCSG6Uk50EBFEABFEABFEABFEABFEABFEABFEABFEABFEABFEABFEABFEABFECBLaIARvIWaUiqgQIogAIogAIogAIogAIogAIogAIogAIogAIogAIogAIogAIogAIogAKNUgAjuVFKch4UQAEUQAEUQAEUQAEUQAEUQAEUQAEUQAEUQAEUQAEUQAEUQAEUQAEU2CIKYCRvkYakGiiAAiiAAiiAAiiAAiiAAiiAAiiAAiiAAiiAAiiAAiiAAiiAAiiAAijQKAUwkhulJOdBARRAARRAARRAARRAARRAARRAARRAARRAARRAARRAARRAARRAARRAgS2iAEbyFmlIqoECKIACKIACKIACKIACKIACKIACKIACKIACKIACKIACKIACKIACKIACjVIAI7lRSnIeFEABFEABFEABFEABFEABFEABFEABFEABFEABFEABFEABFEABFEABFNgiCmAkb5GGpBpahSB4AAAgAElEQVQogAIogAIogAIogAIogAIogAIogAIogAIogAIogAIogAIogAIogAIo0CgFMJIbpSTnQQEUQAEUQAEUuA8U+AdJ5j//UAAFUAAFUAAFUAAFUAAFUAAFUAAFUAAFUAAFUAAFyimAkVxOHd5DARRAARRAARS4bxX4h3/4jyp+/Yl+d+u8PvyrAf2r3/33uvT5ceu/eW5eM++Zz5jP8g8FUAAFUAAFUAAFUAAFUAAFUAAFUAAFUAAFUAAFUMBXACPZ14JnKIACKIACKIACW0CBv/+Pf6e/Kr6nf7XwM884dg3kpEfzWXOMOZZ/KIACKIACKIACKIACKIACKIACKIACKIACKIACKIACEkYyFKAACqAACqAACmwZBYr/z5z+1y9+XrWBHDWWzbHmHPxDARRAARRAARRAARRAARRAARRAARRAARRAARRAge2uAEbydieA+qMACqAACqDAFlHgr/+v9+s2kKOGsjkX/1AABVAABVAABVAABVAABVAABVAABVAABVAABVBgOyuAkbydW5+616jAHX19q6g7f6jxsPvg418vfaQrl6/Y/6/eUPFvN6DQf/haN3//hb74nf3/ZvHOBhSCS26UAneKN722/+L3N/V1ST/buv1vozTfatf969XfNsxEdk1lc86K//7fm9K/7pP+pwPSW6m7+/8vfiS9Pyz91dfSP1S8Mh9AARRAARRAARRAARRAARRAARRAARRAARRAARRAgXVVACN5XeXl5NIdfTHRp+4/O6ZjSf9P9Grwn7+ld65+oa83qXd4Z/l99bWklEqllPqTbr31u6+3UOPe0Rejj9l1M/X7R8f0znL9DXHn1g29f35YfSd+oh9lHM3Meb95QD850afh81f0RZxJfOt9dQc+/6PcDdVfii3UPOtZlTs39c4vj+knT/zE+n/sudd1Y0PQvqMbuR/5DGa69f4tv+Jbu//59eRZ/Qr8u68/briJ7JrJ5tyJ/4pXpHe+eXfmcaz5/H1p5gvp7xOvzBsogAIogAIogAIogAIogAIogAIogAIogAIogAIosO4KYCSvu8Tb/QJf66OXDvgGkTEUy/3/5o/UN3FDcT7jhin5h6KunPp+qNzf/LO3dHPLuJyNMZLv3PpIb536kb5Zrn29976rY0Pv64ugablVjOS/Leqj//ktvXX+LV35fbCCG0Zw8oX/9gu99t8G+uSf9OnK7eSPr987ZYzkLd//1k/V7XLmv/vD3+p/Weip3ki+cUwT0z/W6OWfVnWMObe5Rsm/vytKl76/DiayG9X8mPRvt8yNpkQ+XkABFEABFEABFEABFEABFEABFEABFEABFEABFNj8CmAkb/42us9LWKOR7BiNB375/uYxau/c1Ft/9s2QkZxqGd6gyM31wOHujeTiX76mn/yjgCHpGcYVXmsZ1PtLjlGyJYzkO/ri1z9xWPm2jl24uR4N1rhz3g9G8pbvf41rzu16pt//nxeqMoStCOOZJ/TL439s9dH/8tijunjjeFXHmmuU/Cu+L/0L1/Rdp8fCF6S4LhGeF1AABVAABVAABVAABVAABVAABVAgoMAfinrnxLet3/pkOAzospWfmvnCo/+JUqn7YP51K7dDDXW7Mz+sA8YziGSirOEUfHQDFcBI3kDxt8elo0byt/XY86/p9V+/7v0ffv5YOAWyZUJ+V93v3twkqY3v6Oa7vfquZ45+Uz/59RebpGyNoOjujOTi5UH7JuDp45jHf/KYul8KtPVf9OnYIftLnR+V/m0dO+9ouRWM5D98rSvP/xOM5JqxLBORrK3e/2oWiwMCCvzh7/8//cv/7Z9VZQZfuvaYfva4vyioFiPZXMNcK/Tv5uvrGI3sGNOXrkgl+4WHSsEfKIACKIACKIACKIACKIACKIACG6nA7Svq+5NygRTf12PPDuutv7wX85yR+ZXoXF3c398+prfcII+N1PFurr2ZjORAWfz5zzAf/+Ror157d5Nl5KykfxX18up7L5jCSK7UYpvu/ZqM5M3G26ZT894XCCP53mu+za4YNZIPaHg+JlXnnaI++uc/0beDX2ieeF1fxGQT3RgB7+jmzDtWuuJ3rt7U11tqYr9+I/nO0jvq3hX+MpTa163XryZ/Of56/h31tdpmzndPvKWbbhtvBSPZ7Dn8565RdR+siLsfIpKtDr+V+9/GjGhb5aq3/v31qkzk9y4d1n/3X4fHqlqMZBPNbK4V+vdv44zkA9K/+UhauiF99o6UPyZN3EW08gcYySHN+QMFUAAFUAAFUAAFUAAFUAAFNpsCFY1k/7foj375/jpv54eRvOERyTUYYN9+4jV9VNxsQCeUp4Z6pTCSE0Tc3i9jJN/f7b+ljeTi5WF1/9kxHav1/5/36vW/vF9G8c0OYJVGsqnG336h1/+p/+Uq9V90653lzV6/rVC+Oo3kuL1r/2mVX4DufK2bv7+pomsiGxm3gpH8tzc03OIyjJFcfe+I/NDZjClO/uPX+vy9Mf3qV7/Sr97/fYWq/b1uL17X9OSYXj/3K/uYc6/rf7x4RQv/999XOHYzvv0f9Pt/add9cnZ1UxXws5VzVRjJxzT6wn+lP0ql9N2j+/XL/oz+s1RKtRrJ5lqhf7FGcsy+xv9wR/qrd6SpOvZTxkgOSc4fKIACKIACKIACKIACKIACKLDpFPCM5H+iwb/8Oly8P9xR8XdX9NYvH9M/doJnfjJ677McFj9wMi0e2kpb9QWkDpicm8lIjivL18s3dOXXvfrRN+35w39sgmxiYq4CtdscTzeTxkYRIpI3Bxc1lKJeIzmuH9VwWT7aIAW2sJF8Rzd//ZiTYtY1dmp4/MaPNHwVM/nuOavBSP7D1/rol25a4JRS33hMr/8+6U7qfBHL9an7z53FAj2Deu3CR7oZ+c5WUoc7Rd344C0NP9/tLTLofv41vXX1C32dcLk7tz7SO+ffsiKS3zr/jq4sJ3zQ3MdufaErE6+p71mnXH/erd6h1/X+THIkc/D8V37vVMAt53NOOU/0avj8FX1xu6RG4Rf+cEc3P3lfb/1FQJsTfRqeuKIvYrWpz0i+87vX9dh/GuhTmW69czepcOKM5D98rZsz7+v1Xzoa/Hm3+nLv6KOl2IqEdPh66SO9Mzqo3hN+O/T983f0UULbfT3/vt2+E+/rRtFp369v6srEsH+OE302Y0ED3LvqHRU/eV3HAntFP/YX7+vG777QF+7/5bhy185yqKy37LLeKX6h9389qF7THxydvHp4ZYw8qSIiOXQtR5c7tx3GXW17BvX6B1Wk5LlT1BeX39JgT6BN/uItXfndTX2U+5E/XkeM5GD/KNv/amY/okfSn/9hRdcmHUO4opHsm66/Ove6xiandOlfTmly7HXbUP7VmN75pEoz9t/PaOJXv9J0Jd86qdyNev3/Z+/tYqO80n3PuugLLvqCi5bGFxmpKUWalGSNsBIpcSsKiiWQYjnaSllp7RSbaKCOj9pTnRNQiVbYFiKHKRUjTuELUkIKrg1KkXK3oYuOzRTQ3imcHKfLu+M5LzsQF6e300UaJlPZMDs1Docp50D6P1rv53rfWm+5/AV2/LeE6v1aX7+13g/Wfz3PU/sUI6Ld4t/QJcyuVL4rkM9//q8HWxCS/z0uaf8Lhi/8HX77aRSn/9PShGRRlutPKSQHgHwEuJgCSgXgy5oT4/hhHbieAUYWYaFMIdmFnDskQAIkQAIkQAIkQAIkQAIksOYINBOS7crWoJ0w56mfT6CkmNur361Au2h4Q8ydL0JTzSE9qKE8nkd+vLwob4m+QvK9Copnc8gNF3znG2s3ivp8mT1fabfJ3KiVURjOISfmZOX5sntVlCetubY8iterqK+Ah0d93vW8OUd7voiymKtaSOSsVZy6iPndiyWU7zpzu/WqhoI4Ljiopu6sNt812+o7x4qF62Jhm7RCBXYjrfDeqQvOZjvzFzVUpPpa1XH96osWSsiLvsjmUJgqq63fxRi6KK4x57fNuVc9zdUmjV+IsasywmCsgpIYW9kc8lNVZYjI+mzRmG8Xc7Gee6I2qxljU/SL6Gdz/tMuxiMk10X7r5r5iTLHtQU0gjqqogxrLAkeVyvKMWrPS17U9PtO3KulMXMMDhdQuqFun11XsSHmRKfM+0H0z6SpQwgvreY96GWgp2+1X12FNe6I+6ZkPV/M8l0GXlYS+5lg6gii3lfM55JIN13x1U+sLCAMyIQ2YWopliayqkLyUsabt63SvaDfDy21VerX4TxKK/Scs1muoQ0KybIrZe82xeQVGKqLE5KLBzocMemJKPIK0a9+u4h0n3Sdt98CXRg4W1Y++KuTaUSbxi2RhFGRr7lSrzaZQKddTgjxi4pFBvcqKAxGpFjKnrz0/OLIKV7KrvxfHEB+LIPYc4r0Io8nwvoiB+dzx+mm6nQOAy9tchjadTbzeiKCdIO1/VKE5DrK1gewWUb4uKb8KHBqt8CWR0ju6Etg4LWQT1tCiJ40Xt7eXMXLPfOGtCDByyAQQuyUN63bIrZjXx7FswmE23z6YGtM6kfvGPdJEwigrT+PqvTRvLSx7K5raF8e2sUUwuZKRjseSSCA8EKxvBcUkj1lvZFDITuArh/5tPGlARR8FhPUruYQ3+6TLhDAZjlPj5Dsuj8C6vtvaWPfO3oU+//2GS68Z4mo5m8Ti+S7/zRsCK7vj2P2W3d+385cwGldjB3Bp02+ze1U/3JJz+uxC8kQ4vgZCGF8rVkk//5arDUh+bN/b1+3VCFZlOX68xOScx6h+DdRYLoMfGem/roEfLCltfjKFJJdyLlDAiRAAiRAAiRAAiRAAiRAAmuOQEtCMlCfzSGiz910I31dmtWrV1AcjNgWy/K8Tmd/BiXL2AFAdcy0LPaZG/Fj4ysk6yHa2hAIbEZ0WBGmrl5F/o0t+tzcljfyCmGyjsrZmB6q0D4vhLGTMWkeVZoLei6qz0tKrfercsPxerWETL9qvq8N4YNpJF4xynFZL9bKyCcj6GiYGxTXirnFkiHI1zSkXxbHNiPiO5fmzJ+27W5iRdyq4Gp7NdyEiMReb6dy3juEyGBRab2sz7m9KHG22vtEGIkxzxy5LcBuRvhAAlFp/tnFztsDrbbLTldHORs1xvXmMNLTnomwagkJ06tjd7Joz5fWbhSQeFWMycb2dB/MO0K/3Y4AuvclEFO1/0ddGDjvaT/qqE5mEH/JCk3oKUcxt2nPS74YR+qweu4/tFt46VSMbCHcnx2wLdBd7RL9cyqN6FOiDmFk5OcCgEX1q83dvSHE+lSf6r7x0Ris+fkfdWNgcEA9N/6cPC8ulfegjvJYAmHJyMpu73MxpAZjxr3omfeVcnA2H8V4s9q6OYxUNo3YM56xIMbgTxX3kKilaOv5hLpft6v1H6dx63OLQrLioWQPcHHux7RMXt7Q9opsPjGSRSHVIgael27Yl1LQ5JVsYvHObB5x6QXn6itXX25BdNjtKqY2nXZb0Lqul8qVj4s61AD7haGfUwhZ98rI9fmJnt68u5HwWLu78/der9h/MoqcbK39oAZtOK7+SJPbI7a9aeF8COk8fQR81zgQbshfk+ulXj3nSrPQjvXw9tbXd78D8TH3R251KmO+fOW6qba9ad2Cqf+4kvJqtyywa9AGu5QfON58ZCF56WPZW1efD59ACAPjigUPcj8sUkj2tke5/2pav2fkYmpXM4g+KbHz7VPzGs8Hhfv+8Nx/yxr7ci0bt+9/+TFGTNfUpy9/jsqkKRL7CskVjJ8SYvMZfHy7MT/gW3x6zhCjP/hnS1VUXWcc+3Z6ZI0Iyf51fJxn/oq/2uKwiGHc6r+lCskif9dfq0KyJSz/dgD4i/mfirkyUOhcWEymkOxCzh0SIAESIAESIAESIAESIAESWHMEWhSSnZBuXUhZotq9CvL9znxi52sxJAZTGOgPO+LnSwk7ju6KC8m6OB3Txb5Nr2VQ9s7D3sgh8hNzruaJKHJe4wEh5u0W81LmXE29isIBR7Ta8lIUA0fTSB2IossWl7xzcgv3aP12AQP2fPBmdO2KI3FccOpuMOhxxNAaSked+bqOV2IYGMwgnYwjbOcVQuy8mFusozIcxWYxX/VSCiWP5qnX8G4JCV2s7Gg+39aqACYJoZYhiLudHQgLD5ODCcRec5h27nfH2a5NptBtzbM91Y3ogZTexsh2S4z1zJFL5drzek92I7I7hoRnntXVM622S04kxsNBsw+kcSyslfNvGEZibbuccSfmDyPSOAm/kUD6RAoDu7uMvhEhy/rzhuW7oh2bng8j2h9HrC8ijbdO1zx8/WYe0Z9aY7oLEeHhVJTR1+0s5njZ7QLePS8p0obQvSuK2L4Yoq84xm5igYHrHhJzlici2GT1z9YwYgdTSA8OIPqKc98b/eAWkhfdrzJ3a9sVRjSE7t0DSJ1II7U/gi7LIOknEbeArZif73glgti+OGK7pPtNzIu7DABr0E5G7H4KWG09GkfkeY/Rm2fe16qu6/cRjDfnmWyOh0AAm56PIC6eWQej6NYFfnGuDdGsrDO529q2PYJ40njO2WlUiydcDVx/OxSSrRu52e+PDQvQ9de9a6HGLQrJdzXk+p0Hr3IFmBBrd1svQeMG796fQXFa010Ha1dy7hVLP5YewPqHjZS2LYzEcAnabAWVGxqK2QF0y26aA50I9w3osbLFtL/7haEQso573Kg/E0UiW0DpqgZtMo/0gW59dZ79gvY8bN35Ww+vTkQPp5G7WEThbAYDrxorAK08Og8XHTc2YgXhG/ILqAORg2nkx0soCTfenhV7nQeltEsRku2PZLOuPm55FjUCFS8qMQ66+lPInC2ieDGH9H7J/bG4Z1+WRcs6yqekF1YggM6+BDLniyhdEe6xo+6PS3ORgFFHrzhrtuu5KBIncihcKaGQTSHmsajtOGCsmKvPFpDaH0XkZbkPxMsnjIgUoz1+wlzpuJyxDJ+66s+wToR3hY2PJeFq3PVCV/TGUoXk9ggGjgsuReRPJTxW/lsQG5MEbLGq01wVao3djt0p5MY1aNc1lMYyGHhFujdFOzwfFO77w3P/LWvsK5hYh/7bZ/jAFJFH/vAVRGTju39YQEj+9gY+vvwBPih8Bo9HHitX3CgYQvLwP6n+V2Jfpm989ZERl/jxWyS767WW9taeRXIHUMwA/zkNjHU1CsXDEeB61XB3LcTksQUskykkr6XhxrqQAAmQAAmQAAmQAAmQAAmQQCMBe45MESNZurp+NW0IfpsjpiBriJdtYh5EeBCckuZShDHNzSISupVsAF2HzfkkMwzeirm2FvWrFhEX3htFiEGXRaTH8CSwqcFaVw97JzzMPTeA4l1hMR0z5966MOAVJesVFA6bomIrc1YWuwdVFPabc8bPxJC77p5PERa8qVcdIwtHSBYMC0jsS6FghRG08pQFb0tAFwZOusDcofREWTlvCO6BV9INhk9WtvpvqwKYEKZ1g6oQ4mIeTW7nywkUXa6chRVt2hRZzetFYSIPc66y84ApsFqVESJm1uwPeRGAS4BtQ+R4SWFpbmUi/Urt2vJaAulTGdt1seXCWP/1uqmW5gWFCF65J4lwtpGOmHy3rMID2LI70+jqWhiptLfBtkp2tSOE6ClPyL27GtKvGeNis2xBLricimPgVGO7hZBteHzswMAVZ5y55iVfSni8MdZRGRswjbvcz4DatCXyqzjLfSrmoaX7byn9KnWVvCkE6fjhfANPMXZSpkV416AGu7Xy/Lx4Ll1xu+2uX88hZgqsrntNhMDU56YDCB8tuseUsN49G3cWx3jmfeX62turPd5EQXJbAx2Iez3c1qsoHjU1H0lw1597eltDiGU9Xk/vlZG3FtOIZ4UN1m7Zut2gkGwOcEvg8P2lmLzEQe4VktsQPpxGxvSRnzmVRmKftMrO6g/FjSbcsDiuSHxcjdQ0pMyPLNGXXcmS8SC8mUfMWm0kVpFILkOMhnlEyGeMDyCr0a4XhrXKzjwpXNPYK5lE/V9JKWKdGK5eQlb7rLqZbo7d+Qew6ZUECl4RsOY84PVx6hFv9Y+j17oQ3pdujOHsFdJdaT0fhq1YJLt4BhCwProsYEv5dT28hesIww23yynIgypc7s8DHkto/WEdRtdrA8g1xN8QAqws+MtpG8XZjv6c4y7Fao/0ktX74Em3WGvHetD7uQ3RsxUrpet3WWNZKSR3GO66XbBcRap3liAkdx2Q3MiYuXrjZYf2FWyXNOI/EVvkcX/QcVdjV0oI69IK3EUJyfp/rgpILGns2zVQbtyf/QSf/Ivjn3pBIVmZi3ywhk/1WMsZjP9ZPu7eni2exumMITjrcYmt+MTid/gTt0j9/beo/PES8u9bMZjfxbunziB/+VNUnKo7Bdy4oFs5ny7+BcBD3L1eRP6MmXYogzO/LeLz/0fI5u4/WwD/g0Ii/+938XkxjzO6NbZR78zpEVz4YwXffi/lo9f1Akbk694XcZLu6kK9dGXLmy3HSJYslpdqkdxajOQw8GfpRvy3MvBh1CModwOfmRMEXxWax0ymkNzyWOCFJEACJEACJEACJEACJEACJPBYCLQiJNc0ZPpMA5FXTQtM3dufsNTzmeMU2tpUCl1iTmVrHEW3zryopvq6tha5PKiheNiweJWFIUfY60B0v+nO95W0ZHHpzKXp8692ewLoHjSFb28txbytLl41itLeS619YUEa073c+VsC129kTLfhAbjaYGWi+LXnYrdac8DOvGGD62rbslM1p+zJXBLAfOvyoIbS8bBhqfpTI7Sj085ux2LdlbUzf9vWl9ddXFfHB4y58ucH1ONDzAeb4y580rSolATYzcIaWJrCcBXn3ZHa5auf6PN/kiBq5iHER2PuvA3dfRFTdO1GSgq/aLfFM9cqV6NeqzlhFaV2bBFWyop21K6YfJ6Ko9DK/SPlaVmJi/LtsRLoQmpKoQzq6QyjpPAJk7O4rw4a99WWPj9X6NJiEklItlkspl9lUC1tO/evGE92KEZpfl7t5r0ObdAw9HIEeuGt0zim8mygV0fM6Zs8vPO+yuqu8njTy5TaKozubAZyhVzPNSG4O20NvaEed0Kgjutusn3Gi5z/OtqmkCwJHM0fguJhEEL3a1FEJQvDZW0fUAhV62jwtFZVr5BsWno24b5lVxol16oroRQJVy+SRa6fmxHZFYkoQ7iiuAc4K0VE+Wr32mKVkP5xJtL9VAiETgudF4YxDpwYyZLrE71Nna4VS04OAKQHj1cIdufvXr3k5OE84PX0bQqXMs7Fnq06KtmI437ZXv0oLnM+RPR8WxCS9bgulmsbEd9WXtnlKbnlXenhLerh97HlZuWxTl2gMLH60+7jgGw562Hr6X8nW/kF7x0LQEtC8jLHsugv7bjbMrv7qM8HulNx9dZihWS/FWPSh5Y+hqz/WHjb6pfe2ybPdcvpc8HLf+yrsfgdXZaQLETUj0yL5nOfOiv9FIXdvVbEpcuXkD9jiLJnfntJ3xfHLn18A7Y+fH8W4++bgrOIX/w7cd0HjlA7dAbjs/fdJZhC8rsXNHx++bQe9/jMby/gUiGPM5Z4PTSMT/7Vk8yypPYKyf/6KfKnPXWQ8/qttarxLqZ+7bnudyO2YD78h6/dBba4989/GWrZpbXl+nqpQrIoy/WndG0dAsYzgKYB/yb9L6acAYal2Mm/iRlurv8KYDruEZql6ygku5BzhwRIgARIgARIgARIgARIgATWHAFbSBbWaSVo18uG58TpIvLZHDIizmi7OR/6o25HiLLnwbYgcjhjG9041p0ZZI7HzXks9VxmqyyaCsmyYL3dcelri9gvp1CaLZpunSWRU4jCujWsMNSoSdZ9suGGt4aOCGUZIdSmMxh4I4ZYv/tf/GhBFwftOaHnBhSGO2b+kpDXMJ9Yr6F8JY9cNoPM0QHE+oy5/Yjlkliag9KNhXTXym4BSNRBn0/0E/bkZkoCWKPlbgaZEwnEtjsW1OETxryJ3c7N3Rg4rrD2PZVB+mDYcB2sG0BJ84Midq/CQjhzKoPELsN7ohBbdaFMmsOzRU+5/n7binaJ/L3/cl6LZDM/IY522nrAZkROWvNF4gKnLVvecIxT/KqiH5fb4RPXWiwwCAuLecUcev2mhsJwDpmTwsjN0nscl9jyOLL7xl504KmZEI0PGFbztlGbrgOI+97f0EhvuTBQaxPXWQK8wyKwmH71VMm1W6ugNJZD7lQGqYMxW9sKP2+Mw027JKHbfi5JLvhdmQHV80ZcdGGdr7vylvoiknWHoZSTOsJ+DAVlSEDp6lUdb2Y5dlvdFuhSLfSxac0r6/pHrYLcLsNVd0dfCplTuQbL/MzJFGKm+3y1GO8uYb3sUUi2H2DmC/1R7vs9fNbL6GmpnosQkl+MIXVeQ02ae7eLEB9lcsDzzV0I+wj6kZckwbndXLHnsqBVx44VLzTbYtjTN/YLQx8fkngp3I7sk9wZeyyZ7frrGx7BVrKmdefvJyTDideh18N6wbhL8dtz4qjILydxtadeLQjJuusHOeattZrSr/BWjtsPb+NelF/YcnL3ooDmL2M5ndh2C+ByWuklLdhKH5ENeUiuOoRoKn90tSQkL3csSx9Xumir+Bjy1tl3f6WEZN39jnQfWP/xsN30GH1qf7Q2VKg5f/f9Id1/DfmoD/iPffX1fkeXIiR/9V8u4YOR08gIN9lDZ5Avfo6abKXrVxhgu8FWu7a+j89+Zwizp0c13P3vckYPcffqBzgtLJiHPsBnspZsCcnvvovT5z/FV3K677/F5wXDnfa7I26xW2mR/P1X+NgUu08XPndbH+vWzp/gM0uQ/vM4MrpF9cfuMsV1f76Br+U6yk1ZYPv2v33SmpD86d9h8HgXfvUfX8C/+/n/YCyqef5/xv/6H1/Ar/7T32D404VjLIuyXH9KIVkSgXMh4MMC7FUDlRzwG+n8WA4Q7f5vZeB3m9RiMoVkF3LukAAJkLgyxxMAACAASURBVAAJkAAJkAAJkAAJkMCaI2ALyQvMLT8TRVqywHTPUS2QNtBM6FiYyEJCsmN9bM5JSlbKuhAi3AGbFodWqD1rrsayQLTb8xPLdbeqXsJAw4gZa4lXdt28c/IinN09w1227unO3FflqruFNudn5fnE+u2iy+21Po/mLUeeA5SsSDtELGLhSVIKqRY+rjkWscqKCAvvKvL9nhBu3jL1/Q5ETzqGIe65qwXGgzCA+aKGkmlJrmyXt0zLm6Qt+m3WPXb6NaPhuNQumXHDdX4HbGv0AAJPGlbY9qXCQttsS6flxt0+6bNht0Oe33Vfqy8MECKtPHf6oIZyNiZ5PVWzlttojfWANd/pLkYsxUApabhtl4VkI9SfbMjUkNBYgKHPsZvz/BKLRfWrImtxqDaVRlSew/eOCxEXWCkk++sO9j1rCcn3LE8Dktt1RX3q1033/vI9p7hOP7Sa480q09YiupF2ufW3LjB+Xe392nHB3kr/uNyGu7Ndd3sUkhU3TyuDYEWu8YiV6270tFRh50FqMGtD+GAaYmXGwC7DvYPN8qUESn5uJlxCsPoBb+cj96llWVovI7PLWe0VeGnAFc+gdiOPASn+rbUqzmqi/cLQ85aELNu1iVmnBQRV90eB8xHozr+JkHw2KsVa9n+g12+XUTyfQ/pw3FhltKvbEcn1NshplyAk3y2ZcUPMdpuxUCxeS/q1H95GnvILW86vZSG5VoE2nkfmuLXa0FlVZo1Fx/V0cyFTLh+esWh/IIhvy6uSVbvfijNPeuW4lcewtW2NZa+Q3MrL19UAaWfFhGRn5Z3eHvPDSrjlieorOY0+7RKW01LxzmZz/u77Q7r/nAzsrcWNfTtZSxtLEZItAdZyUX1m9BO1y2lFDay0SiH5q49xRiUU2/k4QvOZj7+yj8ISkt8r4i8qQbv2KUZEvu8O45M7UjKFRfJ31z7Q3WS/e+ZjfKXKy0mO2j+Z1tgXPpeOLn/zwcP/D5ev/WJhMfmTMP5dp/m8su4p6/d/6sD//nFzIVmUIcpy/S0oJJuicT4FWAbXnyUkwbgTELGddKvkmHRcEpspJLuQc4cESIAESIAESIAESIAESIAE1hwBSUjesj1iW/vpXixf6zLn8ToQP++x1LPnwToxcNaxZC6bFs3e3+q9pbfcFkJ8hTBnbrDjQBHVmwUjbrIkwOnzccK6c2schZtW6DlDjNRtguz2+Fsy6panpiBtzb3Wq2WUJosoXnH/K01XUHsguRVuNveoi4qe+URJFA48F0N6zM24dH7AsDL2zKvVrFjWQhC/UTe8XP5YeK/0iJ9+3SEJYIH2bkQ8hlCxAylkzhZRvuu2pLLnvp6KITOp6Vbt3jFg798QbJy5tM2vpVG8aljC29d4x9FN0y10CwKssmlSu/zmbJXpxEHh1jjp9q4YEiEF7THttGXLG5KbZd8MDYHfsAxdnJCsu0EX/RkQ4TdzKE5LrK8WkdltGKjJbbT7xvf+cfQPe55Y52Xk5T8fKrmvV1gkL6pfVawk8X7LrgRyVzTbY0L5uobCoBECctlCsj2mAg1x1OVqLdUiWe4LOT/f7QXHm5nSfmY5Gk1jnkY4VDHfvVm4lJcskruTBYmn+v6rVN33eWP+6+cIhWRrIvlx/G5IIVlyxVKvorDfcPtgiWmdYrWX4v6yVxAtsp/adptxR/R4BlaAe0lMaOtEp+4+Qjr2RAQZzyoU+4Whly8JWdIDWbTB9eBVPAca8hkzlHP38aULybWredtlicVU/btMIVmsxuuTV9e5Xb4omr7wIfvh7fnw86RcSEiu3y4hdzAsCe5S37rGj/yh4Xyw6Lw8H5GuKnjqKT6wxYet+GtFSF7+WF5EXV0VV+ystpBsuZAxufu/+Ju3yX1/SPef1KSljX0pgxY2lyIk69l+/x3uV2/gkwtnDOH19AXcaMECt5mQbAuzv/sM3/nU/bt/NoXeX085Ar4lJHtjLdt53MUnw4al84UZ+6BtHT0subaevWxaRH8kCdVOEveWJXy/exr5P1RQ86u0O1VLeze+OruwkKxFMXzh5ziZV/z74O8wqjUXkkUZDX+tCsm5APBBBpgDMF8FLnY4ovGFPDAPoFpwWyuLNOIfheQG7DxAAiRAAiRAAiRAAiRAAiRAAmuKgC0kq+bzatBORgx3xE/FkJ+VJj0loxcxX2LNLXnbVpeSeM+1ur+wkAzUb+QQEWHsnoohfTwKYQWsi3pW+bpYJIx0tiA6mEL0KWFZKkIDmhdI7dHFNHOuzFXHuyXTHfZmRLNmLFnXBY07Tuxgf2tHEcou7J17qpVMd9xqkcgOceidA5TmPLuSBRQOG5amIoaqXx+5ar1UwdWeb+xE4oqfpRVQl7gKYU53F90eQ8HqB1dlhIhbd6URFtYLCbDeLPT9pbZLhJw7HzcsgDeHkTqbQ9x0+yvH0rbb8kRUF/BVdVDHSJbnd92p7DlYaUFEZThq3I+WhbacRLTxjRUSkgFUzsf0+0gsQsh5tAa92Htl5Ezh2nFtDdgsFtOvcjvMbXsO3TZOki9yBFKXnmGPQ1k7kNMB9vPEskiW4gYHXk1DU1kR6d4sTR3Ie8+5szf2Vnm86YXYbQ2g44CPS/WahvSrplYxKDwSOO75RSx1ZzGEpxEr8eD2ZPm4dykku4QlP8FplY5vdCFZjP7bRbdlq/gYGVZ8SFQLiIsPFO9HwaLuoBq048ZKGyufht8nIy43M1b2vkLWmrFIrqNy1nwpN4xpEds7gvCLsvArvwycVYc6j1ZcW3vdYQfEA9cnKL0FcaFf6eEt6uEnOtovQb2d7o+F2tWM8SHbwCCAjlciiLwiW8HLaZsLmXLV7Y8QswzZRUUrQrIQjJY3lluvq1xv5fZqC8l2nA/j3pVZuevTvE2+95+eyXLGvrsWC+0tWUi2M76Pzy9kdDE5848V+6jfRjMh2Tr37uVZv+SwrY+HLsG+akEh+TvbZbYsGlvlOce+xafnDCF5+J9UX4iN1arNXMKwcPGtWzy/i8yZPIpX/4JvZffajckWPPLdg3v48PN9C4vJnzUXi60Yyt5fkbcoo+HPT0j+7QAwlQfGI45gnGsDShXD+vhPaef4cAz4v4yVtBhrc45TSG7AzQMkQAIkQAIkQAIkQAIkQAIksCYJNBWSAYi5w93GnFzbLsfgRbSlenHAdLHbifiwN9xfHZWLCYRfijsCdL0KTcQ6vei9tjkZW/jxtag0/l/qNhrpwMC4W9C0hTFzTsyyKrZKd9rTgfjZslvAvFdGfr85LyesmheKkWplKrnZDjwVRUbEY5b+6jcLSLysmDO23e226S6cLT1cT1orI9dnhkZUiFq2kGfPLzaL+yxVRmwuVQATLo2Pmla77VFkJqtuN9r1KorHI+jqy6BsIdDj8BoeONteS6EoL1QQdbmrIdPfhchxx4X2oxaS69dziP5U9M8We/FAbdIy9up0xpgQ7F4x+nHzqymUPJZm1ak0Ik9uQtf+nNH+FgRxew5XEpKrY6a4+2LCE3O7juq4GQvbMy9tz0v63j8Ki2TBX2pT4IkwBk4VUDItx7XxHAZekbyn2hbJ5jPjtUX2q2cYil3R/shmwTSM9FXXHYD6bN4W9JcvJJsLUUxjve7DRnxzu0rCNf6pmOMtVXHP2ddaG0u8j1oeb6IclxYhYtx7FvTUKyhYlvRthocCkUywi5nuwrsP55370ax77Xoe8ZfDSIx77mGrbdav4nleu1FEfjiPknUvK66xkj/qXwrJ9gvBeeE0iIurdQ2FZH28Oy8Psw9+0mgRDPvlb1zT1p9XWi43u4HEyjonJkAHundFEN4eQsdLEUT7B5A+W0LFehF7MrJfGPpYkCwivTGSt5oxmT3pjV2PYLuUGMk+rq11cVV3y2EyfF7Emy653KTYH416G5YrJBsvo6jLmrsb6WkfgEoenoOuh/cShORaCamXpPt4czfiJwrQZp062R8QOoOlCcm1Kdl9teTCR7xIWnFtveyx3Fx09VBtvrvKQjKqRcTbnT7x/gfDqVzzNvnef4K5iFm95LHv1KCVreULyQBmLhhCqq9FsFMTS7xVuba2zjUVpC3ReFFCsiQQS9bHVnmOkFzD1K8XJyTrLfv+O3z950/x8e9GjLjRunvuEUxZsZSd5i9q6/+u/XHVhGSRt/JPKSR3ATfMZ853VaAQcsTh36YMq+SaBvzWcl9turd+WAeK3c61FJKVyHmQBEiABEiABEiABEiABEiABNYcgYWEZEt40A1kNiNyUnO8hnldsD4XRrQ/jvgbUYSft0SmTba7WFsEC0hzky0AsecEfYUwIxMn/wACDUKbUL6LhstrfV6tUWhucGEs2rMvjnhfGJ3CLbaerksXWFqotnNJtYSUJBaHXo4itj+OmO063Mpbnk904joHAiFERKjFUxk9BF5kq3O9sMBuELXFfJlphSjqvKU/j4pbh3Pq5t1aogCmZ6NbP1r9HkDo5QhiOj85XF83UlPSXKdrvnsLunaZbOQwh8ItuLUmoAUB1tskfV9qV2Bro8tu3ZW75ca7L24YagkLdFMc1mNO2wwlS33JWtcRAUX/bEH3rhji+2OIvuJ4NO3YZ/ZFC+2w54ElIVm3cLeM1bbHkDqZ0cdF6o0uw1JZH6PyOJLcq/vePz5Csrj3bxaRcAnG0tgT3k23dhpWy7KQLNIttl9VnSYWGlihPp/oRnzQaGv6cNSwZDfbuhJCsnBbXx6WxOLNXYiYz7Ju+X4TZaruOW/9H8F4cwvJZr9s7TaewX0RdOkivDEW3R4U6qiMSQZ9oq27G8fqQs8N53lrPs9lzcAbI36Rz3wvzpXYp5Bs3jCPTDyWy6OQbI5h6eVh8fG6QZDjWohrxEvGWpnRyp3gCVRvxytoJa3uFjshPWDlj7U6bJcYet07MXDFeZm7stdXiUkvi+edlU9uoUzlCsfIqaIUkoUrCsnSWnYrI1XA/mjU67l8IVn/ODzgvMj1e+i5OPIi5mfTvzqqV9KI7YoidVGKD7NMIdl2SaO3T/Exq3+45+CI30sQksU4ShoubYxnhntFYktC8nLH8jqKkayvun1NPeZdQ8TL1fNB4b4/3Pff8sa+qxYL7iwkJN//8lNcGBlB8c9N/DZb4u4yheTVc239FT5+zxCIL/2Lg6RRSAYW5draycrZ+v5bVD4yYyef+xTfOmeWtPXF1//HiovJIk/fP6WQbArDIpEQki9KQnIuDPy5bhy3BebNwJRpqTwVpZDsC5snSIAESIAESIAESIAESIAESGCNEmhBSBYii+3eN+AWAiGs9YYH0G2LFtI8yuZuDAhLZdOdsTO3p5738iNkp/MVwsyUklDcPSgJ3lbGsnWwSmgW1+nWh3F0yYv+9bk6IU7HkZmyFE0r0xZ/72rI7ZPn5CxObYgkc0j3hXSh2uXh8J6wKFSFv9uCcF/EsAb3zEEZtRHe70zL1UCTuV5V1SUBzFUX1bWqY7Uy8odVdQ4g8HxMyU+Ilandnjlak3nH7jSKstvrFgRYVbVkS+uFdZQ2RHN/RMGyQN+ecIRsK/N7FeT6jT6T3SHXZwtI7TKPW+NG/21DOFlwrD9baIdKSBbF16YziD1vjR/p9/kIoi8b3gPkvrPnJX3vH2e+WKk56FalaQyIBRV6WzoQ7htAekxDRVhsC0MtEZPbo3Usql8trp7f+u0i0qqx8ZMuRHcb99PKCMmiYOFFIYWIJdTL/fd8HOlTCXSLY8p7zlNx6T5atfFmaxFdGDiZVo+JpyJu/cKuZh3VSZ9xFNhijFWFc0M7ue6RIm5aaZvPc2kByybT9br97A4s7pkvl7NS2xtYSO5AeFcUrtUy1qqZR/V7wHTFsFK9uSbzcR6kxk0vxUiW66uvkJFdLwfQddjtKlkIhfrDxnwIbenLqH3u3y0jPxhH7EAG2l2zEK/lsHDF/ErE6f++GAbEqpxsDoXJcoO1s/3C0MuWhSyxsshxZ6C38aUESg3fRMaqHBFfxHr4iQ8yayGWO//FCsnC9Yn0ISUJ1DZi2X2MXocVEJLF6+F2weOaPIDA5i7ETxZd1tBWPeq3Nc/HkLEKUedgP7wNRvIL20ovfv1cW1fHBxwXGZK1t51W/5CNStc0EZLFR6IscpuZ1KbTCEsf9tZD3Sqjfj0tjdFNiAxLQrkcw2Q5Y3k9CcneugbabDc2FjMRq6V83ozpYt0fng8K9/0h33/LHft2LVraWEhIrv1xZEFr49nfr4xra1gxh4c+wGdK3fq+7aL6zMdSDOOFhOzbH+OMbiXszlclJH93zYzBfGocs9+3hLDxojufYFiU14Kw3pi48cgX/1pYMTFZ5NX0TykkB4DfRICPMsDvvcLwZuBSGphMA3nJjfUHKWAyA1zoopDcFDhPkgAJkAAJkAAJkAAJkAAJkMAaJFCvonQ2h0w2j9Jta6ZPUc8HNZQv5pA5lUNuvGyLw/aV9RoqV0soDIu8cihMNc5PCpG2PJ5H/kqlMb2dUeOGEKTy2Qxy50sNc57uq+uoXMkj16QtRl455CelOS93JsaeaM+0KDeH3NkitNkF3Lyq8lAcq1fL0MbzyJ3KIT+uoXJXMK+jMmkcK1xtmJRFvVqBprdLuAUvGWlqZRSHjbpVGgQfw3CoTcxTvZr2j4OqqJ9el/GcXj9VXZRJVAdrFZSnCsiJfhsuoHS96nYVrkhTv22xEX1dhHZTYexjjsNcNoei5VFNkVfjoToqersMq1bdultYeKv+ZXO4NDGujzlxX7iEbDnjWtkZ7x7DpNrtMkrCjburn6XErbTD6uPhoiNAW1k8qKFy3bjfxHgvXhV866hOifGfg9x39dulBe4fM52o65RnnD9o8kyQjdeeG/C42rYqKubfW+hX53LFVh21WQ1FwVPSPqx7OXdReh7dq6B4NqePOVtX8eRoP0/GnEUurktktvLYvavp/S2eB433nCsH455e7fFmaxGmTiL6/7r5zNLr3cpzto6qYHveeLY7zyRvexT7iue5GGuFswVolmt3xTWKnB7JoQ0rJIf2+wTQfiTYN1IhLQrJ4vEg/MtLbnADgQ7Ez0sfJfUqCgfkGLcBBJ4MG24ZsuJmzSB1wFxNZgpStrsLfeWf5F7BEqz8fp+MIHXFefD7C1nmSjtv7GXTXUTufEF/0ST6JaFXlPmMiAXivEjc+S9WSPZaRbchMliAdqOM8nUNpTHVipqVEZLFSBaunmVx1RLKxe8W4TZcX5gRQYMbC519lyPY2g/vpQnJ9auyiBtAR38GRRF34kZZ/1hsXJnXTEgWddiM7n0pZM4XUbyYg3D70eEaL1IcD+uWFosK9Lgf5oKBZ6JInchAuEfZJMRpK7bMMseydtyMmSLq4xFdraq09Lvarq3FfX0jh4jLBXoAXf0J40PzZBoDrylWGXra5L4/ZCF5uWO/JUr2RQsJyfi+gvHThjXvmX+cxbcucfUh7l79AKd1kXYYU3fsbH03LPH2dPEv5jUP8Z0tGjtC8elRDXc9cYZr/2yV9QE+uy8VYQnJ757GhRmPDfC3FXxsuqs+7YnhbNXFcW0NyO09Xfjc3V5hbfxxHvl/+too/M5nKBY1fGXX3zj89R9Mi+TRz+A5JVV6cZvV//e/YKL8qyULyiKtyGPBv0qmUfi1XFKv1O+lIiAtQlmwTryABEiABEiABEiABEiABEiABEiABEhgcQSE8HXDmQcWLrwTL4q5vS2InZXmpheXK6/e6ASE6/qD3ejen4Mm6QA2lrslpM1YyLrrb87/2GgeyYatRcg6ySMpeV0WskGF5E2IZI2XQG0qg3jfY7ZMbmYB/UYKBdn9xLobZq0LyaJp1Ysey8QnPS6s9Qes23JZFi7d2yFET1krY4RrhQS67XgcptDnEgY9x6Qg6v5CltkhwuJ3n0fk9st7c1gXqeWudOe/WCHZtIpWuY3wq4Mr7oIndvMTUeQXOeZqV3OIuhYBeFiq6vGEIdbbHOyHt5F2sRbJuhtlK+6DqryGYwsJyc3b0H201Lj6U7hV2d1kfG533JljGWN5PQnJgMJ1fUNfeFi3LCQvd+zbo0+98e0NfHz5Ei6Z/y782rAmfvdM3j526bIGyd4X+NcpjAwZYvK7QxmM/O4SLhXyOHPKOnYal27Iyq66aHH026t5w8L53XeRee80Tmfexbunx1GxBOr7sxh/38rXLOvyBxixyzqD8VlPWZaQfOo0Tot6nhrBB5cv4cJvzzgxi3/9Cb62yjCrpxSSxTm5vZnTTntFXd99F6fPa7iLh6gUzxhtGcrg9MgHuHT5AvJnTJ5Dw/hkmTGSvRQffv8d/qU6in/8fG/LgrK4VqQRaVv6qxaA31ixjlfp96My8NeWasOLSIAESIAESIAESIAESIAESIAEHjEB9zykZ25jobkPnre9Nj4ujtZwqV1JoCsQQGdfAumTKcRfMuMUS9bIj6uOLHf93VfWuBKutSOSZ8vO12JIHDdjMu+POHHDpTjR7O9H0996H9lahCMkr3X+1WqjxwVrvK327wYVkruQmq4BwirwsHBpnENxWlhvrqV/GgpHI+jclVmk+4zVHjKLzX9xQrIedzcpWVsGAmjzMhCxIpJhMxC9z8NlexyZSWclWfWKFOP4xyK+SNFw5yC73zg+gOiL5oeC+TEXOVXW3U+7hV7ZIlLiIVzZnIxJsZQb67bl1YQyhrA7/8ULycJtSnW8iVD+XAyZ8SLSr1p1ch6QIm35pBRjeQlCsk5BuCM5Hm3afuNh3IbwwZzjdtxCaD+8jTouWkg2rdrjqhgXen926f1esGMcNxOS29DhK4x3Ip61FihYlXd+ayK2hVLUF5biRbcLoSWMZdFf60tIFlb7VZROyG7FrXFo9vXBPLSpDMLWQo9FCMnLG/tOvym3LLfLworY998F3PAm/vYraEVJPBZpT51B/vKnqHiMgL1J3fv3MftxHmdMYTpzJo/idSHLSn/C8vePl5B/3xRlFyrLEpKHP8HX//Y5irKAfGoEF/5YcVsWm0X5CsnivGjv5RFD6Bbl62LxBXzyX911/famiCF92hGshfBcWCwTqe0tbP71r9+jWpvG9dtZ/OFf/jf84/X/YAvLYlscE+fENeLaRf2JGMiXOlbRKtmMqbyoSvFiEiABEiABEiABEiABEiABEiCBR0VgrYsOrJ97/snLwxgnRvxqI3atdP3zcRSkmLXetNyXWHFRhGtRhPz8qV0v+Mav1sfQizFkph1xkOPq0YwrvY9sLcLRSdY6fwrJ8t21Ytt1VE5J4pj8QGuP6wHeRWzbxNE8il63xPK1j2v75RQKYykk1r37DCtGgBkzIZuH5jwb1b0tfL+LuBWWyCviFEgvbiuRiIkh/M+nk3HDffL+BNJ2TAPrKkC3VH3NeghtbozRKl2Kmob0y9a1AVhxjK1YCHrch2axHYSYebcCTcQ8OZ5ArC+K2IGUHiel2CSWhTd/v5gqtRtFPTaGqIeIj+GNVVCvaihkUxjoN6zs48kM8lfKqJletOuzZkwHT9raVRFzw4iTIOIUlBUhNGRMTbdFDBQRw0N3NR5z+kbEibhSRrUh7oiZmxmDwYit4Y5F4SrPjKdg9IUinse9CkpjGaT2Gwx0/udLqFhtEvEx9Ng1clqFOHvTbIfZj/FkGrkxM46Kq0KNO3o/nEoY3g764kicLKhdmJhJWx7L5vVV0V/m/dFaXInGOupHRNzoi2a/6zFrGmPltFaWFYvGuM/9Yu7Ub4pYGGkk9ln3RQEl2/q9joqIQyLGtidWhvf+UMVWWerY9yHzwz0sCclWCPkfbmMfQcu+LgH5zasgJncAU2W4Vw08gvawCBIgARIgARIgARIgARIgARIgARLYgATqtzVjvlDEsB7T/OcvNyAbNnn5BESc49JFR+8w4jJXFox7vfySmYMvgRbiQfum3YAnNqRF8uZdOVTu1VE5m0BqrICUJByulVUH4RNF5I8mFu1ieAOO4YWbXCshYVupbkHsfMU3Tf12AfFnLCG5DbHzC6nevlnxxLoioBCSb6+rBrCyJNAaAQrJrXFazFX3q8AnCeB3XcsXlH/TDRRSwJ+tlS+LqQivJQESIAESIAESIAESIAESIAESIAESIAESIAESIIGVJbAhheSuQQ21Whm5w2kUxowYCGtFQNbr0RZBZlxYSxdQZZD15Y94EbdWjp37RBiJbBHaTWei3rAiTiP2oiUiBxB4fkC3XF9+BZjD2idAIXnt9xFruCIEKCSvCEZmQgIkQAIkQAIkQAIkQAIkQAIkQAIkQAIkQAIkQAIbgcAGFJKN+La1qxkMnCyicLDT5cN+LQjKW/pyKA4nkBqnNexK3YS1yRS6F+WmvBupK+S/UvzXfj4Uktd+H7GGK0KAQvKKYGQmJEACJEACJEACJEACJEACJEACJEACJEACJEACJLARCGw8IXlzBLkbVZROJHSrX8eNsWSJuijBcaXThRAbLurW0iUGsFzBe7CO6pUUIk+10F/b48hddayVV7ASzGrNEqCQvGa7hhUjARIgARIgARIgARIgARIgARIgARIgARIgARIgARIgARJ4LAQ2npC8PYXSjSLSh4XVbwyhxyoaK0TNZ+LIj2eQOFECpcxVuCfuVaFdzCF1IIborjA6NwcQeKILkd1RxA9nkJ+qoEZ34qsAfu1nWb1aQO5UBplTGeTOFlG5t/brzBqSAAmQAAmQAAmQAAmQAAmQAAmQAAmQAAmQAAmQAAmQAAmQwGoR2HBCcmh/AdrFFBLC6rdvy5pza915sIDiyQFkaBG7WmOe+ZIACZAACZAACZAACZAACZAACZAACZAACZAACZAACZAACZAACZAACSxAYIMJyZsQOVlEPpnQrX4jbQqL4MdqodyFxFhBt5Yu0xpygaHL0yRAAiRAAiRAAiRAAiRAAiRAAiRAAiRAAiRAAiRAAiRAAiRAAiRAAqtFYIMJyV1IZDNIHM2jeDy85qyRAy+nUBhLIXG2VizBiwAAIABJREFUgvpq9TjzJQESIAESIAESIAESIAESIAESIAESIAESIAESIAESIAESIAESIAESIIEFCGwsIfmpKFJHB5AaKyD18lqzRg4gfKKI/NEE8jcpIy8wbnmaBEiABEiABEiABEiABEiABEiABEiABEiABEiABEiABEiABEiABEhgFQlsLCF5ewzxfcLqN4Gux+rCWiFit0WQGc8jcbSA6oNV7HFmTQIkQAIkQAIkQAIkQAIkQAIkQAIkQAIkQAIkQAIksCEJ1K5mEN0aQEdfBlptjSB4UEPpeARtgRBi2fLa9tZZryC3axMCgTZEz1bWCEBWgwRIgARWj8CGEpLbXgwjdryIwsHONefWektfDsXhBFLj1dXrbeZMAiRAAiRAAiRAAiRAAiRAAiRAAiRAAiRAAiRAAiSwQgQ0JINB7Dl3Z4XyW+1satAGu8y58U6kptaIkny3hIHnTOOrV9Io31ttDsvIn0LyMuAxKQmQwHoksKGE5MATEaQv5hF/RmER/FgtlEOIDReRO5xG6e56HEasMwmQAAmQAAmQAAmQAAmQAAmQAAmQAAmQAAmQAAlsNALrTUgG6tfzGHilE+EDeZdgW7+ew0B/FLHD7uOPpEcf1KANDyD8chSpixVaJD8S6CyEBEiABFojsKGE5M27MigOxxB6rKKxQsR+Jo78eAaJEyWskTVgrY0eXkUCJEACJEACJEACJEACJEACJEACJEACJEACJEACG5bA+hOS/bqqNplAp5g3355aOy6v/Sr7OI/TIvlx0mfZJEACj4HABhKS2xDNFpHr27Lm3Fp3HiygeHIAmauUkR/DPcAiSYAESIAESIAESIAESIAESIAESIAESIAESIAESGAJBB6fkFy7WkAum0N+qqpb8NZuaigM5/RjufNFlG/Xle2p3y4hn80hN1ZCtQ4Y+xmkD3RjkxCSnwhj4ETGyCebx/iHvzO2xzRUHyiz1A/WbhSN6y5qqJnX1W+XUbqYN/PKoTBZRlXptrqOyqRxXUE1R16roDxptFe0OXexhPJddfvsGj6oo3K1aLRVcBrXUFGWbaa4V3XKGM6jeL2Kuqq9CiG5dqOEvMleL4fT/HY3cIMESGD9E9g4QnJ7DLnxDCJtCovgx2qh3IXEWAHpwzmXK5H1P7TYAhIgARIgARIgARIgARIgARIgARIgARIgARIgARL4IROQhOSHd6CdS6J/+1YEg0EE259Fzy+SGJmW4yfP4fKbIQR/OYq5Jljmp5PYFuzH6Dd+F9WhHe/WDaY6+lJI9XUqjKfaED5aRMWjt3otj+195Rx5J95+fwiRn4g59W6kpn0U0noF+b42vQ7hExpqs0WfOhlCdeqKIX7brXtQQ/FAh56++7jmuLaulZFPRtChrFsI0ZMlW7S280IdlfEUIu0qHaAT8awjdOtp6lWUTsYMa2xvOc9FkZ701NUWkjchnMwgtTukYB9C9Hgje6eO3CIBEiCB9UNgwwjJHfvzKB4PKx7qqhfKIzz2cgqFsRQSZ9d47If1M6ZZUxIgARIgARIgARIgARIgARIgARIgARIgARIgARJ4BARMIfnXJYz0hRDq2YuhsRK0azPQJkcx9GYPQsEQegY1zFu1uZbGtmAvsl9YB7y/cxj9ZRCht0tOGu8lcITkgCV+PtGFSF8M8TeiCD+/yZ4HDx93C6e2cGy6sFZaJB/PIHMqg0w2j9LNL1HYZ4ilHQeKSqvk+tU0wqIeT8aQn7mKzKvW/HoI3bsHkDqRRmp/BF2bzeM/iSBzXVK4lUJyDaWjXXY7Ol6JYWAwg3QyjvBzTv6x8/K8eh1lObTlU92IHkwhfTyB2MuWp9LNiJzUjBCT9SoKBxwRfstLUQwcTSN1IIquJ6wyOhAfk8qwhWTrvBDHuxA9kEL66ACi2w1BXfRLx758g5Df0JU8QAIkQAJrnMAGEZI7MXC+gNTL0sPdesE+5t/wiSLyRxPI35RenGt80LB6JEACJEACJEACJEACJEACJEACJEACJEACJEACJEAChpAcag9hx5ES5h42EpmbSmJHMIQ95y3L5FvI9jYRir/MolcIzV825uUccQvJnfvzKMvGwvUqikcNi+XAUzEUbjspvUKydcbvuDhfm0qhS8yj/zSK3KxnHluIwAcNMbbzsGEhXJtMIX44D+2ulbv5e7eE1EvGHH3XoCnmilNKIRmo3ywgsS+Fwg25cQBkAfi1jO3ps34jZ3skFdbYwnW381dH+WwcnU84VsnVsRhCuj7QhQFZLBaJ6hUUDptC9lMxZ/7eIyR3HS54xOI6KmMDBq9ACG6h26kNt0iABEhgvRDYGEKycGt9NmE+vNeQmCxWXo3nkThaUK7kWi+DiPUkARIgARIgARIgARIgARIgARIgARIgARIgARIggY1HwBCSgy8kodkmx14K89CObEPwhTRmzFPzk4cQUrqunkfp7YVdX0O2SH5uAMWqt0wAtwuIPSnmwjuRmHKEWD/B2O+4nrMQT3ebrqtl19NCb72ZR/Snopyw28pYUSW53m19eWdO3EdIVmZhHrTru3UARV2wrkEbNMTzTZK47M6jjlrNVJfvlZF5zbDc7h5UucgWCrpmCt+bEDlVNlxuy0LySyloDlqnqAc1lBasi3M5t0iABEhgLRPYGELyqymk9zsuKmx3H4/ZGnlLXw7F4QRS46o3/VoeNqwbCZAACZAACZAACZAACZAACZAACZAACZAACZAACWx0AqZF8qDWHMRUEsHgHoxY08APZ5B+IYgdJyxp2Uz+zSj6g9uQvtY8O19BVk5mi6AhxC9aBQO2AGu6traS+B23zlcvxo1YxS7hug7thBFOMvSGx41zrYLSWA65UxmkDsYQ3R3V/4Wf36y7q960K+dY8jYTkus1lK/kkctmkDk6gFifkU/kFSOmsm1xLQm8kazkitpqgPdXCO1PCQG8G+mrLtNl6cq6LU6H9pnGYFI5rnjOUiqxKdx9dwv94ak4Cg5+z1XcJQESIIG1T2BDCMmd/QOItq8hS2RdwA4hNlxE7nAaJa+Lj7U/blhDEiABEiABEiABEiABEiABEiABEiABEiABEiABEtjgBMwYyecst9U+OKoj2BMMIjntnJ8b60ew/RBKkiXz7Hu9CPZmccu5zGfLcW0t4hbXHiguu1dG+hUxJ74yQrJjnduG6LAp1FaLGHhelNGJxBXHNLc2lUZUt4b2n5NvRUiu3y4i9aohPPsah1muu+9pSOuhLUOIjy2s3NZnc4j8JIDATyKN7rptnHVUhiPYFAjArq8tJG9CxOJgX+9siPyjbQEE2hTuwJ3LuEUCJEACa57ABhCSN6Pr1S79Ye/7snkclsnPxJEfz2DgRAnOK3bNjxdWkARIgARIgARIgARIgARIgARIgARIgARIgARIgARIQCewRItkkXa+hEPtQfSPzRks9f0Q9hbM/aaEH4OQjDrK2Sg2i7n0l9PQanVUzsawRey/6sQpdgTnALbsSiB3RYN2vYyy/k9DYdCwYLaFWdFOlUWyOGbGXg48F0N6rCTlU0bpvBmH2BKSbYE34LihbsbQtkjuQmrab4Z+AYvkQc1wd60opzZtxpVuj6tdjyvS8BAJkAAJrEUCG0BI7kbioma+qKwX1uP+1VAayyCxL47MVb+X1FocLqwTCZAACZAACZAACZAACZAACZAACZAACZAACZAACZCAQWBpMZItejMndhixkx8CuoWyiKP80Drb7HcVheQXEyj5TVlXi4hvFVbGHRg4W0D6VbG9BbHzFbuy9esZhIW4/NMY8jftw+ZGHeVTkdZcW9dKSLxoliVZO1s52kKtJSSLuNFmXOLAq0Lotq6Uf6UYyfUyMrsMa+eupE+M5LslpLaLOmxGNKuIkbw9pfY2KmIkJ7v0dm6WXXjLVeE2CZAACawTAj9cIflBDdqpATv2ghWDYS39xpKeuBHrZNCwmiRAAiRAAiRAAiRAAiRAAiRAAiRAAiRAAiRAAiRAAqZFcnsIO46UMKcQgeemktgR9LE01mMih3Dooxlke4PofX9hp9YG85UXkuuWBe0TUeRvmjGDH9RRuyf3siTWWl4+hfAshW7UXUZvFuJruCH2cH02j/hz4pzkKlpkr7JIvqch9ZK4VnKlbVWlVkaub4uejx0jWcQlFu6knzDy7z5ccGIwm2WUszF0/LgDsZOa7g68enHAiPsc6ED8bBl12UX4vTLy+zuNMrbGUbhtFi5ZPot2dO7PoywzelBH+fwAOnU+IZfIblWfvyRAAiSwngj8cIXk9dQLrCsJkAAJkAAJkAAJkAAJkAAJkAAJkAAJkAAJkAAJkMA6I2DGSP6HUaR/HkKoZy+GhAvmazPQJkcx9GYPQsEQegY1SKGQpTbOo/R2CMH2EEKeeMnSRYrNlReScbeIhB7vOIDAi1EkBlOIvRxC14EiqpLAKou1QkiNnDItda1a3nMsfQNPdCM+mEHmVAbpw1FTXG1RSEbNsTAOhBA5mNbzyRwfQES3ijbykYVkoI7K+bgpDgcQ2NyFSF8c8X1RhJ+3Yi1vQdSq84MqisluQywWwu9zYUT3xRHvC6PzR2b+gS4kxqWYyx4hWQ+n+aNOhHfHEH8jirAplOsi84ECqqYmb+HhLwmQAAmsNwIUktdbj7G+JEACJEACJEACJEACJEACJEACJEACJEACJEACJEACa4CAKSSfuwM8vAPt/UPYuX0rgsEggu3PoucXSYxM32lezy+z6A0Gse2dmebXuc6ugpCMOqrjKYTbLAHVFHy9bqKF+Hqgo8EaWK5e/XYR6d3mNZblsvj9SReiuw2XzwvGSBYZ3qugkAyjTc5D396CcF/EEIxt19ZWDeqoXkkjKgm6utirp+vCwLBhjWxdLayhtVNxdP3Y3W49zYtxZKYkEVkksoXkLYieyCG1O+QI0XY9OxA9UaKIbEPmBgmQwHomQCF5Pfce604CJEACJEACJEACJEACJEACJEACJEACJEACJEACJLBuCcxPJ7Et2I/RbxbXhOrVAnKncshPVqA0ehUC6VgOmWweRctVtdBBb5eQz2aQO68WOut3K9Cu5JHL5lCYquguoF01e1BFYb8hEvvGFtYT1FGb1VAcyxl5TZZ1YbV+s4h8NofcxbKTt8q1tVRoverUKXexhMrdOlArozicQ+5sERXZtbSV7kEd1RslFM4KBqItRvnW6Ybfeg2VabNuZ4vQZqu+XMsXRZscrrWbGornpXJU9WkokAdIgARIYH0QoJC8PvqJtSQBEiABEiABEiABEiABEiABEiABEiABEiABEiABEvghEXh4CyO7gwi9XfJxfb0GGnuvirIkRNem0wgLy9sfh5G5rpSwW6v0g7oTk9i28lW4ym4tN15FAiRAAiSwSgQoJK8SWGZLAiRAAiRAAiRAAiRAAiRAAiRAAiRAAiRAAiRAAiRAAjaB2yPofz2N0ckZzFybQPZXOxBs34NRj/dk+3rFxtWrVxWulBVumW03y0s7ZxRdg3Y8jE2BDiNG8fEBhJ808pOtkR3X0QuXZTWpenEAXS/FkDqZQXq/5b66G+mrNeuSR9LOxdR9qdf+7d/+rd0mbpAACZDAeiNAIXm99RjrSwIkQAIkQAIkQAIkQAIkQAIkQAIkQAIkQAIkQAIksP4IzM1g5GAvnm0PIhgM4dm+NEqLEJFFgx+pkFyvoni4u0HQDfXnUHb03obzzQRXvdPkOMu24N2GyPGS4+4aWFS+zcp83OcoJK+/W5U1JgEScAhQSHZYcIsESIAESIAESIAESIAESIAESIAESIAESIAESIAESIAESMAmUEf1uogdnEHGisn8wD659I16DWURi/lURo83XLohKdNLz5UpSYAESIAEVpgAheQVBsrsHALv/p//I/ivNQYONW6RAAmQAAmQAAmQAAmQAAmQAAmQAAmQAAmQAAmQAAmQAAmQAAmQwOMnQCH58ffBD7YGFJFbE5EFJ/6RAAmQAAmQAAmQAAmQAAmQAAmQAAmQAAmQAAmQAAmQAAmQAAmQwFoiQCF5LfXGD6wuFJIpJP/AhjSbQwIkQAIkQAIkQAIkQAIkQAIkQAIkQAIkQAIkQAIkQAIkQAIbhgCF5A3T1Y++oRSSKSQ/+lHHEkmABEiABEiABEiABEiABEiABEiABEiABEiABEiABEiABEiABFaCAIXklaDIPEiABEiABEiABEiABEiABEiABEiABEiABEiABEiABEiABEiABEiABEjgB0SAQvIPqDPZFBIgARIgARIgARIgARIgARIgARIgARIgARIgARIgARIgARIgARIgARJYCQIUkleCIvMgARIgARIgARIgARIgARIgARIgARIgARIgARIgARIgARIgARIgARIggR8QAQrJP6DOZFNIgARIgARIgARIgARIgARIgARIgARIgARIgARIgARIgARIgARIgARIYCUIUEheCYrMgwRIgARIgARIgARIgARIgARIgARIgARIgARIgARIgARIgARIgARIgAR+QAQoJP+AOpNNIQESIAESIAESIAESIAESIAESIAESIAESIAESIAESIAESIAESIAESIIGVIEAheSUoMg8SIAESIAESIAESIAESIAESIAESIAESIAESIAESIIENQuAORnYHEQzK//ZgpNpi82fS2BEMYc+5Wy0maLzszvQIjsV3oudnIbMeITzbsxN7T05g9pvG6x/5kaqGkcG92Ll9q81p63ajfrfuN6nNHQ0jR/qx42mDbehnPeg/MoqZOXWauS8mkD3Y7+HQj+Q5DXceqtMA87j14RD2/vxZhPQ+3Iodr+/F0OQdvwTu49NJu032GDiiua+x95ZZlshnKSznZjFxUs1/1oelXWVukAAJkIBEgEKyBIObJEACJEACJEACJEACJEACJEACJEACJEACJEACJEACJLAQgfm5Ocx9Y/778BCCwRaF5PsaktuD2HFEw/xChajOz2kYel2Is1vRGz+GkQ9L0L64hdnpEibOHcPeXuPczpMa5nyFVFXGPsfmNGQHj+Hylz7nFYdvjb2FHcEgtr5+CNmxEkrXZs36JbFTCMTbk9AUYvL89DH0tIt0Sb1dM9dmUBobwt6eEILtezByWyrs4Ry0E70IBUPoedPiMIuZyRJGT+7V8wn1jeCWl8HDWxj95VYE23uw9+QoStMzmJmewMiRndgabLFfHs47ff/NDLKRIIIqIXkFyloSy9uj6H86iNDP9iB5bsJsozk+VCwlrNwkARIgAS8BCsleItwnARIgARIgARIgARIgARIgARIgARIgARIgARIgARIggVYJ6BaqLQjJD29hpC+E4PY0ZrwCZytlmSJ0qCeJiSbWz5b4uGSxWq5LdQR7gkEkp+WDTbYf3sFEohd7/ayt70/gUHsQobdLbiG9Ooo97ULILTUK4DY3SYC+P4vsm704NuVjXvtFFr3BIHrfl62+56EN7jBEaYUwPj+dXIKluGmd3iAkr0BZS2I5h9FfBhHsHcKsaow9vIWssKbvzUIm06RHeYoESGCDE6CQvMEHAJtPAiRAAiRAAiRAAiRAAiRAAiRAAiRAAiRAAiRAAiSwDAItCsm3zu1ByGtZ23KxdzCqi9CSmNok7fxUEtuCIewt+AitTdK6Ti1WSHYlVu9oR4IIvpDGjHR65p1txjGV+CmuMwVotzAsZdCwaQq8b16GTeCbUfQHg+gfs480pJp9rxfB9kMotWwu7iMkL7UsYe2ssNZuqKh5oIHl3GXsDQab9vv8R4YF/WiLnrz9yuZxEiCBjUGAQvLG6Ge2kgRIgARIgARIgARIgARIgARIgARIgARIgARIgARIYDUItCAkW9auhz5qWaF01/RaGtuC25CcbjX9PCYOhtTi7MM5zIoYwa/v0N05izi/RvzikhNX2BSQ7RjAcjzoButbd1UX2msQPx9qSLYH0fPebNOkttjc9CrrZKOQfOfcHgSDhzDRDKEpALcuwKuF5KWVNYfLvxIxr3dg6E9WO5r/NrC8M6pbkDcdZ1MixnMLFvTNi+ZZEiCBDUKAQvIG6Wg2kwRIgARIgARIgARIgARIgARIgARIgARIgARIgARIYBUILCQkm9a0y3E1rR0xReHFVH86iVBwG9Ky6a9wCW3FCB4cwcTkDGauifi5RvziUM8xI36xFQd4JoudwSAOfSjFhF6ExWxjdW8h2xtE8OCE49r6iyx6giEc0xqvlo9YlrQjTdx629fPl3QX2o44LYT1IIJ9o2huiDuL7N/4xDy2M5c3VELyUsuah/ZOD0JP92O0lTZCwdI8FpL5ytWFtMDAdZw7JEACJKAmQCFZzYVHSYAESIAESIAESIAESIAESIAESIAESIAESIAESIAESGBhAs2EZCu+7+4R3JLdNjdL01CiKVYmSg1nmh4w3RzvOW9Jp/MoJbYZMYJvK1Le13DszWMoWZeLS1bYtfVcYa8ubrssq1tlMSOssluL1zxzYofH6lYl+CoYYA6X3wwiuHtkAcHZSqvKV3XMul7+XWxZclpAyRKAYf0exI5fZaF9OYd5Me7EwoAvNWT/vgeh4I5FWLa7y+QeCZDAxiNAIXnj9TlbTAIkQAIkQAIkQAIkQAIkQAIkQAIkQAIkQAIkQAIksFIEfIXQeWhHdqiFW980qkq1Kkx602pIBoPYc85Uhr/MojcYQlO3x94sVlBInv9TFnvag2iwzG6VRYt1ufPRIewIhrDn3C2pNa0z1N1FPxIhGVhcWU5zfFmal8xrx9AjuyO3t3twTGvm29spg1skQAIkIAhQSOY4eKQE7kyP4Fh8J3p+JmI9BBEMhvBsTz8OvT+B2blHWpWVLUz5sTOHib/fiuDTb+HyNytb3A8mN51bayvgjLgiSXg93Mz+Qw9C7T0Ykl30rEVAelvFmFf8W2ZcmUfTXM9/PB5NoSyFBEiABEiABEiABEiABEiABEiABEiABNY+AeXcoGUZ6jP35ZNG3VhTBF2mRfKd8y3ECPZWoEXx1pvMu28Ln7+67LbMFhe2yqIFi2RLRO49MeO4ztYr06qQvFgrYVW+qmNeImJ/sWUZeTRliXnMnNyJrcGt6I0PYXR6Fne+EW7Jb2FmchTZg+JcCI18VPXjMRIgARKgkMwx8KgIzGkYen0rgvoL7BhGPixBuzYDbdKIv7FHCMvtPUh+JPtNeVSVW4FylB874kNAtGvv4xOS5zRkB4/h8pcr0MbVyELnFlSvyvSU5yckG25qdrhjvQC49ftjOPa+hjWzPsGKK6N/uFkxZSZwSAjLFJI9vc1dEiABEiABEiABEiABEiABEiABEiABElhHBFRzg7dH1Na3VrNUaaxzit+ViJHsN7+mKM45tAJCcnPhE8AKxUj2F5FFc5Yat9hBod5SicarVRawEEvh1npbcBuSk/6zoobr6xAOTdIyWd2nPEoCJCAToEWyTIPbq0Pgvobk9iBCPUlMVH2KeDgH7UQvtv58CLPr8f21yA8/Hworf3gFPvRWvlJSjpaQLMTU7Ulo96Vzns3Ffugu1S2Mp9hV3jWsfCkkrzJmZk8CJEACJEACJEACJEACJEACJEACJEACq0lAMTeoz02pPNP5HtuDEb+5U1H3ayI+8LZFxLYVYmYIwRfSmDFjM4uYusHgIUwsZv51mfOLCwmferc81JBsD6LnvdmmvTTzzjajPYqrmovIRgJjfnGB9n8ziv5gEHsL/kKsu3iVkAysRlmtsNQGzT53V9KzdwsjkfVi3OKpOndJgAQeOQEKyY8c+UYr8A5G+0ILioQ2FfOjxt5fLxuKj8U1UfVlfugttQ3zcy1+jZpC8ltHktgRVMRHkSpAIVmC8Vg26dr6sWBnoSRAAiRAAiRAAiRAAiRAAiRAAiRAAmufgGpu8L7lkc7n98NDCAZ3IjvjnJ9vOje6uHnW+SlhmRpyC6KPOEZyK8Kn1bm2SOzH4P4EDrUH0fu+HPfYSN2KiKxfaYrE/WP+IvHse70Ith9CqcXpTUAtJGOFy2qVZWtC8iyyf0Mh2Rp7/CUBEmhOgEJycz48u1wCi14p5ynw4RxmPxzC3td3YKu5Wm/r9n4kz2m44/dRIaJLfDGBofhO7HjajEf79A70HxmBplzVJwlkczMYPdJvxHD2uhuullx5hn7Wg/4jo5gR3x2qj0UAaqtYqbz7tzBxci96rZjR7c/qsStKynoCeHgH2rljLh5WPWZla15TQG41Hu9K8pr7/VsICVH4ZPMVhHpPm0Jychq4dW4PQsEQ9pxr/BgU1/oJyd7j/qs9jVWdYuVlKNiP0WZxq+c1JF8Iwv6o1MdhFod+0YNn250xtTM+hNKyvLH7WySLPskeNMeiPva3YsfrezE01aRAfXwk0d/zrN4HVgzy5NgM5hT3y5L73Spnu3BXL1yTP4ueXyQxMt2kbp5bm7skQAIkQAIkQAIkQAIkQAIkQAIkQAIk8IMh4DM32LR9S0nTiudHEfJt7C0fo415lBLb/MPM3Z9F9p2sMd9pVf7OKPYEpXky6/gCv60Kn3Y231zG3nZhaFJqnMd6eAsjPsZKLYvIZkF6mLz2PRhRhAK0XD77zU/adXVt+AjJAJZUlgiPJ8/zCqfcf8oabtJV8aVddTHicosFBM3acOfDQ/oiA7q29sDjLgmQgJIAhWQlFh5cKQJLit1hFS4+XMQHQnsP9p4cRWl6FrPXjJjKO4VAvP0QJhp0q3nMvmcIkj1vDmF0UsPsFzMofTiCpB6jeQcONcRhNoXdfxhBcnsIPX+fxcTkDG5JL+xbBePja+vrST2+88wXs9AmRzH0Zg9CT/dj9NdJBION7meaCslWea56ZvFWj9HmtOZZ9jY3gUNPBxH62R4cen8UpckZzLh4HIOdxIrHO5PFzmAQhz50Vja6P0RWnte8lkZP+1b0jzV0jtWzzq8kJANmTOngDhyzG+Jc6hWMrTMNx83VnhNvBxGMZDEjxSTWV3U+nEH6hSB6m7jKmRvrl1YeziLD4l2nAAAgAElEQVTbG0Lw6V7sHRzBxKSGmWsaSmND2Kv31R6M+gn/ViV9f9VCslj5GGqIJ26ON/EheF7B9s4EkqI+T+80xsf0DGamSxg9uRc97UFs/eUobtli8jL6/dcl/cM91LMXQ2NWrHOnbj2DGjwj17f1PEECJEACJEACJEACJEACJEACJEACJEACPwgCSxGFl5JGwJrTMKTPc25Fb/yYPldZMueBJoQBSq9Y+L8VO09qjYKsSC/mXH+51Zhz1ee6vHOM3vBzpiX00/0Y+lCDJuab3hlqarFrCZ/P7s5CuyPNS0rzdHNiW5p/FVWbnz5mzGNZc7DXZlxzcCO33aPFEJGD2PH2BG5585b35cmqh7cwarVfn3MWc2gTGDmyUzdk2nFksXNb/kIyFl3WHC7/KoRgcAeG/mS0dfEs56EN9ugGOz1vmuPj2i3culbS58iPifnsYAicw3OPJe6RAAn4E6CQ7M+GZ5ZNwHyJJkpLyGmh1XEzSPcGEezNYtYWxwDLZYt6xdU8Zt7pRTDYi+wXcpVMMc9vpdYXWfQ2cbtsWNIKK9XFCcnCWlRZT7HCbrfRNq9t7qzm8wF4e0RfGbjnnEdgXMC19arwktEutO0SksWHrBFPWxUvuUEwNvP2O64W8Y1Et95v5qLmFrK9bjc5c9c0SYSVGnW/pFsuh7zW69IlzTfVQjK+mYGmWBUJWPdFEpo07sVHqT5m/OJM3x7BW38/AstqfTn9HmoPqVeGiv/HTAkX5T5Cd3MQPEsCJEACJEACJEACJEACJEACJEACJEAC65fAUkThpaSRCM1dG8Wx+E7Ds6LuzS6EZ3t2Yu/JCcw288Qn8lB6gRRpS2ovkPdnkI33mh4jt2LHL9LQmpTh7zHQ9PRnep4MqubU7mgYOdJve5q0vDHqXiGl9tsupa28mvw2zJliHreEF8yfW179TE+Ak565VVd5fjtNhGQ9yWLKmof2jmm4ZBquLJWl5Ymwx/KEGRQGSj0QHhYnvvB37e3XSh4nARLYuAQoJG/cvn8ELV/oJdqkCq3E69AF3hAcFxyGABg6OOFvEflQWJcGEXq7JF1jinm9WXiFW124ezvUIFi7az6PiYNipdgihWRleUbO8x+JGCl7MNryt4sP66ZC8mrwcpNZcM8rJIsEQhRvDyLUN+ISb/0EY7/jzYRkzJf0mCq262qpovOThxZ2fS1d37Qc6Tr1po+QrL7YOKr4T4ZRZ+8CCb9MltnvLyQdy/eGIuahHdmG4AtpzDSc4wESIAESIAESIAESIAESIAESIAESIAESIAESIAESIAESIIH1RIBC8nrqrXVX16VbJN85vwfB4CFMyG5HGto/i+zfBBEa1IwzZryOQx81TYTZ93oQbD8GM5WIZIykWJFl5eMqR8Ox9iB6mrhBFpdbwu+Ix8WxWmRsVp5ZuC4W9ngsp10Va9hRltVMSF4VXg3Van5AJSTrbmyEZWsQOyQ3yX6Csd9xJQ+pNjPvbENwexozsmUv5jD6yyC2vdO6DOpXvlRUk80lCMmKPtUGQwj+TRYtRKUGVrvfp9Ru3ptA4CkSIAESIAESIAESIAESIAESIAESIAESIAESIAESIAESIIE1SIBC8hrslB9SlZYaI7k1cc5jhasQ2FQsG/M2xLxGFycidbNzUu4KK1E99ZEggrtH4DYsbiFPP4H1T6NI/mKH6UbG4wpGuG/xltWMSbNzUtMWx0tK2MqmTzuFJbh2ZIceDyQ5bSwMaKyHUYDf8YWEZHwziv6gbNEOQLdy70XW61b6TglD8V48265grrvNSUoLE1ppuHWNj5D88A5KJ/eiV3I9E/S450lOW3kAC7bVuRRY7X5vMX+5StwmARIgARIgARIgARIgARIgARIgARIgARIgARIgARIgARJYewQoJK+9Pvlh1ehaGtuC22CJga02bq6wd/EWyXOXsTcYxFItkv2E5NWySFaXZxJSCazVUd3l89bX0xidnsWdb+YwJ/2beHuRQvKq8Gq1h5u008pCxP3tCyHYvgcjtwE/wdjv+MLi6jxKwm35L0dhRAUx9kNvXjb3zYrMazi2PYhQz1vIfjiDWxJzwX/mvZ0IBpcnJO/8texUfR7a4A4E23vw1vsTmPnS3c9zM1nsDAYhC8kzJ7a1bpG8zH5XW+5bnQaAFskSDG6SAAmQAAmQAAmQAAmQAAmQAAmQAAmQAAmQAAmQAAmQwPolQCF5/fbdOqn5HYwKMXB7Etr9RVT5McRIVgu7ptjYm8WsywWy3JalxUhWl2fmqxCSDXffSZR86lFKLFJIxvJi5Tatv4yn2baina7L72tIbg8iuP0YRt8T7s4bBdulC8kAZtLYEdyG9DXAsFA2t+VKaMcQCu7UxWz5sLV969ctCsmqfpufwKFgEG6Whjt1t7hslWbEkPYKyYyRLPHhJgmQAAmQAAmQAAmQAAmQAAmQAAmQAAmQAAmQAAmQAAmQwIoQoJC8IhiZSVMCphgY6kliwhNDWE53a+wt7Hx7And0wc10bWxao8rX6dv3Z5DuNYTTW5JANz8tYuuGsOecbOFppZ7HzDu9CAYNC1fr6ILuq3V3x0HsOKJBFX351rk9COluh/dgMTGS3eKhUxt9SyGwGlbab2FCJch/OaJbKze4tjbj4faPGTa3nlKwKrxEjOM5FSlv6QAU7Wy4yuQfag8tTkgWcYNf8MZA9uZuxEQOvT2Bmfd6EezNomHkzAir+h4M/cmbFsBcyRC6FQK3fPXcVBI7FeNHxNYOCSHbFZJ5BukXguj5B0XE44dzKOkuv90WyRDW27uF4O6zYOPOBNLvWPcWltXvoh92HClhTrrvrLaKdor7b29BPd6s6/hLAiRAAiRAAiRAAiRAAiRAAiRAAiRAAiRAAiRAAiRAAiSw9glQSF77ffTDqOGchqHXtyIY3Ire+DGMfFhCaXoGM9MlTJw7hr29xrn+92cdsfbhLYz+cqvu4nfvyVGUpmcxe01cn8TOp4Wr4SQm3MGHdVa3zvdjazCEnjeHMDqpYfaLGZQ+HEFSlN/eg+RH3kQLxyy+VXgLO4JBbH09qdd95otZaJOjGHqzByEhdv86aQjUHqFc7V554fKUAqstyO/F0FgJ2hezmJmcwMiRPXj2Z2/hrV8qLJJhWoQ/3Y+hDzVo0yWMvjOEkqTzrjSvud+/pQvrO04qhFDvaG5FSAbgiPWtWyTPa8d0UbMnMYLStAbtwyzSYw0yMQxr3hCEQHpoUgJj1dVysf30TiTPTaB0bRazgqMew7gHb725sEXy/PQx9LQ746c0WcLE+2/pxxpcadvt3YqdR0YwMTmD2S80lMaGsLf3WfT8am+Da2u9qncmkOwJIfj0Thx6X9wvxv0l6inKDvWNQF50seR+/4dRpH8eQqjHHIfXZpx7Qdx3g+oFFxZO/v7/7L1/bFRHnu59/oiUSLMSSDviRaPcYWntoFjKRKAJGhhlmBkURxMLK2+Ms6MYwyuwiS7qRQNqcTXcFsoNdpi8loMixzdRjJes/cZkzawZw16zMTudOIPiOEumnXcIjq88154b7p1+F7R4WXa30cLM8+p7ftSpOn2O+4fbdhueSKTbdnedqk89VXVOPfWtIgESIAESIAESIAESIAESIAESIAESIAESIAESIAESIAESWB4EaCQvj3q6Z3J57VI/Xk3swLbvSHRpDLFYFb69bQcOdH2AqRshxbx7E1O/OIEDu57CevX5fTj2s7QbuRzyHQkU/c0HOJHYgae+JdeIoeo727Dvp/1IB4xe59sFGLvywcxoSJpncUWCL21DdGEjku283ryCsz/dp8oV+9ZT2PdTJw/hpjWAf72C3sR2l996PPUfO5EOsC4nr9vpTmx7dD32nQsa9iF1VaCRDLgR6iGRv1FbW8vVvvzFMexxtVb1ne148Yy2UEFlx9nie87o5bvXMGobx65uH/02tidOYDQTfXazSt57Y+tnO779qKfJ7TjQNRqp42sXT+DAn33bjXavwrf/7ABOXLwGZPqxJ3BGsncJ3L2G9M+OYd827Xvb9uHYuSvhEcSlthO5zjsvYke1LACJIfbot7HtPx5D/6UC6lxllm9IgARIgARIgARIgARIgARIgARIgARIgARIgARIgARIgAQqmQCN5EquHeaNBEhg4QncTuPYlhiitv9e+AzwCiRAAiRAAiRAAiRAAiRAAiRAAiRAAiRAAiRAAiRAAiRAAiRQeQRoJFdenTBHJEACi0jgy3f3IPboi8Z234t4eV6KBEiABEiABEiABEiABEiABEiABEiABEiABEiABEiABEiABCqSAI3kiqwWZooESGBBCMh5x3++A53nRnHl11fsc4qfilVhzxluybwgvJkoCZAACZAACZAACZAACZAACZAACZAACZAACZAACZAACZDAsiVAI3nZVh0zTgIkUDSBuzdx5WcvYrs6N3kPOuXcYf5HAiRAAiRAAiRAAiRAAiRAAiRAAiRAAiRAAiRAAiRAAiRAAiRgEKCRbODgDyRAAiRAAiRAAiRAAiRAAiRAAiRAAiRAAiRAAiRAAiRAAiRAAiRAAiRAAjSSqQESIAESIAESIAESIAESIAESIAESIAESIAESIAESIAESIAESIAESIAESIAGDAI1kAwd/IAESIAESIAESIAESIAESIAESIAESIAESIAESIAESIAESIAESIAESIAESoJFMDZAACZAACZAACZAACZAACZAACZAACZAACZAACZAACZAACZAACZAACZAACRgEaCQbOPgDCZAACZAACZAACZAACZAACZAACZAACZAACZAACZAACZAACZAACZAACZAAjWRqgARIgARIgARIgARIgARIgARIgARIgARIgARIgARIgARIgARIgARIgARIwCBAI9nAwR9IgARIgARIgARIgARIgARIgARIgARIgARIgARIgARIgARIgARIgARIgARoJFMDJEACJEACJEACJEACJEACJEACJEACJEACJEACJEACJEACJEACJEACJEACBgEayQYO/kACJEACJFAxBLLT6Nu9GpZVhcS5zJJka/bjVmy2LFi1nUjfWpIs8KIkUBqBCmg/pWWc31r2BKi9ZV+FLAAJkAAJkAAJkAAJkAAJkAAJkAAJkAAJeARoJHsk+EoCJEACJFBRBLJTfWj4qgVrfQJDS+Ej35nF6NHNsCwLdW9MIFtRdJgZEpibwJK3n7mzx7/ewwSovXu4clk0EiABEiABEiABEiABEiABEiABEiCB+44AjeT7rspZYBIgARJYDgSymDjZYJu4Gw6nkLmzBHm+nkJykwXrgTp0X55FuqNG5Wd2KfKzKAiymHijDistC5sXmvudDAb2ScS5hZqOdIUa9dlFr/fZi24UfHU70rOlVnoFtJ+QrM+Od6NpvYUNe7vnUbaQhBfyVxJdu7fK3hkhfnp6Ia90j6Qd0F5mFJ3Pr8VDTyQwMLUYy3GymD5ZZ/crD+3sw7R3yWwGQ0drsHp1DVovZCq0vylCAqLLnQ/BslajibosAhw/SgIkQAIkQAIkQAIkQAIkQAIkQAIkUCwBGsnFEuPnCydw+wO8GIth+ztfzv2dTD/2xGL43utX5v7czfdwIBbDiyO35/5c1F/d6xy7FPWB+f7+Jj74z+sR+9ZP8N6N+abF75PAfU7g1gS6n7dgWRuQfL9kN21eEDMXkthgWXhoZzcmsotvKM4r8yV/2S9n1cGhhTXwaSSH1lJZjOQKaD+5hZtF+vhW2+CzrM1o/3hp2nVuvvL8xjbsVsKyVqLp1PTyNyDzFHfefw5ob/Z9px+1d3boWoydHSKM5JkBxP9ExhQLK/cO+AbzvAu8RAnQSF4i8LwsCZAACZAACZAACZAACZAACZAACdx/BGgk3391voglvo0PjsQQ296Luazkaz/bg1gshtiWTly5G529m0MHEIu9iA9K9JGxCEbyez+uQuzRAzlG8pfDr+LVd9K4GV08/oUESEAjkL3cjTo5m/iJVoxe1/6wWG/vZDB0aAMs6yE09Ip55BusEiF9L0cke5HXNJJFbItf7+Uwkpe8/US00+zlASSf3Yy6wwOYWC5njleIkZy93IfkvibEj1Y2uxztXU+je38NNj/fiqEZLzw4QiBl+XWEkZzNINXRhK0/aELnxaU4K6EshfMTWRZGchbT51oR39uE5Mk0lsnSEZ8x35EACZAACZAACZAACZAACZAACZAACdgEaCRTCAtK4PbIi4jFtqP3t1GX+RK922P43vbt+F7se+j8ddTnXFP6x++VbsYuuJEclXcg/dMYYrv7cS36I/wLCZCAIpBF+g1na9Ktx0aXxrS9OoTEoxash5vQZ2/HuviGosKxqG/8ctJIFvA+j8VaQDB/I7kC2s+ianaBL1YhRvL8dbHAnOzkK0F7EUbyYhR/Ma+xTIxkb2HSYvWfi1kFvBYJkAAJkAAJkAAJkAAJkAAJkAAJ3C8EaCTfLzW9VOXMt731b3uxXQzkdBqdW+bY3tpN58DQPGJ67yUj+e5t3JwjMnt2fAh9vX0YuBixDWc2g9Ezfeg7M4pMaIBQFpmPB9DX9RqOtZ1A36khTEREhc5+kbKvlfoiItZkdgJD/88JtB3+L3itqw+Rn7uextCpPgy8H5HnOxmkz/Whr3cAo1dDMw3cyiD9/oCdH7v850cxEfisl9++8+lwg/LOLNLn5Toheb0zi+lLKQz0On/vO5NCeirirMXZaUxcdOpB0uqTvFwPz7eqr4+dtGZnHBb2986kcsoQbM7ZqxMYPe+Xe+jiBDLFRvtJ2cb9ss2VRk5+vxjFwCkp44TJ9E4Wmcvu31wG07ZMsph+P4KxFG42jfZa2YJ0q7n9bSC9oY8nwvV7ZxYTdh0OICURcPI9rWwDF9Jw8hEk6f+cORfHWsvCarUFan5DUbTlaWNofBa4NY3U6T70nUphQsqdzWBC0+fQpWnMhkvCz0i+elHXmGcblfo7PYrpW345I41kKcfHrrZPDWD0cgbZPGdGi0ZT0ueIDkTT0vEUsLV19vo00krbA0jJtYROJu2wPhfRhxWqFZ90xDufh2eEFNo+S+1rcgxD6dcuuO371BBGv4joc7wSBNpPwe1Vmt5MWtXTwPk0piP6LO9Sdtsqoo1nr47OXW/IYnYqjSFpNzKGnR+NzINKy+3LRSuj9hghba4QTgX20eU0koN9kzD3+k8pb0jf5JSzG52Ha/CQ7NLwcB2Sb3S741z4eFhQPQbzIn2N267t/sur5KLGvZC+W+uj0tp9xLzrT/I3O621jQGM2vchEUayKm/I2C7dc6HjqEqn9PHFQzvXa/a6jOtunyn97Bez5rbqASM5W/Q4l0Vmym/vcm+VGp8O78tVHbpjmaYVaadhY5nd75zsROvza53t7J9OoPOkq9vTKUwH71EKHVeCeVH9Y3hbmIsx/0YCJEACJEACJEACJEACJEACJEACJFAYARrJhXHip0om4EYSR0TjfvnOdrWl9ZU3vqfeBy/nRDYfwHtBH/nuNYx2HcD271Q522M/+m1sT5zAaNiuhbqR/K9f4gP9e996CjsSJ/DBb4IXcHJy7eIJHNj1FNbLFtyxGKq+sw07Eq+i/5IZYxyMPLZ/dr9jb9+t3u9BfzCPBZdlCieqY4g9+pNcHi642Y/bsVUmnH8Qvi3w7KV21MjfrRq0XwoxgMWIqJa/fx//1//5f0SfDZnNYGC/M0m4dv9AiKmXxfTpOFZbFh7eusmeTAw3p7KYONngTJJvSiKlTTZ7WrC3y3zAghX29ztZTJxJYqv83S6X+bphd7vaUnP6dJOdH+vZzvCtVW9NoPNZ+f5qNJ2e9i6P2fE+xDeZ6aprPRG3t8q0Da7ZCQwca7DP1lV/V3mqQlNXMMJWM6r2tqN97+aQMqxGXVsq50zH7FQq4vOO2dD+fh7DyS5dFtMX2tEg0bcqn977rUj0Bg13P79Vu1uR3FmlvvfQzj6Vx8ylPiR+4KWjv1ah6Xgf2p+XM0dNxh5s0aet36fbkXblKfxD03u4Dq3nJszJb22CveFoOxK2lvU8WLAe2IrkmcD3vAxkpzGwT3S9GvEzngb8cnuGovdxec1c7ETdaucamw8NOJPkV4cQf0SuVYPk8aT6u8F5Uxx9Yjrn/FdgvUhe964uSxt12rBfzpy2arezVtSsDLAU3VQnQsuRzYyie1+Epo90otVuaxZqOtKmSXJrGkNtDbaZb/CSaz2dRHdXApvt6/oa8RAWpRXvS5GvPo/VzyWR3C3bnQfLH94+S+5rLrY6ZdsUR+cbidB+7aGnkxgI1Q1gth8//3O1V7ue9oaVrQoNx3P7HsFVShvPMck17rNfDKH1OdFykO9K1Ml2zoFmotL6QQLtRxtQlfM9C1W7OzEaXC1VbB9dTiNZ9U1r0dTRh/adrslm5L0KTR0+c1VO4zMeo81oveiDKaoeVV5Wou5wK5q08c1rjwWPe249mtpzf+n1g1Ydui/7K2dUuYqtP0k2O43U8Yg639mKzsPOWdz6mCTf6dv5UM64U/Q4qqVT0viiaT707fU0+g55Z4l79ey8rn2+HUP2DhkOA6c8FmoOtiIeNt6GjnNZZC52I/G0jMFm+vbPTyf9a3gZ9OpwZR3aezsRfzzke3+ij8V+vxN6jUfiGLrqJl7suOLlxdqKxFG9fzTbgpd1vpIACZAACZAACZAACZAACZAACZAACcyfAI3k+TNkCnkIOCZwiHEKd1vrN644KVzpjNjeOmJb66tnse9bMVRtO4AT50aRvpTG6MWzOPHjbaiKPYWfDAVOZvaM5F+kcaw6hvW7jqH/F6O48usrGP1FP47tWo9YbD32nTG/9+XP9qAqth47ftqPDy6mMfWbK/Z1eo/swPpq81znoJGMf72Jmzdu4oP/EkOsoRdXbjg/y+9u6+dBF1WWazj75+tRta0T6aio5Nk0Ou2Izg1IXgg41ndmkTrqGzv21sGBOlQTvM924penncjMh57vzjFes1/0oeGr7oSi2gJYS0wmXHfLZGUVfvzWf3U++6dxDATPSVT5lbSqkDgfyLO2vWxUfm3jUSJIn46jtaMb3ceTiD+/FStlovRR/5olmTuyzfF6t5yP1CHR1onuN9qR2FvnGD7WZrS+L3mexWibPwG84dk4kse70XksgTo1SV9lm5P+dHrIhOvDW9GwN47E/ibUPSET38616zo0U/fWBLqfc/NkVaFmdxLtb3Si/VADtnpG31cbjIl7rWbct1lMnIr7Bsz6OsSPtKOzLYEG7bo1x1LIqIjTkPxaG1Czswnx487nMu+3Okawne/NqNvfik7htbvGMfHV5HWYkewzVGbGRW/hgwXrkRo0HW63mTZUe6bTWjSdmvCNSDXR7/Gx8NATdWjal0B8bwO2Puz93qs3k0x2ZgBN8hl9slvToGkkZzF9PqnKu/XIkB9ppSa8vetZ2PBsA+IHE4jvrPG5a/p0clJcvXjR0/Nto0678+vXNJJnke5qcNqTtLPqBiSOdaL9cBNqxCyXOl1Zh05tYUr26hCSSvcrsXVnAq0d7Uju08ruasGra7v8tybQt9c32NY+3YRkWyc6j8a1duRes9o0kmeL1YpZ9SE/+Ty8dmgV0j4BlNTXSC/iGcmqnVjY8Jz0a51o3V/nL1L5I5O3k/lg+wnJf6C9mvW0AXX7kmg/3or48/44sfnQkLFQqNQ2rsoWrLfxbjRo7dLuMzpaEX/ON7dXPt+pFpZIWVVailOV0w8djKPpWf97q3f3aWOXz0fqs6A+2u5PZBxbiaZTETtmhCgn9FchfZPoye7T2pJoUn2ahQ0HB+yFOaERyTLGnexGt7ZDR9H1GJaXP61Bw+44Ws9NQ9IrbNzzSuqzNdqz6gcjjOSi6g/2Tg8D+/wFTF7/IH2R37c7/UNeI7mUcTSEWzHji0cr9PX6qLsbh5P/zc8n1LhuL5wRVpuSGJKdVkrMhz2+/Ynbf0pfdtAZn5N7a/yFO7VmvwpVh+73LBlTG+x7ofYj2hggi8N6nbE4Izvj6BHJ1U5Esui2T0UkFz+uhOVl9Q/q0LQ3iT5toUIoX/6SBEiABEiABEiABEiABEiABEiABEigJAI0kkvCxi8VRcDdlnrPz8zoXXjbWrs+MnAlfHvrsG2t707ZZytX7e3Hl7oh62bs2i9exPdie9DvRTzI710juerR9djzrmkWe+X58l0xjZ/Cq8qhTePVR2PY9hdT3kfM18C1c4xk99NRv7f/XEpZzFyE/JTFRJdzxqyYXr4JKBxS/uSwOylpRADfySB1WCbhH0LDyQlkvc8/YE4Cy9mh3jUcg8X9vJYbI4r4f3mRk6sRP21OxqsIandCOSe6WUVIh0VQz2L0mGPert3nTLxrWUD2ahopbYvvUsydzPmEY/pJNHTQ4741jdEL/va62ZkhtB5sx1Bwq+9sBkOHXWPGMOVNo0eiWY3Iu2wGqbYax6gzjE0xUtqRODoAfbtQu+wyGf20M+G79XgafryaTgawFwK4UbQS8WwE7kmU0OmEa1pt1hYkmPndsK/PvH4mheQTzrVz/iZBVMLHzVtoRPL1UbTakVU16BzPAvKzG1G8+bAb6esVQ7Yh73WNcH0hgzHBXoWmk2mzbNfT6LQjoi2s3O1HUTvJZjF9yolaN41Uv9zKSBZGpzxGFmzD3V8hAGPC++EGdAYixLOX+5yIZcuMyC26XsrVRu2dAPxy6uW327LdPqsQD0ap35rAgKftZ12z704GQ4dcM+/xOPoumyqUyMn25/yION94cnYnsBeAPFCD1gtmXwGp85NNvgmvG5KlaMXTUuSrz0P6uWLaZyl9jWTDMEgfaUK3Zs7b2byeRvdu12gPGj7B9qMtgLCN02B71eupthUp4ygAiVzsdA3eKiTOuZ3fPNq4Kpteb9pCorW7u83+RHhc6kaTu1ih5vio6s9UWqLLp1sDUZRZTJ9L+gt99KjdYvtouz9ZGCN569EhtYuDI0En387CKABCsMIAACAASURBVHPRkSqvzs7TbSn1aPSTq9HQ4Y9jkmwx456jy0Df7eVNmZDmPYQqT1H15/fPcvRBUgxv7zrymp3G0FF/MVdeI9lub0WOowa3YscXPbOB9/oiv8g+cy2qnnOjkkvNh92HJpA8ada35GZ2vBt19kK0DUi+r/XZqg5lbN+AxOnAbh72fYpzz2kZC9j8/lONm1qxix5X5Lt6XsLGCC19viUBEiABEiABEiABEiABEiABEiABEigPARrJ5eHIVOYkEL69tdrWWvtu2PbWYdta3774IqrEKA6aeiqt2/jgP8VQ9dO0+o1nJMcittl2PngN/btjiP34PTibXKdxLBbDjgjj2U/ceRdlGEf9Xr5VUlmCFw75WUULB8xHL3px5bMJxG1DLxAB7E3SrW5Cn2yhqE1u+maPzDj6Uc9Nh9wtJo3tov0JRC+KWF1bN++09LfuT6BOotJ0U9Ce6HW3ejXS9wqtG8l9fjSo9+fAaynmjj6hPhSMpg6kP9ePauJ8vb59t8/J3rY7TNNSJ38qE7ib0fqxNrkbeTE/TTnj11hIoL4zi/Rxx6AOi2S1PyaLCo445rdv7vtpmxG7TsJeHVuPJ/ytK9U1nTfZ8U7U2aZkbkSyYuTWdeZC0jGznwgx8SU5mUx3o1frutyoZG2CPWxxgXxt9n033UcSGNKZy3fdKHozMt4vt704IzuL0TeaVARXjRjxKmrbLbDXlizLWZTh/tp/yao68A3tEurllr/LwHzbqCwQSXc4uvCNZD9PVftzF2vY5ZHoRXu7U+dca4l6czQbsiuCCyD7RTca3Oh5le9b3hmrFlR9+sCcd7pppplqJWklmHbOzz6PYttnKX2NXF61AWttYPcCP3NRfNV3VV+p5T8wFkhqfjphi3TsT6gFQ9554fNp4yp/YfUWtluFXeQsps84O2PoRxuotIJnqXuY7H7AWdRS94a2Y4H395BXlabeR9vpLICRrG3db2TlzixGQ/pmlTeNnfe9UupRj2hdubMbE4YjaxrJhYx7Kn9Ke27uVD8YZSQ7fYZXFvUaVn8SQfy8s0uHvagg2OfKl2XhmbtYqRAjWV0v543fdoxx1M6Xk4eix5eca/i/8Oswus/ErVnMemVeiHxoadbJQkIve6oOLWw+EjLWyeeMuvEWsPkMc43k4scVOztaXmqOB45E8PLLVxIgARIgARIgARIgARIgARIgARIggbISoJFcVpxMLIpA7vbWU+h9JoZtPYFI39/0Ylvse+j8tZdS+LbW6eNViDX0Izyu2PnuzaEDzpnLXlJuRPKeM4HIaO/v7uuX7+5ALHYMjgV9G+njTyH26Db85J1RTGUCW1IHvhtlGEf9Xr5eUlkC1w39UZ2dqkUAq9+JQTGBid4me6ta3SScds80tk0kdxZRRQxrE9jqd7XtGJ1KqShSdeayFkXc6Z3lGRY56f3uqw3oG5/G0EHZslKLblYR0ivVlonB8s6+7xrNYk66Wx93n04h/UXGPDu31O1mxSRTZwjL1q+t6OwdQGp8GrNqplXLVXYWE+8PoK+3G91tScT3NqFpdxMavO1WDUPHn2g1Jqu15PyJ8YDpL5+ZncbouT70nexG+5G4fR25Vt0TTrSnMZGup6lNGDf0BqK6tM8pw/WJVozaHrafX9/89L4gE8NONFjupLH3GWfCOewcanvRgmtcOyaify1LztGULTF7+4x/sk1mq3tOs0zq22auVjZjMlzLgpiYdXKmtrdgwv2bvQBDzM3Hg8a1n5eqfd3oO+pGics2z/rCCO0afuTU1vCzyCXq74xzhrg6s1vLezH1otrjfNtomJGs5WnD3nZ0nzTrQOqku6tdnSEuOxn8f972zJuSGA0589zGZKfrGH3KSBYD2t521TSddKzyXi3uUOX166cYrUi0a3J/HPF95r9Emxcp6qdbbPuct5Fs9BMBAmKmu+fTK5NUFuUY7Ue+4+c/t71qpvXKGiQ7ctuX9CudR+qcLc2lTVyfXxtXZmNIva3dP5S7GMMrtphH9mKaGnS629eqtHTT1/u8vAoPe3cNC95iJvXnYvpoW6flN5LnMsFksU2NPZ75C11UeRU7VRp/8UHB9eguwrHPDLagNOQnaUd+FjzuhWrPTUwZf2abVuUppv5UWu6OFXp+1Xt/gY4x/ql+LHcBU1HjqErHQjHjS76+RvGYq89UZQzUn276ap+JGufkI9mZNIZOSd/didaDzj1K027/6AfVJ8uHFfdApLJ2Lelrpnsb7N1T/L7G739y7gk0joWOK/btlspLoQvrjEzyBxIgARIgARIgARIgARIgARIgARIggRII0EguARq/UgKB4PbWtmG8Db2/CablGMzfe93d7zpsW2sxX38aQyxWyD/PEBbnoR97YjEcuxS8ZuDnS8cQ06Od797ElXOv4sCffRtV9jWr8O1tO3DgeD/SAU86yjCO+r1cuaSyBLIc9aMXOeZN6qkoZXeLZhUBIybuF+6Ze3Y0ZiAiRkUfb0arbBGqRRHb21/LVoluBNXmoyk7YsabFDWiXbXveZOUXh69yB4VVVjrbpHrTRpGRqs5hsHE6SRq3G2ana22HYPK+tM6tJ6ZUFE8JZs7l7qRsLdcdtO1I2rl/QY0HU+pSOjs1ZSxZa+RF+87hkE0x0SrV7G3JuAYr6aRPPtxJ5pscyWYJ/9nYyLdS09eb3kR5dqWtfrf3ffZy56hEXcjjP38Vsm5qV50lP15PzpcopZU5FQwXXsCWfIYmNCXLXMlqvWPGtAtepTIPO0871CWHlN59bYMVxPUgfS1fGSn+tAkejGMZGdbZXsL4MPB/Pvlzs2HvvW3dhFPu5ZpoGif8A1RL4qv1HopVxvVjEcVkazy5Osql4H/N9lO/b+fcyNIpR3f0kusvRcz1F444m/treplZYOzI4L2cf2tWuDgmWolakUZ0rqO5L3Kt1/vOUaIl6GI9llyX+OZ8Grxhnch/dVva8okDbYf++N+/nPbK5A5527bHyx/2M9/ImfN+9ctpY1744IVUm+bj45G9xmzo2i1t8x3xyA9cttLS8djv/fzqhiJgVZsH233J+U2kh9CwxznLat2oPVPOey08hZfj7oR6Zz9rCWn3or5Wci4J0dmGH23SkE3Ic1+cK7yOF/PrT/hYu9iIPcssmNK6H+y/XUDHpJzfHdqRxdEjAtFj6MR6ehZCau/fH2NqkPV9+gphrwvMR8yrk70xv2z1sPaeuC4Bd9I9hdyhOQodzzTxpOc/rOEccVey1bAuBqWN/6OBEiABEiABEiABEiABEiABEiABEigdAI0kktnx28WReAm3vtxDN620lM92xB7pheBeGQ7RftvWzpx5S4Qtq21fMjeAruhF1du3MTNOf/d9nNZUkSy/3X73d3buJmZQvrcCRzYVoXYo3twVtsWN8owjvp9yWUJZCvyRy/a1z7fOIO0e26ymlRX0b6yjWwamctulOYPWgNRhP55yDIZmJkZcs5Z1ia51XnI6xMYmvHOWXYmqPXpXj1ycvSqd26yZpCqSGbZ7jIDI0LaMC1DSn1nFtPjKQz0SoSNH1kjZm/yvFNRnnFtybaiYQaX2hYzzITMYnYqjdRpidKLo+4JZ3tLMdVq2kYxm/UjAq1NcXSeG0X68gQm3H+jZ5Kwz74sh5Gs8mlh7c5W9L2f1q6VxtBx57xCYyJdR6YmoaO2XXY+rAw7ZWr5xlTOxLCcm33SiUiynuvGRBhfSdbTZcBIzlxwTK2VavLfv9bK5zuRGvdZekyN15lZZytOVbawOnTKFTbRb2/N+ZwYopvRqp8PaX/Fz4tjom5F8lQKfQfdc4AfaXIWYzjJO/8vYMJbmQuekazyXny9eGeWz6+N+uVURrKWp5pjQ5rOwutjOpP1IyRl0UoxEcnXXUPKqtLO5dahynu/P1KGpGZYFKOVbGYCoxdTSL1v/hu9NO2amj6PXL27+Yowkkvta5TB9qfe4o1g+WXxTAYDXkSyu6V7bvtxWHlblYflX13rkTi6L6ZVX2W0K68P+0KYzK+Nq+sp89fna++MEdXHS1uKikhWaQU55RqR9iIoN2q74D7a1n+5jWQLc0Ukz15qd8aKRxNIufcYuez88qq/FVyPupEc3U86V8gz7t0BwrXn5i+iH1R5Lqb+VFrRuzzYUfje1uBqLIkobynjqOoPo7mFjS/5+hrFY64+069y51gHO6K8yHzIkQJ/5Czkqjvah9Qlrd2Pp9T5695iP/uSivvcEcne+L9yr3cEgt++c/ofxdFCoeOKmRdzYYKOhu9JgARIgARIgARIgARIgARIgARIgATKS4BGcnl5MrU5CNhbTcf24ewNJ+p4+zsRG1P/thfb7e2tw7e1lks45wpLWnNcMPgn10j2zOzgn52fg2ckh3/K/u3dK+jcYm7PHWUYR/1e0impLHNky/iTHgF8tBtJ+9xA8yxMNXn5dBKdR5ztemWCO3gSr4pmfiSOzg7nbFh/S2xvklYm29ei6Xg7mh6xYIVFEWuRk4k32lEn2wgbE6f+xOPmg51udG8gQtoo5Bw/3JrGwH7ZKtuCN4mpymuYuX4ayhAPmJz+J7R3rqmyUiJ6xJj+7ai7xXf4ZKsyB4xr++X18qhdwXkbYlTZ+ZTr2lGCwW/4Zk+kkSzGmzvZbj3nRn8Hk5GIUXdrWH+r87nza597a09Sb0DiTMiW2RI52uGY3EZEsopONRcfiJG9Wcr5aByR53TeyZpbmKsJ6iIn2L3tZHMWUggYv9zWV+vQ/r7r7lwfRfuzbjTus+3mAgw1+R494Z1jJJdcL0B52qhfTmUka3mSbbwjFwhk/SUjarcDKzri3T8r249INoy+CF1K2s55zBZ8I9k597porQQ1n/Ozz6OY9inJlNrXqO9JHxQRtSp13STnycuiB3uXCC+622w/um5D8680KosntFVRAQ5ZzeAtuY3rTDTzULXxh0MWY9j5kAjTJqyWfuCJVrUwQXHS0jKzHWIkS2SzvbNEEX30AhnJot3Qbd+ljzzmHBGgn12syiv9U3CALqEe/TOSo/tJk6f7U3Dcux6lPffzKm9mP6jKU0z9aefw2gviNF2qvF736jh/RHJJ42iJ44vKX9QbxSm6zww/Izm6/sIMbWlL9j2Lt4OHnh9tgUq4kSz3UsGdSNwE5N7OXoilL5Lw+8/cHRH8e5BCxxX7SoqTqSe9GHxPAiRAAiRAAiRAAiRAAiRAAiRAAiRQXgI0ksvLk6nNReDmezgQi2Ff6zFsi21H72+jPvwlerfH8L3WY/hJLIYDQzdzP3j3S/TvrULV3n58eTf3z8BtTF2aghaPrLa2rnp0Pfa8G25if/nuHlTFnkKnu7M2cBNf/ibk+nLJu2kcezSGHVpaUYaxfQ6yG2Wdk9tSyiKR0UbhclJVv1ARwDIJL/+CkaJaRI4TaRlx9qA6X9lNR6J8L5jGw/QZdztb91q+EaWyYxtyXuSkcz0LWyWaV/uIb1S41woYe7NfpDBwagCj9taWWUyfaUWyYwjTeiKSnpiTh5yIUWWiqElIiSJOIeN7X8heHUXnzrUOJ81Izl7uQ/JIN0ZntA/b+dUMDjGS/1ca7bZZH2IAzU6gb6+bdjmMZG+LT6sOneNmvrJTA0hsctjpRrLJDZDPOVF+FmqOemfCuhUh25X3xlFl1+VWx6xyyzxXhKMwTx11TBDLqkLDMYl4ciJX0x8Pofug9zfJnzYB7tWLmEn6lqW2cSALFCysfr4dKf1vkp/raXTv24qGDm1b3JIm+v0J73CDwv+70pKLSky9uCycsCxslu2+verwylTM1tbSQkqqF2cxx8De1a5+JT+ltFG/nHr7NfM0gIlAW5u9PIBEbR1aL2ScqHBtEYv1SBO6vXPSPWYzQ2itdZgJN920kPbWZJ+TLEZxAt0qsj+N1KlWNOjbuesmVClacfMT/eLzCNa7+k7IQg/7b6r+C+9r5HvKYJO293ADOi+a/Ww2M4rO5916rm1HWurCu1aw/WgLIELzL6Zlm3ve96NN6L7o1p9XuGwGqY4GbN3b7dd5qW1cL1tEva18rh2jqgE5mchc7ESDbZrLWb5pR19RaXn5tl99Q1btwnGrhD46wkgO9qfIZpCW8+rPpzFr9wFZTF8cQN/plM9O9U1efzFgLswQk/aMu3jGqkL8zLQqUdaLUn64CQPeWHQni1nZ+aGUelR50fphdTWg4HHvypDT/+Voz03M02agH1Q617WgXR8IqT8Acp/hjEsbkDg9YS4imp3AwKHNqg/Ux78w41yMVnur7CLG0bB0jGzbfXjY0QnBTwV+ljr0xs6wPvNqCq21K7H62VYMyTiYp/4k9TAjWe2UELivkkUnmQutTiR8oE9W/Yt9P1CFeG/a3IY+O42hY24/sto9KsUunr+ozbj3zM7a9Vb0uCJpRugpQJM/kgAJkAAJkAAJkAAJkAAJkAAJkAAJlJEAjeQywmRS+Qi421vLOcPbexFu5TppfPnOdvcM5Dmijv81jVdle+lv7cCL75zF6MU00pdGMSrbTm9fj9i3DuA9/Qxj74zkd9/DT6pjWL/rGPp/MYorv76C0V/049iu9YjF1mPfGT9nty8dw/pYDOu3H8CrP/sAoxev4MqvR53P/5lc+yd4T4uKjjKSb6dfxVOxKmxr7cfopTTSv+hF5zn/OiiqLFM4UR1D7NGf4L0Ij9uoCRUBLBPXwWg1+aS2TaycKRgWpeImqCYgZTIxZxJS37I43MTy8qUiJ+1JyRDjOmBaGxHSyghwzzGVKGD77Ey55lps3RlHsq0T7YebUPeEY0Ba1lZ/q2IxSFVErIWVT9ShaXcTmnbWYfMDzuS+Y3C7k+tZL9rK+VtVbQPiR9rRfiyBpmfdbY0tC3UdEsXtnxVtm6hHOtF9shvdHUk0rNfSLoORbG/DvNMt38M1SBzvtq/VebTJieC12WoRWUFu9rbTWUyfS/hnJa7cioZ9CST2N6FGy2+dbtLmM6akkm9NYOCwbhhrZZd8PbwZm78qv/MNDG8RgndWtqcVebWjL5V5KHXchPihBOI7a1xDwY1q9/y2UibY1YIK2VI94JLamZnbUPQn4Fej6aRrdhUw4Z0bkWyXuIR6cYjNv4365dSNZOkncrSyO47EobjRDoz6y4yiXTOLq2rdent+qxNd6mo0aCRLSWzzUNV5QD+WhapNzk4DekSyTU4iddX3CtCKg22O//s8Qo1Y+WaUkVxsX+PmQhlsGp+1TzcgftDR/Frv96sblEEf3X4KyL8dSej1lRbsPu5gAom9+vEANWa7KKGNS/FU2QLmYbCN1+x0tNXwtLewx8LaQDR8VFp+ZYYZkSX00XZ/Iny08TOkP/XbnnNUg29SWlDnP6u+SdP0A5tRJ21pfxPq3AVA0iY26ItSpFDXU/5Y94MmtB5vR7y2ClvluAmJzC22HlVe/H5YsSti3PvMXUBmtH2VULTxV1r9yYAgO2X4ZrG1qQ5Ntl6DY7g2/kl+wsori0+KGUej0tHLK5eaKsFIljSkDr0dLqSf8/pMfayrbkXqaulGsr1bhLvwyaqOo73LuXdo37/ViVR2+xd9cY9v3mq6XV+DJrlfkH5Cdpaxv7cWTb0TarGHXSRvpw/R9M4k2tsSqHt8A+KnZceSEsaVAsbVQHXwRxIgARIgARIgARIgARIgARIgARIggXkSoJE8T4D8enEEnO2tY4jc1tpLzt7eOobYn5/FnF7p3Zu4cu4Y9m37NqrEoBbTt3oHDnR9gKngFz0j+RKAm1P44PV92PadKsew/tZT2JE4gQ9Coo9vX02j//gB7KgWo9m5RtV3tmHfT8/iSuAaUUayFOvLXxzDHvd6Vd/ZjhfPBCKmCy7LNZz98/Wo2taJdEFRyZpRHLbVtGvUNdjGnjZR7tWF/qrOtnW2Lsyx2/QoxDCj2UtLM4qjjGt/Uj5gNItp426f6Hw3i+n3uxGv9o0QZ0LTndhcWYPkmUDUkkTZHW+AMmQ8Y0aicA62ImFvfepPrmenhtC+V5u41j4v5nVDWwrTXhTqLYnMqcsxyuRzdXsbHNO2HEay1NvVFDp3+2a2KvdXt6Jpt2PkqoisHG6qMpB5vxNNmoGh0lldg+TpQORRIUaynXQW0x8PoP1QE2oedepi83NxtJ4cwsSMN1nubuEpetgnhtFaIwLPy6G8ZmdSaA8rq0xO7+5EyovQsz88jb4iz45UkfsSWZ4jbDtRzBmJLYsIuhrcifgatEsUaQET3uFGsnO94upFvmMu5jAWYLh/treOPupqObSN+sajaSRLAllkLnYjrhZueOaBvK5F3bEhM7pSvnI9jT4jCt37zmo7Wr1zr2MIG6aFl9frExg62Yr4867B8UgNmg63Y+DjadvUtqMSaztzzjovSivetSJffR5FG8mSZpF9jXxFGWxPt6KvK4mtxgIXh9/q2iQGvnCFOmf7KSD/9kUnMHA0rN+S7aTj6P7YW6WhgyqijbtfU2ULGMnyZ7uf3ekuEDD6WNnZYAjTgTPX50rLuVyYkSzGf5F9dKiRHByHANWW3Z0AbDPRjaRWbVGZmQ+hrq0b7XtD+m9rA5reGPV3NlDIJWK0HXWrvTbkvD6kbwEvEbmF1qPKiz/WqUt59ZFv3JvN33dH9YMl158tlgxG32jyF0Fpetmwtx19bU5frMY/+zvh40JR4+gc6ZjsSjSSJRGpwyPhbbFqd7s/1uWpPzurEYb27KWIfvyJBjTVOrsdGH2yGsu2ItnVGT4GPNKA9vMRx1m84RyHou4tLAtbj6XUOfRFjSsqL9zaWtcc35MACZAACZAACZAACZAACZAACZDAQhKgkbyQdJk2CVQIgWwmjaFe2XJzwtyO0MufRM7JlpynhpC+7v0y7FVM2wH09Q5gVCJiQv4TE2egtw8DF0MmFLXPz14eQl9vH4bGwwwKZzI1daoPfWdyJ9RlC+qh00NIB7ZAnZ2ZwKiUQ6KAeweQujTtbjGqXVh7m70+jdHzA+g72Ye+c6OYkPTuzGLifJ+dt5Rn1Ljfkc+n7fJLBE8fBt5PY/p6BIeM91nhPup8bnYCdplOpwxTJDM+ZOchkplbP3aZdMPUzlcWs1NppKTcwvPihG1AePWg13kUNzuZO1lkvhCuks4AUuPR7PLmV0yIsLMrPfZqIthZJKAMF8Ng9z5svmavTiB9QeqsG31nUkjPhLi+c9ShSs2ri1MpTFz3DSdj8lx92HmTt9x3nK1tJQq971wamdlppITnHO3KqSfn87NhzIqoFyeX82+js1OjSJ0fQmo8sM2x4pFFRjR3ps9pBxei24H3lWzGq7c+DKjPu1v/ngzpB8JYeIlpixnW7o84r1M0WIhWVJrRb/LXu9N/hrdPJ91i+hppp9KHioZsTWQzmPhY+ktX81OzRsRfvvaTN/960Wen/WudGsLo5UxkWy6mjXuXcMom5cjt173PzF51+3G3P8s5ssD9YP60ssh87PTvAx/najlbcB+dxfSlFIbOS3/j9/c5/an0OxcGMPD+tBpnZ8eHMHBm1O/vQ8y/2Zm03U90S3k/nkAmYJh7XLxXfxySz/vX8v5uvxZSj4X0k9KO5hj38mnPzsut8H5wvvXnpB1oG+54INuOy3ioj39zje2ySKbQcXTudNxa0MeXkCHK/dScLzr30LGukPqbKx93ZjF9eRRDcp9lj/nS1t02E7w3U2O2a97K5y4793oyvo1ejtChVkJ1fyb3j1+YfZjzsQLHlQg9aZfiWxIgARIgARIgARIgARIgARIgARIggTIToJFcZqBMjgRIgATubwJZTJ+OY+tzrRgInItrc5EITe8sxepWjF7PYrq3yY7kzY2AXSSS173t0QPR74t0eV4mQOD6KNqfq0G8y1xw4X1qVs5QtrdmDTmL3PvQffO6FO2n2DZ+31RG/oKGGMn5v1Spn1gK7VUqi3s8X0Ej+R4vLotHAiRAAiRAAiRAAiRAAiRAAiRAAiRgEqCRbPLgTyRwTxD4+OOP3fPqzC0w9W0F+Z5syq0Bu/HoZ4daFlZXNyBxzDkruvNYHHXq7OUNSJxxz0h8f4B61bZmLXe9LJf0vM7X39Ze2ugG1O1LOud4drUjuVs7X/nZTrUN+XIp43LPZ2ltHGzflnu7HWEkL3ddMP/37v2E3eZDjORKrPNt27Z5wwhfSYAESIAESIAESIAESIAESIAESIAEykiARnIZYTIpEqgUAjSS791J3UqcvPXypPQv5+IerQs9g9r+rJxbfdrcZt1Lg6/3r3aVfpDF9IVOxO2zysN5bNjbiZS2vT51E86p3FxUHRXZxsudj+WYns2ORjIXFSyzRUO2bmkkq66Pb0iABEiABEiABEiABEiABEiABEjgfiRAI/l+rHWWmQRIgAQWg4Cc03nROdtVzg22zwCVM5zznAG6GFnjNZYDAffMzNNyFrOcS96NvtMppKdKPHR0ORR5ueWRbby4GivkXNviUuSnSWDhCfBc4oVnzCuQAAmQAAmQAAmQAAmQAAmQAAmQQAUToJFcwZXDrJEACZAACZAACZAACZAACZAACZAACZAACZAACZAACZAACZAACZAACZDAUhCgkbwU1HlNEiABEiABEiABEiABEiABEiABEiABEiABEiABEiABEiABEiABEiABEqhgAjSSK7hymDUSIAESIAESIAESIAESIAESIAESIAESIAESIAESIAESIAESIAESIAESWAoCNJKXgjqvSQIkQAIkQAIkQAIkQAIkQAIkQAIkQAIkQAIkQAIkQAIkQAIkQAIkQAIVTIBGcgVXDrNGAiRAAiRAAiRAAiRAAiRAAiRAAiRAAiRAAiRAAiRAAiRAAiRAAiRAAktBgEbyUlDnNUmABEiABEiABEiABEiABEiABEiABEiABEiABEiABEiABEiABEiABEigggnQSK7gymHWSIAESIAESIAESIAESIAESIAESIAESIAESIAESIAESIAESIAESIAESGApCNBIWmEHvgAAIABJREFUXgrqvCYJkAAJkAAJkAAJkAAJkAAJkAAJkAAJkAAJkAAJkAAJkAAJkAAJkAAJVDABGskVXDnMGgmQAAmQAAmQAAmQAAmQAAmQAAmQAAmQAAmQAAmQAAmQAAmQAAmQAAksBQEayUtBndckARIgARIgARIgARIgARIgARIgARIgARIgARIgARIgARIgARIgARIggQomQCO5giuHWSMBEiABEiABEiABEiABEiABEiABEiABEiABEiABEiABEiABEiABEiCBpSBAI3kpqPOaJEACJEACJEACJEACJEACJEACJEACJEACJEACJEACJEACJEACJEACJFDBBGgkV3DlMGskQAIkQAIkQAIkQAIkQAIkQAIkQAIkQAIkQAIkQAIkQAIkQAIkQAIksBQEaCQvBXVekwRIgARIgARIgARIgARIgARIgARIgARIgARIgARIgARIgARIgARIgAQqmACN5AquHGaNBEiABEiABEiABEiABEiABEiABEiABEiABEiABEiABEiABEiABEiABJaCAI3kpaDOa5IACZAACZAACZAACZAACZAACZAACZAACZAACZAACZAACZAACZAACZBABROgkVzBlcOskQAJkAAJkAAJkAAJkAAJkAAJkAAJkAAJkAAJkAAJkAAJkAAJkAAJkMBSEKCRvBTUeU0SIAESIAESIAESIAESIAESIAESIAESIAESIAESIAESIAESIAESIAESqGACNJIruHKYNRIgARIgARIgARIgARIgARIgARIgARIgARIgARIgARIgARIgARIgARJYCgI0kpeCOq9JAiRAAiRAAiRAAiRAAiRAAiRAAiRAAiRAAiRAAiRAAiRAAiRAAiRAAhVMgEZyBVcOs0YCJEACJEACJEACJEACJEACJEACJEACJEACJEACJEACJEACJEACJEACS0GARvJSUOc1SYAESIAESIAESIAESIAESIAESIAESIAESIAESIAESIAESIAESIAESKCCCdBIruDKYdZIgARIgARIgARIgARIgARIgARIgARIgARIgARIgARIgARIgARIgARIYCkI0EheCuq8JgmQAAmQAAmQAAmQAAmQAAmQAAmQAAmQAAmQAAmQAAmQAAmQAAmQAAlUMAEayRVcOcwaCZAACZAACZAACZAACZAACZAACZAACZAACZAACZAACZAACZAACZAACSwFARrJS0Gd1yQBEiABEiABEiABEiABEiABEiABEiABEiABEiABEiABEiABEiABEiCBCiZAI7mCK4dZIwESIAESIAESIAESIAESIAESIAESIAESIAESIAESIAESIAESIAESIIGlIEAjeSmo85okQAIkQAIkQAIkQAIkQAIkQAIkQAIkQAIkQAIkQAIkQAIkQAIkQAIkUMEEaCRXcOUwayRAAiRAAiRAAiRAAiRAAiRAAiRAAiRAAiRAAiRAAiRAAiRAAiRAAiSwFARoJC8FdV6TBEiABEiABEiABEiABEiABEiABEiABEiABEiABEiABEiABEiABEiABCqYAI3kCq4cZo0ESIAESIAESIAESIAESIAESIAESIAESIAESIAESIAESIAESIAESIAEloIAjeSloM5rkgAJkAAJkAAJkAAJkAAJkAAJkAAJkAAJkAAJkAAJkAAJkAAJkAAJkEAFE6CRXMGVw6yRAAmQAAmQAAmQAAmQAAmQAAmQAAmQAAmQAAmQAAmQAAmQAAmQAAmQwFIQoJG8FNR5TRIgARIgARIgARIgARIgARIgARIgARIgARIgARIgARIgARIgARIgARKoYAIlG8k3btwA/5EBNUANUAPUADVADVAD1AA1QA1QA9QANUANUAPUADVADVAD1AA1QA1QA9QANUANUAPLXwNBT5tGMg1xLgigBqgBaoAaoAaoAWqAGqAGqAFqgBqgBqgBaoAaoAaoAWqAGqAGqAFqgBqgBqiB+1wDNJLvcwFwNcjyXw3COmQdUgPUADVADVAD1AA1QA1QA9QANUANUAPUADVADVAD1AA1QA1QA9QANUANlFsDNJJpJHM1CTVADVAD1AA1QA1QA9QANUANUAPUADVADVAD1AA1QA1QA9QANUANUAPUADVADVADhgZoJFMQhiDKvVKB6XH1CzVADVAD1AA1QA1QA9QANUANUAPUADVADVAD1AA1QA1QA9QANUANUAPUADWw/DRAI5lGMo1kaoAaoAaoAWqAGqAGqAFqgBqgBqgBaoAaoAaoAWqAGqAGqAFqgBqgBqgBaoAaoAYMDdBIpiAMQXA1yPJbDcI6Y51RA9QANUANUAPUADVADVAD1AA1QA1QA9QANUANUAPUADVADVAD1AA1QA2UWwM0kmkk00imBqgBaoAaoAaoAWqAGqAGqAFqgBqgBqgBaoAaoAaoAWqAGqAGqAFqgBqgBqgBasDQAI1kCsIQRLlXKjA9rn6hBqgBaoAaoAaoAWqAGqAGqAFqgBqgBqgBaoAaoAaoAWqAGqAGqAFqgBqgBpafBmgk00imkUwNUAPUADVADVAD1AA1QA1QA9QANUANUAPUADVADVAD1AA1QA1QA9QANUANUAPUgKEBGskUhCEIrgZZfqtBWGesM2qAGqAGqAFqgBqgBqgBaoAaoAaoAWqAGqAGqAFqgBqgBqgBaoAaoAaogXJrgEYyjWQaydQANUANUAPUADVADVAD1AA1QA1QA9QANUANUAPUADVADVAD1AA1QA1QA9QANUANGBqgkUxBGIIo90oFpsfVL9QANUANUAPUADVADVAD1AA1QA1QA9QANUANUAPUADVADVAD1AA1QA1QA9TA8tMAjWQayTSSqQFqgBqgBqgBaoAaoAaoAWqAGqAGqAFqgBqgBqgBaoAaoAaoAWqAGqAGqAFqgBowNEAjmYIwBMHVIMtvNQjrjHVGDVAD1AA1QA1QA9QANUANUAPUADVADVAD1AA1QA1QA9QANUANUAPUADVQbg3QSKaRTCOZGqAGqAFqgBqgBqgBaoAaoAaoAWqAGqAGqAFqgBqgBqgBaoAaoAaoAWqAGqAGqAFDAzSSKQhDEOVeqcD0uPqFGqAGqAFqgBqgBqgBaoAaoAaoAWqAGqAGqAFqgBqgBqgBaoAaoAaoAWqAGlh+GqCRTCOZRjI1QA1QA9QANUANUAPUADVADVAD1AA1QA1QA9QANUANUAPUADVADVAD1AA1QA1QA4YGaCRTEIYguBpk+a0GYZ2xzqgBaoAaoAaoAWqAGqAGqAFqgBqgBqgBaoAaoAaoAWqAGqAGqAFqgBqgBsqtARrJNJJpJFMD1AA1QA1QA9QANUANUAPUADVADVAD1AA1QA1QA9QANUANUAPUADVADVAD1AA1YGiARjIFYQii3CsVmB5Xv1AD1AA1QA1QA9QANUANUAPUADVADVAD1AA1QA1QA9QANUANUAPUADVADVADy08DNJJpJNNIpgaoAWqAGqAGqAFqgBqgBqgBaoAaoAaoAWqAGqAGqAFqgBqgBqgBaoAaoAaoAWrA0ACNZArCEARXgyy/1SCsM9YZNUANUAPUADVADVAD1AA1QA1QA9QANUANUAPUADVADVAD1AA1QA1QA9RAuTVAI5lGMo1kaoAaoAaoAWqAGqAGqAFqgBqgBqgBaoAaoAaoAWqAGqAGqAFqgBqgBqgBaoAaoAYMDdBIpiAMQZR7pQLT4+oXaoAaoAaoAWqAGqAGqAFqgBqgBqgBaoAaoAaoAWqAGqAGqAFqgBqgBqgBamD5aYBGMo1kGsnUADVADVAD1AA1QA1QA9QANUANUAPUADVADVAD1AA1QA1QA9QANUANUAPUADVADRgaoJFMQRiC4GqQ5bcahHXGOqMGqAFqgBqgBqgBaoAaoAaoAWqAGqAGqAFqgBqgBqgBaoAaoAaoAWqAGii3Bmgk00imkUwNUAPUADVADVAD1AA1QA1QA9QANUANUAPUADVADVAD1AA1QA1QA9QANUANUAPUgKEBGskUhCGIcq9UYHpc/UINUAPUADVADVAD1AA1QA1QA9QANUANUAPUADVADVAD1AA1QA1QA9QANUANLD8N0EimkUwjmRqgBqgBaoAaoAaoAWqAGqAGqAFqgBqgBqgBaoAaoAaoAWqAGqAGqAFqgBqgBqgBQwM0kikIQxBcDbL8VoOwzlhn1AA1QA1QA9QANUANUAPUADVADVAD1AA1QA1QA9QANUANUAPUADVADVAD5dYAjWQayTSSqQFqgBqgBqgBaoAaoAaoAWqAGqAGqAFqgBqgBqgBaoAaoAaoAWqAGqAGqAFqgBowNEAjmYIwBFHulQpMj6tfqAFqgBqgBqgBaoAaKJcGMhg/34/BT2Z4/7ZU9/DXMhg/24PBTzOsg6WqA16X2qMGqAFqgBqgBqgBaoAaoAaoAWqAGqAGFk0DNJIptkUT2703iZzBzOeTyFwr1+Rw5aQz8+kwBs8MOv/OjmDy6hLk7doMxj8Zw9hHzr/xSU7Y3nttaAl0dc/1+fduP1SS3tlvFD6mX53EuNu/jn00vjT9fCW0x8wMJj9fPqZs5rMeNH/DgmU9huY3xzBzD96DlNT2F0tLV8fRs38jLMvCql1dGM9wHKvo+sqji9nrM8h+1Ibf/7wWf+izgHn924g//DyOux+N4V+uUxfLWRfMO/VLDVAD1AA1QA1QA9QANUANUAPUgKkBGsl5JhgoGFMw8+eRwdiJBJp3NKIx6t+eOJLtXeg5O4aZCp2gy3zWj8STMpFrwfpmM7o+Wj6T0PnrMIOx12qdskn5vtaIns9KN3Ezn4+g/80WJPbUo9qe/Ha5rdiC+j0JtLw5iLEwk/jzfney3Pl89SsjyLC9Fm4SFcoqM47+l5pVe2w+2IHhzwuo72szGDmRRPOuRjQfbMNgod95M2F/x27/+9swPFnuPmZp05v5sAuJPW7/tqsZyd7xBdPtvd0PlViPpfQbV8fQc9htA/vbMFhEfyd10PKCW997Euj6qIC2U2jbXODPzZxPYqP08fa/jUieX+hxLIOxt5P++C+8PizymtdmMHa6DfFn1vljlLUKtUcGMVmCoTp5vgW1X3MYrPlRG4anStTdAteVGrevTWLwkGNiSr2tqD+G149UXv9daj+ot6f4Sz0Ymym8PibPtyG+y22L+zsKq8vA+NcoY1I+DYiR/3Wv3TyG+OnJ8o/Li6Wn+/w6//S/x/Hv/23LPM3jcPP5D0P9+LffFa5f1cbv8zohB2qGGqAGqAFqgBqgBqgBaoAaoAaogcrUAI1kPrAv8gTYDIaPbNEmgL3JuIjXFdVInBjBZCUZyjKRe/AxowwrdtxLUSnlMZIznw+j62A1ViijIqKO7b+vQ+NL/eakcSmGUCW256uTGD7Vha43uyp0K9IMRl6uNvS85cgwZvKwzHzYhlqtbh87mN/IyXzUYXxnxY86MLaEbXvmk0H0vNmFrlPD5eljrk2if7/ZN1jfb8FIEWZIwTdL93w/VOJNUyn9xswIWr6v9U/PtBVcZ6amF8OMLYxLZnIE/Se60HWiHyMRxtiiG8lTw0jqnC0LhfQbqk1kJjF4OPz+YdWunuKN5GC9WxYqfcGSrbeveFpdg+a3P8HfVVr/PY9+0GxPFrYczj+uePoYf7sRq7wx6RvN6P88f1sJXs+yVqH57TyLf4J977bC+wsvr3zNXzcLzugfM/i3XzYviInsRDWvwe9/OY5//scKKGue+7kFZ83rL/KzNjVHTVMD1AA1QA1QA9QANUANUAPUQPk1QCOZD7eL/HBbpJHsTgpuOdxfOdsHZsbRtWOFYbxZTy6QWbQk+py/kSyRQfVulJcT7eZNfOd5fTKJfu/MwVIMoSXhNVfHnMHY6/WuVlah8e3xRW5vc+XN/9tMqgVbvAl4ec2r51zz2dqQwOCc0cU6C0cHta+PLVi0bt4bhqlBJB539Vgms9fecjYW1PhjSJxZgIi1e74f8vWZty71dl9KvxFiKG451F/Q4gLTiKoQI/naJHpeWOP2O7XoiIiSXmwjefJMAo/p/Yy8jzUXuONFBuO9zVgX/L798zo0vllCXzLZj7i+S4ZrbFfsVtHXZoxoZOmnh2duoNL67/n0g2Z7kr50XX5j123/xRvJMzmLqOR+5cHtHRjLc5yHnU9l6K9jVLLeBy+T97OZcdw5s2oBjWQLONOFf1vCxXJFjZ3LpN5YphLvjVi/Ffn8RT1Tz9QANVAWDci8wI8ehCyILG6+KYPxt+PYuGIN6l8ZXrzjcqaG0bZ9DR7cFEePN/fHcWrxximZK9izyp4rMBZR32v1MjPpHJP4yXikttV8SLHzgXOxmhlD/8uN/s5vq6oRf730wJWZDzvQ+E0Lj+3qKDjYYd79SsY7ZvI+Pv6MfVJkn0QjmeKIFMe8O59QtkEjeRVqD7Wh4/UO9a/lUKO5BbI7Udy8gFvEFldWmdCOaxPaK1C/lIZYKOf53JTPz0iePJM0TUlv4v+btWg+otX1ywk0ft+5gfHN5lW+IVCKIVR2FvPheAM3jIn/Ym/s53ntYljMDCP5Xd0ArUbbh3Ns0SvGm7e1u1e/1rq5DdMc4zPa4CquPZbGKfNpF+pXlNNIzmDszcbQCPx1+wozJYsr973eD5VWrzdK6TdCjGTLWoPGE/nNSdP4qhAj+arePqPbmXpwstvwAuc9M4n+ffp21F5/s8Lv8+fqs66OoO2H3nfcIyWK3RY7mL5ElhoRztVouVDkVtvBNBfwZ9OglWhkN3K2ovrv+fWDZnty63tFLdpS+eulaCNZIuQ3aZpSY5mMf3muF4i6XnVP7UpTYt+7gNovbmwsLP//9D9HcPd0+LbU8zsnWUvzdAtu/8/C8rMQZWSaZE8NUAPUADVADVSQBjLj6HnBeR4q671jqUby1TF0bHfvhavieYICysdx5qy/uLj2tfzP24uuYc1o9ecpzWeGjT+Ko623wnbOLPReXCufbiRXfL0UUr6ZcfS/EkdtYLG41ONj2xPoOD1iHJ+p5kOKNJIjWUXMeZS+E6MsfPZ2ZNu4sHMVcnRhbwuanwzO0VuwNjUi+fqguYNoIfXBzyyy31a+fnqufpdGMoW9yMIOGslb0BJmWGUmMdxe729TKBN8BUSJzCX28v4tg/ELPfZ2xT1no1c4lfeai9Mp3LhRupGc+bQHzVXmTZa1qRkdZ6O3ipz5sAeJHzoR3uv2dGHciwQqxRCqtPYsDwu7vOj1CjaSr81g+LB/7qbcaM11Uy8RcNVq0t2v77m2qRUTpFGPUv9hG0a8ul6Cepu50OKvEizyxjG0XYvRtc1nYTx0rGpE14Kstr2X+6ES+7tS+o1QI9mCVYCBZRpfC2zGFtpOJgcRV/1wZRjJsnCjcVVE+5CtgfP0BcHvz9U/hbbPKHaZSYycdo4e6P8oj3kYlcai/D6D8RPa1s1VcX/r5krqv+fZD5rtSdPLk0kMz7njxQ0UayRPntYXBGrXsixsPJw/KkMmENQZ41+pR8cncyy+WhSNlNhn3qd5izKS/zDcj9v/7xhu/6ofdy4k8Ie/erD0qGUayYv8jMk2UNT4d5+2fTJiO6EGqIGl0oB5NNiW8plCpRrJNzIYP51E/Xer0fz6SGTUZtl5TY2g44VqbNyeRP9nFXj/rBmtxpxOyPzXqu1teZ9Rys5vvuO3Vj7dSL5R6fWSr9yTg0jqC89D6kvqU3/OK9VIjmLlB6tUo+W8syuhHKc3KIuUp4bRsb8RjS+0FKX7zEc9SGzbiNqDPXl3zSpZa5lx9B8054NDtV/AvE3JechXv/x7xTxX3VdG8uSZFjTvaERjsf92xdHhdgJsFPO98SzQSJZOQlbIPaNN7n1dtsCc7/X5/fwaLtFIDp4baFlY8UyBN1b21hmBbTNKMYQqbXAxIgMr2Ei+cQPGpLjUXWSEVci21t5N2hzbW0+easYa73NyFunLI0u3rfWNGzDyUwYjWYxpfXvwjc/UarsWWHMa8/nbJPutghmV0m9EGcmi1zwGlml8VYaR7D/AyPhZCUZyYEyx1qH2Gf1BJf9ESuajNm3xSp7dDyptHChHfuxFSf7q4HX7+zF5ze8XKqX/nm8/aLYn7f5PHvqlzHNsE1yUkRzgaX29GvXfly0B3Wt+s4CoDP14BOvB+e1MMzOGvz75Ft566y38/FO/XkP7vWvT+FXq53j3ZLf9eflO98l38fPUrzCtaSL0u+XQYrnT+N2vcO4v38JbXe/ig4jz3BeiLOFG8irnXONAGW/992HcGaot3lCmkVwxEx4LoSGmmaevCrQj8iIvaoAauK81EDJXVrZdy0o2kqnJUE1GGa3uuDbz2QgGX4+j2t3dbo0Ew8zxjBJ6jaUcI/OUr+LyWwgrWVh9xI3cjTWiTQKZtOeizOQYBt9MoPbxaiTP+4vHSzaSI/I0cyHpLDT+btI+gspgqeapoudnjM9HXGMhPiMLrJ0jyB5Dc3Ab7quy8L4D8R9uRH370s7hLkTZmWbx48B9ZCRnMP56rT9J5E0WFfr6QDVazi7AOZeL2DlURgPROnibfUREsnAJRtk8UDtHxEcGkx8NouuVBJp3uYsF9iXR9vYwxmfyNAw3IqnlULNaZNB8qA1dZ8eMbS90fpnPh9HzphPF1PVmDwbnWEmX+XwMgyfakHjBzdeuZsRf6kD/hehIZj39wU/cgc7L5343n3viaHlzEGP5Jt6uZTCe6kfXyxqbPQm0nIjamiIw6f+1xoLOsLQngNWZgRasbzTP78wTNdA6E7v2arlrMxi/0I+Owy6DXc1IvNKD4U/9mwG9nvT3M58Oo+e1JOJ7/HpItPdgOKLuZj7styPOu070Y2TSXSk5M47BEy1+GnsSjsZCo+kymEx1GFG4tS/3Y+SjMeesDnn9LCzfxWvZyOvnTl7lZqn/9STi0h5cTqocYf3O5CASG7SJ+6h6D5puX/PNDTnPMvQ8YNkG1NjWdgtaQrcqLb7sqo5nxjD4dhuS+7T6faULgx9N5hrWsuWNvqXthji6Loz49fJRYFFDGC/9d8EHQ4lA/nDYjFAu0KzOfBbQqd3O+zHi1qsq740b0PuJOfshufk704U2vY/b34Ku09F9nH6dsPeZqQDvHY2IH+lAfyqEt7C6Oo7Bt50+s+e8e2Pv9k0dR+JO31tsew709x2nRjD+ST+ata2MjFW2ep3p74OaDtwXrNvT4++UoH9P6uCjDtSqz89tJM93LOj3ttuVsaDXH1OaD3VARdNmZjD2th5puQXJXl3bYxifcvoI9eBk59/Nu/ugoNpRoeNMgIuhmSDfbW0Y/tCMUI7azSDz+bjdLoff9h5upI9ah+Y3h82+9PMZ+55hzI0u7uodVnUmq4C7Xoo79wZSnhPDmHT7bNV3yngeOSbewA3her4Hbd7YIwsS9yXRIdeZ4x6j6HYSxVGizL/p9c8hZ/JWQv9dhn7QbE9eeb3XFah/bQQzEYyKMZLt6zzgpWthy5FBjJ3S280qf+vwiOuZR1dYWLWrp6RJpN99fgHvdjkmcl4j2TNd33oLb3X3oH/wHM799bvo9r7/l+fwq9/lued1y/PbkXfw1ls/x6+iyrdIv//th+8qQ/ytv/ls0YzHcCPZAv6qFr8fTOBuqgf/Pj6Of/kHn+e/XBnE3TPrCjeUaSQvWn0aY84iaZfX9NsGWZAFNUANUANza8DeXenrcu9ZjeRrSWeB7FcKM5TkeWLYe8Y50YPhT2bM+Y2AkZy5lsHkh4NqvrLnzEjk84r3LGQ/n4eNn5lJjF3w5sV6MCxzK5pBN/OR+7dTI8Yi16Ae7Ocxed6SrYVlTk3mBWSeTZvLVHMb8plrN5CZGsfwKXfO9UQ/hj+JmGfQ8i3fGTnt7Bxpz494c0GTIw6PUwWcVVug0SrP0k4gQe6xcPLcP6zy0YX+82Pq+dNg482ReM+h9ryN5L8Hw/r8jwTeSJ2ecHm8PYiRAuZA7fmHXvc7vYMYk3nNqPKpvJj1ovIruvpo2M/Dae85OIPxs8411Ny11IlKz513VmWTug/RscwNabqNZKbVt8qbmm9YAzkSU/0++NlMxtTvedf4defqCtacKpvDytFuB9oOVuNBmVv5Wi0S7R3OfPJr7fi/X/2v6Hg57uplHRqPdKDD9RPUHE8wr+7Pql3o2r02A2few/UiimjzOWzkOMaDj9le2cZDg9E7E1zLIBO2YGJmHGPn3X7AbuPDGHPnm3KuFVFGfm7u8aPS+NBIVhPA/oSSikgI/o1mcnSHXHCHUJyR7HVodp1EGFuZzwfRtsvp+MLrbgsSb48ZA4bXECfPt9kH14d/L0QT7gBjTsCHTOoKj6vj6H+53ohKzLnO9+Po8swBjaGR/ncT6DnVgebHQ/LjDlKyyCGjfV+VL9WFxJNalE1Q01+rR1tOtH0pRnIGY+3mQo3aV+a5WilgJD+2K4nE9rAzNoXLOjTKBLN2U+sxkIG34wU9+i3IcV3IVj4ZjLxSrRaePLavB4NvJ1EbtTXrN5u1egxqPHg9/+dVe3qMG+7StGzmdd2+HoycbkGtd/6vVue1c53lbZ/5qPNdg+ZTuYtnZFtrP/J2IxInuhDXDOhQQyhocoSs0Cut7DLgZjB+KoFqzRQItrPHdrVh8PMMgtvjBj/n/zzHApeQdmaeXWrBWV2cwdjr9c6NpF0Hj4Wb7F56mUkMvlRrbuev1Z2c2Vv/Ur8yx0TfRj9hhfRDcoPZm0StvqW4kaYF64fJORfCeO1Ivdr9WuOc/dqW/SHb7hjtuRotp3rQskPXm98u5mrP9gPJy/VGdLtfb5KGt5W8k14pRvK67c2oV6adk2aUgWUaXxFGctnGgiQGL/QgYZxn7pRzVcNPceRp573JI/d3ta87Rw2Y+lmD+oMJNGpt2Ujna7X2YrqwcUZpw9Ny4HXyjH8OltRP45tjyGQm0fPCGtXHWjHZcSS4tVnhfan0OzNXx9H1I2+8k+sMY7C9MUQr3kIWs++0Iragn7zQgeYQ5orPimrm2E7wAAAgAElEQVQkTgTGn1LbSYCdx9bod1fU526Vv8T9t+SzHP2g2Z5WoPaFRn/7aLvvkm3CwhZgFbO1tZw15Y/vMqEnZyJnZJzS7rMeLOA4FcO8fjyBYW0yzKu7uV5/+/HPcdIzgd3X6IjkaXzQ5xjOPUOf4eo/ag+c1ybxwV85Ecrdg7/CP0ToSM/LZ38jaS29kXxDzPEeMcYrISJZO9+4z3u/Eb//u0H8m7v45J/+9zj+/XyB0ck0ksvw3KjpvABd6xrne7KjBqgBaoAaqAwN+Du62Wcjz/hnJevb7ObkdWoEXfu981HNZ7o121vQ7x2dpYxkC9X7kuHPLQ9sQaI3OCfqPwvZz1L6XNq1jD2P4EXdquceuR/X5jAzn3Sh/o8lb879dE4ZZOzWdgKqlYhGNS9gGunq2fS7cbQcDp9HXbdDdjwMPjO6c68vRcwRPJlAx2tx55mikMX9UUZr8D5E7T74IOpPOM/XmU8H0bIrYu4x7HlasdiC+OE4tqg5LXdeQc6tlUjamFn/Xn1s3NcVem5tZnIYHXvC8rEKtYfakHSPZDPmSlRezHqROp1MdSEe+jy8Do0vd6Flu8zBBHZgVOltQfxIHNV60JE7J7VuVwdGppwAnND57ljYfHVIvyY7RdnzGI8hcTb8WTFMm0pz32hE4mC4fkI1p8rmsFLpBOfa7J/X4fH/EF5/Uo9GHQQ1ps/56dpVbX4V6g+3IP79kPRD23wIO1vvzrxMUbtGzoyh50i9G8kcvL7Mz+c/KiqsTvi7kDoK0cVScqKRHNrQg41A+/krjEyen2CDE8NzGDYyqbdJY/9kS845inImb1yb+PMG1NzXNWg8MWaYrTOpNtSGDGa53w3kYaYAA+fqGLp2RZkkWnq2/qqRDES7zz0QBb9vwYo1oks/n09uOE64N0v5NB78bilnJMs25Nv1fOWuyitaN2pw1tOd6/1jiJ8yz2IWA6BRi06Mrtvgd/2b6ujvBPJS5UVgyyR1+A1/MC3dSC5dy8G8mkaaf82IaGFtUJo0IrJcQ1R/oLgxg+GXtLKJITw5qVaw2dcK2RI0qOfgA1PpZb+BybPuKsI8Ol/xow6M/X0Pmu2VwIG6y/nuHP2SxsvRdAZjbzZihUrDN4xDjRWDp3uTIO31FXMhhl9vZl71mzuTa8BIFiPrkG6WmOkY6T/ThpE5oiq9tpv5bBAtz0Tpy0xfIvyMhR1laM83xGzXI8kVc/Paetny3ZjbZVMrWJ10JO/jF9oCizHCDSzT+Aoxkss8Fvg6M8u8JXkCrxh9sPl3nUm4kRz9efXdnLGigJvcTGA3As0wzjGY3QdwT2+ySMQ0/KLzmGskW7C+EqFVtSgt0HeGGMmTZ7yV5tHX9vjIYgMx2ufVTnL6F4exYViGLMQRZkvVfzv1VYZ+MCfCfx3ip8Yw8mZgMcDjCfTrK/RdZgajbzT7Z0gHmU4NI6ndW/qGcdBgrkXbhyETVVp6ctZdtdcP/XGIwa991te11OnvcOXv3EjcrpM4d+kyUu/k2dr61/8N3RKJ3HMBk7qJ7F3jf6Twjvz9rb/GmBZFa17Xa7NX8cu/qhAj2cv/Ir9GRiQrA9kzkt3XU/W4OzaJf/7HG5j9hxncTjXmj0ymkUwjeZF1Hd7evXbPV/KhBqgBamBJNPB5v7uzkD9PMOPNYXw9Yve/qWG0aOe9btweR0t7G1r21/uLLL17YmUq+c8rD26qReMe2ZGpHlvUovKNgXlH/1nINJJnMPJavZrfWPX9esSPtKHlYCOqvbm1FbVokx3mtJ3nJA396B2PtTob2nsOVPMCpmFpzm1IWdah+keNaN7XjMZtfuCQmPFj+o6A9vO2v0B5zZONSLzUZu8kVRucK9bNuKgxulAjWeNuB2wYRzOuQ/WOhKqzLV6Qxx/Xo+Mj7flCsfDrbtV3a9G4K4GujzLQn5cf3FSP5sNt6HglieZt/lyzRJHq3MWo9xfHrsCWH8WRfKUFiT3VOcEAxlyJyotZLzLfpgeS1L6QRFt7C+I7qgNBEFFGsle2FdjyTCOa98eN+nzw8WplRtq6fSGO+K5aX+dfC8x1h9VbZgwdP3Ke/Vc804JBb5FF2Ge135WsuQCr0IjkVzrQ8XoHOlREcrOKSK4/7P7t9S70f5gbvOO1HXlVedS1q2nPm4sorM2HjQHanItsC34+PEhNz9ONwLzwY9uakXi5A21H4vDb3Do7OryUQATzWmF55u+WkhGNZG8CqJjXrziROUtZccv32gUaybL6bo9/syBRTPXBaEq5Ydihb6troXp/BwZTzjaeI2e7kHxG+7u+dYx0vPp3V9UieWIYI5+OY/yTEfv8BHPF1EbU7krYZ2VLR6g6c1s3AQMnzBTa0Ijkm/0Y/nAEI7I95sHAoCsmpBaNZabvDbwb0Xi4DV2nB9H/dgcSz/g3SzJ4bDysGTey6u8F/+bCsh5D/aE29JwZtrfFaQmsTjO3sCghIllWgOkRfJuSRUfm5GhaDc5e+eV1BbbsaUHH24MYPN2Ftv0Bo+yHuiHmRITqxsvGXbIV6SCGz8r22IGoSlmooMw0/6baG5jt18cbkWzvQv/ZYfS/2YLmwMov7+Y582k/WvY3ov6Heh1YkMG9XjujPd7urtKaj5bFbNGip438WhtR+6Na5+FBthrXNJbDW26ogsyDZx7nGG5O/uUGd53qQwPt4UbQWN9orhKcT9mvjpnbR8fq0dLrbnmbGkTPy83YYi8W2eI8NMl2+W8m0byjFhu9m3m3DVdvd7fElvrZkyx8W/arI2YexOTxotK0Byu7XuQmOOSm1o6UVg94FlZsS6DrrNuPne9H20E3UvmbcfRrdWj2EwHuwYU4sVrEX5FtlYbtrfbjxk4FebYAcm+2JSpSmSZyjvaTzWiRfu3CIHraE6jVTfqv1JtHEQS1ZXMvrj2PBxY6WH9cjXi79KtjGEkNouvlZv+Bw9Wj8XCkPTQY+g/VtWOM6ed6WxviOW1oTiN5wcYCty98ph61myQCV9rUJCbPdiCxpx61gajix7bVq2MbGnc0o+WM87Bi6sfrZ4sYZ6J4ar8P7gJgR+t7iynE0NNXNm9rMycFJB1767MOtOzTFrBYuX1p4vWRQESyVx73taoa9dudh2d7UYk9+RDoOwNGsr0QpMpMZ8sLLeg5O4KRD0fcduTeY3y90X7YF13Nq51o7HyNag93lrOFsj5ZoD4XbGOL0X97+S1DPyjlMNuT26fJYoT9+v2ghTXBCaQbhUckyxlQ/ni1Ao3aAgbDGLZky+vhyK20be6T/Yh7E2rWRrRcKGwF/O/G/trZzrnrXaQmr+PGjem8RvJvL/bj5F90490PpyPMuV/h57aR/A5S/yPfw/UkLsi5xJUQkexpaJFfo4zkP/xNG+6kOnD3b+rxhxxTeR1+nxqxt7uevT6D23+XJzKZRnKEVvPpk39X/foitwtel9qjBqgBaqDcGtDmpLa1+YExmumYs5OfbDV72I0m3dCMro/M+0uJNm15Zg3WPeNGJRum0jo0vj6CSX0L2qkRtNkRoxZW7NDP8/WfhXQj2b8fl+OEgrsujaHnoJs3KY8E2Vxwd6yT56HgXIeU5ZDzeTVfqZ5ZTMPSeDZ9MulHXNtjobML3Ub7GV9fvK3xfaAayTNmYIkcRTPyujbvp5txUWNsoUayWpwqi1+95+sWxA/3GFt2221KFgY86TxXbnlZO6pHsbBgheVf5soOxZ0zf438ZjB+otnZeevrMs/n6tbepcp9borUjr/Y2pgrUXnR6kWbU3psT1dOuTKf9SPplis6Ilm2eq5H2wXdMM1gvFc/umoF6l8xtx2XtD1DPBiIEtZPiQ71uSp78YXMVc2xJXppmtPnTTVWuk8QprMwvkadhvc9Ko96miW3+fBr3PjcDOJb8d1GJOSYwNR49HGfUvf7WtDvHcXplUWe3b0+ooAdvsLqkr+LqCeP8RK/0kh2J5tN88WcOAz9G83kEicHgkbyKtTKqir3fICO1+WM01q1Ikmxd29S9A7FPxBe6ivEaJbGJQaBtpJPTQp+pkcmrjImEp1raDckohGZkPXMIX2AsPVjGjj++Seujra1+MaSavAZjL/drE1muhOW7gS7GixcfT64LWkYSHYeZ/ybEZtTwLy1B/XtW1C7ry1369qgkW58twQj2eBpwSrHgKEGWpfj151tTYwVTcEzGe0tdbQVflflRrcWW7Yn0HUhuLJKbpz1KFA9itq/qfY0KDdOY8podjt27YbQ/py3ytKt58yH+jbQgRV6Sgs3MC8thxrJjznbdesPENr19HZkvJcFCHv0BQr6Tbr2kGDrUvub3GBq5tW6/f1QRods+aO1QbstTfoD43zKbppUEWbo1UmMB8+i1h4O7HrTb8oK4aR9Rj04uW1VjxgWtvoqUrlW7Wvmzgj2Z3RjI2jAutfKTI6rs229OjP7CbMfstOVrfu/X43ml/tztSsrozWTzDD4tPJ517Jf7QexZlR/vx7JtwMPldIveiurbRamQZOzSKHY9jwzgjZdR18LrOZ18zx53nyAMB6OosoVZiTLZ0MMrFUS2a6tgPYftKWf0tqEmGKfdqFRN9fLMBaIhrYc7MmtT1W2DMZf1/s18+FGr09TPxZKGWf09HLfB8YS2/DWJ0KCEaBbIo24gvpS44FKGzcijn6wI571RTiGkRzYfcFag8bgYjZhLtvHn+3HoD7BM592ourR7yPts3jdc4uk/vWJHoP5EvTf3vXL0Q9KWmZ70vq0yUEkAwu3ql82t8sqKCJZ21rP7vuDkcv27ire9ugWrJAdNrwy268zenSzP4lkfCasTm/8Dp+lUvhM9SX5jeS8af7DGP46r5H8Gf72L0/6Zyrbn3cioeV85ndSAZP6H6/i8ofn0N/rbJstn3nrL3rQ/ze/xGWVd1+r0yk5d/kt9I9exQ37uz/Hu3/hpt/VjXcHw743twF+ffrv8bf9PX6eu7px8tTP8cvLV83nkGvT+Pu/7UdPt3+90M+59RFuJK/C7385jn/2PpOZxO0Pk/jDKT06eRX+8Hcj+JfrNyDbXN8ZnOPMZBrJZh2FtgVfP3k1zu+TJzVADVAD1MBy04CYjfY97Bo0v22anOO9rhG4KYFBbX7E39XMj2DOGSOvzvi7f2nPQGv29GA8ZA5o5qx71NA34uhX1/LnvPznC//5bN0L4WnJc71ztJn77KZFgwZNcSmL8zysPZOqeT7td8Yca8QzoV1O5xmvtt2dU9HmmsLmWWxuurlayLyPNlcUOZcgAQqv1DrHmEVFlRta9Vmv2qUdb6dYWAjOI+XUuZGebmZ6xzbpRw1FayfzSQfq3aAKo3wqL369TJ5yNbohHrnbk4o4j9za2soNCpOy6EEh+iILVU6Zk3fnNZ4x52Ci2Exe6EJcGdvufIDMTf3xFjQf6TLPnS5Vc5K/EFaSJzW/EqaziO9ElcX7fWiaJbf56Ptu2VWtLRBwZj8vW2tQLYvp80ROe/k1OHzT9FH0z/B9dF1UOhsaye7kv9NAtI6moN+vgxHFpkUaNpby/mCIUaU60eUrMrMRBI3k/MzX/Kgtp8O3z9nQDa8nWzAcNPlsdrJSS9t29ofO9tjmZGX4NrbGmYT6Ki99gLB1ok12ynmt+vVyJs61egxOWGpmrhos7PRNc8Ln6d+M2Po1JsG164RqKIPxN+v98ymNMxcDk/9qG9DoNMUwcc5GcerTXOkY/T2/LCGfUQOtk6Zxk6OVyWSl10VImtr35Npy0+Nv06KfCRxgG6h/P99Ofa9S/YV5/ULND8O8LVLLOWaInLPxkjnB7uc3H5NgeSz4KyYDbVffXjVo6Ff5N5pmW7NgmMxB46PIsgd1J+VWBnagrg0G2sOB3XbCbvTm+r73t2C5H/BvutX1AialZUS+O/Vhbkm7EYnT5kOmSsu7rvs6H+3b21DpZ9SGHB0Qdd3I308Nq1WjwtXY6WCe7dnoj0XjL0ecwV7gdYwyBOpILTgSzrJYxD1DyLtP0A0sU996X70QY4GFFXkX6ZRqJOt51/uJQF9YzDgT4GqFtDObnzoLKqAZTe+F9qX+Gckybkhb0lc+///svV1oXFea91sXDb7oC180RxeG8xo2xCjgtukQgS8cEeIIbE6EzUSMCJZNky4MthJoI9IjU2ORUHEwOmow5QE55XTKZTLylHE75chjU56xu9RvPCp3Wy5nWnOmzhG4WjikFHum5p0Z3n7fmZ7u/2Htvdfea+1au770Lf0vREml/bHWs35r7bXXfz3Po9ZL/F6nbt4Oc3eOctDgLa2UT+Op0ff1+onpXLH4ofTVbjG+m45z5x/+82iZx29ZhiUaB4UN9f6kP0/LUwn0KZEb7PZ1vevFuc0IyUHeZBQRv/2cTX6+DUM2KMm6e7nRBCfhm8X86wcZlH8vXkj+Vno5/+wmfiPLV/P5BIXbX+CLyQzStogsRGHxt/Nz55Eizn7zGDcv+6LslWvimGuKMJzGzcffaAvaUkhO/82v8IuJj/GxEI/Fedeu+ELwp59j5htZb/EZLiTPCS9sKXb/7AquTX6BzxVROfPlb537f/sYX3zqlvWTNDJZ/bjPHwqvb/WeVZiF5Aj+mI3j97/M4n+XyvhX95x/+3+z+K9rW5VQ1l34r79zwlz/+z8k8QdNaFZEZwrJNXYPtgP/1rmkPWgPMkAGyMDGYqAYIhbb7exFZ9I3YHvv+C8PGRxSDPZRRCU7xHJgziPuJcTDXvHOpb3L+e9CnpCsXGvX0TgS55NIuk4/8jNxLg6Zz1ZGjfTWMzRRXFzfEQI1gdt7X9fXTrx6h4lPwrvZ3Vzrva97Di36tYL9yItIZHgfDR4r1knSbztRp7a/GcPo+YRigwQSYzFEX/W9ekXeZ+3drFxEbiKJ5PkE4u9FvchgvXucc7b0K17hni26EAuNbFRB6X4W6fGkfe/Bt91Iev0yVLX/Hu/ZsB47dhsb1li9skhb+pEFPT4MbPmCcOBdyLueL3Rrtlai94V5HHsbIJppN69sFZQf5JA+F0P0oB7VKvK9XsRv+esDnr1aYU7cx6ubtJXTL73rmcobco5mE68Ofj83XlPpp631ef+6YfetlArIpkYNodDFxvqAM0lFbKpPIzmeQOKDIUSPOmz2yVD0wU3bhvqFlYPfN26r1bIRhWRPAHIXC1fz77DBa0N1toAYVc/er0QRv5w3h1IQoZQVD8jI1m70hoj3fa8rHpYvDjq7/bwJh2h3c+5YLVxvoG28wdwuv7LYqTwMbdEh4Mmsd/SAYKt40+rX9ycG+vnVgGitP8SCxwb/9iZ7dh3UcwPlakJIth+kltKHmtwxFiyT9rf3oDVMcpQ+oS88ByYvynHatd3vdSFSPdefVNvtWOcBqN8/Am93pC1UN+GRvFiW64khDerf2CYRRNzNF1XheaWEofUm7+49tP4SkX3C8ezf4vXzgMfWYuseFKpkuOWLWRRKimd60A7Ky4HdvqaJXvAcw9/+bmGHUZGvp3YHcIAlw+aSoLghyiTCsCev51EyeH3JdtPHCWnzJiccYhetDJkl2qdNG8iy2J8ivK3iNay9cCyqPwdFWfEyEtK+Td5HK3eAoyDblfsBz2JXoLTz4d5PoNfjWxmrl+VZ0EwbL7WQ3P5zpsYbf8wg/tsvQf6LeCRkrG1LSDaFytb6caBvKgsrwRDHoTvctes12ffq9RPT9QLjVdimKsG0/kxb5vHbLetSjYN2+bX+FOQ9GAItgohIC+KG0GssJPseFva4H+lG7JbqIe+2X2AM2dqfRMHg2WGPIcpCTCSyBX1KmGxtjDG1q/bdIoXkf/4NbrpCao1XsXYfyagUbz/HjPH/36BwzRFmP/35fTyR4ejtY5/jyd9dcwTe5DUUFFFYCsnCKzn914/xVM3l/KyEu3/pXPOTm48VgVGWJRCS+x/vuGL3p/j814rALcogvI/vFjDnXv/pf3fyTX/y+a/0e/7zU5Qe/Qa/Vcvh1jdMSIYSzvqP2VH8xz9W8D+qVfzrb/P4/c8VMfmvhvCf/18V//JPZfzvXI8iMlNIbo19ySQ/aTcyQAbIABnYYAwIj8uD7hrZ64MBQTIJEY1x6A03TY6yod5bpxNp2+qsBXi8eKKSup6l21K8Iwx0NCEkB95TnDmzss7nvfc633lOBybPay8sssjNrMy5vbm2ugbZwJvTnr/5a8nyfd2rl+YYo9dd2KklQTLw7hVug10YOKc7cJTvjGJAXRcN2Etcyywk67bw2vZpEen39BRPteXx1yA8D+J67CjrFNp7ZU27+PbWHATcubRXRu99KMBfzfUC7aJsDNDKoVzfW+9azFrV0xLyE6MYkKkYX/Ujhja+vm8DyZxd75C61b1eyDmeHZV6q98Zr9l2nw+0Qcg9vfs/K6N4J43Ym66mIhxnppx1uMpsFvGDyjqOgfWwtR3v+o3uz/8r78wttt0y2o5Csgn21fouIFZuzM7lD8TOA7ADve+NQuxqG+p3c21I+78eQ84LuxLoNJoQHD6xqXnISs9SJfyKfczrQ1oOjvKDNIaUMIrBsK/eYG6XVVnsVHKd2NdtIKh6k0T7Oru83LH69f2JQZAJbeE0EjL5EIvLswVkLycxemrQ2RHn7V6TtlPPbUNIDnhYRV5eghAW3oPWKWPY5EIXcgOTF3XwLBeRv55G4qzcKdXn5A6WvGneRAGBIUTcsNsjwKI6wWhK/AicX8OsVz7ZVu6nZDkoJNcrq2qPsN+DfcPmquyHabHLY2CylMWgnJxFXM/jciAXebBsS1D3YIh41X673hxC4nrBD/sk6xx8OWhrYurk0FVzcO86HENC27Hq7EQdfa8X6nHB8UTses2GviBsR++7o8iooXPdeujjhDIOyXp6nxWUHoi83gnE33V2xXq7BCVfrdqgUkbxbgZJMXa7u2LlLlvZBksnJAfCDNfb3NLkuKGNpQ2EZOG5qufwiSDi5sTVxx+lX6zws8CvzzIIyakB+B6a6rMi8Fz2eHPDgh9Xc8S7z/rArnbRX2L96nH6jnxZr6bGUu+FyhkjtZd0tWze74FxXhGSvcUGu38ENsB459epvzym1X4iz1M/A+OVt2CjHiN/X8nx277nEo6DYq5SV0gWAmIJ2VOBxZSDo8jPCU9ihdPgs0aUNehl/t0eDJ5NeKlVTF4WzljWi1H3hVny6H2qIdm0OUQTbMg2sz8XIyR/g5nsp07O5b+864mrXhm1+8hySfE2REguuSJuQCj2r+kLzem/8Xf1e0Ly1fv4xnTfxzfxifAwTn6OGU/clWVRheRvUfi5Izqnc/71/fvLejifjyfdY/92rumX7WaEZFtUvjKA3xcd7+R/+8cM/nDFF4r/eCePf/+nKoRXcm0+5QhAj+Sm2yOsbfm9zjrtQXuQATJABtYPA+J9wsnpG1jHke/f2ucuDLqRlLx3/GbX1Lx3oPC1ME9wVd531OhM3nu7d60Iek5nkL9fQKHOT9HbvK+kBhSRnMpOlJ/too7ByE7e+7r+XunVO3Rdwl9L9tbcPMcEs3OQ01+U9c3Qaytcqe9eL/agL+CwFD0ZRyKVRWEusLFdrCm4YZW398eQvJFX7JdH5ozjna29o4bYQvbzovRoj3RjcCyD3JTfHvlbSXf9zV+D8GxYjx27jR0mtTXWmrI4bWq/D9Vb1/bWAQP81VxPsbF4T1gpIdl9J/FDevdg9L7Tdp69QrkwMCeuF1K3utcLOUe2ddin8ZpePw3Y3K2ruJa5zwfaQDk+7P729x7b7sZpJfd55OUoRidyCusF5C4POZE/Te/kzd6Tx63Z9ygKydrDu5kH/DIesymFZCWstCEfZZfItWrwBPEGxRbbr+Own1uhHMilaT8gO7rQJXbqqdc15OL0BnP7OEXA8QZY5xraJMEwENZcZ8JZMNO/9ycGwcFdWzg1CMnlqXRgkT5QN6+e6iROmWiJ/9cTbWSdgnkHIyF5TeTxzXx6D1qnzNokRzlfX3iufZBWZnNIvterCCFhNlDPDQgM9R6AgXJ6k3Dx8G4iR/LiWW6hrIrdgiz5fyu5SGw+tqDvfA4Z1XtVDWstryl2Nr6rCEIvDiJ9S/fk1EIaqZMbj8OwttG/V/uxnaP08hB63DwvWt91r7vjaAJ5NfS9+nIgjgmdONaZaInduoGQx6Z7G7/bNoCk60Xn2f1pEZkP+mC/bBnt0YG+M3robn2cUMYhr03KKFwdRXSPbj9jmZq1wdMisucG0V3H3vL6al/wJ9tOWVrqz8pLhn3tFvpj2H08uwtbNRSSwwSsOLI3Rs0eySv8LPDrszaE5HbHNbt9DZ7EzYylIuWFGtq60fNXXTyx76ssrHjhz+y+GP4M9u0eGCva7Sey76qfAf7r7givrtz4bdd9icdB/XluGNPc/hoce7tPZZAbry8k623axJiojMPeYpXaLnZZ1EgdanqMAA/B82r+bldI/gYzk66IXBMyul4ZpHhrFpJ/m3dyHX98rYBva8rqXPfb6WuueP0L/NY9xhOSszMhL77yvmncnZPlk9+pQvJjfJEU4vCnuPOP8rjwTy+sdzKNL341h280D2rzeU0LycJD+UoU//n/VPAv/1zB/5oa8L2P/2oI//Gkin+pFPH76x3+99KrmUJyCAfmNgkdT0MY5PG0IxkgA2SADKxZBsR7yWE9PLLYQGv6iR121lC2yBRG3vpSnc2sxhzJ6nqWzob3bqa876jvQv57ewX5Mz32eqiItlYI84iuBERU8awWuZNfFHPsLgxdzrjpoWpzQ/vrAuoaZHseybYY+Z7rkCQ2l6prPu78QURPcnI6N7nuo6wVNbWWIO8jN8R6Dh9qG/iirPaO6rW1bguba2V9zbiRWIjoLzv2llGW/EhR4ez4OY0j0OpnKIstvn5X3GMXBi8b0q+5uaKd9Z8Af4braf1VecfVyqHM+7z1roZrVSL8d8EczVReT5TH9hb3o9s1vv7mEJIrjwsoGvqO117K5jh+faYAACAASURBVAM7nL0XrdJ3hvOOFREA7rqROeut28l24ee6e1+ikKwsFDmDX2uLS0t6zmYXksUAMisfhrIdtmPgYgEihKg6MFVLGQy+II8JPACDx4b+XfZydoS2o9WHUSWHgiyD98Cx+VEWO1fYCy1cSBY7AAexy8i3yO3dh95X3DA69jHqxKUNIVksXp9zdthJW4rJaFP5asPax5t4OO0cNrnQF571yYvIqTigcCLLJj53vdGHvjdUL3j13ObFWW9S7tpaneQ1JX4smuXmyyr5bfSp2zSCyJ5e9Pw3v7+FLarrC/Vb0P1GN/yw1h0YCIb9XHTdlXFB5KJJjWLwzUAeFNkup5SwQ8rLgc1Ew4mpch+X1/IdNWy5bxuVsXq/h4XKrczmkTk3hIFXtugbWux66C8EoeOQKKPYmBP03HNtEdnWjb7+PvSoYZeasYHIFxwSvmbLnl709fdoY47/Qqru2mynP/sTeNumxpczt42aHDe0PtCMkCxsKsb3fnXcjGD7q92K+K8Ijiv8LPDrsxaE5NrnQb2+UPu/2o1ITY2lSygkL8ojeTH9xPg81D3yayIaBM5ZsfFbvCQu8Tiol12ZWwXr+DCNqL1QJcfeDnS/qmxkCr601mx2k+c1+fl9Ny1KoBxVsYDjReIwv0j7fbP2OeL/rx0hWRGRk1fwC0+YrXcf+T8p3pqF5Jms4+H78aQaglqe634+/NwRkpNf4LFrl8ZCcgl3LjnX/vyhvJ4siyIkP/0lrti5kT/DL+otanjt8Q3+4W4Gn9ris3P9TyY+x91Hc/jW83yW93M+w4Xkbvzhb5L4/d8O4Y9q7uPJDH63UMW/Psnhv/5KeiXvwh8KZfzrP1Xwv/62l0Ky1x66rX3O+T1tQQbIABkgA5uDASGk9Njv3uo6m7nuvljnvkvaKajcCDwvDCAxpYSFFpvxZ7OI7d+KjjdiTlRF7x1IXc/S7+WtWTUUkoUnY9oV3CLoOZVGITAXK99PY3B/L2LXS/o6rSj3abfc33VD3u6JIRuco3rv67ptvLWN0HUJ//rqepSWhurVQSQ878g8shdj6Gt1zUNZKwpbgzT1Y2HjPnuzfW00I2HTQVv0bSG0teL1uUs4WKkbJV0B11lrU9YgxDnSAcTEzuMMYkoqMq1+pnbRokHtQN/pJLJ3Ha/o/J0MEsfVSFEB/kzXU+eKSykki00M349g1+E4Mg/0/mK3lbCX6xEe+f4gMrNO/2iXubY2Q4R4z1fKhk0Zip2MZWy7z+vjgm0bcS2x6WVPFIkbRVRUzuxyVFC86noYy9RQT6X3vWGNt1xA8qgbCjv4Tq7US/ah8oMs0hfTyElHm7kCMheTyNyR40sFxVtpJEUUgMBYJK/BT0O7Gmy9VHaikCwX1tfCJ4VkWyyu8RT+Xh8SbugJD3xv4HIWATveThs9l73jDZ2o8iCp5K/YhZ7+PvS+ugO7Xu/DwNtDGE3lQnfleIO5zY2y2Knkm7AXx8MWH90BWRdfe7zwifr1lYlBoB5hQrK9GGvvHHMXSfeIfNM5LfyKLvqpk7iACNCMR7LRu7QHo3cND/FAHULbyJt4OHXQJjnKNfSFZ2XyUs55oWXsttjaY4eDyT/0y+RNqO12VM5tIVy0vpCuh2VtSvxYNMtLLyRX6+bGCefR34VqWJz/Xp/BC1dOQNrvx0Z+ykVkzw+iR+0D6viqvBzYbIS+rIQ8kMWE+qQuWHe90eeEjQ+EPhqQfwdE1sjrceOOWbU+lcc5JE/p3vTqWKePE8o4JEIxp6KKwBnBLju8UkHJuey/iDVlg5o6b0fvewlkp5TJphbmNYKlE5IDY5LIJx98JsgxoclxQ7VzUx7J7vXtF2tNwFJZV/rGCj8L/PqsASE5IMyLHcw9/QN1+4e+qSeCoNdtU2Op90LltIm221vyoX0Gxk5lYUV/rkTQO2bY0KZdyx0rFttPTNe0vYz7/I0lMm+98Vix4UHPVW73b2+OqzAaPN/zIlCZdn83jd81dY1gseOgbnd1TKsdi0UO7tBwgYGXVvu631HqZdWGqfPGanvMDm62247o5aK+oVHMe6TngW1fdR5VW16/j5r+16qQrIrInynevaZrm76T4m19IfmTv/5NTZ29erQlJP8GN3/WhJBc/gU+a0lIduv47Cn+4Vd38UUmjU+kqHzpC8woeZxl+cOE5D/+TQH/LsRn4X2cV7yP/7IPv/+HCv7l2zL+42aXJxrL8Nb/88FQbXhreiSH8xMcf/g3bUUGyAAZIAMbhQFljrzjWBpFQ4RFOR+xP5X3Ru/4sh79bMf+AUTfHURUTVH3agzZ2Qr8qEzqepY+//PWvZT3HbNHsjivguKE4pSytRt9h6MYFCmy3vDXQILR5kRdfFHcmXcbN8977+v63Nlb2whdm/HXL1QhWdy3dGtUF4y9dx+nHDtedjechl5bsZeyVhS2Bqm1n+TW3nTuCujbejB4xvFAHz01oL2zaO+oIbaQ11fDo3cdjtl5tkVayME3XKHOrmfg/a6UQ1wRiz123uyuidKo1S+sLE8LSJ9UBWPlnUrcf1sXur4nvgvwF3Y9aa8lFJLL9xPK2n4EkZd77TX9+Ngo4u8OoMfb+LsdA+P+e33bzIXUre71hKOHTP3V0YPo6Thib3djx/44cnUEUuM1vXWPgM2lbdX1ea3PK5zLY8Um+DcUJ5at3eg9HMXQmYSdGrPvdZ+1XcfleFb2IhdEIjvQJ9KViogLZ4fQ59k6goY5ktW1cJHXu1xGVkYYcNcf/A0aEXSpzkGy/Pxc8bkDheTAA0ZfcAsMkMt9rCp0bNjO4D/8HVsroa29OpeRP9en5RQVeTW0MCXK7iz7OiJfpdzB4l3HMEjK/9m7/Hxv1OBERD64wz69wdxmQl3srKB4cUApe5eX97jmWmKi8abC2J4Ycu5uPf36gYmBrEO1qucE9EJbB0JbWlGkH9fuclpqIdnOXRgQ1yIvDyJtyO2q26KC0o1RRPsHEL+qhEvxHs6OjbRJjmIDfSHXf5B64TTsNtqFoeu1efa8CbV9jH+uOqm2+QosSnvlV3dd2tfwNwOIY5oSPxbLcguit1duxX7m7/yQRjVjoimstbyeEn4neN7W/gQKwZeoRde9Th93xVQvt6u6IUJ5ObDL2cwLhayjaFeR21nd2WoIxVtr1+DYV2dsUO5V06+U/DT6OKGMQ5US0m/7nrNemCz1utVAeRrZQPO8i6DnjOLhLa+7bEJyFbqH6Bb0jStjhby/PWFOY2CbP66GjRta+wSEz0bPg3ABSx2rV/ZZ4Ndn9YVkYR81GkYje9plD7ATfOloaiz1Xqic9tde0hVGVFvlzzqh2+xxQH3JCubTfWMU+bDQbuq1F9tP1Gspv2v81/PIt89ZmfF7OcZB/XmujGmKLbz2s3eWK+1nP4Pdvq89s9UXXfH/Btd176XPDyLY2p+seYaVJgaxQ973hUFkSvWeSfX+14qQvFgRWZSjvpC8bKGtvy3gWo1ALMuieCRXWwtt7TGhcvLsCe7/3An7bRLEQ4Xkv3WF5GoFv1PDWP9lB/7wyyL+7Z8r+F2+zxOSMZnB//y2in//+wSFZNX+/H3FF3WM/YDtwHYgA2SADKw4A8Jhpc8W1roQu+E7MdQbp33nBMWbtVxAOiRF247DcWTlGp/3DqSuZ+nzTm9eq77vKOtI2gZwm5kKSrcSISmytqP3dMYc9loVy0LWIdvy5rTL5K9fGN8vhSfj+Riib3Y767Ev9GDgZBzpO0VbGLfn7EKsavROp6wVNbWWoPQx4S0+etgX2701se91Y+CwI8Zq76jemqcuqnusPCujkDKncdv15gB67eiL6hqE2+5zeSQ1b2G5PtJhexWPHnWEda1+dctSQfFO2hFl3U31XQejiJ3PoPBYbnrQo+eFtbNaN+mcoZVDsae33tVorcpeo8sh8V6v5kzh2V+8r23rRexyAWXF47bx9UOYC7FVo+sJp4ShV2VbuJ/WAJIPatfrpZ2M12y7z+vjgrxHVTjijA2iJ5jmU77nRnZg4EwGRbXviNR8p3WnF8fe29F7tM9ZD9LeyQ33FmtABx072GuWZd/eEXf8sMcud32v50weZYUPr/z8bkWfcxSSvY6xC70NPGZ0b4X63jVtHXsyuQlc9ZWBwba9SUg2hxDtPqWHSvbDxTgDz/ZgHlQ5mMwVkD4ziOjJBPIyrIqy608+XESoY6/djjo7cBLjSWRuFWq8nb3B3K6DvihZs7j6egy5msXFCgoXdY9BMSjKEN769Q0TA7duZo9kPQxmRBGovYFW7Cp71xfSI54ILQb3gPefKsBJm4Z8VmYzbp4O5eG4tRuD57KaN7Qshwjjm9Y8Lrv9EDnew9m5VtjkQl949ifPQszwFniFB+NU4OH8rIz8+QHlGP/cGiFZ5HlRRW63/uW7o+hVcsUGBbvK/VE3pJGowxb0qaGd1QmMF/qoDZaVFwCb5UYP65C2k20iP3Uh3m9P46Rduaa+QcE/r/e8v/NP3kN8Lqofi/PvZ5GeyOmTGrs8FRTH+/zQ2upGnWD/F31E7gJU2kUtp/97BYVxdbOI7oXuH1c7UQrW1QtR+6yM4o000jeK2sTWvpYo6zE/ZGvHUT/6gj5OKONQIKyydx+lnSoirNHrfvs0yhMtxjVfoDXXWewE7lUmn9oL6SL7s/8i4pb5lRiygXG1Usph9E1fQBf9IWzc0NqpRSFZ5GLKj/X6bHnzCH2sXslngV8fIWAr3Ae9txW+dX70svvXC9uwVMu3fY66eGDbxTD2Khz693HyRvmh8HXGVlxIrgbFxw70ncvX9k+xwPPBIAZPp+3FlEX3E6NtqqiKzSteeoEuxO7UX5Ra/vF7GcZBsQCgefgqY1qYXZ4qobO8fhjY/RzcFCA2Q8m5YNh1xfdiQ84xfwe2mCfp8wjBiLI7X+a1q3fN0P81KyQHROTS8zZfGqV4a/ZIrpbuIC0E3+Q1FL419fVvULjmeBan/8bfpNcotPU3Mq9y+g5Kni1kWVQh+VsUfu6GqL5ZJ7y2dw1TGauoSq9pQ87mMCEZf9mDP+QS+P2dQGhrkff4egy/v5vAf33R7QvJfxXFf91N4Pe3VO9lN/Q1PZLb5DOkPRu1N/9Pe5MBMkAGyMAaYKB8P4PkeALJy7madUT/3SfwrKuUkLucROJ8Epkpf24ljq/MFZG/kXavmUX+ceA9QIiNV5NIjieRNYX1FTYpF5C9mETyoh4etjSVQfJ8Eulb5k3aYl2s9DCPrFu29PU8inOBdbWAzSsPs0iPJ+21Dbm+qdX7aRHZlChLxl+fFfWczSFd124VlO6knfJ6YW9dOyrvuNq97LL5Uai2HwuEiA6U3Tm3guL1pH2fYFvUXjvQju79ysJmE06byPXkymPHLsmripgZYoua+zwtoXAn49gnlXEYqJSRt++RRk54phvqUikVkL/u2sxrOzdUcJC1OmWpDXes1Ntb5wm899e5nmdnEbI4WA6lHo2ZUMohz6s4thJ90PaSHU/rUfTkcYthLqRuTZW3UkbxrttHruYN65h6nYzXXESfN3HiffdM5JrO2aGlHduJsUGNaqiXTZxXKcnxKYnk1ZwzPsjxJpVtqn4ZwXTJZfhpEbnLaWQVh7TyVAbpy6Y139ryeHVR2pnfLa2dKCS7C087gjkHCJ3xQbT4DtikkCwGpJoceLsweFmZ4IgF65OqGBpBxOp1QoiMi0lYAvGT7k4Yt539UAwVFC9HFRFREVTUxUj5u9WH+A0Zo78KfQE+sNgpRIazer7giBvaJHnZefiLEBZSwLY/fyDyNPgPf/36rS7wBz3hOtB3JoP8A5HLIo/cxKhhZ6G6A659IVnwIXZTquKqWs/tImy4GzbSDy+i2r7bF2y9CYnz/zBBSF949sXgypQq4kaw620RhreAwoOCPRGP1+wU9M+tFZJFGbai53gcictZZK8mIULUqF53ESE2B72etcX/CCI/GEB8LIH4MZE7WDl+kSxrXnVLJCRXyznEXlHbRvwezqI3NhjDo6p8BR5ii6i7LdTJHNjCthezyN93OM+OD2mhrfVQuQEBQLTtyVEnFMuLEXQI72l1t536PBBhY99Q7BK201Y9R/5uRyFQwsZscyIpqB6uO96MIXk9j4Kox1QOaW2Xnx5eVR8nlHEoKJR/pwcxEdreHgNyyJwbRI+yAcLuo412edaIMYNI3nL6U+FuFknD7s8lFZKF97rM9yPH5Rd6MXTWDRl1OopuNZS5e0zYuOHxKtqmVSFZnPO0iOTbvsDvjHOB/rGCzwK1Ppr3aiSC7W/GMGqHwOpA5EU/QoXOT6DsktnQyBeBfuwe7+12d+0f3FyjljP4e43wrnj6r7yQ7EYeCIQxFyHFEhczyN3IIHl2yN0F7owHtpd+KYfYHmV8eKXFfqLYXbNPIIJJow09yz5+L8M4KOqrP8+VMS3MLvYCgGEDm/IcDG5uamUnc13v+kAI8e5F7ZBuRkj+BjNZx8P24+RnuNu2iCz6rhRvP8VtN0dY9dm3Sj5hXyj+9Of38SSwOPfb6Wv4VArNSthoT0g2lO/5k/u49qkjDl/5779V3jFkWVQhuYrq39907vHxp/j810+V48X4+xvcyWS8vNDf/v0v8MXdGTzVyunbSxW7Zb8KF5Jl/uMl+KSQrLdbnX4s24Wf5mcr7UK7kAEyQAbIABkIYUCE5j3Yg+g5s2hVvp/EgL1mZMjnyrlJg7makzKt+2AM6UCubpvHSgnZ026EqFeb3KxLmzeweQjntBvttkYYoJBsL3b6YTLLdxIYPLoM3sYyT+ZiP4/FkZEhTNYIRK1NaJoXksV1S1cDOfBE2Ac1hPVcrQeaKlzqv+/AwHnpUSQSxsfQo+bMk+JE2GdHnxdyQl+ANyx2Co/f4wGRO+y6W3ttkVq1o3791hf4NYEt7L7a96rQtzghWdSjPJXEQGABXm8LZaFdlmObI9Z7dlikkFwVC+/9bo4SeY+6n42EZEOZlev1fGAI9StCjhzWPSQ1O6iTrUWwvCxCciD8u13uemGt5XgkRMx3AwJboxBCbdU96MFYp31eiCKtjhuC0RsxLVeN1i4iv4vqPS7r5m6U6Fba3eTt6zGsnOd8F9zkEUHv//3X+Jnm9RZeDxEeXA3xr48T+jikitN63UKu30hIrhdGVrGHeq8lFZLDBKOQe8tyLJuQbCyPYaxeoWeBxpxxM4ff7rvExrlKcEOUoewuv+bIF6YXnMCzI6J7FWtlrOkbVYgw7l7eILtduxF3PW9XQ0gW5S3diEHt75Kr2k93E9Ri+4nJLvZ3/k56+96NxuJlHr/98HsOV4seB885ESvaEZJFO5VvxZXoH4pHcqWI9FH1GRzYKR9qb5dvsYFG3VD1/UEvEoIeYaIb8bsB75AG13766A6+mPzC/fkcn7m5g9MZ+d0X+OJL6ZHyLR5PuiLyx5/gs89vKucqx7vX+8Xff9vgRfsp7l91RN2Pk5/g00uf2jmFP1VzIn/zGDcv+8dcuSbucw1X3HJ+nEzj5uNvtPt4QvKnn9oi8CfpDD6f/ALXJj7Bx3ZI64/xaXYG32i2CRGSq1XM5a94533y6RVcm/wCn3v5jz9F5u+eoFr9Le5n/HKmM5/r5fz0c2OO5H+pFPH76x2+Z7HwOF7qn+tJ/C6Y0kOru2kc5XcNnxW0odbvaC/2GTJABsjA2mOg9l3Bfxfj/5bGFpL70oQa6XEXet8eQvxcAiKX8NBhJS+wSFXkRqFjGzRuA9u+ag7bSAQdr/Zh8LSTD3f0dBS9Xj5c3emL9m1sX9qoPRv92Z/9GefBq/wuRCFZLlaKBSDhGXdKhDROIntXeLWtpZ88Mh/0oauep9wqwyQf5PU/WxOS7fygcoeTKxjUeAuK0JKn6+RCEOe9OojELd+jWCwOd7nXi3y3B0MXs07oEZEgXv6cHcLAK7oQ2eeG560n4Hj1F+FpzkX9+8j7KZ/bxc4uJWSDPFe/fjsL/BWUrtcRyl+OInE96+UjWKrQ1rL89me5gMzZgbr1dx6eHeh9L6mFtbHPX6yQLISeh2kMqt5hiu0jkW673TOnpXd4PSG5A7tChfEuDI7LDQq1LzH+Dsjgg1J4imf1cEdtsFzjPa14Ymnt0cb4IDwbvX4SiaChF5x7D5MHmDGskVqmduru5ozpVXLi1kzIXh0y9jEx3mdPheTXfCUkt/ezEmQeF+c+3Yjdak08ECGaB1WWXo8j/w9Fe3z3Q7EHWYmg65gSmt+1mz5O6EKyCL+cO9sHL0e0xn4EOw6PInMjiQEZLreRkCzuWS4YvHBlWTvQezqNXGrQ89RfaiFZ8Fx5kMbQ64pXt1qv7w9g9EYeGSVX+3IKyaI8QlDzNySFjNUr8CzQ+7qIuDGo9V2vX3y3BzE3TL/OT0jZW/FIDnh2R74vIm3Ujol6WfX/Bzd4yEgCqyUki7KW7iYQVcVElTnx++uDSN6Rgt8i+4k6JgZ+16NsNM6xvmzj93KNg+X2PJIdnkSqCmW8c5+DtjCtbBjsOJxEsSVhTwj4aoQZGRUiEPq8mfEz0J6e6OoKrFJo1T69kMwyZ7ArmNY75+OP8dldIbDqfavm728e404m7Qi1yU+QztzGr54EQmX/81P8ZuoLZC77QvDHP0sjM/lL/MYQtcOrkxCLZ3+JzxUBWYjKt3/1BM9ryhUuJIsyPy3dxxcTjtBt2+aTT3ElexczWlmf48mvbteW8/avarypPTuIXMe/jC69eOyJ0dvdnMoN2qHGHjzeayPapnE/po1oIzJABsjAmmTAe/cKvjfwbz0y4yLs4c8XRCjq0brva7uOjiKrRIBk+8g1nPBPz74i3/KpOuvtW3swlFLCdVerS9bGbKfw9tmstqGQvPrvihSSxYPrRcfDQHhxxj5II6stGq2Rjrs/jsxEHLGUEtp5XU4aZV4LP19BPpDn0ntgyfoJsUjkBJECr8hxEPAuFOeI/A8id8fo6UEnfPK7MYza+RBK0HI6aCEit2Jg3Jy71S5HOY/R/T4DMo+xzFPg5Vyo4yVu5zS5mkTibAzRowOInowjIcp1P1AuWV/b083JDyKvH5bzovwga+dKEccFc4w4NskjMx7H0NuOl/3g6QTSNwoouwuplYduHpJAfhKRg0DkWLF/UnoelZr2Ucpt/J/IAXFH5F4RocajftuIXCw36uRbcPNOOMJ+ba4Y715zeS2HQ01eGJFjYSKB+LuODWz7i/wKMieuyN+QSkLkw/bPDXh/iUXpx2493HYUO/GSIjdvgxwxXjucjznRDo4OInYug7wykfXq4tqyaZbd453cNk6fSjaRhyJ4v9C/y0U7l47kMFuHc+0abk4MeV6u2fNa6ccqdyJnzI00EmeGELWjPkQx+EEC6TuGnMPqec+c/DCj7zlcCjaSon9o4TGVB3VF5OtwwuaL/EXi+g0FcvV+7u+i34r8P459/NxAot1zE0nI8gzYrKQVLpWyGMYJU/uIHNIiBK8YewaORhE76/Qlp9xiPHb6ZtM5nEQ+51tpjJ5yx9ljQ4iPZ+C1caWEvMjRFMy1tFT9Wdiw4jwT7Pa266SPa9U5t0/Xybej8erlpBJtItrV33SkHWdoS/F/28aiPcfD8xOJ45bzWWAqp/18kH3iWAyjKWXcM/DT7nNG3rtSEs8bybV4Tre4ycK2r8zZ5I5nMrdYKa/0GXWsVvqEzBVkzxVEjp46fdltS23sDOQMk/WyP+VzbMwZx73n+FRRn19IRtrtJ/J802cgwsX2t9P1RdHlGr+XcxzUnudpmMY0rV1UO7njuZhryOegzFEnxlrxXaGZ3MjqNcXvYkybUMb9G0VUAhuCel2P6tCyBa+5Qf9WheT1YIv/8U0R//nXSr5jTwRevHfyH/86g98pYb/Xgz1YRuV5skH7KNuYbUwGyAAZIAMblwE3n7NY23PXjsX8P9/WOyk5qeGkXEThlpP/21nHSsLO/2zYXFpzLudVa3LDC9uJ/bwdBigkRyLY2p9E8amI/R9DfCKDuCIcrpVdHr1jWaQ/iCHdgiDTDhCb4hyR+9XzUpXeJeYBxF4s/IEUkjsQvax4HfFhuIEfhgYhuUXPuk3Rl9gHNnAfMI+J5Jp2IQOrx4CI9rDL27nf03I4ZbbdUrRdwEv5xdY97zdqO6w3Idluh3+q4HeFUfzh8178cdFCchf++PkQfl8o4t//aSlY4zU2al9hvcg2GSADZIAMkAEyQAbIABkgA+uNAQrJIlzrmTzKImTnqVFkJprNhyfFxRX47OhD4rrwls6gFOYpR0GneUFHePWouXO39SI2nkX+se895XiOBcKj7BnycuOtt47O8rb6cKKQTGZaZYbHkxkyQAaWmQERUUWZv9i5iVsK1bzM5dsMc9FSFkPeBsMIes/m24pMsRH7yroUkjcDs6xj8++ItBVtRQbIABkgA2SADJABMkAGyAAZMDJAITni5JUsTyUwdC6LzHtday6e//ajSWQvxhC/Tm/YpVp4K9+Ko8fz6mlmM0AP4jdo/6Wy/9q/DoXktd9GFETYRmSADGw+BsT8pdudv+x6lxsMV7wPCCH5ZXfe+EoM2XbCZW/Ql1IKyZtvPFrx/rdB+w7tyL5DBsgAGSADZIAMkAEyQAbIwFpngELy1j4kH5SQG4vZXr+DipfB2ghrvQPRi1nbWzrHxSrjboj2OlkFpRtx9L3QhIj86iCSU763cnv342C4vuxGIXl9tRf7F9uLDJCBTcLAszKyH0QxeD6HEr2Rl3Be2Dw/Ih948r0oYle5wZDjTvPc0Fa0FRkgA2SADJABMkAGyAAZIANkgAysVwYoJL8aR+5BFqOnhNdvFDta8lJtQoRc7PV+MIj09QRiYzmUuQt76RcMn5aQv5pE/GQUA/296NoaQWRbN/oOD2DwVALpO0WUGU586e2+DlguTWWQPJ9A4nwCyVQWxad80K3XBx3LTXbJABkgA2SADJABMkAGyAAZIANkgAyQDuWUzAAAIABJREFUATJABsgAGSADZIAMtM7ApheSd7ybQf5qHDHh9Xt0+5oLa931XgbZc0NI0CN2U4qZHNRaH9RoM9qMDJABMkAGyAAZIANkgAyQATJABsgAGSADZIAMkAEyQAbIABkgA4tnYJMLyVvQdy6L9OmY7fXb17ECHsYteSh3IzaRsb2lC/SGpJC8Drx4OSgvflCmDWlDMkAGyAAZIANkgAyQATJABsgAGSADZIAMkAEyQAbIABkgA2RgLTCwyYXkbsTGE4h9kEb2bO+a80aO7I8jMxFHLFVEhSIihWQyQAbIABkgA2SADJABMkAGyAAZIANkgAyQATJABsgAGSADZIAMkAEyQAZWiIHNLSS/MID4B0OIT2QQ37/WvJEj6B3LIv1BDOnHFXaIFeoQa2F3B8vAXUZkgAyQATJABsgAGSADZIAMkAEyQAbIABkgA2SADJABMkAGyAAZIAOrzcDmFpJfjWLwuPD6jaG7pZDTKyA6d/QhcT2N2AcZlJ6xo6x2R+H9ySAZIANkgAyQATJABsgAGSADZIAMkAEyQAbIABkgA2uTgQoKY73YGomg62R2g64nV1B6WEDhfgHFUouOV88qKD0ooPCgiHKFDK9NhtkubBcysFYZ2NRCcscrvYiezSLzXteaC2u9/WgS2YsxxK+X6I1Mb2QyQAbIABkgA2SADJABMkAGyAAZIANkgAyQATJABsjAmmcgjxHLwpFLcyvcVhXkz/bYa9w7jm8sx6TKbA7Jk73YHnQE+143omcyKMyFiE+VEvKX44i+urVm7X/HG4NI3CoxneSa708hbctyr/D4wnZYqwLvSpVrUwvJkW19GL2axuAPVsDDOPigq/v3DkQvZpE8NYpc2IOQgyUHSzJABsgAGSADZIAMkAEyQAbIABkgA2SADJABMkAGyMAaYoBC8lIKG5X7SQxY+tr9ju936MLw6zFkZ3UP5Uoph9H+7fpx2nr8dkRTRQrJHDvW0NhBsXYpxw5ea2l52tRC8tb+BLIXo9ihPUT0B1NkNf73g0GkrycQG8uhzMGcgzkZIANkgAyQATJABsgAGSADZIAMkAEyQAbIABkgA2RgHTBAIXnJBJxKEemjrmj8yiCSU2W//Z9VULwx6onM3adzKMv0kE+LSL+9wxGRrT7EL+dRUsJZV+YKyKQyKJSXVmhZsnqzn/vtTFvQFmRgTTCwiYXkDgyMZ5E8Wm9n0uqIyl3vZZA9N4SE+nBkh1kTHYYTAk6wyAAZIANkgAyQATJABsgAGSADZIAMkAEyQAbIABkwM7BGheRKGcWpLNIXk0iOJ5FMZZF/qAizytpzeSpjH5O+44R+Lj/IOeddLfhibbWKymwBuatp53rjSWRuFVB6auDiWRmFq+K+aWQfV1AV+YpFWUQ5xpNIX8+jaBJ1SxkMviDW53dh6IaprBUULw7YeaEjr8eRt69RQfGy6zi2rQ+J+7qnsrnNDGVW7MFzaB8yQAY2OwObV0h+MYrk9QT6OlZHLA73dO5GbCKD0VNJFEwPXj7EKCiTATJABsgAGSADZIAMkAEyQAbIABkgA2SADJABMkAG1iADipD8fA75SyOIvrYblmXB2tmFAz8aQeqemj95HteOd8I6NoH5Ou25cG8Ee60oJp6ECTohOZKflZEfH0JvIDy0XJvuOp4MeOYq1zkcw1C/69kbiWBLfxLFShWVh1nEj3aZw0Zv60X8RiD3cKWIZP8WRCId6DsVx+CrhvX473Rj6HIBFelVLGzhCcndiN8xCclVlCaiTu7kV10huVJAst/JidxzJs/Q1XWY2uzCGOsfNpbwe7JRy8CmFZJ3vZtG9myv+YG3GuGs5T33x5GZiCPGHA1rcCJY24E4qNAmZIAMkAEyQAbIABkgA2SADJABMkAGyAAZIANkgAw4DLhC8s9ySP2wE537TyBxJYf8l9PI355A4vgBdFqdOPBRHgtS5PtyDHutQ7jwKMyG85g4ZqHzVM4/R57rfSoC8PEMSq4gW7o+hF3uuvOWPX2InhpF4mwM0Td8gbjrvax3fLXqX0eKzcIjuKd/ANEzWZTKBSQOSiF4B3oODyE+Nor4u33o3up+/72AJ7AnJMvzItiypxcDbw8ierQP3dvk912I3Sj5a8LivMNOaOvtRxPIz+n2qTzOIrbfOXfXSbcOsxlEbdG8B6NTvjdypVxE8XFA4PZsp1+XfZn2IANkgAzoDGxSIbkLQ5cziLsPGv+hKB9aq/fZO5ZF+oMY0iLMBx9mtAEZIANkgAyQATJABsgAGSADZIAMkAEyQAbIABkgA2RgnTDgCMmdOzux7/0c5p/ri/FivXf+zgj2WZ048pn0TJ7FhYN1hOKvLuCQEJq/qr2Wv37sC8A7FCG5+rSA5HuDGL1RDHjnirDQrjfvf4si/Vhe27+OWDPf9XayRsAt34pj8FS65vvqXA7x15119e4zeZQls5qQvAMD5/WcxdW5PEbfdLyItx52vJ5lvcpTCS8PshC0e/sHMHB4AANvdjueyEIk3zOEjLuWXrk/ih7xnRVF+n4BmbFB9GgRSbeg+2gcmftmD2d5X35KHvhJFsgAGagGdWREar5p8ou1b8wKiuddD2QR1joVQ7f0Al4rn2K31vU0Yh/4u8bWvl05kLCNyAAZIANkgAyQATJABsgAGSADZIAMkAEyQAbIABkgA9WqIyRbe0eQXwizxwLy7++FtXcM067YunB7GJ3G0NULyJ1qHPpa9STWhGQp5po+hfeunYO4G/G7UlhVhOQXosjMhtXB9L1/bsfRtO/lrAjJ299O2+Gxg32lfMP1nH5hEJmScu2nBaSP76obVbTndBalinNO+U4cXfZafwd2hYTzdpzKuhG7Tg/lYDvwb4U9U5/hd+tkQw/bcan7clAm3hxC8sE4Rt8NyeOwiqLy9qNJZC/GEL+uhPDg4MTBiQyQATJABsgAGSADZIAMkAEyQAbIABkgA2SADJABMrAOGHA9kj/K1y/rnRFY1hGkpGj6fBpjey3s++m0ft6TCUStvRj7spEw4ou4tUJyBaX7WaTHk0iMxTD4tuvV29+DHfZaeBdit2qF5KB3sCZMlIvITSSRPJ9A/L2o4yV8eAC9exzPYplP2T5HEZJ7zxcCntFOvSoPEuj9TgSRjgEkH7qROoU39dHtroi8Hb0n40iMp5G9kUF6PIHY293Y6q7ld72XscXkylRccx7rfjeJ/Kwf+VOEwx496ob1fnkIWWl/9i2dO9qD9iADZEBhYFMKyV1vD2HgxdULX20Opb0D0YtZJE+NIhfI96A9pJXG4/eNJlD8PxkhA2SADJABMkAGyAAZIANkgAyQATJABsgAGSADZGClGHBzJF+SYatD7ltK4YhlYeSe///5K1FYO4eRUzyZZ8YPwTp4AbMN14RDhOSnRaTf667r0RuJmIXkHe+ao2aW74wq4abNa+xmIbkDA6miUZypPExiQISgVoRkL7/ztkDOZcUWpVtxJ5R1RORELsMTpIXAfHAU+bJvX68PzGYw+ANR7h0YvEqHLs8uil35nYEb2sfYd8nK5mBlEwrJW9F9sBtbVtHz2Cgk/2AQ6esJDI3l/PwRHJw4OJEBMkAGyAAZIANkgAyQATJABsgAGSADZIAMkAEyQAbWCQNteiSL9l3IYXinheiVeaeu9t+dOHHV/bsuA2YhuXjZzYMc6cbgWAa5qQIK952f/K0kBr8vBFWzkLzrZBblZwGRpJz38iBv748heSOPvHu9wv08Mmec1JKLF5L9+mw/Zha0bQHraQGJg6IOW9B3sYjKXA5DLzvitpanWbWd8JA+7HhO940Hc0cH6quex9/XSR9kG1LcJQNLzcAmFJJ7ELua9x6Y8sG5up955CYSiB0fRGJKhhEh7EsNO69HpsgAGSADZIAMkAEyQAbIABkgA2SADJABMkAGyAAZWD4G2suRLMsz/dN9Tu7k51XYHsoij/LzZtrLF1690NbPSsi864RxNoqqc1lXdG1eSK7cT6BXOGj9tyjSj4PlqqBwvs/2fl4SIflMj30tkW+56OZAlnbyPp/mEd8vhGPX2/lZCdmTTk5lzw5BAdg7ZzuiE/RI9mwZtBP/pnBOBsiAy8DmEZKflZE/P+Tlaxg47OaCWEOf0dN1HorstOy0ZIAMkAEyQAbIABkgA2SADJABMkAGyAAZIANkgAyQgTXMgOuRvLMT+97PYd4gAs/fGcE+K8TT2M6J3Inhm9O4cNDCoeRsk3U1CcllZN/rssXYXcEw1c/KyJ3tdaN2tiAkP0yib6sQbnsxOuXnHhZiZOVhGoOuN/DiheQqyjeG0GVHFe3C0OVCrXd0pYTcuQF0iGO+24vEfac85bsy3LU4L+BxbGsEA9guztmm5GNmn2qSs+DmAf5NIZ4MbAYGNo+QzIcBHwZkgAyQATJABsgAGSADZIAMkAEyQAbIABkgA2SADJABMrBsDLg5kv9iAmN/0onO/SeQuJJD/stp5G9PIHH8ADqtThz4KI8FYxkWkDvVCWtnJzoD+ZLrixUGIbmqirERdB2OYfR8AolzcQy+sV3Jm9y8kFwVoaT7nbDQkW09GDyTQOJ8AqOnBlzR1wkrvRRCcrVSRPq4411sp4p8uRcD78Yxem4UsWN96HnBuZf4X++ZnC80C7H4bC+22iJ0BNtfH8DQmQRGTw+i79UOt95b0DuW988xtgUFsvrM0T60DxnYLAxQSOZDghNHMkAGyAAZIANkgAyQATJABsgAGSADZIAMkAEyQAbIABlYNAOukHxpDtXnc8gnh9H/2m5YlgVrZxcO/GgEqXtz9e381QUcsizsHZ2uf5xWVrOQXH1WRiE1hB7bi9gXXoX4uuvNAfTaYmwLQrLwPJ7NYvSwIvC6gm3ke90YONxtC7VLIiSL+lWKyJ4dwC55j+Dn1h4MXTQIwkJMvmiut8gJPThuOEezJwWyzSKQsZ5knQw0ZoBCMh8QLUxIGgPFTkcbkQEyQAbIABkgA2SADJABMkAGyAAZIANkgAyQATJABtpjYOHeCPZaUUw8ae388sMcslczyE6VUAmueT8toXAng/R4AslUBvnHZVQrZeQnkkiOp5Gb9cNUl6YySJ5PIn0rEBZau2YF5Yd5ZO3zk8jcKqBUqaLyOIv0eBLJq0ooaiFmXxX3SSL7oGxeiy4XkL2YRPJiFoWyod5K+YUHdGI8jexUsbFHcaWEwq0MkuPCczqJ9I0CSk8N19fqxv+z75IBMkAGVAYoJPMhYX54L4NdPn74f4I/zdlA7aT8nYM2GSADZIAMkAEyQAbIABkgA2SADJABMkAGyAAZ2AQMPJ9FasBC56lcSOjrTWCDZViXZt8hN2SADJCB9hmgkMwHE4XkNShwc1Brf1Cj7Wg7MkAGyAAZIANkgAyQATJABsgAGSADZIAMkIF1wcBsCtG3xjBxexrTX07iwo/3wdp5BBOl5ttvampKyXesh6+2cwsHw0Hzb89e27ZtW7G18XXBI7US8kAGyICBAQrJBqNwUG9+otKKreiN3Jw3srBTK3blscvDK+1Ku5IBMkAGyAAZIANkgAyQATJABsgAGSADZIAMLCsD89NI/eQQunZasKxOdP1wDLkWRGRRNgrJ7YvnFJLZv5e1f1N7os6xQRigkLxBGnI9DHgUkikkrwdOWUZOIMkAGSADZIAMkAEyQAbIABkgA2SADJABMkAGyAAZIANkgAyQATJQDerIiNR80+QXNCY7FBkgA2SADJABMkAGyAAZIANkgAyQATJABsgAGSADZIAMkAEyQAbIABkgA2RgYzAQlIkpJNNDmeEGyAAZIANkgAyQATJABsgAGSADZIAMkAEyQAbIABkgA2SADJABMkAGyAAZ2OQMUEje5ABwR8jG2BHCdmQ7kgEyQAbIABkgA2SADJABMkAGyAAZIANkgAyQATJABsgAGSADZIAMLCUDFJIpJHM3CRkgA2SADJABMkAGyAAZIANkgAyQATJABsgAGSADZIAMkAEyQAbIABkgA2RAY4BCMoHQgFjKXQq8Fne9kAEyQAbIABkgA2SADJABMkAGyAAZIANkgAyQATJABsgAGSADZIAMkIH1yQCFZArJFJLJABkgA2SADJABMkAGyAAZIANkgAyQATJABsgAGSADZIAMkAEyQAbIABkgAxoDFJIJhAYEd4Sszx0hbDe2GxkgA2SADJABMkAGyAAZIANkgAyQATJABsgAGSADZIAMkAEyQAbIwFIyQCGZQjKFZDJABsgAGSADZIAMkAEyQAbIABkgA2SADJABMkAGyAAZIANkgAyQATJABsiAxgCFZAKhAbGUuxR4Le56IQNkgAyQATJABsgAGSADZIAMkAEyQAbIABkgA2SADJABMkAGyAAZIAPrkwEKyRSSKSSTATJABsgAGSADZIAMkAEyQAbIABkgA2SADJABMkAGyAAZIANkgAyQATJABjQGKCQTCA0I7ghZnztC2G5sNzJABsgAGSADZIAMkAEyQAbIABkgA2SADJABMrBaDMwhNWDBstSfI0iVAuUp5ZH66AT6X9vtHbv7tX6cODeJ2a8Dx9ZZt86/b8F6bQzTz5s/p/p8BhcOWrDez6+J9eD5R5O48JMoDuzpdG3Ria79UYxcymMutF4LmM0mcOJPutBp23o39r11Aonbc+Y6PZ9D/tKHOPHWPuyWbfPSPvS/k8DkVwvmc4Td7fNGEJXttLMLB340gonCfPg5Xns1yYI8flH3Utu/Rdu49xftkHinH/tekuy6Ns3OYD60HdT78neOu2RgozNAIVkO2Pxs4iHIAWGjDwisHxknA2SADJABMkAGyAAZIANkgAyQATJABsgAGSADrTOwMD+P+SfuT3YYlqULybNXTmKfZWH3W8O4cCWH3JczmLmXw+SlEfQLEe+1EeSbFJNtIdmycGh8puk13bnPjjji62oLyc/nkf/pIXRanThw/EOksjnkH81g+nYOE+dO4MBOC50/TGE2KGI+n8XEsd2wdh7AiXMTyN2bxvS9SaTe77dF4n3v57GgrvF/NYGTr1mwXurHcHICudvTmHmURy6bwshbQsjfh5F7BjH56zw+3N9pnzdyaRK5L6cxfXsCieMH7DIfuTTb0OaNWPD61xLcy75Wq7Zx7TT7WRS7rU50/XDEaYcvp5G/PWlvdghtB9XG/L0hC15b01a01TpmgELyOm48DkKtT+hoM9qMDJABMkAGyAAZIANkgAyQATJABsgAGSADZIAMkIFlZeDeiC4kP5/D5J8fwokwEfLrSQwLAfVUThdDQ9aupZBs7TyBa0+aaEv3+rbH9GoLyV/P4MLxQ/jwToh376MLOCRE8qQq2C4g/9E+WDuPIPVVbX0X7o1gn9UJVeSduzmCQ8cNgrRt0wVM/qQT1s5h5BbU681h4oedtqifm1e/d36fvSTE+BABOqStqkEWvOOW6l6t28Zm/8kEosLOfxGyGeGrCzhS0w61NlnWfuTZivelncnAajJAIZmDEXeCkAEyQAbIABkgA2SADJABMkAGyAAZIANkgAyQATJABsjAUjEQKh6GiyG2OLx3DNNNlME+9k+HMXzQwt6gJ67h/Omf7oN1cBjDf7p2QluHiyJuaOjj1zAv6+KKntErIeJztYqZ8UMGYTjc3o7AuxdjBeWYL8ew19qLsS+V72QZ7E9XgD54AbPa92HHVxEqJLd7r6/nsaB6a7dpm/mrJ2BZJ3DNIJg7bSPqasH64QTmmq0rj+MYSgY2JAMUkgn2qoI9dy+FD9/pr8mFMZycxEzoQ6zOg3mttKdxsjiPyaHdsF462dxOwbVSl5Ush223ffoEron72xNFawT5Jo4Nn6SuLFf2hH8g1d5E7Pk0xvZaTU2O5y4dgdWKbZ4vYPZ2AifeOoCunUpulDeiMPbLUsrenThyb2XtZ2rHmb84gM6dB5BQXwCaYcLYX9upTx4jloUjl0Ly8jRTFh6zqs8kE1f8rp2+wHPIDRkgA2SADJABMkAGyAAZIAObnIE21hpaFpIHUpgtjGGf1WAtzV672YuRezNOHmeTR3JN7mY3X/GVGc1DWoiPnVYUE/W8oBfyGNlroZ7oW79/1ArJzvrWMCY17+EAY66geuJquNis3dduI11Izr/fCeuNC5iptz4jBeBm159CWGjrXr9O2OHRO3/si+zt2kaEOres+jbN/bkFq931y3o25P+4/kUG1hUDFJIJ7OoAO59Hws5FsRuH3nFzYdg5GJy8IEf2iNAiBzByc50KMsYJwjyuHRf1ajLkzHKwOZ/HhY8+xDVDCBhtIrUc927mmrbdLFgHL2BG3VlX79zSBI7YgufmEZIXbg47OW2sxpPyloRkL59KF468n8Lk7RymH814uVEOiX750gjy6qR9DQnJ9u7aRi9PJpaM/TXwMmI6r+Y7CslrYhypaZd22pLnsC3JABkgA2SADJABMkAGyAAZIANkYBEMtLzWMIsLBy1YP5nUhNuwNvAdFFwP2VCxz/l/p31dV6ANCMnzN4fdPLkyd7PICazkHv5IyT3sOjfUy808fyXalPNDWN2qCzk7zPcBL/9zs56xM7jwRvMe17PJQwEh1Tm/86N8/fXyhUkMt+JIYGShzXuVJhB9qRMHRmWbLMI2X4kQ4p0YvmnIEy3WVtxw6Ht/Ol3fHlyHoX3IwIZngEIyIV95yL/OY+Q1C537RzBZCpmQPZ9H/qeHsPtPEphRRav10l7GCUJIXVeyTmtI9DNOFm27CS/YTjS3e9CdLFvinM0iJDsvFp2nruHaKZGzZQzTdUT3VoRke6JvHcGFsI0Gz+cxXVDz01RRXetMNdO/lqy/Ukg29utm2oDHrPyzmDanzckAGSADZIAMkAEyQAbIABkgA8vHQItrDY6nr/AaDhH1Am3lC8libUY4WZgFQZE7eK91BCl7DdYsJFefzyA/Zfbinf2Z8FqV5ztrm7YAW5NbWK57OutWen5j+b/mPh1HAfWeIeUO2KRaFU48TXrQPrmGEzuDYcGbXddxIwUGBPnQNREjC0t1r8XYZgH59/fBsvbhZDKP2Scue1/PY/beBZzc7+SKzn/dXLuF1r+mnXg92ooMrDcGKCRzIFu+CZPRtnOY+GELD6E6Atma7mzGCcIaGCBXSfRbmG9uEuzkDOnH8E8Owdob8Hw18WSH7zmE4Z/0bx4hWYbPEbla7Pp3Yvh2uH2bF5JF37RgqflnTDYPfrdKTC1p/1+y/trsS8AaGAuC7ci/V/hZSAaWtA+TX/JLBsgAGSADZIAMkAEyQAbIwFpjoIW1hoVfX7Cj7e1rItexfJfShGSZHzi4lvZ8xvZy3ud5lDYrOirvrKZ1H9dj2BS6euG2iKLXIPR1nbaauzmMfVYnjlxSHRmaL3fQLtJe2ufXM7hgXJ9udl2n+fLY9zWysFT3ar4sZtssIP/RAVi2k45Mced+7v8QFJGVvlCHW40vHsfn0QZkgELyBmzUNT1wuSJYs7vrauryfB4zWZG/dR92uw+43a9FMXIpj7k6ovP8o0kk3unHvpfcB+FL+xB9P4W80SNaeZDPT2Pi/aiTwzm4y6yU067ZuecAou9PYFrkdjZOEKowP7CV+309i8lzJ2CHEBb129mFQ+8kkDOWs4rq8znkL32o2UOWY0bdLeZO+oyTgmC9qlUspb3mf37SDsO879xM44eItNvsNMZes+BPdE0PbWeitPf9PGbC8gA3ax85DqiT47k8Uu9HA8y47SuPVz+bzCUjmTazYKqn+p0bHv3gBcza957HxDEL1rEJzKtlUX5fUSG5FZuptlb6kpZfuEWb1q2rcg/RD2Q/qddf7bZ6Podc031yEX1ZaTPJCD9V9vk7eSADZIAMkAEyQAbIABkgA2SADJCBdcSAXOMKW9Nz1wE8EfnH1zBbZ20z2PY160puXmI15LTt5bx3BDlvjbB50dG/n7LWoaxdTI/uNUTJc9ap9o62FwpZisiHfjodCO/dbLmb8Ej2ROSTuDYb5MlcV98W8vgN4pH89bSTevKlQzhxbgL5R3OYfzKP+a+mkbtyAcMiLeXOQxj7MtyBpdY20kb8pG3IwEZigEKy8gDcSA27VuuSf78T1t4xTLdjd/mg33nAfrjl7s1g5ksnp3K/EIhfG8bkXHCAWsDM+BF0Wp04cDyBidt5zDyaRi6bwoido3kfhmvyMLuThr9IYeS1ThwYuoDJ29OY9SZdVcxePYl9loXdb40glZV5ZCeQOH4AnS9FMfGzkZqwL6JNaiZ5th0C99PK6YYR2XkAY1OBh/b8JIZfEoLYEQwnJ5C7PY1pzR4f+rlsny84E4HCBfRbFoaz887fYnKg1KtaXXp7LUyN4cDO3YheaSLftTLJdvIAq2Fs9La1/79zGJNfV2EUEFuxj+RRips/S+HIzt3ot/MET2PmUR65K2OwORPtG3gJaCmXjHsvMwt6HWv6sZu7RA377ez03Iexgvlco21kfQOfTm4YU58wX9suX5s280JiS1uPTkD06Tk3lH07Ng2ra7v9tTor8s6IMPwnkLiSQ/5eHrnbbj8XYX+uqrtjhY3a7MuBdqhpd/6/8SYU2og2IgNkgAyQATJABsgAGSADZIAMkIG1xICyxhX2nt+uiCyuZ1pXctbKTuDakyqqtrAcTB0XJsguYObKCKKv7TZ7ppryAT+ZQFTk11Wj5D0SOXcPhadMq9M+4SKyWG9ZRB5g9Z5ybfk1k4gs7tNm3mL1HqbfjSws1b3atY0Ia73XjgiZE05RpnJX3dDXoWHMw87j92Z70i60y/plgEKycZBcvw26tjujO1n581zIw6me3ReQ+/O9sHYeQapmt1gV1a+nMXbQgnXwAmaU3XsLd0QekGA4FHmfBUyPHoIlJjiP5Hfi0xGDRJ5ePYyKe4w9KbIQFm5m9pIQroXnc60IaprkNbzf81mkBpy6OV6ofllnpvKYV+rrtf9sCkdMkzwp+t3zr+GdU61iWezVSh/TJlZOGPTOn0wOmHXUAAAgAElEQVQGdiHKybAF6b0aJiC2ax+RG8ToNf91DiN7LXSeyullajGXjLC5mQVzu8g2snd7io0Yaps/d3ZB1pTJtXuYbeQ1tc/ns5g45rw07D54Ah9eymGmFNjAEGxPl6mWbdbovDZsaqxru/3VDf/U+cOUcUfwXHbYyTGkjUcNxo46fVlrh6CN+Xcbz4z6fYn2pn3IABkgA2SADJABMkAGyAAZIANkYFkZ0Na4am29GBFZlNu8ruSsvYq1tPz4oZp10mrVLCTPfSbWMnejf1TxShXOJ/bPJIZNa4zVBeROdSpR8py/O1tNmVator6I7NjOWfMZxqTrgGBsO1vctqA6YHjHNRSRnfvYTlBvXMBMvbUYmXYuxKnDu6e8RggLS3Wv9myTx4ciR7QX9ryWUbsesynbKWkkZC25pq6yzvzkWhYZ2FAMUEgm0CsItHmy0tQDx/XEHL5ZR9SyBSN1J9ysnQfEKETKdpdikSYMumKQFz5YfZC6k6SAYK3XQewE62xdSDbez7m32FEohOmJGo9rtWzq7yG2riskL4e91DI18XtwYmW36d4aUXdGTIZf8wVVo4Ao29j4Wd8+YaKsaOeZ8QOwdn6IvPG6hjqG2Nw84TecL+/z5BpO7LRwKBn0gq3C8SQ2559p3TZVzN1LYeRHfvh4S4SC/8kFTD6arx0v3Pq1bLMmztP7lWKbEJvW1rX9/up4etduBvHLtIDJH1vo1ELD1xs7nPK33peVeksW+FnLIW1Cm5ABMkAGyAAZIANkgAyQATJABsjAWmIguMallG2xIrJYmwhdVyqM2VEUxYb/D4PRDY1CsnDksGCFOf48z2HEKCRXUbXvtRdjX1ZRtUVc93elrv46inl9oxkR2b6GKxKb8jLLe9jrhSbv2SZFZPs6UiQWdTLWw133rbOOW3NeGAtLda+2bNOkkPzoAg5YFigkh/HA72t4N/Yb2mm924lCMsEOeSguR+d2xbuwiUmdthA74yyrwa6zYPiRuQnbK7eu+GwUBh0xqPOjvME2zkP2wHj9fL9SLEoFQiCbJ3n17ue2gz3hOBDwnK7fRsZ7hQhw9kC2LPaqX8aaAbRmYuWGWVGFe1tQ3YuRO/6mgloBsfF969nnyGfhYbidezViUb2/077Se1rW2Xj/On2gnlhcdUVmUw6admwjy1h9voC5RzmkPvLzdu8L5uxxmWrZZk2c55Wjxi5mm9bWtf3+mv+oE9afptxc1Gp7+r+LXEN6qP7l6cvhdvDLwmNoCzJABsgAGSADZIAMkAEyQAbIABkgA2uIgZo1LqdsSyEii3YOX1dy1tLMjjUmxwo3r/CPDREBq1XM/syJvBhc13JYc3Iid56axLTrAR2MpliPyaZFZHddaPqn+5xolV/VtvPCvRHsM0WXbEVEtu8j7NEJ67URmEI+O5EoQyIZ1qxfueUMYaFabfNeX89jQY1WWK2iddu4a65h0T9FXZ7PYfInIkLoMHL1PMHD6s3vDdpCLbv1+gj/R3utFQYoJHNAW9EBrd0cybUCkWkQCUyG6ommSrvXXtssUjmdtt7/lDKFTBDMk7wmrmlfr3b318KvJ3TPUTuktgir7f4MpDCn1NXLS2sKR7Is9lJsopYj7HeT3b6exPBOmdPFnQwHwuTUtqFz3yW1j1tm515BT9XWc8mYWQixV4Pw1YJNO+y1YWIXZpvWH0Iyf7YFbfdnE9wYbdbwvNZtWlvXJvqWaFcDd3b7yH5U93NE8U5v4n4hfbn19ghhJaxv8fsVfdaxPcknGSADZIAMkAEyQAbIABkgA2RgkzNgWGuQInLXwAXk52ToaMPn141t19K6krcmEFg7db+XIuyB4wlM3M5j5tE0ctkURn7Yha4fn0Q0zCNZpMm7PYxOqxOdO9UokY3L74jIFvadmsSsF0bbYAtVwJQp2XYewIlzE8jdm8b0vUmk3u/HbsuQhlCKyF1HcGFqzg3VbbjHE99Zxe63X+fx4f5OWC/1Y+TSJHJfTmP69gQSxw/YdTWmQvRsbKi7gQVvfGj1Xr9O2B7nnT++hnn1nq3aRpwr7y3s+VEKk7dzmP5qFtO3c5i89CFOCBvsPIAP7wXso96Xv3O9iQxsCgYoJBP0lQXdDdlhzD9bpy1sz79WPZLnr+GEZaFdj2TzTrv2PRzFBME8yWtTfCpN4MhOC7vfGsPEvRnMBSZdk6csWK0IyctiL8PkqU47mwQ9YTdbINw5jMmpCzhUk9Pa/b+lCnpVVJfaPm65TaJoO7lkzCyY7TV/JepvDqgravp5o+WEtFZcNd9DHl//cxapPw2EO2ooCMv2CYjvDc5rx6a1dW2/v07/dC+sP72A6UC/cvIDqS8d6mS6zb5cr0/wfyv7jKK9aW8yQAbIABkgA2SADJABMkAGyAAZWAoGDOJh05vWtTRa5nWcVtaV/LUes5As/j9f0J1Vdr8WxciVacw/b7TW4aTKsyO2Bbxk/fsG6+CWo8Eal3CUqV2fXcBsNoETf9KFTvv83dj31gkkbhuiC7qb+T2Hm9D7BdYURfs/n0P+0giir+121uR2duHAj0YwUTCkfWvEi4EFzTat3Ks0gehLnTgwmsdCzX1bsI089/k8ZoQ93zqArp3SOakTXfv7ceLcJGbmg23Hv7W2k3bkJ58bG5wBCskbvIHX3sAm8m444UHyTeyu88q/CjmSaycq4kHZfs5VURfzJK/RhEx6TOoeyU647xHkQiZpuT9vUUiuLi5HstleLU4uwiZWwiP3NWcys++j2olSrYBYxdLbx6lLrZDcXi4ZMwsme7kT8mOp+js0n8xiQoTe2evnjhbMmWzj9auWxz93oq+Gp28gCPtlaEVIbs+mtXVtv786O2rNeafD7ddeXw6/nokHfkd7kQEyQAbIABkgA2SADJABMkAGyAAZIANrhIGFPEb2BqLXtbzetEbqwnJTDCQDZIAMGBmgkEwwjGAs62Ts6zxGXrPQuX8Ek4Ecwup9Z6+cRP+pSczZQqkIaezmwZg1TC6+nsbYQUc4nVWEVRmaxRxyZAHTo4dgWUeQ0q7ZQAx6JLxiDeFSXJacXBlC9AwIZ0ssJDte2icxaRLkv0rZ3so1HsluHmQtNLHSB5bFXiLMzbzqtWloP1mGMCFZXOPeCPYKr2RDfWsFxCrask9bomh7uWSaFZLtelt70ZQXv+3xr4cSMtlG7Wf+77O4cOwkUnV2Vko+TlxVdl+2ZTPhMZ6yc5iPmMKs2zliLFgt5ucx1rXd/vp8FqkfdqLzhymoY4pvrwXM3JsJ7P5sMHYIzt3dsOZ61+kbso/wc+WfWbQ5bU4GyAAZIANkgAyQATJABsgAGSADZMDIgMihzBy6XM/x18toC9qCDGxEBigkcxJgnAQsO+zzeSTeEqFBduPQOx8ilc25eS3cHAwHnf9Fk4pQU5PrYQYzX4rjR9D/kitMz9UOVLOfRbHb6kRNng9x/50HMHIzGPqksRg0e/WknY9i91sjdtmnH80gL3Nl7DyC1M9Gll1IFnksHEH+BBJXcsg/msH0bZEX5Ai69pzEyWMGj+Sq6xH+UhSJbB75ezlMjCaQU/KNLLW95n9+0g41s+/cTGPW6gjJ9Zg0Cojt2KeuuOmw5dxL3yQgBdYaxurkkmlOSJ7HhGjHgxcw29RY5XoMK8cbbWO61vNZXBsSuV4s7D54Ah+KHDC3pzH71TRyNlduvpkfX9OF1TZtVl9IdjYO7DP12zo2Datru/3VyxXzUj+GkxPI3Xb6TO5KAifEGPXSCVzTxpzGYweF5Noxul7f5v9oLzJABsgAGSADZIAMkAEyQAbIABkgA2uEAbHp/lg/xq7kMP3lNCaTYn20E0c+C66trpHymta/+F3j9VnaiDYiA2QgwACF5IBBODFZ2Qf93L0UPnynHwf2dLo5YJUcDE8MZfHyNuzDbjuvhTg+ipFLeddz2XCOyPPxaBKJd/qx7yUnPHLnngOIvp9C3ugR3YQYJLgp5QzXnMC0yB0RIoiaxcMm7hfmxTg/jYn3o169rJf2Ifq+Uwbzvaqofj2NC+8ccu23G/t+NIZ8wNZLaa+FqTEc2Lkb0StNTCpD7NaoX4YJiNVW7dOuKNpGLpnQ9lHHJNubVvcwbmQLJyTzXox96fSFUNuo91F+X5jNI/XRCfTvl7lmLAiuRB6Y1D1DG7ZrsybOazU/T926ttFfbVs/n8f0lRFEFXvsfi0sT8wi+rLSBo3amP83j/O0C+1CBsgAGSADZIAMkAEyQAbIABkgA2RgGRkQaySXhnHIXcft3HMEY6bcxFzjoAhFBsgAGdhQDFBIJtAbCmhOFpdxssi+wr5CBsgAGSADZIAMkAEyQAbIABkgA2SADJABMkAGyAAZIANkgAyQgU3DAIVkwr5pYKfITJGZDJABMkAGyAAZIANkgAyQATJABsgAGSADZIAMkAEyQAbIABkgA2SADDTHAIVkCskUkskAGSADZIAMkAEyQAbIABkgA2SADJABMkAGyAAZIANkgAyQATJABsgAGSADGgMUkgmEBgR3YDS3A4N2op3IABkgA2SADJABMkAGyAAZIANkgAyQATJABsgAGSADZIAMkAEyQAY2MgMUkikkU0gmA2SADJABMkAGyAAZIANkgAyQATJABsgAGSADZIAMkAEyQAbIABkgA2SADGgMUEgmEBoQG3nXBOvGXUFkgAyQATJABsgAGSADZIAMkAEyQAbIABkgA2SADJABMkAGyAAZIANkoDkGKCRTSKaQTAbIABkgA2SADJABMkAGyAAZIANkgAyQATJABsgAGSADZIAMkAEyQAbIABnQGKCQTCA0ILgDo7kdGLQT7UQGyAAZIANkgAyQATJABsgAGSADZIAMkAEyQAbIABkgA2SADJABMrCRGaCQTCGZQjIZIANkgAyQATJABsgAGSADZIAMkAEyQAbIABkgA2SADJABMkAGyAAZIANkQGOAQjKB0IDYyLsmWDfuCiIDZIAMkAEyQAbIABkgA2SADJABMkAGyAAZIANkgAyQATJABsgAGSADzTFAIZlCMoVkMkAGyAAZIANkgAyQATJABsgAGSADZIAMkAEyQAbIABkgA2SADJABMkAGyIDGAIVkAqEBwR0Yze3AoJ1oJzJABsgAGSADZIAMkAEyQAbIABkgA2SADJABMkAGyAAZIANkgAyQgY3MAIVkCskUkskAGSAD64OBShHJwx2IRHZgcKK0KmUu34mhKxJBZP8o8k85QdrIE6QNV7c10H82nE357FiVcbgtjsj/+mkr9iu2FRkgA2SADJABMkAGyAAZIANkgAyQgTXFAIVkArmmgGxrcZBtyDYkA5uCgcrDJPq+F0Hk+4PIlFZBxH1WRu5UFyKRCHrHCqiQu03B3UZ5Lq16/2F/YX9ZRQbI/yo8M1exvTfKuM16kFsyQAbIABkgA2SADJABMkAGyAAZWAsMUEjmIgcXNskAGSAD64CBCgrn+2wRd9fJLErPVmESMZfF0MsRRL7Ti8T93yJ/tscrT3k1yrMi3FZQGOvF1kgEXctt92clpN8WHucR9JzNr1GhvrLi7V6+5XrBvxpHvtwu92ug/xh4LU8lMPD9CHYdTSyibu3apM3zhGfr0R12ZIRoqrhsY+fStHubdTS01Vp4aWm/DGuT//brs9LtuvLj3vqxzUq3Be9HNsgAGSADZIAMkAEyQAbIABkgA2Rg5RmgkLzhFstWHqKmO+7CJIYtC4eSs/UXXkspHLEs7B2drn/c/DWcsCwM31yof1xYG7v3Gbm3XDabx+TQblgvncS1J8t1D163af7COOD37fWflbbb0wISb0YQiezC0I3yqpS5dH0IuyIRbOlPoFDZLAvrfj13HM8sr4BPIdnI9ZIIimug/9SO1WXkz3TbGwcikS7E76xOv64tV4PnqhCS+7ciEtmKgYvFZdvwsCTtvtLj9Fq935rkvwFna8qW/nNAbOTauBun1lObsKwtj91rqk+x/dh+ZIAMkAEyQAbIABkgA2SADKwvBigk86XSuHC9PB15AZM/sWAdvIDZOnafu3QElmXB2juG6efhHWr+6glY1jAmF8KPqVuPFRCSrx3vhLXzRI2QPPvzD/FhMo/5OnaoW3aet4LctskX22hJ26hyP4FekZt4Twy5uVVok2clZN7dhUhkC/rGhXi0WRbW/XpSSBbc+fZYKUFlKQTFVe8/IeNh5X4aQ290ofdkGoX1knOcQrI/ts/lkHh3AAPH4sg8rvjfh7T3as1r1ir/q2WP1u+78uNeO2UsTsQQPTqAofN5lNcYg63XZxXmObTZmh3DyA/7AxkgA2SADJABMkAGyAAZIAOrzQCFZL40r+hL88LNYVjWIVz4Kqzzz+LCQQt7Dx7CXmsvxr4MO84VpY9fa1+MXXYhOazsVeTft2ANpDBH/laUv9UecHn/8D5R3zYV5Md6bc/F7tO51fGGms1g8MUIItsGkHwoBJP1sLDerr3V8/x6UkgWdvHtsX6E5DXQfzbSs45Csv/cns0g+oKIFCHC/a9VIZn813++quN92O8rP+61Xub1UMYw+/L71tubNqPNyAAZIANkgAyQATJABsgAGSADK8kAheSNtLi5HurSKLz1VxdwSAjIU3mM7a0T3tq9zomr8/6CZqv130hC8vMFzNfxzC5PZZAcTyJ9KyQMZ6WE3OUkkpdzKFVMg3AFpTtpJM99hNMfnEPyYgaFEK/Q8oOsfa/sg5AwpeUCMh+fwwcnh/HRuSRCj5vLI3MxifSNkDI/KyE/kURyPI3cbMgC9tMS8jfSdnns+l/NoRA4VpY3eTVvFiiflZG/Ku5jKOuzMop3s0iPO/9PXs4i/7BkDnVaLqJwy2kHca2kKMucudxee91xrlV+7NjCPu9ytqYOwYdGZbaA3FW/3plbBZRa9fYTdZvy61bvGjXlfZBD+qKoY0G36bMKSvfd/7k2KNo5Xyso3gixsejX5Tzi+4VY0a2Hvw1cL3OnYOb3WRkFuw3TyAqvOXGeUrf09TyccpjYd74rTUSxPRJBx9E0inYfabxoLdiSbGSmyqg+LSKbSiJ5MYuCqHelhILCZ+ZuEWVj/1PK1ahdvHssso+K9kvlUHzq1zNUSBb1uOOyfTGN3P0SKg1yRgtGs2LMERwIpkuiXRrnSK7MFZH32E4jK+4lGCnlHVtPhIxhzbLS8Dni20MKyc32z3bHmhqPZDGuXXf798UMcg9CxhxZl0D/abq/VqsQdZPtlL6aRzFkzPLGoICdxThXr49XZnP1261aQflhHhnRb8QzTFwvpAzetdyxXLCSs58Ros81Y6cmx+ilEJKfVbTx1R6DAmN0sN2XrT6ineUcwX3mVEqB/hl4bsqxLHFmEN0iUkRkBwZOJ5Bwn4X2eCf5cz+bZSlYlrLpedLSs9d/fsTGP3U4WuxcaDwJv44VlB76/UTMSbJTRfMY6I3PbT4DKu5zWYzPwtYpMecImWsF7O/1UcP3lTkxZ3CvKcbwB+XAPKb9cU/et+l5SdBGoq3l80XY3fCctJk5P4rYm9udUPmvD2L0fMKzUTHQt+w5gDIXaX7u4JfFb3/l+Wywraw/P2knMkAGyAAZIANkgAyQATJABsgAGVjPDFBI5kt/+0JsW7ZzPYlDvHFnk4e8kNbTP93r/R7sZI5n8wlcmw8MQM/nkDt3Aof2dDrhsXd24dA7CeRKgeNE2VUh+etZTKrnvbQP/e8kMPnILFTP3U7gxFv7sFuE4LYsdO45gP53PkTq3pxmz6Dnsf23e44dvtv7/QhSwTI2XZcZJF6zYO08WWsPt43Kd+LOYu8r5rDA5btx9NiLwT2I3zUsSgoh4lWxWLwXb/1f/0d4bshKCeljzkLe9mNpg6hXQTEVRUckgm3dL9sLfmZxqoLC+T5sEWV6eQhZg2hth6r8Tsj/n1VQuDyEbvF/u176567DfhjOYmrALk/kjVFzaNWnBYy+Ic7vwECq6LVveSqJ6Mv6db177Yli9JYr7pQLSJ/us3Prev/3yrQDA+eCHrbKgu3ROOJHuwx16EDvB1lX0PTZrjzMhhwvPGl7Eb/RQHCyeamgeD2OPuF965VT/t6NwfGg4O6Xd8fhGIb6d3jnbelPemUs3U1i8BV5HfVzBwbOJBF/U+Qc1W0s+73g0xYrXo8jbwvPQvgIud62XsQmCvoivi38bLGv33cqjkGbZbUMEUS+042hy4Hz5BhXKSL9tuC6A9HLkgG/3lJQlOUVn6Vbo+jtcO7R9W4a9kK29N77Tg+Gzgx5/9fs/HIUSSE6y3t7n022iyjr0Y4l6aNOH/brWdNX7X4WQ8/WgC0FN68OGutRKeWQeDuE6fdGEbP7WgQ9Z/O6kPG0iMwHfbaYr9lL3Ov1ISTODaLLvu//z977vbh1pXm/umjwRS7qIlAXueiCghQJdCpkSEEuOoWZtsANFh5eiykGq82LjzDHrWM4RvgwRuMwRu3BCB+OkQ+4S07slnHbI+O25aTHQTVvdct5xydyXrvlma4+o/fUO1aHeokSh9S/8ByevdePZ2+tvfWjylXl+HtRSFUl7b3Wsz7rWWuv73qeZRnRNhyJFWNv26/0dfxXa4/J/XnKH+R05+H6u/vn2L7mXsGv27tZKp3LOf3arj15qjq5Wadg/7Hlj+uvXjsdctVthtJn+n0P22acPh4WS6Wtuw9rVNjPLIftO0Gpk1V/M4ZoL3Ot93NUPJmmmb7vJWjmYIkavGlBfG99VB+9ISE5rh/PBfyrqc/rGcofd7O/KfURUfZzR8tUPpH0x96Q/eaO8FxK2U77stBndFvJ/jsaS4P5HHrsVW0s+f/t7c2aC/FcqUOde2XK7eGxK8yo75dqXvYK4Uu03UYdA3hD28U8paYd90kkaO5opa8/BBiXvMv3q02qHNPnlAevPXWgSLb8tl1G9Xsjz0u0jSZSVLxYouw7wXJ5tv6hHOdt2Zzt8HqWaiu2DUYaD8zcYYJSxwuUEXM+yfhQtpZ2x/ugD4Y9YA8wAAbAABgAA2AADIABMAAGwMCOZwBCMiDdckh9EdghnK6rtNb/5+d+mVrnItJbR6S1XrlO2b+Ypjf2/pzKNxrU/F2TGp9ep/LRn9Ib0z+h4zdXgnXVQnK9SR/85TS9/Tcf0JV6gz7/l8+pUb9CH/zN2zQ9/TZlrwW/t/Krn9Eb02/Twt9foU8+bdLjP3zu3eeX/8cCvf2XwXOdw0Ly+v/8kr58+iV9cnKapv/6l/T5U/93/tvX8jzokeqyStePvE1v7D1Hzaio5G6TSl5E5yzlb3eCdnjWpfpJK+x4qYND/cIsaO8r0T9d9iMzdx0o9wmvvYcVSr+qFv1MCmC7gLfOi3IHedF1hv7X/+uc/9npLFXDZyua8vK1Zih3M1RmsfAdVV4/SipBk3uyVDhbpvKZPGUPzNMEL/i+ae85lrjDaY7fUvV8PUW50yUqnytS7lDKF3wSc1S4y2XuUuO0XaSd3Zel/JkylU7lKGUWJGc8cdKLqvTs7lgUfW2e0oeylDuSodR7LIj6906dFaLuWovK+1WZEjOUPJin4rkSFY+laV4Lfa+mB6Qf7VHrUtYKMG+lKHuiSKXTOUqL+yZP1aljIk4d5U3MUnIhQ9kz/uc6dwsqao3LN0epIwUqsb0OJn0R3yzCu4Rka0O9cNu9pzc+JCjxepIyx4ueTdO7teg0RZlLLStEmsVgbZ8E7XovRZnDOcoeStP8a/rvut0Es+vr1HtSpQx/JrAgbesdFJJ71L6ZN/WdP1HzRWRuW71AbuqboNl9acoezVF2IWntLvj0F6hHaxcdPb3RPur3O1vPoJDcpeb5tN+fOFJ7d5pyp0pUPJ6hpJfqNkGJiRSVxMaU3kqN8ob7CZpfyFHhbJHyh0XdlW10W3v1X2tR5ZCKNEskaGpPhvKnS1Q6mRX9SLXh7qCQPDIrId/XLxBYe+h+mBimf66v01i+hqNFtZAsudnPfq1EhSMpu0nllaC9/bKH+4+j/KH+GmynWUodzlPxTIGyB+w4MXesFtgoNG4fN3ULt9v9MqVFv/R8xtkCZfdbcXviQMlsLOG6mmsZO834fuholjL77PcmD1bE2GXtw+05lI/2/AmPYxOUuRSRMcPJUagfs+9i/8r12qv5nqD0ef981y2rjxhPDdM8hnC7ny1QTrR7YneB6rzpTUWNls9kla+bofTJMpUv8A9H6/pj9ugsDeDzybBjr/bhtn09n2LmFhufC332eZUyP1R+h33AUX9cyx9K2g0ve4P+aNwxoHM7b/r5rvfSlD1ZojJzs89u3Jo7IcdlXf+Y19WGyvTh12HuQM7MGbxNOdyP3s1TzYtGd7TLMH5vnHmJY5zkOvM8q3hCjC+88eyiP853OKJeRiTv9iOSmUeO2tYRySOPB465Q2I6SemDWSpcH6Xvx7SD01fg8/1jL2wCm4ABMAAGwAAYAANgAAyAATAABraTAQjJeIAPiopbYQ+VlvpnvwpG767rtNYt7RQ+d6e3dqW1/vaxd7byG//5Cq1IQVbVZ7X+t/Tj6Z/RFRGVoCOS3/jR2/Szj4Jise6UKx+xaPwT+sX9r5WdmvSLH03TT//vx267he7dJySr8kT93bvvOHUZ2G49ap33z5hl0cuKgByZXbeiqFo4DEQAP+tQ/Tgvwu+i9IUW9fTnfxA+E9Hew1+MVp8XZQtEEa/oyMlJyl4JLsiZCGolCPRFN5sIaVcEdZcap3zxduqwTkOsmVqn3kqT6iKt5TjiTudmzhf9OFo6HEm+1qbGbZtet/ekRoWjRaqFU333OlQ7roSZgCgfXLDlaFYvDbK2Y69D9dNJX0wOCJsspBQpd7JKzXAENy8Y7/EXi+fP+CKFZly+ehsBVBQtRzwH0pxz9OmVnFrMnhMbEoLlnT1cCd6/U6f8e/69+/7nibQ1KqiyOSOSVxtU8CKZk1S636N1/l1FFM8dV5G+2jZe1JYSwuVGhsBi8AxlLjSDdVttUkAsYU8AACAASURBVMmLiE7QxEEbRe3bpkftS37UelBItfU2QjLb6JK2UYI8wV2mqpYL5K+lqRSKEO89qKjzRoMRuSO3y2b1UY8jW09Zf68ve/1zhrLhKPW1FlU12/uU2PesQ7VjSsx7J0uVB8Goa45aLO63kX1WSPazE3gbQH6QpMLtoK9Y5za/kLEivBQkx2FFsxT5au3Bfm6U/jmOr2EGA4Li6xkqC3HeY3S1SeWDSogMC1fh/hMSDfv6pGynvQWqB1Ia97xIe1/gnaHcdbXBZwN93NRNtpsR+xI0dbAc9Cdsj+UyZdRmheSZBnVVW5lrMZd7CiKakv1/j9rX83ajzz3L38g+ekwhObYfr/v+de41G5W8ZfUJMTGxv2gjj7Vt2TepyNCAYGl8Wng+sO6lqjd9fliWQmUJ8znK2Ov3jdD4wXberLmQ53tylL9gx3t/zOCMGWVKeRu4Zil/17IWEJJHGAPWeTPNiRyV+o764PHJ39yX+CFvkLNzHV0W56vcQBjpj6doZr+OSh7f7408LzFM8bxhlnJXQplCvDmQP59NBDbH2TKaMVn68XHGg8DcYZLSZ/vb2mlfeV+8dz8vwS6wCxgAA2AADIABMAAGwAAYAANg4IViAEIygN0GYN3prU1aa9EmrvTWrrTWX3/6t/QGC8VhUc9c62v65H+fpjf+vmnrqyKSpyPSbPuLQ6t0JTNN00dv0ZfetZr0wfQ0LUQIz+EFpSjBOOrv/P2x6mLqGb2IaKKFQ+Kjjl6c2JejrCfohSKA9aLeZIYqnKZRLEBascc/x1ZHPWeOqbSigXTRdpFPRxGbe0vxTlx//kiOUhyVJkVBKawErq/rLoXkiolECbeN/n0ccUcuZtfC0dRDtIW+txEK3pLpu62dvLTeLqa5TbwUl3NUWBKL1JH3ttfkM34DGwnMd7rUPOML1K5IVq/MvKnghC9+W3HfXjsYseu3h27jxDu5QHpJbQN+7d0vUcoTJfsjko2NVFubyKz3HCI+14UXflX0auq8ikoWi8GuzQVchu5dFfH1eo5q0ub8XRVFH4yMt/X2Nmf0utQ4lzGRaEkW4k3UtmJT96VEwt+UYWyv2e2ZNrCC9hjtsmazDGy0j7IA1zzrc2GFZFummSP9mzW8tuWofU948s+15qhun1lHJKCyQ+9hmdIqet6Ue02fb5og055hu0nxUwiSY7ESvnbf79Yeo/bPcXyNx6aJSJ4KZS/Q3PhR8y77hvuPbE9Xf7Xt5Nqkw/ezQpw+L3wjfdyUz9VurmwVXnv0qH1ViWfi6ANzrfBZ6roNPT/gb2pJnRMZC/T/Ha/mmtJHe9cZNSLZ9plI/8rnQXdt2m1z7+ddH9HHExNpKj+0ZfD6srKL6U+yXYxP6xeSx2FpEJ+jjr3GhmKusGlzIQcvxl4eI372kBRvwNOfNfYaZQyw/dxcX1+PX801591Hk8jPqve2baL98fpal7pmDBvf7znL7JXDXjMwLzH1SVBg04KsB0c6H/DtmzSb4+z1XEKy4XfMucPEQplacmOYLA/e22cr2AK2AANgAAyAATAABsAAGAADYAAMfC8ZgJAMsLcF7P701o/pl/um6acXQ5G+f/gl/XT6x3TuX/RCmjutdfMf3qDpv75CKzHt+eXNn/tnLuvPKCH5Z9dCkdH6/+p15aMFmp7+gJre719T8x9+QtM/+ikdrzTocSeUkjr03SjBOOrvvOA2Vl1C93Uu3JmzU0UEsPkbCxQtal3MeKlqpUiozzT2RCS1iGYihsXiv/nb3iI1HtVNFKk5c1lEEZf0WZ6uyEn9t1fTVLnfptpRTt0ooptNhPSESWsYrm/3rjpTlMVJlfq4fKVOzYed4Nm546abZZHMnCHMqV8LVLpYpfr9NnVdC429LrXuVqlysUzl03nKHspQ5mCG0jrdakDct4uhgcVV2cZsS5foz5/ptqlxvUKVC2Uqnsh69+F7pd7zoz3lucUBu4mF7/TFUNSnuLcRXN8rUMM7r9iW14qfur+yeOJHh7sWds39I86h9jYtKOHaFxHtvRJ8DiqnrbxYCfxwKsuCOqeZRWNPzBV1Cyzqi3qxiJniM7X1hgn1P090YHHznbBwbcsyc7hMlZMqSpzTPMuNEeIewyz4d676Z4ibM7tF2UdpF9MfN9pHhchkhGRRptlDRS+VbV87nC+aM8Q5k8F/12Lou3lqhCPmtY286/pCnxGSWYD20sf2C1WGHz6fV2cJMPW17TMKKxztmj+Spezh4E/udE2d922vO2r/3LCQHPATuo+pVxbT1fn0RiTlTTmB/sOfteXv768i+nkiSfmz/f2L/UrpRMpPac59YnVjfdwIfY52mzpSo77NGJoVFpu8zTRJKj3whU9zLSn66s/zK9vDy66RIL2ZyTA0io/2OA0JyT0+wzvXx032SJ7KvNlH9Jm4fmzKIzdMPe/6CCYS4lx7WRbv/WpDpaYXG5iM6NffP017DM3SYD7Zhw499jr59zcb+efIb3wuxHbpPWlS7VKFyudLVDjqj+2Zg/bIBOPLmEFjr2jRt28MMAz3qPOgTtWLFSqfK1DusLqXORZhjgoq0n6QHzNtE+ePzX2D7TKq3/PYGWVeYmwUiuYOlad9Me1lZrF+zPq2/vmG/d8o44Hst8avBsqh/C/+ti3Pkn0+Cu2AdgADYAAMgAEwAAbAABgAA2AADDw3BiAkA67nBlfsA344vbUnGP+UfvmH8KKMLzD/uKTOTXaltWbx9e+naXp6mB8tCHNK5yv0s+lp+uB34XuGfv/dBzQto52//ZI+v/EL+vl/mqM3vHu+QXN7F+jn/3ClLwVnlGAc9Xe22Vh1GZJjHTmmF95MZI5K0WyiVFjE5agkXvz2ojFDUSsm9ahauBRRxF76a075qKJb507WvagWvXAZiMYS39OLrbqMOnLURJHsVSly9SKjjIoK1/9Zl1pX8pRUaZrtuY8JSkynqHC1ZSJtxhZ3lsuU81Iu+8KXvccsZc7YM/l6K/VAyl77OfG9gEBkFzz7F0MVm0Z4DUaPd5dKlPHEFXFtL9LX/h4pJK/pc7RFytqwXXnR/EGJkp5An1URxra8M3xuqolg4rLa6HCOLLLRTaE+5oksXMZQRDKnzOWo1ldUlNyzLjXEed5OW8r66pThRsQJXV/Ur/eoQhnmJSAk+2mV+T79bWHr3V8Omfpb1FWzm+gXXbS/NIKojqAbt102q48KkckIyaZMlqt+G9j/cTr1L66rCFLux2vCJqIN1lkM9TaO2NTepl0m0n5GBPl58d5scNCC5JisGPtLjvi9Kbdt934mVL0i+ufYvkaL8Gbzhst+tq8ZkTTcfzx72fL399d16lxXafvD9Xf97qXStfcdp4/rcSHhaLe5k41on9FtUMFLmS/EM20nfS3Bh9+/bFmNjdinjeqjPX8SEpJNm1vu/T4xRVlOAW76TLx/1X6AX/ts87zq4+rjfffic5FbVNrH9RPjToxPG50l5jqeT88uQ469fGxHYPwQddLzjA3NhXiecTFrzi6O8oF6buO1bYy9dNsbH6THAC73WpuqJ/xNWVH3SSRsXzDXCPdb5cdM2xi/5vIp8m+2XUb1eyPPS4yN7CYRbRv5aupo7BRTxjHHAysk++ehy/vjveQD78EDGAADYAAMgAEwAAbAABgAA2Dg+84AhGSxsPR9b+ydVb8v6dbRadJppR9f/ClN7/slPXa0h/e/H5+jz79dJ1daa66XlwL7r39Jnz/9kr6M/dFnHVshebSI5JBT/PZr+rLzmJo3yvTzvW/Q9I9+RtdFWtwowTjq72PXxWE3Z3vraF/vfOMONdVZgWZR3UT7Jih1vkmdBypK8/1CKIrQpjflRcXOk5p/zrIQ4cx5yG/lqPZEn7PsL8aZNI+8WL5UpHle7NxdpIY5N1ksVJtIZk6R26FAhHRAtAy1DdvkWZfa9zmChyOFbIQQn7uXv+mf76kXlBN7im6By0T/ukTIHnUfNal+haP0spR6z0+1yAu9ydMN6n5lIwIT72apdL1BzQctaqmfxtW8X/fNEJJNORM0tVCgyt2muFeTamf8MwUjhWQjtkal3PTtawQ7I2rFLN5yGtwLftRQYn+ZWlECouYyJCR3bvui1oSJkrP3mjhQovp9a0tt08Drk66fUtTUzdWGfr2MYCkYZuGkvJ+FkzkqyHMuvf5my+Iv7M9T/lKdKkfVOcCvZ/zNGLJvmgXyEYRkU/bR2yVwFujYfdTW0wjJokzJUzXBmbs92p2eFcVEKuI+H+Vd1xfijPiyqsSgxIw4lzvc160/MoKkEKRGYaXXaVHjXp3qd4M/jeW2EjWtPUYVVMb1NUZQnNabN8L198+jreqIZJXSvb//8Pfiy2/u9XqWyveaxlcF+pX2YQ/ZJhvr4+Z+Rvy15fMyY0T5eO5LURHJ5lphOzmEZBG1OrSP9jgNCcnPetS+3+jjpn6vQa2O2pS14I8P3mYr6Rci3vfb5jnVRzARH5FcNxHJRX2kQoxPM+UfmqXBfFqfMWDsfbZObv6VDfWYs4G5kJeK/xX2V5OUOlmh+rLoL/fr5txy48u4nWPspevWL5Cu21TuiXnKnatRQ4x9zXsVf/4lhORBfsy0TZw/DnBp++VIfm+ceYmxUXxEsp5bTBzSxyvEldH+b5TxwArJ0XMH3W54Dfsn/A4mwAAYAANgAAyAATAABsAAGAAD3ycGICQHFkoA91bC7aWans7S9ad+1PFfVVbc0dH/+kv6Ky+9tTutNZfZP1eYrzVCG451RnLM9b/9nM79OJieO0owjvr72HUZlmMZAXyyTHkvPXLwLEyzwLgnT6UTfrpeewadrb+JZn49S6Wz/tmwNiW2Oqt2gRfbpyhzpkiZ1zkaOEvV8JnCInIyd65IKU4jHFjctAuAc0dLKro3FCE9bP05qucIp8q2EaamvgExV9RTi+khkdPZV5SoMsHCOAvT/9pQKb7dC6LdZSWiB+5t6zvKgq0n3PN9vShBW36/nFbsiRSSWUxQUeSJ/Sr6O2xXjhhVqWFtqvP48trF9lnKXXWkzOZIobO+yB2ISDbRqcHNByxkz3E938xS5PnUz3rBFOZG+IxeDHYJyXx2sxd93beRgu1r6514NUXFu/7GhPXVBhW9qL0EJfYVgxswzAL5CELy2O2yTpvTR209jZAsysRpvCM3CPTsWasm2wFHM3KEZpitwFnZNiJZpjeP4pKv7Z/H7G9IaXop1/1zr0dmxVGuYFmtPUbpn3yNcX2N+R77oEuOPsS2e1ihDJ8nr8WkiP4juXWW3zDKmyfc7cR16QmBd+w+Lm0ixF/Tx19zbMbw2qdH7UsZmmQ/8F6B6ipVurGTuFaw7RxCMkc2e5klRvDRLiF5GG4G+deoM5Kfd32kL2Nh9b7tt9J+JopVjleGF4dPM/8bnqWBfEbZOTz2/g+d3SA4fpj6bMJciBn0xnqd+UKW7VmH9MaODQvJ3JeP+fMWzu7Qlffh97zZ5l3R98P/d/1u2ibaH0edkez0G3wPR8T6WPMSUzaep4WznKi5Dc8bvU1eCeL5qb850fpmV7YF41c2ee5gmHLZGX9zjvWwWXiOjt/BBBgAA2AADIABMAAGwAAYAAM7nwEIyXjI376H/C9v0c+npyn7dx/QT6f/in75r1EdZoV+uX+afvx3H9Dx6Wn6+c0v+8v87Qpd+c9v0Bv/+QqtfOu6ztf0+HeP6WvZ3kpIfuNHb9PPPnKL2Csf/YzemP4JnWvpa35JK39w3J+v+22TPvjRNC2Ia0UJxt45yCrKus9RjlMXjoz+Wpcx/tVEAPMiPP+EI0VFBIkfaZmkkmth2ZyvrK7DUb63g8JD+6pKZ6vuZYUoWUYRTag+N8/RvKKtrFCh7hUS9roP61S9VKXGI14A71H7aoHyZ2vUVoKSsbG3IOtHjJrFULFomTxdp44447i30qDSwpRvJyEk9x5UKH+iTI2wKM731gIHC8l/0mcZOwSgbosqh9S15cK8WNQ3ZRS28OriWrB9VKE0i/CJVF979R5VKectNCdICslBu60Tf86P8ktQ8qQ+E1a1Facrv5ilGa+N5s1ZjAMX/jnK/aROyTlD6VMcueVHrjaXalQ+qv/HZRdCr24XFpO8dlXl4CjhA7xBIUGTB4pUl/9jO602qXx4ntJnRVrcsYRkuyjtRewL4cznyf4/3E4s6mV540QiQXOc7lszpes0SmprFu3Gahd5FqjqN2P1UVtP2X+DZapSK9TXug+qlNubosLtjr/IL4SbxOsZKutz0hXbvSc1KuzV5RRCMtf/QYUy3jnJLBTnqGwi+5tUv1SgtEznLkW3cVgJ97W+3609wu1u/Iyjf3r/M+3PGQuG8zX8PSOQct97LU2le0E/2+s0qHRg0vdTe4vkCen6XuH+M8i/8MaO0+q87zczVL6n2k/bodeh+tk0zR8q2zYft4/LukW028T+IjU4olffn8/DvleitCeaJyh1TotIwk7yWuJ7MtW+ycKxNoaPHktI5n6sxX63f/XSJL8yS9nzTS/63bT7866PYMIb8/cWqB4a27r3K5R9U/k0dVyF1yYRGQN63Z6XEWRklkRZXP1r6LH385rvg/v4t3OPjc6FTIaB0HyEx8TO7YKfbYSzk5y1jI4VkSyi5mfDx0eojVi7vHHZpraW/cX53kv1rMZelz9eqVNh7wRN7itQTc2rmmd9v+BqF+8eDr/HzI86L7E2Yt5mKHvR7w+mHnwe+SnloybVMSxeP7cb5gLz2l7X3/gyzngwxNzBlCvgayxn+D9sAQbAABgAA2AADIABMAAGwAAYAAPfBwYgJOPBP7BAu7VQq/TWfM7w/l/SSkxbrFT+Sp2BHBN1/D+b9AtOL/0XC/S3levU+LRJzd81qMFpp/e/TdN/8XO6pSKXvHrqM5I/ukXH/3Ka3v6bD+hKvUGf/8vn1KhfoQ/+5m2ann6bstesyPz17z6gt6en6e39P6df/OoTanz6OX3+Lw3/8/+J732cbomo6Cgh+ev7v6CfTL9BP/27K9T4XZOa9V/SuRv2Pusj1eUxlf9ymqZ/dJxufTmEYzYRwLxI54rWCQq7gTONQ21kFlJ5EbNvMZXTh9dVykW+V7/QrHkzkZPeYqhDuA6J1oEIaSMEqHNMOQrYOzuT7zlF8wtZyp8uUfF4hlLv+QJkIjFvUxWzQGoiYhM08V6KMgczlFlI0dwP+Br6R4mcPR3p5P99Zm+asieKVDyVo8w+ldY4kaDUWY4csmdF84Jo+kSJyhfKVD6bp/Rb+roJSmyCkOylYfYiwFlsSlLuTNm7V+lkxo/gVfUwQnLYbl7a6R61r+fsmY8T85Q+nKPckQwlRXlTUqQdsPDvtfFai6rHpWAs6s7lem2O5l7lv1khua02IeizsjUr/OpFXxrxkNs4Q9ljOcouJJXQraLadZr5IRaD+yKSzYYKTqnedfjJeEHRCgmTlLmghAQt7o0oJHubI0ZuF98XbLyP2npKIdlZpoNZyh3LBvpBoP06DSoKsXhmr2q3A/N+dKnpayHxRYuHps1D/CQSNPOuH7FnU1v79R+ZlZCPk9z57609RhFUvO+O6mtUWYygKOwztSdN2aM+81P675NpI9BH958hyu9F+2lfmSDPxx3NUe6QPB4gGewXY/RxtompW0gsDbdbcsFnK71Hb+xJ0FQoGj7qWrYNHRHJ4/joMYVkr89cDfnXQznKHZVj0xRlLrS8zRdbVh/hw+V4N38gQ9mjWcrsVX2LOdtdoLr2q8ynHA8nk5Q9VaTC4Xma2VukBm8uGZmlGD7lvbjPx4y9n8WMH4aHDc6FvCwLasNQYneWiuf9Mbd4ZN6PVFb9csNCMvcTnYmDNycdLFCJ5xHni5TbZ/uDyUYw0IepeSLXX2fP8OzpGEe5vVf8DXrjCMkjz0u47GacFH7+rSRleC7CPsjbMMf/m6LMRb+v6Dbt6iwinHVmIU/F0zlKvTNL2St+JoewX9mMuYO+N16HeP4Ylk18zjHnhH3Rx8AAGAADYAAMgAEwAAbAABjYXgYgJONhdVsfVv301tMUmdZat4+X3nqapo9cpy/131yv335Jn9/4gLJ75+gNFqhZ9P3LBfr5+U/ocVhk1ULy79Zp/cvH9EkpSz997w1fsP6Ln9DC/1amTxzRx1+vNOnKP/ycFv6ShWb/Hm+891PK/v11+jx0jyghmR3fSv0D+pm63xvv/RX97bVQxPTQdVml60fepjf2nqPmUFHJQih2pZpWQl3aE/ZcQrNwWkIoDoi7um1kFKJLaNafE0JxlHBtBbGQ0MxRMCrFof/dHrXvlim72wohdnE8QYmJJOWvtgKpWXkxvH4mTUaQ0cIMRxMdLVDOS31qRc7eoxoVD80JkVkseCamKH26Tm0dhbrG0TOpPqGMF0FTh9K+aLsZQjK320qdSgetmG3q/eo8ZQ76Qq4VksN20+3ao87dEmVUBLO5BttkMkn5K6HoICFCRAprXjv3qL1UpeKxDCV1ZNv+LBUu1Kj1RC9oqzSbzMNhXiCfouzVttNH9Z7UqeiqKy8gHywFI+rGEJJNtBpHloeibf2JS4zg4dW3S83zaSUoJKnIUaRmgdyRBlb1Bdf5mPp+o7WLas8N91Fbz6CQzNfvUedembJm40awH6RO1frTXq82qRKIQtffmfSi1UuHfNEqIL5oP7HaotqFAmUPKKHm9SRljheputT2NkB40fJ7S31nnY/Eir5X5Ku1RyTvjsg8M9kd0dfw94yguKdAlfN5mg9scPHtN7k3T9WHasNDbP8Zovxc926LqiddfovTSWepvBSMitaMDt3HlX1N3UJCMl/P87MLQsQ0fpkzG9SoHTpzPe5afvlcQjKn5B3RR48tJKs+E+VfE3zOuvWvW1Yf4cOnDpWofCrtGK8SNH+0Qk25GU+1IWcnyO/W/Vi9Tou05COxFM/nUGPvnwePH5pXfY6889iNIeZC3eUI//demjJ7/SwBAV827hjwrEutK3lKGhHV2nv2QIZSnqA9QkSy9m/cNifc/XzmYFGMo/Ht4tkzwu+NNC/hchkbzVP+fMk9vryepuJNR5p/jrQ+5x+1Iucu86fq6oz7dRppPBhi7uCzpOdPeIU9wAAYAANgAAyAATAABsAAGAADYOD7yQCEZL2YglenWIOO//3s+L1Ok2oXK1S52TKLa4G25si56xWqXKo5F47tZ1m0rVLlYpUaXtRKv7140a56sULVe45FP9Hvug9qVLlYodp9l0DhCxv1SxWqXG3YVMHq+5yCunalRs1QCtTukxY1uB4cvXOxSvXlNnW1wCvurevTW21T42aVKhcqVLneoBZfjxdwb1a8stW1UKPvu9qmpld/jkSqUPVuk9qrwTSs5tod/Vm2e8P/XLdFXp2u1AOiSOd+zStDpM1U+3h1CqUgZXGv+6hJda432/Ney7OXbgfZ5lF288r8rEedh2xXvk6V6vejbTewvLwg35caWrBiFo79TQImBWxAYBefF23XW2lR8za3WZkqV+vUfOKIHo5pQ90+LJx5bXGpTq3/YQWngAgg7svfG1jvZx2vH3EUeuV6kzrdNtXZnjH9ym8n//Ndl81GaBe/bhvvo91HDarfrFH9fijNsbFHjzrM3NWK3w9uR/cDbe9eR7dbharm8z1q3/P7X58fcNlC3F9Hy00diThT09tooe8Zw4q5ppu34drd95/u/ulfdxRfw/2UfSgz5DHR61Brif2lqsejrjojVF1bp1CO6D8DuZU26LbtvS7VqPGgE9mXR+njhgOvblyPfr+uP9NdUX5c+bO+IwtUeX07xV2rR50ln6/qUj/LvaF9dI/ay3Wq3WR/4/b3uuyRr6Ifl7leS76flp/fyvro/qM3RzCfTTUWcv/0xkLJRfh9r+vZxBvrbzYD45mp05AsDcOnV76IsXek8WMz5kLPutR+0KAaz0+8sZL7iGKN21bOadY2OAas+X2/yn2f5zw83vXUfC1mHmbaINxuuu+IuUzUODqwXTZpXmKFZLXhim35wJ9H8tjZeNB2z1tF3czcj23yMOgftS02be4g7quvjdfo8RO2gW3AABgAA2AADIABMAAGwAAYAAMvJgMQkrEAAAEZDIABMPAcGehR+0qW5vcXqBo6F9ebOHCEpj7vcHeBGqs9al/MeJG8/RGwWzTQrur06KHod3DyHDmJadvVBhX3Jyl7PrjhQk88u3yGsheR5ziL/KVrs+3oP6P28Zi2funaayfYYoho0xemXbaD/53Qht+jMpiNZdGZO7Tvx+v3qN1fGB8Dm6PfgQEwAAbAABgAA2AADIABMPByMgAhGQ+u2yMMwO5bavelpaWINMw2PaJMA4j3sMtmMOBNLORZzIkETe5OU+6Uf1Z06VSWUubs5VnKXeWodT+CdjPuj2u82BzrialNa8/1maXU4bx/Hun5IuUPivOV95VMGnK0/da0/Xh9fB3jkUnTvTXtFNUf/D7mFpKjvoO/b2+bfZ/t7/HoEJJ3Yp3ffPPNLZ3H6/EQry/ngg3aHe0OBsAAGAADYAAMgAEwAAbAwHYzACEZgiYWQl4CBiAkY+F3OxZizQDH5+KeTDnPoPbKxedWXwmmWd+O8uKeO6ufGH54c8HtEmW9s8rdZZw9VKK6SK+PtnTbabPtYtpoxD6+2eXA9cZrb7/9ICSDn/H42Wy7eTxCSMZz2UvwXGbGTtQVvIMBMAAGwAAYAANgAAyAATDwgjAAIfkFaSg8cGLXCRgAAy88A3xG5j3/bFc+N9g7G5TPcF5D277wbbslY6k6i/kKn8XM55LzOaF1aj5ynIu9JeUBt33coo+/kA9AA8+/RX96Idu1r3++CO04xDnSL2S9XgTbo4zo52AADIABMAAGwAAYAANgAAyAATAQwQCE5AjDYJECC+RgAAyAATAABsAAGAADYAAMgAEwAAbAABgAA2AADIABMAAGwAAYAANgAAy8rAxASIaQjF0WYAAMgAEwAAbACzPuCwAAIABJREFUABgAA2AADIABMAAGwAAYAANgAAyAATAABsAAGAADYAAMgIEAAxCSAUQAiJd1RwXqjd1EYAAMgAEwAAbAABgAA2AADIABMAAGwAAYAANgAAyAATAABsAAGAADYMAyACEZQjKEZDAABsAAGAADYAAMgAEwAAbAABgAA2AADIABMAAGwAAYAANgAAyAATAABsBAgAEIyQAiAAR2WdhdFrAFbAEGwAAYAANgAAyAATAABsAAGAADYAAMgAEwAAbAABgAA2AADIABMPCyMgAhGUIyhGQwAAbAABgAA2AADIABMAAGwAAYAANgAAyAATAABsAAGAADYAAMgAEwAAbAQIABCMkAIgDEy7qjAvXGbiIwAAbAABgAA2AADIABMAAGwAAYAANgAAyAATAABsAAGAADYAAMgAEwYBmAkAwhGUIyGAADYAAMgAEwAAbAABgAA2AADIABMAAGwAAYAANgAAyAATAABsAAGAADYCDAAIRkABEAArss7C4L2AK2AANgAAyAATAABsAAGAADYAAMgAEwAAbAABgAA2AADIABMAAGwAAYeFkZgJAMIRlCMhgAA2AADIABMAAGwAAYAANgAAyAATAABsAAGAADYAAMgAEwAAbAABgAA2AgwACEZAARAOJl3VGBemM3ERgAA2AADIABMAAGwAAYAANgAAyAATAABsAAGAADYAAMgAEwAAbAABiwDEBIhpAMIRkMgAEwAAbAABgAA2AADIABMAAGwAAYAANgAAyAATAABsAAGAADYAAMgAEwEGAAQjKACACBXRZ2lwVsAVuAATAABsAAGAADYAAMgAEwAAbAABgAA2AADIABMAAGwAAYAANgAAy8rAxASIaQDCEZDIABMAAGwAAYAANgAAyAATAABsAAGAADYAAMgAEwAAbAABgAA2AADIABMBBgAEIygAgA8bLuqEC9sZsIDIABMAAGwAAYAANgAAyAATAABsAAGAADYAAMgAEwAAbAABgAA2AADFgGICRDSIaQDAbAABgAA2AADIABMAAGwAAYAANgAAyAATAABsAAGAADYAAMgAEwAAbAABgIMAAhGUAEgMAuC7vLAraALcAAGAADYAAMgAEwAAbAABgAA2AADIABMAAGwAAYAANgAAyAATAABl5WBiAkQ0iGkAwGwAAYAANgAAyAATAABsAAGAADYAAMgAEwAAbAABgAA2AADIABMAAGwAAYCDAAIRlABIB4WXdUoN7YTQQGwAAYAANgAAyAATAABsAAGAADYAAMgAEwAAbAABgAA2AADIABMAAGLAMQkiEkQ0gGA2AADIABMAAGwAAYAANgAAyAATAABsAAGAADYAAMgAEwAAbAABgAA2AADAQYgJAMIAJAYJeF3WUBW8AWYAAMgAEwAAbAABgAA2AADIABMAAGwAAYAANgAAyAATAABsAAGAADLysDEJIhJENIBgNgAAyAATAABsAAGAADYAAMgAEwAAbAABgAA2AADIABMAAGwAAYAANgAAwEGICQDCACQLysOypQb+wmAgNgAAyAATAABsAAGAADYAAMgAEwAAbAABgAA2AADIABMAAGwAAYAAOWAQjJEJIhJIMBMAAGwAAYAANgAAyAATAABsAAGAADYAAMgAEwAAbAABgAA2AADIABMAAGAgxASAYQASCwy8LusoAtYAswAAbAABgAA2AADIABMAAGwAAYAANgAAyAATAABsAAGAADYAAMgIGXlQEIyRCSISSDATAABsAAGAADYAAMgAEwAAbAABgAA2AADIABMAAGwAAYAANgAAyAATAABgIMQEgGEAEgXtYdFag3dhOBATAABsAAGAADYAAMgAEwAAbAABgAA2AADIABMAAGwAAYAANgAAyAAcsAhGQIyRCSwQAYAANgAAyAATAABsAAGAADYAAMgAEwAAbAABgAA2AADIABMAAGwAAYAAMBBiAkA4gAENhlYXdZwBawBRgAA2AADIABMAAGwAAYAANgAAyAATAABsAAGAADYAAMgAEwAAbAwMvKAIRkCMkQksEAGAADYAAMgAEwAAbAABgAA2AADIABMAAGwAAYAANgAAyAATAABsAAGAADAQYgJAOIABAv644K1Bu7icAAGAADYAAMgAEwAAbAABgAA2AADIABMAAGwAAYAANgAAyAATAABsCAZQBCMoRkCMlgAAyAATAABsAAGAADYAAMgAEwAAbAABgAA2AADIABMAAGwAAYAANgAAyAgQADEJIBRAAI7LKwuyxgC9gCDIABMAAGwAAYAANgAAyAATAABsAAGAADYAAMgAEwAAbAABgAA2DgZWUAQjKEZAjJYAAMgAEwAAbAABgAA2AADIABMAAGwAAYAANgAAyAATAABsAAGAADYAAMgIEAAxCSAUQAiJd1RwXqjd1EYAAMgAEwAAbAABgAA2AADIABMAAGwAAYAANgAAyAATAABsAAGAADYMAyACEZQjKEZDAABsAAGAADYAAMgAEwAAbAABgAA2AADIABMAAGwAAYAANgAAyAATAABsBAgAEIyQAiAAR2WdhdFrAFbAEGwAAYAANgAAyAATAABsAAGAADYAAMgAEwAAbAABgAA2AADIABMPCyMgAhGULy9gvJ3SYVdycokXD/TC6UqdmFk3pZnRTqDfbBABgAA2AADIABMAAGwAAYAANgAAyAATAABsAAGAADYAAMgAEwsPUMQEiGkLzjhWQWmCEmj+kc1jrUftii1sM2dXqha/S61H7Upm747zu1T3Q71H7Sod5OLd9OKBe3Kbf3A27zDvWehdp8J5Rxw2XoUedJmzo7dnPJTi/f95EJ1GknTKC7T5TvedL9nvjpHsk67QQbj1SGZ13qPOKxoEXt1d72z/Wk79/B43mv06Z2Z4fZa32duFzf77Edfnyk/i3701a838F9NtZuz+y8eGP9+gUfD7aCkYH3eFHnxy9qubfGp+6oMZPXPfgZ+EFrBz8nbk27xPrFgX0VZYT9wAAYAANgAAyAATcDEJIxkdr+xcUBEck6UnkniMm9FbWQ94IslHfvFWjOi/Sep+KyWBhda1H54KQXBT51qEKtNbeD2CmOs/ekSrm3/Ij11Nkmdb+XAulG2qBHnbslSk+HovrfzVLlQXe4Pi4evv3F6h24yeBZlxpnU372gndyVHsimN4Jvnynl2+gjcRCqVqIaa0Myc/Aa2+Eb3x3p/jiyHI861D1sD+m7FqoUDtug1LY12jWBr0+3GKf1GtTZWGX528mD1ep86KNOys1yr2uxs0LrR0j7u/k8bxzu0Dzas5UuNsZbuzcEt/Xo+bZpD/2vZWn+uoO8YnPev5mhQdt6ow1j7RjTt/mMLkxbpBv4P+H/cMYZeuuqM0wj4bciNftKHG//b2el+7kPhs5Jql+2bmZo1mvT/+ECr/+Z7+9huFJfKa90qP1F3082BI/FeOXtnJ+bPq+6s+iLb3nm1FExq0s93a30Rj333Fj5lqLSvv9ec/MkWr8XHRQff9jma4tLtKN+3/eQXOBmD42qD5j/f8pfXZ9kRYrl+nTf9vie3/3R/rt5UVavNWir8Yq+xaXF2V8ifsJWBs0F8P/wQgY+H4xACEZg/72D/pDCslaUB78OkmZK+3Nr5d4OElMZ6m600QsB8tRQnLvUYXSryrRcTJDlUc7TJAL1aVzPUczOvX5vtKOF763eqDsPSjb9tR24tdXUlR+EN+23Yc1Kh6ep13ye+L93KECVe61d4YIsdak0l4tls9Q7uZOWuhfp/WdXr5QvzKc9jrUuJCn1JvatqHX6RTlztWotVPEi6h64O+bP+4Na9MRhGQ7LoU4E37HOc5v9Vj1ogsHO1RI3rHjOQsGJ+d8sTaRoPlTDeoOy/9z/9wOFZLF/D15ujGymNq7X6bUD9gP9I/nPK9JDfIJgf+H5juibLPHaoMFhWddqh+f9dt/d3HwkTrMy6l5xcss5W/vsPnIJjK5Y/vsoDqK57aZ/+Uc/UPa3xjkHF8CLAXHJs8XvOjjwSBbPe//b+X8WPT9QW09d7BAldut/qxd2h5bWW59zxfldYeOmXbzSJKKy+Nuhv2GWr9ZpMWPfktPvlOLv4/u0OLi4lA/15afbt98fFP5+RN9+iu/znf+2zdbXqc/379Bi4tVWup8vxbgzfP3prYVbAS7ggEwAAbAwNYwACEZA/iWTwr7OvcID3yDHgj9/z8fIblzO692tfsLDBwZu9PTLNsF+1BEcq9DtZO8ALaLkqfq0Q/QW9A/OreLlD2UocyxMjWihKrVBhX3T1AiMU/5qztE1NwC2/T1Fec9u9Q8oxYzX01TWT009zpNql5pxETR9cjuJA8umrn6Wer8Toho61H7ih9dMrVQCvLCCxrncpQ5mKHcmXpMvcccXNdaVDmeocyhLBWuRzEYUz5n241Zls28VpezE0wZ8cTV9uZvHAW+soVlHsrmW1iezbT79+1aEJK3fy4VZmqHCsnrO3g8794vU4ajuN8aIZtH2O6j/j6Un9v5QnLiBykq3R9h0Z6FucN67Hm+QnIiMUHp8834jQEjCskcpZsVWWAmDw7IxDAqFzvp8zu4z8bNk+1zW5KKn35mMkyYOU2MeCw/AyF5wDxrSB8WOX/fbNbHWVd4N0vlJddmkBdwXr/Z9oy53raMmTHl8fyB3EBytDbe8+CXn9GNxUWq/rNgovOAPv7k45ifW3TtQxZdL9PH7WFF16e0fG2RFq8t09NB9dqu/3/3DX311bfbM8f9pkW3Kov04W+fbM/9t8vmuC/aGwyAATAABnYwAxCSd3DjxD0cf6/+N84DX+zD/3MQknnBS6WCNosL7+WpvsN3SEYKyTuG+x61L6hUxa9nt1ak2jE2GLBAM6iczzpUO+Ivxg5MKSuvtVKjrEp7mngtRYVLDWqJcyH5bND6lSJl97CAnxxtgVjeZ6vejyBkjeU/V+uUV+nVky/AJpLh6tij5hmVLjWRoLnDJaotixSdnFp0uUblk2lvE80ML8jEpSze7Lb+Xtp8g/19s228Wdcbpf+tqXSwgXSTTaqdUWOBt2Go0Z+CNJy6drPKHnUdHveR2hoPcVF8bNbfh/JzL4CQnEjQ5KHhxdTOTbk5M15ITp2pUTPgL1wpa0Op7/ueLeapEBc1PJKQzO2h/ZXeiLeR6Lfv6biwWX1knOtwe55QGQb2lqi5ZtOo6/TG/Nq8VzFH50wdLFP9fj9bSG09gM+hfNiAa4zTxlHfEX0/qk1b9xtUu1igzG5+xtF9eI7ykRtFt7D8UfXC34ecj/SodSHtZ9p6c7wNsONEwq4uX/Oila8trw5ZTmbqBRCSt5m7J7/9kBYrt6j1DfrgcM/2sBPsBAbAABgAA8+XAQjJ2zw5AuDrtC4e+OzDnH6oG+d184Xk7nKRkt6D5gSljmTUucOTlLkUFZk4oOM+61J3rPPk9HV71O3GpyxmtjZPSB7ufgGe1zrUd+ZdX397TkJyr0vdjQhez3rUXR1s30B92d4r454TqNtVvHIZhmFECDjDn+PZo/alDE14TM9T4V5MFNEzFhNj0r6pNu2tdjZm8153CF6EfcIsCTuMJKiv96jb6VJv0Pmnz2mhrDdEPw5zFvi9uwG7rzao8J7vYwcJAL2VJjU3OQV+r9uhdlw/G9fmw/adMEP69yH9c291CG70NdXrwDqHPh9o69D/trXP9UJ1H7v/2T7dvpKhSc8nhVLUhurdZ5O1UFkGfV78v9ftRmcWiROSN+yvxhtjvLoPy/eoEckbsOP62gbHXNEm4fYdx0du6lgcUzavrBtlYSg/FyMkjzlfGYmlKBv0zd9nKHddRHBFfY8jXHfL+X2ckDzmnL6vbAlKvJ6lysOIud0oQnKnTnk1ds4cyFFabTLjFNqbe5b6gPnJsL7A1Q7Psc+ub9McPOA7uF+96zMWu/lPcDJ7vB6dnv15jQcb8bvr6xQ7hul293xUBPf6M67XZ13qiA2mAfvKzw/lw+xYH3kdec1h6xb6jnftYduUv/usS62reUq+ovzRRJrKo2RWEPcfb343xvO1uOewtjSf4w2iKzHPfKFrj1enmLbeIO/sWwavLayTdzRCxLEJxhahutq/r9Fn/7hIi79aok7kZ4J1/OrRHbq8uEiX649HPM8XQrK1e9Cm5u8qpfidRxH/H7KNzPXw+RE2OsDm4AYMgAEwAAb6GYCQjMnE9k8mxAMfC8kc9dZ6WKfqxQpVNuvnSp3aw4hyLh444vPojL9j+f0CNVbaVDk06f++J+YcNbHowIsTnZUmVc9kKTkpF88mKXm0SNXljmMxWywc7i5SY6VDjUtFyrwvv5+gmf15Kt9sORc/IoVkUbYo8ZFTI9fO5SglUvd57bMvRyXX/dY61LxaotyCPWPQ3xiwi+YPFakqH8yF6BC5eUCehSyiZ1MX3OJ990GNSsfT9ixlT5Bg+5aodt+1sBmyL0fgnu8/J3b2QJ4q91ztoxYgbpYoG9jRzu0zSfMH81S+3hwpgtNLR30mR8mwzV1tLBZuomwYfcZjlxqnVTrst/JUj0op7uoP6m8eH+fzlNmt+oJnb677HKVPVqix4li0EtzNHq9R+1GDKifTamOG5nqKUsdKVHeKlqLNdLnHsEP3YZ3KJ7OU1BHZuuxvpih/PugreveLNK//73yVC+CO8oVtuOb34z5m3k1T4WLw3mbSYvjnBfUWtZerVDwUOtf61XnKnqlRq9s/0JvrhMrCqTkzr/l2j+pX4e/y+eoZ5cOSZwak92ehWvmruZP+Am3nPpc97CMSNLU3S4ULde8c5tFsrurbbVHdcc4zn/FdXXL1X9FW7F8ftah2Jkvz+ux4r62nKHW8TI0nimVecLxZpvx+NR5oHt7htmtE9vVh6hy2s+v37elzlqfO/RqVjiaV2Kv6q8ddlZorbaoe9n3BaBs57PWHF5J71OE+ED7bnc/yPj+gD/B54JxpIeyz30lT/kKo/wl/xeNk61GDyif86Hzrc4f0V8zYOGOM8LfVYccG3c8HCcnPetS+W6bCwVB/fGWesqcjfLi+9rpqgyMhHtj/nyhT/VGHWjrbiPbV+rvGnyXI6Xd6XWpeL1Fur0577LM2sTtLpetN94Ylr29ufCwOzJnuizFMsDDe2GU51317ND8n/BXbk/0Vz89CY1jsfEXbf2Rf2V92XQfnRtDdheCxE/q+5rVHrfNpEQXI7SvHUf9+9ozkTRSS2WfvL7nPPx5aSJYb8ThbS4ea51V08itpKkcJ1ab+/fa03KWovNymxqUCZZRQnQif1zx2+z3HPssbKbdjDh5n02U9d5un4lKMcCaeQUcRkkcfD3S7jzF+GZ/JG5hb1L5XofwBdZ63noe8n6HiVfss2FtpUOV0lua1QOp9bpKSR0pUc86v/WcavnbxSCpwlBOPd5N72f/a67MP2JAPcz13jDI+x7S99EuxbSqu0blbMHP9YJr6kO8NlXuc+d1Iz9eCz+hnunWyc/N+f+mxoDIL2bkLH+GQohyP9Y+C/WOUOlnfNU9FOWZq244zz9iM8XatScU9/txh7kTMBhFdTvn63Rd0h89C/mTIdMqry3StskiLv16mVX2esrye6/1/LNO1uPOW648d63Pf0tM/LNOd65fpQ74ff7/yIVVrn9IXq1GptENC9VqHHnxao6qXgtv//uXrt2jpi6f0rauc6+v0uM73ukOPI/6//uwpPV6+Qzcuf2jPj/6oSrVPH1DHtfamy/CRqgPX48PLdOPWp7T8B0c5OL01i/QN11qO9qt4NfOyqHbC3x19CtyAGzAABsDAOAxASMaguv2DqnhI4gec9IUG1S+WqHSuTOULmyAmX6pQ8UyN2mNGqPYelimtHsTTF/xzYu25W7OUuxkxsRUPQol3kn3iYOBhLjFJ6bPh82zFw+src5R8PyzYqYV8tYgwe7jctzgWeMBbdi+KuoTkzr2Sf06gXqBwvM4drVBLPSB071coFxK4g/Xjss5R/qYSdDZTSH7WpebFbN+iR/D+M5SJs29ihmZ/GLRn8PtTlFFtbxxtr0N175zpuO8lSAto5nsRPmcomx+p2DYeQ0C1ZZApjflcQ8FGRPnMd5/1qHW9YHfvO9jwbPdWlqrhBVXZJ344GxL9Q3Z8NUWlvsU/0Se0ODGKHXptqp9JB4UwR/knF2xf2syFst6TujrrO1RXWYbd+X67mUXEBE2+E1o8lN/l97sLVHeJ+K525euqTQtDR1I961D9uCrDu/Hp/dtXszTllY8jTP9szrcO9q2QLfaWaOmf9AJw6H+mrkHRofewOsD/TFKaz80OjAGCpcQkTQUWW0P3fTNDlXsNqhwLCW6mPP7n545WQxuW7Nl6g+rcjNsAsK19jheXO9Q4m4nvr9PzNK9Yeq5CsleWAX34/RxVHgQXRtl/DdX/9uSppjcOSH/1gxnFcogNzcAgfzXOGKP67Mhjg+7rcULyWouqx9VmIl2H8Otkioq3HRu3eOw7nRrgR+coqTcZaV8tyqWPVegTkrtNKh+O93Gzh8rUlIv5mzgWB+ZMclyULIw1dvU/pI49tiQmaEZtAHL7Fcd8Rdl+PF/ZX3YzHxDz913vzhsfkToXvcmo98ieLTy7N6m+E/TpXn99UKaUx2S/MGLur5lyvYqyzRytUPWUOMaBI4cD44EvopmxLSzeyuvzdZVAMXW46j1byPOSPbFnUIYTeb1A9qAETYU2Ekoheez2e559drvm4CEbhpkwWXemBxybIziJFR2lDxhrPNBj6Rjjl5gD7pqOfxZMnqpR83aJ0nE+wjFe9ToNKh+K973sb1JnGmbj8tg+LDwmjDM+x7X/sG0qr/GsS41TekzkDSL6uUjMFQPlHm9+N9R4Lp6vpSg+jpDsnWEc9inhsf7VtMrUMHqdIsdMtu248wzZ18Ydb+XGoIXhj1zw/Mi/LxFHF9/4r2uD18i+ekx3Li/S4uU79PirmLFSsubZ5jEteect36FrLKh+dI3uyPOX/yW0tvTVn2jpuhJeP7pBt/Rn6zWqKlG5+k9PHNHQVkj+08qSL3hXqlSr67Oe9bnOi7R4fYn+5KhDnJD81coS3VD3//DXt8z50XdqVSV036Dfy/na6u/N56u1O+bzH9+6YcTxO/8tfB7zKi1fZaH+9/TnsB3x+2BGYSPYCAyAATAABjaZAQjJm2zQ8IMsfh9iUi0e+FhsLFypUeVCkdKxwl7EYm744SgxQalTZS+idKy2kA+W8pydtSaV9vllmFioUCu8IMVcyQchXa7X/ajDJp/Bdb9J9YsFSpuIkilvp3nPMCkeXvX3E7OUOV2l+jKf4dWkBkfH7bWLCnOhxbHAA96QQnLvQYUyxvazlDlVofpy07tf83aFCgdsNF5SLSh072nhZ9KLJq3ebvrn2d3nqOas2eWdEDbkM3i5DjUtxr6aptJtvo86n+yRiCIUiyjBheceta/mrIgcti9HcL+jWRnCvq+lKH+2QrWlJjWXalQ5rdOYJyjxSjDdKttWR6pO7S9Q5a4ue5MaV8uUZztNpKhsFiOi+0KfzUUbs83z+21klmnjZz3qPGSO6lTar+q4p0A1jw3fht65boan4P1l+RNvZbwo876FVed3e9TU0UQcuXbGt5fXbst1qhxPqpTZCQru6o/oE7uzVLxYo8b9JjVvV6l0VC/kJCixp0iNgMAm+oRe0BnFDtwnDytbvpuhwgW+r2+r5r0qFQ5YO6f0OchrHWp75+iVTb+YO1413+N62zRrjvJpG3abtp0SCZo/UqLqPZ8ZZq18zNotsadADXn+uuBfCwccaVu+Wqcm+xHmbZ/1A14GhGEWstke5uz3XZQ80R+Z4PKbNtV/THr/tRaVFZczR6rU/kPNnEPIvBWvNtSZl01q3uV258hG7qNt6o1i806DCmpRP5GY8qLhtb9qXC9Tbs8uFfk2QXojkF8n0Vbav76ZpsJ59q+6TIJF/RnvLOkiVa43qHmfNz0FfUz2ihDeWMhTKU8H1llz4nzd3j7XupSxImqfjy2YtK6azecnJPcoUJb3OULK56jJvue0ELvfC21yCPe/w0WqKp/t9b/jVhjljSTeJinXGD6uv9L8jDDGMKdjjQ2aoSghmTeD6HHXizTjrCaqP95vUPWsGLMnUlRaFqI8i0bn08bHJ94Scxqek3CfE3MSjwntq0W5nEJyr0M1sVljljOZ6Da6yxHodiOH51PUvEuOZRsdiwNzJjl2b5iF4Pjr+aBR/Ny6w1+NyNL62L7SUXbdlmL+PneiSlXN1WsZdwppZk+fW/tunqo3S0osfr5CsjcmdltUOaznrw6xXQoPMUJy56aec85R4a7qG/yscFLx+foA4VLbTrxa7vR8dZYyJ0tqnFFRoOO23/Pss+vbNwd3zU3s34QoGJc5ittAMDy0kKz9+Yjjwdjjl2MOOH+0SBX223zW74UCpd/U7IjXH6Yof65KdX6muVel0nGRQSI8v16pmVTgMwfyan7pP6c1rsp5zpw9DmdcHxYeE8YZn0X/se2ufNWwbRq6hs2CwNky/I3j69L3ynKPMb/rG8+HeL6WfI4sJAfm+HOUPSeeeZZ4zpSl+YkEcZYNLyX/GHWyvisUkbyRecamjLd8TrLKFCHbLdTmfeysr9M3n9+ixcUP6bf/FjP28XW+W6XlX3NU7zValmLpEPew97VC79Oo7+n7LF72Mqz1RQ4/e0oPfnM54nxmdf1fXfME68t3HtDT8PPhd2v0x3++4Qu/v/49hcsRKSTrSOzLNfqsExZ/1+nbpw/oFovs15Zp1avbN9T6DYvh12jJ8fn1776h1T/8se/+bKsv7rCdP6YnUTbC3yGSgAEwAAbAABjYMgYgJAO2LYPNTppDE3PxwJd4M0vlSxUqn0rZhUr9wD7O62tpKl6oDkizFyqPZEI8vAejDHjXro62izhjNvwgtK9IDddZU3xWnBKlEz/MUFVHQ8mHV677a2kqywVdXU5efD2hBY9Zyt+2u1gDD3inI/q1AAAgAElEQVTDCMks/ixM+MJL1P28h8MkzR0o2PRoHCV2oUS1h2LBWZdPLTTNeO03RdnA+XlDnpEs2kEKyV4UiBbi9xbdkZirTSotKJEtzr4R3+8u6fOxEzR/pkldr15iUTdy0bBHnSedwWfvDmNzL5pER9ME25ijBcdKKcsLn6f1NfXC0xQlD+WpdKlGzUcxZ4d2m1Q5Vw1Ghen25sVYvaA6kaaKTKEX6hNznN66L+0VP/xroWKW8nqhNmz38MLAkHbgiJ5SVBpiXszSfXFvkZqybCLyOfq8PcFFoHxdapzRtp6h7KWWg4seta/nTZrv+dMNxdo6rQv+OQWo8/u9NlWPqEXyH2ap+iTGr+m2YqHqYZWyWuzUPvbdNOVOlal6r+VOS8btqAXove40oex7/I0W/mK79UViEVKUg8eHXqcdjBIbaPMuNbVdX0lR8Z71fWa86bWppiMvp9kujigTrjf75/BCEC/An1ULUcp/ZS4GUzt69+HzMtVZjIkDSoQMRJmNUOeQTUw9tqnPyUi7RISPXJdjWCJBz0tIlmWZ7Yv+9nnvLpdNJBanXvf99ZD972qO5t/LUOmu2gywmf6K+Ymwn3uM8aN5Bo7HcWNDhJDMGVXmVF93+2BOU1uhrBYm9lumvYV2Fb0/uVByjwHhCOGALwz6Mzme20wvk5S50DRRb6YPrPNGgqyKYNXjoPC5Gx2LA302tCi+YRZi/PFAP8ffFfUch6X1jfjKmLKL+TvPkTtPrBjlZbkIbbK0rM9Q9mqbuibqOE5ITtDEeynKHMxE/xwtUV1uvmI/KsqmBcLeSp3yJntOMjhmDCMk91pU0XPk/SWTlYcZlX0jLiLb8mztasdHf9NifzaW8dtPlmuz++z2zcGt7Vz29ObF6giiyUNVij232sGJ85ob9AHjj19Bn+nNAeWGNTVn6D0RG9fYRziz0/jz612e/++fX7dvl6nsykLhzRUrZmztSxU8qg8LjAljjs9Rc6WIvu9s0/A1uB5q87H2GQHfK8pt++yQ87thnvVcz9eCz5GFZPHsEPnc0u1Qe9WfF49cp5gxcyPzjPBGfPc8Je5Z0fcPnes5f74QfhYNt3vo96fL1zyxc/k/BvgZdXavl2J6cZE+vHyD7iw/7hdqQ9cPsjhYSP7KE7YX6dp/WY1Zs3tKv2dRe/EGffalLLe6PqeP/sfPYiN6Ow0/ivhWK5gm2y0kf0WtW74oHCuid1eFPf5EnyphOSxWB20iy++//+M/cdrsG/SZfC6PtWv/NQbdA/+HzcAAGAADYAAMDMcAhGRMQmImpcNBtOHOJh6SErtzVDxXpoIWc9Rip450GvV15mCRylddC5LD1K1HzXP63LNgNKpXZxYP1BlmMjrG2COw6MBpslwiq1+O7v0SJb267hJRc3LhcIJYwLDRyqHyr9apoMoydaRqxBj7UDhPxSGEZBtpyCnGY+73rOcQwkJlkn1LPMymzsvrbkRIlgsi8WegBXaZm/tL+86FBEtRF68dldBq0mP59/Z4/EEoYkvWe4j3Q9ucz5vd7ZeDF8ZMqvYhBVTDpSwTnyt5tSii4rWgrF5d54bK70e8t9zNBc+mk30ictFfLZqpVGzBc3hFm4kFHa9uG7GDqYe4/pu54ML0RhbK+LtKaNSpMN3twRF5KrXgW+L+ov9McLRkaHFeX6t7N6+i88MLhIJnU1f7Nz4/rSwjwQN+d5KSHL0ZOmfcij5a0LHX40UgI2orEapnziucjPdlsnyDbM59Qvm9uZM23aK2h3k19ovyr9H9n8+dS0+o/rCvFNxcYMrKi/xqM8/rOaopQWOsOptrCnsO8bfn0+d61LqYUZu64n2sHcOel5AsyjKZCW5QCdhHpO3n1Ou8OWDY/seL5TJSYzP9FR/tENgUI9rXOcas04bHBpeQ3OtQ9YjOyhCK2g7ZkVPDTnq+QLe9sG3CMSeS3xfjVSLsq01/FGck84a4o2ojTGQ/46wWdrObP9fZvLGY/YXtRzFC8lhjl2hvaSd+P8jPeZ8XY9MYLPFmj/F9ZUzZxfzd32zpnx+suSncE/NeIaR449iaEl89xuKF5IFzf5dPEGWzohD3qxKltE9/M0tVvdltCCGZ+fA3SE1RIPsEt5Ec98IZEcJtHvrdcsfHoTjGsrHb7zn2Wd7YcSFNviipfYSblc2fg7vvY8Z84VNnOFOT9Osh27s2HJjryM9uaDzYwPjFZRA+M3IOyPzqaH8+czywaVfY60mVsirrVOqcfB4Tn5H11u9F/SfkMwj/f1QfJseEccdnXS7Xa0Tfd7ar/D5nG9urnrMO6w0IwveKco86vxt6PA8/X4u6jCwks221MH5s8BFfo9Ypcszc0DwjlL1qA+Ot9atJKj3Qm0gHcL6+Tk8+YYH0Dn0x6LzjzgNnaubFX308QprrQULyGn32jxyNe4ta3wwo+5Pf0oeLi3Rt+alY29NC8mVa+vcB3+eziDlN9a0WfSP6hVNIXvuMbrA4/ZvgZ+P72J99sfujO/SFI4V23HeHFvdFueOuh/8NYAF2FH0ItkJ/AQNgAAyEGYCQjIFy+wdK8ZA0s5Cn4rm8SRk8cPEoIHiERDCO3DtbpqrjrMRwR3D+LoXio47z1DhCRAvNrkVV8dCd4Ki9uF2Uay0TCTnD9/IWPcTDK59fpBe7nMyKNG7vFUw6YPsQNYyQzAuAalHoBykqh8+3dd435FS7bS9NbeVi8Gzr8tk8JX/gt09wV/QGhORnYuF5UOo6XsDUaXZd9o2L4JSLi3wf1Y4snKRUnZjTuYWcF/1eX5KpjkP26bPhKDbnCGIlVok2HjsiWZaF00Pfr1PlTJ4y+lxL2bd2i3NDxfd6Ky1qXA+2deVimUondZrY0E592SdE5GZf/2OfoNIVByMfRJ8QCzre90cSkjkteINql0Jlv1Cm4kElZoQXLzawUNZ7oDeKTFL2qiNqVtiUBVo/el8sfIhFRBsV388Wn+fuMxmO/O//bJ/NWURbbXtp2QtHUjZdvOFgijLnxaYcjt7WC24Hg+eP2QioKS/qzLuXFJY4ne7uDOXZP3Pq2qgznQfY3KuvKl/yWInKF0LtqfxQ+XyRskrIt4KCYCnuDEVRBvvdfnua8xiloDFOnQULzjbayj4X9n2BNPMhG4gx7LlEJMuyvJmhwvkyhccZ7/cLZSqd0BlN/HFslP4XsPlm+quRx5hNGBtcQnLXCopxPLMdOIIu452zuYvSnHKeF4cPq+we+4LRmAG7eQyLOUnYVwt/ZiKSxTxwcn+eShfc7Vu+UKbCgvLRKv3w5ozFPs+BOVNUauuxxq5Qf5H9XPiY4PxIfkf4q5FZ4swT+rzhBI3uK2U5Qu9FuxmRg+dbB1RmG94U4PkNToGso8mTZoOZFRjjheRd76UovQkRyT6n/jmg/jiboIkDqozSx7hSWweE4oK/SUW2o9qI4AvNMcc+hL7DZbLczQSyCul+NXb7rT3HPrvNc3BtG+erGI+Cc8gQv9wWguFYn7iR8UCyNeL45dVP+Mzg5kpZH/E8FfcMx2OAiso3fVYy2etSe7lO1fBz3IUiZdXGvb4xflQfJsaEscdnWebw+2HbtO97dny0GxCE7xXl9jbnqM29/AwYP6cdZTyXbRrk09leqg686TEzyc/Z4kx577gIce7160nK6pT58vgobYcx5qzWd4nNVxuZZ3BZNtLXdF14DnNfH7sV2tQsPuPyH07hdMB3vOt8t0Zf1P0U0x/WHwfEWNd9/L8NEpIf0x0WbEPirvN6333hf7b+WKztaSH5Dj0eWActWgdTSDvtoaKxb30ejF52lkvc96tHd7zzpzkd+K1//owe/79P6atBAvn6OkFIDvkFYdNBNsf/YTswAAbAABjYbAYgJGMgFpPNbepg4oFvan+eisd0muawMDzi7+/mqHSxFkg9N3wH4oc+HY3DZ6nV1Xme6vxedY5v87qOTkhQ32KFeBAamFrNKYJFPLw6mRULCEIACzzgDYxIFvcTUXVD2YwjWy/lTLrMuA0AwYVSd7n77ikWUczCs7DvREjI6vu+sK9NPSvqKxcH+uwrFsTl4uKzHrWuRm96mNqb81PExUVCyHSVA20ubCUXkkXd+hZ3+uoyXB/3BcUS5fbZM4N1BJFn27U21U7qVM1x/TJaSJ40u/0dZRKLgMGFvZg2G9IOnNqyKM5CjmRV9COvzhtYKLP9cI4KSyJCy9E+duFDRBW7+Hd917WQ5PhcX/9wfUZvLjglzgnnSDiTOl/6SJFxQZ4r/34hkC66e79CWXNmeYibN1OUD6ccH2Dz7lJhKJ8j29j6ihiWpD1kGc40I7NCtK+o8UIKySwQjFpneW/5fjv6HPvYg74gZO3m6K9cziH7Xxx7xoZRG7NUWWR7xr/3+9so/S9QPjHGbLq/km277hpjBJ/jjg0uIVn6kkHRaIJ9bwOLsMdAHjhaUW+0C4+vsgwXVBrxTo1y+pgKs3kl5CPCf9d22ZSx2OfasiIWxbmtRN3HYyGi3/C1hZ2D8yP5HcFD2J4DWVqnjflKWY7QezF/lyJH955ewPczUHQ5pbTazMNzZR0hOpyQLISRQF1DZQn/T5QtOI/w/VX9lJ3DzJ+sU2etQ/XjSnSRcz11XVvWBM0dq1DjfvB5oPWgRc2lKuX0MQeDNjiK8ga4cxxhM3b7/blNlYVd3nE1m95nRZ8YeG0xPmzaHFzYL+C3+e+i7SWXfZ8LfbaPE3kPUd+RfQB/d8zxyyuzy2fKsnnvxTNC3Oa4GNvw0RCZ8FEnYb/rOr5iAz7Msj94fuxsvz47BNs/tk1D3/Uy0LzqjzvWF0f73uHnd+IaetwK3TuybjHtJb/jFJJZTO00qLRgn+WCc6Y5ypyqUlMcuzV8nXz/a9tPjJmS11HnGWyXjfQ1Ydfe/ZI9YkdmxxCfkTbU753C6YDv6O+uf9ehpSpHNA8RQexdc0ghOSAOR419SnS+tizOGR50/eC1XHV3/W1dCcl3HgW/b+wQY6+1P35Gd65zqmq2k/r58DLduLVEXzztP2uZrwkheXQ7D9MW+AzsCgbAABgAA+MwACE5ZqIzjkHxnTE6onxIOmYjx4IPOwMWFB0PuvPHSlS5qRYpR21nLpOKiBy6HD8MpdsUD0IJkxI5wj7is5z6ti8iOW5RwKubeEh9R6XzDEQ5DBeR3DqvUnlLoXII28mzkBITc5Q+nKfi+TJx9JD3czanUncnyD6csy3EwkdYuJP3lQ+leuGZo0MOqaiXuAghvo6wr03JJmw2xsKs7uu91RbVr5SpcDRNSZWO2TIzKI1vj4a3uSivTLssFug2S0jWdWO71Y7N+Wdma3GHhUJ9Li33u3dSlDletG2tIgL91JY7TEgWqTW5jWb2Zih3iiNZLauF5xCRzOdC+meSCnFY8i3e20UZsYPexb/4jm6vqIUk/f9xX2UqUBulsU7rImuD2UgjyupMj9/rUOt2hUonspR+X0U3Cv/tnX2rU3cPWJy0dk3Q5PsDItZUNFvurBYxRH+K6/8DyqBtakTQkJDs/X+UOjvadX27+hxHnOk0yCP42HH9kLGh9jXSFtLfJ2YpuRBzXqqOXDycp8rDHllOBvc/3Z5+u1kRZmThwCv7kIxFCMkbHhtcQnKnTjl19nFcdgOv/qIve0dSSB4cQlvAdnzWoxblwv1LXleP56JcielkfPSpbt9jZRXt6s+rNjYW+9ew/lcsinNbijnEeCxEzP342kP5mI2wxEKyHoPG8ZUxZZfz91MNdSa5L9TWjqu5w3Sacod16n95Tv2wqa2fg5DMdvfmA3oM8jeMVvXREmG+OaLUpA0e9nlklnI34zOQ6D4TyZ3nRzbQfl8JHx6uk7q2LgNvBhqpz0qfPML4sNlzcFN+WR+xGdHMTeT/5XvBcKzouBEfIG014vjl1c/lM2UdvPdDPk+J+kqRPXDedWKS5heyVDhr58ZeZpfnEJFsfdOI43Nf/YWfEnWMbdPANcTzWEI+uwzwvUPN78S1R3y+lpsinGnvVR1sRiKHv+SNocs1P+vUfv1MJ/wYn6ctz5gfqk4xY6YYz0eeZ3B9NtLXRJtyOnE/QwSvgcRv4pV+xCmciuvKz7re+9+/RgPPWPauOUjo3YaI5I9+S38U9XXaY8yI5IC9vvuGvlpbpT/+P8v06a1r9CGn1V68THcefdUX5AIhWfg30TYBe+LvfdzAPuAGDIABMPB8GICQjEF3+wdd88CXpPzprCOlqnjYEYKDFetc/5+n/PkK1Z8MfyaOdDKdm7mxypE6KyLWxINQYjq4eCbv5b0XiwTzp/VinHh4TTjOIZXs8r30bnd1JilfN7A4NTAieZ0CZ6yayMMBzsdbXFapJvlcuBXH5yMXSodc+BD2MRHJ6+Jc0tdCIr60Db8X37cLJ8K+4YXuwPdd0WKOOurvcHrv6yW7q//dfCAqM9z21ub9qR0Dn5VtLNOKPk8hmRky5+4qYVOc1ec8GzyUTixwRqLoE+Mtxse02RB24N3p/lnkExFngMfwGMmwZCGifOJMOsuf/J5+L74vBUnBr+Vff8e+Pi8h2VtwP+D7WbsIzPfl8urNJxmqPOx6ZyZ6vjluY4juK/zKaRSXqlQwUeIc3az89iCbC7sGz163Ngn0IXlfmQ0grv8PKoO6phFBZbsF7ifKFFdn13e2rc+N52Ofi5As/b08P9xlr/DfBCecFrQb/n/U78/TXwXu6R5jrO8dc2xwCcle2mE1Z5LjSKA8Pqt2/qDvL89EnaPC3WiRrPekRlklWA91RrIoF2dwaevNJI5yRfdp0cf4eyOOxXxdW+fvl5C8LvrA6L4yZFfZJmb+nqDw2BYUppg5eUa9f00b5asZs/ey/3MII7IMUe9F2aLEJOZUR0onElM066VyT1AiJLp6Y6s6Vzb+2SP4PDI5KFuOKnskd7puY7ffc+yz0ifvpDk420z4bntckGUr4EOG4MT7vLjm6PNXMZaOOn5xfYaaA8bMXzVH/Crqa/tsj9oX9XnXKSq5RLe4OfZQ8yQxv5VzLsH2SOOzrFP4vahjVN8PMMDPLQ8qlNF9fL88uiGi3OF76t8j5nd2PB/wPK+vo195bFRHM00d0Udf9bNsrz+Mv/SP96kct1kZ0hdjNt5H1ClyzBTjeWLkeUaw/47e16xtrF8VRwVpu8a8Dn1GcsQ1NldI1ummh4hw3o4zkoeKlLZtEu53gd/XvqA7Hy3SYiCi2v8uhOQhbRjBZMDO+Mz2r32jDdAGYAAMvOAMQEh+wRvwezExUA98E/sLZKIBhxaMg4s2ZoFnb4HKl+rUGWcxkhcLDqoohT1Fc95wpK15p/kRJaTKBQKx6MDlSrJA7EpzHIg2mzdnx/kijX3I26XPcXMwKyOC5SKhfYgaJiLZjzDM6bRm+/XZdv2T1869CpWvt/z6ePX02yHqIVeeYRgZkRwXdR2xiMI72f3dxgnyUhOOa1+5qNFnX/ciPwtgnW7URgVxHtZrGarGbWjgqE6dCjHO5rfzJo2vbONxU8p2bhcod6Y+YMFeLkKmqPyg5y9oqchr98KDTHksd/VvxuJAzIKOWOSKygBgF1qEWCnbW54nFhZC5UJZZIrjiPKxjzisUstx5gK2o7yvet97VDXiS0BMieA/fI2RhWRe7DmWp8r9ATv1ue59Zwz7fsE7R1UtviWPFymnIla8BUrZHzkiohN9H3tOnjgjcpDNpV3fzFI16hx5Tr1/r0HtwDn1EW0VbhdZBrlRKPQ5p5A8Tp1D1/XamNt/m/ocR3T4my+G9bEJej5Csh+Vp/198kzEeMoLwitNqkumvWgwNabH9b8ndSpfqFtOxBg+3mLmkIw5I5JVxP9GxgaXkMwppy+kVZaJWcpdjVg8Zt+woGwm5zV8TSMQZ52+oy+VZnh8dfozWa45yt/sRKaR79yvU1Oeq75ZY/FOEJJHHVv6/EXUfEWMQSP7yv45oBl7hGBjRSn9eTl/SFBibzEQQc7XsGLx9gjJXAaeRyZ/EHqWCAjJ3I/VhqlX1Dyoz+66zvzq13vCe46Rc3r5meD7wFxdb6SS99jIWPfc+mzQJ2/5HFzaJ/zemw/6c67g5reg3T2OBcOxouMGxwP5vDLS+MV1c/rMcF02JiQ3daahqM2v4vzcvjFezpNG9WHjjs/hNpe/D9um6juczjmnzo1OcDRyYJNUxDg+6vyOo3RHfb7m8smzyN/JuTdre/5BrUPIM5LZv3U61JNz8YCd7JnQ3ib2UesUOWbK8XyMecYG+5oenzrXczTDfngiTZWo5wNpD/U+UrT8skOdr8L9LvS7Tm0diurVZep/VRHJV5dp1VEW/vw3rVteCuhr/2XV+ezoX/Mp/f7Xi7RYuUGffSnLpK6vzln+KuIefI1Oo+rd51YreO6xMyJ5/Rtq/YYjiK/R8qq8X+j92hqtfRf6W2QZvqIHN/ma/ec5//GfOBX2Dfos8Bw37HXxuX7uYBPYBAyAATAABsZnAEJy5GRmfKMCyBFtxw98e6YoeTxPaR0NsCEheYJSp8pUuRcdLRPXRvZhPypqsb9+3bv6rE7xHfEg5Avcuyh1qkatVSsicSrG2qkU7VL1DUZ4iodX9f+phSLVHwkxpteh5iVxTu+7wYjgwOLUEBHJ3gLYxQxN6fsdKFLtgbgfCzJXC5TUZ0ixOM6p846pB9g3s14qUWnf7sMq5XfbRbqgkLxO5kGPz1/Vi8fPetReblJHPzBELaJI4S+xi5Ing2c9rXdbVDuTJj/NcoIi7Rte6A74BdfCrP+QPPnDJOUv1Kklzpfy6r7atIvw3CZxD1m86ChtvhCyea9LTbb5K8qGoTYeS0jmtH9qh3vi/SyVrjaoLbj06sBsXcmb++7SqQu7DSqoBZfJhWBqUeanfbtIKcWHtyAjz6USfWLThRnekHFSpWx7XXDI9VhuewspdtHa39ihz2nU9W2cs+wnwkLyWpNKe/02mDhg6819uPFQ9xHRZ0NMyfTQiXeyVL7bFhtLOO2cXMhKig0lwy4irtOoQrLNvDBD6RMVqj/oX3DqPqpT6ZA6N9KVGcGV8tOx2O4t1k/OUPpkRdhL+dJeh+qn1UJ9QqSgG8LmAbu+maai3uCi+nCv06TqiaTnY+dP1MTmoui2kv5ruLSz6+QSkseqc8D3KPtsZ5/jBUq9UcrhY8NjGI91fYvMrjo5/mZs6EptzZ8P+PsEzR8rU0MKis+61L6tskG8lqayEJMDnLyVodLt6P7H/bvFY8/z9FeB+rvGGG77DY4NTiHZF6gLZkyepxyfTa7HWhb3njSobPq8mNN4Ze5R56bd1JRITFLycIFKF8pU8Y41kGeqqzEr5AsjRZFOnWy55ih7Voj6fO+1NjUu5PzNY/uKKtPHZo7F2xSRPISfYxaaZ9XGwrA9h2JpnQJ9YCRf2T/nNT5SCDb9QrKKfvTGzTnKO7Lc2DF5+4TkcD/z5utSSBYCUHAOGWMXId4O853AXN0lJLNgs1yi1ITqUyO133PsswGfvJVz8Bjbe/2hS43TKp26bMtAX1HXEAw/TyF5I+NXpM8M1GdjQnL7UkY9K/GzWGiD0WqTKkdsSuS+MX6DPizA9rDjc6DuIR6GadO1DrWWalQ+nvLFRu+5dxelzoY3qbl97+jzu9B4PszztRKA7Vw9QTMHS8F5D7fNMcW6VwcRkewdPzNBs4eKVF2Scx62V4/a1+36AR9F8995U82I8/RI3xUYz0ecZ2x47uXXr3VOPVeII7/M2BXDzzefs3D7If323yRXX1Hr1iItXq7R0h+e0reu73+3Rl/UL/uib/NpjOgrr7tOX9xxCLIB8VWJxIuXqXa/03/vZ0/pwW/UfZfDYrMSkn9VpWplkaqffEF/Dlyby/Itde7X6DKLzb/+vThf2S+nW0hep/X/+D1d43TUl2v0WcdxtnG3Rbcu+xHGnkj+3Sot3/mYHnTW3LZZXfav94+f0VrIvp6NKh/Tk9Dfh2lPfCbIG+wBe4ABMAAGwMBGGYCQjAmJezK3lXbhB769c5Q6IB+E1GKJEjR9IXbIv72WpuKFamw64ciOIxfN38pRzZWm2WUbkXoqoaOYxYNQX/nfnKd5HdWj68hnFMlFcblwqD9jXmcp+b6KcNR/m0gFxafwTuGhhGS1WH8y3BYzNL9Hi0mqHYRY5z1Q63Lw2Vr7/fMr0/tC3+HI7HBUn1hwYzvN7U9TyovCEufLRQnJ3BarDSod0OfcqbJNO+y7J8a+oy7MighN07avzXvnOqb3BNsldW6IVKospJ200ef+NWdoPtzGr6WptKRFSzUAikjcvsUdF6v8N76fENhNHX4wR6mFDKX36p3typ4syphUdzLaJkEJ9Z3MwQyl3lNnVhsWtjAimXk3Gzq43LOUPJCieV541eeXy/7NZXxLn8WZpvnwJpawkCzTOPN3X09S+sC8v+nCpMFzLzj5/qZH7as5E1WubT63e478yCVl68QMZS62gtF4cfyLNh5VSO4+qIooDH3/BE3tSVPmoLKdacsEzR+vOSPYbcpw/xpeKkmZDaLXoao+a9dcb8Y/53b/vNnowTaZOlSxEaFD2txl113vJvvadO5YNXTtIYQZGWkT9l3C9kYE1amtx66za2K7nX2OI3zrVNhj+fDYdflY1bZD+yFhP+4jxoZRQjJ/3uXvE47xaTIV8pU9al/pP7Jids+8WETmOopFdDGGb/rGl0Ddo4Rk5avHHRuihGT2lZzG8/Vgm06+N993pEewz2g2e9S+WaDUZPD72qd5r+9nKHtAjSPhCLcYf+YqV+K1eUq+u0tFUat76vF8k8fiyEXxDbOgbed65XFDb6QZZ2yR14xhiYUDxxg02FfK64feC8HGKSTzxoROm1oP+zcpcZ8fTkiO4cyMJ/5nAvNLUbZYgZD7Ip8PfELMe434KH3vPAWO6gj04ZBdOMuAFjIdG6vCzyCR3AXusZH2e3591umTXeOD7rOmTnHzJWnPOKbl53CQ7uYAACAASURBVILvO1ez/txiUFagYTnZDB8w7vgV4zMtSxsRknnDos08483FvHlghjILydAY6dostlEfNsb4bDgKtrtnD9GmgXEp5C+C/5uj3KWm2OCpr+vgdNz5HW+8GPH52qvPWosqOquRqcNkYO5s66KFZN936Y3q+v+z+9KUWUjRnMzC8E6Oao//dax5epzvco3nQ80zNqOvecdu+c/jI89J/33JE1Vv/Neg4PnVyjLVfsWiL0f+fkg3bn1MH3+ifuo1T6jl/13+5DHFRf7aPqsY+7ff+iJu5Rrd8q53h278qkpL/64ZXKf1r/5ES9fVvT/Un/uYPhb3vfbpE8d97RnMf3ryW7+MlSrV6rrst+jah+q615foT46I60gheX2dvlpZohve2caL9OGvbxl73Kn50c2LlWu0tKLOPP7/lPDM9vtQluFj+lifkVy5Qb/v23y/SstXfZH7z3H9Hv/b/jVdtAHaAAyAATDwUjAAIRmgbz/o/MC3kKbC+YoX0VK+UKYN/ZwrUcn5MCgm5BHt7i1qqcjPUc9q6lzPqkjeKcpe7wSjmQ6WqX4lauF1gpLHK9TsmzjLh9ccVW9WKGeiiIILa1P7C1QzUZG2noEHvGGFZLYNRx5zeVU6Vf0Aql8n+X6BNFFxi1STlDyao7RatA4s9HntwNESBZOiWt+Dz6vLXFCC2qBFlLU21U5n+hbB/WtNUfpklVpdaxf/IU7aNy5q2L2I1XtUp/LRZMSDPLfPHGXPh3e2h8sgfh9g89mDxZDN1XfHEZK13ZcqVDjYL/bbNkjQDEdIh9l61qHGWRG9axY2uN7zlD2u22JrhWTmtnHGRvibeshNFt0mlUVkhfkM1+HdDOUPq8XkPiHZj64qHwxuFPC+v1tnAhjMlBd5vCcsuKv+/H6WyvccKV0H8a/82ahCsr/g1qLauRwl40ShhIomkOKwuqd3DS+tnrZLxGK7lx0gS/Ny8SrADUeYVvpSn/J5fvE29/tBd7lC+X2hDSXm+vOUu9AQ0cj8ncFt5dVtXCGZ7TNunaVt9ftt63PKz3RbVD2Rcvu7yRQVrtSpetQXDkdetFN1HEpI5s+utal+xhH5qtp76oB7POT2jO1/b2aodFdEYm14MXNIxqJSW5u2jx+PI8eGGCGZbcEbBEqHbZRZwBdOJil/0bWornjwBMIW1S8UKHdQbcThzTWH816Gi05XZIjYE0ppPMCf9VYaVD4ybzK1BMqV6J8vbeZYHJgzycjQDbNg7eb5Fd22+nWgn9sklrzI1lF9ZUzZhWATJSQ766vqvWOEZC5Pt0ml/Wps1kJyt0FFtYnGZGXRbTbgtfewQmmVnWXuZN0hUFm7RnLnuMfoY529T6/zfPos++StnoPHceX5t/sldSxDaB4atqlgOHbDwWb5gHHGrwE+07fFBoVk9umhDFLS984cyFFun98/nGP8JviwkcbncDvK30Wbyjo43/8wSbkzVWpEHkEU4XvHnd8NeNbrf75W/bfbospxsdnFzG95U2yGihdL6oxnLSTzRrQuNa8UKP1OcM1A2mFyn3ieH6NOg3zXWPOMzehrzIDy3SOPTd99QXdY7PzkSf8a2Xff0OoflunjWpUu///svX9sm2di50lgBwsDlwP0x2ArHIJunQv2ImxuLwZSXIQG04twaRFhAmyYy+Csq3F1WRc1uMauwbqAIQTd8xHuwkd4DwbPc1ZY+6wMNbUTehy7tBMV9CZ1hs7EU2oyzsjpuEO3dXOcGW+HnfgCTsZpv4fn/fm8L19SlETZsvQxYJCi3h/P+3k/78tXz/f5YebzNcs5wehxnTx1sXdvW9vPhPe3FuZ16qQZvtkNqc223u+qt7itZqOmb8wdV8kLb02g7Sx7IzocdXh/DIPkptnvrWv6s/OndNIPj48dU2n2lC6+f0M/6uqp7LrXL0h29vPjpv689g19/bhXfnMMf3RSpy5+MzLajbvsLX2vPq/X7WMwZTjeY3lT5h+9p9fNMtVr3ecjgWV47OF3H5/BAgdwAAdwAAeG5wBBMg8g9/+hzPxRfWJmdeGxHT5/9aTO9vyDsP/FY4b2McMzHvnqKb0dH654KVeC45jRSVMZnfSHUOum3nvjpBeYz+jk6be7hxQO9pP0x2tLZn7Ak191w/aZE2f19ndiPVSD9U1PkLd1du6kTs6d1Xt2UG3+kD1tgvsZzZyxKs6tdZ0brRkq1N7fK6f0lj20dnx5M1TYhZOa8cs36w373PpIb82aczzjDMuUdBN3hgh2ljki57js3tkW28hQ20n7N3yd/Zvz8LYWuv4QCx3wz/fMiXjIFC5jAqeP5t1zNjObsNzNBb134VRwzEe+OqNTF97r/uMpXtZeP0eYz2hm7i29Z7PoWs8MJ+2dy9PevNVdy9jH0/2+dWNBbwdeem75567PtpxzNuc3AJnRyTPecOQ33tapV2Z05Ksno0OwLcO7t+dcX05eiPo5yDm7+e233P0bv0+/lejAzW+/rVP+fcecs5o77NvNb511zqVxMDqnrsfNzCFW8863d65vWgHrIOUzTtn7nzHXlemx1Yv1oP7ffE9nHe4zOhsP/3tt2//cHNe3fG5eYx6LS9I1G3xm7nXevPJLVra3/HuKf88398G3uoeH98tlXpdgHpTDhCTfeVtnvftIcC1a58dedqBzZe5djie9711mm4E3r5ztbrSykmO2j996fz+uOZuZc684432HRfxvacHc+51rbmX3oZDhqYSGVd33rZ94Q1MG3zcnTvX9PgyPI3r9OZ7UEnpM3qP71ZLfMf75X+53gxnW//QpnZzt/71twqW3/Pu4eX4y98Ie10zIMOF8+OU0r2aUlhfdyuvIfO/O7/xnvpno1Bn2+ibUMN9Lvmv+vTw+BYO9zhC+i02I7TxffdVMk2Ed4xBcWJLdEve5ge5XSz2vWLyWc6/sWXbr2e7kfJ/vMGu/kW1Zzwpdz+3+7+zn+77vY/dou2yx54hIGayyued/Rv6zXuhDf1cTtxc4c8TZ3kKfayrcT8w7q2zxfQzl/NnbH8I169yT7/UzuH0M9nsrTOwbJA3qSXA+l/67qdfza+QcLuf7a8BnwJvfdP+G7fn8avjYx5t0zZqphZL+7jOfL/UdP6R7mP183PP72T7X8ffBMSY3TDd83nrnvZ4jJUTOk2mA9o7PNeFvwJU+30W+z4/I+Tug39/X3jG2Pnwv+ozrD1ntO/LVpOf/lj769tuRuhbn7+xv30z+u2MZxzTovWtZzxlDuNbCkZJ+Wbk3eteTxM+1+/Mt/dkfH9Ox/2deH8XdeuB+jgXJD1z5f6KffPsbTsD+jW9bz2QP4nFQ5vtf58w54BzgAA7gwFAcIEhGpKGIlPwgvskf+JKC5GX5lhQkb3Kmy+IHK65LHFgLB1q3wnnezfZNj4QvOb0jrOHouVb5bsWBDemAmc/yt3/nUGwqjui99qMz/j0hpef9kUXwYUP6sBbfMWwzej2tlsfmvGat4cX9Hubcg7gH4cAmcMCqP3my34hjve+zf/XO13Xs2EnN2w3KHkh3Hvwg+Tt/UtKxmdf13o96n6/VfkeyPmxxAAdwAAdwYHAHCJIfyIfCwU8wF8N9ZEWQvAn+WL2PfnHvwq/74IAZrvM3njLD3p7V2998T2+fOaLfduY0TykVzBXNdcF3Lw5sSAduhEP9plL/Qs/vPaSZM28594L3vvme3qud1cz/Zg07/t9mdepDXNiQLtyH7x84ruBa2sTX7M3a/x4Mb738XokrYM01wXM5Dtx/B6wpCX55X/9pBXp+p9z6M3392DGd/NOP7v/xrMqpBzxINsNazxxT6U8ShhlfFRfu7z3dh+sDfs3jNm7jAA6svQMEyXxZ8mW5Vg4QJOPWWrnFdnHrfjjw4490ak+PObX/2f+kQ7XlDh+39g85PEjCGAeG6IAZcvKVrDcCQe95F505GM3c9G886JWwQ2R3P+7Z7JNnhc18zbYWdPJ3/oXM/eif/S8z6je8ON8T3OtwYCM40NLCid/WPzejJP0Xz+vIN6MjKA1+jn+kPz9b0rE/+hN9p8fcwYNv635yfbCD5I3TM/x+OsC+H4xrlfPEecIBHHhwHCBIppKFSpa1coAgGbfWyi22i1v3yYHWR2/pyO4vORWzTlhkKmi/nNPMO4TIPPw+OA+/nKvVnSszV/ep/zOn3/gf/3nkXuDcE77wy/qN/TN668OVVuCurmycW/jhQLcDm/WatXslT9OwhWfn+/TszD2p+560JkzMCAz/g9vI7Usvr7A3su/ID2r62rFj+vo7f/UAXzcPcJD8d9f0J8eP6djr7+n/9c8Jrw+wi/foHoAjOIIDOIADa+4AQTKSrblka/KHAueN84YDOIAD98+BWx9p4VsL+ugWfxjyHYcDm92Bm995T2Zo64UbhMeb3QWO/8G4H3LNPhjnieuJ84QDOIADOIADOIADOIADOLBeHCBIJoi4f0EE7GGPAziAAziAAziAAziAAziAAziAAziAAziAAziAAziAAziAAziAA+vSAYJkxFyXYq6XlhaUg1Y/OIADOIADOIADOIADOIADOIADOIADOIADOIADOIADOIADOIADm9EBgmSCZIJkHMABHMABHMABHMABHMABHMABHMABHMABHMABHMABHMABHMABHMABHIg4QJCMEBEhNmNrCo6ZVkQ4gAM4gAM4gAM4gAM4gAM4gAM4gAM4gAM4gAM4gAM4gAM4gAM4EHWAIJkgmSAZB3AAB3AAB3AAB3AAB3AAB3AAB3AAB3AAB3AAB3AAB3AAB3AAB3AAByIOECQjREQIWlpEW1rAAx44gAM4gAM4gAM4gAM4gAM4gAM4gAM4gAM4gAM4gAM4gAM4gAOb0QGCZIJkgmQcwAEcwAEcwAEcwAEcwAEcwAEcwAEcwAEcwAEcwAEcwAEcwAEcwAEciDhAkIwQESE2Y2sKjplWRDiAAziAAziAAziAAziAAziAAziAAziAAziAAziAAziAAziAAzgQdYAgmSCZIBkHcAAHcAAHcAAHcAAHcAAHcAAHcAAHcAAHcAAHcAAHcAAHcAAHcAAHIg4QJCNERAhaWkRbWsADHjiAAziAAziAAziAAziAAziAAziAAziAAziAAziAAziAAziAA5vRAYJkgmSCZBzAARzAARzAARzAARzAARzAARzAARzAARzAARzAARzAARzAARzAARyIOECQjBARITZjawqOmVZEOIADOIADOIADOIADOIADOIADOIADOIADOIADOIADOIADOIADOBB1gCCZIJkgGQdwAAdwAAdwAAdwAAdwAAdwAAdwAAdwAAdwAAdwAAdwAAdwAAdwAAciDhAkI0RECFpaRFtawAMeOIADOIADOIADOIADOIADOIADOIADOIADOIADOIADOIADOIADm9EBgmSCZIJkHMABHMABHMABHMABHMABHMABHMABHMABHMABHMABHMABHMABHMABHIg4QJCMEBEhNmNrCo6ZVkQ4gAM4gAM4gAM4gAM4gAM4gAM4gAM4gAM4gAM4gAM4gAM4gAM4EHWAIJkgmSAZB3AAB3AAB3AAB3AAB3AAB3AAB3AAB3AAB3AAB3AAB3AAB3AAB3AAByIOECQjREQIWlpEW1rAAx44gAM4gAM4gAM4gAM4gAM4gAM4gAM4gAM4gAM4gAM4gAM4gAOb0QGCZIJkgmQcwAEcwAEcwAEcwAEcwAEcwAEcwAEcwAEcwAEcwAEcwAEcwAEcwAEciDhAkIwQESE2Y2sKjplWRDiAAziAAziAAziAAziAAziAAziAAziAAziAAziAAziAAziAAzgQdYAgmSCZIBkHcAAHcAAHcAAHcAAHcAAHcAAHcAAHcAAHcAAHcAAHcAAHcAAHcAAHIg4QJCNERAhaWkRbWsADHjiAAziAAziAAziAAziAAziAAziAAziAAziAAziAAziAAziAA5vRAYJkgmSCZBzAARzAARzAARzAARzAARzAARzAARzAARzAARzAARzAARzAARzAARyIOECQjBARITZjawqOmVZEOIADOIADOIADOIADOIADOIADOIADOIADOIADOIADOIADOIADOBB1gCCZIJkgGQdwAAdwAAdwAAdwAAdwAAdwAAdwAAdwAAdwAAdwAAdwAAdwAAdwAAciDhAkI0RECFpaRFtawAMeOIADOIADOIADOIADOIADOIADOIADOIADOIADOIADOIADOIADm9EBgmSCZIJkHMABHMABHMABHMABHMABHMABHMABHMABHMABHMABHMABHMABHMABHIg4QJCMEBEhNmNrCo6ZVkQ4gAM4gAM4gAM4gAM4gAM4gAM4gAM4gAM4gAM4gAM4gAM4gAM4EHWAIJkgmSAZB3AAB3AAB3AAB3AAB3AAB3AAB3AAB3AAB3AAB3AAB3AAB3AAB3AAByIOECQjREQIWlpEW1rAAx44gAM4gAM4gAM4gAM4gAM4gAM4gAM4gAM4gAM4gAM4gAM4gAOb0QGCZIJkgmQcwAEcwAEcwAEcwAEcwAEcwAEcwAEcwAEcwAEcwAEcwAEcwAEcwAEciDhAkIwQESE2Y2sKjplWRDiAAziAAziAAziAAziAAziAAziAAziAAziAAziAAziAAziAAzgQdYAgmSCZIBkHcAAHcAAHcAAHcAAHcAAHcAAHcAAHcAAHcAAHcAAHcAAHcAAHcAAHIg4QJCNERAhaWkRbWsADHjiAAziAAziAAziAAziAAziAAziAAziAAziAAziAAziAAziAA5vRAYJkgmSCZBzAARzAARzAARzAARzAARzAARzAARzAARzAARzAARzAARzAARzAARyIOECQjBARITZjawqOmVZEOIADOIADOIADOIADOIADOIADOIADOIADOIADOIADOIADOIADOBB1gCCZIJkgGQdwAAdwAAdwAAdwAAdwAAdwAAdwAAdwAAdwAAdwAAdwAAdwAAdwAAciDhAkI0RECFpaRFtawAMeOIADOIADOIADOIADOIADOIADOIADOIADOIADOIADOIADOIADm9EBgmSCZIJkHMABHMABHMABHMABHMABHMABHMABHMABHMABHMABHMABHMABHMABHIg4QJCMEBEhNmNrCo6ZVkQ4gAM4gAM4gAM4gAM4gAM4gAM4gAM4gAM4gAM4gAM4gAM4gAM4EHWAIJkgmSAZB3AAB3AAB3AAB3AAB3AAB3AAB3AAB3AAB3AAB3AAB3AAB3AAB3AAByIOECQjREQIWlpEW1rAAx44gAM4gAM4gAM4gAM4gAM4gAM4gAM4gAM4gAM4gAM4gAM4gAOb0QGCZIJkgmQcwAEcwAEcwAEcwAEcwAEcwAEcwAEcwAEcwAEcwAEcwAEcwAEcwAEciDhAkIwQESE2Y2sKjplWRDiAAziAAziAAziAAziAAziAAziAAziAAziAAziAAziAAziAAzgQdYAgmSCZIBkHcAAHcAAHcAAHcAAHcAAHcAAHcAAHcAAHcAAHcAAHcAAHcAAHcAAHIg4QJCNERAhaWkRbWsADHjiAAziAAziAAziAAziAAziAAziAAziAAziAAziAAziAAziAA5vRAYJkgmSCZBzAARzAARzAARzAARzAARzAARzAARzAARzAARzAARzAARzAARzAARyIOECQjBARITZjawqOmVZEOIADOIADOIADOIADOIADOIADOIADOIADOIADOIADOIADOIADOBB1gCCZIJkgGQdwAAdwAAdwAAdwAAdwAAdwAAdwAAdwAAdwAAdwAAdwAAdwAAdwAAciDhAkI0RECFpaRFtawAMeOIADOIADOIADOIADOIADOIADOIADOIADOIADOIADOIADOIADm9EBgmSCZIJkHMABHMABHMABHMABHMABHMABHMABHMABHMABHMABHMABHMABHMABHIg4QJCMEBEhNmNrCo6ZVkQ4gAM4gAM4gAM4gAM4gAM4gAM4gAM4gAM4gAM4gAM4gAM4gAM4EHWAIJkgmSAZB3AAB3AAB3AAB3AAB3AAB3AAB3AAB3AAB3AAB3AAB3AAB3AAB3AAByIOECQjREQIWlpEW1rAAx44gAM4gAM4gAM4gAM4gAM4gAM4gAM4gAM4gAM4gAM4gAM4gAOb0QGCZIJkgmQcwAEcwAEcwAEcwAEcwAEcwAEcwAEcwAEcwAEcwAEcwAEcwAEcwAEciDhAkIwQESE2Y2sKjplWRDiAAziAAziAAziAAziAAziAAziAAziAAziAAziAAziAAziAAzgQdYAgmSCZIBkHcAAHcAAHcAAHcAAHcAAHcAAHcAAHcAAHcAAHcAAHcAAHcAAHcAAHIg4QJCNERAhaWkRbWsADHjiAAziAAziAAziAAziAAziAAziAAziAAziAAziAAziAAziAA5vRAYJkgmSCZBzAARzAARzAARzAARzAARzAARzAARzAARzAARzAARzAARzAARzAARyIOECQjBARITZjawqOmVZEOIADOIADOIADOIADOIADOIADOIADOIADOIADOIADOIADOIADOBB1gCCZIJkgGQdwAAdwAAdwAAdwAAdwAAdwAAdwAAdwAAdwAAdwAAdwAAdwAAdwAAciDhAkI0RECFpaRFtawAMeOIADOIADOIADOIADOIADOIADOIADOIADOIADOIADOIADOIADm9GBoQXJ8Q3xMwQgAAEIQAACEIAABCAAAQhAAAIQgAAEIAABCEAAAhCAAAQgAAEIbAwCqY1xGBwFBCAAAQhAAAIQgAAEIAABCEAAAhCAAAQgAAEIQAACEIAABCAAAQgMiwBB8rBIsh0IQAACEIAABCAAAQhAAAIQgAAEIAABCEAAAhCAAAQgAAEIQAACG4QAQfIGOZEcBgQgAAEIQAACEIAABCAAAQhAAAIQgAAEIAABCEAAAhCAAAQgAIFhESBIHhZJtgMBCEAAAhCAAAQgAAEIQAACEIAABCAAAQhAAAIQgAAEIAABCEBggxAgSN4gJ5LDgAAEIAABCEAAAhCAAAQgAAEIQAACEIAABCAAAQhAAAIQgAAEIDAsAgTJwyLJdiAAAQhAAAIQgAAEIAABCEAAAhCAAAQgAAEIQAACEIAABCAAAQhsEAIEyRvkRHIYEIAABCAAAQhAAAIQgAAEIAABCEAAAhCAAAQgAAEIQAACEIAABIZFgCB5WCTZDgQgAAEIQAACEIAABCAAAQhAAAIQgAAEIAABCEAAAhCAAAQgAIENQoAgeYOcSA4DAhCAAAQgAAEIQAACEIAABCAAAQhAAAIQgAAEIAABCEAAAhCAwLAIECQPiyTbgQAEIAABCEAAAhCAAAQgAAEIQAACEIAABCAAAQhAAAIQgAAEILBBCBAkb5ATyWFAAAIQgAAEIAABCEAAAhCAAAQgAAEIQAACEIAABCAAAQhAAAIQGBYBguRhkWQ7EIAABCAAAQhAAAIQgAAEIAABCEAAAhCAAAQgAAEIQAACEIAABDYIAYLkDXIiOQwIQAACEIAABCAAAQhAAAIQgAAEIAABCEAAAhCAAAQgAAEIQAACwyJAkDwskmwHAhCAAAQgAAEIQAACEIAABCAAAQhAAAIQgAAEIAABCEAAAhCAwAYhQJC8QU4khwEBCEAAAhCAAAQgAAEIQAACEIAABCAAAQhAAAIQgAAEIAABCEBgWAQIkodFku1AAAIQgAAEIAABCEAAAhCAAAQgAAEIQAACEIAABCAAAQhAAAIQ2CAECJI3yInkMCAAAQhAAAIQgAAEIAABCEAAAhCAAAQgAAEIQAACEIAABCAAAQgMiwBB8rBIsh0IQAACEIAABCAAAQhAAAIQgAAEIAABCEAAAhCAAAQgAAEIQAACG4QAQfIGOZEcBgQgAAEIQAACEIAABCAAAQhAAAIQgAAEIAABCEAAAhCAAAQgAIFhESBIHhZJtgMBCEAAAhCAAAQgAAEIQAACEIAABCAAAQhAAAIQgAAEIAABCEBggxAgSN4gJ5LDgAAEIAABCEAAAhCAAAQgAAEIQAACEIAABCAAAQhAAAIQgAAEIDAsAgTJwyLJdiAAAQhAAAIQgAAEIAABCEAAAhCAAAQgAAEIQAACEIAABCAAAQhsEAIEyRvkRHIYEIAABCAAAQhAAAIQgAAEIAABCEAAAhCAAAQgAAEIQAACEIAABIZFgCB5WCTZDgQgAAEIQAACEIAABCAAAQhAAAIQgAAEIAABCEAAAhCAAAQgAIENQoAgeYOcSA4DAhCAAAQgAAEIQAACEIAABCAAAQhAAAIQgAAEIAABCEAAAhCAwLAIECQPiyTbgQAEIAABCEAAAhCAAAQgAAEIQAACEIAABCAAAQhAAAIQgAAEILBBCBAkb5ATyWFAAAIQgAAEIAABCEAAAhCAAAQgAAEIQAACEIAABCAAAQhAAAIQGBYBguRhkWQ7EIAABCAAAQhAAAIQgAAEIAABCEAAAhCAAAQgAAEIQAACEIAABDYIAYLkDXIiOQwIQAACEIDARiDw95829f3WWX3rLwuqfe/39OYHv6uLH/yO82p+Np+b35vl+AcBCEAAAhCAAAQgAAEIQAACEIAABCAAAQhAAAJrR4Agee3YsmUIQAACEIAABAYk8ONPrjkhsQmNB/1vQmWzHv8gAAEIQAACEIAABCAAAQhAAAIQgAAEIAABCEBg+AQIkofPlC1CAAIQgAAEILAMAh/+7dcGDo+TQmazPv8gAAEIQAACEIAABCAAAQhAAAIQgAAEIAABCEBguAQIkofLk61BAAIQgAAEIDAggZ9//umyeyEnBcnmM9M72WyPfxCAAAQgAAEIQAACEIAABCAAAQhAAAIQgAAEIDAcAgTJw+HIViAAgXtEoNNqqXXnHu2M3ayOQKet1q326rbB2huagAl/ewXDK/ncbG+gf6269FZWem2rVE6t7v9rU9JbZanVGWjXLAQBCEAAAhCAAAQgAAEIQAACEIAABCAAAQhA4EEh+g3OLAAAIABJREFUQJD8oJypjVDO24uqHc8r+/xWpVKp4P/4jpwKszUt3l7jg+y01DhX0vTOCY1a+x99NqPpIxXVbzw4gVd7oazp3RlldmaU2ZVV/kxTq4kwWpeLyu3yt5dT8XJrjU/GCjZ/Z1HlveOeNxOaXuUxr6AEG3SVjlrzeU1+IbwmU49mVL62GqOk1uWC0g+729y6o6j6Wl/fG/TsbOTDWu1w1r2C5iWHub5ekuZWGR4nhc9zGekvHpzvkY3sFscGAQhAAAIQgAAEIAABCEAAAhCAAAQgAAEIDIcAQfJwOLKVvgQ6al7Ia/IhK6iygtwwVJ5Qbq6h9t2+G1vRL9vXKso9s9T+R5U+UFVzvfd2vdtSdd+2IIh3+D1bUGMV+UXzdMYK10eVOd1cEeeVrtS+XlNltqzyuXqPTn0dNU9nrTKmlHosq+qtle6R9XwCnZsVZR+zro3RtIpXViGT2XC7ocKz1jZTKU0eaayqsYNfXl43BoEff3Jt4J7Ib7y7XTOVr2jm4m/qjQ9+Z6D1zPYT//2kLr22BiGyHyy/VpB+krhnPoQABCAAAQhAAAIQgAAEIAABCEAAAhCAAAQg8MARIEh+4E7Zg1bgjloXpjWeGBxHgyY/UE4faWiVMVYEUudGRdnHk/fl79N+Hd1ZXtdhshP8PRo/nm2anl95L+L7GiTfrmn6Ke94egbiHS0eTUfD8y+kVbq+ul6zEVE24w93W6rt93t5m3Mwofx8a/WBb6uqnB1Op1Latr+2Jo1ENuNp2wjHPNCQ1u+k9fu/+V9Fr/tf/lf6/bnfXDJM7jnE9Yf51Q1j7QfGPV/HpQ+H+Q22Ec42xwABCEAAAhCAAAQgAAEIQAACG45Ap6nyji1Kpe59h5QHmuXtuorbt2rL0zlVbtyfes3OQkETpq5+vXXSGQabYWxjrQUzdeFPmHrYceUvU4e01rjZ/nAIECQPhyNb6UWgVdP009HQc9uOaRWPl1WeLas0U1DupTErKBhX/tIQb6Cdpip77O2nlHomo/zRkrP/8vGSCnsmIz1dTZB9f77Ge0G0P+9ocTajkYRgfmxvtUdvXnv95Pf3M0ju3ChramSpIFnqXC8r4w2VbIL/sT0VNdfviUoGvc4+bV/Kuw+Ojk9jyp5e3RDpweGZgPrAhHVdT6qw2l7OwcZ586AT+PtPm0sGwRff367f/8p/6Tr0i7+oZ/71Y3pm3Pv5v/lXOnAxs+Q2zH66/r2fXeMgeVR6f+WNerrKywcQgAAEIAABCEAAAhCAAAQgsL4JBKFQtP4z7LSyTek9BZUvD6nOZUAaax4WEiQPeCaii7UvTWubV6+bnlm8L3XQa+VG+4oXUKcmVbg6SP1+R805r5772bzmv7F6NuuBb/SMJ/wU3DPWd5DcvlrQpOPq+i5nAmE+WgMCBMlrAJVNhgRa57LaGoSeWzR1NGno6o6al4rKPDGi8X3DDQcjIaUJH3eXtZgwdHX7elX5l7Zq9Pm8aus5A7jTUPGFHg+moxmVV9iS7X4GyeYhI+ix3rNHsutU+4Y3BPaZ+rruNR5eAev4Xdt2aasyx5OuzVWU38xJfsFtMFK9NsjD4yr2xaoPFIHvt84uGQK/PveU/jvz3TH+yzr8jjectQmXXzRh8j/Vr/+H7Utuw+yn69+3Mt1B8h/npA8b0vcb0vsl6Xy6e5mePZDjw2SPSt9KCLC7CsIHEIAABCAAAQhAAAIQgAAEILAhCAShUI/6uqBeNKXJAyvvBLJcVmsVFgbl2ABBcudaWdO7M8oeqCTWFwfHOsw3txsq7ZnU+Pa8qjfvTw+ZNXOjs6jSjhGnU4AZmbC11PSVZmq858x1M6Kp44vqDIPNMLYxzPOdtK3gnrGOA1oztebesHPe1t3DzWySsPDZ+iawoYPk1nxB2Z0ZZZb7f1dOpcvrOU1c31IFpbvbVv2ANWzuYzlV7zHW1rmcxoIHtnHlH/BekWHLLvfhdPyltHV8Ka20Jdv9DJIjjQ2WCJIDt3izegJ3Wlq8tuj+v0XQGwfa/u55nXjlmI69Mqd3P/48/uv1//OPruiUKf/Ji7r+6foq7iDDWs/930/p+Rf/pX77yHZrXuSMir/3i84fJL8y/RXr8+R5kxOHt04Kks28xvFL4Gdt6c+L0ql4ULzUzwTJ68s2SgMBCEAAAhCAAAQgAAEIQGCNCfQLhe521LpWU/lAOuhoM3WPeqGuWVjo49wAQXL7ct7t3LLJ6iPX0o2gLn6ADk+tea8H8uM5VW/5Ym2C1373jHVy+J1rJaUfshvHTKq4EK88WyeFpRj3hMAGDpI7ah6PzakaBIr2RdDj/RcmVbh0j1PPe3LK7+FO7rZV278tHN72yWnVbi9j/52W6ufcHo1mGOxKryFg7jRVOx0uV7VuatGAdEKFhZW39OrcXlTtdFH5vWHjhNzBkqpXk+eU7dyqqzLrlqt23bvRer00C/uybgOH3TkVZmtaHISLM5+txdN8IS/Uoz2UV/jgE+W08rlN2jfqqszkldvtMdqV1fTRiuq9Wti1m6raQyA/mVP5SiMMOK811fJ7kMfOc+WKxf1uW4te79fyuXowxLdTnqPTyu5yy5M9UFRkvV463m2reaWq0qFcsG5mz7SKczUt3hrAobsdNa9WVT4c7juze1oFs37Sd25S+c1n82XXt11Z5Q6VVIv17G2bP0b8fXjLVBcsLr2Or9PW4uWKigc8D3dmlH25qPKlRbWTDs8un9UbvH29prLPyLg8Vw/OV3uh6g4fb66BXsdtypdQlszevEpmP0msvGNa7vXYC0Xi5z96V3MmhD12QueXmcLeePOYjs29q0Eu6cR9D+lDpxzHzDEc06lv9QE5pP0tZzO17/3ekr2JL36QEA6//xX9/pf/qdNS9cUjv7HkNsx+uv4lBcnlMekbGWm+KF2tSz+0LoJOS6pPL6OHMkFyF3M+gAAEIAABCEAAAhCAAAQgsJEJDBQKtdU46tVTP51XPaHSoHO7qcaFiluXcqamxs2Ev+WduqKKKvOLai/R23PFYWG7qcXLVp3OhboWb1t/J/vnMiFIbl+vqzLn1oVW5ht963XczXTUvtFQ1avXrVyoq5m0L1N95NezXnBH1Ou0FlU7U1b5dC06auEA5Xe3VVJx/6S2mLzg4bSm/WkQZyuqd9X9DbGcfv3mXFWNBA+kwffln4qer522Wz/p1U9XrzQdb5Z0w2kAEZ7L6pXFoK615778X7TrXi/jlCYP95k+0vizc9TJDSYO1l2fI2zMCKbu9dC/Lrej5mVrucg2/EJFX9s3G647Jm+40Eh2LqgLrahm6rUNkwVvpEyz3oB+t67XVbWuCaeee4l7RufWour+vWC2rOrlxaC+NXoka/ST6Rx40J2ycGxXUcXdbs/kgXqZmzrxOCe/bj+huKZ+t+7X6c9VVL/e7j3c+2q8TNg3Hy2PAEFyv3CZMHl5NnUt3Vb9kD1P6lZl55Yx94MZ3uLZMOg3N6vEh6RbVWUfC5ebtOY4Ni2bwh7JKY3vry5/Xt07TVUPZyLbCec5cfc7sa97CJSgVZtx7JlpVc6VlH0qLGdkGw+nnYYLCY9lAdXOzYqyj4bru3Mid7R4fMp96HFc3qbp+eU3gFhtkGwewEp7rN7nXdfVmLLW0MlmyPHMaHgsERaRda3wP3aenYcMn07w8Gq2OarMTFWVg+nI3Nf2Psb3lpMDXUnthbJylnf2eu77MU0drkYfUv1ySGpdLWv6uS1hA4rI8ZiH0ykV4yMeRMq/RemDReVfcoeCie5/zL2G7rRUO5S2znuUpRkqqdnjS9qUL/dMdPnIPp7Kqmw1xnAOLVK+EWVm66odzQStacP1J7w5UDpqHJkMGfRohdi6UlK2X1lGJjU9Fxtye4XXo3WK+r/97IYunnAD2BN/utwhitu68vX1ESTL9EguHdOxV9dfj+Q3P/jdJUPg7iA5oxP/8V/pvzbXkz3cdVLg7H1m9tP1LzFITuhlXMlLf9GS/tHbwl+UpT9OWK5ryGuC5C7mfAABCEAAAhCAAAQgAAEIQGAjE1giFPIPPZx+b1LFa1YNYKep2uGphDqWlMZ3l1RvhcsGvT1TY8pd6F//t2RY6BfMf20vqnJwKpi/N6zrMXVIY8rMeGGfv3xQV2TqsUoq7AyHwQ3XHVPmSC2xLtadZtANEsPlzb5GlDZDTcdy9KCe9ams8vusOr/Hsm5v1mWUP9hWvM7O+Tk63PDQyxnUb6ZVsj0wdZLO1IuDM/FPRdfr3Y4Wz+WVfjih/u+prAqHs+559tlZG3DqRZPq6h5OK39uUZ0lGjCYINzUVY8Ylk9N95xCMph/9yGLQ4xNMIplj8YXTrFbNeWeMMc5ofzlthTbhnVo6rTqKu2yOmkF59/U9cY8Dfwe1dSBQnJd8RcmNH0mmUnP+uUvTCh3uKDML5kyR13r3KipsKtH/foA2YF9rKt6HzA0TFsKzlWP+l13Xx015wuaejzBudS4crOx+t3bDZX32blRuN7W7QVVY9N3rt7LVRFhZUkEycENI5Q18uX1ED2TV3OlxINc8zAwub+koIduv40PIUg24Wsm9qU5tj2v8mW3BVa/3ZvfdW7WVEgM9Lp9mTgYDbr7P5R0r596NKPy9fDhMFq2jhZnM+6XsONsGBgnBsxLfqlHt76aINmEgRkryI9cP5Hra5ty55puqyITijtfmAkcIuusJEheapvu7+PnyxBpXcprMrL/3tsa2xWbb/tuW425XDjfc7/txM918HDSe38h13FN7ejxUBHs05tbJHKaO2pdyGsiWKbPvkbSKl61ntjj5XsoKeQ2IXlGFaf3+dJBcmt+wLKkUpqacVswruZ6jKDo+cOnul494fTiPfb1d/XDf+i5YI9fNDV/fJ0EyT1KuB4+7g6JE3ofxwLi11/9Ff3KF1NK/ZNf1G+/+psDB9FdxztokOwHxNWy9BNvK39TlV5bKkwmSO5izgcQgAAEIAABCEAAAhCAAAQ2MoEBg+Qw4PIb4Uu601TF6+1n6n3Gt2eVP1zQ9O50GOg+l1fdy4zXLkiOdgba9kJW04dLKh7MKR10ihlT9oxXr2fOZ7yuyNQ3PTyhzP6CioemlXk2DES37Y3Or9peKGkqqK8dV3pPXsUjeWVfCkO+ke1FNayqqaR61vEXppTZV1L99vLKn9gj+UhJpeMllaweycMvp3oGnSvZV/Jl1VZjxgtyzTl5Iq3sy+ac5DT1dKzjSyxIbl8uhPWij0265/JgTlPBudyqzCCdxG5VlXMCxVFl5ixn/AJbo266HaW8XwQBphcu364r74TaW5U9nbAdddScc+vLt2wvufNcx7fhbbpzq6rpwOVtSpuRIw/nld0e1rGO77PmME/we8vTaWV2m9ErpzRh+ZuPjWob4ZhK9tut57WC5DuLKr3k19WOaXLntApHiyrsm9LEiPf5F6e6Gh/4SIf32glGTwiYGhZ+7/FD9a7Z4ZzGA3PZsBOeccc4Z67p57d6HY1GnPpd55K+XVfhef9YzX0vFxzruF9v/dS0qt7IABGeq/FyeJA25ZYIkn05+70+5PYW3ZSGrPag2w0Vg5tgeINwbpZPTWl6pqpGz2GPV98jWWZ4bW8ohjCI82++E8ocLKnWZyjgoMWN58fIc1kVZquqX6mpcnRaaTsMfWhKJSsITnrAMS2NMgeKKl+oqXq6pOmX/JupW6bxA9EwOsB/pxEdwvoZaxicuy1V91qt/h7OqBxrtRNsp8eblQfJViszj9H4LjMscU31S1WVDsR6cj9XcB8CzRAZs3lld6Y17n8ZOuuPaXJ7OHR4ZndeFf9YggcBl1XvHsmhZ1tfyKlwvKLafFXlQ9loyPvFqUhw7wTykVZTI5rcV1TlUkONhbpqswVlngy3bXxKH7FaU3WaquyxzkNqm6ZeLqoyX3eG6CjsDh9MzLrjL1vnOuHhxLT2nDpQUmW+6roWPKBYZfiltKaPV1VLYv1EdH6R7uMbV/ZIVfUFM09yQ/UzsVZjzxVU9x/YE8vnlePxSU1tn3QeFkZ2eA9t6h8kd5clpYk9BY91Q7W5onLPeX9w/FJGZa+F5mquxx7qRz7+4Tfn3BD5xPmVzSv82Qc6a4aTXgdDW0cObJ39sNweyUGInPoF/c//128sOTeyH1QP3CN5bkr6s5L0n/LS61u7h7F+PS/9rdfIx4TJfedNJkheZ7pRHAhAAAIQgAAEIAABCEAAAmtLYMAgubNQdEO6kSmv3s4NwUZNfZgZve5KtIexaUyf98KWiQNeb2Bvyry1GNq6c7Oq/N6Cqv70fD61TkvV/V6dlh/Wmd/F6oomzOh4kf4xHTXPTXsdGqwQ2tQVe8e1dWepa3jn9tWww8rk4TC0itSzmpEfrTpYpzjLLb/pAdxvjuQ1KmfYoMDqibvCffmnyH515rb16mjTh2rRIalNT+XTubCRgh0km9DWG6FxfH8lOtKh6Twz6wWFg9Q7W0Mjp56PNghwzlUwUqXXi9g/gKDu12fT0eKMNyT8S0U3KPaXNa+mE9pzpn5yq7LnvOunaxuSTN35Pq+RwvN51SJDl3fUulz0GjaMKedvJ+L3mDLHG1GWtxsqbnc72ozsLIfuWxyX8jveI9kEprkDla5rQiZ4dY4zpYnDjYQg14ayyvetmqafNkwtFqbzVZ/5rDvXy5ryRh7tcs70UD+d0/jDXq/kTlu1A9795MmsyrFpHE2v8cJLWzX2ktcr2eK5ai9XiWazr06Q7N1Yu0LG+OeEySu+Vjo3KsrFArg47207C6rGbhzOl4E1xPBKhrZ2Ct1uqLQzGtjG9596JqvifLN7eA7zRXk8q8lnp5Q/bYWGHo32pbwVTo5EWlkFDyOeS1teyKsaD82teSOcMvUYqqN9pRDpSRqfYyK4mfsPCjPLGEJc0sqDZNN6clGV/WlNbJ9W2Z632GFkAkV7rvJJFe15qu+2VNkdtlBM9ZvjOXgQcAPM/kHyNmXjQ2aYVmqns9ZQQdb5sh9wHIZjyiW1dIu1mEqZkNMPup0e7FXlt08ovbfozp9hXzXmAcRrvdV1riMPJymlRtMqxIa/bl2wHvRMGUfjrdDiof42TV/ykuCu45tU4YqfEoeFNA+b/he/88DgD5MUL5/Z/y9NqXip13zM/YLkaCtR87CXOZ7gq5mL5FI1Oi/0Kq7H8Ch7vPPnRX5lTu/+qMcyvT7+u/dVOVlyQ2hvXmIzN7H///z12Io/v60P3zmrUyfCdUonTunsOx/q9s9jy+q23p07pmOvVNT4RNInTb1fPaWSM4fzMR07fkrnv9XUJ/He0z9+V3NOGc4rvnuzh8//84eqvf5quJ1XSjpx6rzev2l2Yv0zZa1V9KoZJttsr9dy1ipLvV3OHMmREPnI9oFDZBMmDzxH8msFRZ7C/6omnR+PBsqnpqW/8f4ivlaI/s7vvey8EiQvdf75PQQgAAEIQAACEIAABCAAgQ1FYJAg2dRN7vLqJl/yGuGbHojbTQ/RpFHlXEJBfeATuZ5DBPdiueyhrXttyA5cn5hWzZ/X164r8juOxLdh6qMOu1Of+b0bgzrMR7PeqHbxlTpqnvHq78zQyN7+wnrW8bC+K75qj5+Dde3y28eVUB+5ZuUM6jf9sNQK6ZbJpPtw22rEeHctY3oDv+wFeVaQHBzv0z2Gozbn23M4PUC9c+d6SVMPmTrccFRNtyyd3mVMYBMG71bvXe+ggjI/a3W4SthGOJrnpDclX5xKGFiP7vJ6z1t+b90d7VHvr92+NO0NEZ5T1R81wA9cBzmXsaGt/e12v4b1rKZ8rWWORNq9vV6fWI1b7A5GZvEgtI/frwZwzsz73Xbr1MJzEffCKtOddjC9aXCOh+SltRfeLpMAQbIXvHUFi4mfx3pL7rR6Tq7k/f7e87Qu8zyu/8VvN1Q5MBUOcZDId1t0DuUhDG0dgOm0VJ+d1mRSr06rLBMvx1vPBVtIfnO7bg2LEe1lGjykONvv/rJzNxh+ETgOJs01YA334SzzhfBBIyhUjFWq1wNcsEL0zaqC5Oimun4yLS7D4ZStFmJmyTUKkrfssFqC2SUKHiZiYbRp3eS0tnI/d3rWRlpRhhsJvsCc82qF0eEiPd511JydCucNDlqgdrfiTCx/bDjw4MHG2pvd6tC4kj7uDftiWpNZjTlMo4zEh45Y7/ag17T18OTeK8c17YfM1v7Dt328jrFOJbUoDDe0vHd9rse+G/r0us478yKf0NmrN9R456Iuvmn+v6P3f3Bbn/ddWdJnTV0xy5+fU8mErcfndN5Z391O42NrAz96XxVvDuZjpVdVqV7UxaoV1J6o6P1IkO0Fycde1TvXruiUCZCPn9LZNy/q7KkwiD5Rva5Prd2oT5D8w6sVnfCDbm9b561QufLnXiMDa75ov6z2cuevL0nGLlHw/lt/WRhoaOrX535Fz/yCuSa/qBf/j+WFyCZINvvp+pc0tPVcWnq7LH24qADi3bZUz0UD47Ml6afmfLel+Yno74IwmSC5izkfQAACEIAABCAAAQhAAAIQ2MgEgiB5TNnZuhrXzMhvi2pcrakyW1bp8LTS/gh4X7Aa9gd1VFudEelKs2WVI/9LKh3JeXVq1tRvA7JcUZDcMY36KyrPllQ6NK3sLrfue+oFrzenFTzaPZInj7hTkiUVLeiJ/ZgJ28L6oq17qsl1U2Yjhs2jpj4gnE86qGd1tpO0J1O/tozy9w2S17CcwXn363dXvq8uClb93dRs0lDQ7hphAOrNL22PLPiMGd2xFHOx7Az7nd/hjsRogtXEekW7QKYnuzeCZqQOM5jTOFZHbNbtYmPqjtuqez1Yx/ZYga45Vq/DzpTdQSVhG4E7I5OaPtJ9bOXjJRVfTrtTSj7pNV6wWKbt7VvHaMLy9BdMZx+/o9Fyz2VCXtBuqn6uLFOmwstZZbzMKf202/s5sc7YKpNadRX3ZZXdHfu/r6jaLXvBhPc9w2KzbDiMeMoeKdXi1M85f2/BuXhqWnW/UYr/y67XkGdqWF527YMPBiVAkGyFiG5A4gZJ9+R9rBXUoCftgV7O3AzPFDXdc47XCeX9XpSxcHTFPZJtYM4DRVmFvemeobYzXLG9Tr/3Zshpa0x/u4zBjbFvkKxgLgfXOf8hItxp2FLHdXPUHi4jWMy6sXr7C3qjBsv0frOmQfKNsqbM3KZOuUaVOd0MC3Kvg+S2P7eGWx7/fAUPtd79IPIAEpbWfRc88LjbcObyGLAlWDiXjVnXOtfWl67hlPhQEPxhEi17pHjBg7a7jP8gH/zx4B1f6qm0phIbv0xp8gl3XVOOkYRWeM55fCFhOJlIQWI+Bg9UUpz1IK0YI5vu90Of67H3ap/pxpvevMh+L18/ZPVfT17Uh7GOuonb88PbXkNb/8PHeudVt2fv3NuxXsT/8Imab3tDa7/6jj4Oehj7QbLpDfyq5r8fLcjnH7+rOafcJc3fsErll+VYrEfyrXf0qnNcJ3T+e9FtyfQ+/uYHwdzQn1w95fRCLp3/MNrj+R8+0ccfNdUOymjtd4C332+dXTJIfv30l/Trv+i5+E9+Qb/y5cf06//a+//iv9T/+h+/smTvZLOfrn9JQXIQAqckEypfaUifSfrHjnR1OhoY/9minJYFf1uR5pLmSyZI7mLOBxCAAAQgAAEIQAACEIAABDYygVh9jVv/FdatBD8/mVHRGn2uE6kvS1jer8NxXq1R5wZkGdQF2eFvn3U7t2oqvOSGVUGZI2VIKWVvK6jL2qKppHlwvX2Z48yYYW9N3dBHPwxCwXF/uO6kMpn6O6fDRxi0BfWsJsTqHmRPyy5/vyDZCi+HXc6usHQV++pCd8cf6jk6LHF8uc41b5h1/3xaZeh57m0X7CHO4xu3fg561KfS3giVPcJIf52EENj8Kug481BYlxpMf/d4dGq/Lr5mWOZzuZ45QNfx/pLpKW93+onVZftlNYvYbpsRK80Um15v7+V6YzbbvlJUxmlA0ft+kFhnnFQm+3yZ93aHJmt5+204GuaYMx1otHGLaVyS9YZFt+asDupi+zvn7yc4F2bI8zv+pz1e18jLHnvj4yUIECTHL6p7+fNmDJJtIU2oPDutdKyXcBCUrkWQbO/fhMrzJeW8OQaCL474F5C/Tqet5tWqyjMFTe92W+T5rYH8df1g0qwSPOA4ToUPPv7m/NdoiBt+Ibq/72hxNuO2iPLc3LYz77QCi7RStFtOecstJ+CMlqH3F6Rf5p6v7aYa8xWVjvitFqc0ETm/sW3f8yA5ed5t08t4LLj2xzQ9H52XJnK8wRek96Xe4+Gpc2tRtTNlFQ/k3NZjO9x5hH1X1ixIfix82PCD5KClYXCM4TJheRI+848t+OPAXWaphxbTSq1xxB26yNm+FSRHyzLYQ0aEv//DMq9Hf7Wu14/9YNXMbXxRH7Y+dXsg/8Nnav/N+zp/0hvSORLudm3F/cAPb3sEyZ9996w7PHSvbVlB89nvmiTT/AuD5MpCpM+x93vpxltez+SqNYi1X5ZIkPyZPnjDPZ5X37a7SQebiry58aa37OUfRj5f7Q9//2mzf5Dc+E39h8wXw977Cd7+0y9P6MT7v9N3O2Y/Xf+WCpL9UPmtqts72fRMfjsdhsl/nJMMOvP5W7Hhrxnaugs3H0AAAhCAAAQgAAEIQAACENjwBKwgeeuzU0EPQqcn4fYJOXMgp7YpdybWQzQIzcY1fTrsyWx6Myf9by0VusRALytItgKw1FNZFc9Fy1M/48117AePZl9WXVF8Cj67KCbwc0YqfNwMzx3WF23d06dXa9BRIqFHcsIw1HaAN3D57brbrm2uUTkNmOC8+3XAK9+Xzdl5b52Tfp1kgrq54HyGZRjZXlRtIdnBwMubbfUYyDFapGD49pTGD9TUuu0H3Skllq+Ljbe5TlOVPW5vaGeqw05Ltf1uL3nnZ7uDT8I2gjr6x7IqXW4kXl/BsV1vusMqByxjddnWEXYFyVZ96GDyuVa5AAAgAElEQVR+W3lB0Bs4pa078ipfagSjGyxea6h62J06csk62TstNa7UVLsU+3+5ob73kM6iyjuWaEhi18/5I0wGnHqcU4uXeRucC2vY+tgi1o9r5KW1B94OToAg2b4A7vX7zR4ke552blajcyj7X2JrHST718mdxWCOBzdUs27iZpk7TdVmcpoYSQjaYs4MPUg2oeULS+83MQx82B9Wwz/Q3q+rDZI7t+oqv5z2Ho77lTf25bteguQzWavssfMfx2Z9QTrcYy2o2gsV+UO9JJ6XwBn/gTH68G3WSXwosP4wMcvYrgVFDB6W3HPgB8mmRVkYlPc7P9HfpY/UYw9P7u8TyxcUwrwJv+gdBlaQHC3LEqwj2/R+WOH1mLQp89nHb3u9kefeDXriRpb99EOdP+4GqmG4G1ki/MEPb3sEyX4we6JPiBuU502/e3EYJHfNtezv+fp5N6D+2rsKIl+/LJEg+YYuOr2XT+idpYazMSM4+8H3K6/q4rUf6tOu+Zv9Aiz/danhrV+f/4pmKn3+X/zNvj2SE4e1NsUcNEg2oXCtLpk/Rv6uLr3m9z7eIl1elP5R0of5MGD2A+gyPZKXbwNrQAACEIAABCAAAQhAAAIQeIAJBPU1SXUcbTVmptwOIo9lVTG9Fv1/nUWVvODG1N+07TDMX8bUsFirWB8v+XZZQXIwgl9yz+cgDPbrbM3e7fqxZwvJw9SaHoUHJ5yG4iPeNHQmxBw3dWOm3vJ60sFZ87Q+ne+eI7kr9DXplD8C4TLKb4daCb2c16SchltQdxfWC650X90ShPPVmqnkGgk9t800g9V93UOVB2V4PKvqzaTzYhrVd9Tp4Wl3WdxPWue8+a4fnlLhcNatn7Q9sldMYOP/un0p73rzeFbl+ZKmTC93q4eyv1wS3/CzceUv9e48FDm2wO9YXXawo4Qeyab3sz9H8iB+W3MkB72u/R7R1n5MPevicXe6xKXrZCMrDvyDCXjdqSknlD1ccjqxlY4nvB7JaTIy93U453VP56w5ksNz0adzkTVH8lp5OTAYFgwIECQHoU40QOkfAA1pWYJkT8S26ofch4pI6HSvgmTvJh8GbWPK+fO/3q73HNZly9NpTe2Y9IZ0cJ2ww72ghY3jWNLDpHv40RA3fIgwvw2HAFmZc4MOGxwtQ+8vyODOYb1pL5SUsXrB2tfOthemNPXCuNWzMLbt9RIkD6VHckfN07mIDyELM7/6lNLPjFosrHMdPJy45znxoSD4w6TbteB0BA9c7jJ+kNy+4j1sLeFisJ34m0HKF1mnd5BsHgC2BffdPg8Nke15P6ziekzanNTWla97IfF3/B7A3Ut2h7vdyzif+OFtYpAcBsJz7yU9ybvbvP1Nb3jrr1+Ru1S4Xs8g+dY73pzH1jDWflnsIPmT93XKGdZ6Tlf+rscxRD7+VH/9zYpOWEN+l06d17sf/VCfrXBYa3/zP/7kWt/exGaO49X8N9tP/NcrSD6bl75Vls7ZvYzT0vfb7hDX706FofE3StL/J+mHNemP/YDZfyVITuTOhxCAAAQgAAEIQAACEIAABDYqgaC+pkfdn+mV6c3lOrqjpEWrZ3Hrgl9HMq7cXEPtSH7XUfNCXunncmEA3WmpYeZPvRBfthvusoLkYEjkUWXiw1S3rQ44dgAYqysa31eJHJsJHRfPeKFxakzZM96oYU4vVbfn48hLBdVbkYNW63JRU97ohumj4dzLQT1rUpC8kvKbLNzvLf1wRhU/PL3bUduco7UopzlNQd2dVS+4wn11n3Wpc73shqyplCYPVNW08d5tq3HcC3NN3Zx9Pq0yjG4vqGY3ejA7ut1QafeEpvxOJ0k7T/rsdl35Z6P12j2HfU5i42/zzqKKL3nb8aZQdEbjtI/PLJu0DdOg4ZA3cuLjGZUut6I9qk0P5yNTmthV0qJfZRf4HavL9stj/IkPbW1+Z/IMbxrMbr87Eb9TdpBshrp3OrH5w4CHO+rcqCj3lHvsiXXG4aIre2f1+N62r8/c5Wbr1ugF/qiyDgfvmk1ybnE2q20PbVN2xty3zJzXXg70WEalBR+4W3QzRH3++RGNvpBX1Tg4NC87al6uqHy6Fpzj9vWaKnMV1X3Xl3F/XRnoB3stguQg0Ije0MIAaA0/J0j2rp5YkPxoVlXTWy4WJI/1upEFXxDuufLDs+VcmtGhjb3Wa3fDYTJcH7Yq/XJJtYVm2PrKfIlZPYaHGiR37T+l8RdiQ+TE57mNBdup5wrJrc9icFYcJLfrKthDg49MKne0qsaN8Esg+FJ1rrXYl+86CZKXNW9vjzmSnZZjToss757xdFaFM3Ut3g6faKK9ca0HxuDhxF038aEg+MPEXcZ2LTidPa4Fcw7chxF33fTxxegDU7CBHm8GKV9k1d5BctDCzrv3po8OWJau62F512OkeMEPfkg7p3d/HHzY9SYId+2ho7uWkuSHt0sEyaeuxuYmtrYV7Gs5QfIP5lVyAuIlguS/u6K5ZQXJXsF+/on++tq7uvj6qyr5ofLJi7qePNK2dTT93374t19bVVjcK2g22+35LylINsNV+w1STe/jU34onJLeqrm9kpulMEiey7rLm6Gzv2Ety9DWPbHzCwhAAAIQgAAEIAABCEAAAhuWQFBf0yNIdgKnirJOJ4wRTZkwxYdh6joOWlODPZVWZndOuT0ZhdPpbQmGAQ56d6asTjD+tmKvQZCcGtXES+4Ufc5w2/G6xN3TKl/7oRqH/XKMaerlotsj8ci0pp7w6rniwWOsrsipO/3CuNI7s275veDLfD6+vyo7LzZhZzgX7FZN7sgqty+rqee2Bh0wtu4sR4LpvkGyrJ64qQHLb3jdrnlzMaeUeiaj/OGCss+PaWJ/Ta27big73HL2CDqNIytgEjvl3o8dLc5ZYfHIhKY8pybtcxk/nwllmNiRUXZfTll7uj4zJLFfh5JcgNinYW9ax5GkXsT+GkG9plVn6v9OUvOM17vZqVOcUOFKcCWFS/XaRruhojUH+NjzU8ruzSm3y56WcTLcZuB3rC473FNykGwijQWvx7RTzmS/3azBumeYwNQfWvrhSeW8XsHFAxm3J7azrR6jWFplWsnbsE57UoWrCUxjGw3r0f3lO2qesTpXGed25ZTba9/Htirj10ebc2HlKWPPJ3j2bF61W26devzaWImXdt2405DB5E5+puGNNrqc+2sMyab4kSDZuwjdi9f6YrwXn2/4INm0nCsotzev8tU+3zDx4Zv9oYJjIW1iuGYuU/MFYU1EbwfJnWsV5ffmVDiz2HOIGNOSpn7A6jX7xSmVTUuU4EHQ9WLysDfMr31riJXRDveCBxzHJeuLwV7ffAmezljDKodflJ2blchxpV4oRh6gYpvxfgyHjPG/kKYvLf0FEC1D7y/I+D6DoW2cY9yWOLfwgxAky7SOezq8/s1wO4th/hs57GCIEueYR7yWmuahyJ2rwuH+aDZsyWitfb+CZAUtM71j9OexsMrW923w8OSu3/NaDDbSO0iOszZeN6zWuMEm4m9WeT3GN+f+/Inef830SC5p/gfJS5hPf3j5VXfo6GC46R7L9g2SpbUa2vqz73hzLwfhsxVq2z2StbyhrROP8ue31XjDHQ689KcJcxAnrtT7w6WGuO4VFvf6vOeQ1n4RegXJ/pjgP7GHsU5JrxVMx3XJfB4EzGnpBx3ps5ZUHQsDZoJknzKvEIAABCAAAQhAAAIQgAAENg+BoL6id92fGZo2DFqssMpQMr1E56Y1mTSl3sikpk1PZW844bBeKbkOzoYeBslhfVdy/bdX7jtNVQ8mTVu3VeldU+7ocnYP1qCuaKsyR8sq7HTnsI3uY5syR+uRENkvY+dGVYUdSeuMaepgVc1YXVFQz5rUI9lsdLnldwrSUWu+oLQZJtnKArZYw0IPvZy9gk6nwcHymPgsu1/dOvmppBEkn86peDyvSXO89vn0NtK5WVNhpzf0tcXE8Nm2s6ia33O7e6e9PwmOOaWxPZVoL2l7rWC5sH7c/rUd/G/ZHu3dHyzXbxvtRVUOJDmeUurprEpXrPwi8Lt3PXlQ521N6eeXo329ounn7ZEpPccemtT0TMnrYRy9Z5jeuMUk9l+cUGan24t36TpZvwQDvpoexl4u4vcwXnJN04N5t9vow+kV7tyfOmpdKipjNSAJr6mJyH3M2b45Fz2myRzbWejybLVeOufK7zV9uKG21cPdd2k599clGW3ABTZxkLxN6R19WmPFW2etxc/7y0FX+g3oltuSyrtAU6ltyhypqRnPNJ2bhjWsdSqlYNgSM2fDXuuBIqnF0u2GynusENgM23HEG/bEaWkUPghM7C2pHv+yMw9rs1aLmVRK/k3TBLmZoPx+YBg9U2a4FfthY3hBckeLsxl3DpVIYBndf9JPJtx1Hga8L/vwhp60tPvZSoPkaE/uSRUXYumrM2RKxpqfN/blGz/HT+dV9x2Jz7kRPAi453TiYD1swRl8ubu/6/mlGuvlHp4vu+Wi2cZWZecSesq26sr7rZUiD1yxXvXmOG7HeN9ZVGWf7ar1UDRI+YM/TNxjDMtu7SfGKLgWvLk0RoIHwC0K5j+2VjdvzbAexf1Z5Y7Wwgf9QcoX2U6fIDnSStQcy6jbGjd+vs294VBOuYPu0EirvR4jxbN++PgdNyQ+Uftr61Pr7T98rHdeHc4cycGcw6++o4+tXQRvE/fl95o+puShrT/VB99wy/fqO9ZW/VA7EiR/pg/ecJctveXPwRzsffA3/pzMS/XQHmCLP//8Uw0rTDbbMdvr+y8pSDYBsBna+nJJOm8PbW16G09I/6kkvZ2X5vzex6PSW0XpclF6fQtBcl/g/BICEIAABCAAAQhAAAIQgMAGJ9BpqX66rNJsRXWvB13iEd9ta/FCWaXjZZXnEzq8dNpqLtRVnTPbKqt6ZTGsl/E3aLYxX1HlUjMIl/1fdb22GqrMJsxxGp/3NFbuTqupxqWKyrNmCO26mmakvfaianNlZ1jYIOD1jqc8WwlCn/bNhmpnrPLHwuCuMpp6qFuLqpvhus0xX17srjv2VurcqjvHUz6THEz72x64/P4KJsC9HR5z9Uoy26GV805TtdNlleeqasTrDr0yDbov6xCS395tq3nNdcrsr36t5Y6yebvheGaG+Q3OZ2wLnVuLasxXVD5eUvlMTY2bfoVtbMGBfuyo6TlVu95nO0uyMUNDu25Wr/XYzpLbMNI1tXilqvJsyTkPARf7WAK/y+pZZv+6mAuHS7Y3YRqQtG/ErglTdW7uGc51knTP8NaxrgnTm98EqRXnmky4d0R3uryfOk2vLGX1ZJqwRVN/7PCLO3S3o9b1uqrOPbHHfczaXnjtDebZarxsL1RVOVMPnDf3lOrpqhr+cAnLub9ax7BZ3m7aILnnMMmb5cyv+XFaE60H4ZUb0E1s9wL8HWlrrlQ3HEs9Ne0Oa+2VLxxSwPv9o2lNH/Eegg7llLZ6IvutXPzwLJiMPbL/lMzQFe5QLlOa7GqZNaHCZe+LKNZLNfVMTuXLi1q8vqjFqzWVX05ra2zbdrgXtJRzlom2MLLxR0NcL1yM99Lu0cPV3k7w3pk7YEvYku7hjNvDOlig+020DB7r2LH5fP1Xc6w//HYxElpv222G/nYZmYfO7hZssSDZCRXthgQjmtxfVMkMnfN4SpG5Y2Ih6XCDZPOFXFUuNsTL+M68irMVVc2X+5FppWO+mEYPri0dNefs4H9UU4erahhXrjVUP1dU1urx7DK8l0GyGa4nNgx5KqWR57IqzJSch/XS8aLyO+2g2xpyZKhBsmFdUfbxqGeGdck81F6qqhxj7YwGYEJ8m+Eyr8du671PPv1AZ53hmk/o/PdiQ05bvW+Pff2Kejzfh5sOwtuKGn6e+dln+txfwgqK595u6pPIPMOf6q/f9uZHNkFz8LswSD729Xf18c/9jZnXz3V74aw7P/Irp/S+/QwdlMUa7tqs8oN5bz7lhOP9pKl3Xq/oyo/cfXz2gyu6+M3r+iSyz091ver2SI4E13axVvB+tcNc9x3O2i7P+9lY8OuHw8N6HZXet1qw2vvmPQQgAAEIQAACEIAABCAAAQhAAAIQgAAEIACBB4zAJg2St2hqtunMEdq+UlJu133umdyvt/OegqrxXrQPimRmSJED/vwa0dDIDyMjryPpcB4C/xhjvYojy/cIOv0gWXc7Wjydi8wj0H99E5x5vZnN/s2Q18H8IAOU3wzxsb8WtAhcTZDcvlLQhHV8g/Qq9pE5w+VEQs2U0jMJvWvDFWLDay/jWNvW/A1WeXtzjgfJUvtSvs85GvWGjrbnEHHLN+wg2eBoXS4o/cUBj39POTLUuBOOxoLm3hzMPu5xkGwa3F0rKzNoGUfTKvpzjQw5SHZYX8pHHO/NakLTF8y85Ku7Hi3du95+emNer/pz/x4/pbNvXtR5ez7gr83rhh8Md61tf/DXqp1we/weK53QiZMlZ0jsU/b8Ij96X5VgmVdVqV7UxWpFr5a89U5U9L4X5LpbDoPkEydO6NgrJb36+nldfPOsTh331jl2QufjExb3CpLNUN3vnXKH6j52TKUT8eM9ocqCiczbarzubT9pnyfOr3qOZJucef/jT64tu3ey6YVs1hv434f5NQ6Sx6UP7UR/4JKxIAQgAAEIQAACEIAABCAAAQg8YAR612UMVrfE+nDCARzAgfXpwJ/+6Z8+YN9Ia1vcTRokT7gTh3daqh7IavpwWbWrpufgevrfUPXQlMZ39Bjvf229GOLWzdAVpYTemNEbxNiOgqo9hrYwQzfkXxgJe9jageVoWvnTNVX2hXM3BEGydxTt69WEnrHR/aeeyqp4yW1cEDn49qLKu63hte19p0aVPlhR/XQ4NPZQguTv/JVq+8PjSaUmlPd7SUcK1+eHW1Xl7B6fzxXU6JNtrLRHspmjpXOjopzdUzTCyMyBUFP1oN/ruDtINsN51Ho1OHgmp4o/VMka90j2abbNvNovufM8JH+Rjys7kzSMjplXJa/JL8Tc8nk8lVVpvqbiS/7v732QbI6x35wS/vGO7yqqZuYJ9/+tQZBsNt26WlL2GZ9HwutzOZXt+UlWcT36h9Lz9ZOm3n+zoleDcPaYSl+rqLbwcazncM8tuL/40Qc6/3U3QDah76nq+2rGOjrr57f14TtndeqEt5wf6L7zoW5Hev+aTYZBsgmL//pb58MA2Ql4a/rwPwd9nsPC9QmSzUKffNzQxVMnVPID9NIJnaq+q+uRbX2u29dqqnwtLOex46+qUksqZ7jr1b77+0+b+n7rrBMq1773e3rzg9+VmRPZvJqfTXhsfm+WW/a/+BzIzrzGw+qN7M2p/JNll4oVIAABCEAAAhCAAAQgAAEIQOABJODXo/CaUKfj14fxmlynDRe44MC6doAgOfqlvDmD5MdzqrXc4VXzhyqqHUmvP2mfL6h6rqD86YRwM3oOH5CfOmpdc+eyKOzPukNL7zHDBldVv95yeof3PRAzRv2lsvx1sy8XVT5XD+fNuL3ozC9h5hmpLiQPK9q51XCWKR7KKWt6ge/KKX/UjNXfVNvKzLrKYeaTuFxR8UDOK/e0Cqbcfk/xTkuNC2WVj5dVuRyeL3/ujpKZeyQ234i9D39OAbOcMz/G33pzEzhzlpRVuRJu015vqfdmu8FcKLO9590w27HL4JQ3Pl9K18/RY9WdpurnSirsc3v3Z/cXVDJzDvjhtZkzwpsbIXFeibsdl/HLrhtm/fKl2JwP3hwXbvkMF8sbf94Kj1n5QmxdH5Y/B4XP1jpf/iLOq5nPwQRosyXXuV1Z5Y+UVL7QcOeGiSwc/aHTaqg6W9D0bpdF7mBJFXMsnmOdG96cLvZcKIOU359zp1/ZY4x6XQvOHB1mvgr/+HZmlDtQVMnMC5E058kg5YtiUGuh6syj4nrda64Qk2y31TTzkhzNO6NDOO6Y+XUWTC/k2EbNjyu8HhO29IB8ZAfJD0iR13sx/6JkzXc8xBB5LiP9hX/TW+8QKB8EIAABCEAAAhCAAAQgAAEIQAACEIAABCAAgaUJbMogeWRHWc07HTVP51U4V1Xh+fXXaip9tKbKobwqfli59LlkCQhAAAIQ2HAECJLX5JTebkjzWem1rasf6vq1KWm+YjqP8w8CEIAABCAAAQhAAAIQgAAEIAABCEAAAhCAwIYisCmD5InDDbXNEKkHiqqeG3SeznsYNo9OqTRfUf5QVa2kHnkbSkEOBgIQgAAEehMgSO7Nht9AAAIQgAAEIAABCEAAAhCAAAQgAAEIQAACEIDAWhLYhEHymHIXWmovlDQ9U1P15fF1N6z11l1l1ebyKswnD9G8lkKwbQhAAAIQWE8ECJLX09mgLBCAAAQgAAEIQAACEIAABCAAAQhAAAIQgAAENhOBzRckj0ypfL2l+tG80+s39+Q97Gk80ATqY8rO1Zze0nWGydxM1yLHCgEIQAACEIAABCAAAQhAAAIQgAAEIAABCEAAAhCAAAQgAIF1Q2DzBcnPFlS/XlPxgOn1m9XYQOHuPQybn8ypMl9S/mhd7XWjCQWBAAQgAAEIQAACEIAABCAAAQhAAAIQgAAEIAABCEAAAhCAAAQ2E4FNFySP7auqcaGgvOn1u2vruhvWevzlqmoz0yotECNvpguRY4UABCAAAQhAAAIQgAAEIAABCEAAAhCAAAQgAAEIQAACEIDAeiKwyYLkLZqaqalyMO/0+p0avYc9jQfq+Tyh/Lmq01t68c560oSyQAACEIAABCAAAQhAAAIQgAAEIAABCEAAAhCAAAQgAAEIQAACm4nAJguSJ5SfLSl/qKLakfS6642cer6g6rmC8qeb6mwmCzlWCEAAAhCAAAQgAAEIQAACEIAABCAAAQhAAAIQgAAEIAABCEBgXRHYXEHyYxkVDk2rcK6qwvPrrTdySumjNVUO5VW5SYy8rq4SCgMBCEAAAhCAAAQgAAEIQAACEIAABCAAAQhAAAIQgAAEIACBTUZgcwXJz2aV22t6/eY1MdBQ0/cwbB6dUmm+ovyhqlp3N5mFHC4EIAABCEAAAhCAAAQgAAEIQAACEIAABCAAAQhA4D4Q6NysqbhnQlv8zOCZrIoX6qrs2+aMajp5pLGqEUTbCyVlnkhp266SGu37cIDsEgIQgMAqCGyqIHn0mbSyR2qqvjy+7oa13rqrrNpcXoX51ipOJ6tCAAIQgAAEIAABCEAAAhCAAAQgAAEIQAACEIDAvSHQ0MFHHtFvvfbje7M79jJ8Ardryj/T3aFs8lBV5b3DCJLbahye8PKIcRWukCQP/ySyRQhAYC0JbKogOfXwlIoXKso92f3FkPJbG92X1zFl52oqHyiqfnstTzfbhgAEIAABCEAAAhCAAAQgAAEIQAACEIAABCAAgeEQIEgeDsf7t5XWuay2mkzgqWlVzZSTdztqXqmqfrOp2v5hBMlS51pF0y+MK72/osU7/rF21DyXV3ZXRtPHGyJe9rnwCgEIrDcCmypIHtlRUm0uq7H7Ehb3Ca+fzKkyX1L+aJ0vjPV2hVAeCEAAAhCAAAQgAAEIQAACEIAABCAAAQhAAAKJBAiSE7E8MB92tHg07fQWHtsXm3LybntoQXIyjo4aRyadfW/bX1Ob6S6TMfEpBCBw3wlsoiB5VJnZmsq7tq67Ya3HX66qNjOt0gLtju77FUEBIAABCEAAAhCAAAQgAAEIQAACEIAABCAAAQgMRGB9BMntGw3VTpdVni2rfKamxVudHqXvqGWWPeMtO1tRbaGpTkKI2blVV8Vs70LDCTk7rUV3vdM1NU2v2jtNd59zNS2aau07LTXmK24Z5iqqX29H5xU2PX0Xau42Z8uqXl5UK+id26u4LS1eqYbbvNZKLGtXWTotLV7yymL2dbWpdgxJe6Gq8vGi8tu9vOC5nIrHS+6+zDG2W0sGyZ3bTTUuePs5U1PjZnL9fsDyXF2tjrTkvuNc2k0tXvY4OOekrsXbsQOyEJpzVT/nn2OXdTO5aNZavIUABCCQTGDzBMmPZ1WeL2lqtE/P4PvSU3lC+XNVFQ+UrWEtkk8Wn0IAAhCAAAQgAAEIQAACEIAABCAAAQhAAAIQgMB6IWAFyZ//WI3XDmr3s0/okUce0SOP//f68u8e1Kmr9vzJP9Wb/3ZMj/ybN/TTPofws6sH9auP7NYbP+mzkKT29aryL40mdpyafLniBrzOJjpqXS4p99xI4rKp56ZVvRENJtuX8xp3hnzOKr8vrVG/7vyxrKq3JN2qKvuYqWufUO5gTpMPdde7j+0qqXG7o9bVkrJPdf8+9eiUipdb3Qd5t6PFM3lNjiSs82xO5XiHLL8sX5jU9OFppZMygKey1nphb+DEKS/NMd7sEyR3mqodnnKHxPa5eK/ju0uqm7TY+hewfLagRnuAfRu+5l97UZWDU9oW24db5jFlZurRnsymXIescxVZb1TpA7YT3j54gQAEILAEgU0TJG/bV1HtiDtMReKXQ+SmmvAFtVa/f76g6rmC8qeb0RZaS5w4fg0BCEAAAhCAAAQgAAEIQAACEIAABCAAAQhAAAL3k4AXJH+9rlO7xjT25X+nV87V1fju99S4/IZe+bdf1tgjY/ry4YZ+5hfzu0X96iMvavYv/Q/irz/VG//mEY39+3q4TnwRkzEulDT1sF+PvU3pPXkVjxY0vXNCI15d9tjuitN7uHOzoswvecs+PKGpvd6yuybDMPR5E3KGOwrCT6tefPyFKWX2lVS/bQfJfhlGNPFSRtl9OWVecOcWNvXwW56aDILQLU+nldmTU25X2g2pzbYfzqh83Q5e22rMTAXHMPrslHIHiyrsz2jSCa5TSo2kVbxqFdYPkq2ybnthStm9OWV3TIZTXT6eVcXMgyypFe+R/KzbI7lkeiX365F8p6nK7rEgkB/fnlX+cEHTu9PBcaaey6tu5eMBSydIHmDfTo/ktuqHJoL9bHshq+nDJcrKVhkAACAASURBVBUP5pQOQvkxZc/4uUJHDW+YbsN9Yue0ijMlFV7Oauo5t9f16A46s4WG8w4CEBiUwCYJksc1faaqwvP+l9r6eU0fralyKB98gQ164lgOAhCAAAQgAAEIQAACEIAABCAAAQhAAAIQgAAE7icBN0gee3xMv/aHdf308+6y/PTKQf3aI2P6rTN+z+S/0eyLfYLiv5rViyZo/qvubQWftBsqenXdW3eaXr/Bb5w3JmTOPD6qoFfy3bYax3OaPu4OrWwvbZZNOz1/t2n6UhjOBuGnCWefmVYlEvbGguSHp1S8YiWn6qh5JhcGq6kRTR2J7rtzs6ppLxAdPxD2rO1cKyntBMJjys66w2oH5b2zqMr+cTdcfaEYBt92kGzKcqkV6bTVuVb2ek+nNHmkYf0u7B3cNU9x4hzJHTXnMm7v7K5jljo3a8p752XCOqaApRcku8fTZ9/eARtG+b0FVa+H58X5Vaelqs9he8kd6fTOooovuLnH1PFF6xjdjbWv1VSLb8fbDy8QgAAE+hHYHEGyGdb6dF4TVoukddEr+YtTKs1XlD9UVSthHop+J47fQQACEIAABCAAAQhAAAIQgAAEIAABCEAAAhCAwP0k4AbJj3zpoBpBl+N4eX6mxh/+qh75UlHf8371s8t/oLHEoat/pvq/X3ro69b8tBvSPhr2sI3vtdOOzVEcX8D/udNUeccWJ5xNWwFkEH6mxiMBs79aOLR1SknBpaxgM2VC3/i8v+po8bg3guhLXhiqthqHJ52yjO2pqGl3VPZ3fKuq3JMmMJ1Q4YoXsFpBcmJZ1Am2O7KzbG23T5ibFCTfWVRpu2E1knzMpqf4lYKbQzyRU83L1gOWywyS/UNOeg22+cS0aqYhQcB7i6ZmYgF80gb4DAIQgMCABDZHkPxSQcV9XkuldRQmb91VVm0ur8K83VprwDPHYhCAAAQgAAEIQAACEIAABCAAAQhAAAIQgAAEIHAfCXg9kg83+pfhykE98shv6ZRfDfz591T80iP6taN+tOyt/pM3tPuRX1Xxu/02F4afW/csr4NS52ZD1bmySjNF5fdmlNlp/k9pwhsi2+6tGwSVj+VU9cttFysIbydUsIeZ9pe521J1rzsEtN3j2P+1eW1f8gJxP2C1Qu1tuwoqHS+rPBv9X5opBPMtB6HxUmUxQ1mfybo9iV8ouj14nYKELAfqkRzsZ6umDpRUipWtPFtS6UjO69A2ocKCm4QHLP3jXGrfNqROW4uXKnK2fWha2V3ueZvyhw/356w2Ybk1tefosxnlDpVUvlDX4q1Yj2Z7+7yHAAQgsASBTREkj++eVubx9TOctdsbekzZuZrKB4runBJLnCh+DQEIQAACEIAABCAAAQhAAAIQgAAEIAABCEAAAuuJgDdH8mv+sNU9ytY6pd965BEdvBr+/qfnduuRx/9Adasn842TL+qRF2f1N+Fi3e/utlU/4Haa6hXQdq10t63F2aw11HRyXXlikPxMXvWkHDIIVdMqXUvoOpzUozdWsK6A9U44ZPcgI4pOHG7IKdpSZTFB8oWcO1fyKoLkzo2ypr6YzK67vOFQ4V3H6XDoE2J7nDq3aiq8NBLMk9y9j5RSQZBseiU3VT00Fc4JbXWqG3kup/JC0omMnRR+hAAEIBAjsAmC5BFNvDShLdZNM/GGe69//2ROlfmSpo/W3S+72InhRwhAAAIQgAAEIAABCEAAAhCAAAQgAAEIQAACEFjPBFbYI9kc0s/q+oPHH9Hucz91D9D5eUz/rur93POwwwBy657KQFMmdq6XNPWQCUBHlT5QVu1qQ4vXFt3/CzWVdm51wsrEIDnSi9Yq1FLh7UqCZKtH8uTBqhp+GXu8NltegL1UWYYUJIfDeY9r+nR9yfK1vOG8VxQkG34ve6OsPpVV8Vx0f/Uz027PZztI9k/PnZYWL1dVnikot3MyDJbNUOg3EkJ/fz1eIQABCCQQ2ARB8qTyF6wvxh5fOsEX5z35fUP1cyXl9+ZUohVQgpZ8BAEIQAACEIAABCAAAQhAAAIQgAAEIAABCEBgvRNY2RzJ/lF97+ivuXMnfy45PZTNPMqf+7/t/WqGhB43HaMezqh8PTkYtOdIbs5lNGKW3+7PRWxt+25LlT3rJEi25jIe3Vm2hqC2ymvedmLHfK+C5M6iSjvcHsImdG/fjZXL+zFevKWC5LF9CUOUt+vKP2PC/7Bns7239lVvLuakINle0OC6VdP0025DguyZpHHKYyvwIwQgAAGLwMYNku+21Tg+7c3z4M/3sL5eswcrasa+86xzw1sIQAACEIAABCAAAQhAAAIQgAAEIAABCEAAAhBYtwS8HsmPj+nX/rCunyaEwD+9clC/9kiPnsbOnMhj+oO3v6fZFx/Ri1/rO6h1SKHdUPEFd4jlkZcKqvs9c70lWleKmnp0iyb2lbXYllrnstpqgmQzTPXtcDNSR635vDenb0r3vUeyCT1vVJR91D22yQMVp/x2idvXKso9n1Z+vqWgav1eBclOz2ZvXufUuHJzDbWDQphSdtS8kFf6uVyk52+vIHnx+JQ7bPVLVsDfaatjAuo7DRWec8PfzFwzPFazm/aiyrvc8D8Y2vpuS7VDORXOLHYH3Lf9UHpUBMm2TbyHAAQGIbBxg+RBjp5lIAABCEAAAhCAAAQgAAEIQAACEIAABCAAAQhAAAIrIuDNkfxHb6j4lTGNffnf6RUzBPF3v6f/n723jY3rytP86kN/8IcBVkAaE33oIKOLSeACiICCeiDLMKxtISJigkbHZNyAqbETkaNFE7RjGowb8hCCHA9RCgxKWNgVBytyvDBjqkMp1Da1oUftiKZniCl5wU0psYa0GxQog5qkFtKMGUbxFhFp5wnOfb+37i1Wlfgm8WeArrd7z8vvPOdU6T73/z/F2UkNv9mmrJVV27miQlshh2paU+HdrKymrLKx/ZJDByU+Ld8cU/cfOIZrJrNPra/2qv/tXnW/tN/fU3f/W04gU/n2hHqfdo892quh8yMa+XhEQ28ccSKV3W0fd4KRbJuxV/qD/Zz3HFHn8cq+7esJBWltoZEsY9jmWn3GmWfa1d3Tr/43utX+nLef8VPq/HjBN3+TjWRp5UZerS77/a8OaOj9frX/dL96LxrjeEXFc149WXWeyttjNvLBgDqbvXEP9kgOl5UxzE70a/DckAZ6OnXkJ+7xzf2auhNxvhO1xZsQgAAEwgQwksM0eA4BCEAAAhCAAAQgAAEIQAACEIAABCAAAQhAAAIQqImAayRfuis9vKvip6d17GizLMuS1XRQbb/MaXzubvWSvhtVh2Xp8Ifz1Y9L+LS8OKWhV7OBqemakvZeyLmpSDTvytyIeu30xiET0hz/XKe6X9xrl7EzjGTT0bJKsyntzexTu+mbu/+wjWUrjWRTocmGemFArXtiLA3PPa0aMJHKobTXaUayKafwUbcTLe6PXUZHctPO+feXNJVr197QZxn7+T61n+h0zHYvtXW5pMLogNrdaG7nuFD7ftavMbbZTJhFvAUBCKxHACN5PUJ8DgEIQAACEIAABCAAAQhAAAIQgAAEIAABCEAAAhDYBAJrczkdtno0+X3jha/cWVDhypjGPh7TxOdFLd1LiTp9sKKlmwVNXRjT2OiEpm+UVH5QVun6hMZGxzR1I9g/t3ynoInREY1dLiiWOdtp6P0lTV8c09iFKRUj6bK9fpS1NDthtylcrvepeVy3DmMoLxY1fXlMI9X6tm5bpPLtaac/V6Imb+nGlMNtNpY+2qSpXqf9Kq9o6YbDc8Twu76QyGq9fq7cdsdvdEKFb1b8SGaPVbm0pOIXzhiNfVZwxndlQdNmHC9OaylsqpvxNGN80TAbscen8I0ZZ680HiEAAQjURwAjuT5eHA0BCEAAAhCAAAQgAAEIQAACEIAABCAAAQhAAAIQeHQCD5c1ftxS9t1CSurrR6+CEiAAAQhAAAKPQgAj+VHocS4EIAABCEAAAhCAAAQgAAEIQAACEIAABCAAAQhAoBYCd8bV81pek7Pzmv96RqO/apHV1KXJIBB43VJu3LiRkMo6lMK4Ig0yn1Wked7FjH7605+uqzEOgAAEIBAmgJEcpsFzCEAAAhCAAAQgAAEIQAACEIAABCAAAQhAAAIQgMBmEFid1/ipDh1ssmRZWR08kVehDhPZNAkjGWP8UYxxjOTNmNiUCYEnmwBG8pM9vvQOAhCAAAQgAAEIQAACEIAABCAAAQhAAAIQgAAEIAABCEAAAhCAQN0EMJLrRsYJtRL4Z//6PxB/tTGolSnHQQACEIAABCAAAQhAAAIQgAAEIAABCEAAAhCAAAQgAAEIQGArCGAkbwXlXVoHJnJtJrLhxH8QgAAEIAABCEAAAhCAAAQgAAEIQAACEIAABCAAAQhAAAIQ2EkEMJJ30mg8YW3BSMZIfsIkTXcgAAEIQAACEIAABCAAAQhAAAIQgAAEIAABCEAAAhCAwK4hgJG8a4Z66zuKkYyRvPWqo0YIQAACEIAABCAAAQhAAAIQgAAEIAABCEAAAhCAAAQgAIGNIICRvBEUKQMCEIAABCAAAQhAAAIQgAAEIAABCEAAAhCAAAQgAAEIQAACEIDAE0QAI/kJGky6AgEIQAACEIAABCAAAQhAAAIQgAAEIAABCEAAAhCAAAQgAAEIQGAjCGAkbwRFyoAABCAAAQhAAAIQgAAEIAABCEAAAhCAAAQgAAEIQAACEIAABCDwBBHASH6CBpOuQAACEIAABCAAAQhAAAIQgAAEIAABCEAAAhCAAAQgAAEIQAACENgIAhjJG0GRMiAAAQhAAAIQgAAEIAABCEAAAhCAAAQgAAEIQAACEIAABCAAAQg8QQQwkp+gwaQrEIAABCAAAQhAAAIQgAAEIAABCEAAAhCAAAQgAAEIQAACEIAABDaCAEbyRlCkDAhAAAIQgAAEIAABCEAAAhCAAAQgAAEIQAACENhdBB6uavHaqE7/sk0HmyxZliWr6aDafpnTePFu7Szm82qxsuq6tFz7Obqr8eOWsifGtfxwvdOKylmWui7V0ab1inyUzx/eVfHSWfW91qJmw8z8HWjRsf5hzXy3ll7y3aLGz/So5YBzTvbZNvWcmdT8avIpq7dmNHqqR23PZp06rKwOtvUod6mou1WYrX03o+H+Dn9Mm48eU9/5QtVz/BbM5dy63H6Zvp0p+h/LHTe7z17fkx4j54RO956Wiho/16djR5v9+px2zmj5B++g2KPNPaeetoPKunU6DMdVLMWO5SUEIAABlwBGMlKAAAQgAAEIQAACEIAABCAAAQhAAAIQgAAEIAABCNRDYLWo/C+yspra1HduXDOzRS3emldhdlLDb7YpW6sx/ENRuaOWWs4UVcVCTWiZYyQbQ3L9c3eQkfzdpE4eNcbxMZ3+dFKF2Xkt3iqqcG1cudeMKdqi3FwlibW5s2prstT8Wk7j1wqa/3pehSvD6mszY9Cl8TshRA9XVfyowx6DtjfP2scXby1qfragyfN9djlpBvzy5R41W1m1vTmsydmi5r8uauZSTseMeX00p2KaSetV/3BNq9+vun/zGu2MG8nS2qr3efzxrornO2wG+XmvwMrH5Ssn1WIZFqc1eqWgwteLWpwrVG/nD0WdNawOdKjvvMN9/uuCCldGdboK98raeQcCENhtBDCSd9uI018IQAACEIAABCAAAQhAAAIQgAAEIAABCEAAAhB4JAJrvxtV3y/OqpASDbv4iTEEOzT6XZVqHi5r/ERW1tG85qtEyCaXEBjJ1rqm9c4xku9+mVPHm2lR1GuaOWWM4dMqhL3k0qS6moxhXtBqnJPPMGTy/rCo0Tc7dPZ6yuDcGlWHZanj02gE+FrxrBMZ/uvo+zZ/1/BPM6CrjtF60cXeyXfG1WXa9cmi907l48O7mhnsUF9a9PoPMzrdZCn7biFyY8L8h4dtrjNJSB6uqjDofB7hXlk770AAAruQAEbyLhx0ugwBCEAAAhCAAAQgAAEIQAACEIAABCAAAQhAAAKbSKDkmIJ9U0nOnVPv8qUuZePRtDU3yTWSO3PKGTO6ajk7x0het3t2aujDCkfk2ibo81XMdtc8jRvD6XW57N68qmB0VjX5uiXr9cnQe7ESbAM6q9OzYZc7dkzkpVtPLUbyw0WNdqSkKjdRzutFQofqLZ6xZBle/nvzyj9v6fBHwTv+R96TW6Nqs7I6G87C7X3GIwQgsKsJYCTv6uGn8xCAAAQgAAEIQAACEIAABCAAAQhAAAIQgAAEILDhBNYxktfmcnb06+kvazUl4y10Tcrj47rrRsump15ex0g2++2eCe0l3HRQHWa/4luBzaqHrhn5YRUzUtLdS12OiRmPHI43P+113Eh+WFSuyVJbtShdSb7ZnFZu5P0EI9kdr+rj4ZrNEQM6UnDsRa1G8pqK51pSbgZY1dVfmT2eWzT8u1jxKS8rjeSizq7H8M64jlmWcnMphfI2BCCwawlgJO/aoafjEIAABCAAAQhAAAIQgAAEIAABCEAAAhCAAAQgsBkE1mZPK2u1afRWQuluBO36exsnnOu/FTKSzXvzeXvf3OyJSd31j/GepBvJd7887e636+49fGtRxfA+z58s+imSV6/0OOmR06JjXbO59shgr33B4/KnJiX4ac14/nqNkbJrX56WZXVpvBSUlfpsrWCnfw6b0975k5XwIsUsftImy8qptsDd2oxk76aC5Oj1NRU/bFP2QI8ma+mblu3IZuvUjD9u0poK72ZldYxqMcXgd1Kx9+lq6N6BSMd5AQEI7FoCGMm7dujpOAQgAAEIQAACEIAABCAAAQhAAAIQgAAEIAABCGw4AWOoHrVkmWjheOHenr7HY/sE25G4NRqhdpkxI1mSnSo7cb/kFCPZ3ZM3zdBevtKnw1ZWfpSua8CmGcW2ed50WjNpRnOcRfz191fV12Tp8JliYILWymU+r8M1RtTOf9RSYTrbkdQ1GMSrU30V58a7EbyuwUj+oaDc85ayEeM3KKHeZ6Z9WeuwcnOeE++WYMba7J38i7OauXVXq+ZjkzK7tKiZD4+pOVE39dbO8RCAwJNIACP5SRxV+gQBCEAAAhCAAAQgAAEIQAACEIAABCAAAQhAAAJbT+DhXc28m5ameE3FMymf1WqY+j2qNJJN5KldvtUSMxKTjOT1o1RNeTOnnEjWZbdeP4V0RWSr057D66S+9psff/LDokbNXs9HcyqGjehaubipqddLzexEYGfVdcnrkdOQWo1k1doeu9j1jWSnXkuWZf6a1fLLnCbnGwsLXvvdqG0Wp90YoO8m1XfQqyv8eFB9l6M84sPDawhAYPcSwEjevWO/LT2/Ozeus/3H1Pas2dfBfFlldbCtR6c/ndFiY9+P29KPikoTf0CsauZPm2UdOKmr31ecwRuGgM3tCd57I1EXWzj0DxedVDavT6rW6eWkXepITru0TtNr/sG9TjlP3Mc1/kPmies3HYIABCAAAQhAAAIQgAAEIAABCOw2Ar6J3KH817GIUElOCuO4yetCqvs6UpKRbKJMlzVuDNmmrlAq5CQjuYZ9c02b3ZTRfsrn7yfVY6KUZ2P9+9pEBHdo9LsGBt03kU/q6p3Y+bVyqSEi2TOROz6aDyKe3epqva614RHJa6ta/X5Vq9/Nq3BlWH1tzn7IFRHFMSzxl76J/KurWq4w+aXlqZNqa8rq4AmTwnxey6bO7+9qcW5G4+f61NZkqSXl3HhdvIYABHYXAYzk3TXe29fb1aKGX2u276rq6D+r8WsFFb+eV3G2oJlLOXUZY7mpTbkvK5K9bF+b66k58QfNqq6+afrVt31G8mpRo+fO6mojP+Dq6X+jx9rcMJIbxVfLefbeNTX/iF/V5OuWrDqM53Abav3BHT5nVzzHSN4Vw0wnIQABCEAAAhCAAAQgAAEIQGCXE1jHRJabWjg1WjTx+mI1pilGsjnFS2N8wkufnWwk5yxLXZfWuR5b0a4gkjmIYXXeayg9czUT2fRlg/ZIrmYim2oqDPMU9JuxR3KkKnMjwHFL1vN5zUc+SH+xnoks99pU16fBiFWU5momLW15xfG8AQEI7BoCGMm7Zqi3saM/FJU7ainbltNMKaUdD1dV/KhDzb8Y1mLsZraUM3bW2xU/qHZI83a6gYWRvPlCcfeuqSmt0Hej6ki6o7TGVmIkp4Da6fMwpdm8DQEIQAACEIAABCAAAQhAAAIQgECNBNYzkSUVz4RTCdfyfL39kqsYyX70syXHuE4ykueVf95S2yeLVTuZaLDO59ViHVb+a/dU+9pH6HXVEkMfrmcim0MfFpVrWr+dfsrtUPHe0/VMZPs49/qNvx+0d3Lk0Q3CePNqjdn/1k9tHSnefVFP1PO6JrKku5e7ZFl9urpOysLCYMq+3kmN5D0IQGDXEMBI3jVDvV0dvavJpL0t0pqTkHYj7dAd9T5GcmQ41lZrvBsAIznCbbNezH/UIsvq0eQ6Kdb9H9wNzkOM5JQRxEhOAcPbEIAABCAAAQhAAAIQgAAEIACBJ4BADSay3csf3BTGdkrhhOfXTsuyjml0Pvhsreo1mupGsqlz+VKXslZWXZfHVRl9HEQWL6bWU7lHsjNijqGafbdgp4i2ryl1jKpKvGvlQNdiIrtnrXvN6ocZnW6ylBRNW5OJbNdTQ6a+W/UGYTRmJNdq/NZiIpuu1VaeGWuM5Eqh8g4EIICRjAY2l4C9N8Zh1bung9+oh6tavDasvtda1GzvqWyp+WiPcpeKupv6A0davTWj4f5jajng3t13oEU9Z8ZVTIyIDt2RtzqvyTM9zh7OZ4p+M+wnpUKkzOyzbeo5M6l5cydXipFs32l4fFzRBDGh+n5Y1sz5PnV4e0Y3HVRH/7AKie00d+DdVfHS2QgPrx2LP4Sa6xpXzj7UsTsc4/3SxvJa/e1JZS1LLeer381ot7YRI7leTdRg4iWOU/i80NhXpPsJfWZ4e+NRTRd23x/eVaHWsX+4qvkrOfW0HbTZmnqaj7ap59SoZm6tcyuhqczeuyb5x7SvGjdyuedKqLxa9eYWUtVIrqe/YfZ3ixo/0xOby+688xtvnjjzKlHz7tphhediuI5IOcGLRF14H9vj3qGDTc78yj7bob7zheR1Ka2uOvl6VfMIAQhAAAIQgAAEIAABCEAAAhCAwA4hUKuJXEtzU64vpp+6vpEsuUZwU9a+plRxXWuddNvLV/p02Dqs3PXKoJG12dPKWl0av1XQ6aaEPZPTGy7VYSLbxXx/VX1mD98zBa3Grwl7e0IfzakYvj5qDNQvT6vFyippT+TE5tmR1ll1/TrBEveybvrpwhNLiL2ZYCSvFTX84UzyNSRz9sNFDXdYyoajnh+uaTXWt1pNZLtB7rWp1LTqJoL9d8Pqsta5fhjrHS8hAIHdQQAjeXeM87b1sngmW9d+DpGGej8omtrUd35ShblFLX7t7Kl8zBjER09rJurQmq88LX7i3GnX9uawJmeLWrw1r8K1ceXsPZpbdLpiH2bX2P3zceWOZtX2p6OamZ3XcujLeXnqpFqMefdazt7fef7Wooqzkxp+s03ZAz2a/HVOlvnhFDOAk42oWH2Rdo7qZJuzX3S+GPuBtjqj0weMUdml059OqjA7r/kIj7PyTzE/LszdjfOjOmZZOn0tuJMx+qNj43mtFfNqa2pWz5WKwYkMr/2iXiO5EU2kmXih1iSOk3fer8fV1dSsYx86GrwbGpZGdaE7k+oxY9nWp+ErBRXniip4erJadHIq/GN1TcUzLfYe4vY8mJ3X4q2iremzb7apOfyjMtSn6FP3DlOzt0r8x7Z74PKnHbKaTqvg9a8evbllpBrJdfVX8vZtyXnsz4zbc9Lu95W87Plv5l1svq2l3NFrxumg1RK9ocUb37koqfCrRF2Yu3kv96jZyspbY4pzBRWuDKvPzN2jJ3X1TriUUH/CdTXAN1YqLyEAAQhAAAIQgAAEIAABCEAAAhDYTgKeiWy16PS1ZedaXMq1ieqRxW4nNsVIluQaoObm+woj2U6BfVZtTSnXPa1m9Xy6aEcdV6B+OK/8UUuHnz/sXP9NueZUcZ53fe9gl0aLd6tw8y5SOSWszcXa+fV8cD2mqUvjsesxjolsqeXdGS2njIt9/TRaTcV1n/mvi5q5lHOuRyWY1RX9i7xRaSSvfTepk0ctWU0H1XVqVJOzBRW+XtTinHPdu8sEHEWuL63q6q+ysqwWDf/OZfG7UXU1WTp4fFTFu6HrvvF+hq9v29ezzDif1uiVgn2tfdlcY5yd1OipY3YQV/Prk1qudRwj/eQFBCDwJBPASH6SR3fb++Z+UQ4WGmjJmgqDh2Ul/AiwC/thXvkOS1bHqMKpV9au53TYpGu5FDbivOrXNP9hhyyrQ6O3vPfMoxfJmHKenbLE208kfJ7z3EkRY6IS6zOSrbR2mrvojjt9i/disVisvOvONMPcPZj0Y3Ads2xTeFUiSn+nLiO5MU34pmTYxIu1KNEwdNmZH2mJEfWN6uLhokbNXYUpdy/evXZah42WvB+/dyftsT15Lfar1utDrT/u7OwAKXeHmh/+z1uK76Ncr94SjeR6+2v6tR77HwrKPW/JS5/koUh8tO+sTZjb68wNU1aiLtwURol3ppp/QJ46LBP5HPnRnVJXvXwT+8ebEIAABCAAAQhAAAIQgAAEIAABCGwPAf/6RSwboJcZzX+svGaY2ODNMpJNZW7kcZKRbLel5GSEa/OyJh5o0bH+4XUz4a1e6ZExqJNSSif20bzpXg+smlXOZpdTLF+kFMtcF8kMGKnQvS7tj0H6GCUxWfvOZLsMMtE1Hz2WnokuUm/8RaWRbB9hZ1wc1elftgVZ+KysDrb16PSn8Yx3ayp+6AYzuUEV9jWrGvpmxTNTeuN8tNkeN3sMDrSo7Zc5jc/VEBQU7x6vIQCBXUEAI3lXDPN2dTLli7KW5nzn7jfxZYp5Zsqo2JNiGVJitgAAIABJREFU2THoTs0k3yVnzvFMLXf/DqcprpGcuI9HHXuF1GskJ9bntGjtS7MnSpcma/7+TmGdYmA5tWwGL6fkmv9fj5HckCYCUzLXoJGcbFY2rgs/7U8smjZgtqaZX1nKej/0vDG8HhzR2DNnvK3XJxVKXm0X5bSpQ6Pf1Vpyst6SjOS6+2ua4PY5mb3TxsVP2mQ1na38B0W4C37KoclYevmgjvp04Y57OEV2uD7z/IcZnbSyipTrjWEVDUaLSeYbPYZXEIAABCAAAQhAAAIQgAAEIAABCEAAAhCAAAQgAIHNJYCRvLl8d3nprhnSQETy3ctdsqzTmqniI0uLGv25pew59940N3LzdDXzWVKlAeUYyX45kVEr6myTpbZPqu/36xm/9aS2Tq7Prdw2WNtikdORhlW8SIyerGZgbQqvimZVf6MOI7khTZjaqzFwW1eNXdflJDe/cV0Uz2VldY4rHm0eBrU61RdKCX9Xkyeysg4cU/7KvJa/rzopwsVUPDc6zVZE5K9q8nVLSQZzRQGhN5KYJRnJ9fc3GLNk9k4jnLqqrRFuBHtayqGGdOGM+7GkfXJ8Nqu6+qalwx/N++/UosHgYOdZEt/4MbyGAAQgAAEIQAACEIAABCAAAQhAAAIQgAAEIAABCGwmAYzkzaRL2Wp0j+QkQ6oSZyxqrwZjyJRRWba7Z/GlZMMwl5QyOt4Y2xCtTFOTbAZVq88tOMVgXfvdpHK/bLH3rEhM/xKPlKzGpNpnof7Vxyt0Yi1PU/qZdGplOxKPctKCe9G85pAa+pk4TlXPq2EMTd0JurDrqiX1jBVK3/PwrgqfnlaPn3amWS0/N6luZiJ7eScRibznprCORPrakf2Hlf86cqT9ol69JY1RQ/2tyt5pp1NX5ZzzemGnnE9LjW8OqqGOSl0445449+JjWoMG6+Xr9Y1HCEAAAhCAAAQgAAEIQAACEIAABCAAAQhAAAIQgMBWEMBI3grKu7kOe1/Ww8l7zFbhYkdk1huRvHpVfZalRiOSk/bDMPsnb1ZEcnJ9LpQkg7U0qa4mS82v5TU5t6i7369qNfQ3865l780ascOrmWWbwqvKoCZ9lNTPpOMkNaQJU1Y1Bm5dlYbheuc1rov5jw7L6hzVfGjswuMYPE+JPH64ptXv5jVzKadjByxZR8+qmHJoEsrlT80+4T2a/N58GqToroiQbkBvSUZyQ/2tYcyqGclrczm1pO1t7UGpoY5KXTh7SR/7ZD4y94IxC83JH7yKUrTUAN9QiTyFAAQgAAEIQAACEIAABCAAAQhAAAIQgAAEIAABCGw6AYzkTUe82ytw0/KmpZdNw9PQfriPtudvsrEbGG2LD9Mau6aZU1l7T+N6Ulsn1+fWkWCwOqmdcyqktKMwWKeRrM3glcYo5f2EfqYcKTWkCeNAOzcY9FyJ7wzs1vRwUcM/r5dd47pw9gz2jNzU3tb2wfeT6qnh5olIYe45HZ8uS+7zJDaN6C3JSG6ovzWYvKlG8p1xdTVl1XWpwhqPYGhMF+64J+wzHS089iqhP43wjZXKSwhAAAIQgAAEIAABCEAAAhCAAAQgAAEIQAACEIDAphLASN5UvBRuE/ihqNxRS9m2nGZK6UyWr5zUsXdndNc2StdUPNMiKy017Q/zync45t9yyFh1IhHTTKQ1zX9oojG7NH4n3I510hTbqX8ttZwpKinw006ha6e1rUyzWxnRaOpdpz5zSILB6kTkntRMONLR68Z3xjxLMEPdfZCTjEJz6qbwMuWuJpHyGht6TOhn6NPY08Y0Ibl7AHeMKulmAH/86kkLblrWqC4eLmv8RFbZE+MKazfo7JoW5xYDrT1c1uJ3waeRZ55BeT3y7jovXDP0+bzGP+mQ1XRahYThakRvSUay6u2vab3Xr7n0riQayd5ac2JSkcj8xGIa1IVnVKftk/zDooq/iwFN6E8jfBO7wZsQgAAEIAABCEAAAhCAAAQgAAEIQAACEIAABCAAgU0igJG8SWApNkZgtajh15plWc3q6D+r8WsFFebmNT9X0Myls+rrcD7r+TRqoE2+3iyrqU195ydVmFvU4tfmeCelr21MJ7hFy5d71Gxl1fbmsCZni1q8Na/CtXHlTP1Nbcp9GT9pfWN3eeqkWiyTVjpnt33+1qKKs5MafrNNWWN2/zq36RHJ8kyytj4NXymoeGtR87MzGj/TpYPPntTJ1xOMZLkR4Qd6NHytqOJcQZMfDkeMw43mtfrbk8pallrOL8ZEkPDSNZJPXwulBE5K+ez5cg+X1YgmZJt/5mYGl93X88H4Hc1p/M+76ksL7nalUV2YsTzblpV14JhOfzqpwqwzNoUrw85cONCnq65Mly8dk2VldfDEaY1eCeaNObbHvkFjWPOhmykSKFe+ZUd3WzJ7/R7+cL7yc/NOA3pLNJLdsmrtr92YBOM13shKI9nNDHDwpK7eSdFT/AaHRnRh34BxVm12mnlvTIoqzhY0eb5PHQcsNb95NWpkJ/WnAb5xBryGAAQgAAEIQAACEIAABCAAAQhAAAIQgAAEIAABCGwmAYzkzaRL2RUE7s6N62z/MbU9a1JBGyMrq4Ntx9R3fkaL9p6tsVMermrx2rD6XmtRs398j3KXim7kcux49+XqrRkN9x9Ti9lD1rKUfbZNPWfGVUyMiF7fSLaLLRUSypzUvMmYbBuimxuRbLdhdV6TZ3r8flkHWtRzxmlDcvSzMQTnNdrf4fJrVssv8yrGWG8kr7ViXm1Nzeq5EjfsE8bKNZIdLThjlfQ8kga8QU0oafw+nNHyD5JtStYbkex1J6lcd0zSdGGf+nBV81dy6mk7aBvvpt/NR925EMvCbcZn9FRPaN54xxaqzgOviZWPbjSuv1dy5RH2O3XqLdVINoXV0d+GIpJdszZJP/578TE27Uoav2q68FC5bIK1rFktr/Vp+NqiVuPGfpKRbMqpk69XNY8QgAAEIAABCEAAAhCAAAQgAAEIQAACEIAABCAAga0ggJG8FZSpAwIQgAAEIAABCEAAAhCAAAQgAAEIQAACEIAABCAAAQhAAAIQgMBjRAAj+TEaLJoKAQhAAAIQgAAEIAABCEAAAhCAAAQgAAEIQAACEIAABCAAAQhAYCsIYCRvBWXqgAAEIAABCEAAAhCAAAQgAAEIQAACEIAABCAAAQhAAAIQgAAEIPAYEcBIfowGi6ZCAAIQgAAEIAABCEAAAhCAAAQgAAEIQAACEIAABCAAAQhAAAIQ2AoCGMlbQZk6IAABCEAAAhCAAAQgAAEIQAACEIAABCAAAQhAAAIQgAAEIAABCDxGBDCSH6PBoqkQgAAEIAABCEAAAhCAAAQgAAEIQAACEIAABCAAAQhAAAIQgAAEtoIARvJWUKYOCEAAAhCAAAQgAAEIQAACEIAABCAAAQhAAAIQgAAEIAABCEAAAo8RAYzkx2iwaCoEIAABCEAAAhCAAAQgAAEIQAACEIAABCAAAQhAAAIQgAAEIACBrSCAkbwVlKkDAhCAAAQgAAEIQAACEIAABCAAAQhAAAIQgAAEIAABCEAAAhCAwGNEACP5MRosmgoBCEAAAhCAAAQgAAEIQAACEIAABCAAAQhAAAIQgAAEIAABCEBgKwhgJG8FZeqAAAQgAAEIQAACEIAABCAAAQhAAAIQgAAEIAABCEAAAhCAAAQg8BgRwEh+jAaLpkIAAhCAAAQgAAEIQAACEIAABCAAAQhAAAIQgAAEIAABCEAAAhDYCgIYyVtBmTogAAEIQKB+AuUljR3fq0wmq/4rpfrP34AzVq4P6lAmo8yLeRXvb0CBFAGBrSKwA+bPVnWVeiAAAQhAAAIQgAAEIAABCEAAAhCAAAQgAIHNIYCRvDlcKRUCEIAABB6RQHlxTJ0/zijT3K+p7fCRH6yo8N4hZTIZtX+0oPIj9ofTIbCVBLZ9/mxlZ6kLAhCAAAQgAAEIQAACEIAABCAAAQhAAAIQ2BQCGMmbgpVCIQABCEDg0QiUtfBxp23i7n9nWqUHj1ZaQ2ffm9bAMxllftSukZsrKn7Q6rdnZTva01An6j2prIWP2rUnk9Ghzeb+oKSJHhNxnlHrB8UdatSXt3zcV2bdKPijQyqu1Dt+3vE7YP54TQk9rtwYUXdzRvtPjDxC30IFbsVTE9l9ImtnRui9uLQVNdZZR1lLF/t1aM8+dX5Q0JO7NtWJZSMPv1dQ/pV9euq5fk0sPr63FG3M2rKRYCkLAhCAAAQgAAEIQAACEIAABCAAgceBAEby4zBKj2sb12Z02rLU8ely9R6UxtVlWTr84Xz141avqs+ydPrLterHpX3q1pObSzvgUd9f1cyfNss6cFJXv3/UsjgfArucwP0FjbySUSazXwNfNOymPRLE0ucD2p/J6KlXR7RQ3npD8ZEa3/DJQT+zb01troGPkZw4Shti9uyA+VPZuRUVzx2xbxzIZA5p6Pr2zOvKdq3zjjGSX92jTGaPui8s7bwbHvyxzijT1K/p7cjesA7Cx/3jlS+c7wI7O8X5xzc7xYasLY/7YNJ+CEAAAhCAAAQgAAEIQAACEIAABOomgJFcNzJOqJ3AmmZOWbI6RlXNSr57qUuWZcl6Pq/5h+mlr071ybJOa6ZBH1lbYCRffTMrq6mvwkhe/u1Znf20qNX07vEJBCAQIlC+OaJ2szfxc4Mq3At9sFVPH5Q09fZ+ZTJPqXPUmEeBwWoipJ/cqL+gnxjJRmwBj60a940we7Z9/qTM0/LNCQ28dEjt70xo4XHZc3y7jeQHJU2f61f3iX7lZ5Nc4rKWPhtU589a1ftx8Qlem1JEtRVv3ytq5I1WHXplUFO3iUjeVOT3Chp5u1vdbww91qw3lRGFQwACEIAABCAAAQhAAAIQgAAEtpgARvIWA99t1a19eVqW1aHR79J6vqzRDkuHOzp02Dqs/Ndpx7mm9JtXGzdjN91ITmu7VDxjyTo+rrvph/AJBCDgEyir+FG7Hbl4JLdNqVrvTKm/KaPMT7o1Zqcy3XpD0cexpU+CfmIkG/ABj8fHSN4B82dLNbvJlW23kWzX/5Qymb3q3pGptTeZP8VvGIGNuEllwxqTVtCdKfU+bbKRmC0lHl/TPq17vA8BCEAAAhCAAAQgAAEIQAACEHgcCWAkP46j9ji1eb301t+NqsMYyMWi8s9XSW/tltM39QgxvU+SkfxwTatVIrNXbkxpbHRME7MpaTjLJRUuj2nsckGlxOt0ZZWuT2js/D9V7v1hjV2Y0kJKVOjKN9N2XdPfpKQpXVnQ1P84rPffeVf/9PyYUo+7V9TUhTFNfJHS5gclFa+MaWx0QoU7iY2W7pdU/GLCbo/d/88KWogd67V37LOUyK0HKyp+ZupJaOuDFS3NTWti1Pl87PK0ioul5FSnK0tamHXGwZQ1ZtpyL7nd/nhdd8paue2wsM+7PF3Rh/gSUL6zoMJnQb+nZhdUqjfaz/TtRtC3amVUtPebgiYumD4uRKPhHpRVuul+5jJYsmVS1tIXKYxN51aKGnrRXEg+Ek1/Gytv6vpCsn4frGjBHsMJTZvoMXNeqG8TnxfltCNOMnhdutKrfZmM9p6Y0JI9bOsbikZbnjambqxI95c0fXFMYxemtWD6XS5pIaTPqbklrSRLImjIeuPi1/GIc9SM38WClu4H/Uw1kk0/rrvavjChws2SyuvsGW00Om3WHKMDo2mz8NSQ2rp8b0lFX9sTmjZ1GTqlosP6SsoaVqtWAtIpzwIenpFc6/xsdK2pMHvMuva5O78vTKnwTcqa4/UgNn9qnq9m6t0u+uM08VlRSylrlleVPbfqmOPlO4Xq46ayVhaLmjLzxnyHfVZIbYNflruWG60U7O8IM+dq4VTjGr0pRnJZpcWAtflem76xFJ1H3jp2fkjdPzXrYUaHeoY08rE7j0LrrT/G4e98f23YxPXHF4L3pIZ+uYdWjF8ptkbEvrvN93uwfibw8poQfqxxrUpty8VpLZnvUp/llIopv4XK98z3sDs2Zl38ZiX5t4FqZxTuyrrPH5Qj3+H291zsd0B8bdm0OWPWEu93qPu7przu+DrflyPn+nXEZCPJZNWdG9GI+3vL/k6NQah1vYq3ZSXtN0usfF5CAAIQgAAEIAABCEAAAhCAAAQg4BDASEYJm0zAjSROicZd/rTDT2k9/9Fh/3m8UU5kc5+uxn3kh3dVON+njmezTnrspoPq6B9WISn7Y9hI/mFZM+HzDrToWP+wZm7FK3Bacnd2WH2vtajZpOC2LGWfbdOx/rMan4vGGMcjj+3X7jl2+m7/eZfG422suS+LGj5qyWo6WcnDBbdyfci5EPez5LTAK3NDarUv1LVqaC7BADZGxFFzIe8f67/8z//99L0hyyVNvLHPvsC9742JBFOvrKWLvdqbyegnR56xj0s2p8pa+LhTT5k2PTOg6YQLtXaq1h+lfP6grIXLAzpiPrf7FX3cfzxIkbh0sdtuT+alfHJq1fsLyr9kzo9Gf63cGFPvM9Fy/bqe67VTjtoG18qCJnKd9t66/ud+m7LqPh+PsA0ZVSeGNHTiUEIf9qr9/WnX0AxmR3lxOuV4E0nbrqEv1jGc7KLKWvp8SJ0m+tZvp/f8iPpH44Z70N7s8UENvJr1z3vq1TG/jaW5MfX/zCsn/JhV97kxDb1i9hyNMvZ6ZvRpX0h+YUhFV56Gf2J5P2nX4JWFqAETiuDrfG9I/baWw23IKPOjIxq4HDvPa0B5SRM9Rtd71Xt5yX036LdnKHqHm8fSbF7te506Dr094ZgPXmTVj1o1cG7A/zzC+ZlejRnTueK/GsfFtPXE3g2Zo84cDvpZMVfteTao1j0xlkY3R/sT+1EuFTTSk6LpU3kN2nMto9YPilHT5f6Spt7vtM38CC9T1wsDGjnfr0N2vYFGPIR1acU7KfUx4LH35QENHDfpzuP9T56fDa81s4NO357pVf6j/sR17akXBjSRqBspOn+C9lebr/Y4nUjqW1ad5yrXHoOrkTkeN7LC2Fe+mdLgy0bLcb571P7ehHMzRugEv6yf9WvovU5lK87LKHs8r0L8bql61+gNNZLLKs2OqP8Fs/7F++loe8rOgGBuPDF7M5tI5ITj7L3bvfU2GOPI2rQV648/HnX0yz3HH79nejX4TrvzvRzp6x61n5tW6f6KFi4mf7/veSkl1XSda1WkLW+H2vJ0r6buSPJYJkXJ3itq7G1v7+/oWO17ZUj+eBoDudax97nW8qTad8WhyHe438+nuzXwTvL6uiFzJpTJ4dBbIxo51er8vouMb0aH3hgJ5qfPOMrQ03/4O6K+9SqYH9XWwFpIcwwEIAABCEAAAhCAAAQgAAEIQGC3EsBI3q0jv4X9dkzgBONUblrrj+ad1sznU9Jbp6S1vjOpngOWsm19Gr5SUHGuqMLspIbfbFPWatHJqdjOzJ6RfK2o3FFLza/lNH6toPmv51W4Nq7ca82yrGb1XI6et3ypS1mrWcfOjGtmtqjFW/N2PaOnjqn5aHRf57iRrB9Wtfr9qmbetWR1jmr+e+e1eW8tvB90XX25q8nXm5Vty6uYFpW8UlTejujcr4HPY471gxVNvxcYO3bq4Jge/IuNL+X1VxedyMynXhmpMF7L34yp88fuRT8/BXCoMHMh/Li5YJ7Vm//sv3eO/cNeTcT3GPTba8rKqv+zWJtDFyXT2utEsGS094VeDX4wopFzA+p95Yj2mAuXTUGdDZk7Js1xs9vPp9vV/35eIx8Nqf9Eu2P4ZA5p8AvT5hUV3g8uKO9/qVcD50aUz/Wr3Tehs7Y5GQSiBhc5vQummZ8cUeeJXvW/0a325wIjof2DkKl7f0EjL3sXXLNqPT6goY/yGnq7U0c8o+/Hneukhixr4UJvYMA0t6v31JDy7/erM1Rva25aJT/iNKG9mf1qfbVbveai/wOp9MWgG1Fk2ndI7W8MKm94HW+NmQVJRnLA0LtwvDLr3fiQUebpVnW/M2Qz7TzqmU771H1hITAiEwyYp55rV3dPv3pPdOrITzxu3riFNGv8m9sT6jbHeCaC/XHQ74hZI7M/6YDf3yOnphwT2ZyTcGF8/0ud6n2rX72vtgbcQ/p0WlLfuHjR0486R515F/QzaiSvqHi+05lPJlL7aKf6c3kNvdOtVjsNaUaZPe3Kh25MKd+Z0oCv+z068mq/Bj8Y0kBPqO+useCNtd3/+wsaO+HcoGLmxL4XujXwfl7593pD88gdw6NRI7lurTjAq/w/4FHX/JTU0FpjVhHPSA6ZLvtfNutaXoNvtAc3qfxelLfTifj8SWh/bL5Gx2m/2nsGNHRuUL2vBN8Th96eitwo1Ogc9/sWH7cbI+oMzUt7zfhgUL0vB+b2nlfy/o0lpq9+WT6nrLMOvdWr7peC8/YeHwt9dwV8zHjWtEZvoJFsry1/4GrXrPNvOWvjwInW4KaJF11NuxHJIyYi2f3+cSKSR5yoZD8iORjjyNq0ReuPGYu6+uXOtsrxO6T2473qfyv6vbf/6CHfhNz/Urezfnrf7WbsX4rqwnwP17tWVbYlo0Mvdar77REVzI1tPstYuuV7BTd7hjOmh17p97+H7RtdTPueGdDUnXJDjFxUVR5i3xXm+9F8h5u586K3hu5R5/mizO1Klf3cpDkT+s3mr5uZrFrN2vLBoPpDa0vm6KCmzc8nN+p75Fyv+32aVed7RuuO3qduOL8L61+vgvkRtCX6m6UKYD6CAAQgAAEIQAACEIAABCAAAQhAQBJGMjLYfAJuWuquS9HoXXlprV0fWZpPTm+dlNb64aK9t3L2xLiWw4as25u7107rsNWlcRNJ4v3nGsnZpmZ1/TpqFnuHLP/amMYtOus7tEWdbbLU9ueL3iHRx1jdFUaye3Ta+/bHjfQl2oqEV2UtnHf2mDUXlgMT0ISRTQemqHuRMxIB/KCk6XfMRfin1Pnxgsre8T+KXUBVUIdzcc49PtSaSBTx33qRk3vVezGavtqPoHYNgYroZj9COimCekWFnGPe7uvx0hAHjSjfKWo6lO6zEXOn9Fm/Y/qZaOm4x31/SYXPg/S65dtTGnxrSFPxVN/lkqbecY2ZiCkfvchpolntNMheF8olTb/f6kSlRYxNc1F4SP3vTVSm2jQXt19wLmwfOedcQPaKCz/aNwK4UbQm4jkSuGciui72u6bVodANCdH27u8Zi9ZfmtbAc07dFZ/ZhsOUBt22JUYk3yto0I5kblX+Rlkyr92I4kPvuJG+XidMGvJR1wgP38gQMZKz6v64GO3bvaLydkR0RnuOe1F9XqFlLV1wotajRmrQb9+sMYwueIwysg334A6BkPlgIsQ7lY9FiJdvjrl7QUYjcusel42ao3YmgKCf4f7bc9men1n1xqPU7y9owtO2Z+o8KGnqbdfM+2mvxm5Go65NRNnQy0FUZmAkO9kJ7BtAftSqwc+ja4XMmH/cHZjwYUOyEa14w576GPAw61w987ORtcY0I2L2PN2tkZA5bzfzXlEjx12TyDMdvfbH50/M0KmYk+FxenFQ05F0wiaCMu8avFn1X3EXv0eY437fwuMWupFo3/GR6HpieMyNqNu9WaH1XME2xCo4vTAYivw0n5a1dGUguNFnNtBf3Wv0BhrJjn77NfBx8J3hDd3KjRG12zcB7dfAF0F7g8jkpBtvnL4WP3C+I/y1ybztm5+bvP6Yuux5WV+/fC2YdSWuPfO9536vO78vWjX4WXQtKPk3GEVvPqt7rYrPuZ8NaOKb8EIeZhn6HRS+KS91jdun7MtuVHIDjDxtpD1W/a4wv9Eu9uvQT4Ko5AjzzZwzsXVnz8tDQeSx25kV8/3npWw/Ffqd6us2xNoD0Mh6FWtLxRrolc0jBCAAAQhAAAIQgAAEIAABCEAAAqkEMJJT0fDBxhFITm/tp7UOVZSU3joprfXa7GlljVEcN/X8stY08ytL2TNF/x25RrKVkmbbOfCuxo9bst68KifJdVE5y9KxFOM5KNx5lmYYp71vzmqoL/GKE1770cIx89GLXtzzUr96bUMvehHWv/i8t1tjJsVm6GJpYPaYK69B1HP3225a0Ui66MCA8aKI/brD5l2o/CNv9KvdRKWFTcHwRd5I+V6nw0byWBAN6n0ce2zE3AkbyVPxaOpY+dVe+hdxm8PpuwNOdlrvJE2bC6t/aMzZQxq8HjIYUisLyjR7/EZuJPDPWVHxnGM+JEWy2oeZmwpOOeZ3YO4HZUcjdp2CvTHO/LTfSQnq1xc8Kd/Iq902JSuNEZ+RO9alzwccM/u5BBPfFGlMHjd6tf28G5UcMpKTbi4wp6184Zb7dL+mwszNuW4UfTQyPui3fXNGeUWFj7r9KMJWY8T7UdtuX/0L4hnnpowAgfus7I9BYGg3MC73gywDjzpHjQHnmVKBkRy0KftG5c0admdM1L5tCjj7WpsIRUezCVkRvN5/M6JON3reb/d9b3/sjPzxjHMLmwkhQ7IhrcTLrngd8Kh3fjay1pjq/TmQ2RfLXhA0Lo2vf66/VobaH/suMKUF5STdpGMf4d+U5O0X/ihz3G9f0rglZauwu1zW0mUnM0Z46wO/rPhe6h4mex1wbmpp/yiUscD7POHRLzO8RtvlmJse9qj7QtTMTCii8bdC61a7uYnLK8l/v3K9dA4JxjjNSLZvCvPK8x83aP3xG+oXHH3itz+jcL981injV14cU7e3XcB78S0hjHhLblr/jI68791gUP9aZRobtOVQ1MT3euKv5YG5Gcyd9DVO91e0Ev9e8MoMP6YwCh9S+Tzoa+p3uNlzfCUYoKCfzjpdUabdjg2YM6HvkcyeTo3EjXm3Yn/NDs/9BNZeOwPmta9X4e+0pN8sXtk8QgACEIAABCAAAQhAAAIQgAAEIJBOACM5nQ2fbCCByvTWixr9uaW2T2KRvrdG1WYdVv5rr/LktNbFc1lZneNKjit2zl2d6nP2XPaKco3krsuxyGjvc/dx+dfHZFk5ORaqkucdAAAgAElEQVT0mornWmQ1tenkpwUtlmIpqWPnphnGae+b0xvqS6zexJf+3qmhCGD/PWNQLGhhtNtOVRs2Cb09jW0Tyb3+6EcMhy7++++9OKTC4rQfRervuRyKIs57e3kmRU567/24U2M3ljT1ltlzNxTd7EdI71H3aOjieqjTK1+4e4oac9JNfTxycVrFb0rRvXMbTTdrTDJ/D2GT+nVQ+dEJTd9YUugabdCi8ooWvpjQ2OiIRt4fUO+JbnUf71anl241YugEJkCq6WtYJpn+psaVJRWujGns4xENneq16zF1tT/nRHuG9y0OGugasO7+m52j6eaIb7g+N6iC7WEH7Q3MT69kc2HbiQ6PGBrex95jyj7U9k0LrnHtmIhBXRmzD+rHIxobHYv8mbSXg+4+zcY0ts3cGi7Kl78ZUbvZU9u7YcJtm30DhjE3fxo3roO2ZHtGNPaeGyVu0jyHb4zw+mge/QviR5L3IjcJAi47e4j7e3aH2l7PuPjz8VHnaMgA8I3kUJv2nxhy0urGx+H8kL+HuDGt/o2XnvmZASc1bJiL9zxkWvhGsjGg7dS/gWHjHR5+9G/u8PsbjE89WjHRrgNv9Kq3J/rX//6Uu993UG698/ORjeTIOhHuvYkALWnK3Z/eN0nNTTmR+WPOCdpfOV9DBtqeVg18UDm/zLqSP9XupDQ3c+Leo81x38hKGLd9b0xV3ozhddvMJftmmlblbzpfTH5ZYdPXO948Gh52do2MvJuZ/I/rWaNtnW6skVy+XdTUhTGNnM9r8C3n+6H7eJB2358PpsH+/GvUSN789cfjWk+/1h2/lYIG7ewWoWh4ryL7MUGLPquMal2rjJr8tsRvLPLq89fyYF3yz6m2xnnnhx5rZlQ2+8T3V6xNvW8MaMTcUBbqa7XvilDVQT83e86E1p3Mq/GsH6EW3Su42x+EbpJLYO2d4TOveb0yZ1ZfA72yeYQABCAAAQhAAAIQgAAEIAABCEAgnQBGcjobPtlIAvH01rZh3KbRW/FKHIP58IduvuuktNbGfD1jybJq+fMMYePYjKvLspSbi9cZez2XkxWOdn64qvkrZ9X3i4PK2nVmdbDtmPrOjasY86TTDOO0903NDfUl1uS0l17kmGcg+FHKbopmP7rDmLgmYsRcmLSjMWMRNn708SENmhShoShiO9LJpGx0o1sPvTdtR+B4F/wikTKh87wL5V4bvchRP0LlRXffQ++iYjhiJd5hs5fkxQG1utFLwT54GWX+sF2Dlxf8qKCGzZ25EfXbKZedaJ2gjv3qPjftR0KX70xHUvYGx4XOixhEwUXOVPPVN16j0eMr1/Pqts2VUNl2pG/wOtVIvu9FlKddpHcgl2/m1Wob9L1uhHHQ3qzZNzUSbRVEhx865eggPlT2a/sCuGljzBgxKXNNVOvvuRFMD1ZUCO3nncgy3F8vZbh/gT1WfqgxfrRbxEh20iqbeirHIuh3ZTvCqb9DlXjazQTmQ+hT+6lviHoRpI2Oy0bN0dBFd99I9tsU6KqSQfCZSaf+uytuBKmZx/fjvXZfGzPUvnEkSO3tj8ueTicjQsqp/g0OniHZoFZ8/mEdmed+u4Nxr9SE27iU+dnwWuOZ8P7NG0kQgrnmm6Tx+WOfFrS/cr5KpStu2v54/5Ne/4HZaz6ot5E57n0vZBLG7VBS1KnXdd9UdL+DwuafV5Z3rP8YtNVnZGyletdoez3ZICPZfFeN9gb7XCdxzgTzwRnCJY3ZN/2krWfBGEc0upXrTwP9qtCCP27uE/9mtGDMo4ck9LuBtcrcH+W35WfeDVPRmoKbgoK13J87/loROyf+sl5G/roSrK3OurtPvSbNvN/X6t/h4Wb4/dzsOZP0PRJuiPfc72Pot00V3frMU+ZN5HvJXq9MRYFOktZAryk8QgACEIAABCAAAQhAAAIQgAAEIJBOACM5nQ2fbCiBVV1905KXVnrxkzZZPx9VLB7ZrtH+7Pm85h9KSWmtzUF2CuzOUc1/v6rVqn9rQS8aikgOTrefPVzTamlRxSvD6mvLymrq0mQoLW6aYZz2fsN9iTUr9aUX7Wvvb1xS0d032b+o7kf7mjSyRZVuulGa5mKqvV+qV3KwH7K5UF26PeXssxwy4fz9kJv7NXXb22e5MhVoOHKycMfbNzl0EdG/eGxSL5YUiZCOmJZe20KPD1a0dGNaE6MmyiuI7spk9mvgM2egPOM688JQssHlR/8mXbQva2WxqOmLJkqvV+3PPeXsXWwu/JvUmuUgIjDzTK/yVwoq3lzQgvtXuDygI+YC6EYYyX47M9r36qDGviiG6ipq6pyzR3aqkeybrWlplx2uvmHnm1rBRdmIaWEfHhixmZdHtJBmIHq6jBnJpc8dU2uPH8EU1LXnlbymbwQsPaaRx9srTjpYv29JY+j0yzcsQxrW/QWNvGwu2h/SYHiPUrdvXspn52L1EQ1cmNbYW+4+wE93OzdjOMU7/69yQdw7zDcyPSPZb3v94xLZF73hORow943kUJtac1MhnSWPx1KpHBgz5qaVyFri9dyLtHRMEu/GEt1zbybIZEP7cofOsZ8G65FvSIbMgnq0Ui4tqDA7rekvon+FuSX35pOAR6Xe3XYlmSHm3iXPTK9zrfHNnj/0bt6I99+JSJ7wIpLdlO6V88ecV739fl1P92pktuivVZF55a1h3xgmjzbH/fp8Iyton50ZI22NN3MpLSLZLyvOKcFIDkVt17xG2/rfGCPZZELo/D2j+b1qf29M03Mh5jem/b2v/flgD+EWGsmhuZ6cDtthHP9eaKRflVqIjZ//W6AOIznU/lrXKlPrum1JWMv9c6qtcaEu1c3oQVlLNwoVa9P0bEELJffGPy+rSDgVeqjO+FO/zZs9Z0LrTvWI5Gk/InnI27YjgbXXD7/9Na9X5sxgjUldw70KeIQABCAAAQhAAAIQgAAEIAABCEAgkQBGciIW3twMAnaqaatHk987Uccdn6Ykpv5uVB12euvktNambc6+wqasOlra0B7JVcp/OK/889H03GmGcdr7DfelSrMiH4UjgN8b0YCdHjm6t5x/Ye6FAeVPOel6W88VFd+J149mfrpX+Q+cvWGDlNieKWQutu9T97khdT9tooFNBFuwP5/dtlDkZP9HQ2o3aYQjF2KDi36H3sq70b2xCOlIJ6u8uL+kiTdMquwgwtTvb8TMDcrwDfGYyRkcEXrmmip7jDlszKLvCm6K7/2J+yyuzA1tmJFst9PU60fdhNqlwOxJNZLNxVU3ijzzshv9HS7CPDcRo25q2CDVeTA+SRdlg4vl+9V/OSFltokc/cAxuSMRyX50avTmA2NYHDL9bOpV6v7UD8rRFOa+mVCfkWz2brajrytupDAwgn5nftyuoS/cO0juFTT0khsx9tJQ9AaMKhfEPdQVRnLD4yJtzBwN+ukbyaE2mTTeqTcIlIO57mc7yKRHywV7ZYciMMNGX4ouTdnOfswZBUays+913VrxBiL1MeCRpHf7tBQjudG1xj/PrEEpe/Kase42+8mbmx7sLBFedHd0/oR1m9h+X6Pm5onQXVExHuWQwdvwHE8x7Pw5/pOEmzHsdpS1dKFbe8068Nygf2OCz6keU8xENtuZJepYozfQSDb9sL8vvOwJYc4PSvJuDkg2kp2xDZ/iPE/RqD+2QRRt/NyNWn8a6de649eIkdzAWmWYrNuWJJb+e+lrXHiP5EYYxccr+rqG7/C0PZI3e86Evy/NjYw3gu+GcB/8COPw7zGfa4Ju/c9qX6/WXQPDDeI5BCAAAQhAAAIQgAAEIAABCEAAAokEMJITsfDmphBYvao+y1LPYE5tVodGv0urZVmjHZYOD+Z00rLUN7VaeeDDZY2fyCp7YlzLDys/lta0OLeoUDyyn9o629Ssrl8nm9jLv+5S1mpR3s2sLa1q+VZC/abKh0XlmiwdC5WVZhjb+yC7UdYVrW2kLyYyOtK5ilL9N/wIYHMR3vzFI0VDka1OpGWr8kkX/fz9ld1yTJTv51HjYemym87WrSswovzm2IacFznp1JfRERPNGzokMCrcumLG3so305q4MKHCork4WdbS5UENfDClpXAhpjxjTr7tRIz6Jop/IdJEEU/LBPZ4/5XvFJR/dZ8bZRyYkOWbYxo4NaJC3BQ3dXsGhzGS/9bbyzjBAFpZ0NgJt+zwRdPQBVe/jV6DvMcEo8pE1HYaEz7TXjFe5cUJ9T/jsAsbyVFukjnOifLLqPU9b09Yt1KTrny0V1l7LI84ZpX9UYpp4bXVRLm/5+yTnMlk1ZkzUXdO5Grx+pRG3vI+M+0LGPupQ42ZZI+rW6CJEn7F3KCQ0d5XhjQd/swccq+okZ4j6vyg4KcvD/aODJXvtc99rIxIDvplR+yHjDPnlODz+DgZU6/X3DiRyeiQSfftacrXWsIFcbcdlUZOo+Pi3MwxcWKvq1/TnkbmaNDP8PyNamVCC7G5tnJzQv0vtmvw85ITFR66iSXzdLdGvH3SPf63pzT4osPMcAsbZ2a+ddv7JBujuF8jfmR/UdMXBtUZTuceNkQa0YrbnvSHgEd83P1zEuan/Zk//rWvNeY839Qyc+8nncrPRtfZcqmg/CvuOL84pKIZC6+u+PxZb30xN3a87+733dStkVl3/LzOlUua/qBTR06MBGPe6BwP9y1l3Pa8PKSCP4GcRpRm8+q0TfOM2j8qOvpKK8trt/2YEJF8v4E1OsVIjq+nKpdUNPvVf1bUir0GlLU0O6Gxi9M+Oz9KPfadZr7HSp8POjcaxeaD+R6b6HG+O8LfleUVNwND2hh7mqgntb5ZRhr4XmikX77Ow1oIj19DRnK8/TWsVbVoKYmlnU7f/T5LWuPuTGvwxT3a+9KgphbLQYaCesY+zCPhuf095s6NpO9wO4367+1X7/liZMuR8A040WI3aM6ENGn/zntxUNOx308rN8bU2+R+b7pbothtSclKUTaTqpH1KtSW1DU8CoFXEIAABCAAAQhAAAIQgAAEIAABCMQIYCTHgPByMwm46a3NPsMdo0q2cp36lz/tcPdArhJ1/ENRZ0166QPHdPrTSRVmiyrOFVQwaac7mmUd6NPV8B7G3h7Jv76qk0ctNb+W0/i1gua/nlfh2rhyrzXLsprVczlo2dpcTs2WpeaOPp29NKPC7Lzmvy44x//C1H1SV0NR0WlG8lrxrFqsrNoGx1WYK6p4bVT5K0E9qqsvixo+aslqOqmrKR53ZBT9CGBzwS4erWaODKWJzWQU2dM4UlAoVasxOCouhppcrtNOymvbfKw0sbzi/MhJ+7gE4zpmWkcipH0jwN3H1EQBP+cZUvt05NVeDbyf19A73Wp/zjEgM5kjQapiY5D6EbEZ7XmuXd3Hu9X9arsO/cgrxzy6JmTZi/RzPsu+2KneU0MayvWr+yU3rXEmo/YPTBR3sFe0baKeymvk4xGNfDCgzuZQ2RtgJNtpmF91+/eTVvWfG7Hryr/X7UTw2mwz8o3kODc77XRZS1f6g/069xxRZ0+/+t/oVmuove1hk7aWi7L3FzTxTtgwDvXdtOsnh3ToxyHGkrybELy9sj2t2Ao10Ze+eWjGuFu9b/er99VW1+h2o9o9v62RiGT/hgqTUj3mktqNqW4oBibQXnV/7JpdSeZDuGNmynzm7lHrpbZ266p/XJyCfUPHcG5ojgb9DBvJ9g0bca0c71X/272ReRAZv1JBQyGzOPuiO26vHHGiS12Nxo1k0xPbPPTHPKafTEbZZ5xMA3FDxI7U9c+rQSux8ah8GfBINSHSjOR61xq3ct9gC/HZ90Knet9yNL/Pe39vp2/Qp8+fGtpvviNe9tbKjOw17q1+9Z8Ibw/QGp0XDcxx0z2/bzHzMD5ura862up8wbuxJ6N9sWj4tLKCMUwwxRpZo5OM5IT1NJh7zlYNwc0+GXn7P9uR+u5NJ5mjvRo676zbQ28ccSKV3bEN31hhf0ePupHMmX1qf3tIQ6e6dai5UyM3nZupvLT7EY1u4frTSL/WHb8GjeRG1qp125LG0swdLyOFWZe8NS783XR0UNN3ymqEUaDltGfmRrrYd/iJfvW/Ff79s0/dburrdfupDZozod8JtpFs63qvjrzSrd63etX9ort+m/cNH++723Qz/Jtrb6t6c0Ma7Dmi7ItDKpiv5rrXqxrWwDS8vA8BCEAAAhCAAAQgAAEIQAACEICATQAjGSFsKQEnvbWl1LTWXmvs9NaWrNcnVdUrfbiq+Ss59bQdVNYY1Mb0PXpMfedntBg/0TOS5yStLmrmwx61PZt1DOsDLTrWP6yZhOjjtTtFjZ/r07Gjxmh26sg+26aeM5Oaj9WRZiSbbi1fy6nLrS/7bIdOX45FTNfcl7uafL1Z2ba8ijVFJYeM4qRU0+a63Tdj6rSNvSSj2RuUqFEcMXe9Q8JRiEkmlndcyChOM66Di/Ixo9mYNvY+tp7pXdbSFyPqPRoYIcGFy4wye1o1cHkhlvq4pOlznfINGc+YMZFgbw2q3059GkSzlhenNHTiUCjSM2xs7VPn+9Na8qJQ7y9pKtdeYZSZlN/tJzod03YjjGQzbnemlT8emNl+v398RN3HHSM3MJLj3PzBUOmLvLrdCGa/DMNkb6sGLjqRTN7R5iJ9omkRHOA+K2vp+oSG3u5Wqxd19HKvBj+e0sJt7+K7mxLU6MGOuNun3stLFSWZN8q3pzWU1FeTtvx4Phrt1ICR7Efum8jyJB953X6vqHi+0zWDWjVkokjTzIdQD5ONZLvHdY6LW2joZo7G5mgwvlEj2W3T7Ih6/Rs3ovOgPTdVmfb6XlFjkSh075y9drR6/oRjKESNM7cv9xY09fGgel9xTbanW9X9zpAmri/ZN0DY0fIv5iv2Oq9LK25V6Q8Bj4hJFz4hzUg2x5iI3jrWGnOKb/a8MKix8wM6ErnBxeG398UBTXzjCrXq/Kmh/XalC5p4L2ndMumkezVyPez0eJ2vY467p/h9ixnJ5mN7nX01ZDD567LJbDClpdie69XKcqpLMsUk1btGJxrJleupP5fdTACRaNHQdhErcylz6LlOdb/oRJpXzAeT0eKN+HfQfvVfMdsHpIzxFq8/9fZr3fFr2Ei21aRSHWvVum2pxnJlQROnkudO9vhQ5LupXkbutFnnoZz+XZE5ooELwXf4uv1MNJIbmDMhTe47kddIrjPhN1FGR94aU/FeZfdMVPzAUe+7wn38w1Dqe8O85vUqZX5UVss7EIAABCAAAQhAAAIQgAAEIAABCKQQwEhOAcPbEHiSCJRLRU2NmpSbC0H633AHTeScScl5YSrxol5wqDFtJzQ2OqHCHc85DT41z4yJMzE6ponZhP1xQ4eu3JzS2OiYpm4kGRTGTVnQ9IUxjV0uBKmC3fNNCuqpi1MqxlKgrtxeUMH0w0QBj05oem7JTTEaqjj0tHxvSYXPJjT28ZjGrhS0YMp7sKKFz8bstk17Ro1X770lFe3+myiyMU18UdTSvRQOJe9Yw73gHOf16eJ0xBQp3Ziy25DKzB0fu0+x9JDG2F1ZLGra9NvwnF2weXnjEB7zNG529x6UVfrGcDXlTGj6Rjq7ddtrdFCRGjoE3r8o79wk4BsuEYM9dHzoafnOgoqfmzEb0djlaRVvJ7i+VcbQL8obiwvTWrgXGE4VBo5/grRuvx84qW1NFPrYlaJKK0uaNjyrzCtnnJzjV5KY1TEuTlMffY6uLBY0/dmUpm/E0hz7LMoqGc1dHnPmwefp88A7pVzyxm1ME/7xburfjxPWgSQWXmFhk+KNKZVSjq1JK36Z6U/WH3dn/Uyen0659aw1Zp6aNdRoyNZEuaSF62a9dDW/6KU0dstedPdLTpk/67Y/3PWVpaCuC1Mq3CylzuV65rhXhdM304/Kdd07ZuWOu46761nFlgXugeuXVVbpurO+T1yv1HK55jW6rKW5aU19ZtabYL2vWE/NuvP5hCa+WPK/Z1duTGniciGy3tvNf7CipZsFTZnvOHu9NZzd9qZ9L3prgTnHpMsOfQcnjvH9bVh/6ujXuuNXLqlg1pgqvzcS++0JyX6sba1aty21sAz9Pkj9bjJtqoNRpCvrvfD0cdEwG9PUdee3QPi0dftpUqxv0JyJ33Bm1sCi+3vLfAfYv7fCjYs/L6/Y887+PflZsXIOmeNrXK/W10m8cl5DAAIQgAAEIAABCEAAAhCAAAQgECaAkRymwXMIQAACEHhEAmUtXezVkZcHNRHbF9cu2ERo5tw9WY8OqnCvrCU3bWtlBOwjNqXW0+956dFj0e+1ns9xG0vgXkFDL7eq93z0hguvkhWzh7KdHjhhL3LvoF3zuB3zp945vmsGg45CAAI2AaKAEQIEIAABCEAAAhCAAAQgAAEIQOBJIoCR/CSNJn2BgEvg+vXrKWmYY6kC/dShvB9J6QyXhvRjyy+8d2gmo71HO9Wfc/aKzud61e7vvbxf/ZedtKwmyh3+zEFvAQ/S2hsm+9XeM+DsJXt+SAPHQ/srv5T305Cjn63RT2NzXMxvvlPQwC7RgLOOJxvJO3Gd/uabb7yvHh4hAAEIQAACEIAABCAAAQhAAAIQSCGAkZwChrch8DgTwEjeGlNlJ14U3c42+XPG7Iv7XnviHtR2+8y+1Rejada3s93UvTPmi68flbX0eV699l7lyW3bfyKv6VBqX8YwmdNGc/HHqM45vtHtoLytGW84w7leDThrBEayv1byBAIQgAAEIAABCEAAAhCAAAQg8AQQwEh+AgaRLkAAAhDYkQTM/oWzzt6uZt9ge99Gs4fz/R3ZWhq14wi4+5uaPT+Nfsze0xenVVxM2Bd7x7V9lzSIOb5LBppuQqA+AuxLXB8vjoYABCAAAQhAAAIQgAAEIAABCOxkAhjJO3l0aBsEIAABCEAAAhCAAAQgAAEIQAACEIAABCAAAQhAAAIQgAAEIACBbSCAkbwN0KkSAhCAAAQgAAEIQAACEIAABCAAAQhAAAIQgAAEIAABCEAAAhCAwE4mgJG8k0eHtkEAAhCAAAQgAAEIQAACEIAABCAAAQhAAAIQgAAEIAABCEAAAhDYBgIYydsAnSohAAEIQAACEIAABCAAAQhAAAIQgAAEIAABCEAAAhCAAAQgAAEI7GQCGMk7eXRoGwQgAAEIQAACEIAABCAAAQhAAAIQgAAEIAABCEAAAhCAAAQgAIFtIICRvA3QqRICEIAABCAAAQhAAAIQgAAEIAABCEAAAhCAAAQgAAEIQAACEIDATiaAkbyTR4e2QQACEIAABCAAAQhAAAIQgAAEIAABCEAAAhCAAAQgAAEIQAACENgGAhjJ2wCdKiEAAQhAAAIQgAAEIAABCEAAAhCAAAQgAAEIQAACEIAABCAAAQjsZAIYyTt5dGgbBCAAAQhAAAIQgAAEIAABCEAAAhCAAAQgAAEIQAACEIAABCAAgW0ggJG8DdCpEgIQgAAEIAABCEAAAhCAAAQgAAEIQAACEIAABCAAAQhAAAIQgMBOJoCRvJNHh7ZBAAIQgAAEIAABCEAAAhCAAAQgAAEIQAACEIAABCAAAQhAAAIQ2AYCGMnbAJ0qIQABCEAAAhCAAAQgAAEIQAACEIAABCAAAQhAAAIQgAAEIAABCOxkAhjJO3l0aBsEIAABCEAAAhCAAAQgAAEIQAACEIAABCAAAQhAAAIQgAAEIACBbSCAkbwN0KkSAhCAAAQgAAEIQAACEIAABCAAAQhAAAIQgAAEIAABCEAAAhCAwE4mgJG8k0eHtkEAAhCAAAQgAAEIQAACEIAABCAAAQhAAAIQgAAEIAABCEAAAhDYBgIYydsAnSohAAEIQAACEIAABCAAAQhAAAIQgAAEIAABCEAAAhCAAAQgAAEI7GQCGMk7eXRoGwQgAAEIQAACEIAABCAAAQhAAAIQgAAEIAABCEAAAhCAAAQgAIFtIICRvA3QqRICEIAABCAAAQhAAAIQgAAEIAABCEAAAhCAAAQgAAEIQAACEIDATiaAkbyTR4e2QQACEIAABCAAAQhAAAIQgAAEIAABCEAAAhCAAAQgAAEIQAACENgGAhjJ2wCdKiEAAQhAAAIQgAAEIAABCEAAAhCAAAQgAAEIQAACEIAABCAAAQjsZAIYyTt5dGgbBCAAAQhAAAIQgAAEIAABCEAAAhCAAAQgAAEIQAACEIAABCAAgW0ggJG8DdCpEgIQgAAEIAABCEAAAhCAAAQgAAEIQAACEIAABCAAAQhAAAIQgMBOJoCRvJNHh7ZBAAIQgAAEIAABCEAAAhCAAAQgAAEIQAACEIAABCAAAQhAAAIQ2AYCGMnbAJ0qIQABCEAAAhCAAAQgAAEIQAACEIAABCAAAQhAAAIQgAAEIAABCOxkAhjJO3l0aBsEIAABCEAAAhCAAAQgAAEIQAACEIAABCAAAQhAAAIQgAAEIACBbSCAkbwN0KkSAhCAAAQgAAEIQAACEIAABCAAAQhAAAIQgAAEIAABCEAAAhCAwE4mgJG8k0eHtkEAAhCAAAQgAAEIQAACEIAABCAAAQhAAAIQgAAEIAABCEAAAhDYBgIYydsAnSohAAEIQAACEIAABCAAAQhAAAIQgAAEIAABCEAAAhCAAAQgAAEI7GQCGMk7eXRoGwQgAAEIQAACEIAABCAAAQhAAAIQgAAEIAABCEAAAhCAAAQgAIFtIICRvA3QqRICEIAABCAAAQhAAAIQgAAEIAABCEAAAhCAAAQgAAEIQAACEIDATiaAkbyTR4e2QQACEIAABCAAAQhAAAIQgAAEIAABCEAAAhCAAAQgAAEIQAACENgGAhjJ2wCdKiEAAQhAAAIQgAAEIAABCEAAAhCAAAQgAAEIQAACEIAABCAAAQjsZAIYyTt5dGgbBCAAAQhAAAIQgAAEIAABCEAAAhCAAAQgAAEIQAACEIAABCAAgW0ggJG8DdCpEgIQgAAEIAABCEAAAhCAAAQgAAEIQAACEIAABNDqvIMAACAASURBVCAAAQhAAAIQgMBOJtCwkfz999+LPxigATSABtAAGkADaAANoAE0gAbQABpAA2gADaABNIAG0AAaQANoAA2gATSABh5/DcRNbYxkDHFuCEADaAANoAE0gAbQABpAA2gADaABNIAG0AAaQANoAA2gATSABtAAGkADaGCXawAjeZcLgLtBHv+7QRhDxhANoAE0gAbQABpAA2gADaABNIAG0AAaQANoAA2gATSABtAAGkADaGCjNYCRjJHM3SRoAA2gATSABtAAGkADaAANoAE0gAbQABpAA2gADaABNIAG0AAaQANoAA2ggYgGMJIRREQQG32nAuVx9wsaQANoAA2gATSABtAAGkADaAANoAE0gAbQABpAA2gADaABNIAG0AAaePw0gJGMkYyRjAbQABpAA2gADaABNIAG0AAaQANoAA2gATSABtAAGkADaAANoAE0gAbQABqIaAAjGUFEBMHdII/f3SCMGWOGBtAAGkADaAANoAE0gAbQABpAA2gADaABNIAG0AAaQANoAA2gATSw0RrASMZIxkhGA2gADaABNIAG0AAaQANoAA2gATSABtAAGkADaAANoAE0gAbQABpAA2gADUQ0gJGMICKC2Og7FSiPu1/QABpAA2gADaABNIAG0AAaQANoAA2gATSABtAAGkADaAANoAE0gAbQwOOnAYxkjGSMZDSABtAAGkADaAANoAE0gAbQABpAA2gADaABNIAG0AAaQANoAA2gATSABtBARAMYyQgiIgjuBnn87gZhzBgzNIAG0AAaQANoAA2gATSABtAAGkADaAANoAE0gAbQABpAA2gADaCBjdYARjJGMkYyGkADaAANoAE0gAbQABpAA2gADaABNIAG0AAaQANoAA2gATSABtAAGkADaCCiAYxkBBERxEbfqUB53P2CBtAAGkADaAANoAE0gAbQABpAA2gADaABNIAG0AAaQANoAA2gATSABh4/DWAkYyRjJKMBNIAG0AAaQANoAA2gATSABtAAGkADaAANoAE0gAbQABpAA2gADaABNIAGIhrASEYQEUFwN8jjdzcIY8aYoQE0gAbQABpAA2gADaABNIAG0AAaQANoAA2gATSABtAAGkADaAANbLQGMJIxkjGS0QAaQANoAA2gATSABtAAGkADaAANoAE0gAbQABpAA2gADaABNIAG0AAaQAMRDWAkI4iIIDb6TgXK4+4XNIAG0AAaQANoAA2gATSABtAAGkADaAANoAE0gAbQABpAA2gADaABNPD4aQAjGSMZIxkNoAE0gAbQABpAA2gADaABNIAG0AAaQANoAA2gATSABtAAGkADaAANoAE0ENEARjKCiAiCu0Eev7tBGDPGDA2gATSABtAAGkADaAANoAE0gAbQABpAA2gADaABNIAG0AAaQANoYKM1gJGMkYyRjAbQABpAA2gADaABNIAG0AAaQANoAA2gATSABtAAGkADaAANoAE0gAbQABqIaAAjGUFEBLHRdypQHne/oAE0gAbQABpAA2gADaABNIAG0AAaQANoAA2gATSABtAAGkADaAANoIHHTwMYyRjJGMloAA2gATSABtAAGkADaAANoAE0gAbQABpAA2gADaABNIAG0AAaQANoAA2ggYgGMJIRREQQ3A3y+N0NwpgxZmgADaABNIAG0AAaQANoAA2gATSABtAAGkADaAANoAE0gAbQABpAAxutAYxkjGSMZDSABtAAGkADaAANoAE0gAbQABpAA2gADaABNIAG0AAaQANoAA2gATSABtBARAMYyQgiIoiNvlOB8rj7BQ2gATSABtAAGkADaAANoAE0gAbQABpAA2gADaABNIAG0AAaQANoAA08fhrASMZIxkhGA2gADaABNIAG0AAaQANoAA2gATSABtAAGkADaAANoAE0gAbQABpAA2gADUQ0gJGMICKC4G6Qx+9uEMaMMUMDaAANoAE0gAbQABpAA2gADaABNIAG0AAaQANoAA2gATSABtAAGthoDWAkYyRjJKMBNIAG0AAaQANoAA2gATSABtAAGkADaAANoAE0gAbQABpAA2gADaABNIAGIhrASEYQEUFs9J0KlMfdL2gADaABNIAG0ECggb/X99+bP5jAAA2gATSABtAAGkADaAANoAE0gAbQABpAA2gADex0DWAkcyGTi7loAA2gATSABtAAGthwDfz993+nxb/9Uv/brWH95cK7+vzmG/qL/+Of2H/muXnPfGaOMcfu9B/NtI9/2KEBNIAG0AAaQANoAA2gATSABtAAGkADaAAN7DYNYCRz4ZgLt2gADaABNIAG0AAa2DAN/N3f/xt9fft/0uc3/2vfOPYM5LRHc6w5x5y7236M01/+AYoG0AAaQANoAA2gATSABtAAGkADaAANoAE0sFM1gJHMhWMu2KIBNIAG0AAaQANoYEM0cOtv/1LTf/Pf1Gwgx41lc64pY6f+cKZd/KMODaABNIAG0AAaQANoAA2gATSABtAAGkADaGA3aQAjmQvHXKxFA2gADaABNIAG0MAja+Bvvpto2ECOG8qmrN30g5y+8g9QNIAG0AAaQANoAA2gATSABtAAGkADaAANoIGdqAGMZC4c794LtYtf6beTv9FvLpu/3+qrb0u7lwXzoMGxL+nbv/Q09Bv9ZvqGSndDX3alb/XVZ8Hnv/1XtxusJ1TmYzZWt//3r/TVX7t///rbKJ8a+1L69lt9e+fxZbATv/xpE3raaA3c/O7ShpnInqlsylyvnSv3bqv81+/r3/2LF/UPYxnpkf7+SP/wL3r18K+/0v97D42sx57P0QgaQANoAA2gATSABtAAGkADaAANoAE0gAaefA1gJNdoZDAZNmoylPTVcL/+5Ngf64/T/rp6NTB0Xp9MfqXbpY2qt7Kc258P6I8yGWXsv/9Y/Ze/XfeCNTqo5FiNSelvfqvz7/yxnv/3PM4ZZX76Jzr/10+IaV+6oU+O/SNXQxllfv6Bvgobnt/+Rr3ZoO/P/7e/1e3dtObc/VafdP1+wOcf/5m+vF2Hhu58pfM9f+Se/7z6R2+otJv40VfW5MdEA4t/+8WGm8iemWzKTvue+b//zxv6//6X5x/RPE42n/9halz/9v+qY716TMYqjSXvM9ZoAA2gATSABtAAGkADaAANoAE0gAbQABpAA0kawEjmwl/qBdokwTz6e7f121PPB8aSb+QGZptj7Lqv/9FR9Q9/qW83wVDGSK6yKN75Vr+9cF7n/4fz+k2DUbS3//ID/bGVNK7P68+mn5DIXIzk6uvHIxnJJd3453+i3w+vEf/Rn2j8b6rolvW8+njABz6boIG7f3dH/+vNvrqM5P/5L36h8//yjzVZ/CfrnmfKNnVU/P74+5L+7V/9yaaYyE5U83+of/dXN/T//D1rTgX7TdARdaAzNIAG0AAaQANoAA2gATSABtAAGkADaAAN7EwNYCRzMazy4uymMqnTSHZNpOffGdeNDTaTMZLTFqWSvvrwv3DN/t/XH//zG/Vr5PaX+rP/LMlEzijznw7oN9+m1f2YvY+RXF0bj2gkfzX0YvSmkx+9qA/+1RMSzb6p6+xjNo9gUX0e7XA+N5ZG1zWDvejivyj+Vzr/3/0n/z97bxvbxpXm+fJDA/7QH/Sh79UCATbGEoigAI6CNCLAF9cRgjgCbFwTNtbE6OaaERpuwhib7UUbXDcicGzEYNwwCDXWoGchu5y2Qt+03PR1K7SdtpfqcYbKxmM6Y4fOWL3DWe2Y7avclGN32DPTs729k+78L05VnapTxSq+yHq1/h8EUmS9nPOc3zl1eP7neR48K57t/9tG/PlHrYVkca64h/eHxG/0Cr6a7F5EITkETGr43QLPPbz14P8cr8gAGSADZIAMkAEyQAbIABlY9QzM5BF/RqwDRpB9UqIQrvDf4r7M6Dr0Ob2DtHI6qlMaktvW2+tvfbvSyFtORfp1DfGN69AzlEFxdgn6qbKOOHisxKiEfgzqVeRHBtHdPYjUZHWBbNScA1/W/MrGzxrWrp4k21FIJuBLDLhXSO5G5GAG2RNZ+y99MIZBY/KhCpE9iC9wWFsKyQETgIc1FA7KcMLzE5Kr5xPoUTxJI0cKqKghn5+Ufkchufn4oUwAjUgDHYa21m9qiD3ljAM9e3ILvqHkSXqgsy4BY9qTMt6swHo8+vXn+E+f/ml7QvLHMRz79/8G35TPhg6EZHEPcS+V8X+4X8IfzvuHpX68PMnKNc+n8fv75Eq1O9+TBzJABsgAGSADZIAMkAEy0IKB2QKSzzlrGa7Ii8bvoT5E9qShXVmi9F16BdqQmZatacq1h1Xk9/QYgmLfgQKqDwPq+bCG4oi5bth/sICaOI5Csuv36rL0EWUNbvBoeyJs7VoGg/I3uv3aj+RFEUlSR/m4dPDosz4LYGKh1ivUOlBI9mfqTg7xp83xpWt4YdZJm3OwyG2+UOzwOv68LKBdKCQvoDGX5SGx6srvFZIHkJ728TDUqyiORt1hbXd68s8+Zt0pJAc8CIQ4Oizz/s5HSPa08XOJJ8cD2cscheTmDyllAjgfIVmMqbVbBeTGNGhni0/mZgQvU/y/OVO0z4qyz9/NTbUnIn/0J/iz7/wre4ezMR50ICQLr2RxL3WeFSQkf13M4/eflvH723l8NZXE1z9dN3+vZQrJLpur9uf7gDkUxygyQwbIABkgA2SADJABMtBSSHZE5sGR/KKk83PP13VUxqJYJ4TCZhv8bTE4hNALyeC1vNkiUhtFHaTgSCHZbe9l+q2grMG1JSQrjkQ9uzWUhQOQXkVp0ll/02/lkNw+gMH9Gsq1JaiXWgcKyf5jqV5F4VgMAy/FkLlS9T+mk+dQGxysCL47qVO7xz6sonA0gdhwYmFs2e59V+lxa0pIrk6mEd8VQ6zTv+EEsgvRMVcpJAs7WHhExlCAkCxsNVdGdrszuQo9HUfuzsI9tCgkB9hyroT0q9Lu8xCSxQ7GveYORkMs2L6wGwAWlscAG7TbVykkN5+wKBPA+QrJK6q92+WCxzXnYrHsc+s9nDp1qu2/9249Zv9frHr4XHe2dM6o15nLt/G5z/fL1U8+nv2PbQnJF/7vjegXixabXsAP/sNG/O/ifYdCsriXWk9/IbnbzGvssdFv/66Ir34e6VxQppDssrlqf75fPeMH24ptRQbIABkgA2SADJCBJWbAFpL7kboiPDuV+z/UUb1egDYSwXrLAzR6vLxA4WmV+6j3rNeh39IQ/ZZY6xtA+pqnTNaxlbNxu0yhUA+Sk/4iVe1Kyvx992ISBRnu2BahGdra1d6edljU75Q1uLaEZOGpvks4EnUhdnoeaQ0Xo25qHSgku8eOxbC3uOZK5GCx6uq9rhGtYR1CoXnoH95rrYH/15CQrKNyQoZjkCJZB6/fGET6ov8DdFEfAk8chB0IyUqoFEOEapof1ZqIHUsiPmxtFtibQma8iErAjqn2heQ2r/2whtJ5DZrwnhzTkLtYMcO7NGnD2k3L21KcM94Y/rl2q4jc8RQSu606DceRHM2heMfHi1t4b07nzfufzqNUNY/RZ8sonM4gKa+xN4Xs+VLAjkcd1WtZVzjhyNE8StfLKMu/O/4TzrpeQ+VmGeXpAjLqBoAtKeSvKeffrKDmzTn5sIbKVB7ZIwmn/fYkkTldQHnGv671hzWUpb0Vb1VhU01eZ3cC6dNFVNsNqz0ndt5pyByM2xtO4vvT0M6XG8ss2nUhheRaGfnTkp/gNhahZSpXcmY7C2YC+Ba7CIsTzvUKtzx2XAqbKxPApkJyrYzCuCyr0hfmKq7Pc1Pu3B+Pz7vzI6uhr+1OIHU8j1JAX2s57j/ULabbH5PqSn1zk2Vz/BDXuZJD+oDF5N4UtIsVn3w3Omo3rfFCjoHDog45FG/W/H+UuhjRkAsKq6WUS4xt+WllDFC+M843Ql/pqE7nXf0ocSiL/HXlPJ9xUb/jGe9E/x3LoxQ0Bniv8fdlXL18CZea/l3Au28LsfltvP83Tvv7tmftL/HuqVNYfsH5Di5pUiA/hw9XUKjlv/xlqi0h+eqn38WFq69h4sYeXPzZwLyEZHEvtZ38heQQ8NMI/lhI4g/XcviXSgX//IXTzv/8ywL+MNnTvqBMIdllc9X+fO9wRVvQFmSADJABMkAGyAAZIAMuBpoJyfbv2BpKo9Y69caUb/5ZfbaC0nlr/edsASW/9TixNjaZg72GYF/f0yaGYNIkvLVY39rt5MkVazg9+/NoCG+teC/2jxSddU+vkKxXUb5olV2sI1zzWQv0llWcMyXXNXMoXq/6rH3Uoc8Uzch150vG/fVqGYWzylqSct22bKgc72pH9XOxNjPtrOHmJkvBUfNqFZSvWPUQ673niyjPetbkrGvLdS253lW7U3LWBs82WRNVyybfK2twTYVkuZ56PI3YC6Y20r87jewJa11OrIHKsObVkmnr8aJrHXkhyq3PWO1mRCEsoCzWsdU6tCEkN5RDrItZa6t+bSTWyO210vECSrear1MJHgRfRXv9OaAfijaQ62NiLVus1RprzKIP5FD0rGs9Fpey/cY0FKxc1kY5vf1ituLU9XQexZvuNVV7Xb0dDoz6VR2uT+dQCOif9nXHciiINVVr/VldT1zsdhNsFeXYKcafK2W3NiBt2G7dZR9b468Ukq3dX4bI0eo9xeQFWFDsTEguHOhzQmE+FUPOR9TRZwrIDCvHNbTjAJLj5YbJRztCcmfX1p1JoFGGAaSnmjyQRCiYl5zNDD17nXA2YlKU3SPzFDvHOJz2IH7CnDA5kxwdpWODtr169mjIjyUx8A2/80MIvZpE3hYXve0ScE4ohO7ducaJpLW7MdYdfJ5TdvfuxNq0hsTLzc7rQfRovnGCZu8aEud2ITZWRGE0puyelNcM3m1p2048QM6mEFHy8Trlta6zJWU+ANWHxkIKyXMlZLbIMocQCvDkdnaRmscO+k6sdFROx5zQ8F1RaHZbiw0HS2RzZQJo2NMvhNJsEentMpS6qFM/EhNWniD7h4hZ14FDRdRs+z8O78oPqrkycgedftPQ7g3jSetdavqdAtI73T/Aml/X6hOu+g4ic6UIbY/P2PacsutX9L2ZIjK7m40XIfTvzjRMXOu1EtJK3xM5kOwfC7ad1RBVPsy5yhxBZrKAbGBZ1mHwUMH148PogyIsz5GIw2uDzdcjesRnDFDL2Ob7X/1n07P31LvXcK/VOZVLhhfw8gvJdQiP5Le1U8itMI/k4t/sa1NI3mMfN18hWdzLHrPrdQQKyT9Rchwb7/vxx18U8DtrQ9E//H8V/MuVNr2TKSS7bK7an++V50irsYTfkyMyQAbIABkgA2SADKwtBtoSki0v4S7xO3sQmeuK0KhXUDga9VnfEr/tsyhajiNiTl6dSKDH+A3dg8T5Zg5Q5jpRlzjWZ21GrDXFxJpYdxTp40nT4/jZBPIznnmvqNuL5tqNy9vaXhvoR3wkgUG/9cEX49DUjemyXzzUjTW5QcMW5rqDvYbycqLhHMcjOo7UfmUt4Zm4U94ObNj8t42OymQa0Wc95TJs3o/EmLI2WysjdyiKvoY1DXFuD2LHFeHdqLuzrtU3nEZ62G9dpxuRIwVUvA450nbqq7IG11RIdq2nNtZr3ZBm30+fTmNA1Me1DvV45darxYB1o25EDmaQ2maWyX+9U+XRKUfPrhRSu3zWz0KDSJ2vQK9VkD+ksKK00cCBnH/Y7tkStP0D9jq7zaTYZDGUVtbUrTLZfWAAiZGEsh6vRCZYCC7t9nOvT9r94qUE0iNRa1xwt2/ProwzftjXcR8j62lzIJxQjsfNMUGxm3Hci2Z4bV3l0L5uFyIHUogZ44XapovXbvqtQkA/CiH0VMRwEjXKapexRd3VevG9V0dGqOGTNj9oPuiqnXy53j+mR7LsKN+kZ/LjtbVXsGwS2rpaQNLIuWF16lfTKHk8S0WuhoQyIMnBrvF1PWKn3aFiWgnJ87m2MfFSJktCmGnYvWcNPNXJpDK56LNDxlSnsog94z+QuevV5whuxjWdgdh9XJNrbc+gZHi01lA66v9w9F4rSEiuiwdmuMm9ZB8KOUJy9WIKg/bnzc/tGbbydciB2zvof1MVI5VrBWxAsDmeqyDfrpBo28saxxZSSK572u+bUWRvKj8krDa289pIu23LmHlMpF3EqyjXcLc92ekayqJsTTqX1ObKJNbgyPtjpVZCdsgpp5hYx9V+ak/CzPZsJiR7OfX936/99vpNNBV+pJ3t127Ezzb5cVYtIKWIs77lsK9l3UdGW/DUN2SEnfIpi7LJQL+Tb3MMDCH0YgJ5dTPOggvJPmX11jUUwuAR5ceTiORwrL1oIU1/CKn8B73/8i7eP2N6I79364uWCxlzlui8EoRke7wKqtuyfP6lLQ6LHMbt/s1XSBbXV+3QvpBsCcsTUfyhXMU/fVnHb76o4ffXYq09kykku2yu2p/vl+v3DO9L9sgAGSADZIAMkAEysOIZaFNINtbRjPU/xQFiTngGO+ni+nfGkTqaRnJ3xFlDfDWFYtXkoH0h2RSuTQcQ5X7Gb0lHZO7epaEyU7Q2nTeK07WLlsjs9aL2rmeEQujbFkV8bwLxoUFH1HpWpC1U17pqKB2PwhC4hfPKy1EkDmWQPhDDoFwb7Yogo4TjtgUzZb2hf1sUsf1Z07O7QxsG86SjfDrulP2ZQcQOppE5lkJ8i3Qe6EL0eAm1eg3FI866at+2OJJHs8gcSiBir1v3IH7Wcpyw7K46BBnrR08NIDocR2JPDJGNIuSuuc4SOaYI1kG//5U1uKbrJ5Y3ZlZ4Yz5nXt/0SM6aXsmKR3IrIVmWL9RmufWZvLURQdy3CwNDCaSOCb4VRqw6dyIk2+V4dhDR3QkkdkcxYDsL9WDgJbn22IPBoTgS++OIvirbMISBEc/6vXB6sZ19Asr5TAyaum7r0we6X4ogNpyEJjaKLBSX9np4gJBs9wtR1xjie+OIbXPWPkUfN/Jht8PBXBX5A84Gh/WvxpA8YvZPx74efcIun7JGGB5EdFccKcNxyLP+Lcq7EO3mSpHag8FdSaRHM0jvj2JAblL5VhRZ0Rbt1F165Qf1tzX4uVcmppBsdzYFdu9n3zR3MAQ/aDipC7ZNm0Ky2PWz2xnkxMMlesItBIscytou+SAw22twfxaFayUjDHPpoobUduX7bzoCpihfUyF5vtfWPfmB1d1w6gDjDRkjRHJD0NVRPuFMoMSDsH84hezZAooX88iOxJwJjODSPk8w5zMQG4NxFMljGvIXC8idSNmTBPMhux7xCVMU02/lkd4fQ3SLM2EVx6zbGEFUySueGFVEILVOdTOcrXY8haic7Bl9pweDO5Xc5HvShpil38kh7trR14XB/RnkLpZQmi6iMOaEWJETAtfEye/BJPuqeADtNCchhojq2YDg4tO7YSEcQULY60rRCAmeeNWZuIVC641Jn33+ggrJddSupRVh3cxR0rCry8hfoo5Pbq6NsgnbPi2PWWf3nSW3uTKJNdpQFZJFH3N523Yj5vWy90zC2hKSn22Pd2MMuJIyd1Za3PTtzhhh2Ct3KkY4pfQud19Y/2oUiSMBOxWNvuCNSiA8aUU4pgoqd8ooTWYRVzfHiEmz+FF42vpB4Kmv5F68rn85iugWc0wUPwgMz2yfcWr99iSyE0WUpksons8itdNdB3vCKMq7aEJyNwb3ppEdF+NWDlnvTkhlLLZ3PVtt0LUtCe2iNYZfySNzwNox+pxHBHeNPe09czvyRhY7u4tnVoxHsj3mzKPei3nuSvRI/vpyBl9dy+IPl6P4usE7uQd/vFYywl3/5lENv/9FC89kCskUkldYn1vM/sxrt/csoZ1oJzJABsgAGSADZKAlA20Kyfp0xlwDsqPIKdHlnooiM+XexC6in6UscWtAhpXWq0aavZahrcW8VqyjWeuoA2KDt5zrGp8L54xuxMdFKi1HFO3Zo4S3fliFjBzpCmstrqOuZ4iyX3SH0dWva4hba4WqQKhfzyJirR3GVe9ecU0RQU6KWNukI0wdLiH5pSRyqpgn0sHJCH3t2lDawfOq39QQtZyFhFdw1eUVrKM8nkD/U45Xstjon9qbRl4JN2ywItaKZT12ZhVnEPc6bv9+z3qTEb3NiqAXtL6slllZg2sqJMtz7HVVtyCp8t2OkNx2uR9Wkd9vrfW/EIfmSX8mPJXViIUqJ2qZnPce+x3IuaNZzpaQUSMgvphwsyIcG+Qmhm8pkRxF+PYRSzxtUU7XmrPaB74xiNSke9PAQnFp9OOhxry+rn7xasrjMa2jMmFtAgkpHtKChSYcVCfkRooBJGX0SIWf/Ii1eeIZZYOIfT2xLt2N6DF3WHSvftG/UO0mtJ4raSRGcijJ3O2yrGJjwKvmOvmAXFNtUXeHMz7zpC0oJEvhqdNXisnzXFz0CsndiIxkkLXyCmdPZJDaq+yyk+2iTBgkvNXzCWc3np/QLAYEIZTYO4hCUIWoZkLy41zb3p1nlN1HDBShaMVkRPE2dInkxkQpgoGdSWienLDmYKt67w0iMy138rkfoEJ88gvPYUzSvilFxhCMkNrKLht7kmCUP3gyIduh4VWZuDSIh3IAF5PSQ85OPeGJmhCTVfm9fHXtAAsh9HTMCdHsejBZ9Xm6cbLaUD55beW1eiWD2MuDiB/NN4YzmckjoQjeLnstsJBs8Go92AzxcHfODicj6uEV3Qz7hkK2UCzrKvg1QxuFEBLertZuqyW3eRALesWZRFucRf02KKiTMMFzk9DWnfPu8cJ/yScnkWeTgaufKvxIu4sfOdmdTt/q88kn5N4s4InI4KmvqNO6bd7JnzOBcY9TIQwc9OygFGUUE/WDzu7BUKjPCXe1GEKySAEx6f7BaOT1Ph13heWSYriLVV8vfJGPpoJKQD4h2/Z+7aF+1oE38p2rZ3DGyKMs8xIrrz4hsefufohL+ZwRevrUqVM4pb2N+K3YNwAAIABJREFUXP4SPrw75/OcvI33xDFnruKX9Toe3fsYV5Vz387lcfXje3iklr1ex71r7xqi9qnC7cZrfjmHu9Pv4dyZt81jxPV/nEP+6se4p4ztwlairO9NtD6uXbu2nyPZ8Vier0dyezmSu/HHDyv4J8t+/6BX8fvpFL6eUMNdd+PrX5Twz4/qEGGuvyo0yZlMIbmRNw+b7bLC45yxm7agLcgAGSADZIAMkAEy8IQz0I6QLCK0DVsekTLqmLGmIAQiH2caax5em5KhhhMoWF7J7fOkiKxiDcRwaFHWKMOOGGSvXagCplgjMXLqeoQoUTZlPcN/7URH6agpinYJr2dDlBXrMuZnPXvc6192ncSanHFPJ32gI5j1I3nRk1JwwWzolG2dS/xV2dVRq8k1WfXzxvd2mQNCRIdeTPq3p7CrEf2xH6lm6RNFGyhrcEsmJHdQbsO5xaiLE5XTbmeLb/1mFlHLe7QjITmgHM6aUw8SliOV6552X+2xI4V2Vs5BpKW3vNIHGuy/YFwGC782YyGnr7jqaqyjm2uWkVHFWc9eX/doAHaZQxg8GuBUJtYVjXVsx4nJEaZDUCNkOmVR9IsFbDfn+o39TxWvu4eVlJ1Bdbd4bH5Nv/s82Z9RSJZC5bxePZ6WitdmbD7vD2iNItYTB65XQHREFymKeV/XD/nk9vTx6JUTIHcnd8KzGNfd4oTHDhSSH/fa9iBq1U1OCO22VAZMwd3T/rmf3fVwBiKxY9HIT2Ew63gUq4OiUVd1smffW33gWOXzhEZeEiFZ5IdWPDP9Hyxmnd0hwBVh3h7sJUP9SDbNB+PYMMi2vp8LIW6PE+7E8AKXHs4LLSR7QuGEXG2oTPg941XXkGaHrhYTR7lD1OBA8rccNlcmsUZZXk6jWK2iIHesWfUYFDs7PYKX0RbKJEyc31RIdtlKaWsvJ5J3scNQycG+3i/3tyi/EiLctWtN7VPyvUeY9f3xZE9SBbd97h89nvqK9s8pua1dfAou9yrexkH1FxsQhIe6Enbe3gzhKe/j50gOIdBGNXdO+JDVDk4YLmEP0Yd9NpRI+z7GayfeyPfKV3Hp8iXkc6aALERh8b/x94vbmLPL8Tnu/Dxni7dvT1wwjrmgCLW5n9/B5/bxgktLSD71Hq7/9SWc0U5BiMfvXX4P+Zwj8L57bdYl4AUKyZ/fwftnLaHbELDfw6XLF3Dux9Znuau4a/WteyVLjD51CmZZLzji87vXMOsqp9KHmnz+8ex/bDuktQx9PV8hWdxL7QNBoa2/LqTx1YcF/L5awz9aZf+nvyvgDxe6lFDW/fjDX5lhrn/7Sw1/dAnNiuhMIdllc9X+fN9eH6GdaCcyQAbIABkgA2SADKxBBuzf/T2IjxVRul42IydeKyA3piF7NImIdFgQm7GlQGivCaxHdCRrO91olvONNpZF9ljCWhP0bExv8rtNZdBJySfFYDMy4joRCW1PzvG6tdc2nXVHsT5nOC34bcS3y+4Nm+20f/VsHN1iHUiuyyjrNSJHcPaEBqeu5nsRfjluhYaWayy2YPZMAnmvmG6X4zFtqJQtOtbBOoVeQ/liDkZbHUkiPmxGaIzK0MKutRtnfdglbqltabdDY5hxtV2N98oaXIOQqV5Tvrfr6BEQ5fdiPalFjuROym2324tJMwS5ch+7LkaZzHXeToTkoHLo1y2vf9XjWL2vIZaK+zk26Kyc6xA9bfFhs+cj+tvfPSaXouwB7WaX27VZwel/IpyzXAd1ra8GXM/ZHKI6sSnXM+zobBCx1xrt64XgEqxtu7fmfj7tZjNUq6A4oUE7kUX6YBxSo4tsNFNi2rmfm9jSvpZdZm+91+b/FJI9gowhdizXZ0Ed/YmCtgMh+aU40mdLqLlCh1gdVUzKjB1p5sMl1DWASIB4r+Y8CD3r7NgLFJIf+9rmJMxhSdmdJNpSCHovWeUWOUN8vBabDVhi0ud4MzsPuraFZCOUiCJAqeGG1UmC0Q/U67c5SCoTFykemmG7nfPt8D1WX5OTQd96VwtIWDk7xPX8HkzGfeREdKH7i/CeliFNRHlVey24kGyGt3Y2Cjg74sREwRE1uxE9mEREepbbYZAEXwUl34jz0F4Wm3tZ6B5EfFj1RBdetHmX17WLAXuiZfYX10THG8rdNRl3WDM8cvf78e7xSJaCu8qPmFBud/pqxBteXz1WvLcnoFZ51VBR1rFC1I3ZeVo8P7Ca1lepk7iWZ2OArxAuy+diJ4SQzGW0CEJy4ETfO+5YP/iMCAnfcGws+rII569NllCVGzZkPeb7+uUdvG8Iq2+jndzIksHbBVOMDcqR/PmNC6aIfOYCrt975BLcHt27jgtGPuZTuHDjc+U7KSQLr+Q8Pqy6z5v76/dwRngUnzqHD+87be4vJH+O8gVLMP7JNXg3Ywjv4w/vyHvftWzwLqY893x07y5u/1d5nHNPaYdmr383N9WmkPxdjL8ziB8cHcD3/10v/rUYS//Vv8H/mRrAD44O4s+vOR7LUnD2vop7qWUJEpKhhLP+upDB//xbHf9Qr+Mff1XCVz9TxOSfJvEv/7WO3/y6ht8XBxWRmUKyame+76xP0F60FxkgA2SADJABMkAGyICxLqOsYxlrVtb6l+v9CzFkrjjhq93rfe7fya7zjGt5Nqa3+3tZWR8w1lhqct3DEYxNhh2xRwjMlTnHacG9NmO1t72e4ZN+zSqb7R0q1+/mSsgoUSQb6+i2gdy4bgtmile17HcLZkO7bAGerD721mcKrtDMvvVxrV05Ng7c2D9XRmabsMPKFJI7KbcIk7xesLslg1LQeo/iNBG4vmTbvrX97NDpLrsrY5Qtejrr37bDQ6flbNIHFoxLUXefMgv+7X6hrlvbthJ1djQZVx8OuJ5d5iAR3ri2cHqKQmxEsQVa+3qmM5jsm87r4rSbYYOpDGKKI41fH7TL2cSWTlkVVly2XJufU0j2e5Av12drUkjuRuRgBmKHWXJIDb8q8v+mUPTuLJOd1pUD1j2x8Bsk7M+eFmFazM4eKCQvwLUNscjOURtC/0gBNcsrzO1hO4DUFU8YFllH8VqroDSZQ/aY3MUWhZPMXtTbedC1LyQ7O5AMu3geMPZuM6MfqNdvc5D0ioee64vB2N7FaNxDEUvVusv39uTNamcZUsZ+MJmfux4E8tyOX3VUbxaRH8sivd/ctWTvGpTjglqfRRCS6x7Pzf6DJjsuAfKpGHLXS8gOmbupRNijmLUDzp44GOV1JvDLYnMvC9KG1muXbMugdrInYWYbuyY6bQvJwby7w9D3IHZcyduhV1EcjSnhmJvtwJN9w9mJZ/St7gjSal4gkft9jzLOeXfxeurbbNLs4kF4a/uI1vbEx7sZQo6DSykk1z3CfbcVpl540B90by6wx+vQekT2Z5D35M2x6xXEjefzX02fMwVfn7DUza7VXEiuYsryWHYLxZKFOmyhOTeFql0mKSSfwdUZ51inHL/ChxOmOPzutXu2cOorJFenkDNCaV9A+XO/aymf1f4S7xoC9Xv4+Evlc7tc8/vs0a8/x3/69E9bi8mffAfHvvu/wGlbazw3xoKnED//3abXEPcQ93LsVEc7QrIhKp+L4auK6Z38T3+bxx/POULx11Ml/PbXdQiv5MZ8yiGAHskum6v25/v59RnajXYjA2SADJABMkAGyMAaYMD2SA5h/ctR2yPO8IzbOWB65Yq0U2c9nq72mkA/kuOOJ3PZ8mj2vs5v87WOyrjlGfxSCvmLGTNHsY/QZjskiGhpV3JW2jfpyexpR7vszjqUl/UGIVlZ1xs8lLc9t731lP9XqmYYaXvdS12fk79t7XI8pg2VsjV1fpH3Fd6eMq3Yi3FkJtztVzybND3JXXZuLagJh4UnRUi2202EM/bmsJV2NOxurhc0WxMz2Wptv/kIyZ2V088j2acPLBSXwk42m+41e7vcfv3CsG9nQrLjkexxgpFtZbw666CNjl/u8jnjweK0m5oucv1QCtrFkjKmlJA/aqYKdekHAbZ0yuoZ51x1X3vfUUj2CBv+i5zqgucivl+TQrISikWvIr+/z7XQ3C+8dX08ksWumFh3523RvSuLsrXrKUhIXohrm16QSl2eSyAvRAO9ipwaJlnkfvbZhaXPFKEdjFiTy2b1VAdlZyA2OHZNTpTBTQllYRznecAsiZAsw9kY/S9gEioHZ3tQt+wgd4R5Pnc9COS57b4+rKF8PoO4Em47cCxQ7bUYQrKyQ8wogyE2KhN9EW7IyJ3shB8Sx3WLHDNzHrFO2kqI98th8xZCcig0iHSzjRT2RMts+4UWkutzFWi7FW9l63nQ82LjZ775h3340mfyLo9wk6P16G/YjdyDuDcvuKe+zSbNIm9MRPHkbXZswyYTuZtwSYVkz/gkcnfftHIJzVWQPxJVRHvvmNeN6NEivB63bU3s5umNLK7dVEi2hdkLKH+hjK8qE1+UccEQb9/FX1q5p5zQ1u/i2t/7n2eLxu99bIt49mdKjuRfyVDVF8r4Qr2v73tH+D5z/hru3v/CvnZbdvS9pln+yr2zTUVg6Vl8YepPoP3M7+81TNxo7pEs7uEtZ9tCsvBQPhfHv/wXHb/5Usf/mI453sc/TeJ/3qvjN3oFX012O59Lr2YKyQ1297YD//fvx7QL7UIGyAAZIANkgAyQgTXMgC0k+6131VA6HkWXWH/wprPSy7bDgPiNLx1SvCzpPuuk3mOa/e9sTO/GwMvm+octAqm//WwRM4SBbQNmmX28gI172esZPiKadc0GIVk4CFg5ksWallyvbSi77s5D3FQwWzAbOmULbc/AG2nRLKOSI9l2CvH3FBc5p43og661WmedpBPP3gb7yDZT1uCWKrR1J+UW3Jlp14K9vMXmhYi1Ntd8nUuML63tNx8h2RFQm5VTrskJpxPLQaxZH1gwLpdQSFbKbKzH+qUknC0i/bJYw+tCbMzKu2yv16uahfo8WJx2s9taOs/IfmG8OtFjXfqBXdYg72m13HxPIdkanAJFo6X8fq0LyaJjz7jD8oZC6xE7rSSAl4NANY/EM47Y0Prh0tjZg4Tk+gJcWzzUa1PWJMFgqNsQjWo31bDUjhepOgmoTWcRU+qmstm3LYroNsWjkR7J9sYD14NActLOq9jA4MnZa9v8qQFEh6IYVMNiLLqQrIQjMdgRYmsJud0yT7PJki7CkN/MIirDWz8VgzZdRFoJC6T2ixXhkfxcHNmxFAZlmUX9nm2SB9iehC2SkGzkD867Qqfbba+M/QMHch3lr69dTCl5zJ1xyrl2H+InfH4Ueuqrtp86Roj3zg8/yzarwCO5eEjxPPaZ2OkzJeSPJxF7aZ3drx2bBU/gvbZR/5+vN7K4RlMh+dZ7ppezdgl3AscZ6X18Cpcq8hkkPwsWkr+QIbMVD2o/Ifnuz62cypfvtCf21T7GpXetUNhC4H47h/zV6/jl/+sOr63ar533D389h1/c/X5bYrIUlTt5FdcW9/CWJVhIHsAff6Hhq79I4ms19/HlPH73oI5/vFfEH34qvZL78MdyDf/4ax3/4y8iFJIDWZb88tXLIf8nE2SADJABMkAGyAAZIAMNDDQVkq20WLu6jd+93UOOw4u4TvV8En3GekQ/Eqe96f50VM6nEHk1gdwtS1zVqyiJfKDnvcc2aRfhFGGvMYk1haCwyTrKo6YXn/xt7t7gr9zDXs/oREiuQ78lxcUQBkca115q13NIbIkgNVmFWAcTNmoqJM/HhgG/gwxHIys12eCIJy2bcEgZi6Pvm32IHy+hZucy7rYjBtpc1MrQhq01vTUsJBs5emXqwGdiyEoB1rK/fiePVMCapm1LV1stjiApylk8MmiuS/mWs2CXs3tYc9L1tegDHfdtV12VvmaLn26htlW/6DS0tXs86kNivAxdFZPnysjttzQK6UAnyhxQPqcNF6fdjFDcXWI8iyAz7d58IsaZhJVr3aUfGJsvzL6pRnrUazV7vHHKrbTBbBn50xryU9a45DMO124WkDudQ1GO1UHtuYo+p5CsiAXyobhsrxSSrQlBGoNqu3wriux19wBQnysh/aoj0HTvzvl6Lvt2dquDBgrJC3Bt474iJLORx8Iq5/Y0tEPWg0jUzzV5sAajWtFVr1DXIBKjeZRuOeGv3R7T6kPDGYgNhv2uL+q+AjyS7fA4VjtHjvtsFpADaZs5kl0PAnluy1fT09fI0WGVpc8If1FW8rM6oT8Muy6BkOzNfzuwJ4GIzKsrwlrfsfqDK4dvFyJ7Yui3+447N/ey2FzZDenYTtg8gR67nCF07QzY3WlPwsw+5P7BsgC8i76giJvdL0UQHRpE/7P9iAzFkDiURX7a+bHSbDyxv6uVkFHyKveLzR/b+9Hz4iCiu+JIjuZQmvGMZ5JTT32bCcleRrqHc87kVV5Pvio5kIx2CMiR3BOUr71ZuZp9J+8vXoPKoB6jvNfvFKGNuKMydDzOP4Y3smjPtoTkH7+Pu0q5bQ6Mz6Ro3JmQPPefG0Nx+wnJdy5bonC7QrJVzi9m7+LDX1zAOSNvtHmNc6XZBqHWXRdlwuxT39nPPlg0IVlc268sQULy178o47cifLfwPi4p3sc/ieKrX+r4zRc1/M/3+23RWIa3/u83k43hremR7Gt7v/bgZ837CO1D+5ABMkAGyAAZIANkYA0x0EpIFpvDhYBqOJF0ISqESPk7S6R/UtcOX4wgtjuBxJ4YIhtlerN1kOGW7byzgWKwn93dUe9CzyVQCEgtaHj52dHQ/DysrevbawOdCcnCq7QykbDE8xBCXQPG2klCpJvb5kR6NCPzmfdqKZh1aMPgvqmjctZTtuEEEnvVtliP2AmxpikiBMo13x5ERRrHE1kjVWFUjVDnWqt11rU68ewNLK+yBrcSPZKNclfdDjA9W2KI708gbod8d9b6m66JGf2ltf1sL1WX3ZU+ESR6Gmt7sr+F4FvO5xLO+qwoT6s+sFBcBpS5Zb9QImC61lcDrme0l1+Z9yaQGI6g3x4XBoyNHjaXza63mO0m1shlCsinBpE4mjX6YGZEXStXcjlbZSmPxcxoC0Z6vTTSB2Pof85HizKOt3QVGcbeivjYMA6r2pISLdS2kbzWKnulkKyIGcYC+3L+TyHZWrBUwrzI9vCGEVFzT4hjnrbybXbQAQOF5AW4tjkwiITzcjByHoSSMzVvshxI7FAnRr37kJysNiziPglCslcE6xrSUA4IzePOKa14cdsPJtO28xKSRajx3eYuUNEu63xz9i6DkOxlUPYDO6y1nPSI0Bzu3aGSr9CraXfondkiUkro7iWxuTKJNcolRXh1d59Vt4GRAhpCF9uTsMURko3dat+y+qbM2dvBGCL7rfpqh2oS9dqWCQ7N5HcfT32bTpofVpHfq4TgDpoUS+9lxaveDlmlhKky+B9SdlKq5RPlUs53lavNMosfyTG5GSIUgl0G9T7e92LCesD54Rja7t6prdrd7/3jeCOL6zUVkhcxtHW1eMb0dlYEYj8hubPQ1nLMcL/O3Z3Cu5oQk8/hQ580C352Dfrs7q/+nwUXk8U1g+4XKCT/hSUk13X8Tg1j/ZNu/PHDCv7pSx2/K0VtIRmX8/jvX9Tx27/JUkj29kH+H8hfEJf83D3G0B60BxkgA2SADJABMrAmGWhDSDYEVFukHER6ynEgEQ4gpdNJDBredZ71xK5BJIWnsuUZ6KxB+K8hBtlfjXImRMyG9Rj5W0B1YJBrOvI79dVeG+hUSBZ9REf1SjYg3dx6RA7lXWsrrQUzU+xp14ZBNjI/11G9mEHM8ma019yMtawBV1uI9Gn5Q+4N8ebx6xEZjppiuWvtprUQ+iTlSLbtPFuCtleJWGeveXYjekhDZthc63KtPams2e9b22/eQrK4R62MXEDayb7hDArSyUeWp40+0Enftu0lry9f7fVw1bmstaf+fDySjTKI8ehEAgNqdEnZZi8lkJ3yaBcB5XPqs3jtps8UkNmlrCPKcn5rALFdJnMN+oGIGLBHjf4qxtw+JCY8Oeyl/cWatnRKCseNzQQN47BYb7WcjPy1htU5N6CQLIEK9RkeaLFdMSzb3wGto/CpTgdcTfApnc2wvZIjWXZI8WrsInEEPvHg9QpNQnRVPZfXD2fdwpm83mwZuaMJxA9kUZp1bBUoJIswKY95bbtt7IeIZ+IXGnBPEq2yusMPizwLHs9FY/COKd6c6kPDGYiNiYprcuLUu6VH8vWMYtd1iJ5WBk41hIW0r/c1SDx0Hafu1BO2WY+4bwjzIlKK57nLi9t+MJm2bXgQuO6n1F/9XJ0QB4hbRmgVtQzqxHlRciSbZa1dTCrexZIfJ6y1ZMy9O1QeF8LAUWVHq1HnZbB5MxbmlNA+xljgE8be039cO+aUXCjz5V13sR5CSIQyV58Be1PInMhCGy+gdEf5Uacy5HovNo9Esc5+roTQtTHieqbER8SuVBF2qojKrKd/e+rbatLs3mQRQv8BT6glUTa9gvwBdULUj+RFqy5eMfqbPj/4xATfM6FylctTZhGWqyF3kCjDfnUip/zAfVhD5WIOuYsV+4ewZNvINb/HEcuF13U1YMOJfY5sj8f0RhbXayok152cwxfK/vmGP5chqnNTqMpy1aWXckBo6y/9r+snJNerU8gZOZjP4cP7AWOcfd+g7+/hmhHuOqA8Lc93X3fmVz9bMDFZXKuhXZXyBAnJ+Mkg/ljM4qspT2hrkfd4MoWvrmXxh0sDjpD80zj+cC2Lr66o3stW6Gt6JDdtg2btw+/cfYP2oD3IABkgA2SADJABMrCGGNCrKI5ryI7lUAyKSCZ+24jwyOc1c41gstz4m1ivoTJdNEKoZsdEGNVy429icY3JgN/Uyu+nBv6se2tjORSahl7VUb2Wh3ZCQ+6Ksj7ovfZcBYVxDdrpvGvtVb2vfqeA3FgW2oQjhKvfG4LyrRIKZ02b5CZLjesmYrP8TNG8ztlioz285WrHht5z/P5/qKN6s4i80a4BbWGdp1crKF3MQRtT1n5qZRROa8b6UkXZxF2dbmFbsQ48YbLUIFw2lFNHdbqA/PkCijfbWMOyGdBQCDq+WjJtPe629UKUW6+WUZrMmWzZba2jcsX8TEQIdPPROIa0LMdsyeg/Yl1Ptbt93TZsoM867Zk7X0Q5qE+30Qfs+z4OlwFlbt0vdFSnLHvLkMyCoYDr2WWVnIkyXxN92OS4dCsggmMb11vcdtNRE+OICPkvxs0r5rhpjj+iT/qMtbJ/W300sI2lLeYqKJ7NoXBdrq82jsOiPfLjeZSqnrVfeY1V+Eoh2VrwDwzpuQobtaGjr6g6tCkkyzAvzzrCmLEb5KwyaRG5bV0CSQihcMQMXTAmJh1ZpA9YO76sdu7b64R/bSYk1x/z2nYbCM9Smf9BEZeCdqN4ww/37c6iMF1G+WbZmISkG3bVLLyQXL+TQ/xpxe4vxJAezSK9ZwDrQv2+XtJ2fQVrzcRDhUUh0CbU8C6hEPp3pZAZyyEvJo3Hkoh4ckVHRhVxdCGEZK+Q9o1BpM4WDXuXrxeRP55o3AG6REJyXexg9e54VMNaS1t6vErN3Y4DSF9rnDQuuc1bsCB2iiVfUlj7ZgQZdReuR6RcaCG5LnLYKPlXTNsp5VH6rPhuYH/rzT5C2I9KL2fP+Y3Xt3LpyA0anvq6BFvZ3uqrEOOtvEr2tV+OI31cQ24iB+14Gokt7g0560X+FvVHy0Qcamh3MYYmj5nhX7JHEogonsjyHq5yecpsHPNcFKlRDfmLBeRONJahS8kBJcRwGY69Z2cK2mQJ5etllKeLyLl28q5H/Gyl5Y8IORbZwquSZ1h+1+6rFJLPXP2ldd9H+OIL54eLLRSfuYDr9zx5hmtlXDhjho2+cONzpdxSSD6FM4WPMSdCMMs2/XIOd4vvmt7IZ97HXeU7uz6F287x9V/hw59a4a1/cg3uHeSPcO+v3sO5y7fxuXH9eyhfvYrrf+sRvWevmR7J2gWUlbrZZZJl6+D1v302jWsz/37egrI4V1yjVRmChWSZ/3gBXikkt2yHVu3E75U+3kE/ot1oNzJABsgAGSADZIAMkAEyQAbIABkgA2RgpTBAIdlY6F+H6JgpUNamskgML6NXsuoN5/d+Txp5b+iEVbUw1b6QLDqJSEQvRQZDoAh7QljPFpHZ6RZKpNjR+NqD2Aln11tTIVnY9DGurXZwr3dzKNSNmOrlq7afGs+/pQglBK9FEJKFQOsVp9SyvJxCUfHsVutqvG8hHqrHV6+kEWlTdOvbo7lC2QhPS21oHWQ7z8sjWTCmCFnyWk1fl0pI9ob1DYXgnwdXR3nUE976pRSKNf8H7ZLavA0WatcyiKjhml5MIi9393lEygUXkmdLyO52PF6btrvVB/xC0qtM127mkFBCiLe+Zg/iE9YuS099XYKtOk4o78XmgOTLweK36/4vJRufH56czq7j1X6vvHeVy1Pmluc/F0fuprUbT4SW37Pe7sPNzhXic4Ons2IHtQ3qX9zGe0b+37fx3i2PcBp0js/nc3+VN0XdU6fw9jtncObtUzjlEng/x52f55xjJi7g0uVLuDDxtv1Z7ud3LCFX9kcpJL+NM0Jo1t7GuQuXcKmQR05cX3gYa+/immeM9ReS66h/fhuX3pHnvY1c/j1cuqzkPz57FXe/qOPR31xFzghhfQpvnzmHC5cv4b18Dm9bn7177fFyJLvsX6/j118+wN/Ufoqpu/+ubUFZHCvOEed6r+f3/2/0Cr6a7HY8i4XH8UL/TWr4Xbte8D4M+ZWbn8m+wFeyQAbIABkgA2SADJABMvDkMdDsdy2/a3PtQll/oM1oMzJABlY7A5s2bWprnWulzwkoJBsPJ8t7T3ihjsSRPKqhcK1sekUJz6gV8VdC/kgU/Yon10qHy798nQnJwru1cGjQJTSI0KllxaPOyFlwKOL2qvNOOl5OIHvFHXKhpZAsFoVFPoR5XNuvepkrAAAgAElEQVRVdyEO73QEz9BzCRSqwZNlkUs0WIgS+TcKyMtY/IshJIvQ3tc1xDzewOag3Y3o0ULz0DFtiIeqfWrXc0htbyYm9SN+3B1CxTh/gYRkEcKjeCyKbi8z1v89uzLIX9QQk17aSyUkWyJ3j12uxrDW0o7e8NZuwbWRtSWzeVss6KjYeYHMyZHdxz0ipbtejxnK3ePNK/KbGB60Y5Y37gnzNb03ooSSDyH0QhIFj8hnt4Pw5rejKHQjeiSHggjTo17zeBrJITXUdAjrd+dMb1JPfV2CbTORSoSf3j+ILpsV7ySzC4P7tabhpVLbulzjrD1J644gNV5ATglN7SqXp8yhZ/oCx+Lu7WnkvSGzRA6hI1G3jT316N/jTksg7R30aouu56/jV83s1vK7z3HnF3lHgM3lcfXje3jkOW/u7oe4pIiyQhzO5S/hw7tzPhNFKSQLsfhX+PiqKiC/jXOFD3FXfb5Z97Lr5PJItvr2w3u4/YsLyBniuSkqv302j6t/VXV7PM/dxYeFc6YgbgjWb+PMxHsB5WwcN4Ls3ezzL+u/xuxnJdz+b6cx/V/exNTd/bawLN6Lz8R34hhxbLNrNXwnch1/GF948dgWo9dbOZUXxhYN5fdwxO9pZzJABsgAGSADZIAMkAEysPoZsH9Le37X8nPvOgX/JxNkgAysDQYoJHsk6JU/2dFROeHx2pMP9WdNYU+/k0NKLPwfCzhOHr8cr1vSyE+kkRpXQjuvykVIGY/fEmvGcig1EVUNrkRsfZFbwhJ2RI4Rv/wdIreCyKOROZQwc5LuN8MkF6ar0GXoWMVmZu4AM16+yAlSbOLp3em1vf2hZuS8EHXWjFygulIO77HG/yLW/kQW6f2md3z8QBrZs0VUpJepyK1h5eVQ81iYOQZM2wbmf6jLfBPWcQE5RfRqCfkTKdNDfziB1PE8StJTtGn5dVQmNbu9tIDru+otchFcN3OlpA/EERuOI3UsC+28fz4U41yZc8HgIiDHQdNyun+g1K4XoB1LIi4iEhj31yDycZhtJbgVeUuycNVHlEHUVeSHMHKfOB7vsh2NHDHW9/lr8nrue7tsoZbZyqFi5tQtNRHwlTYV/aMJy/a9lsTm7bKgo2Lk6XDGBaOPW/lFRJh6o++oOTyE0G73KzOPsRqy2a5nAO8iB3WfHMs3pgLFYXGdqhr+ORxHfsav/UQO6gFbjO3Zmw9uL2/I+yENFeH16KlvO/lgnHrWUbtTMsYFOQYmDmXaz+9sjLMajP63K4b4wQy0CWXMmbXGnBNmv7Dv6xGShchcnSmhcFqkFogjtieJ9IkcgsZheR0xxhYnNGQOxs3x2xhzcsF5etR+sqreK0Ly3/txxM8kE+28/sPnFfzLz5V8x7YI/PjeyV//PI/ffc72aKcdeAw5IQNkgAyQATJABsgAGSADZIAMkAEyQAbIwJPLgEcORsj7Qbv/r3xIgoXkLrGIP6ejMp5CeiLfUc7Mpdo5EhktIHckhVw7AtGqWlR/cjvXyu8TtD3baK0yoKNyOop1Ukh+Nd0kbLKOkho6POhYT77t/oMF1Hw2sBjMCW/6YccLv+9Ak2NX+njuIyS33Ciz0uu0qOWjkLzg4+6vdfyunMEf34vg68cWkvvx9XtJfFWu4Le/XqvjI+u94Iwu6pjC9mJ7kQEyQAbIABkgA2SADJABMkAGyAAZIAOLy4BXJ16TQvLA0RJqtTK0kQzyEykMSHFhpbx2R5GdFN7SeTP8KRekOgt/SXvRXmSADHgYqF1JufKv9+/OID9VRlWGFTY8tovQDkWVUM1diJ4oW17q3oezJ9R2qMcIbV28rkREmKuiPJVDerjP9lwOhQaRvlZbve1DIbnDtqOQzIm9d+zg/2SCDJABMkAGyAAZIANkgAyQATJABsgAGSADZGDlMkAhOdSDxPkqatNZJI8XkD/ozl25VB7Hze6zflhD4XQK6clqhwvWKxc8DgpsGzJABpaVgbkKtN09iqDbOi9Hz27NnZ/dI07rM3kkX2x9HWe870Z01BMO3XPNZbVRO2WhkNzhc5lC8opnuh3ueUyH3PN5R+7JABkgA2SADJABMkAGyAAZIANkgAyQATKwWhmgkNwVhXaziuJoyvD6TbzQiQiwFMf2IH66YHhLF2fZ0VZrR2O5yS4ZWIEMiEgU+528xo7A6x3b1yN6tAD/HMzueum38kht624tUHdHkDpbDg5/vVqEKgrJFNRWC6ssJ1klA2SADJABMkAGyAAZIANkgAyQATJABsgAGSADHTNAIfnlNIo3C8iMCK/fOHpWSjhrWY4XEshNZpEaLaJGwDsGnOKdW+SiPWgPMtDIQO1mEbnRFOLDMUS3mF7KfduiiO1OIj1WQKmqdzb2PKyhMpVH9lACsV1RRIwNSj0Y3BlDbH8a2YmSE0J7tY/rcxUUxjVkT2SRPaEhP83IGexjjX2MNqFNyAAZIANkgAyQATJABsgAGSADZIAMkAEyQAbIwOpkYM0LyT378yidTyMlvH6H17f2IpMC7xK99h/Mo3A8iez0Ks6hudqFEpa/MxGN9qK9yAAZIANkgAyQATJABsgAGSADZIAMkAEyQAbIABkgA2SADJABMrDqGVjjQvI6RI8XkDuUMrx+o93ecKbL/f8AUhN5w1u6PLc6dypwhwnbjQyQATJABsgAGSADZIAMkAEyQAbIABkgA2SADJABMkAGyAAZIANkgAysPgbWuJA8gNRYFqkjORSORVacN3JoSxr5iTRS4xXo3LWx6ndtcIBcfQMk24xtRgbIABkgA2SADJABMkAGyAAZIANkgAyQATJABsgAGSADZIAMrFUG1raQ/EwM6SNJpCfySG9Zbu/jxvtHRgvIHUkhd6fD/JwUnSk6kwEyQAbIABkgA2SADJABMkAGyAAZIANkgAyQATJABsgAGSADZIAMkAEy8BgMrG0h+eU4EnuF128KA0uU8zjU7n26o8hO5pA6kkf1IXd6rNWdHqw32ScDZIAMkAEyQAbIABkgA2SADJABMkAGyAAZIANkYHEY0FEejaArFEL/gYKzDq1XkR8ZRHf3IFKT1SWIlqmjdGzQiBjad6CA2nKvh8/kEX9GOH5FkL1OJ6/FYY99mnYlA6uFgTUtJHe/FEH8WAH5g/0rLqz1+mENhdMppCer3CnxGDslVktHZDn50CADZIAMkAEyQAbIABkgA2SADJABMkAGyAAZIAOrnYESDofDeP2d2SVf09Wn0207Sw0cKqJmrLk6Am7PXsWh6U4O8afNCJpdwzlU9MVuF6ccFJIX29a8PsdZMkAGOmNgTQvJoaeiyJzPIfFCY1jptj2H2/Uw7ui4HsRPF6CNZFCc7axB2QFoLzJABsgAGSADZIAMkAEyQAbIABkgA2SADJABMkAGyMByMPCECMl6FYVjMQy8FEPmylI4Oi2tkKxf15DcHUN8JIfynA8n9Ehe8o0QHK98OKSDHTlcIQysaSG5ayiLwuk4ejoSeZdAdH4hgdxkFqlRuTOMgwgfJGSADJABMkAGyAAZIANkgAyQATJABsgAGSADZIAMkIGVzcAKEJKfiSM/0y4njoDr8khecvHCKcdSeCTXrqTQLzSBl9Mo1XxsRSGZAt6S9wEfDlkGcrhCGFjDQnI3YmMFaMPrV1xY6/6DeRSOJ5GdrrGjrJCOsrInqHzIsH3IABkgA2SADJABMkAGyAAZIANkgAyQATJABsjA8jPwhAjJD2son9egjWko3PSuUeuo3Soif9r8XjudQ2G6gppf+Gu9hsp0ATl57HgBpVve6wluG4VkvVpG4ax1j7MFlGda5yqu3SnZ5+TOl1CZdZ+jzxSRG8sic2AQ64SQ/FQEydGsUU9tLIeivIdXSNarKF/MWcdpyF8LqC/XsqlnkAEy8AQysHaF5Gfj0CaziHYvgYdxRx7PA0hN5JEZ0fzDajyBEC7/BI+TbLYBGSADZIAMkAEyQAbIABkgA2SADJABMkAGyAAZIAOPy4AiJD+aRemdw4i/8jzC4TDCG/qx9buHMf6Bmj/5Pi7s7UV4zwTuN1n3ffDBYWwKxzFxL7h8do7khfBI1ivQhtYhFOpGbLxiC0N6tYjMrh5/x6yuASTGSqg9rKP+sIbSWBKRsP/ae/9eDWWXJ7AjJK/flUb2YATdPmvq/XuyKFbd4rBgVpQrO9znU64eRI8W7BzPtieyz7VDoX6krlgity0k9yM+ksCgn4bwYhwaHcFsNjh2BPdN2oa2We0MrFkhuW9/DoVjEZ+Hi//DbclyJm9JIz+RRmq8Ar3J5GG1g8fyc/AkA2SADJABMkAGyAAZIANkgAyQATJABsgAGSADZODJYsASkn9cxPh3etG7ZR+y54oofXQDpasTyO7dit5wL7b+sIQHcu33o1FsCu/AyU+CWLiPiT1h9I4UnXPkucrrogvJQlwe7rbW0/sQ3Z9G9ngGqb0xDD5rrqkPHjOF5OpkEn2WWLtuYxTxkQyyx1KIb3NE6P6DBVSF6GzUwRGSnXX4HgzuTiJ9LIXEzn5nHf/lFApVeV4d+kweyRflmn4fIuKcoynElXP69+dR1cWxPh7Jx7LInsgi6+uRLK8bQt+2KOJ7E4gPDTqpMp+NI3enUdh+sph2bM160RZkYG0ysEaF5H4kz+aR3uI8CJwH1PJ+FhktIHckxQeQMgni4LQ2Bye2O9udDJABMkAGyAAZIANkgAyQATJABsgAGSADZGB1MWAKyb0berH5zSLuP2psv/tTh7E53IvX35WeyTM4ub2JUPzpSewQQvOnjddSbWMLyaEBJI4KYdQKC+15zV1RHZgcAdeVI9nHI1m/pSFmeOYOID3lCU8tQmFfKaA0a5VxrgztYAKZi+q9xHc6KqfjWC9E5qeFCCvr5JRDrNN3bU83eB7XrmuIv2Cu3dsi9MMq8vstT+QtKRRkaGpLnK5eySD6lDinB4mJqu09a3smt8yRLMJfR5G5WHU5femiLM+YZRHiOR3CZDvyVe2TfE8enhQG1qaQLMJaj6cw4BvCYhmF5G9FkZ3MIXUkr+zGYmd7Ujob60GWyQAZIANkgAyQATJABsgAGSADZIAMkAEyQAbIwJPMgCkkhzcdRulBUD0foPTmJoQ3jeKG5Uzz4Oob6PUNXf0AxZHWoa8FU46Q3Hx9u+9AwQw/7fEE7khIvuKIsh3zbIeNHkD6mhSkFSG5K4rsTX8vX9vTOWx6Aut3cogb4bMHlWupdtdRPm5GJe0ezjWGuG5DSI6eKPsIxTpKRwcNL+muXZp93Y5tQWcqW9yn7VRu+Z48rCwG1qaQvD2NzH4lHMYKEZTXD2sonE4hPfkYD2I+fPjwIQNkgAyQATJABsgAGSADZIAMkAEyQAbIABkgA2SADCwDA5ZH8g9Lze89dRjh8OsYlyGaH93A6KYwNv/ohvu8exOIhzdh9KPWooIjJA8gLjySRbjmhj8N8/VIrgsv5V0ytHUI/TsTSI1qyF8pozLrJ/zqqF4vIDemITuaQmJ3DLFdMcTs0NBKTuK6IySvG2oizM4WrTDW/UhN1WB7FncNInksC83jfa2dyCJzMIIusf7/QhIFy2PaPq+lkKyK3e42qJ6Nm3mct2VQnnN/RxGM9iADZOBJYmBNCsn9u5OIWXkbVkpIaxFeI366AG0kg6IMAcLJnnviRHvQHmSADJABMkAGyAAZIANkgAyQATJABsgAGSADZIAMrFgGrBzJ78iw1QFiSnUcr4fDOPyB8/39c3GEN7yBouLJfHtsB8LbT2KmjfraQvIzceRnnOs2FzMcAbeVR7K4jj5TQGbYCiXtcc4a2JNFUYaWnqsgd3DAyWvsOdZck/cXkl3l8NZ7rozMNitU9fkqqhMJJ1+x7z0U72wllHb7QnIE2et+Inkd1fPWvSkkczzycsr/ycQTxsAaFJK7MLB9AOtaPViW+vsXEshNZpEcLaL2hEHWfLLS7qSGx9GOZIAMkAEyQAbIABkgA2SADJABMkAGyAAZIANkgAysZAbm6ZEs1oMfFPHGhjDi5+6bIozxfy/2nbf+b7FmvBRCsmRPr5ZRPK8hezSJ2DZHWO7amTW8cytnrTzIIl/zaB7F6TLK182/0hUNieeEwOsvJIeaeiQXbI9kkafZFoSfiSN7pWTfQ97L9XqzYof0ts9r6ZFMIVm2OV9X8rjDspHPxWVgDQrJg0idb/FQsR5qrgfNon5WQnEii9TeBLLTMi/E4jY8OxbtSwbIABkgA2SADJABMkAGyAAZIANkgAyQATJABsgAGVhIBuaXI1m2wY0fbTZzJz+qw/BQFnmUH7VXvqUUkmV55WttKo1B4Zj1jQiyf/Up8vt7DG/kgaOlRqepWUcMTl2Ra+GOZ7RxjekAL2DpgSy9ru18y/1IXQxOF6k/dNvQFpJfSqFYc39n1Mm+LoVk2cZ89eGkxeYO2ow2e1IYWDtC8sMaSieSZh4GkYthBf7FD+VQ0dm5npTOxXqQZTJABsgAGSADZIAMkAEyQAbIABkgA2SADJABMrCWGLA8kjf0YvObRdz3EYHvTx3G5nCAp7GRE7kXb7x/Aye3h7FDm2k7ROyiC8mzRWQOpKBdq0L3CGj6dAYRW0j+OxQO9htCct/+PKqqiPuwhuKxiBUtNMAjWVxnSwqFO24xuTatIW6lq+wfKZjexeJ6RwbNENrPxpC94imbXkXhWBQDw1mUFcFYv5bGgLjPUzHk5H0e6qjJXMcUktvmjuPbWhrfWNe1yvvaEZI9D7e12uCsNwc7MkAGyAAZIANkgAyQATJABsgAGSADZIAMkAEyQAbIwGIwYOVI/vMJjP7bXvRu2YfsuSJKH91A6eoEsnu3ojfci60/LOGB73r1AxRHehHe0IteT77kVu1lC8mhbgxsb+5IFR/JGSGo63XHE9iVm1ivQBtah1CoG7HxCsRx5bEYuoT4Kv5ejCC2J4X00RTiuwbtPMXduzTjurWLSfRbx/bvSiFzIovs8TQS29ab5xvfNRGSje+7MbAzhvjeOGJbTA9n495b0ihWlbarlZDZ3mVft2dLFPG9CSSGoxh4SuZIHoQIhW3bcLaA1Ebru5diSB1NI76lBwMHCqbwTSHZsZUvp4r9+T1tRQaeeAYoJBPyJx5ye4LAtmZbkwEyQAbIABkgA2SADJABMkAGyAAZIANkgAyQATKwaAxYQvI7s6g/mkVJewNDrzyPcDiM8IZ+bP3uYYx/MNvc/p+exI5wGJsyN5of56mDIyRL8bTJq50buF0huY76bBm5Q1FbNDZEXUssFu/7hjMoVi0v4oc1lMeTGOxqLEPfzhgiz4jP/YXk/r1ZaCMRdCvXlvca2KuhNOsjYtbKyAWcE9oYR3bKG/ZaR3UyjUi3u3zrtmdQEp7LFJI7Yo/r7z5MevonbUQbrWYGKCSzQ/OhQAbIABkgA2SADJABMkAGyAAZIANkgAyQATJABsgAGSADK4CBBx8cxqZwHBP3OhReqiXkxrLICu/fFn/a2SKqVorF2q0iCufzKEwrYaGFEHxegzamoXBT8eQV9pmronytYN1LgzZRRPmO5xhpR3HsVN44VhvPoySO02soTYhr51CcccJXV6fzxv1yU2Y59NkKSpM5aCc05CZLKEuRWl7b77VWMe6njWWhnc6jeL0Kb35kVcwx7nExZ9w3P1Uxw2UbdaygMK4Z1/AVrut16HdMG2gTJec8vzLxM44rZIAMrHIGKCSv8gZUH3x83+Hkim3PAZwMkAEyQAbIABkgA2SADJABMkAGyAAZIANkgAyQgZXCwKMZjMfC6B0pBoS+5von18DJABkgA2RgaRmgkLxSJgksByesZIAMkAEyQAbIABkgA2SADJABMkAGyAAZIANkgAyQgbXDwMw44q+NYuLqDdz46DJOfn8zwhtex4SaA7gFD9PT03Z+YBkCmq/ukNVLYY9UKrV2uG3BJEW+pRX5aG/ae7EZoJDMQY8PODJABsgAGSADZIAMkAEyQAbIABkgA2SADJABMkAGyAAZWGoG7t/A+A92oH9DGOFwL/q/M4piByKyEA8oJC+9aOwnTFNIppi32GIer0/GlosBCslLPTng/TghJQNkgAyQATJABsgAGSADZIAMkAEyQAbIABkgA2SADJABMkAGyAAZIANkYIUzQCF5hTfQcu0wWIz7nrr1r8G/9mywGPbnNbljiQyQATJABsgAGSADZIAMkAEyQAbIABkgA2SADJABMkAGyAAZIANkoF0GKCRTSF6y3R4UkdsTkYWd2u3API6DPRkgA2SADJABMkAGyAAZIANkgAyQATJABsgAGSADZIAMkAEyQAbIwGIwQCGZQvKSiZYUkikkL8Ygxmvy4UgGyAAZIANkgAyQATJABsgAGSADZIAMkAEyQAbIABkgA2SADJCBhWeAQjKFZArJKzDkNge7hR/saFPalAyQATJABsgAGSADZIAMkAEyQAbIABkgA2SADJABMkAGyAAZIAPtM0AhmULykgnJ7Jjtd0zairYiA2SADJABMkAGyAAZIANkgAyQATJABsgAGSADZIAMkAEyQAbIABlYTgYoJFNIppBMBsgAGSADZIAMkAEyQAbIABkgA2SADJABMkAGyAAZIANkgAyQATJABsgAGXAxQCGZQLiAWM5dDbw3d9WQATJABsgAGSADZIAMkAEyQAbIABkgA2SADJABMkAGyAAZIANkgAyQgZXBAIVkCskUkskAGSADZIAMkAEyQAbIABkgA2SADJABMkAGyAAZIANkgAyQATJABsgAGSADLgYoJBMIFxDc4bEydniwHdgOZIAMkAEyQAbIABkgA2SADJABMkAGyAAZIANkgAyQATJABsgAGSADy8kAhWQKyRSSyQAZIANkgAyQATJABsgAGSADZIAMkAEyQAbIABkgA2SADJABMkAGyAAZIAMuBigkEwgXEMu5q4H35q4aMkAGyAAZIANkgAyQATJABsgAGSADZIAMkAEyQAZWPwMPMFPIYt+/7UdvOIxw+Hlsfm0fsldng9di79/G5eP7sGNjL8LtntNqbbtawvgP92FoiyxHGL0bt2Loe1lc/uR+cFlaXXehvn80i9I7b2Hfa5vxvFHnMMLf3myW79MHweUzzjuM+CvPm7ba0I+t3z2MiXJAnaQd5PHhMJ5/ZQj7jl/GzGfB/e3Bp5eR/d4O9G8QbSjPKWL2UfA5gex2WuZ6CYelTXxfX8d4tZ1yrBAWF4oZXie4X9A2tM0iMUAheZEMG/jA4P3YmckAGSADZIAMkAEyQAbIABkgA2SADJABMkAGyAAZIANPJgOPZjCx53mEN2zFvuMTKH5wAzc+uIzxN4cMsXTzmyU88Lb9zATi3w6jd8s+ZM8VUfrkNm5cFee8boiYm79/ATOdiJeP7qN03Lzf89v34a13LqP4wW3MfFJCsTCOt763wyjL869lUbrfjhjZ6pj7KGlv4a2fzbTfpp9O4MArQjgewhvaBIpXb+C2Vb7DrwmBeDMOf+AjJn9Wwltbeo3zDot6fXQDN65OILt3K3rDvXj9HXcZZs4dwGYhAr/2Bk6eK6L40W3c/qCIy+8cxtC3wwi/chglHzF55t04ng/3YuveLCaulnDjo1LLcwI1gQ7LbFznwWW8EQ7jjcJ93L/n//egFRMrgUUv6/y//T5CW9FWK4QBCskrpCECHzIsHwcLMkAGyAAZIANkgAyQATJABsgAGSADZIAMkAEyQAbIwCpg4AFKP9yM8IbXMf5po/j64IPD2Nwgds5iPBZG73fG/cXiT8fx+oYwdozdbrP+D1B6U5RhKw4XmnhASyE3QEjtbL3arEP4zVKbZaxj9v3D2LE3oM71B7j8g16EN7yB4gPVjrOY+E6vIf4WfQTwmXdeR68qQD+axeU/24F9HnHZrttnl/HGhjB6R4oucf/B9FtmO/3YLUob531WwuFXmrRXQz/tsMzy/Oo4Xg9vwmhZrX8n71cCi52Ul8faXEoG+Nr2eELbLW7/oZDMzsjOSAbIABkgA2SADJABMkAGyAAZIANkgAyQATJABsgAGSADj8vAvQnEw2HEzwWEWK7XcXtsh1sg/eQktgrB8KNgIeD22Fb3OU3KOfuuR0xtcmz9syIObwqjd+8F3G92XMvvOheSWwo/HxxG2CukfjSKTU1tZQnQ209ipmWZTXuX3gwjvGkUN+zj72NiTxjhPRPBNvnkJHaEe/HGVR+Pafs6VnvOt8zTb6E33G746jrqn92Hy0N5BbDYso29tuL/HIPJwIpkgEIywVyRYPIhEzxxpG1oGzJABsgAGSADZIAMkAEyQAbIABkgA2SADJABMrDyGJh953WEw2/gssuL1lNOS+Dbd94Smw3BtIVgaBwTxhvvtxAuH93A6KYwNvmFzw5YB3/w/hvoDRBn738icgQPYbMIAS3y9Fr5i4t2bl5LQPbN4XsYpYB7tsWuj5BcerMX4W0ncbvZdaVw26Ynb4OQbHgCt7K1JTa3IcDPu8xTQkg/jGKr8NXCFn+dNcJ3937f2RCw7Cw2ayN+R02GDKwqBigkE9hVBWxbkwy2KduUDDyZDOgVaLu6EQr1IDFRXZY61qZS6A+FENqSQWnO80OQ3C1Lm/C50CaHM3kkng0h9K0otFs624r9lQyQATJABsgAGSADZIAMkAEysOAMCG/YMMLfmcBs02vfxsltYdhhoMvCy3YrTn4S/PvOFAXD2NoqvPUHh01RuE0R1fhN/aiEwxvC2PSjGwoTD3BbkzmC38J4oYgbH90w8isb+Ys3bMVbVv7iB/dF/t4bOPknYYRHLiv5fFuI3k1tVMeMtsMjypt26/1hi/DZVm7h199pEtbbvvcMTm4PI/yDy3ZoayGsh8OvY2I2uD2E3Qwv8XArsXz+ZTbafMNb7YnxVZFjuxdbMzL/9gpg0bZxcztyXYf2IQMrnwEKyRzQlAnCygeWgwrbiAysXQb0Wxqi3woh9FwCeXvn6xLa42ENxZF+hC+iCcEAACAASURBVEIhREbL0Pn84PNjFTFQnUigJxRC97CGir6E/WYV2YjPF3JBBsgAGSADZIAMkAEyQAbIwOMx0G545/u4sDeMcGzcFJwfFI08vZv+zJ2n1y6LkZN3EzZtUsTngN9apuDcpherfQ2rPIoA/mDqMDY15HKWfIjcu/vw1pQq1LZbd3mNFq/3LmCfELddntUlHA6H0VogNr2ybaHermfjPe+f32cI74ctUVzYXNqwlTe1OFcIzuNN16jmX+bSD3tNL3DV23tDP7a+tg/Zwm3cb+qp3G57LB6LNr9N7M9jGpmkTWiTlcgAhWQOZBQCyAAZIAOrgAEd5RNRQ8TtO1BA9eEyTCpmC0i+GELoGxFkr69kj04dpWODtq1q7dhqtojMzvVYtzGBHL1VV0F/6JB/vYrcnvUIhboRG69wEwTH/CePcbYp25QMkAEyQAbIABkgA2RgRTDQrnhXhxFOWQrJ9Tru/+wAng/3YmvyJEqfWrluH9zHzAcncWDL89h6/ALGY+0Lya1EUK9Q4S6P6aXbq3jpeo9v/L/9ujee6/mN+9ltnPxOL8KvHEbpM/W7dkXZ9sry4K9P4vUNYWx2idXtC8n1dkKS1x+jzJ8JT2/lr3obpasTOPmDITwfDuP5PROYCRST27OBaAt32y8ciy3beUX0WZUvvmebkYEgBigkc8BauommFVZkhzbT/J5WHopNGTWcik8nvn8B+8Kt8lX4nCfb3LrP4Q+aHCOPndfrfVxOPo/wtw/gwr3FugevGzS48fMnjI25MrI7QwiF+pC8WGs+hsyrv7a2V3Uyib5QCOuGsiivaI/OzoXk2kWzboa39XF6Wz9p44d+J4f40yGEwnHkZlqz/qTVn/Vhm5MBMkAGyAAZIANkgAyQATKwNAy0K955vECtdYzZqSz2bfF4oX57CIfP3caDenvXlt60beXVtddPPB7JsxN4veM11/bK17IdbBH5AC40/H5tV5Rt7ZFsi8jfv9AgxkobthLjF9sjuZmtHnxw2MiJHLzO3m57LB6LzcrP7zgmk4HVxQCFZPuBuboabnV2NCs3w/aTmGlid/NhHUZ40yhuBO6qqsN8WL+Byw/m2XZLICRf2NuL8IZ9DULyzM/ewltaCfeb2GF1tvE824J2WBZhdDUxpl/PIiJyE29ModgiR82i1OthFfn9fQiF1iE6ttI9OjsXkuuzJWT3DKJ/Zwr5OyvZ25pjTOd866icjqE7FELPnvzyePNzjOcYTwbIABkgA2SADJABMkAGyMCaYGCeeWm9tpGeqPfVHMOmiDr04xYOOguRI3lea6btCpdNftc3FZHFefPPN6z+lm4mIovjVkqOZLXMje894r+XofoKYLGhTE3ansfyGUEGVjQDFJIJ6JICaj6Id+Dkp0EPDjN0yqbtO7ApvAmjHwUdZz0M916Yvxg7r0lRUHk6+9wbMqRxMtDZ9Xg+7fVkM6CjNBoxQjUPHCqirVDNCz22z+SReDaE0FMxaCs+9PM8hOSFthevt6TP1qb9X69A29WNUKgHifPVlVMuMsK2IANkgAyQATJABsgAGSADZOAJZMB0kGnh+HJvAvFwGPvO32+fgU9OYqtYKy23WAN7ZHrjunMLNz9HrNf2quuw84oC+ZhCcksR2axD6c1ehLedxO1m7Hw0aq4r+9iqlYhs/L621ozfeF8V8r02vI+JPWGE21ibftwyB/3mb7W+vOwsNmsjftd+36etaKsVwACF5BXQCEEPgyfy81bhrT89iR1i4jJdwuimMALDW1vX6WjC5W3rJ0lIfvQA95t4Ztem89DGNOSuBHhS6lUUz2rQzhZR9Q3Zq6M6lYN2/Ic4dOQ4tNN5lAO8Qms3C8a9CjcDwg/XysifOo4jB97AD49rCDxutoT8aQ25iwFlflhFaUKDNpZDcSbAg3KuitLFnFEeo/7niyh7jpXl1c6X/AXKhzWUzov7+JT1YQ2VawXkxszvtbMFlG5V/fOP1iooXzHbQVxLE2WZ9S+33V5T5rVqd0xbGOedLTTUwTtW6DNlFM879c5fKaM6553wtvhf1G3aqVuzazSU92YRudOijmW3TR/qqF63vrNsUKmJcuioXAywsei3tRLSW0RY6wGkpxSuPNfLT5X9+X1YQ9lowxwKwttWnKfULTdZglmOYJtUJ+JYHwqh+/8axSlNe/w+IOwzXkRFbZe5qsPI6RwK16vQ/fIbN9SnhsqUyVZ+WtintZAsuJfcGufMVVAYN+tVUvp2Q9t2yKJgU/BbEOOLaPPxAkpWH6xdbzEuecds7/+e9hd9qhlP+kzRrLPV1/Vq2SzXeMHdDuI+7baFGDutcchgy1vGeh36HcvWE8r46m1DYSfZb8RY3YrJNsY2OS7oNzVEu0IIPZdAoRrMuDyer7QRGSADZIAMkAEyQAbIABkgA2TgMRiwROL4uWCR+PbYDoQ3vIFik7U8dxsIh5pehFtEeZTnzL77OnrDm3H4g2ZCqFXHz4o4vCmMXpcgusQ5ktsUkY36SZG4qfORv63aEpGN3/WWSLxnItiB6ROxht2LN662YePHKLNs08bXNoTsFcBiY7kfo2/5rLnw+rQnGVgaBigkcwBa4h0dlidxbByzPraf0XbYIa1v/GiT/d47IJiezftw4b6nozyaRfH4PuzYaOUT2dCPHd/Loui3eK4KyZ/N4LJ63rc3Y+h7WVz+xH/SN3s1i32vbcbz4TDC4TB6N27F0PfewvgHsy57eneGGf9b54jznL/XMe4tY9t1uY3sK2GENxxotIdl49pUGgMiLPBL/mGBa9fSGBTfhwaRvqYIdbKNhJD3svh+E177P/5XhEJdiJ32EXj1KnJ71hueo+v35HxEPR2V8bgRYvWpgReN43r2+oVa1VE+EcU6UaYXkygowpZkwQh1/I2A7x/qKJ9NYkB8b9TL/dq3K22H762MmyFfQ9syKKuinqz7XBmZbeL8bsTGK3b71qY1xF90X9e+18Y4MlcsQblWRu5Q1Mita39vl6kHseNeD1tFBBxOIz3c71OHbkSOFFDxiP76rULA8cKTNoL0xQCRW9bVeNVRmUwjKrxv7XLK9wNIjHkFd6e8PbtSSA712OetG9LsMlavaUi8JK+jvvYgdlRDemdXg41lWws+DX5fTaNkCM91CPv7Xu+pCFITZbcAKzwyh9YZ14+OpJEwWFbLEELoGwNInvWcJ+2iV5DbLbjuRvzH7yM3LLw7H78P2H1EiJHH4+hvsLfgO+awpJTHrE8XIgdSiCkcDh4rQW8hJFevZBDpNuvfvz9niqgzecSfEZ9FkL0uNzg4bdvXIYui7fSZAjLDIhy4x9ahEPr3ZJAdGTS+6ztQcG84kPVs8jofnmpXUqaNX4wjtT9ijENG2Z6JIy/zLnXaFvbYGOztWz2fQI+wwcsOv3WbyfWIHdOQHjLHTbetehA75unnHYxtZv8xx1Jx3fnYWfZBvnrmGk3YpK1oKzJABsgAGSADZIAMkAEyQAZu/Ggzwhtex7hPREYzt20vXn+nRYhq+3fHA9weM4Xht6bbEC2N8x6g9KYow1YcLrjXKl18fjqBA2JN8ZXDKH3mbrcHU4exKRxUzge4rY3iZFldN53FxHfCCDcTX+06KffqREQ2zhchnXuNMhe968L1Ombe8RfR2xeRrbKVR7FZ1N8vlPhnJRx+JYze74w35Fd22deub+dlfjA9itf/7DJmA9I+So5cTlaf3ccDz/HLz6LS1rY9+Jk/J7QL7bJyGaCQzAHMFsaWqqPKPBMNwmndCmv9oxtmmcpWGJKGHWYBYa1nJhD/dhi9W/Yhe66I0gclFK9OILt3q7EL78B5zwRNCskF8+H//GuHMV4o4sZHN1AsjOPwa88jHH4e8Xfd55kTkucx9OY4Ll8t4fYnN4z7nPzBEJ5/xZ3X2Ssk160cJ5dHwgj/yUncuHcf960/14O+o7rMYmLP8+jdMopS0E7GWgkZw6OzD8lJT2jThzUURhyx0ggd7OkXtgCzLYOfnzE9M9ftzDYIr4bn27cs0cgvBLARYlUIhj340/8wiqg4NhxHzpuT1S6vuJafQOMIXEHlNYRH4UH6ahypY1lkjyYR3zmALiHoPOvcc15Csghz/JxVz2ciSBzJIDuaRmI4YomB/UhdFHauoXhkwBbS+rbFkTyaReZQAhFb/OtB/Kwqyjt1s0WlpwYQHY4jsSeGyEYhiJr3jhxTRN25MrLbrTKFejC4K4n0aAbp/VEMCG9Ecc63oopI6Pdg0lE+HTdFL3H8c5H/n733j43jvM99948ANdAAFtDARwh8rysiCUTAta3AAkRcR4iZCoiICI5ZubpiqKDKysGRtzqosFdFBVZGY9GCL0H4BDRhW/RWqqSSOVS9Km2VUqh0VaqyKdmOl3alQ+mELVkf1V3HarT32Cdnr6/TPBffd+b9NTuzXJJrmaIfAfYud2feeed5P/PuzPu83++LHXv2o+cHGWx2jrth3wiumkjZmPqm7sGGLZ3Y8WSw3dWXugIjWNV7LTZ9vws9otd3NlgzT33nm/VBn2Q1DEzSG5g9pSc+pJD68gZ07t6vNN38dTF45VzvQucLF21kuDHttD4p/Ma6Tej8XgY7vrsZ67+oP9ft5mtTeusIOmWb0HDU0cmLvQZUmuHSVQzvttffXb/biewPerB/d6dTr3uQGXIYiTmfVNMGbP7ODnSp7Wyb+OZhCZPHs6Yt1u8ZtpG4cxjJmrlUPSyqKNxhZAzjt2P9lgz2P9WDrp0Oj6qt5m9wLpQn04+Fx5VzWvutzejc1Resu72Qtli0kazZk8ke6wOWf5BFp2E5hXt2HjETMuQc6u3b1PVj+gVhO2aSUKSvv1n3ATyO38dQD+pBBsgAGSADZIAMkAEyQAaWGQPXL6uxOjFyH/vhEMbOXsCFsydx+M+2qKCUb/zZON6LPo/NvIjHd3arscmxVy7j8itjGPtRHx576N7AEP6bGoZwtCz5+/o7GP9hcLx7H3oM3X9xEmOnx3HhlXE17tn9h99Wdbl3ax/GYwzZGzfELN6Be5tWY2NYL3/MtDriOYiEvhc7fngyGJf9US/6ztQwv7WJvHYbnj83bcZI9VipfY2U8S/j6P7majR9dQsel/N65QIumDHgavNbm8hrO5/H+LQdi7Xlh59FzPTLf6nPvw9DoXYn/+JxbPlqvPle8zqeb51f6cW3725C01e/jccOyBj0GC4U38T4aYejP3rRGtlv9OEbEuz0R5FlIJcCi3F88rOb7snU5JPtwfaYgwEayXMIxAvsE7iRC9NSb/uLyA2QTmtt1q8I1/ToCY1l3VZxaa2vv4nnH0qeCTY98id4oGkbDuuoMykrNJJX331v/OwymcX259EZf+PovrsJG/vfjO9cIrO+qozk8BySPle8LeRctDaJryVc/GGwxqwYS9YEFB1GrCkqBks0Avj9qxjZLVGFv4HNz1xESW//OTdyUTixxwhMp3B7p05eFPHlyTCy8w7sOOyYZJLiVUdQh4aPidzUZRnzJi6CehZj+wLz9q7vWQNGX8uly+MYcVJ8L8RINhGGolU0kvzaJMZO2BS2pbeG0bVzP4ajqb5d08oz5a0JqIyuXUdwMYzCVedQuoqRHwSRnNrY1OcmBmtm7xG4qYnVd9Nj2P+7gWG1/slxzGodI69qIkAYqSoRz16ac4mEPJwJI6vXOhMS/Pre870B//hXR5BdFxy76rvQcOwK6xaN+tZ171KRzBvQc66EG9Nj6AojitfuDqNp9XlIGvLnQiPcncjgGa9fQecz4/65TY+jR0VEp3D7d2wUdaBrCZMvBFHrJnq+UdfA9A2IKa2iVVPrkXXNYjmn0iSG94YTEb5sJz/YaFbR9Q5sfsrypus8/lQk2lfa7wXdfimoyQBuRHsdRrJEL9fFokRwfz+MTP9aFkde0xHO4e+JROnvsua5b3bP8ZuzCJ48IzmmXgtqC9MXxU14Cc7F9BexEcnhdbl32JjFug0nh7TpryebzK9vk3JKr/Zgk/Sj6+KzUQTHmkNzfX3xNf53n7pQFzJABsgAGSADZIAMkAEyQAZiGXgPl0f68Fj7WqxWWQnvxTe2Poa+05HxUL3v9Bie/+Md2KizLDY14d7WLXjshyfxZqzRW+ez3MwFDB14DFu+qeuhMysmZ2J0nxXfKZ5E3x9uwTfEPJXzCLM4xmZ/vPEeLgw8hm+H297bugO9Z92o5Uidzz7uZGt0MzdG3z+Oca2Tfr0+jfG/eBw7WiUQSDI1rsXG9OMY8qKkg+MlZ4iMHOfPxqtYfu9tOf9vY62YuqZNxhIjhV3tqt7Po85qX7V9Nx7butEcX51nHEdXJcBqNTb2xExSuLFEWNRtx9cqzqpYoUbUaIkxQCN5iTXIZ6PTiE9vbdJaO20Sl946Lq31e6f/BKvFKI6aeqas93Dyj5qw2r0hCI3kpoQ020FbTONwZxOazDoh43i8qQlb4tKamGPZm6Ikwzjpcznmgs4l5thRlky0sJvG9UZgZMnar7d/K4MdytCLGCLaYLqjEwM/lfVlbQSzjhBVxzJRxPegc9fmwBzz0kVbw1FHEevITs+8c8pf//0MNkkkqGsKitGsU9R65WvdXbNlwEZcJmi0WCN5OBpNnXCcaHvI3+Y8fsdN3211UqZ+HNPSJk1iQK1Fl7tmcOKxbZl3fPeIP5HA7DOL8ScD8zEu0lbVXyYV7AkMQGvu27Kjxrbso9s4tSZj0webYwZtVjoXml2R9OGeRmFbXz2RDczsdTEmvpQrpvF3gzTBm34YRiU7RnLc5AJ1nJfCcr+cwbCruez7nSCKXkUQyzEcRhd1DUi06O8FEeYbnoymOA95FqNSXZfOxAznfG7f0oeLriGstLVtoiaOlGYx1tup1niWyQkbZJKAiSgPj6Ov84TU1vNhsfTTcE3e6JrWbrvLhIAw1fl8jOTF8GSut9RaZKPRuQtti0YYyU7KdnWdaZ3en8WYd03Or29z18pWfW60zfVx+MqHEzJABsgAGSADZIAMkAEyQAbIABkgA2SADJABMkAGEhigkZwgjDeYy20afgFVp7d+E89/qwkbn4tE+hafx8amB9Br0lvHp7UeP7AaTb9/GJdrtNU7xx8L1lzW24RG8ra/TJgJGG53+c+3oKlJz3x7D+MHgjVGdg+M4c2r1WtPuOwkGcZJn8u+CzoXfU61XiVKUK3t6kQAm8/uwo6jF3HxuU6V+tk1CfWaxioaMzSsTMSwE2FnPvvmfoz9dCQ0iZyIYWO4SGRpmGI1LrJTf/ZbmzFwbhLDOyWy0THRTIT07eh8zklf7Jz77EvhWqgSiRemPu47PILx1676a+feuIGFGMk3JLW1WUP4Hmz6Xhd6njuCkXOTmK0y9cTcnMXFl45g4Lk+9P0gix3f7UTndzqx+Vvh+rGeuW9NwETT15iLEdNfNJidxNjQAAae6cP+PTvUceRYm9aJGZqCu26xy6ob5br5OT9C3N1uVhuuEuGoIqVtfb0JAao9xJwOImprmoUJ61ArwzY0rgNT2B4r9bUM9j/Th4HnBrz/+p7pQ1e4TrOYxsowdYzXTRJV77Ciz630Wh82yZraesJEuI2agCGpwdf4xrXhfTHXgDFvw2jrmHopMzA0E01EtHs+vXHnY3X6yvf6MBCuRSztf0dVxHV9RvJ8WDSMONpone2rNUUtGxL13oUd39tR9V+XSlW+OJ6MkRydLCC6L7QtTL8Wcy2G7TlXRPKGJ2Vd67AdIq8yyUKtXx/WeT592w2pm1rSYD321zXhJL4Ots34PbUgA2SADJABMkAGyAAZIANkgAyQATJABsgAGSADnzUGaCRHBm0/awB8aucbTW+tDOONeL4Y7YQCg/kBnd46Lq21mK9/FklFolLGxH2mDWGb2vrxs9FjRv5WaVacaOfr7+DCj7qd1DSrsfabW9R6FdGUwkmGcdLn0h4LOpc6OdbRfNrwM1HKYYpmWQtWRbqKiSvpaMWwUtGYkbWVTfTxWnSdmvUiNFX6a0kxHJpfa/eOYPZ9G33rRbvGRHbqOurIUROB+s0ejItxqQ2fuLWVtQ7vz+Li4Sw2hGmaxUAz/zVtQtfRi6pOoveCjGSJJi70IRNGVJqy1XHuQeeTIyYSunR5BPsfCkxcfzunTglGsjXYIkwa49U3r2bP9KBTRSo7ZbvnXstIvqbX0f4KMkORdbS1rmGq3MDY2hFGGDum5a7hwLg121uzcO2egIPYPkcZo1LnyBrJksZ4TQqp39yMPuFRIjSd9bwT9dTnrFOGG+M1Ur6p5w1IFG2n8OIZySVcfGazYqeqLRpwDajIXVknXK43ifZ36mPfS2rtzfgNt+3M+dyOzhcmY/azbVKtkZuW3OFKX1cJEclV56/rGsOiMU4l0vaacwy9j3otmT7ClC3tG6alj9Z77V6J2LbfL4QnYyR/TU+CsHVbcFss2kj+DWx+IXniRhWX8+jbZgv7g/WUkyKevfawWlj2+Bm1IANkgAyQATJABsgAGSADZIAMkAEyQAbIABkgA591BmgkcyA1xoS4GR3DO3hxZxN0Wuk3n9uIpm89jzdj2kN990AvLly/gbi01nIRqxTYv/88Lsy8g3dq/veePd8FRSRHtLn+Ht65+ibGf9SHx765Gk13b8OQkxY3yTBO+nzB5xKjW2znpqN91frGVzEerpusU03fMNG+KWz64TiuvhpGaYrxMu2eu10PWUygq28NB+ssOyacWQ/5dzIYfkuvsxwYX270nRvZOWbWTXYMUmPUSFTdVXgR0nOlan1/FpPnRnDkuR507dyM9ZImOzR7s8cDs1Qb16kk00uOr1ILx5mQJcz+dBwjh/vQs2cHNq0L0hTLMTb8YAyz/zprUkGn7t+BnqExjL96ERfD/8aOhmugNsJINvVM4a4tXRh4adw51jiGnwzWyK4rIjkhaleYMtGmMRHJxhA0PFojNvVQHy4mmYqay4iRfPVERqVIv32LXrfYGqS3/14PRs5ZLbWm3utbs0GkpzFe49ow4LrKsJNzkHTHDwkza9EVTYXsrAm+4GvAmLfrsb8QRukb7fT1Zg3X6ojkpPOxOgW8r0f2hREM7NQR8J3BRBH3WKYu7trntpzqtg3rF2Mkl7SB+cVOHElK/W6yIaTgli3X09hLIxjx/hvDmFpjfHE8GSM5LlLanP882+Ka7h/uwo6ECRhXj+7AHdLvuMc1TKZQKyLZmMHNGX899jn7tlmM/SDIBuClX3fbnO/t/QC1oBZkgAyQATJABsgAGSADZIAMkAEyQAbIABkgA2QglgEayQQjFoxYE7LBWqlU0007MDQTRB1/e+ByfF3efh7fVumt49NaS12DdYWlLG2+1PG6oDWSa5R7/QJ6H/DTcycZxkmfL/hc6m0bNwJ4bx+yyiB10k+76/b+bhY9e4I1c8XomI0cw0Qzf3kHep4K1l+1KbHDtWq3SCTuXeh8cj86v5xCKi6K2InszPTuxyZJIywR0sa4tmbW2p09YXRvJEI6UrdEfq9N4sj3JVW2Na+MueSZubadjSEeMTljj/F+YHTdLqaRGNNv63Vg76lek1VFNYcRg96x7fm6Bpt3vDjzTkx/Oe7/vgNH3rL1D/azBlyikXzDGpaph8Lo76iu71/F8O7AjLSpzmvXV1JGb/5NMWPvQeZoTOSlRJk+FZjcXkSyHEulNfcnH4iRvVbOs3kHEtenfr/kpzA3pl2S8RofkWzSCldNpAj0XfQ1ULqIPnWNpJC4hu30GPZ/XfRzUrnPeT62TVK/tQn7XwojzKWsb4WTKb61358cYozUxRvJKqWy6ltSWL83Zj1mWTv7RFcQLetcix7jUfbCvxfMk9u3uYauPs6i2yKFWMPWmZyTZCTL5/5EnfD6dSKw49fCdq7zaN92Vfc9tdKmO/trHfgafx9CXagLGSADZIAMkAEyQAbIABkgA2SADJABMkAGyMBnlAEayZ/Rhq9nwP4T3+adF/FYUxN2/Onj2Nj0bTz/dtKg9mU8/1ATHvjTx7G7qQmPHX+nusO6fhmH/2A1Vv/BYVy+HlfOe3jz7Jt4z23v0Eheffe92Pbn8Sb25T/fhtVN30DvRV3mO7hcjDm+lHt9HI/f3YQtTllJhrFaBzmMsq7SeSHnIpHR7+k61n41EcBixsl/0UhRJ7I1iGZMMCKciMJgu2pzd/LoDtylj5NKwURUuu3gRHYG5aSwXqJ5nW2seRTWOWLszb42giMvHMGYSg9cwuTRLmSfGsakWsPX0UPMyV2BEWpMWmOgSRTxCK46axyXLo+hZ8tdYRSzNSFLrw4gu6cPY1XRlpKGuDOIPhQj+b/qaMU7VApiNxL7xuxFDHw3LLsRRvJPB7BZTPjUJvSc89Mkl356BJn7A+1cI9nXTczUMLW5RFTvHcako4WklR5/boeKEE6l1gcpzVUbWdPSaOq0nYpy3xtERqZSX8HmfQMYKQSRxONnhtG3U38n9bMamxTmX+z00z5LlPDvBanC7/i9/RiJpoSeHkff99Zj81OSCjls+zmN1zgj2Z5XosnbgGvg6vEs7lHXyD3IHL7oG+DXLuLIrrUBfxLZf7ne87F1j7aJmN87ZFJHKoW1kopct7G5DhpgJN+QazATnlcKa7+3H0dOjQeR+OfGcOTJTvOd1CNax6o+sRE8zWUki7m9kLZwJ2A078DAq05kuaSh1lkHpI1dA9swqdviiB+xL5NSjoaTJlJfwY6jksK8/r7t7RPhOvHf6vHLdbXk++p7CWpCTcgAGSADZIAMkAEyQAbIABkgA2SADJABMkAGyIDHAI1kAuEBUXMAv+FahemtZT3jh57H5RrlXx74NprUusc1oo7/ZRzdkl76q1vwJwNDGDs9jvGzYxiTtNMP3Yumrz6GF02Uq7NG8p+/iN2tTbh36+M4PDKGC69cwNjIYTy+9V40Nd2LHX9pTeb3zj6Oe5uacO9Dj6H7L05i7PQFXHhlLNi+XY69CPLqlAAAIABJREFUGy86UdFJRvJ757rxjabV2PinhzF2dhzjI8+j90f2ODfmdS5voq+1CU1378aL7zimaZKeJgJYDAw/2jNof5u2Wkweb03jSJkmLbSYJBFzV5VlUhbLsaqNZs2biexUhlqMcR0x7LwIaZNaNoWUrKMsUcDrAnNGoqHXb9mB7A96sH93Jzat02sVr7episUgNRGxKdy+bhM6v9OJzi2bsPZzuhx5DU3Oko6UDb77yjc3Y8ee/di/L4POb4Wpg1MpbHpKorjtWtHKRN3Tg75n+tD3VBabf8cpuwFGskrDHEa3pr64AZkn+9SxevZ2BhG8StsUjJEc1U2lnS5hcsgagKnb12Pz9zLIfL8TG5z6bnJNWjHSngoi1xMNQTFEd7uGsXPuUq8vrsVaWStYayxrV4eTEPRa2ZoVeRVe7FrQ0sad2LErgx1bNoRGdxjVrtPMG9POMaojLFeltjYTKiSlumMORvZb9DUgEav7Av3URIr7N6FzZwaZ77r8rUfXCWfd6jnPp3ab2GjgO9D5zHiQ/ruhRvINtZ61TDwITPJIeysW78LakKlEbiJaGwYWwJPsa7IPuIaue4yFtIXwKGvLN+tz/Ao2bOlUfcjm39WTUMLv3OOaNtT7pZD63Fps+s4Odb1tCid+KKNdG/7TdfZtJ97GSJg5YNMPLwbt654n33+K9z11/Eazfdg+ZIAMkAEyQAbIABkgA2SADJABMkAGyAAZIANLiAEayUuoMcwg+WeoTkF66yYkprXWWqj01k1o+v4Q3tGfxb1efwcXfvQ4dnxzLVYr47kJ97ZuwWM/PIk3oyZrGJH8+NkbuPHOmzjZswMb160ODOuvfgNb/rAPJ2Oij9+7PI7DBx7DllYxmpvUf6vXbcSOPxvChcgxkoxkaevLI49jW3i81eu+jT/5y0jEdN3nMo2h79+L1d/sxXhdUcmOURyXajo06jYrYy/OaHYGwh2j2DN3dds4qbRjjWa9nWMUJxnX1rCLGM2S5lmtY6tN7xImX+rDjq9r09gxasTAun0DskcjkZ+lqxh5crMXPa1MPYnM3dmFzNekDGtCln46jP3fDSNFQ4NWby/m9eYfjNho3muTGN63KYhS9ra9C5u+uzkw2hphJEu7XR5Bz3esmW3q9Fvr0fmdwMi1RnJUN92uJVx9qQedjpFlyrljA7KHx22kr2q/2qal7ddKmDxzBPt3dWJDaLqtfWgHup4ZxsW3xtGjUi5/BRlZZ1Z4+J6YcHeFkZi6bva19NYI9sedq0S4fqcHI260uDHtbBvaegVlRo1kE7kvkeXRyHbNrbw24hqQyQzPZLBepQCP8Pq1DPrOOCayHHPO85mrTWYx/sPNUCnYUxuw/9RVmAjwVCMikm07zf50BAP7dkCbqnd8bTMyPxjAyGuTGNkXMLl2rxM97mpb8/08eArLmdNIlu3m2xa67FePIKNSkEfar3kzsnvCviXWSP4NbPpBH/Z/N+a6Td2Dzt4xGzUuEcn19G2XR5Bdk0LqNzej7zU/O0GUe/5tWaUW1IIMkAEyQAbIABkgA2SADJABMkAGyAAZIANkgAxUM0AjueZAdbVghIiaLAcGSlfHMfzcAAaOX4yYgmH7ipkyNICBF4Yx7kZxV10vYmwcwcBzRzB2Od6wEMPvyHMDOHIqZn1cp7zZV4cx8NwAhs9FTDO9zexFjLwwgIGjrrES1FdSUA8fHsb4Vb8Os29dxJich0QBP3cEI4VJzOpUvrpc57U0PYmx40cw8MwABobGcFHKk/S0xwdU3UZe8yNTZftxdf4S/TuAIy+NY3Lar4PmpXRVbyu6jwXb6XM6PIJJFREcnM/Vc8OqDomahe2jzsk1TNW5lDD703GMyHmLnqcuKiNKt4Pb5km6qTq/X8LV10RXKecIRs4lazdnfcXk1mmmHb21NtbEDCYJKFP3iymkPIM9vu8pXb6I8RPSZn0YODqC8bf8NgrOJbkNTR10W7wwgov/OIux0OSMXffWO4fGXQM3SrOYLATXy8DhEYz/9Gp8NGkNJvX5zNkm719V17hEyA8MjePq7CRGpK0j1/zc5QR9RSyLtdpczPDvBJM9Nj9Xu2/Q5+S+zocnvZ/wfuQ54aS6D9HbmNd628Jl4f0SJs8F7Wf6m/dlgkfMcWMmA8y+Na7aoE+u2zMXcdXpE0y9wuPV6tuuHs+oyPzbtwzYCS1uPfmeM1rJABkgA2SADJABMkAGyAAZIANkgAyQATJABsgAGaiTARrJdQoVHcTl3/GmDnWhLmSADPgMlDB5eAfWP9SFI+diTF6JBtepnb/ehbHpEiaf61TRsvFrat8EfU0K4Uj0O38v6r65Kr3ah86vd2J/7GSVYA3ltSpC342Arqdt58tTPWV+CtvEGMn+dbPAOsk68Du/krBswQLLJPd1c9+QNqTe1JsMkAEyQAbIABkgA2SADJABMkAGyAAZIANkYAkxQCN5CTUGByA5yP1JMXDmzBmY9MReeuVIGlZ+R50ayIDi2V2LOZXCHV/fjMy+YK3onn07sMmsvXwPMkclMjWI8CWvt+a1qdpcUtrvcVK/f3kDOnfvD9cH78KOb9q1g9fvHcHVMHJ5rjZfGE83ltw1rc4jwUieS4NGfH/1akLWB94P8QGFDJABMkAGyAAZIANkgAyQATJABsgAGSADZIAMkIEIAzSSI4KoAV5+xgtlmTFAI/nWNOUaYRp9mmWY/nR6HAN7N8WuQa3qJ+tWH/bTrH+a9eaxF369mDYvXcXYMxlsuCOpLFlLfNhL6T6X7qbsefI0V7k3+3t1HjSSeZ+xzO4zzPXJ8yLbZIAMkAEyQAbIABkgA2SADJABMkAGyAAZWFYM0Egm0MsKaA5kMqqbDCxhBmYncfGUrIUta0rLutXhGs411oJley7h9qzn91PWGtbrBkuby1rieo3wevavtc2tzFMd61yT/Vuc/Vrs8jvee5IBMkAGyAAZIANkgAyQATJABsgAGSADZIAM3CIM0Ei+RRqKA8ocUCYDZIAMkAEyQAbIABkgA2SADJABMkAGyAAZIANkgAyQATJABsgAGSADZOBmMUAjmUYyZ32QATJABsgAGSADZIAMkAEyQAbIABkgA2SADJABMkAGyAAZIANkgAyQATJABjwGaCQTCA+ImzWDgcfhbBkyQAbIABkgA2SADJABMkAGyAAZIANkgAyQATJABsgAGSADZIAMkAEysHQZoJFMI5lGMhkgA2SADJABMkAGyAAZIANkgAyQATJABsgAGSADZIAMkAEyQAbIABkgA2TAY4BGMoHwgOCsj6U764Ntw7YhA2SADJABMkAGyAAZIANkgAyQATJABsgAGSADZIAMkAEyQAbIABm4WQzQSKaRTCOZDJABMkAGyAAZIANkgAyQATJABsgAGSADZIAMkAEyQAbIABkgA2SADJABMuAxQCOZQHhA3KwZDDwOZ8uQATJABsgAGSADZIAMkAEyQAbIABkgA2SADJABMkAGyAAZIANkgAyQgaXLAI1kGsk0kskAGSADZIAMkAEyQAbIABkgA2SADJABMkAGyAAZIANkgAyQATJABsgAGSADHgM0kgmEBwRnfSzdWR9sG7YNGSADZIAMkAEyQAbIABkgA2SADJABMkAGyAAZIANkgAyQATJABsjAzWKARjKNZBrJZIAMkAEyQAbIABkgA2SADJABMkAGyAAZIANkgAyQATJABsgAGSADZIAMkAGPARrJBMID4mbNYOBxOFuGDJABMkAGyAAZIANkgAyQATJABsgAGSADZIAMkAEyQAbIABkgA2SADCxdBmgk00imkUwGyAAZIANkgAyQATJABsgAGSADZIAMkAEyQAbIABkgA2SADJABMkAGyAAZ8BigkUwgPCA462Ppzvpg27BtyAAZIANkgAyQATJABsgAGSADZIAMkAEyQAbIABkgA2SADJABMkAGbhYDNJJpJNNIJgNkgAyQATJABsgAGSADZIAMkAEyQAbIABkgA2SADJABMkAGyAAZIANkgAx4DNBIJhAeEDdrBgOPw9kyZIAMkAEyQAbIABkgA2SADJABMkAGyAAZIANkgAyQATJABsgAGSADZGDpMkAjmUYyjWQyQAbIABkgA2SADJABMkAGyAAZIANkgAyQATJABsgAGSADZIAMkAEyQAbIgMcAjWQC4QHBWR9Ld9YH24ZtQwbIABkgA2SADJABMkAGyAAZIANkgAyQATJABsgAGSADZIAMkAEycLMYoJFMI5lGMhkgA2SADJABMkAGyAAZIANkgAyQATJABsgAGSADZIAMkAEyQAbIABkgA2TAY4BGMoHwgLhZMxh4HM6WIQNkgAyQATJABsgAGSADZIAMkAEyQAbIABkgA2SADJABMkAGyAAZIANLlwEayTSSaSSTATJABsgAGSADZIAMkAEyQAbIABkgA2SADJABMkAGyAAZIANkgAyQATJABjwGaCQTCA8IzvpYurM+2DZsGzJABsgAGSADZIAMkAEyQAbIABkgA2SADJABMkAGyAAZIANkgAyQgZvFAI1kGsk0kskAGSADZIAMkAEyQAbIABkgA2SADJABMkAGyAAZIANkgAyQATJABsgAGSADHgM0kgmEB8TNmsHA43C2DBkgA2SADJABMkAGyAAZIANkgAyQATJABsgAGSADZIAMkAEyQAbIABlYugzQSKaRTCOZDJABMkAGyAAZIANkgAyQATJABsgAGSADZIAMkAEyQAbIABkgA2SADJABMuAxQCOZQHhAcNbH0p31wbZh25ABMkAGyAAZIANkgAyQATJABsgAGSADZIAMkAEyQAbIABkgA2SADNwsBmgk00imkUwGyAAZIANkgAyQATJABsgAGSADZIAMkAEyQAbIABkgA2SADJABMkAGyAAZ8BigkUwgPCBu1gwGHoezZcgAGSADZIAMkAEyQAbIABkgA2SADJABMkAGyAAZIANkgAyQATJABsjA0mWARjKNZBrJZIAMkAEyQAbIABkgA2SADJABMkAGyAAZIANkgAyQATJABsgAGSADZIAMkAGPARrJBMIDgrM+lu6sD7YN24YMkAEyQAbIABkgA2SADJABMkAGyAAZIANkgAyQATJABsgAGSADZOBmMUAjmUYyjWQyQAbIABkgA2SADJABMkAGyAAZIANkgAyQATJABsgAGSADZIAMkAEyQAbIgMcAjWQC4QFxs2Yw8DicLUMGyAAZIANkgAyQATJABsgAGSADZIAMkAEyQAbIABkgA2SADJABMkAGli4DNJJpJNNIJgNkgAyQATJABsgAGSADZIAMkAEyQAbIABkgA2SADJABMkAGyAAZIANkgAx4DNBIJhAeEJz1sXRnfbBt2DZkgAyQATJABsgAGSADZIAMkAEyQAbIABkgA2SADJABMkAGyAAZIAM3iwEayTSSaSSTATJABsgAGSADZIAMkAEyQAbIABkgA2SADJABMkAGyAAZIANkgAyQATJABjwGGmYkRwvi31SAClABKkAFqAAVoAJUgApQASpABagAFaACVIAKUAEqQAWoABWgAlSAClABKrA8FEgtj9PgWVABKkAFqAAVoAJUgApQASpABagAFaACVIAKUAEqQAWoABWgAlSAClABKkAFqECjFKCR3CglWQ4VoAJUgApQASpABagAFaACVIAKUAEqQAWoABWgAlSAClABKkAFqAAVoAJUYJkoQCN5mTQkT4MKUAEqQAWoABWgAlSAClABKkAFqAAVoAJUgApQASpABagAFaACVIAKUAEq0CgFaCQ3SkmWQwWoABWgAlSAClABKkAFqAAVoAJUgApQASpABagAFaACVIAKUAEqQAWoABVYJgrQSF4mDcnToAJUgApQASpABagAFaACVIAKUAEqQAWoABWgAlSAClABKkAFqAAVoAJUgAo0SgEayY1SkuVQASpABagAFaACVIAKUAEqQAWoABWgAlSAClABKkAFqAAVoAJUgApQASpABZaJAjSSl0lD8jSoABWgAlSAClABKkAFqAAVoAJUgApQASpABagAFaACVIAKUAEqQAWoABWgAo1SgEZyo5RkOVSAClABKkAFqAAVoAJUgApQASpABagAFaACVIAKUAEqQAWoABWgAlSAClCBZaIAjeRl0pA8DSpABagAFaACVIAKUAEqQAWoABWgAlSAClABKkAFqAAVoAJUgApQASpABahAoxSgkdwoJVkOFaACVIAKUAEqQAWoABWgAlSAClABKkAFqAAVoAJUgApQASpABagAFaACVGCZKEAjeZk0JE+DClABKkAFqAAVoAJUgApQASpABagAFaACVIAKUAEqQAWoABWgAlSAClABKtAoBWgkN0pJlkMFqAAVoAJUgApQASpABagAFaACVIAKUAEqQAWoABWgAlSAClABKkAFqAAVWCYK0EheJg3J06ACVIAKUAEqQAWoABWgAlSAClABKkAFqAAVoAJUgApQASpABagAFaACVIAKNEoBGsmNUpLlUAEqQAWoABWgAlSAClABKkAFqAAVoAJUgApQASpABagAFaACVIAKUAEqQAWWiQI0kpdJQ/I0qAAVoAJUgApQASpABagAFaACVIAKUAEqQAWoABWgAlSAClABKkAFqAAVoAKNUoBGcqOUZDlUgApQASpABagAFaACVIAKUAEqQAWoABWgAlSAClABKkAFqAAVoAJUgApQgWWiAI3kZdKQPA0qQAWoABWgAlSAClABKkAFqAAVoAJUgApQASpABagAFaACVIAKUAEqQAWoQKMUoJHcKCVZDhWgAlSAClABKkAFqAAVoAJUgApQASpABagAFaACVIAKUAEqQAWoABWgAlRgmShAI3mZNCRPgwpQASpABagAFaACVIAKUAEqQAWoABWgAlSAClABKkAFqAAVoAJUgApQASrQKAVoJDdKSZZDBagAFaACVIAKUAEqQAWoABWgAlSAClABKkAFqAAVoAJUgApQASpABagAFVgmCtBIXiYNydOgAlSAClABKkAFqAAVoAJUgApQASpABagAFaACVIAKUAEqQAWoABWgAlSACjRKARrJjVKS5VABKkAFqAAVoAJUgApQASpABagAFaACVIAKUAEqQAWoABWgAlSAClABKkAFlokCNJKXSUPyNKgAFaACVIAKUAEqQAWoABWgAlSAClABKkAFqAAVoAJUgApQASpABagAFaACjVKARnKjlGQ5VIAKUAEqQAWoABWgAlSAClABKkAFqAAVoAJUgApQASpABagAFaACVIAKUIFlogCN5GXSkDwNKkAFqAAVoAJUgApQASpABagAFaACVIAKUAEqQAWoABWgAlSAClABKkAFqECjFKCR3CglWQ4VoAJUgApQASpABagAFaACVIAKUAEqQAWoABWgAlSAClABKkAFqAAVoAJUYJkoQCN5mTQkT4MKUAEqQAWoABWgAlSAClABKkAFqAAVoAJUgApQASpABagAFaACVIAKUAEq0CgFaCQ3SkmWQwWoABWgAlSAClABKkAFqMBNUODXAOQ//qMCVIAKUAEqQAWoABWgAlSAClABKkAFqAAV+CQVoJH8SarLsqkAFaACVIAKUAEqQAWoABVYsAK//vW/o1R+A5euHcWrP9uPn1z6Tzj99vfVf/JePpPvZBvZlv+oABWgAlSAClABKkAFqAAVoAJUgApQASpABRqnAI3kxmnJkqgAFaACVIAKUAEqQAWoABVogAK/+veP8LPSS/jJ5T8yxrE2kJNeZVvZR/blPypABagAFaACVIAKUAEqQAWoABWgAlSAClCBxStAI3nxGrIEKkAFqAAVoAJUgApQASpABRqkQOn/eRN/N/XHdRvIUWNZ9pUy+I8KUAEqQAWoABWgAlSAClABKkAFqAAVoAJUYHEK0EhenH7cmwpQASqwDBSoYOb8KApXysvgXHgKVIAKLCcFypdGkT9fQmU5nRTPpaYC//jz0QUbyFFDWcriPypABagAFaACVIAKUAEqQAWoABWgAlSAClCBhStAI3nh2nFPKmAV+LiC0pUpTF0K/7u2EEOugvK1Eiof22L5jgrcDAUqs3lkVqeQSq1B5ugUymSwgbLf4tf1hyXM6H7t0gxKHzZQmk+pqPL0BApnCsF/Z4vL4pw+JSk/2cN+XEbxUBrNqRRS92Uxeu2TPRxLXxoK/ON7f9MwE1mbylLmnP8+LgNv9gMvtwODqUX+1wK8nAXenAL4ezqn9NyAClABKkAFqAAVoAJUgApQASpABagAFVjaCtBIXtrtc8vWrjw5iK6daaS3p5F+NIveE/WZU5XZAvr3yD4ZdB+vc5/pUfTuDo+1PdjvpkcuXS+g6z4x4oL/1uwtzMuMq8yOomtjuP99GQxeWogRvRRwqaB0aQL5gW5kt7ej5XNWk1RqFVq3ZdDVN4jCJUaXLaq1xGAZ6kbm0YD77LMT8+LNO/bHJRT2tRh2V2wbxEyNC6hyrYjRo73o2tmBNmU+h228ohUdO7vQe7SAqVKNAryDL+8/lsN1XT7fjZawX0ulWtB9/lbtmzRrFUwNtBveU3emkZ8lr1qdJfX64RRyW+1vSOuBRfRzS+rEWJkkBf61/FrDTWRtJkvZif/+5wxwunWR5nGC+Tw2Cvwy8cj8ggpQASpABagAFaACVIAKUAEqQAWoABWgAkteARrJS76JbtEKXhsNIxzDQeA70xicnmOw/uMSRnc32wH+z7Ujd6mOffY4+6Ra0HX2UzA6FmMki5G3d40971QKK7bXNvOWIhWlN/LofmSVdx7aWI97XflwF/KTn0JbLUXx5lOnSgmFnnbcZsy9FFbuzKO0wKinyqUc2j+vzZpVyByfiU0hW7k2gcG9bVjhHDeuXYPPmpHuGcXUZ7l5672uP5a04nkMHh1E/ny89vPBo9Hb0khutKIszygwJ/sVzBzPYJXuc+7swOCVOe4JTOF8c6sp8NHHH+JvL++el5H84unfx8DJTrxU/P6c+0nZcoyqf7+uAK9lPhkTWUU2rwJemwF+XXVkfkAFqAAVoAJUgApQASpABagAFaACVIAKUIFbQgEaybdEM92ClazMIL/TNRVXIXNipvaJRM3nVAodh6ZiTS1TUKmArvu1CZZC6v4uFErm25v3ZjFGcmUGg9tX+Absxl4UbxUT7uMyJgbC9KN6wL/u12ZkDhUXHk1781p4aRypPIXB3TZ6WBu5CzaSPy570cipjb2YiOGudL4fHXc611m97buxG6NzTSBZGso2vhZ1XtflN3rRGuo530wGja90dYk0kqs14SeNUaAu9ssT6NXZOlIptDzBqOTGqL/0Srny7vE5zWAdXXy6+AcYeOqeIO15yzr0vzK3kSz7yjGq/lVmgJGVn6CRnAJGBlH7ZraqVvyAClABKkAFqAAVoAJUgArc+gqYcd46AoXU2cpk4ixaVqxCR9+t+exnxlA2LL1x3cr1GbUkYylm3O/Why1yBtcn0L91FW57IIv8Z3VcMiLJ4v6sYOrZdhVc1LK3sOBgpsXVgXt/2grQSP60W2DZHr+CmaE0VjqGU/Pu0ZodzcwJJ/JI7/dIDlMxASRaNvMDHW7fvKf2MfR+DX9djJGMCmZOZIMBUXUeK+Y20Bt+AgssUEzkp9t8Ezxsi5Ub0uh6OofcofC/p7uQ3uRGj4fG5MP9t45pvkCZGrFb5VoBvY+sjNd6gRHJam3kL2mDOD4auXSm2xid2rhWr/e1I3Og32/fDdH6rUT66ByTQRohzpIso77ruvSy7fdoJN+MhmRq65uhcj3HqI/9yL0E10quR9pbbpuPf/W/8ON/+I/1Gcmvd+Kp/2sVflPfJ87DSJZjyLG8f+Ui8FcJaakXvVZyWO5f9QKfhcEaT1j+QQWoABWgAlSAClCBz5ACkTFBb+xE3beuQfuuXgze5Cxklclw4vqD3Shcr7c9bGao2+ZY+mzOEudrJLvLG92d/XQCheY8qdobmHHqpWAkSxawC3n07mz1shoqPn+7DZmePIrLdGm68tkurAmfGdsHbvK45Jz9QQorHkyja2AUxVtmqbUKin3B+P9c/k7tK4Tf3soK0Ei+lVtvide9Mj2Iji9okyqF1H01bgIqJeR3uRHM4X4101uXMdHT6hhrzci+/GmEIwOI/EjM3xAKftxVetuzM7dIhG5glOkfZn2j3Ly9F6NXkkdMdYrkYPs29F5I3naJI37Tqle+lEd2nXMt6QH08HVhEckRg+buLEav+adUmc4jc3fkuA9kkDubnIK5PJlH16Ygwr555yBmakwE8Y+2HP+a67r2Tc359xufvGbmIUixxjWSP3nFPytHmAf7ZvBB+qI6spt8ViRcRud57Rev1Gciv/L7+NM/+A/OfV8KqXkYyRKVLMfy/iUZyYVRYHoKmBoF/q4LGL5t4VHLNJI9yfkHFaACVIAKUAEqQAWWnQKRMUE9Phb32vbEKG6Wd2eM5FQKbX11ZgOUzI/h+NNNN5Il0OZUNzoebFui2QsrmHm5G5lH0+iS7IoxIJsxlE/bSL5ejM1oWMXkijb0niktvwRK14vI7WpDy9ZujLpm7fUJ5Pakkd7V638e05YL/mge/UEqtQaZgYmb1ics+JxAI3nh2i2fPZe1kVw604vM9jTS8/3v0Sxy5z8lQ3L5sAVUppDb5qZsrmFCeAPFvnGVmN76wyJ6Nznbrs5UGWE3Tc7Ij8RSNIQaroXcXD7g6C83pgcKdf/4lWenMDUbd9vV8Jre0gWWzvZWpZVufiSNNifV9IKMZEk//6iNIK6K5o9b4/eRfkzU0zVWypi5MoPSZ9pErgO7SGrxpdhvmIcgGsl1NCg3qVuB+bAfmWi2ale+7t8ZXZ8P3i2i8OIx5F44iIMHD+LgCzkce7GA4rsf6E1iXz+YfR0nhw/b/Q4dQ75QxBy7xZb16X/4S1z58WF1/sMX3/v0q+PU4K13XqjLSH7x2Dqslb7ogTX44/+8Dv+HvJ+nkSyIKKXsAAAgAElEQVTH8v7FGskrg3WNvQ0BvDsBjLXP31CmkRxVkn9TASpABagAFaACVGB5KWDGBGPGPT+uoHSpgMEn2rFKPVen0HGTIiRdIzl1ZwcGr1Rq6x7JOnjzjeTa1fv0v7VmWtL4jRlD+TSN5HIR/Vv1ePwKtO3JYfSSYxZXSpg6O4iuh8MxwQ3dmKg7Yv3Tb4VF1cD4D/WmW1/A0Wr1B6hAxsMnXs6ha6vN2tm67+ZNMFnAGUHWamJE8sKUW057LWMjuYKZQ+1+1EL4g101+ybu88+1ofdsPY7JcsKh0edSwVSkDVp7JmJmbAVpU2wa7BVY9TnHoExIb12Z7Eeb03arduYxE3dP9OEMiqcG0bs3YyYVZPb2YvBUMTla8sMZFI4PQkUIn5kKIoQlJcj5vC1ndzcGJTLz4/ojkivTE8gfDcqVsgdPBWVLlK79PI+CO1vq4zKmToX7vGxnKZWlrGe71Ew4mSyReaIf+QvOjUFcc6q0JqPI9dj90ru70X98AjPz8nQrmDqaVmsj6Otp5bbaacjjqhP3WXlyVOk+ODSK4rWgQSulKYwe6kb20TTSj2bQ1ZeQfmUBbV2+UgiOJ+0hx0y4eTL1ku2OFzx2zHeyv55aWp5BYagX2Z3hZJadXYHO8zFX5Sa+x00dfhvaewqYuTaB3g32GlmQkVwqIHufLqMZ2VN+f1e5lEP75/X3KaRWZxq3rohw+MYoBp92ONzZhd6hAqbiOEy4BiqzE8j32TIye3rVNVmWa7LGP3XtDHTbthGmns1jwr3ukvavlDF1Po/+J2x/ItdQ7kT1NVTzupbbsNkJ9D5sNV61PYfC5JRas2bq0hSm3nob439t+4u87ouS6iZlThdsXxLhNHE3ebB9YxQ555wy+/qRPz+DmbPdaDH9bMxDsS40RhcpY/DsFMpuv1yeQmHInlPhUlyD60LlNeh3VX/p9Jlmi3qPa3fA1IBzb3BnGvnEdq+gfGUCeWFF+h6ZlPZoFt0DeUxcKSfO2F1sf+ByUwizO1SuFS3ru4K+xJuo8eEMJk7k0L07rKfaplBXvy5ljx51+yo5x+QUS3H1Q6UU/M7uCa+LnVn0Hi1gKqE/nZP9K6XgtzVsN2/pi1rZTUw72zfvXRwOzOODB5EbHsHpH59E/ljOfBZvqv4S0z85ZrYJ9hvB8CFtRA/jlXd/ZQ9S690vLmDo4EGcvFJro5vwXfl1DIuJroz005i+CYes9xB/f3VfXUby6bfTePH0Vgxd+D5eyq9fkJEsx/L+xRrJKWC4HTjZBZzPA/9tBvjI2eufC8BIc/2GMo1kRzy+pQJUgApQASpABajAMlSgpnGkz7eM4rPhs+gD8cadrGFbPJUPxqhOFFCMC76Q8ZEzedQ1PqBTW4fP9M27EsZNwyrKOJCbWTLJSK5cm8KErufRQYyen4oPJJjLtJPnyJfD8QEZU/kQ0M/TMh5hhhL0GK0eM1JGaKiTHP+NGX/cQUvuvipDfwJ5PR5xSo/hVDBzNqiDfv52d9PvVb0O9aN7a5hNc2MW/YdyQVs5Yy9RI1nadEKf49AoJuRZVxea8FoXBwn7QiZtHwizd4q3USvaWHQ9lPPHoKVcCQ6ZLFitjhdQnI4fuzHtFY5Hy/ht4YRu0wKmwnHdpOrWzZJbgIwpSv1kjOjoIPJnYsb3DTPhOG/4d+7pbLh8XzPSB3LIhWX89d+ew6i8HxqNH5fUx78+hVFhSLOoP3df6+oPAGmr4tFMmIJ7FdJDCSm4hfcLeqw8jwmZFOCMe5Yvhd+9XKy5pKgZ/z7lZycozxZNm+XFK7keR2gdRvKHJUydt/UsROppJDJjvNb/UGNv4bWp2jMeN9s/hLxV7RcZc69cF9M+5LEGx6ZuAOrTw+mrdF1miwEbwtGJudl3j3mrvKeRbAbI7WC+NsZSNJMXzbEyo1yNN/WiGLmoIZGRO21a6xXb+pF/2hnoj01vLSZ1hzNRYCXSQ85NhtRcOqYT3Wh3IjdN2+o63dmO7hOhUeyerbnZES7a0H9+AoO71jjHC3m5rytYZ8T8SASfx81MK0/mkDbr0Yoxl8bgpaBzNjcaql4RU68yg8Ftt4XHXon0wCjyB9q99afd82rZPRj7o1eZLaBX3/Do86/5WmN2lrtuiSqjBd1nE3p5V9c539sfJjmn5t15FE/1on1F9fXZfsj5gV1EW88cd9fyTjpnv15iqto00P53a3bnUTjejfaV1XVW7XRfBoOT89BKZhJuk1mCLcgeDX/sy8VFG8nlN8K1cqT9VnRgcNq9UahgSj/ghIy09xXnvNmds3kBlN4YRNdGzXOMRnd2oD+aESJ6DRwqYPTpDjOb1+Vf3q/aFh85LQZYbldL9XVsroPmmumTShdyyDwYU2e9/4o2dA3ZG7Kk67p0yl0TvUZ592VxcL87kWANus74hr+neXkCvRtteSsfrf2QKPsqTXbG9G36nNzlCVLxRrK0abaWLusc5qUtt9tI+JpLHkj9JvvRruuSWuGtuT2v4xqh/JTKqQQjWXTp31mLlRRadvZjouqhaPH9gcfNugz6n844Zr5t39SmXkyUKihfGkTmfudzo1fwO5N7I6G/+XAGoz3J11EqtRLtB0a9STMio1e/B7uQfzmHTFLq/Tvb1aQ83bvUz3742xq2m38v0Yb+SV2iadjYNx/97DQOi3F6OI/XI8bvBz87g2PKWB3CK+/7u5ffCM3nwyN4+xfud7/Cu+eHAjP28Elc+aX7XcL7n51W23/qRjIkIvmYisaON88T6n8TPh77h0ydRvL3zXYLNZLlWN6/JCO5an3kFmC8APyPcO//OQOcqTM6mUayJzn/oAJUgApQASpABajAslPAjAnGPzPr81VLAKrxrTb0h+OB6rvKDAoJYxwtO3PquU+XUXpZjydExg71Bs6rF5GsnhNbkscU1NisjZCUsZWokSwT13sfTXhOjjz7qWqYsdWYsbYPp5DfE5a1sh39atk7+zztjavqcj7Xhq6nu+LH29xxB0cDeZs8dtCM9NOD6FXRuyuRPj4T2VP/aesVHX9SfztjhOZ5eXUaXXvjn7ebt8uYVcwz7Tw40DWLvlau5NChgkJWeeMn0e1i/1bGZhfa3bFrZ3yherzZ6tKyO4fcvrbqtZhTKbTs8hmWY8+bJVXhCmbO9KIjugRfyLYZM5VtNTOpkD3zd/zYSdv/PYT/rLKerkBiZlTY8aSV2wfjg9nk2HX2B+qU3ACi6KT5jyvK12iLGRNPbciaseXKFb20qIyVJIz/OFkp258NxncrpQnkHo0bD2xGx9OFyPnZtq5aI7lSwsRAwrjVurQa4/VoN2O8q5DuG0TvNusJ2eurGem+GnXY3o3u7XF1b0P3qRlUyjMYTfBOWvfm432TBeqx5tHehH5xZRAM5p28avVb9n80kp0O0cLqdCqfZ2Tyouj+sIh+N/20mLKRAeDKbB5pY/YGhnBZoiGdqOT2aNqXqBnxhYgRJj9+fR1exGxs+6r2X4GO6Foh0R8Yz0xx+NDR0uZHIvjOu+GRH8greWRM9GcKklLGHdw3NxqqPpGbQdPBOsedg9vWAwV/neVSAd1OBGuyFs4xxMBPSnszm0fmt51tN8ZMEFgQOPaHKaijTsXiHCvUyBhqi2zrRhvJdWl79yKjextgJHvn/WA3Jtx7jaqJAtXX7bybV9ppKBtviEV5/lLaT7m0gGtARcg75yQmcHp1lKO4v9cg+3JkUoo8eJzpDmctxu3jf9YxENyUJV3X5bNd4YxDf78qdu7rwukJfUMYbFvLHC6dccudw3SWBrw+gd5Hkq6xuLpFH4orKJ2qU5cV7egPDU374CvHWInM8Wq9A74kIj+cSSuMfCkTRg8v7LhBmfbGX+kdYyRXZkdrrknutdO6bGRdnWgfFqdj5LNIf+BzE9k2cq2sejiNdrcvjnyv6vpAFwrR+QflInLb427Wq4/XssdPsTSf+qnjO9fzfNgvuNHM1yfMOl2pVDOyL0dPKK5H+gCv/1UQgTvyVrzje2U0+P7w+Lu2gI+u4KSKPD6MM/9kP7bvfonLJ4OI5sM/SRposFt/EJrSn76RbOu0lN79Gr825rCsYVzvfws1kqV871/dRnIqiEAe6gDeKgG/BvBRGTifnjsymUayJzn/oAJUgApQASpABajAslPAjAlGn5kjZ2rGGlvRqyf8fijBNdbAbdmaQffTveja2W7HDTZ2m2XG7PN0ZOwwcij50xjJq9Po3RcG7EiAjzNWoneT8QSVjezuNLr3BhPaPSNZxoke0c+LzWjb3oXeZ/vRu6cDrdro+kIHcq5Bbs43YiS7z6NfSjvjo/Z52htXNeXo46ew5uEOZHZnkdnWhmb9HCzP1pGMY6Wz7phFC9p3daP/2V5kt7dFAnRqGclASbInuhHJG4KI5JxEJcdFJOs6pZrRti2NzO4M0g9b40uMyCk30GqeHOh281+doKsFpKt2x5Rue6BDZb7M9XUj87DD576CE/Vq28uOkzSjTTIO9nUju9WZdLCh245LLIQlMXGHMratV7chva8X/VK/TXpsYwVkPE7hbZgJ2TMRyRkTkdzxRA7SfrlDgxid/GfMDIWZNzf2+mOkWuTrE+hWQRRzjLfV2x+E5YovklHm/Rp0mSCtMooD1tdYuaED2QP96N2bRpse29TjbB+XMLo7aCO5bkpOtLKuugnSCMfVKtdGnTGWNWiXNnu6GxmnzfyxINvWnpFcKWF0r23nVRvT6OoJ6tlqvJ7IOGvcGO+drUjv7UV/TxfSG2zwiQRr2eyztg6Gt7vb0LEzi+zODtjjNaP1QV2GXH8ZZPdk0LFRc5JC6xO+TovRw9TlzlZ0PJpBdlca7Q/YACoJzJorc6Zup6X+SiPZdOz2x8gAoL/7fBBRs9Qbc2nWr4Li025EXSoysyeS1nplOoiM9H5UUkg93O//wEaMzBWSVtmZ4SE3CjYdq7RtKzJPD6JwoYjiGwXk+/QPh253iah1BqbND47+3r6u2tCBjk3Bj3/b0+EPlPmRCLZzb3jElOhyo/WEp0jEpT8wH7kZjOtgJery4Sx6D+VRODOKwZ7IzB8x1o0JXLHpcxTTq9DRI6kwZjAzO4XimRwy3lrHK9AqN65OZGWULS+aNZWCe77Rbef3d8yPgr4OUy1o39Ye/DBImuXw5nCxbe0ZqnqmWlWlI/VyZhu660R4fce6NLqfHcTo2QmVNjYTMfKTftyrDh33waKNZP+6FHPSu9GI8JxKSLsUV7XEz2T22y5785lKrUGHpE8+M4EJST0fif5s2edMhki4Bpq3dqH/aB6F83JNd0WyD6xyDMrgZnqFYSmFlkclHXUBE2clpXPa3ozKNjIxwnmwUjd1kRmPrbt6kT9bRHGyiMJQP7Ibw5uU364j00B5CvmeDNJbW/0HF7npkPTJ+r+9g5i6bm8IA74iD2BacGd2odoucg56M/Mq6Y6ecExaOe8HM+iXVC+TUyhK+u7dke8jEcnVurQg0zeKCZWeu4iJE5GZovpm/HoB3U6fs2LboNd/mzrKOuxOpKtmYsHHVQXPYSR/OOVHTEtf+0gXci9PqLaeOJVDt7OOjWjtPwBG+grN3Dz6A//3IPzt2ZBB79AoCi8PJsx0lAjpXnU9jSoe7U2r1FHPOFUSqMk3TtYPOYdHZKmGokqrLr+RuT3u77Z7LUUikvX5pVqQfqIfg6cKGD2eQ9cj9gZdjt/yRHg9z4d95xqUzCWD2+2kh6rJZQYa9800CkcOI3fsNKbdtMTOJtdfDaOLR23e6Y/eGgkijodfj1mKI9z52rkg0vnQGUz/u1NgzNt3x4N1iWkkx4gTfrQkI5JP9QPnc8CpjhijuBk4XwzSXX9cBsbniEymkZzc+PyGClABKkAFqAAVoALLQQEzhlLbSDZL9JmscBVlXqml/iQ72wVnXFKM4NkCusPgnNYnJgIzIlxWaF6prSWb4hWdwey2yLispJ0qolcdZyXSR4sohssUekayyk7Vi+wT+eol4WSSepgdrVWPk0q7mrFVO44h2b/MhPa7nexligP7PO2NM5pygsCc/rN+euiKZOkKzbU2N5uejCmEYw9rdg5W1VvGa7tNVrfaRnKAaUL9HIa95/mN3RiNZP+beTk07L3xlQVw4BzTvBVDcU8w7qbHT8x39byR8ZB9WfTLMo7e9lK/TJAV8LdlPFZ/afWQ5/4VjwRZ0/S38upmUJM66bHH8vn5saSibsPMj7Lknx/QXcHU8Sxa7nQyORpmLHuqXkmfy5dmDGpN1fJ/8rVZcuvh/upsq6rw8H919gdmF2fMU/Nrs7I1I6OzU+odJJpfm7dSlzJQvhBmnZQxSY+5IGNrYV9g9qqxGTF/94STGjZ1o+Bl2qugdL4fHcoEdifx27Z2jeTSy9rcb0VXNCinMoNRPe7ojOOr8R2TeVVM3VHHLJaTrECuk1Y13tSMzAnNo62DGmfam/cz6F0vot8NllmXRd54I2EqcW3OuwGJ6rpZuB6qLnsiUc6VEgp6qUrPQ9CNeGu+0kg2g6DWKBQAqv6jmbxgwqOmo5f+IWJ+2O+i6yv7Hb90VKucdvLSHH84hX4zSy6M/nVnxIVnUpnMocNNP/yIY1abHxbLwm0PR28AHEnMj0SwvbnhkUjgSER2d8z6FN6NhkRbuevVOj8oAZdrqn9EpJM97mqywqb6jkSXrpHossjsJGkju950K3ojUePOmaq30agy70YxuvG8/vZ/FMz5HirGr3fSgLb+JIxkuUGtWuvXubFW52WiK+clULDxYo1kMRH32pmQhlddlchEjdTWxqx/rW7St7aifXd/zBoskZTHrnlddQ2sRMez4UOUrrPcoE7mvDTot7n1Vjda7Wjd2oXBqrXEhTvXWHMjsCNRsalVSLtp1fXxJb362VG4a/7WvK5lv6R+Q5cZvpobwrDPaz1Qfe72JlP6ID8FdKQ49adNfRP2cQ/3YsKNAJWtxHDUN1nq2M5DsaTf0evuqO/a0KtSUflHk3rZflb3bf5EhlSqvSpThZTi9/OtQfmLOq6UWttIltTLa5zfllbnQcecmdxkhjfhuo+yfXZ1Hzbf/sDnJoWW3Xl/IlW03xOjNlpP54FZ1dG5FiSdWtqJYo5dJ+vjEvSDhtrfmcwVrZ/6bYzM+kYkzXrVZJQ62fc0D2fYSn1a9CCK2WBhb7TJe9Axkqd/HEQpHzv/Xo1Cp3H6BdkulxC1DEwXDuNwLihLrUus1yeW16FXEL3cPph9HadfPIacKvegSkF97MXTeH32g+p6XDmpzO7DhXcA/ArXLxXsus8v5HDsxQIu/1v1Gs46Anvo1ejRAfz7B5h57SSGD9v1ow8eOoZ84TKu/39+FaSuJ4fn3s7fK/mv+tdIthHLC41Irm+N5JXAa060eaUEXOgGhsKoZJX2eiUwXgTkfkrSXJ+ssWYyjeTkxuc3VIAKUAEqQAWoABVYDgqY5xvnmTl6XhKF+2g44VZnN1TjdTIJODmdrhkPiKa9jZYf87eJSFbL8lVgoo5dU0eekY+GS749IqZUBTMJRnLMIcKP7HOwF6hgxlaDMd3KtBNoIyaya/Kokmw53jiVKScanKRrZMcYVjgph82Ywv1ZZ3k6vU/waiI1U402ksMxDP9wCEy0YBym/dlwyb5GceBMwDZlR4+/0L9NGzjR9LDtJUvmJWW1NJHOdY2D2jItS2UTpOaN83nnUkG57Njfpr6+nxA3ucEWI8cOxgatPxF+awLeYpbWtAUE7+rpD9x9nAkAarwP9nxjx2tk32ujyKolzkLOKlPIbQsm30eXJpRgjGAMKLwOTQR0m82M4NbHGTezWRFtuxgj2XCbQtvT1eOUqkgZv1aTNZwJLO4Yb1IQjIz9hYGJts1tHVLrYjLvyTiiWUrQNcGdkzNt02zS/KtgFRURvjA9kuqiWFPltqA7ZrzUqdUt85ZGsjNgHAwIh4PqsZ83o22rEy2mo8YW+irRZm7EzS2DzTwrWtapH0JtndlLakDbpDrwO2NljLjprfUPrNPBBm3m/yiYGX5hG0rUsPNT4lTedsxBOY55ZH5wwjrLTVZ0Ro9TUpwhVCpN+DNhUi3Vs3PCMvyBeW22hF+6HWzMGiWmGpE6Bz8+4cxCJxo2dq0H05HK+bqpNEzp3hubSifQZ64bFJkd2LUz4drZ1eukhnV+FHT79ST8GKk0Pf2OAS4/XPNv64YbyQ7fnmhi9g+56zFH2tnfuPZfizaSSxjdZSMGW0Vj54hq3R4nnbt7I+5s1uC3FcwcddY9NzN0paHddcJTSDS2o32DznBQR02l3whmuwnTq5DRqXMldY0TPZtyJ5zMUW7N61r29a67GpH9zs2Z6qvuiz4ERfqyqu+jFXXSHanrrMVJn+Nv65+D81AsRqWzLq885EUnqKiSpE1cAzCMNLfr9gR9SJTBaARqSj9oL/K4NY3kSF39tdB9XeyNZlB/cyPtPkiJtgvoDxI1N1WQ9najxWMeUCOTRVJq4EAKiLT95/3fT3OIaP/qXI9z1y84TrHPiWqOXov1sq8rJOfjmPfeoILeZt6v7+LcscDoHX5Dm7XX8cpQ8NnJ/1qrwDIu/Ci6r7/99X8o4PSPTyMfHkNMYflb/XfuCvQRgV9i+ifHgijogweRGx5R24w4Ru2xn0zDS84dGskHTxZx+ceHQ9P5JE6P5nFMm9cvDOGVn/t1SjSSfzmNM38Zmt7KiD6J0z8ewbBK8X0QB48VMBOaydcvhlHcpq4j1nweegW17He/Nvavt955oe6U1jr19UKNZDmW9y8ptfXJXuC1AvAvzq/juwUgv8KJUG4BimGa638ejBjNjulMI9mTnH9QASpABagAFaACVGDZKWCebyR6cALFS1Mm21P+6CBysq6vznL2OWcSthnHWwWVZvfoIAa9/3LI9WXDsYq5gz6iuvpGcjC2kt8ZjAXpycgy4T+j6taK7vNy7zuHkVyewcTLgxg8lEPvvozJqNb+QGBieVHM5vza0H20PzyOPEPrY1XVGPo50nvmM+W4Jqa/b+lEJsj4ZiZB2+dmryx/N0Amaj8sdWqwkWyewSMHdJ7VzbitOb9FciBjGuFYnyk7cvi5/6ygJBOVhdtnu5HVY7kmhbgzLuSOf2yrtWawXqoqYqjVy5IzJthxVEenznEmRtPImEfS52Fx1qfwx1lkHESNGcYtHRatiukPXK2iGzl/qyC74PpRgVrO+cr6u5J62+8XBpEb6EUmzOCnx/nNWL1XR2uOr9oZpIk2Yzor2tDVl6sqW67t/n3twXKh93chWHbMjteb8S+jpeOnOKcVvLWTPMx+zvklj+NLav5wzH91FqMqWYOtg51k4B+wcincx404djdR46v+9b5YPZLqojI9KBN9EeP/bt2XwHsayaFZNbeJHAwWN3S7pB+VJQBGQ6sgs0iesPnyrUkTMdaiA81mtk+ovb4ZkA7ZSXea2uSmlAjKtCls5SYj3kaWczQz+xQHThSv6QyDY8/5A2x+JMK6bkgjs8mm4RRzNns8nGkWI67ptFQ9Ih2M08EKf95NmVtWxLA3N0qmkwzPJWIaShFqdpIx9JNvzPThqiKSY8rU28qrf36hRubac3/U7Y+CutaiTLiFhsbsYtu64UZyjZQVftSopJtNZsI71egfDTCS8zv1ehEp6NQp5jDCv5o1FbaVNvHMBp/MG3PTo9hwuKj3GpBUM3pNE1VG5Ca1RrV989w+QJgbl5DX+lLqBgfyuY9c17JJpN8w12xMPc1MWlUPp6+SbU36nfAaj4lY9oqMGqbmxtDbSv3hn4O9CTYPpKEuqXXtflpuM8GqA23O+vArHg3XN5Eb5fABVl3rMpvQCZIU3dt12fJANxQ8LCz6uM7MSnVcd43kyKQBucmONcdFmUg2DRtxG+nDFtAfJGluW8c+2KtziE3Jb2/W1Ta6Hh+XfN1Tq9CaNEHuETf1eouJOJ+7fkFN/WvRuZ7l63mwH5Tmn495ALGizPtdOVy7+OChk7hiUl/P4Exons6VijrRlI3URG+XVN4vdSrtwyMoRqKIf/VvRYwcDgxeb51nbSQfPIjDJ17Hu27E8L9/gMujQTrtg5H03LoufkTyL/H2X4cm8o9e8csCINHHr09rG1vrM4Rz7/oRz7/6txlcKentIiLM8ee1X7xSp5GcxuG/2IA/fnI9/ug/rcb/Jn3Ef1iF/7NrPf74yQ3oL9iIZW04R1/lWN6/JCNZRR2HZvDJfuC/h/eSN4rAXztm8nAXIA+1vyoDhTbHZKaR7OnMP6gAFaACVIAKUAEqsJwViDzfBM9p0bGvFFL3p9HvLHXnj0PEbG+eieW7uYM+ohKb52dn/FllDVOBA23oPT9llrxS2QvVLa993oyOP5Yv9CPtjhV59Qvq7+0TGVt1dVkpSxS6awSrytvnaW98xJQTea50TthEIuqxY9gsajXTPKvxJqm7HQdyio28Taifs5V5Xt7gL5lmN7H10mPNjePAmueJS4jZilS/k3Wa97mT1uOYtONCMulAG/81n9GNWW/HxebF0odF9KtsnwlRptVnEptWXW02F0vOJHaT0VPGf8Kl+qLRvnGHtuMdrlaxWwYfmrGokEFzvnH6V39msoRKOSqQzFmezGSrkyU9g0nS/thrdXnudWqDI6rb2nCbZNqqsxOfpgO3uX6GGeO9DR3hWF+cOlJ+WjLJGm/A1sHrH5ydzbi7HgNzvguqowOV7PW+WD2S6mInqVjuo9W51f6mkRzzo+ddMJ/k984P+a0GznzrK8aju2Zxs6RXLvupbKvSRkQH/NVgebnKlPRnr0TS0LomQUylTacXtrPpfM0PS9ChVhlt0bLmuGlsqxFVK0WZGw1Vj0gHYzrYoC7eTZlbj4i5aDsyfwA+tTJY89vY69eLGNzlGP0PdlenuHWPIx6KF72ZQs0bhirDPvoj5d4I2h8FdR0mdfyqPo1p65tpJCOSMlrfNEbknfvPSFuvrGV4xQnVvQEAACAASURBVJWmzCRrJBvu9bbX9WzBsK0iJp/ebDGvlWtTKJwYRP8T2WAGq5ndqPlwuKj3GhDWznY5qYkj15KucHkGxTN55Pq6kHlUIuU7grW3TX9vbyiqytORyrqsGq81r2vZL9Jv2Gs2plC5IXTXWpcJNGGgnFmnRdXf0S2mGPVRdJJOjYkC/jnYm2BfF91mdbw6KZZNeiNVbycKXB74epyHFyfCevHHTU5t7U+oSaEqStrVMzpBykQez6MPS+gPkjS3h7cP9sH9SlybJ9QjMrGo/vsdO2gxd/2CmtbsW+fDvirOPmxLnWteK1ao5Hc/fwVDKoX0YZy84pqfV3AyTEGdZPzqQuNNWf2tfdXbxZdno6I9o9juDmM0HzuHd/Xn2kg+UsA7cWs0l1/HsDqPIbzyvt4J0HXxjOR3z+GYbPvCCN52pbC72Xe/uIAhVe5JXI47rt1yXu8+/tX/wo//4T/ObSYX/wBPpb9QvfyM6kO+iB3H0zXLkGPIsbx/9RjJYir/lzTw38JO97+PAv/FMYr/rigZxgGJSnYNaP2eEcme5PyDClABKkAFqAAVoALLTgHn+WbVhg4TpZuWCdZb9QTdNciatT5DBczYYwu6jttI5qkwojn6WqoyXmsrGWckyxJWOmVs6s7mIOrwzrSTZto+b3rjjzIOFa4nvGpbNwbPFk3k9dSlIkafDlICe/uY8wvGClZt78foy71mSbK2A9HMZvY51nvmM+XEPfsGGlQbyU42rhpjHjIxP6smv9txoGRVE+rn7GCel+dhJNt0y4vnwAZMOZHvTv1qvbVjS63IPjuKickgsl44LJ4fDHWy40KukZyqGZGsA8LCCerzZckZE9TRt7XOQ32XxEzS506BZR0JKwbplQqUOfl5yTiXRj66rJezn3lr+gNXK/Nt1RtjZGpD1jnftgOjznVm28PtG2bMgtEB8yrgSrIpSpp6vQymk13RMLo6g9z5osqe4Jbnvb8yE6zNHjdpwGhZKyDNehLGO3DPLzGzKGCWSr07i0IkItnrHxxFF2IkL1aPpLrQSHYaZum/tT989Q+U1jEIboyGBmz7GTKSVcSckwY19UAXRs/n0GHS59qIM5ct0wGEurf3FVBwDYZUpLNyUoSodq9pRAZrCmRW27Y06y6azjD4brFGsuTLH/UWr3fP8pM2koHKtVE/ijs0blqcSMHgOmlG5ngdaUIi6WVtNJ5/XuYvWT/2VJD6Jifpb3Y7JpEXTWdvyuZsvwa1dU2zw5xArXrV+s4UELyJcJX4YxPZrerPRRvJ/hrJVbMzo9GWcp01aD2H8mQe3duaE4wAey3Kurk5vba5c5MhXHgPJhFxzA2AYnwlMifU3YbaqnJtAoP72oN0RzX7cvsAYR5G1Pb13QTqKvl1iTG1zc1lcN61eYgYoJIqX2YTKmNQ1lQKytCpanQdYl+dm/b56WnP39fFbbfa79v7nFT1ZrZksI+ZTCS6OFknTL/srXdS+zhaD/1qjxvR0ZlsJOm2253lFGr3+5HrXt/wOzfX6ti1foMS+gOfG6u5bcvo/Y1zrZiNIvXT9TAzgeenX+q+rHlgmrt+QSVq9q3zYl/W6y5hdI/tN6r6LHPedbz5+QUMh+sQD70aTcSsI24PIt74teXHmrL2a/NObxdbnjFmR/C2iYo2uwZvPnobI6EpfOEX4XfaSI5ZaznYIj5Ft66LaySXdarqv34bSVWwNbLG9+ETr2CmPPcedt/a7668e7ymCawji1888/sYyMf9txVDF2pHJMsxqv7VayQrMzkDvFMBfl0BLqStaSxRyZJRoTIDjKy0n9NIrpKbH1ABKkAFqAAVoAJUYFkqYJ5v4p7fyigOdASGbXTZPGddU3n+LH8cr07FRILEf5/0aayRLBubKMXgubD9WXeZOPu86Y69mPFZM4naPao1bd19rEGaQstuvbxjYG41qzGM5oi5bp9jvfER8+wc9+wb1MOMUZiIZMAuqRVj4stuYqqHa+LONyJZBUjFtJd5Xp6PkdxIDmT87NEwcGRDFwo1xqLFCC5dmoKaoOA8c1cFm4hWZpzGZdy2V+pz7chNxoNqjNJwXGL+LFkzUpab00EVLoFyLotfIzks0RkTbT0witEngjHsuschavYHfq3Lkzl0hBlCpfwgK549Xxknq47c1/WM0VvWTlap6lvQdWIUvSptuxOhLLua60milO2YqV8zoOLxbdvaGsJ2XWYVKOVtH5Z2fQK9Kkp6BdJHw6yc7hjvht74YDa5Ng8Euq+Q7AXqVG0dvP7BqbhhS4+BOd+pt+bYdtx3sXok1YVGclT8Jf23/eHTA8lL7vWzZCQ7P0hBO6xC2yNOFKxJUxCBKjrofXcb2lSHGA6CS/RsGCAS7BmJZHNMgkjJ6s9PKiJ55fZ+DD7d4RlW8Wlbwlqf73YitiOGk+nkgnP2bsrck4qYi9GOrHw2XM8h0UBbg8yh5BtX91BqUN9Z9zSVitTZ27j6D3ODp+ri3gjaH4U5TZho1OIC27qm2WGqXqtetb4zBag3Ji1H2AaxN2f+LvF/Rdp63hHJEe3MTYA5WsRsCyMAE9P8mv1qvZGHhawTLewaWbL+fAfaH7RR0gs1kn22nCjKyRzSzqQR9/dgzcMd6HjY6Y+clEZ+BOw80ujMlWlApDI3l4EW0Ws2qmbVury78iie7XXWdk5e69grK9qvOlHC3nZV52AfGMoX3D7Lfh7dv/bfEc7kweNSGTMvZ7DK9FP+WiuLP27kmE6/cbMjkpP6A/PgqTSI0zZ6f+P2oVrxhH5Jfk+222UXEn9PdDExr3PXL9ipZt86T/blNyevH4ZTKfiZSGIqmfSRYyIf/vEVf91htU+8AVtd3NxrJOt9tHkbayRrQ/iF05jWO1S92ijp0z8Lv9T7JRrJH5l01a5prOvifjbzk1ywPvOPk2vgVekXl3E6XEf6oBjcuWPIF4p453/4qa69fer446OPP8TfXt5dl5msTeX5vErZcoyqf4lGciswPgj8fZe/9vGpUeD/lf57AhjWUclrgLfKwK8qwN+300iuEpkfUAEqQAWoABWgAlRgmStgnm/int8QTADfHox3RMcGS6d0VrUWZIeKKHveUAUzp7rRvjGL/HT4RaWEoqxRfCq6bbXGiUayLBV3Igtl5m6IZiW0z5vu86IaP10hYxft6I8YhpXpPLLhZHB3H2vQRJ5ZxSTqaQsmxK9oR/8bemDXPsd64yPG+IqU45yyGQtyjGR5jiyEJqCMW3YcGEThjXD96gujyHlBLo6x5JTrv7WGecqNcq6UjelmnpfnYySrSfPz5MCvmPeXtEew7nUKqfvS6D81VT1JoTyD0b60YqBlTx4z5TIK+4JxMZPSWZcaGu6SnjiVchm37aXG2DZ1oxCJ2C1PDpq6tDxRUPVYCEtq/CQ0XNueGMWMe51I8NLRDNZ8fg0yA+G4dhIzcq2qQLdmdJ2xJmrFv/BUtkM3s2oq5Y9NaWliX+fqD2QO8vUpFAay1gt42DdUVRuGaeTbnshjSl8i4QHLl/LIbmpH95kSXCnU5IjQgE19Phz7eaDbW0pObaOvv7vTyJ2PlFEpodDXgdZHc85xbVu7Y8i2/wqX9HTN5A+nkN8TjrU6mQZlAvbgNhsQI/x5ZvnHFUyd0Jltm5E5MROeta2D1z84jbAgI9ntjxagR1Jd5mUkX5/C6NAgRi/otqhg5nweg8cLpg3KVwrID+UxoX8LnPO+WW+Z2toMVrumxk16/1kykuVH8eXwJiVGcxOJVkV+BVPPBulRXONHv3cj1YJdY9ZIrhFJaVN+SJs7646aH5yAhdqRafGGUOnDEgqRtSWSUlybGw2lTcSUjXSw3k2Zq1fEXPQ6snIR/Y9YrlvEOHukBc3r2tCxPYOuZ/Mo1pyl5h4oeC/GtPejurEbE/Y3uHoH5xNzg6fO170RtD8Kqo2TZhCpshrT1jXNDlPnWvWq9Z0pQL1J5M3fbO6/Im09fyPZufmVNtjUi2JkfD1qcqmbJnNzP3cVo1uoH3NJBaOv/wcy6D0xganr9pYnkYt6r4GqdPjhjV55wqRgUsdf0abS9BSn7Z2Yf772AcLchIT1ns+61jWvaxHI3FwGunjXbFRA+Vui8L315pvR9qA1BdV68faU4koIPlOzK539HohOyLG7+udgHxjsjX9Q9/ZDC1vv29c9hdZ9g+jfZicU2JmHYdWnB9GhHl4XetxkI1mMoe4HLKMr9XrOVg77zpmhqpgSDdUaz4vvD5I0dw6OmUPu76Lbh+qtEurhrPej6r2A+5C56xfUoWbfOl/2vT4v+K3WZ1r3q2sij8aZyEFJ0z8O1gs+dj4areweSUcu53Dmn9zPq99r87amkXzoDPSjUUwJJt12/UbyB3j9r4LzcE1jXRf3M32+B+s1ksMKfvTzGbx+bgTD4ZrSYioPX6ylWfWZRT/51/Jrn5iRLGXH/ksyksengF8jiD6ecKKPBzuAf64AH5WB0y3WNNbprd/usp8xIjlWcn5IBagAFaACVIAKUIFlp4B5vrHPzNFzVMaQmty+Ah1idukNxOw8EJqqMu6wrh3pnVlkd6XR/oB+br8NOqVvyUy8jowd6vKc12QjWZysEiZO5DE6aWoS7hlvJKtsaNvC+tzZhuzTOUjGwf4n0t7YoDdmacZWY55ZP5zC4PZVwRjRgzpy1j7HeuMjtcoJa23Gk1wjWb4TM2uvmxXRPvOrZ+I7W9CismXacSBHwqq3Ju2xBFxs60JvTxbt968x2R3N8/I8jWRles+Dg6qKRT4ov5FD2s1CeWcrOiTVuvz3iE63LlrchvaeAiQ7sgRS6HHelu3d6D+UQ26gF9mHw3ZS42Iu47a9lJbq+5Vo3ZpGZncG6U02q1hqQ3eYnjicWDFflsLJD2vCsbnUilZ0PJpFdrd7naxCWo9NJTFTKWFUB0atbEPmQC+6d7aieVOvH6gmARjOOHpd2f90G5j+IIVVGyOp7ren0eEF0aSwamtvlQEvEdYzLzvBOHK+2zPI7skg/fAaM7YaVy8biR+Omw3EjNcpn0D3Lyk0b+pAZncW2Ufdpf/c9Oi2rV0jOZZbVU47WkzGv1ZleGt5okayYudzLWiX85N+z8lQaNdul71tHbz+wRSMIA25MJLkJ5jx5cj1vgg9kupSt5HsjtOF2Q7dMVflfcmYWLi0gBr7jYzhOxJ8om9pJOsO6NN4XcAA7idKwydduOnEIz/aEv1Xa3H1Szm0x7ZPfPSdrN/b5myfGLmkZpy4NxPO7KJIXRdiJKuUNOUico4pkkrFp1MxNxqq3pGbQdPJBbp5N2Vum3kD7f4akuaGSsqP3lS5ZcznvdQrnFGpbxjW7NKpamoX5NXHTWHs/CioMpM6/rD4RrS1Xxf3hsg9B5tWpLpe9oes+junDOFNzwpT7ezw5mxW19tIW8/fSI6sJRyXmkgeZvbamxN1buuyyF+KPmREa1xB6Ww/MtvS6D2l06SLce0YX1/KmDS57t5+WzgPGvVeA5EbPZ1y3ayroXRf48061Mf3DU3nhiJiLsr1EzXddRnR15rXtWzs3FyKvok3H07BUeZVu6jzcibCONvHvy2j+HRC3xfZwW8T5/r40LmJkeM7661Eiqj9p2Sr0Dfx6jzc3wd33eSwmEUft4aRHK1Ljf5HRS+Hs0OlDeyN9OL7A58bR3OjpH2wD9rfuVacbYp9zmCEcy524EG0XoPsqTpnAIVlz12/YMNGGsnqJtoshdGC7hoTxIwE7ps6TWTZ5aO3RoII3eHX7eCOW5a8v3YOh9W6widxZY61grV5G2skf2Kprd/FuSOBkWzMZ8SvkTy/1NZRIYK/P5g9F645PYzXP4jfpt5P//G9v2m4mSxlJv5LMpL/PjSSZX63m8Z6cCXw2kxoMHdY01gilSXT9z/l7Gc0khNl5xdUgApQASpABagAFVhWCphn+7jnN32mQRRwYIS5Bk0wabw41IU2Z9K0edZf0YYuiVQOI/3sM3r82IY+mrzWNJLdDb339nkzOv5YuVZA//bIOJE8x3+hFentwRiDt48ZW417ZvWX4WveKSl87fO0Nz4yRzlSfaNL7JhnBTMX8ujdkzZZLlseyaD70CimZovoV+l/68xAJ2N7z6adLGrBGEbrgSDa1jwvz9dIlpP4uIx6OfCaLOmP60XkD/hGv+FK2m1dGv1nZkw0tRx/6ng8h2u2ptGuJkK4jNv2WvVoP3IH/Myc+lituwdRVBPvbUXnzZLaNRhvTDtGoz5GKtXqXSeJ0fByXUzn0aXSLTvjT19y1wmXgznrC+ul5Wz1a78z/YFTftV4VworN0qATVGZ+PEFVlA6n0PGCXiw57sK7QdG/UheXYhrlieMv6pNy1PIP5Gw/N8DGeQuuGNFtq3t+Fd4QOH2UBatbvCQPt8Hs5FyRFodkSyTGHLofTSmT0mtQfrZiYg2tg5e/6DPW4rWHpIzBuZ87RzbGffVGyxQj6S6zMdINn5B2F5qjFpH4D9dRNkZ776tRlZJfSqf1Otn2Eheg/Zt4UwcPSPnZr/urc90+6Qa/6aXKxFcO91ZTGGHmpTWWlcwmoZVd0b3d9nZTHpbeY2sGZr6QoeTJsVuWH6j31mjOQUv8s3cpAR1XLCRLJ3Y7KhJ8aI6fC9tS1Afc6Ohzq3RRrJE7nYgSEESnM+KB9qDWWgh85kn+pE7JKlxJjDjRIhateLfVS4NIv3bkR9G+ZE4rw3E6v0qsxMY3OOaWO4Npf1RUFoldfy62Aa0ddSYkx8AP4VzBTNnetFuTIzozKZIneUGwxiouqKA8NbuPBQsquNvgJGM2Twypu3ijZnYtbVXtCI7UPAiifVZVq4VIzchwayzSiSVtjZ49X7q1U15oq4DhwtzkxGydncGg1dsJHNQTgVTR/2beZlEIrZ36UxXkLJJlRtj4KubniClT3BT5t5QiOnqGHKplcHsYTddi1RAbjh6ssgesClZal7Xah8/Ata7GYuWH5ykuulxU/yam0g3TYzetsarX7cU1uzO+6mB5JScFETBcfwHhqlD4TpPStfbYNch9g8s6Vf692aQfTaY5ep/6896NecjZa6L6+ODaPoV6pjCw3yPW8NIDlkxM1xTKbTsjaRMkspXZjC6102F7k5qWnx/4LeNq7lWzj7YB3o514repNaknMh6WKn7nTRpZn85zxImhrqR3dXtTSCZu35BITWN5PL82PdSzMdNfHHrHX3vmciX8cEcxi9kTWK1hvLhhGjjX+LyySAd9OGfJMcR62rUNJJh1xwe+Yf49YZ/qY3tY+fwrin0ZGB2J6W2vnYOx5TR7a+9rOviRiTj3XDbg8N4fa55Qvr4Va86JfgQXnm/6st5f/CPPx9tmJksZdX8l2QkD7YBhRzwd5HU1mIOj3QD53PAaKs1jYczwWdn3OjlMPX1X/UieVZCzdrxSypABagAFaACVIAKUIFbQQF5djo+iNzRPCZqZfsTo+7UYDD+diYm3XCljJnJCZXiNHdU0pxORYyUwGycOpNH/uyMMZcTJSoVkT+aw+DxqCGTuIf6onxpFINqjDCmjrIW7XQRBUmvLXU8H9SxMltA/qiMKzr7fDiDwvFBDA6NVhmJugaVadkvp7QrTFdQmgyOnXfHFespRx0/h8GXrelujpE0viIbmPHfmLEiXUDMa3l2ChNKg/+fvbeLbetK0zV5kQtf1IUvChhdZIDyRl2EgC5kOICjIIimBEhABAU1kZACIiGZsQQBJTAeyyAcOC0YKngIGmPQngOH40EstoOwQgeyDz0lFehyu00rNepDz2nNbHc7TRk58igeeRo8I0+HozYMqo91+h2s/bv2H/8ky7L4BlC4ubnXWt961tqL9H7X931ZFB6UrfDClccFnfn1IOYVlO5mNb5ZK4ytq4F65oGrSNW3T0v6vBJz9LKYD3nIEfo8ZZ+WsHQ3Z8ydHNQfy0ClrIdUd8xx+/mHKaZVnqxAvWH075aKJeHqHPhfA3NJruN5BaUHBeS0ey7gPqk1ZwTjRX3OZm+oWPF4eOpRMNvEs6dGHSfM9UB4dDv+MsjeKkD9fglLjxv5x3cFJXHPXdfXjuwtteaze/2+ymjrRLUR0LCWV7Txzoi14koOhe9L9uYCiXt5uYD8jRzy98zwy9KH4lBiqs+xoOtMIdl+9lr+UdXWCmvd84yH3pbv+iCb8UTV1k/RvndMjfXzhr525R8EjEGdPGraIp41z+nfC+6Q77LJ2vHTFS1CRF5y3irfyyF7vWD1Q6wtuas5qFXvKU/N23qiZYXk8ImcSyzaVq6szJeAtAhbIkAIwWGtzUr8w1tXG8OSJx9wGEOnkshczWlfNCL0iiwWiJ1LsQVpAbF+SOjC1VaEZNELEdK4zwrpEIIW0kP6cel8ML/dQrK+I2dIFkIl/g7hRjsv5ZQwhyDwtYLSrYDcy/u7MXBkFNHTSSTPTyIyNuQIT2G3K4sg9o8Q7fNaQrIQfrY61iJ8xftOMbxzPGF82ScROyILRsZ1DrtcNmsM96PveAKp63nkb2S0UD/O+dbp6xUbhFn7ES9+kBt/qYuTGDB2JmmcRJho8WPQvGYu6Aer1IImwtv97o4XfJ9zi7krC+D2uMkhWobQJ4fMseZXtyGqu8OQt2HofA7qA5GbRkVhLumzw06aF24hWau/E6PxFLI38shdTWmhaGTbRBiTrJGbxbNZYDyF/L0lLD1Ygnoni4RnR639Y0YQ03ITy7nZhcB4JIaU+IF1J4fMhUljZ6axXpwvaP+gq3pfi4pdYyDWocj5FJLGjtE+ox5p1LRDIYw751MI3Wf9x89d1novNiO45n3b+1EkLuk/dBPH+xw53nW2LlHziStkeCiE/WJH5SV9LqYuu+8fKcyQZYhYIL33oGjP3AggX6odb6nd6kKyGBN3pIVQj+hTBtm5LDIirNP7duhtYeeBsYz1w04OtWPPx8bWA+e8cTHXAGxRSBY7a6/IeajFvD2ofUdqG4rEP3REeC7J41r+zqptnz5iVYXkRua+2PEth3RvZPfl//M3hqfsl/gqV4eIbEy2J//bFV2o/eoP+Pt/Mk5qL5v4xwXjs8t/xD88kz/zPzbF26/y/5dxwSb+RdKMLaH4qz9A/X9deYb/6e/xh690z+I//J3UmJkj+cuv8MeiywX4n1fw52/1Mm6h27TFISSjbIXB/vLbv8E//ie5H5t4cu+PmLHyST/B3+fzUB9LHRCXm5ynncK1XFOjx6X/7//A/NJnTQvKoqyoo+Z/gUKymf94G14pJNccBl5AAiRAAiRAAiRAAiRAAttPQPcq7f4whqwnhLe+edoKK+7JFb391uy9Gu3noaaQ/Mr28XkZKw8k4bOUR+xX4lnJASts+Svbt91muPWM1/nsdbeZSXu8BFpUSN6HobTuMVm+m0J07CV7JlfzhD6aQM6VqN47jK/OGWd4SrEgVw9rbfbMCk1gCVQ1Qo4YHoYHrOt1gcd+sC+/P4BRkZ9E3qG2zUKyEBfc3pLh8awlPjgfzG+/kFx+kEXUNxSGzEE+DiMyJ4ewMEfC/1XLvaGFOJHrqO+475TtwekRYRyCrX/bWuiXy05PVP9xFvb4jLU770Q9c8Zhl/3DKbhdJ4ugXNn+PXSLRs66fNsMDKEjt+Cy+1dV8uTey2DUJaT6tiuze30IiTv2HNLE2IbmSC0huRoH4RUu/QAUopWZf0W2MfDY+2PGu2EhqH1TPAeq3tfaUIgxkEJ+u+15bQBJv3/suIXXnw0h5fHQlsfa/7i8kHCkAag5piGvqFkWUQnqHde2ASR9QxLrXsZy1ISQI+S91/7m260hJGsbB3LeMEfusTHf/2rS9R3tuq/M66q8utcD57zxMtdCLMmh4n1ZuexwrFnGP5hPy572QfNZP995Iuj7ys8+fbyqCsmax3Sdc1+EhZJCV9Wdj3vtriUif/lVFn/66z/hTzcD/vJ/D2ekrWdY/uvf62Lyl18iNfMH/OmmlA94egZ/848u0dc7TbUz/3wva9fz9Vf4KvUlvvzqFlYsz2i/tv6EP8zoXs8i9/Dv/3oZkowMmELy5a/wlfCevjyDP9z8E/74b3+PlOZN/SWEKPwfrTZ04/yFZADPHuBPRijsL6dT+P2//aOzv9/ksfIvwOb/mcfvjfpTX3nbvPLvtpYj2Y1w8z//C/5DaRZ//Q8TdQvK4lpRRpSt67/KCvCHNtuz2AxHvZ2vf8iI25b/kQAJkAAJkAAJkAAJ7EECtf8dXf3fWiz/YvhoU82VGqutZwjRuIjIKDbwRzBgOUTYaQg5HvWNh34r288dZCH5VWJoLkllw0mpcyyGpHAgeM/IHyx5I79K/dqttmq8fYTk3WrvbrWrvb3dnLo7+tqiQnI3EosiLEMJudMRTJ7PIL8oPON205+K3NkhdH6c8o93v6PTZBsbq7gEnVphrc2m3eGt3Q/FzescrxWs3Ehg1Pph4PNl2CHncZUKb7uQLMInlJA/LYd0Fh53dXguWgusbr8j34hksvDqS0g5Hswvcac3ZRuGzmaRv5WFCFlhhdi4lMDkx07P2wPj2ca89ssryF+IoLOKYGIvwPvQPZ5A9p4tNOpdsX+EaNfWNc6i5BbGWhQXGw/SEY+Xp2nvwfEkcjeSGDC9yh12uWwOteFgoOjaiWjatWlBHkPf4xclJIt8OXI+cTk8r48h5SXkLlTJrWKNexsGTnnzn4gxEt7rDs98q4wIYxxB6lYeyQ/N+7SKkPzaQRwM8rBvH0XyjiQiG10ROVCCN1OIXCp55Kwc1l4hWVRTWkwhou1ING10vb4XRUbKIeIUBF0bREzETwpIfuT0cLXnXco//JNYE6T85OGj3rDUZvXVX42w7bJ3uzQmBz5KILeYl9YVf9FQhLDyenU72XSOJSHCVAX9p61Tkgds21jtPjXXbm0hWbPxiYrMiT7YIbSd/QmF9qPvhP88d+QmbmI9cM4bP+buNUG6VyzArnXJsWYZZ0yHSQAAIABJREFUF4l1LygPlzkPXtfzccmRc2rbp9dfXUgWOcLrm/sOD/zX/PpqddpxYOX+FSGea/79EQ8cpfU3//zj3+KPM1/Z4uzl3yObV/GPLidgn6LSqWdY/nPWFmB/n0X++ydwy9CirT/JQrAm6P4Jf/ujT2OmkHzlb/Af/+kfkJfLXZ7BH//9im8I70AhWVj7n57gwZ//gN9ftnmlvskif+8fnXX98wr+NjejC+Ja+OwUvpr5o7+dEoWtHP7rv/5nlMqL+P5xGv/uP/z3+Ovv/ztLWBbH4pz4TFwjrm3ov3+tAP8+8gKF5ANGTuWGrOLFJEACJEACJEACJEACrwgB89/vfHX/m/nlvremj/i3/ekBT05ja7xEDuqrdjhu67z5b2K+wo+Jztd+7mA+gxbn/a7frefMfqxcj3qfZ78TRU56jrVb+/Aq2aXxtnQO+9nrq9SH3WArhWT9zt3G/7sftEpfYO1RLbeueHAdE6JaNY+wl/WF8X4CubkEYleDc81uI6wdrKqC0qLId6GLmH65K/yNMXNIGOXknBv+BeyzFT23gwhJOnl0FKNHJ7Uwpb65RsxSRi4FXWjNIOcRPM0LjVdH/oMMHLk85EsrJagiFr/Z/ys5LIk9DUYODa29dBaO2PlGDhW9jCvfiKvugpYvQTAybRD5XW3xWsvBGqTlPC8jL4cP/TjjyZkqNxd4LMKBaHkmUkiciti5mE/EkBR23VGxIkURd9ej5xgwxjkop4G7kPm+mbE2ywo5+rGK3KWYHqVgXIT5zSAvckNo11SwouUx0fOJ2LkW7B9O2peJEGx+LGPlrgh5HENkbFTb8ZiZayz/tGQW9Pw0OhNL/Hfk2XB+lgnMxSLXKjrsFCTF5oGVoPlhFhU5L0TfLqeQ+NwYX2tsl1AKyGNhFS+pyKUTmBzXI0FERXjqO0soG+1Wlo18MnIOHetHhr6Oi80US1relQyS8ShGxyKIXdDrkQUvs03rVeScmEshcUJvO/K5CD9esOdjecnKyRGYK8Ps/0V9nmh1iHv23oonh0jV+9oySoS4LkG9nkJMrE9HIoie1decoKEQ4ca7re+mGhsA5HaCjsuCSwZJcb+a66OU86Qs5SwKzvdUQVnkqEnb80KEtU+J/B0in06t/8Q6d8tYG0WeJSkvSPWijbcr8oxYYeCv5rU1OKgNM0+LNs9EqP64SJGQr9Knra8H7nnjx1xeE4LyTdW9lor5dyuLlLFejY4b35FGris3m3rsE2VEbmxzw1KQjTXnvmuNqmeDgdvePfleEpKdntR7srcvvlPPVoC/kvIdb6c38l/l4HQnf/HdYQskQAIkQAIkQAIkQAIkQAIuAiLv6YJ4FmA8PzPzO9d4huWqhW9dBGrmiXVdv5vfimfCIqe3lvJrTq35fHM392VX22bqHOkMAp+97uoOtK5xLemRvF8IZE9FnoQYEnM5T57I3bCzYOBiHtmzMSvHZ+tOUfZ8SwSel5A7HrZ2g3WeyjtDeMuViwf2Ywesa+XdZPJlPHYT8BGOHruv2b3vSzeikid2nx6tYbeZ6yMk1xS8d1sftsseEUlDuqdDHySh8h8+20V3G+p5tdeDbQCwrVWI8FJ2lItOxO7UsSlhWy3YpZVRSN7+gdmsAH+XBOYGtsE7uROYmwT+bgUe1/Ptt5w1kgAJkAAJkAAJkAAJkAAJkAAJkAAJkMALJdCSQnL3eRXl8hIyp5PIzcUkzy7Ja9ny9noJ59qGkLolvKVzjYUWfqFThZW/mgRcokYorIW2LggvWzMn9FPhsZ1FYuygJSKHQrtUUNyVg+Bi7BdCdlfabRjlyh9c1Wv9ZfWDQrJFXssX/zPze6m+HPNWYR7sAIFXfD3YAUJ1N1FZQXbc3tzUdqTJKBl1N/gKXUgh+RUaLJpKAiRAAiRAAiRAAiRAAiRAAiRAAiRAAq82gRYUkvU8leV7KUxeyiN3ypkXdjd4Ix8YyyB/JYbELXf+2Fd7stH6l0Og8jiHybdM4ame1zYMXWw0j+/L6dvuaPXVF47KC3ao5IMnduEGFgrJ+lR3h5/v0NM07I77gFboBF799WDXjKRDSO5DcpHeyNbYUEi2UPCABEiABEiABEiABEiABEiABEiABEiABEjgxRJoPSF5/xAyD0ooXIxpXr/RN+sR1nbymjAiV/Kat3SBie9e7OxvodoryznEPmiTPI4D5nTbAGLXl4LDX7cQs/q7ugeEIyFQno0germAqjmG64eyvVdSSNZ4VpYzGP2Ffe/2iega20uatW2ZwB5YD7bMYBsreLqC/KUoIhcK/F7aRqysigRIgARIgARIgARIgARIgARIgARIgARIgATqJdB6QnJPAoUHeSRPC6/fCMIvM4S1X9tvRpG9lULsYoECQb2zmNfVR+B5GSt3c0jFoxg9MoQBbRNFGH0fjWL0RAKpORUl5lqtj6XrqtK9HDKXU0hdTiFzNY8VcnQR2uLb52Us3cgYjDPI3GjNzQ7lB3lk0vY8W6KKvMWJ9WKKcz14MVxZKwmQAAmQAAmQAAmQAAmQAAmQAAmQAAmQAAmQwM4TaDkhOXwiB/VGAjHh9Ttm597bDSGthQ2dp3LIX5pE6h4Vgp2/HdgiCZAACZAACZAACZAACZAACZAACZAACZAACZAACZAACZAACZAACZCAINBiQvI+DF3KIxuPaV6/Q212iNDdISR3IzaX07yll+jRyDuUBEiABEiABEiABEiABEiABEiABEiABEiABEiABEiABEiABEiABEjgJRFoMSG5G7F0CrGzWeQvDNTOF+sXevpFnns/gdxcArGrK6i8pAnBZkmABEiABEiABEiABEiABEiABEiABEiABEiABEiABEiABEiABEiABEigtYTkN0aRODuJxFwOifd3mzdyCAMX88iejSH7I2Vk3pokQAIkQAIkQAIkQAIkQAIkQAIkQAIkQAIkQAIkQAIkQAIkQAIkQAIvj0BrCck9EUSPC6/fGLpfpGdxM3W3DSF1K4vY2RxKz1/ehGDLJEACJEACJEACJEACJEACJEACJEACJEACJEACJEACrziBJ3lMdghnqk7EFsovpTPleymMdoRwcCwFdSdMeF5CdrxNi0Tad0Fl1M+XMupslARIYK8RaCkhue1XA4hcyCN3qnPXhbU+MJZB/koMiVulvTbH2B8SIAESIAESIAESIAESIAESIAESIAESIAESIAES2IMEVMQVBSPX1nZf3166kFyGer7beA7ficTdHVCSKSTvvnlIi0iABF55Ai0lJIdeH0LyRhbRN3dbWOswIlfyyJxOovDklZ9T7AAJkAAJkAAJkAAJkAAJkAAJkAAJkAAJkAAJkAAJtAABCsnVBrnyfRaTH3Ri4PMslp5Wu3KbPqOQvE0gWQ0JkAAJ2ARaSkje/3EK+SsRhJsJPf0iy7wZRfZWCrGLBezAvix79HlEAiRAAiRAAiRAAiRAAiRAAiRAAiRAAiRAAiRAAiTQJAEKyU2CezHFKCS/GK6slQRIoKUJtJCQ3IbRdB6ZsQO7Lqx156kc8pcmkbpHGbml70Z2ngRIgARIgARIgARIgARIgARIgARIgARIgARI4BUisBuE5ApKDwrIXckgk84ge0tFSXj/1hHauvyjivx1o9wNFStPKr7sy/dyet13S1re4UppySqXuZ7H0mP/cpXHBWTTGWTmCiiZlzwvY+mGaDOL/I8V4HkFpXt5/TrD/pU6HpNXHrtsEA3UISQ32+fygwKygvGNJZSf+2LiSRIgARLYkwRaR0hujyBzK4Whtt0W1robsbkckqczOxPeY09OY3aKBEiABEiABEiABEiABEiABEiABEiABEiABEiABHaagCQkb65BvRbHeE8HFEWB0n4Y/b+NY2ZRzp+8jpvHwlA+ncV6FVM3FuPoUsYx+1OViwCU72UQ7fF53v1aN6LnExj9hfisE7EFpzJbKRWQGjvo43AVxtD5PFZM0VdrvgL1Qp92befxFFKn+rDPJ3pn59EUCpZarNtdXoihU1zbk4BqmlBZQebjfQiF2jB0OhFo/+T1JVR8BFvN9vFOH9vbMHAqidgHOo++C6omepsEm+1z+EgMkx+Hrfb2fZxx8TFb4CsJkAAJ7E0CLSMkHzyRRf7CgLXgh3y+7F7KufcTyM0lELu64vhi25vTjb0iARIgARIgARIgARIgARIgARIgARIgARIgARIggb1CwBCSvy1gZiyMcP8EpucKUO8XoS7MYvpYP8JKGP3nVWyYXb6fRJcyiPRD84T7dR2znyoI/65gl3FfIkTkhQT6rGfcnRg4GkPyQgyRD90CsVNIrjzOYfItU3w+iIHxSSTOxxD5yBZnO0/kbA9i2EKy/fw8jD5R7kIMUalcqCeGfMk2trqQbNoQwr53BjA6HkVkbAjdr5vnOxG7I1UGwGn7fnR/HEXsQgKT432edJaykOws12yfD6Lv41FEzudR8hG47V7ziARIgAT2FoEWEZI7MXk9h8T75pfQ7nkduJhH9mwMWRHGg/+RAAmQAAmQAAmQAAmQAAmQAAmQAAmQAAmQAAmQAAm8IgR0ITncHkbvmQLWN71mr9+No1cJY+S66Zm8ivRgFaH4URqDQmh+5K3LOvOkgJjhiXzgSArqE+sT7aC8mMLoG+YzcElIfl5C7oQhNL8fQ94RkrqC0kISQ5qQG0Z0zhRxnULy/g8TXs/j7zOIvKm313nKFlprC8lhjF5WJdFahORWkfxov+YQtv+I5P0r2/5mBJnvTRdnve/C4zjxoV5OCN6WkCyXa7LPB8czHsZO4nxHAiRAAnuXQGsIySKs9dUYuq0dWuaX6Et+/fkQUreyiJ3NcRfT3r3H2DMSIAESIAESIAESIAESIAESIAESIAESIAESIIE9SUAXkpV341Atl2N3RzegnumC8m4SReOjjYUphH1DV2+g8Lvaoa9LtyZxUDzr/mUkwEGpgpXrERzQnofbQnLlxywivxTPxPuQWHQKsbppFSxd0qN6to1ljRDOkpC8fwipB/4OUX421RKSD4ybbTiZle8Y/XsjipyhZ9u2H8TkLVPkdparPEhhaL/+zN8Uku1yTfb5jQhyj53t8B0JkAAJtBKB1hCSP0wgecIOzWGH4Hi5QvKBsQzyV2JIBHzxtdJEZF9JgARIgARIgARIgARIgARIgARIgARIgARIgARI4NUiYHgkn1erm303DkUZwYypf24WkXxXQe9FU1o2iv80i3GlC8n71aqzhd0DR6s4KD3OGaKxLSRbwu7+PkxeSCGTzjj/LqeQPDWA/UKAfnMSec3T2W4vVC0/8JOCETK7E7G7ukhtteebIzmEgctLvukehSA88FoIobZRZJZ14dqq661JFFwe2BYtLf+yU0i2yjXZZ4dXtNUQD0iABEigdQi0hJDcOT6J0faXKxp7xeswIlfyyJxOBn/xtc48ZE9JgARIgARIgARIgARIgARIgARIgARIgARIgARI4BUjYORIvmaGrQ4wvzSDEUVBfNH+fH1uHEr7FAqSJ/Py14NQBtNYtS/zHj0vI39Kd5rqPF1AOShfb7mA2DvimbgtJJfmop5cwt7n1sZz9F8Ib2fRvC0kh49XEa6fLiH5gSgbRvSGrphbIq6vkNyG0asr3v6JFpczGG1zCsmlOcPD+v0k1Ke+xQARxvp4WAuLbXokb7nPIl90EOMAM3iaBEiABPYSgRYQkvej+8Nu7NttYa3fjCJ7K4XJiwX4BRHZS5OMfSEBEiABEiABEiABEiABEiABEiABEiABEiABEiCBvUegSY9kAWKjgKl2BeNz6zoW7X0YEznjfSAsW9g9cDQbLHJW80h+I4LUgoql75eC/x6sGCK13V51j+S85ZGcqMsjuTEh2RKl3zI9pX0AVfNIbrLPBz/PB4v1PibwFAmQAAnsNQItICT3IXajxpditS/MF/KZisJcCrHjUaTuUUbeazcV+0MCJEACJEACJEACJEACJEACJEACJEACJEACJNAKBJrLkWySKV7s1XMnbwKah7LIo7xpfhr8auUjfn0UGd+cxRWsXBlFmytHMoS4/IbhpXzHjLPtbafi8MCVhOTXBpC6F5Aj2fR2lnIKW+LvNngk27mOw4jO+dteuZfEgOFQZnokb7XPFJK984NnSIAEWovA3hWSn5ehXp7E6JHRXfsXiWex4v+921qzkL0lARIgARIgARIgARIgARIgARIgARIgARIgARIggVeOgOGR3B5G75kC1n1E4PW7cfQqAZ7GWk7kMKa+KyI9qGDwm6pBrW06ZRWJ9/UQ1Ps/TKBQkh8yV1BaSGLodSNEtRTaGs/LKJzt00I/h9pHkVooOXMUV0rIXxhC91gKS5b/kyQkC5H2/RjyP8rtAeV7GUSM1JKdp20P3u0UkoXt+dN6SO/QG6MeB63KjznEDCYiXLclJG+xzxSS7WnHIxIggdYksHeF5NYcT/aaBEiABEiABEiABEiABEiABEiABEiABEiABEiABEhgRwgYOZL/chbJ34QR7p/A9FwB6v0i1IVZTB/rR1gJo/+8CikVsmTZBgq/C0NpDyPsypcsXeR7WL6XwpDII6x54B5A38cRRE9EMPTeAeOc+ZmdI1mrqKwi+eF+65rw+0OIHI8iOjaEbkt87oMZnlrOkWznU25D90ejiByPYPR9PSex9llPDHnJWXhbhWRhfKlgCeiivfD7o4iciCLyUbfhfW32WRKSRbkt9JlCsu/040kSIIEWIkAhuYUGm10lARIgARIgARIgARIgARIgARIgARIgARIgARIgARLYLgKGkHxtDdhcg/rNFIZ7OqAoCpT2w+j/bRwzi2vVG3uUxqCioOuLYvXrfD4tP8hi8v02SxS2hN6f9WHyUgrRt4Sw6hKSRT3lJWRPD3jEV638OxGk7kpqMGyP5ANjSaTiQ77luo9noD5xGrntQrKo/omKzPFub59DbRiKZ5Ac04VtyyPZNKnJPlNINgHylQRIoFUJUEhu1ZFnv0mABEiABEiABEiABEiABEiABEiABEiABEiABEiABF4qgY3FOLqUccz+1KwZFZSXVeSvZ5BKZ5C7uwQt0nWlhIJ2LovCY2coaqul8gqW7uaQSaeQuZJD4fsSnPmRxZW2kGyKqpUnK1BvZJG5nEH2loolR2htq3ZUHheQFXVfL+g2iY+el7F0I4NMOoP8Ayt+tl1IHJWXkL+SQeZKXgqx7bykUlqCesu2YeWJ6GMFKwv6udw9WQyXytbVZ6B0L6f3b2HFGf5bqoqHJEACJNAKBCgkt8Ios48kQAIkQAIkQAIkQAIkQAIkQAIkQAIkQAIkQAIkQAK7i8DmKmaOKAj/rhAQ+no3mOsVkneDVbSBBEiABEhgZwhQSN4ZzmyFBEiABEiABEiABEiABEiABEiABEiABEiABEiABEiglQk8nsH4J0nMLhRRvD+P9Ge9UNpHMBvgPOuH6t69ez5hne3cwFZ4ay138tbO6+37C8nb2c6rVtfCwoLf0PAcCZAACexJAhSS9+SwslMkQAIkQAIkQAIkQAIkQAIkQAIkQAIkQAIkQAIkQAK7isB6ETOnBnG4XYGihHF4LIlCAyKy6AuF5K2J49shWlNI3lV3FY0hARJ4wQQoJL9gwKyeBEiABEiABEiABEiABEiABEiABEiABEiABEiABEiABF5VAswX/KqOHO0mARIgga0ToJC8dYasIYDAl//7fwn+1ccgACFPkwAJkAAJkAAJkAAJkAAJkAAJkAAJkAAJkAAJkAAJkAAJkAAJkMBLIUAh+aVgb41GKSLXJyILTvyPBEiABEiABEiABEiABEiABEiABEiABEiABEiABEiABEiABEiABHYTAQrJu2k09pgtFJIpJO+xKc3ukAAJkAAJkAAJkAAJkAAJkAAJkAAJkAAJkAAJkAAJkAAJkEDLEKCQ3DJDvfMdpZBMIXnnZx1bJAESIAESIAESIAESIAESIAESIAESIAESIAESIAESIAESIAES2A4CFJK3gyLrIAESIAESIAESIAESIAESIAESIAESIAESIAESIAESIAESIAESIAESIIE9RIBC8h4aTHaFBEiABEiABEiABEiABEiABEiABEiABEiABEiABEiABEiABEiABEiABLaDAIXk7aDIOkiABEiABEiABEiABEiABEiABEiABEiABEiABEiABEiABEiABEiABEhgDxGgkLyHBpNdIQESIAESIAESIAESIAESIAESIAESIAESIAESIAESIAESIAESIAESIIHtIEAheTsosg4SIAESIAESIAESIAESIAESIAESIAESIAESIAESIAESIAESIAESIAES2EMEKCTvocFkV0iABEiABEiABEiABEiABEiABEiABEiABEiABEiABEiABEiABEiABEhgOwhQSN4OiqyDBEiABEiABEiABEiABEiABEiABEiABEiABEiABEigRQisYeaIAkWR/0YwU/J2f21xBvHf9qLDuDb8dj/Gz8yiuO69NviM3l54bAarm8FX6Z+oiCsKRq6t1bpwZz7fXIN67RwmPrEZKId6MRydxvyjjWAb1lTMnBlH7yGdcU1uJRUz5ycw3NNhjUtHzzAmLs1j9VlwMxuP5jEdHcThdr0dvUwBazU5izp11s55EIca0NzW2gLQZB/RKMsA+3maBEigNQlQSG7NcWevSYAESIAESIAESIAESIAESIAESIAESIAESIAESIAEmiSwsb6O9Z+Mv9tTUBS3kLwB9Xw/wkoHhs/MYH6hiOWHKgpz05gY7IDSPojk/SpCqsMuW7juPaOieqldJCQ/msXJHgXKoWFMfTOLgsng9gzinwjBtxfxRW9vNhbPob9dQccncczcLqB4v6hz6w9DaR/BzGMHHKzOnUSvIq6fQnqugML9ZSwvFjB/LY5hIUT3xKH6iMmr18fRoYTRf2waswsqivfVmmWcLQMb5hz4aR3Fr4ehKP5C8lbbaraPjbJ094/vSYAESIBCMucACZAACZAACZAACZAACZAACZAACZAACZAACZAACZAACTRLYDHuEZI3FuPoEkLpXR/X4811FM70QmmfwryPwOk1wxaSFSWMkWur3kusM7tHSF77Lo7BY0Fe1BuYPyWE4SkUZC25NIuRdgW9ZwpYd3sFb65iZizsFIY31zAfG8REEJNn85hqVxD+XcEhwG+o59ArWH7rw/KZiniPgvo8wC3wWLs24iskb7mtJvuIRlnaXeERCZAACVgEKCRbKHhAAiRAAiRAAiRAAiRAAiRAAiRAAiRAAiRAAiRAAiRAAg0S8AjJQiRVoHw6Cx8ZWa98Yx5TioLBb3yETE/zhpA8FEdcCKk+Xrl2kd0jJNs2BRxp3LqQLNqfF7/ogvJuEkW3iGxeYgjD9XHTC6lnFL1Osw6sY/bTGuPzMI1BJYypBVnltirwPfAXkptsa3MD63VtMgjqI/AiWPp2nCdJgAT2NAEKyXt6eNk5EiABEiABEiABEiABEiABEiABEiABEiABEiABEiCBF0rAIyQbwu+ZoGy5whrjml+nsVzTOOPaIzNYM7xlg8I1m3l7A3Mkizy7Z8bR/3ZYzyXcfhiDIl/xQ0ny3iwi+a6Cri8khdfHRk04rSb6+pRxnHILyZsq4u0K+r+uTsQSSB2VBb/xCMmlGYwoCqa+qyYSGwLwsZvBmwFcTfoKyU21tY6bn4nx6cX0D65GAt56+viCWAY0z9MkQAJ7mACF5D08uOwaCZAACZAACZAACZAACZAACZAACZAACZAACZAACZDACybgEZLXcfOYAuXUvCOcssMKQ+hTlCnMV9MztUKSkCzeF5NaTuDw2CzWHJWKN8EeyWvfTRm5hI3cww+XoS7MYvqYyOUcxsjXy5a963Pj1UNvG2JzI57BblNXvxmEo/8P0+hXwjhXTX8HsPGdX05qd+3m+1WkB51jYZaf9cIzC2mvy1/3+4aqdlwkvfETkptrawPqF/0IHxrHbElqIPDQ20e8EJaBBvADEiCBPUyAQvIeHlx2jQRIgARIgARIgARIgARIgARIgARIgARIgARIgARI4AUT8AjJgC6SjmDmsX/bq9dG0Ptulye3sv/VLiEZgCivib+e3MABQvJj3Qu394xqicVyW6tzE+gSoZxNL92NgpZbOEgo3liYQrjuHM9yS8bxTzcx0a6gS7bHh6NPSU1I71IUxBd9P3WcXM9NIKx0Ib5oq/V+gq+jkPFGlFWUEczUJebCN0fyi2pLttevj3gBLOU2eUwCJNA6BCgkt85Ys6ckQAIkQAIkQAIkQAIkQAIkQAIkQAIkQAIkQAIkQALbTcBPtNssYro/DOXQMJK3l7Fm5LvdKC1j/othdBw6iZtz8TqFSq+QDGxAPdOrhT+WRVJ/j+QNFH4XhjKYxnJQ7mGIvM76NWbWZiuEtKeMbk+t0NeBmJ8tIy1yPffEocp5gP04+lVihIuuJSRv/JDGSLsCt3her7hbtxhr2OhXr985vy412pZZR1Af666vTpZme3wlARJoPQIUkltvzHe8x1p+BiWOGhFJdtyuqg3W+6OlaiV1fGh8USuKouckcb129PRj/FTamaOkjmp37SWv8A+T9fuziP+2H72HzLEK43D/MCbOz0Ctc1fiixwX7T4TeXIabKTuH7MN1ruVy1/JNWMrHfYpWxeDzVXMjIURHpvBqucfdD6VBpxqeg68wvdzAAqeJgESIAESIAESIAESIAESIAESIIHmCAQ9S3y2jNkzw+hwPPMLo//YNAriIU5QOY8VfkIyAOPZgNI+IoVA9vNIVnGujtzDnjDMP81iXHgpL9jevJpp95PoUgaRfuQxtPYJS0Q+iZtub+16eRRF+9U9ki2B9bObnucm9T4L2e0eydX6WPfcqoNl7UHlFSRAAnuZAIXkvTy6u6RvdQkiu8RWy4x6f7RYBZo8MISY4a+LWP9p3f4rifwkBRTm0pgaO4ywoqD3sxksyzv0mmzyhRZ7dBNxvHAwAAAgAElEQVTnzqehrge08koKTxtQz4s8MR0YjE5jdqEA9eEyigsFzH4zhfGeDijKcGCYogAS236aQvK2I32pFdZcN81/KLp37jZhdb3/ePJU/Urez55e8AQJkAAJkAAJkAAJkAAJkAAJkAAJbJ1ArWeJmxvWc78NaTO4+W/ygnTO35gAIVlcLEJWtyvSRnN/ITmuKBi5VsMFwdMP25PZ9FIWntDCuzlcLf+zfyeAaiKyKLNNeX2rCqxSjuXdmyM5CKB9vlYft4ul3SKPSIAEWpUAheRWHfkd7HdNQWQHbam7Kc+PprpLNnahIcTU+hG3XpzByR7FG+6lsdZe/NW1uL2KwpO2w7IL8YUgdRxYu7+M4E9fPHbRAoXkneG8U61UXTc3VzH7aYe2HhS2YeKZ/2htOGrEq3g/79QAsh0SIAESIAESIAESIAESIAESIIHWIlDrmZgvDRFKWoFy7GYdz5WqCMlCGF2Mo1c4omj5hv2E5CKS7yro/3rZ1xLzpMcjWXxQTKJX6ULyvnGV9jxAem8WrvVaS0QW5TdVxOvwnLZCbvu0WVNgFWWMZxpWPmifeoB1zH5a7/joFfg+Y3kBbdXVx21g6YuFJ0mABFqOAIXklhvyne9wVUFk582pr8WmfvxJVT9bh7y7UPrEeWj8kKglJGuFjN2FXbECXMFknHW+zHe1uBn9rZW/5GV2wd22ej4M5d0kiu4Pdtl7Csm7bEC2aE7gurm5joLIf9Q+sm1e8L7/yKnH/lfwfq6nW7yGBEiABEiABEiABEiABEiABEiABBomUOuZmF+FD9MY9Asb7XctqgvJosjqtRGElTBGrs/A631sexY3kiNZN0UXVMO/059JaiLuYBq2h7Kvwc6T9YjIRglLJA7y0n42j6l2BYPfeC2oS2DV2jFE4k9ng0X8hsZHN97/Gcv2tlV/H4GtsHQOIN+RAAm0MgEKya08+jvU90BBpFr7m2soXJrA4NthPXdw+2EtrHDBLxft5jqWb6cx9dt+HG438tce6sVw1Mg1EtROqYDp6LCV8zb8dj/Gz8yiKDz8gn78ucoo7YfR/8kEzl1TsWb+uPlhWtsBGP6sjt2EjQjJANbnxqEE5B9Zfzjv6I9yqBfjZ4Ly90o7E9eLmD0zjn7B+ozLJ7GkYsb8TORyMcZh/qHLDVLjZeYOdr46RHJZeFrT67ZyDmv2GvyrjtmgNc7htwcxcalgs/cpt14UuY17rVw0HT3jiM8VsW6Ol08Z+VRTQrLcT/dcNuamh6HWqDQushHSsf8PUtkjeQOrt6cx8Rs9JLqihHH4NxOYXvAPXRRUn9akNt/r5C33WbpPHOMv9aPaYcNrxuYa1GvnMPGJPc7m/ewbDl62NcAQf2FeGp+g+0bcM+cnMKyFPBf3gsilLebcckMbQPwZbEA1ReRqOYi0NXHawUOb9/I6JfVbngNr6kz990s1jpvrKM7FjdDvgkMHen8bx6y2wEqNG4cWb7Ncv5i/cbhWJG9BniEBEiABEiABEiABEiABEiABEiCB3UAg6FlikG1r85jqEeGoZ+H/xMZdsLaQLEJOz58KQ2kPa2nyPM9kDCcV3WvZXT+wOjeBLqUL8bteF5aNhSmElRHMPCxgqt0nZ7K3OvtMAyKyVuinm5hoF97VBe/zuyqpvhoRWLV2NE/rMEa+9QrSeKYiro3PjCe/st0x75H8jMXxaTNtiXDorjSHDfexSZYO2/mGBEig5QlQSG75KfDiAfgLIlXafTyL8UMKwv0TmJ4rQF1UUViYxfQxkae2Fydz8pf7MtKDYSiHBjFxfgbzCyqK91UU5qYx0S9+OI1g1kd8Xs2d1MTejk/imLldQPGhyElstHFoHLPfxqGIH0dyWePHlllGzpM7fKgXSdNltSTsD6P/C7W2cGQIMZ4fdkF4NuYx5clnsoHlr/Udh/3HRA5fFcsPiyjcnkH8E5G/txdT37l/khqC2F/OIN4TRv9fpDG/UMSq9ONk7bupYEZid+PXkjBm5nm5PaXlC04XpXzP8m9PU3j6VuRu6cDwGTFmRSw/FGOWxPAhBYrgL3M3WKxeH0eHEobZR3VR5JA2xrnnJG4+dkOzcxvr7agQZeavxbV2wr9Joij1113afK//UHb11/ww6NXs5239R6c5Z4r35XHpwPh1eS6LyiShMqDuoB+kuhA3jZkzvfa9o+Vynkf6L8S94z8ng+prmLfZZ3Nsv5hFYXEZa/L4B/TJfbqhNWN9HlNivXh7BFPfzKKwUETxvj3OSs85qG4bTFsX3S3b7y1h0z5lj0/AfbP+3ZQ2Rw+PTSE9V0DhfhHFhXnMnBnWNjL0nq9jTTDa8zLYQPHioLYGxhfdHZKMNP9x1t6PiUv6GCw7eExh3rUcmHNgRuxcPjSM+LV5FO4vY3mxgNkvdNs7PvX5h20Qx2cqzon116xrUYVqcQhj8GLRszY65+9JpMW6/KhKP6Uu85AESIAESIAESIAESIAESIAESIAEXjqBACG5eGnCeF6hYvmReP4onhOMaE4SHZ+m4bsB3rcz9QjJgCmAKp7nh3qlG4vn0N+uwHpWJT8TVTow/o30vE+2Y7OIZI+Crne79Mh9dTpoWDmRD48gra5ZeaLXf5KeHWrHzmcAHjvFMzXzOaBPlDZTYD18JA11zV239N71LND9/Es8VzafHSo9caiu62UkfsfmMxa/jfGNtbWOm58JB6teTP9gjN0PaS0XdqN9bJSlX794jgRIoLUJUEhu7fHfkd57BZEqzW4KYVjsxvPf7bV2ewpdQuCVRMP1+6r/zrBnBcTfVRB2e9lqYUnMnCFeW/QwMMKDzikka56pv56Gb/iXen88uZszhJi6hWQzjI3Up427cXQJYfeaW5QUjW2g+MWg7sX8UG5cFyyFt6RvOSGaW3lV5HL6sb5DMQxPHpGAH81WDUZ/xY8gXzHMHDMjVI5Vzggl47tDcHMN86e6oBxxzhmR00VsPIjfdXlPi0qfLWP6iIL6woSbgrQtVhYf1QhdbvQz3N7hv6tRhBv6Voj/vTjnUDm3KCQrwfeOaM/Pm933B24TvM3cMoFjaw1m7YOG1gwAy6rq3aEqmjHmsef+ChJAJdN0YXPGtSu4xn2zuQxV9Zlvxni71xSpOc+hm4E5X3zvG6v0BgqxruCw18+KSA4qUAbTjnVMnwPBOdjNNWZqwfmPOnPMnaHqjd3PPXH45W/e+GEaIz67m/X+Bs9fq4s8IAESIAESIAESIAESIAESIAESIIHdSMD3mdgGluecEdS06Ia/jWNm0bXLu2af6hSSRT2GM4zneYjZhjsCYdXoeWYhM1Kif0hp+yrXkcbFGb1QiNzeP5+oZK5ohmb0Ob9gZ+ZzBW+9rrakZ6qmpRuPRJRHOyJfR89wzQiIZln3q+9zNumi+tvagPpFP8KSw81W+ogGWErm8pAESIAENAIUkjkRXjgBtyBSrUErTIqPR6pebgPzn/mIwwGVam0fkcWgBvKBuIXkMwqUoZnG8n8E2GWdblZIPjVvePSt6sK79d6q2T4wxXmHOGsIYr75TBpg5C7v+6PZNsUUnsycKtIn1uHy1/1Q2s9JIW0NexzjaF2uHzybx0klDFvQ0rl0naniAfrDNPpdY+yq1fFWDx1u/6jUw3yfw8ziqjcftimYV7PZ3BRwTA6BvlUheRDpoJDHpjf7dec/VLw/cJvhDdQztg6gVd40smZUqQYwGbv/kbBVIdk976sboX9aR5tyNTIDe3NLwMYPs+AjI7fSdy7B1/xcvPrk99HnQLWwVMtI/1pB+LxrP61fnzQbuvw3ihh2LP9lv7bxQ56Jen+rzF+5DzwmARIgARIgARIgARIgARIgARIgARIgARIgARIgARLYEQIUkncEc2s3IgsitUhoXr81xNr13IQeQqVWZUJGuia8MOUdbSrOtSvo/3q5amnhzer2HtxQz6FXhAf+izQKD9ewXkWrqVq5/KEhxATuEJSv1Y6N3YemMLY2q3kOezyDXeW84qwuWHqEIa1cY4xmZTWoTiF5xCVmyubqYzaFeYuvbs+wX74Sq+A6bh5T0HXRiC9ucInftS7wOSgi+a6CiZy/B6lPAf2UCOP9qIjZb6as/K+eMNnmuFbpp6hs9dthz/yMB4QeMu3xzmn9E+0+cwjwZgnzVR9z99z31tcEb9FEnX02ran22siaUa0e8ZlWl1vQ9xNAXRX5ljNCj/vfN64KPG9rbxKQi5gMZrQw/EJALqIg8iMHefOL9e66WO/ke0eu0Tz2isL6HBiB4142L9dejXXHvWHFh6NuQxyFalEaikl0KRO4Kd16Wn+rzl+HQXxDAiRAAiRAAiRAAiRAAiRAAiRAAiRAAiRAAiRAAiSwAwQoJO8A5FZvwhREXL5svlj0a10hR2qFO1krOMKPeEOYOIXkWkKdZliAILpenMU5KdSJCKkyHD2HGVVWU3275n/SFN+u1Vne9Co1r/cRcvwa8hMLgznUKXj5MfI7JxtUh72mqGXnp9bt8Y6rzzwxBXajnXrK1C/iyx2xj81c0l1fmEmybVHV9pC2r3cceXjVZu8dS71G7d5xC6aOxgyOJiPjM299TfAWddUxtg5zqrxpZM0Q1Wz8MIv4b3u1PMS+Y+7mUoet/jxrjY8IWRW3Nhj42VLvfLPXwrAdHn1zFTNjeu53Oby/idI7luYn8qtrM4rvhhv5enEcED7Lh6Nug8+96VnHXakDRMQH9zi5zeB7EiABEiABEiABEiABEiABEiABEiABEiABEiABEiCBHSVAIXlHcbdmY42IQsWLXVCG0ij+tI71qn+Gu+qGinM9CsL9J5G+XcSqq0zxa6/HZ7Meye7R21hfw/LiLKaP9SMscg3X8D51l9feG0JMveLS+ty4M8/t+k1MKIo3V7GrsSCPZP92dU9dt+eqq0qYXtsOL0aPMOoq5SM8ua4wvMhlkUm3Z/jrYo05sY71Z0ZtJpfbtebR+rZ4lhdirrDn5rjWmBPb7pFcVYirV0hugrfAXsfYusc66H0jawZKsxhpV9DxSRKzi8tYc60B87/zESjrsLUZIVl444aVDgx/MQtVRC1w2DKPqRre5jIPnUEYI18vG2HsjU+fqYj3+Ocz1qI1NO2RLG+4kS0Rx/ULyZYNjr7734cbkteyP2+3HXxPAiRAAiRAAiRAAiRAAiRAAiRAAiRAAiRAAiRAAiSwkwQoJO8k7RZtqxFRSM+RPI7Zn+qEpZ5DWBmGn3eeqMEr1DWQ/7eB/LnFL7qg/DqN6gGzffpkCo6mh7HPJdapxzOaYNYVK0jC0tZyJPsLyQ0wcueKfSFCsmHPp7OQIuFaWPwPjBzJspew/4Xbclab43JIdmNcq3tYGuKcI0eyLuI6vJsdFuo5wp3h2vULagtx9QrJzfB+eUJyrVDKmsjvFtiNjQbjcwEzanMZ07/2EaCN0Nb+980aZscUKLGCY8SsN5sFBEcBsK6yDqqum+sFTUwOj81gVRJjsaUcydsjJOs2dCF53+pKXQe1529d1fAiEiABEiABEiABEiABEiABEiABEiABEiABEiABEiCBbSRAIXkbYbIqfwJVBRF3ESN0q0cgsa7bwPKi5KGn5drsx/QP1gX2gSG2eES3h2kMKgp6z6iSIGsXW70mvApFaFbZKxZYf7SMdVm0sYtAPROGIguJz9Yhe9tJlzoP6xSS14szOBnghbixGNdyN49cW3XWrb3bQPGLQb0vj+WPa4ToNUTrQEZzE+hSuhC/ayUy1ivXhP0qIlIdnqB6aFwne2j2SCF+5a6I42fLUH9w2qJz6UX8boBYuKZCdTBxVyreb6AQG8a5hSqhx01WZn5mUcwUkoWnekBu59VvxTzrxTnVabe2KaF9CvOmd7Vklt4nMTe9ol9tIa5eIRlohrfZ55rhvKX+BB02smboHrAnfXnhkb75wivor2P2UwXKYBrLPve0tQa4BeiqQrKep1v5bN5/XdHGW4G/CO0lUZOBOe8c69gGVJFHuX3Ef3PNsyKSg7pALgvQtUNi1++RLO4ZzYaeOAqBt57qFMCDcll7sfAMCZAACZAACZAACZAACZAACZAACZAACZAACZAACZDADhKgkLyDsFu1KV0QmcJ8jVCnlvD6TMW5/jCUQ8OY+mYWhQUV6mIBhblpTAx2QDk0gZumrmfmDD00jPi1eRTuL2N5sYDZSxMYfLsfJ4+5Q1vro7CaO4leRYTDjWPmdgHFh8tQF4ww1UKE+TbuFJI3VMQPKVAODWLi/AzmFwoo3i+isDCPmdigFs725F8ZqskP01rd4c9u1vagNQRHb9hmETZb9DmNqbHDWujs/r+YwbKPuCh6tHp9HB1KGP3HpjG7oGL5YRGF2zOIf9IBpb0f8e9MYOYsrCEkCwl18Rz6tZDBPoyUDox/Iwn6ZrVWqPE4ZrRxm0f6i1lYEnezQrLDnimk5wooLKpQF4yxPqSg49hNuHtpczmnjbNeZh4zZ0ZwuD2M/ov+mwnM7ghRrHhpWMu9G357xJqPy4/EfNHbFozCv0miKI+N2c9vb2obAKx5JuaMOS6C4XWLjN2kGbrYmtNFFMU8OzOMDmtuvmAhuRneZp8X7a7YRxtQv+hH+NA4Zkv22aCjhtYMg1e4fwLTcwWoD5cNXiM4/PZJnBSCsUcQNsVyERbfKHe/aK8BPXHM/OWIT7nq9425qcNzH44dxuHPTmK84dDW3nGWmZntOTaRbK5i9lP9vp+4NIvC4jKW7xcwfy2O4UOiv3HMu26U7RWSAcg2GOuluqjqc1+sZ+39SLo2UGhj7jdOcod5TAIkQAIkQAIkQAIkQAIkQAIkQAIkQAIkQAIkQAIksKMEKCTvKO7WbEwXhYQXZbU/lwfq5jqKc3GM9wsRVS/X0TOMiUvzWHZ7uW2uoaAJx2G9jfbDGIxOo1CCkW83QIwpFTAdHUavEIgVBeG3+zF+ZhZFUb9fiOaNVajXzmHik15NWNT6034Y/b+NY1YrZIxvaRbjh8Lo/6KWSCl7rvqz6ejpx/ipNOYfujvtnUvrD+d9+jMD1Ve4qy6IWbWXVMycGUf/2wbbQ70Yjk5Xt+fxPOKa+K1AEWNxahbLptNtVbFRb9XXI9k0aL2IWdkepQO9n0xg+nawtzhc4yxsEmM2s+hS08w2/F5/Wsb8N1MY/7Vr7IPalvu5voz5LySGxvysOqbufgrup9JQhcna3PTO6dpCXAMeySYDtx3VeMt9Nstbr+u4+ZmYQ2GcU62TgQcNrxmGnea9rBzqte7lqlxcc0NbA76Yx+ozY+3wCJu175v14iziv7XnSUfPOOJzRaxv1i4rA9EZeMdZvkYc697TLs/7zXUs356W1qowDvePI35NxZqPB/a2C8mGkWsLsg3mGuu/JlUdJ3en+Z4ESIAESIAESIAESIAESIAESIAESIAESIAESIAESGBHCFBI3hHMbIQESKClCFQVVVuKhN3ZxzMYfjeJoo+QaV/EIxIgARIgARIgARIgARIgARIgARIgARIgARIgARIgARIggd1CgELybhkJ2kECJLB3CFBI9oylyGUcPlOHO7KnJE+QAAmQAAmQAAmQAAmQAAmQAAmQAAmQAAmQAAmQAAmQAAm8DAIUkl8GdbZJAiSwtwlQSHaN7wbmT4UR982f7LqUb0mABEiABEiABEiABEiABEiABEiABEiABEiABEiABEiABHYFAQrJu2IYaAQJkMCeIkAheU8NJztDAiRAAiRAAiRAAiRAAiRAAiRAAiRAAiRAAiRAAiRAAq1IgEJyK446+0wCJEACJEACJEACJEACJEACJEACJEACJEACJEACJEACJEACJEACJEACVQhQSK4Chx+RAAmQAAmQAAmQAAmQAAmQAAmQAAmQAAmQAAmQAAmQAAmQAAmQAAmQQCsSoJDciqPOPpMACZAACZAACZAACZAACZAACZAACZAACZAACZAACZAACZAACZAACZBAFQIUkqvA4UckQAIkQAIkQAIkQAIkQAIkQAIkQAIkQAIkQAIkQAIkQAIkQAIkQAIk0IoEKCS34qizzyRAAiRAAiRAAiRAAiRAAiRAAiRAAiRAAiRAAiRAAiRAAiRAAiRAAiRQhQCF5Cpw+BEJkAAJkAAJkAAJkAAJkAAJkAAJkAAJkAAJkAAJkAAJkAAJkAAJkAAJtCIBCsmtOOrsMwmQAAmQAAmQAAmQAAmQAAmQAAmQAAmQAAmQAAmQAAmQAAmQAAmQAAlUIUAhuQocfkQCJEACJEACJEACJEACJEACJEACJEACJEACJEACJEACJEACJEACJEACrUiAQnIrjjr7TAIkQAKvAoHKCjJH2hAKhRGdK70Ui8t3Y+gMhRB6Pwn16UsxgY2SQHMEHucQbQ8h9PMhZJYrzdXBUiRAAiRAAiRAAiRAAiRAAiRAAiRAAiRAAiRAAi1NgEJySw8/O08CJEACu5dAZTmDoZ+HEOqIIvcydOTnZRROdyIUCmHg4hIoxe3euULLvARKc1GEQyG0jWWwwsnrBcQzJEACJEACJEACJEACJEACJEACJEACJEACJEACNQlQSK6JiBeQAAmQAAnsPIEKli4PaSLuwc/zKD3feQvwJI/Jt0IIvTaA1Pe7WYmrQL3QZ7Eq18PqSQHJjw5g3ztRZOmt+hIm1wtuslJC9ugBhEJtGL260pqbIF6VOS7WmY4QQqFOxBbKL3hiNF+9iM7Q/VoIofcSKOxeM5vvIEuSAAmQAAmQAAmQAAmQAAmQAAmQAAmQAAn4EqCQ7IuFJ7eFwMY8phQFg9+sVq+uNIMRRUHXF8Xq163fxISiYOq7jerXBX1qtBNfDLpgq+fXMf8XHVAOncTNn7ZaF8uTQIsTeLqE1EdCXDmIyTsvR7Uo3ZrEwVAI+z5OYWk368hoXEgu39H7pnlbX6K39V672yo/ZhH5RQihX0aQfbzXeldff16ZOf6qCMkLRpj/d2IUkuubgryKBEiABEiABEiABEiABEiABEiABEiABPYEAQrJe2IYd2snNjB/SoEymEY1KXnt2ggURYHybhLFzeC+rOcmoChTmG9SR8YOCMk3j4WhtE94hOTVvzqHc9+oWA/uHj8hARKQCFS+T2FA5CYWosUT6YOdOnxeQu7EQYRC+zCU3u0enY0LyXiiInW0D50fxZD7cVer5Ds14nuonQpWroyiLRRC+Gju5Xjz7waaQXP8SQGpE6MYPZrYHXOfQvJumC07Z8PzEvLnoxgdiyK58DJyNuxcV9kSCZAACZAACZAACZAACZAACZAACZDA3iBAIXlvjOOu7cXGd1NQlEGkHwWZuIr0oIKuwUF0KV1I3g+6zhClj91sXox94UJykO2AekaBcmQGa8GX8BMSIAGLQAXqxQEtVHN3vIC6QjVbZbfp4HEO0fYQQq+PIrPrQz83ISRvEyZWswsJVFaQOdKGUCiM6A0KVZ4RepxD5A0R7WCXhKynkOwZoj19QtyfH++zws7v6b6ycyRAAiRAAiRAAiRAAiRAAiRAAiRAAnuCAIXkPTGMu7gTtcJbP0pjUAjIqorku1XCWxv1TOS24NO7l4TkzQ2sV/HMLt/LIZPOILsQ4ElZKaFwPYPM9QJKvs6IFZTuZpG59G8QPzuNzJUclgK8QssP8lpb+QcB4YfLS8j9fhpnP/8d/s2lDAKve6IidyWD7J0Am5+XoM5lkElnUXjsazTwtAT1TlazR+v/jQKWXNea9mZuqP4C5fMy1BuiHR9bn5exsphHNq1/nrmeh7pc8s8/Wl7B0oI+DqKujLDlib/d1njd1esq/6iz0Mpdz3v64L7jK4+XULhh9zu3sITSU/dVNd6Lvt2z+1atDo+9DwrIXhF9XHIyfV5B6XvjM4PBijZNKli5E8BYmFlWkXhfCD3dSNyV5pWrvtzdJf/5+7yMJW0Ms8gLb1tRTupb9pYK3Y5gJqW5CA6EQmj7b/9nZDKZrd8Dgs/VAlbkcXlasufIlSzy35dQ8ctv7OlPGSt39bmVuyf41BaSxbw3561W5ukK8lf1fqnSve0Z2wbnojZ8P6rIi/VFjPnVPFTjHix/X2NdCh4O/RPX+It7qtp8qjwu6H027vVKaUm362reOQ6i9nrHQqydxjqkzS0fmys/GqznpPXVPYZimpv3jVira83JOtY205TKgwyG9ocQ6ogi79KRy8uqPu5ibKqtLRVjPRDz1hzHZeleNBsT/TC/b4z1y+Jcqw2jjqbWr+cVx3ql8ZPvLVG3e44b71Pno+gW0Q5CYYzGU0gJO9MZ/C+3/4ycOBbfd/5d1S1+sqR9V2Wu5KtfJzHSDysoPSjoZY0x19bpWkKya967171KSd2a3ZUSloz1JHMli0LAOlSuGdq6AjG/cmJdEf0T92fAd5773tS+u28Z32FXcig8CPhetcbUYC/uC6tcFoUHZef3sWueVPtes4arTh72/DJsEeWk3x+5xRWU5a98cw24lMDom2L+hdA5nkDqsnGPub8/LYN4QAIkQAIkQAIkQAIkQAIkQAIkQAIkQAIvlwCF5JfLvwVaNzyJA7xxV78ZtEJaFy92WcduMLpn8wRuunXkzTUULk1g8O2wHh67/TAGo9MouB6ea/XJQvKzVczL5Q71Yjg6jfmH7gZ0S9YWpjHxSS86RAhuRUH47X4MR89hZtHpY+z2PNbeG2W08N3W8Qhm3DbW3ZdlTPcoUNpPenkY4Mp3E/qD8l/5hwUuLybQpz1I70Ni0eeJuRDyesSDzv8K/81//V8gFNqP0Ss+Am+lhOzRA9oD0QNHsz6iXgUrVyNaiNXXu9/Srgsf9wu1WsHS5SHsEza9NYm8JGyZc0ELdfxawOfPK1i6Polu8bnWL+frwSN2CNOVq3rI19AHSSy5hQfR2NMlJD8Q5dswenXFbB7lexlE3nLWa7X1TkQLUak9My4vIRsf0nLrWp9bNoUxesntYSuJgGMJJMY6ffrQhoGzeazID6WFfLicD7heeNIOIHEn4MV3nK8AACAASURBVGG81StxUMHKrQSGhPetZad53I1o2i242/aGj8Qw+XHYKrfv44xlY2kxg+ivzHrk1zBGz2eQ+Gi/h7FplpifmtDzXgKqMT0Ff9/6Xh9AbG7JKcBKHl9DpxOIanNZtiGE0GvdmLzuKmcaUFlBdlzM6zZEZv6M7Jjw7tz6PWDdI0KMvBRBp4e3mN+j9lyS7NE92PZj4PMYRqV52HdBRaWGkFxaSGKgTe9/54msLqL6emXaY3uwwbmozaTHeSTHRDhwF2shmBxNInW6T/vs4Od554YDs59VXpuZT5bw9VYEsRMD2jqk2fZGBDkzb3CjY2GtjcHevqUbUYQFgx57/sKakwcweiGDxMf6uulkFcboBdd93sDapuPT11JRr8y5/CCH2IdiHnvHpu9U1hZExUaa9CQGfum9TpTtPJ6xr9UatOdM5/EUUqf69HXc1U7n0RQKrl1Lza1f1darTud65Z7j1nv/vvX9D1fwP2obWPZj6HJQ3vAKli7p0RLajtjrXZWpq32krV8B61D0fAKjIp91qBOxBef3cV3rXllF0rB7NN2A3drciqFPbDpwjVeoJ4qMtknF7pl1P/nkSA6eX/sxcFqaX0Z1Vl3vTSJ1yRT2nXbse28SWZcNsMawG9F4FH0/c5YR/QiPpaA+qaC0mPL/zv7lkH9I6QZ5WLa81ofJ85PWGutg+VbE5mitAV6bRRn5+9OmziMSIAESIAESIAESIAESIAESIAESIAESePkEKCS//DHY8xboIrCPcAojrPXFos6gmAwIbx0Q1vrxLMYPKQj3T2B6rgB1UUVhYRbTx/oRVnpxMufKzGwKybdVxHsUdHwSx8ztAor3iyjcnkH8kw4oSgfGrzvLrV4bQVjpwPCZGcwvqFh+WNTaSZ8aRkePM6+zW0jGs3Ws/7SO+d8pUIbSKP6kvxfnNuR80A31ZQ2zn3Yg3J+EGuSVbD1YPojJWy7F+nkZ+dO2WKmFDnbNQush7wdJ/K9Xdc/MfR+lPMKr5vn2c+OhqF8IYPHg9IgQDMM49uX/hCFx7S8jyLpzslr2irr8BBpbrAiyV/cwC6HtvQhiF1JInZ9E5KNu7BcPyNvtNpsSkkWY4w6jn28MIHo2idTFBKJjA4YY2InYHcG5jMLZbuuh/MEPIpg8n0IyHsWAJf6FEbkui/J236wH0K93Y2gsgujRUQy8I0Jg6m0PXJBE3adLSH1o2BQKo+/IJBIXk0icGEK3KQz8fAip713qs2OsK1i6EtFFL9FGxwAipxJIno1iSGq3L56X8qz62Bs6iL6PRxE5r19XuhMzPP6EfZ0YOBpDUvA60meLeVqfnGK9bprNUBdJgfKCufEhhNAbfRj9PKExHeoxhbEDGL0iCSg+D+z3vTOA0fEoImND6H7d5GaOmwMKKj9mMSquMQRH0zt5q/eAFma4UkLuc/v+O/DeKCbPJpH4fFSy6yCic9Ic8elP6Jd9GDoSQUy7zh4TWTzUNgncmLTGovtUzvbEtQQZObyvXY8550L1zEWxHeHHHKLWHN+P7o+jSFxIInZcmo/GPHba6GTv967Z+WStY0a7ok+dHwxh9ERKz7vdzFhsWUg2557Y7NGtz+Wzkxi15nIIB49nrQ0Zog/1rm0aO2tdEHNbFyXL91IYsub8Qet+nDxirI9CfBvXNxiUbk1am2D2vTOEyOkkUhdiiHxgbxjpPFVrPQijb3wSiQsxRD+y53qoJ2Z7SFt2Ch71rl+u9UqsBWK9Eva9bwrz+zF0SYXWc/cctzySIwbTMIZOp5C6LP4yyN17pOWW1r4z3kug4NR09an5pICYtkHG57vVb/KKbwV5/TLXQ2Hzh+5NF04h2VGu6rqn58RuzO4y1EtD+vejiLzQM4RoXF+H+rSw3yGE9g8gKW00s+4nl5DsnF/Geu/q3/6PktamIIHJqku6Nw9+KL67k4gdHbDmYOhnThss8dYqtx/dH44iciKK0Q9snvve6rPq0Nb+o1Hp+9pIWfBA/m5snIfXlhAOfjCEyPEoIh/32d+r5u8PwyM5JTySjd8TukeyPv88ET0C5hNPkwAJkAAJkAAJkAAJkAAJkAAJkAAJkMBOE6CQvNPEW7E9Iyz1yDWn9y7MsNaGjgwU/cNb+4W13lzWciuHx2awKguyBt+121PoUkYwY3qdifOGkBxu78DIt06x2ByW1W+FaNyLc5ZCq+Jcu4L+v1w2L3G+utr2CMnG1UHntY+b6YvTCp93tteUEG1KcrjcUt4WRcXDWLcH8PMS8p+LB7L7dK8s8/rXZMFJNGm3oYtOxvWSNQ4v4v97xfDsbEPkqiSSiYfKpge18XDY8tw067LEGz8P6jIKcV28PSDEEPnZsLDysYq8FOK7GSHZ8jAUrFy6vAhvWbhlh7AVglrseAI5d6hvWbRyiPJO8U54jDrCqlZKyJ/VPTlNYdPCspBA9HQWcmhi7bMnBSTe0wWr7vOGqGIWkl61jQCGp6rweHY4DArvrKtR42F8p7QhwWnvwfGMs/1SHpPv6G17PjMEx5hhm9vr27RdF2r6kLxXAYRwY3jydX5ueNOafdC8Jw0hXN7I4BBewxi9rDr79kRFUvOIDmG/x6tQF2XahLhmes9v1z3wBBCitOatGurGpCwWiz5VVpA7bWxEeMPe/GB7swqubRi6YM83HYU9JpZIK8bvijl+IWibAeR7wy2yaRXZ9Wiia71zUXhwHzWExl9NIusQaMQNvoTsCVtQtGw0x7Ha6xbmk0Os8rGrqbGw1iK/DS96R6z1wtcj2bgvT+dca1UFK3Om6G9uNmlsbROtV75PYkCso0LsE5EdpE06B44IT00nbCECjra3wfJKfrqEzKkokp4UA+K+0DcVhX4h5qZZj3PO7P8w4fE8Ln+fQcQM5SuJ0EIobWT9qrpeie+jq1F0vi55JfvOccAWAN3faeJ3Qh6T2oaIg775pVeuGww+SEL1i2hhYjFfpfXLl/9iCqOmcCt7JEvl6lr3zDUqVMPu93VBV/tu1r5vw4i4o048XULW3Owi+mkI6tb9JAvJteaX1L++8wVd4HcLyW+MIiUJ1hq6JypSR4zNAe9Lnv3WmAoxeAjJu/IXcgUr1+01T0SRcK+V4vtZH98QOk/b0UGa4WHPI8MWVwSQipj3xtiam6K0vlnfT34bqcyJw1cSIAESIAESIAESIAESIAESIAESIAES2D0EKCTvnrHYw5b4h7e2wlpLPfcLb+0X1npjYQphIRTLzxCleoANzH+mIHxGtc8aQrISEGZbv3ANM0cUKMduQg9yrSKuKBgOEJ7tyvWjIME46Lwo1VRf3A37vLe8heUwruI5uZH7df8HUUQ0Qc8liJgPattGkVkW+WVtD2bHw1DrAfJBjJ4Y0sUxR7hoW2AwvYittmXxTqq/+2gUA8JzThYF5YfOjvrNTstiS8b2uDQ/dr1uVUjOub2pXfVXe2s9iO+Qw3fbnDRR329OizHRQs12IibnDA5szK6zbSzr3EhglSlDPa8L1H6ettplYlPBKV0AtMV9u263sC3KmGMcejNqhw+22tQPKvcMscsVPlx8ajEyxtrykHzHR8QXBcRD+TFdcBi4ZHglWw/qQ/DbXKC1c8fwvHwjipzMXJQ1vOg1D2JxsTRHt3QPCC/Mj3QPc01UkTd4iHbEf0Ko1O5LaWOG1J/9H6ewJAvCWiF7TLSNI5UyChdHtRzPQhDuE5sE3G2Z93lIFtPsehqZi5VlIyevO6e13iP9/5YnpzPksnyJ3/FW5pM1l0KdmDS8c602mh2L7RCSpZDtlj3i4HkZBcc92djaJufK1tbc54B1//hFgjAar5RdeWUdRklvrDnTLaVEkObM/iGk3JsIjOL12GG3ZNdpr191rFeooCwnpbXsled4DSFZCxMfELra8qJu80/1YHfAOqrdbyF+GuK0JCRb5epe9yrWeu4Jue2x22YZPurdfKUZL6JwaOK/nafeup8kIdmyM3B+Sf2TNq1ZdYUOuCJ0WOi0yBD6957k/W2Nacg//LiVmiIEkb7CK/aL0O/6+IY+NKOsNMdDFpL9Q6HbY+LYsGSt5xSS7dHmEQmQAAmQAAmQAAmQAAmQAAmQAAmQwG4mQCF5N4/OHrLNG956GelfK+j/2uXp+zCNfqULyftm5/3DWqvnw1CGZuDvV6yXXc9N6DmXzaoMIXnkussz2vzceF39dhiKEocuQW9APd8Lpb0fJ78pYLnkCkntKhskGAedF8Wb6ourXd+3wktQy+0qeQBb58TD2yUspUe10JaySLhi5DTWvDENwcryGJY87Kxz7ydQWM4b4T4lj2FLcBGepYZLk+k1JXs3m+d+PoTMvRXkjgvPRklEszyk9yMo/2P5TszON2uEAE1dzUN9UHLmzgXQjJAsHhhHrRzCBzEwHkMynUX+3gpk3cIah0oZS3eyyKRTSJ2dRGRsFKNHRjFkht50iPt+oolVk35giYsu0V98Wl5BYS6DzOUUEqciWjuirYF3REjxKnkXrYfZIQylnR7icutlU3C1xAPbXsfDca2QeCCve9RW9Tq1Hva7HqQLwdYQrnVR2G4r9KsoEpdTyKQzjj8RljZm5GkWorEmmEp9GwjIdVp5kMKAyKltbpgwOq1twBChwd90CtfWfN/KPWCJIIa3tQzaOrbFB8sjWu7PRSmEt1zmgr4pIDyeQsbIRSzG3yMqmWUsW2SRzeZtC3hmAePVZy5ac0Ri4yolJqoVOcCeG8KLNIbIeMTzF9NClW9tPllilXuzgDDO6n+DY2Gtaz73otHpWh7JfedFXmv//8QmCy1/vWFzI2ubtglBy5Vrin/2eB446peb3t8GIUiXvs8jm84gdTGG6Li+fo1a4XrlEMx2GyEpR7qn5icFwxPUtRmm3vVLugeqrVeOdq0xlue4PPau80ZhsTFCC23v2hgh5pMWZtwSd2vNX5tNVf7CTnOjkJYj2S7XyLqn2a1FmJC+h+XNOWZEDYmlyIUuwnp71tVLCSu/sCmSWveTz3dBff3rQ9JItWDV9UspX7lj8MTGihJyR41NQua6Z42pvJlBKijKaL8hnB7H0hXwrFdN8rDXkABbxMaq6xE9nYO8Cc5qz/X9JxvJYxIgARIgARIgARIgARIgARIgARIgARLYRQQoJO+iwdjTprjDW2uCcT/SD9291gXmri+MeNd+Ya2F+HpGgaLU82cKwuKJ3gxGFAXxRXebrveLcSiyt/PmOopz5zDxm8MIa22Gcbh/GBPnZ6C6NOkgwTjovGi5qb64TA56a3rzmYKf5aVsPFAWuWC1B9hCxBWeZOIBp+aNKXkAicot72NDQJA8NLWHzCLEsOFJ13k6j/Jz27PU4e0qlTM9O00bTc9Ry8PJCMFpPawN9HjSPfmWrk6izwjTLAQ06++XA4hdX9JsEl1pSkgWCBZTiGq5MaW6tXYOYvR83vKErjzOI/GhLuJaNsj2iOMAIdkW2FwjagmvTvGqfDeJUU2AcNtkv98XJO48VZHURKcwonOyS66zbREqVxe2zAf+tsgRPuEWp2yxUORRFfPA9z/tQbqw0fUgXYSVFV5wPzM8G4WHppTPO5CnydcMGV7Hg3pLdHEIycJbbUibO56x2IZ7QPPcFXnCxf0mvP19/xMhhIewT94EYPVnv+YJ6S1mj4mXkRyWXCppCTKymGbX4+m/WdRnLlrCqfC0DQz3awvkVt1ifI2w9G679bCz9ufNzCdLrPpVzJPvtumx2LKQvA9DV4I3bnjmpcirWufaVl5M6EKn6fEs3T9yGF9zKH1fn64ge8rO8+4eF/29v5BsbXzwq9hn3jS0ftW5Xjma9p3jtYVkLQKBsaHloLnGSeHbRa567e6tNX8r9saYqvzLBcS0dAD292tT654QUU/oeYLFPWZuqjHDzlt2Wyzt7wn/cdY/N9MjWPeTKSTXO7/c/ZPFbbMux8CZb+z734xqYv0ecERSMK83okdoqTlCMH9jSJ9qh1Y/zI0vTfKoaYv42Xkj6o3WYq3nru8/t6F8TwIkQAIkQAIkQAIkQAIkQAIkQAIkQAK7hACF5F0yEHvfjHXcPKbADCu9/HU/lF+n4fJH1jBon72bRHET8AtrLS7SQmAPpVH8aR3rVf82bLRNeSTbxbWjzQ2sl5ahzk1joj8MpX0Es5IGFyQYB51vui8uswLfmt6+mgdwCeolPaSj9VDW8vYNYeCSitL3hpemEF4cuTTtfMjaA+ofc3qeZUmEs/Ihd0SR+9HMs6wLX7JkJnt2Fh6bXtOSQGoJNcKrrgSHh3SQMGkCeF7Gyj3hSZdE7PgQukWYbEPsnbyhD5QpXIeCRC/L49LvIW8F5WUV+aspJE9FMPCOHqZYtNF3toCyJByE3oogOVeA+v0Sloy/wnUjB+p2CMmWnSEc+DiGzB1VaktF7rw+1oFCsvUwOyBEqMHU8t6yHvhXExttIdYOG2oOjvRqzkuXkFy6pT9032+J33Zb+z9KIn/PZmkydbz+aITotfrmN4a6HR7BTpy2QsB2IuYOhSzlBG/6HrCErWAPNi08sbEpwxLmavbH5qTP925MXskjc1wXlUJvjOobRaQh8BdB7HossVcuYzBKfiDuK/uerZgC5uujyAaFfreiIThDW4v7qXAnj7zjr4CClmN8a/PJIxjJfWl2LJ6aoccPIBKwAcPyQjSFKtGuNYYhVPNItsTg9qgzH3vNta2MwlldALYFNHs8tagTtdZPsdHGCrPcjejFHArSPacuZPR1XwrBLIfTru6RbOYe7kRChOdvdP2S+JkesvJw+h5bYyxvlqhDSBZCp+kZbmyy0r7ffhZC6BfOOV5r/qpGpICq/IWdAR7JDa172oanhL7x5xd6agrLbjldhMSyL56Tvjf819eVkv4Nbt1PPt8F9fWvcY/krOmRbKYtCBpTcwKIzWqNCslN8vBfQ01D9FcKyU4efEcCJEACJEACJEACJEACJEACJEACJPBqEqCQ/GqO2ytptRZqWhnH7E+61/HgNwGBqR+lMaiFt/YPay06r+cVFnU1gKKpHMlV6t8sIvmuMzx3kGAcdL7pvlQxy/GR7AF8OoVJLfdqQNjL9yaRPKWHxxVChxGM2qrO8mZ+I4LkBT3/qh0S2xRKhCfuAYyeT2D0jRBCfl7Ekmdn9GICAyKMsJQ7URYmOo8nDe9el4e0ZVWNA+Fdd1SEyrbFK+thuEPMteuxBHGXyGlfIR0914Wu/UKsFsL0o4IR4vugNyer8ZBfC43qaNsWexoS74ToL9r9RQTZHyWbtENbgAsUkkUuUEOwDH2YhOoecFGP8HAzHsrboc6r2ytCRg8JwSV0ENHrPp6XwovtgpGjUmZshSR1bj4QQnan6Gd7BIH5qZ9XnCHMLWGgMSHZCivs2Uih893yPVBZQupj3VvdzGHrHjk8KSDRI/hJodxr9scek9DPB5C4Y+xuEXVpoq/IF5pwbg7xFWTsehqZi7Io2H3aJx+z8My7ZYQFlu5FT999TjQ9n8T9tmCEvJcFXbONLY9FgMejtDknJLdrjWEI4rxzo45hlOTh6p8L2zRebHpwrW0lc+1xhuq27h8hJAbkL7ZyJGserfp6aXqhSi0CT2wxOKaFYBaf2nMmJDYs3ZO3DdmlS3OGZ6ax9mnrbEPrVx3r1bbkSDZsljY+dMdzyJ3WRfqqnvF2d60jK8JGIH8RgWBUD38sCfTWuDWy7olWxTw70qZ95/WdzyFnelabHsqaZTZLEfp+KSiKQMU5ltb9ZAnJ0MJEa+tzPf17J4a8sUHNqkt8BwR46Iv1Vg8xLuU49123LNx6PvtGhWTpu7ARHlsXkoMiTEj94SEJkAAJkAAJkAAJkAAJkAAJkAAJkAAJ7AICFJJ3wSC0jAnrNzGhKBiPxdGvDCL9KKjnq0gPKuiKxXFSUTCRW/deuLmKmbEwwmMzWN30fgxsYHlxGZI/shXaOtzegZFv/UXs1W9HEFZ6kTQiawPrWH3o075oclNFvF3BsFRXkGCs5UE2vKw91jbTF+EZ7eicp1brhOUBLB7ai78PU84Hx5JnmO7N6BQirIqkB+v6dV5x1/Zm09uyPCqtSsSB7d2s1xNCt/Dmla6xxSPDZpewV36QR/b/Z+/9Y6Q48jTv/GMkTpqTeqR51bKs1fRr69x6kc6tsdats1frls9yn7wWJevs3hct1CAN1CChOqRFJaRFJd4TU8YvKvWuUGEdomBgChnYYvlRYMNMtafHhb3gwoMpboyZ2m291Nz1vc4z3mnmxzvD3Nie51VkZkRGZGXWj+6i6ILnD1RNd2VmxBOfiMyMJ+L7PXoSl5zwwHdw89SrSOfO4aZ+EnG+QKhPJ9SymogWu4hn4W22cq5+Z/4SXv+Wm5NRD7t856MjSG8/gEtNuy01E0AYyf9D7lYMmRy/fQNHvuOduxdG8twRrBEmvPUyXg+YN3fmTiL1lKudbiSbugHie+5OOAsvfvccbuq+gQhXfjjphuW0nkOYcRRqNgojzTNdxK7VNa8dwexP3J1uV98/hwNb9LC5mtEr20XfOSdaRewS/ivXfH3or6YxGwwJ/dlVHNj0HNbkLvmhtJVpp51f40v82Lwj2TfEIk3eHvQB+3waTzh98Qmkjt8wDfDf3MDJrU+7/VTs7J/3Ct22Pn7Zg20izJikWNRhWXhahOmVbSz1NkLERp9HyRcSolj06ZunUl69LDy9aRon37vq7sSvXcLJv9ug/ibKESyjOnfYD4vlqZ2R7ISdXURbaKaTWNxw5CNt0BFhqGXUAdHGUUay0xYnzXFYLEo55S2asFYieeqmM1Z2Orb9/G3PNNdzsQo9xcIdbzHB1/5yGpcUAK7Y9vuvY82/+Vd4busR3PjMD8WsQjrLNvEWgIiQ65ZmeBpGsvhb7FXMBsbJ27UjSHo55mXqAye0eJfjl9NnvSgTYePVjcNJPPGvn0Ayf9UdC0IZh2uIixD61kqkZ/yQIncCCe+VmevUWXw/4t4oNQr7FPdXJ4WAhWb978B+73WsUZEztJDhixn3vOuLXbDuGCNTLIhya5w6458+9p/EDfPPuP3RSaRiL+PVGVvl81bmr2Yk6+Nzc/1g1O/l/+LnBlfnEtr+yRq8/p7fDqIad+xLeP2vXEPcik37C52i2lRqv5gdyYvUY9FG8uc2Tm5ynwX0Zx+1oEPWhZ9UgApQASpABagAFaACVIAKUAEqQAWoABVYJgrQSF4mDfFgFMMLby3yDL9yGOFWrqvEf3/jFS8Hcotdx7+9ir8V4aX/dC3+8xtncOm9q7j6k0u4JMJOv/JNPPqnf40f6jmMZY7kYz/E30w+im+uew3FH13Cxz/9GJd+VMRr676JRx/9Jjad8kv2+5+8hm8++ii++cpf42//4R1ceu9jfPzTS+73/09x7b/BD7Vd0VFG8u+v/i3+w6MrserVIi795Cqu/ugwXj/rXwdd1WUO+ycfxaP/9m/wwwiP2+BJ7QAWE+Hmbk/3e6axa+Q0Nk4EqLDQYvI3YO46X1Uhi8W1mo1meTq1s9OZoA+ZnA8YdsYOaRVaVpgWr7u7gJ38kuKaj+C5byWRzr6O6W0b8PKfy4n05/xQxcIgVTtiLXztz1/Ghm9vwIZvvYynvyLOIf95JuQdG+e2uLv0xN9WxtYguX0a06+lsOE/eqGDLQsi/+Rt+LmiHRN1++s4cPAADuTSWPNNed4e5UgWRoO3u9X6kxeR+rsDzrVe/+4GdwevVw9lJAd1c3ah3cHNs9J0sGB97Tms2ZRCavMGvKiV92XdpNV2IEYagsIQ3aYbxlrdRbn+5Gk8LXIFazuS5SIEmStbsiI+nZ1pKhe0aOMNSG5NIfmtFz2j29vVLr2ItsZriJGsFlSIkOoBV0UrzJL7gDBGX3N3/jusPfUyNmxJIfUdnb/nHANHXbZtfVobwP5u4Iew4aBn5oQaMq3P45Qn1Eh2c5OKhQeugRVob4fFR/C0x1QkN6rCgR8WwZM4gzKrdENXP/Vi2kLwKHLLe8ao6OcvfmuDM4as+Qu5CMWrv35d1YaaNl95Gi9/O+n0t5e9hR+O0S4N/89k7lxxTIux7e2fq3C+L8sQwFo9xUKYDf+7vO4jePFbSaS2Jo3x64ktJ52FJLp5+vS3X8XrYvzKTyP1H/W6aYanNh7oY+dzf7UByS1JbIj5Y6c1+aofrrvb8cupj7lgwRmvvpNCaos+1j+CDQdvuOZnKOOOS+mP6Q+9iORr03h103NYGZs2c2kL1v9S6mYhbGzSZI788XbtANY8JM/j69/Ei2HQL2LckyVQY5l7zYe+47at/LP7GTL2CxYDXOh1Vv1JN5JDxmfJl16/RwI7n9W51P3WwiN/sQbJLe64/oj8/ddexus/0cbjqDaVlVukkewshgneC9vosWgjWSymO7wBTiQT6xG8vHUa09s34OlvrsGBj+RKH1khflIBKkAFqAAVoAJUgApQASpABagAFaACVODeK0Aj+d63wQNVAje89aOIDGst1XDCWz+KR//TGbT0Sr/4FT4++xo2rfp3WCkMamH6Tq7FX+ffwVzwQGkk/wTAr+bwzp5NWPVnK13D+k//A9am9uOdkN3Hv5+/iuLf/TXWTgqj2b3Gyj9bhU3/9xl8HLhGlJEsqvXff/Qa1nvXW/lnr+A/nwrsmO64Lrdw5j99EytXvY6rHe1K1ozisFDT3kTwGsfYCzOaZaOILXyzXo5MN8+nNr3rfkkLpR1qNMtTaUZxlHHtG3YBo1mb3HePvYObPz6A5KQ0jeWEvff5tReRPhXY+XnHxuzfrYGarJaT1iLX8ZZXkfr34lh/N+uduXOY/o63U1T7rmucPII12Vl/N+9vbuLcay97oUr1sjyCl7+zxjXaerAjWUh5Z34Wr3/bN7OVkfO/PYcN33aNXN9I9k0RU/M7sH/8OjZoRpY6z0MvIn3c290n204zjlobgndw8/2TmN66AS/K3Yh/mcSrB8/hRkPuklyJlMgzuD95ygAAIABJREFUK3hwdmg94u3EVBdTP9xpzGI6rK5ih+u3Xzd3QSrTzm9DdSLvh+COZLVzX+wsbwJbO7oXfUAsZjiYwnNOCHCdEbFAI4UD70tHXBb2Jo58S+TjjqpPOwP4Nq7m13jGxYuYFrv/Qg2Zdudxd4gHcyRr6uD23CyOvJaENJEe+vdrkMoewezPbmL2NS888He13eP6wS1/7oIn7zzKrNIN3eA1um0LeW6xY9MJQR5ov3+7Bunt3tiiX1cx+a/wcvYApr8T0m+tJ7Dhv1zyd42Lnd6djG3zs0iLHbb/eg0ORIWvFmPYtzRTV41jD+Hl1875O1LFrurjabzo7BY26/bEX23Ay87u9nAj+ZHvvI4Dr60JGfssPLflCK56YY1lE3Q1fsmD0GK8skRucG28CmXcPZGIxpAOtt+/CYb/voObx5PefUILr6zK0vkPt392EumYt8NWaS/a7EWk8we8CBK6rl45uxn3VHF0ozJ6QZcwT+33DiCpFmLp7f2Iy4UW9lr1p4CRLC7r3CND+RJRKc7hpnYe8X11rqdSOJBP48WQsfChWBonnVzpqmIR45b290UbyU4tutIjfAzVyuJEPfBCujdFCriBI5uDzxRPIHU2JB2EeUr+jwpQASpABagAFaACVIAKUAEqQAWoABWgAn1XgEZy3yXnBalA/xW4Y1/FucNHcOT8DT/8r14MYaacPYIjR881TfbrX3N27fz4JI4cPolL8+E7Z4Thd/LwEZx8r/WE6O2PzuHI4SM4VwuYZvKCt29g9ugRHDmlGyvuH0UI6nPHz+FqIEzr7cYNXBL1ELvoDp/E7E9uIhCtVJ7d+bzz2U1cOn8SRw4ewZGzl3BDnE8YKeePOGWbDUxii+9fdeovdv8ewckfX8XNzyJ0sOV3he6X3O/JOh2fNSbW7do5pwyRmnnt49QpEDZWtMntuauYFfUWer53wzGiZDvobR6lmyPG53dg/0zoKs5zErO1aO3allcYC58bUpv/UQaPu0hAhaw1DHbzEPm/O/M3cHVGtNkBHDk1i6uNENe3RRvK80C2xdFZJ6TvJc/kfDHnh19V3zV+EOZeb/oA7tzGzZ+4/eXI8VlcnfPDyBqX7KA+bdvkc9vp42KH/JGzV2HfvolZ0daBPt/+PO5YEcpiqzYXRuq33cUeaw63HhuMunv/6YYnebzg/eRhwUnzGCK/oz47bQt1gNiFfQc3a277qfHmc7HAI+S6ykj2FwPcblx12uCA6Lfv34AdMNv0S7Ua20Qo45WWha9964i/oEU/WPv59rwcI4/g5Ez0+IXf2Ljx/jlXPzHWin52x7tPGON/8+IDZ5z0xlVxDWdc1cpg/tj5+GUcp41XSr/gUPybcMbVebQ2P3n+qjEmu9/RUhf85etmKHJ1km5+8Op66giMMt+xccn5XYv7aifjnl6U2zdwzrt/GikL9O+on+/AFvcQUQZxX4vi4rMbuDRzDrPvRTxHCINY8uXdi5rSTXjXVEayXGxxx+XtiNNfxVh4W4XUVsUUP7RrU7H44j33nh71bBHaP42LdKhH27KI6AVifHDHXCe1hn4dybBop+OzuBHxTKUfwp+pABWgAlSAClABKkAFqAAVoAJUgApQASpwLxSgkXwvVOc1qQAVoAL3rQLuLr7n/vJVnAzk5XSqLHaDy9DOk6/i0md3cNML8xmeU7sPQqkQwoHd73249P1yiTsfHcCGyQ2YDl2s4oYkftrZiflyl+Fbu+VpmSoaYiT3pKQiD7wTer9NNImeXCzsJM1Gcti3BuJ3n9/GzZ9piznsWbzqRKd4BMnj3S9+GIg636NCNhnJ96gcvCwVoAJUgApQASpABagAFaACVIAKUAEqQAWoQHsFaCS314jfoAIDp8D777+v5frVw1XyZxW2WQ8vyp97wovTUfRczJaFhybXIPWamyv69deSeFnlXn4CqVPCnHF3+LJdBrNvOm0uwslu18K0/h8vYsO2aS8/+KtIxvz8us99dxa2t3O5XZsvjif0hOV2Zevm7049Iozkbs6zHL8rIiJczbk5v/VQ98uxrFFlctpH7Kb98at4zrLw9HdexesiL/RfeOkStN3IUefg7zsfv4TeYUYyNbTw0EMPSRz5SQWoABWgAlSAClABKkAFqAAVoAJUgApQgWWjAI3kZdMULAgV6J0CNJI7n9Tm5HXvtFIEf3YVR777cmgOakdvkbf6uBkele3Qu3bop5aqzUV43oMpvPhQVD1ELnEzV2q7cqpzd8lTu/P2++9OPWgkLzuDX3LgcqbvmtcY/vMUzs35MbPlMfzUNOpyIZbQm0ZyuH40ktWozx+oABWgAlSAClABKkAFqAAVoAJUgApQgWWkAI3kZdQYLAoVoAJU4L5S4PZN3HhP5MIWOaVF3movh3OLXLD3Vf0fxMqIvLMyb7Boc5FzVeYIX6oeg8xTB3mulyrPvTq+bV7te1WwRVz3zryXt/rgETeXOMeqRajY/pD2eYrbn4PfoAJUgApQASpABagAFaACVIAKUAEqQAWoABXojwI0kvujM69CBagAFaACVIAKUAEqQAWoABWgAlSAClABKkAFqAAVoAJUgApQASpABagAFRgYBWgkD0xTsaBUgApQASpABagAFaACVIAKUAEqQAWoABWgAlSAClABKkAFqAAVoAJUgApQgf4oQCO5PzrzKlSAClABKkAFqAAVoAJUgApQASpABagAFaACVIAKUAEqQAWoABWgAlSAClCBgVGARvLANBULSgWoABWgAlSAClABKkAFqAAVoAJUgApQASpABagAFaACVIAKUAEqQAWoABXojwI0kvujM69CBagAFaACVIAKUAEqQAWoABWgAlSAClABKkAFqAAVoAJUgApQASpABagAFRgYBWgkD0xTsaBUgApQASpABagAFaACVIAKUAEqQAWoABWgAlSAClABKkAFqAAVoAJUgApQgf4oQCO5PzrzKlSAClABKkAFqAAVoAJUgApQASpABagAFaACVIAKUAEqQAWoABWgAlSAClCBgVGARvLANBULSgWoABWgAlSAClABKkAFqAAVoAJUgApQASpABagAFaACVIAKUAEqQAWoABXojwI0kvujM69CBagAFaACVIAKUAEqQAWoABWgAlSAClABKkAFqAAVoAJUgApQASpABagAFRgYBWgkD0xTsaBUgApQASpABagAFaACVIAKUAEqQAWoABWgAlSAClABKkAFqAAVoAJUgApQgf4oQCO5PzrzKlSAClABKkAFqAAVoAJUgApQASpABagAFaACVIAKUAEqQAWoABWgAlSAClCBgVGARvLANBULSgWoABWgAlSAClABKkAFqAAVoAJUgApQASpABagAFaACVIAKUAEqQAWoABXojwI0kvujM69CBagAFaACVIAKUAEqQAWoABWgAlSAClABKkAFqAAVoAJUgApQASpABagAFRgYBWgkD0xTsaBUgApQASpABagAFaACVIAKUAEqQAWoABWgAlSAClABKkAFqAAVoAJUgApQgf4oQCO5PzrzKlSAClABKkAFqAAVoAJUgApQASpABagAFaACVIAKUAEqQAWoABWgAlSAClCBgVGARvLANBULSgWoABWgAlSAClABKkAFqAAVoAJUgApQASpABagAFaACVIAKUAEqQAWoABXojwI0kvujM69CBagAFaACVIAKUAEqQAWoABWgAlSAClABKkAFqAAVoAJUgApQASpABagAFRgYBWgkD0xTsaBUgApQASpABagAFaACVIAKUAEqQAWoABWgAlSAClABKkAFqAAVoAJUgApQgf4oQCO5PzrzKlSAClABKkAFqAAVoAJUgApQASpABagAFaACVIAKUAEqQAWoABWgAlSAClCBgVGARvLANBULSgWoABWgAlSAClABKkAFqAAVoAJUgApQASpABagAFaACVIAKUAEqQAWoABXojwI0kvujM69CBagAFaACVIAKUAEqQAWoABWgAlSAClABKkAFqAAVoAJUgApQASpABagAFRgYBWgkD0xTsaBUgApQASpABagAFaACVIAKUAEqQAWoABWgAlSAClABKkAFqAAVoAJUgApQgf4oQCO5PzrzKlSAClABKkAFqAAVoAJUgApQASpABagAFaACVIAKUAEqQAWoABWgAlSAClCBgVGARvLANBULSgWoABWgAlSAClABKkAFqAAVoAJUgApQASpABagAFaACVIAKUAEqQAWoABXojwI0kvujM69CBagAFaACVIAKUAEqQAWoABWgAlSAClABKkAFqAAVoAJUgApQASpABagAFRgYBWgkD0xTsaBUgApQASpABagAFaACVIAKUAEqQAWoABWgAlSAClABKkAFqAAVoAJUgApQgf4oQCO5PzrzKlSAClABKkAFqAAVoAJUgApQASpABagAFaACVIAKUAEqQAWoABWgAlSAClCBgVGARvLANBULSgWoABWgAlSAClABKkAFqAAVoAJUgApQASpABagAFaACVIAKUAEqQAWoABXojwI0kvujM69CBagAFaACVIAKUAEqQAWoABWgAlSAClABKkAFqAAVoAJUgApQASpABagAFRgYBWgkD0xTsaBUgApQASpABagAFaACVIAKUAEqQAWoABWgAlSAClABKkAFqAAVoAJUgApQgf4oQCO5PzrzKlSAClABKkAFqAAVoAJUgApQASpABagAFaACVIAKUAEqQAWoABWgAlSAClCBgVGARvLANBULSgWoABWgAlSAClABKkAFqAAVoAJUgApQASpABagAFaACVIAKUAEqQAWoABXojwI0kvujM69CBagAFaACVIAKUAEqQAWoABWgAlSAClABKkAFqAAVoAJUgApQASpABagAFRgYBWgkD0xTsaBUgApQASpABagAFaACVIAKUAEqQAWoABWgAlSAClABKkAFqAAVoAJUgApQgf4osGgjeWFhAfxHDcgAGSADZIAMkAEyQAbIABkgA2SADJABMkAGyAAZIANkgAyQATJABsgAGSADg89A0J6mkUxDnAsCyAAZIANkgAyQATJABsgAGSADZIAMkAEyQAbIABkgA2SADJABMkAGyAAZeMAZoJH8gAPA1SCDvxqEbcg2JANkgAyQATJABsgAGSADZIAMkAEyQAbIABkgA2SADJABMkAGyAAZ6DUDNJJpJHM1CRkgA2SADJABMkAGyAAZIANkgAyQATJABsgAGSADZIAMkAEyQAbIABkgA2TAYIBGMoEwgOj1SgWej6tfyAAZIANkgAyQATJABsgAGSADZIAMkAEyQAbIABkgA2SADJABMkAGyMDgMUAjmUYyjWQyQAbIABkgA2SADJABMkAGyAAZIANkgAyQATJABsgAGSADZIAMkAEyQAbIgMEAjWQCYQDB1SCDtxqEbcY2IwNkgAyQATJABsgAGSADZIAMkAEyQAbIABkgA2SADJABMkAGyAAZ6DUDNJJpJNNIJgNkgAyQATJABsgAGSADZIAMkAEyQAbIABkgA2SADJABMkAGyAAZIANkgAwYDNBIJhAGEL1eqcDzcfULGSADZIAMkAEyQAbIABkgA2SADJABMkAGyAAZIANkgAyQATJABsgAGRg8Bmgk00imkUwGyAAZIANkgAyQATJABsgAGSADZIAMkAEyQAbIABkgA2SADJABMkAGyAAZMBigkUwgDCC4GmTwVoOwzdhmZIAMkAEyQAbIABkgA2SADJABMkAGyAAZIANkgAyQATJABsgAGSADvWaARjKNZBrJZIAMkAEyQAbIABkgA2SADJABMkAGyAAZIANkgAyQATJABsgAGSADZIAMkAGDARrJBMIAotcrFXg+rn4hA2SADJABMkAGyAAZIANkgAyQATJABsgAGSADZIAMkAEyQAbIABkgA4PHAI1kGsk0kskAGSADZIAMkAEyQAbIABkgA2SADJABMkAGyAAZIANkgAyQATJABsgAGSADBgM0kgmEAQRXgwzeahC2GduMDJABMkAGyAAZIANkgAyQATJABsgAGSADZIAMkAEyQAbIABkgA2Sg1wzQSKaRTCOZDJABMkAGyAAZIANkgAyQATJABsgAGSADZIAMkAEyQAbIABkgA2SADJABMmAwQCOZQBhA9HqlAs/H1S9kgAyQATJABsgAGSADZIAMkAEyQAbIABkgA2SADJABMkAGyAAZIANkYPAYoJFMI5lGMhkgA2SADJABMkAGyAAZIANkgAyQATJABsgAGSADZIAMkAEyQAbIABkgA2TAYIBGMoEwgOBqkMFbDcI2Y5uRATJABsgAGSADZIAMkAEyQAbIABkgA2SADJABMkAGyAAZIANkgAz0mgEayTSSaSSTATJABsgAGSADZIAMkAEyQAbIABkgA2SADJABMkAGyAAZIANkgAyQATJABgwGaCQTCAOIXq9U4Pm4+oUMkAEyQAbIABkgA2SADJABMkAGyAAZIANkgAyQATJABsgAGSADZIAMDB4DNJJpJNNIJgNkgAyQATJABsgAGSADZIAMkAEyQAbIABkgA2SADJABMkAGyAAZIANkgAwYDNBIJhAGEFwNMnirQdhmbDMyQAbIABkgA2SADJABMkAGyAAZIANkgAyQATJABsgAGSADZIAMkIFeM0AjmUYyjWQyQAbIABkgA2SADJABMkAGyAAZIANkgAyQATJABsgAGSADZIAMkAEyQAbIgMEAjWQCYQDR65UKPB9Xv5ABMkAGyAAZIANkgAyQATJABsgAGSADZIAMkAEyQAbIABkgA2SADJCBwWOARjKNZBrJZIAMkAEyQAbIABkgA2SADJABMkAGyAAZIANkgAyQATJABsgAGSADZIAMkAGDARrJBMIAgqtBBm81CNuMbUYGyAAZIANkgAyQATJABsgAGSADZIAMkAEyQAbIABkgA2SADJABMtBrBmgk00imkUwGyAAZIANkgAyQATJABsgAGSADZIAMkAEyQAbIABkgA2SADJABMkAGyAAZMBigkUwgDCB6vVKB5+PqFzJABsgAGSADZIAMkAEyQAbIABkgA2SADJABMkAGyAAZIANkgAyQATIweAzQSKaRTCOZDJABMkAGyAAZIANkgAyQATJABsgAGSADZIAMkAEyQAbIABkgA2SADJABMmAwQCOZQBhAcDXI4K0GYZuxzcgAGSADZIAMkAEyQAbIABkgA2SADJABMkAGyAAZIANkgAyQATJABnrNAI1kGsk0kskAGSADZIAMkAEyQAbIABkgA2SADJABMkAGyAAZIANkgAyQATJABsgAGSADBgM0kgmEAUSvVyrwfFz9QgYGkQEbtfNFlC43OD7wHkEGyMDSGbhlo3amgNIVe+nnYntQQzJABsgAGSADZIAMkAEyQAbIABkgA2SADJABMtA3BmgkE7a+wfZAGYq3bNQvV1G96P27vhhDzkbjeh32rUE0IlnmQebdvlZA4jELljWGxN4qGvc7g/N11GRfvVhFrXG/mV02Gte08ehaA/bA3/ts1C+UUDrl/Zutcaxcrm06X0Nh8zgsy8LwujxqNu8Pg3x/+OX/qOF//SiFL09OAEespf07Nokvz2bwh2sN/PoX5GKQuWDZyS8ZIANkgAyQATJABsgAGSADZIAMkIH7lwEayct14vU+K1fjQh6p9XHE18YRX5dE5nBn5pR9rYTsZnFMAulDHR5zpYjMJu9aa93j+m6azJWQelwYce6/sS2lrsw4+1oRqee94x9PIH9xMUb0chi4bNQvllHYnUZybQzjX/E1sawRTKxOILUrj9LF+n1gbPVZb7uO6vEcUutjGPM4E7yNrkogvaeE6twiy3OrjtJW1/QR5xta7Rs/gsvMRtmPE04/XnTfsusoTyfdMUGMC1vyqM4vssxLHC/tCxlMKA2HET9Uu78W2Ng15FevUOPRCq1NB/YBz66hsHZI1cl6KXfP+BlYDZfYbzqut1iY8g059o8hebx+f/Wvfum4DK7z638u4YsTQ0szj0PN5zF8eaGK3/zLvbkHdMzyMmgDlpWMkAEyQAbIABkgA2SADJABMkAGyAAZIAP9ZoBGMieF+jOhe73o7XD0JpMfjiPfLsTlrTqKm0Z9o+ArMeQuttkpKI7ZrB1jjSN15h6YsEsxkoWRt2XMr7cw89b6Zl6/B4nFXq8+W0D6pRGjHtJYD/scXpVC4cI9aKsBHAPsK0WkX9BMNGWCSrPGgvVwDJlT3Rv09sUcYl+V5xlB4lBNmfzO3/RrfbWDPhmhb/140jDArcdTKC3W/I64Rqfs3nMjeb6O8tE88nvzdyecOI3k/tznlshhp7wuu++14zd4T1uVRaXBB/5l145t+L39aR1/eGvsLpjIcldzDJ//1MYv25Rj0HRjednXyQAZIANkgAyQATJABsgAGSADZIAMkIFBZ4BGMies+jPBLnaPrddNxREkDrfZ9Rc0ny0LU3uqytQK7Xz1ElJPSBPMgvVECqX6PRiolmIkC9NH32knjLvnM4Mz8X6rgfLuOEZ1w7Hjn0eR2FPpavd2KAf3cb+2rxSQ0Ha7h5ny6ndfmURmpgtz/lbD2I0suCtrhk+TkSx2QG8sdB+qtlFGRu64l2w8sEayjeqeKW/BxV3aDU0juT/3uft43IkeZzvj11ygMspdyQPIyq/+uYgvj0nT9+58/vHtKn7DENccrwawf0SPkffgHYT6sQ+RATJABsgAGSADg8iAmkcdR/p8F/NYg1jXRhXFnXGMy/mw4Ukk95RRX2QaqMb5tHuuZ5fL3LGN+hU3vVqt3mZD2FLbr1F300pernEueala3ovjlfez+I1KfBfr3zsnjeR70UkeyGvaqO2PY1jeJIUBtamIeovcq7XDCYxo33fMsTbhS9XN0ztudHPra9y1wUY9ALmmdnehrW3UDic1I3aovYG+XJgSJvLOydBdyMPPxpHamUNuj/dvZwrxF/Td494CAO5Wi37pEYbgumFD35GXUsgdLaNysYLy8TzSq83d7FYXejq5kR+VCzHM3ciir4QZyZbV7UO+jepecyxw+vaDaiQb5j2N5I7HZIa2jh4n+nk/6JRfJ1qIPzYND2CUjY7Z7Kf+fbzWrz/K4Y+hYal7Zyr/8a0SfvtZ/16CHvQ2Zf3JGhkgA2SADJABMkAG7hIDgTlBtdhfzXGOIbYxg/x5PwJcP9pCRIZzNn20Mxy1xeixPX0qo9Ks2zmmu9SGd+tdyw5E3/SYGFqdQ3WgjWQb9Zk80msnsEJx7s0vfn0CiR15lK/1yFRu1FDclUTsMTl/6X+OvZJC7ngFjUVq2et+2JjNYNLRY5Fcq37h17F5PPH+tio7eCnfaCQvj7m9Dsc7GskdCtXrgeRBPJ99JY+pr2sD3+PJ6N3Cdh2FjfoOZu+4luGtGyjvmNBMtlEkj96jXIyBgb47I1k8BNmozRScULeFM4Oyqso1wPV8veLmNro2g+Ll6NWE9vUy8luk+dzlDtoHrP82ZvRcvhYmthSbdwPbNRQ3+YaNZU10uCs5sNhjZRLF6+YDebiRbMF6qYuHletFpJ7UxgH5gPmgGsnCEF0nw5TTSO743kgjeXk8bHbBb+NMyl9x/dUp5C736CXyAbsPdNxHeqzLb34aZiRP4Iv3yrjzXyv4fbWAz8/F8cejSzCW36SRfK/al9c1n3eoB/UgA2SADJABMkAGlsRAYE4w0vixLExuKy56J2q3ZXwgjGSRWmlnEvF1SWTP36M54RbvYs7c+JCYE5tExitf43IJpchUfzZqR9NIrIsjJSI4hpxbbapqt0Ag5NhuGQr/vo3q/oS2ISpkzk/M/Q13kOayXRnrJaRfiDi/nF+0LIxvK9/7HcqBlJ0j6xcR0bGLsURsJKrO92Hs7mUfW+ZGsn0xj9T6OBLbCv3Rth3/9/jvD5SRXD+VQWJtHPFu/61LIrcMbz7hg3cfBozFQmtXkVstDRMx6LdYjaMGkuabQ2R46/kKMvrN5LFEkxHWN80CA333RvIybseo9hdhxZ8y22tye6njB+LGtSqq16IN5761XVT97vnvbVT03d6PJlCIWM1nGs4rMLW/gxWkjiHk73YO280faSRbzbuXQ9vrVgOVXXLRgMnKA5sjWYxbKsw3jeRQbsL6Ho3k5WEkd8OvuC+qRSQrlhZpo1HFiYP7sG/fPpy+0vp++WHJ/Z74bti/N2ZvLg8twzgP+90nH+Ls9/dhX/4Y3uljXvlwI9nNa3xbL+cvbPz2WgFfnFpEPmUayYPFot7u/JltRwbIABkgA2SADJABnwE1Jxgy73nLRv1iCfltMRWFcWp3mzR+PdL2gTCS1W7quzS/ssS2aMx4YaifSRup5KLnQmw1jxY1t3yvjWRhjse/4c7xTWwpoKKHs77VQG22gMz6CYyvyzdvhulGTxEFc7u3gezROLJnarC1SKd2vYrS3hRiT04ui/DoZoovoc8kspELBiLmNVqNJd1o18vv9rKPKf9neYa2vtd9K3pciOCll+0ccq4HyEi2UdsT03arBkwMbdVK6EoxkWv0zPJbybTcgGpdHpFL0WyDiR3lkNVUNmqHEloY7CGMfEVrr4jw1vaFrBcuwv1u5Eqf+Roqx/PIbEmoRQWJLRnkj1dQi1q5M19D6VDe3SF8ququarplo3a+4J9nUxp5eRNTA71blqibvX2ljMJe97x58XncPbfYpev/voCSbhjeaqB63DvmqJ9DoyHONZ1yVqmJxRKJbVkUZuqtc0qLOswUkdvhHxfflEb2UBk1LTdu63YVg5cbrnhI60fDIixLlJ4hg1HUNRoXio7u+f1FVK67O9jEw0FxTxrJdXHE1yWQ2hV4UJHnX0Rbi5WATluI9hDXjJioV+US3ztUMthRfxPHyweoRg2l/Rkk13uLWdanXJ071Ujs0l/vG73jW0uICg3vr3B0+YtNd/BSUi8hqXIvh+cwjTaSLVhPtc9Hrj9cNo2zLXYk23NVlA5lkd7kLwSRWRbHAAAgAElEQVRKbs+hOBvOt95/ivIhza6jcjiL1Eb3HImtORQvugsX7Av6Tu+olw0Rpsdj0euzTddv1FA+mvPLKdjcmUfxQng5Rb+pz+YQf9gf32I7i6hcdHPJVMVnF4srHJ0MxpLI7Cmicq2K/OoV6v63YnWLh/eO6iC0cCMmOH3lcNngP7Qvz1VR3C/HugLKXl9W3+3outqDUjdG8iLGgQV9zBfhxpyXExv1C0Vkt/r3DodDjyNVF2/8aR4H3ONz29zjnfuOvGd4x9j1Cop7/HHC+Y6858hxLezTbqB6voCsd27nHrA1i/yZamRIp+byLcBlKOusuHQW3W1KO2GhwnM1dcmvEQbbwvC6RazGXVjAJ9dncCzvm8KtjeSbmH1jH/Z97w2cfvMszjb9+wGqEWN8sD1/XnkD+/adxodh+vfxdz+/cMw3xN+85k9W3eUyhBvJFv54YgpfvpnB55Uifv9xA7+WOY7/xcbvPsjhy7/vYocyjeS+tWeQb/5fu7/c5b5Erak1GSADZIAMkIEHgAE1JxhiJKtnjQYq094c6VNplEPeS+w5MX/pvXsfLqESNj8g5ghPFVDo4L1xyUaymo/05ykbl8soeO/6hVOVDuYSbdQvl9X8gDimLubF2mhmX6+iLLXYm0fxfNU9Tuopy7Y7g/gT7hzL+PoMcnu8eQhvvtXof3YdVTnPs7+A8sW6YUwa35XXCf200bhSQVHOGx8vozZnRuBy56lyyG6ZdEM/PxxDajrnzT+GzJEsLMB5Z9+TRfoVL2Ln80lk93jHaPOQQbNLcFM+6tV7fxHly1FzUn5f7Ii10LovoHbIS1/3fOsczfa8pslcxWVgfwnV0Plnf96pIEPANyrIPCvadgSJw7XodyfbDm3HtgzJ+sn5IFk2wckZfw6sOFuLnGdRzGim9+i6LLLr3dSOwh+ImstVx8pyiM82/SL0GO/4juurX0/4BBdKypNw+rSct+62jzmLCPxz5cUYdiXAYtBIXozWi+jHjWsVlA67faQg/KAe9NdWbXG//I1GsmZ8NRkbwb/RTI4epPVBp8XPTUbUCxlU5IAkjxMGwXo/rPXQ6iwKOzUDOjS8tTCpp5RRYlnDiAd3YYoB73AaMc20aWrzh2NIH/aMYlke8akGNnHDmkT2fBn5jXr4YM8IkmaYGujd34cZyY0LOcRVPloL1mNx5C+6N1X1EOAwGDD11Mofce5hxHcXUdge04x3rywev+Ob8qE3ZftaCRn5MBJkPfT/LVYHzVeRe0W/7jjSZ3qxu9hfeSfaanRTAZXjGcScMDD69SzE9mhm6RLaWj0AORpE1dksl2Xsfjf/NrapgNKhNGLDZnkVe48nkJdmp85cxM/i4a56uXW4c9MYHXL6QrublsjbMSHbfWgK+SvaA55XFrP/DmFitb+CVtQntqsSvXBBhD7ZoveZcUyt0nJky76j13u+huLOeMvwOBObm8OLGP3nmTRKMwWknmnWXxhZwiAz9QozksXiliT0sO1Dr2T9RQaCt0MpTIZwKdt5dG0WZbmoYEFbRSk1j/gcXl9o/5ApeY9izFoBfZFHqJHcZR2ExooX0fatVlAHwvlYT6VRki/JXV5XcdyJkSx1WfKYH0P2VAm59ePaPUbnaQWaoy+Y48DI2gyym/XUC/7x41uKqM+L1AApQ1PJjvgcfiXTbL57faU+m0cyhG91/JNhY4xZvtGNeRT3pjChL9rSmXw+haIaExbPrzG+PpkKnSxRbayPBd7PP3//NA5KE9n7bGkk/+IDnBY7kf/+XcyHnK/VtYJ/u/amMK/vvZG8IHYkF/Zh34HlsCM5xCQ+FscX/1jF//epOynx67kyvjg1AnSSX5lG8pKfs4Pc8v/+5Bi1oBZkgAyQATJABshA3xhQc4KtjOQF+JsAJpH15gOdMto1lHZOqR3L6t1OhOxdn9PmFhZQP+rlPbYCc4ch7z9LNpLVfOQI4rvyyKz25279Mo4ivqsUuvO0cSGPpGME+u/DznFfmUByZ8bb1WpqZl8pIbMu4l384Ziz6csWdVVlC5zbe6815kFu2c78cOgczrPJruboGpeLSL/kb/rwdRhCTITD9UxSY55Kf9d2fjbr7HJqvrP75/Xqp81DqnM/FkdqSzg35pyUNhZ0wVp4/9Hm41ttWgjwqOYXI8Nd+/MOak5d9CtnkcAYUl3MOXfMkCyj9AC+MonUzlT4fG7oPIumqzyHNYH0+TpUruTI+mrHynKIzw7HEr1tuq6vcz0btVMZTK0M6z/jSO6toDFfMzapBJnU+5jo6wkVkS5wzqcSTth5p98qncaR2JbEZNi8ZpTWi+jHdr2M3Dp9blqWbRRTO/1xS/Wppr4qvh/WXyPaT2/L++BnGsmhQEiIQj6/yp3J+uDU9c/zFWT18NNOWAfTsLKvFbQdeq4h3LiYQ0yb4G4yLcQDw1rtxv31gBHmhNSdMsyU4IDn/38IU7sqZi4FNbB5TOi5nnWG5G5pNdC731c3PW/QsC8XkFC7Py1YD08hN+sbr+aAFXgYbPNw5NfD53die8msj8gpEfbwptcl+LMw8KNyWl4rIOGFMXGuL1ahBRcILGrADD446aHR/fpZ1ihSp7yIAUtsa8PosJZuJIe1R9PvViZQUCbNUm8+tr+q1WlDETrF7GNh/daod0SIHfWg55x3FMlDJeT0fveN6HwnjVkzYsDEtiKKO7Qw1wEj2Vno8FJUe+ttbyHIt9l/rMh+LyMitDaSbdSPa7ldRd1fyKBc99pJrDLcGYu8htHWz6e94xqo7Aw3FY3vCwOxrZHcbHIHzxH8v/5w57CwmDqIsXyV1g4tcvE4Y7o2Pkzu9PL6LOa6chxpZyQvcRwwFw9p9QyOi9r/J0WEDRVWKTh2tTrHCkysjbVcMCHacHRjcAevYNM09INtrf4/FENWu8eI3fCRYea1Oqnjxe9eyqLivAQvnl8jckjwPi3bNvTzE3z8trcTN38QZ3/ykbvTuF1o67lZFPbtw4FzHy3RoJvHu3+/TIzkUH2Wet9of3zUjuRIg/gfUvjDDRu/XFjAL+er+PzseHszmUbyEjlt345h93/+jrqRATJABsgAGSADZKDHDKg5wTaGg5prnEBGvq/Ni801/qL78VcSSO/MILU+5i9uV3ML98pI1t5vH55AfEsG2R0pxJ/152XFpoqa7evaOJ/RokiOI7YxjeyuNBIvBU0dTTOxaeUlea1RTK5NITOdRWbzFCbkQv6vTyEnTHixkPx4HjmxI9mbb3V3JOfcXclqR3IDld3+/PDws1NIbs8isyWOyce8azW9P/v10PuK2CA0pRauh9fJ2YTQWEDojuRdomw55PaG70gWEdHy+o7kZ90dyeIYPTJicA5MzJFOro4jsSmB+Cpf3+G1eTNyZJes6XXXf26ckXNmY0gIw1Frd/17+s9qfjHSWA0xkrWUmUMvZVDqZB61G4bku7bql5I9C2OrppDYlERi9aQ/dyPmcvUIovJ4Md/iRRtY8YoXrVPzLeRcpK5H5M+djiXy2oupr4gyque4fmwS8a0Zt3++IBeLDGHq797C2530setFP+LlYzEkd2SRm84guS6GcWe+SWw+8+bwF6119/3Yvl7U0q2NIbY+hczONBKv+AtVxje7OesX018j21C2zX3wSSM5asK01e+/6q54ehAA6X0dA3leLSuQJzEQ1lreUIyB0EJTAvmAkTkkwiprN676GS8HhWrXCSR25lGaqaAyW0JhVyKwE0wb1ERHDxnY5AT7yLNTmHrBvTErg0QN9O5NRzeS7WtFc3ek4CmQg9t8COjMSB5ZJcLYFlA6VUR+R8IbnL2bnpiwVyawf0Nz6zCCqR0ihEsNtWtVVE7lkDByHQ9hQjy47g+Y69oAaOxmtSzo9V0aQ63MjnHEVscwIR7aHvNv3ktta8NQ7aWR/GQc6ek8imfKKO7NIBEw8oVmXYU30fTXNRZ8+SGqhfnTSYhxs186O3WVIeY/MKsHPacfuVyqVXVe3woNuS0emLQoA057XQnkSw4YycHzDj2fQGZvEeWZkhPCPaYZk9ZXp4xFDmb/8R/8LGsIEy9NIfaUCPM8rlYwtjKS6+JlR1vEYj2bQlELy9zE28opZA6X3fDUF8oo7jL7omxn+0oRmc1xTL3gvyCK/rjiqRim1mohvKd1c9JvC9nm9uW89uIi6jqCqW05FGcqqIrr7003rSgMGsmLq0MwnL2vpyyb+6mtThWMaG21uOt6GrQxkpvObfVizB/G5KYMcodKKJ8pILdtyn+BcOqmLzwJH7vG12WQP1pCcX+2aQxwx+NRxLeLcSKEc2clq7/gSBj0CWO16DgSu4ooXxCh0SsoHw6sJn0+o+VgCi+ftXIKqV3e9fek1Qu4vFckjroP+4vmt15EUr6cW+PIzPj1MbkxWf+kesIN55w/htn6Z1hY8EJWtzGSP33fPe7Ye/NLNOjqmBF5iZfDjuSIsb+Vfr34W7iRPIYvyzl8/qMsvjw90WwUH53CFx/UnXDXjpl8us3OZBrJS+TU7De9aHeeg5qSATJABsgAGSADZGARDKg5Qc0UDXmOVwttVVQ4G7X9Xpjgh6eQnTFTLIoF92lvc87ENm+uQKTxOp7vT2jrwMYWsUFAN4vFguXaURlpa9QJP+zsOpwrq80sI2tzfnQ3T5OGSPmlvSemz/vvicKATm4rNB2zMFdG5nl3vmdCLlYX51NlDIs2twB/XmvUNT31ua/5KgpbPFNplVxIHdH+DX+jVLs6Te700zqq+aoWi/HNPue/u0fNtapzinmJ59NaNDFRdrdNlIGntF0EayEMO2UV8zMbtbmtb0wisS2HwpnoUOeqHeS8f9O5Q4xkEe57Rl+QYGH8laQ7V9gifHfXDOkegOiHZ8xwzPbFPBIer5NhkRnrJaScefVRJL05FKFT/VTKXQyyMoni9Qiugjp0OJbozHRbX2de0dsJHNtRciI3+uezUT2UxPjD3q5k0V/a9DEV+eDJkBSI8zWUT/lpOg2/pQutFT9Wh/1YRErc7C2qeCGNkjav66QdPJ/15lbNNlN9q+P+2mG7Btt5QP5PI9kzP9xJUt1waPMzzeRFT3YFTUexIko9eIibzzp/BZv/t2B+ZX3CXqzASxghX4wwx/NVZNUKNm/3rx4yxuustlhJpodQeCnrr9TSbyIeMytWBW/O2mChBnqXI3WzFzuBAzuy06fMG5IYrNVA5VyrnZHsrfjSH37Eg8IhXRM3vLHzACdMeS0M9ZhYbWMcu+CH3HCuP4FMmx2tYvWZHvbXeIhb0mDoPzD5fXQMiT0RK9x60NZ3w0geWx8SXlx76HXq9qhvhvs3bI2pTnS0a/6N0Wm7cX+ndqvjRe5SLey04jVwjH+jFlx7XDaFrJ4M7HxcQNDUi01XYN8KtG3ASBarSSt7Eph8dgrpQ82LGBrG4hCN76b+4/bBiS1+SKGgvlFGsthF7a8uFXmgk+YDeZA38ZDU9DAoQhYnfMPxYXPXdtS1g2UM/b9ot23+yjmnTQ7VmsKLO4tXtJAyhpG8lDoExsXRTc1jyYL2ciU4V7nrl3JdwWUrIzl4bhHxYaljvkht0TRWixcvfZy1oBYTNe34HUFcjFvaWOvkDFerl90+JfL8OOO01/eCCyrU2Krl23HHxslQU1b0Wf++pt9LAv3PshDWR5w+/1W3D4nrBNu4a34bZaTVQiXzAT2UcTUGfYJrs7O4piJddGYk18sHsW/fQcz8rMuxVF33Gn7w/YM4IMNpizDZ2r83Zm+az0K3buKDt0/g2MED6nsHDh7Dibc/wE2t7WVdb86KvMv7ULw0j4VfzOOjC6dx7HveNfIHcKz0Lj5SdZZ1+NAN173vDcz+P/J3/udnNz/AD4oFv8z5Azh49DTe/Shgpouy/qCIwgH/eqHf87QIN5Jj+PynNm573/l1o4o//DAeMJQn8cXlOn69sIBf/1Oxdc5kGskmT4pDv30lO/ykJmSADJABMkAGyAAZWMYMqDnBFkZyo4LcOm+3n9wA4MzXiYXvQ4FNN35dhZHmpJl6PImSjJTW4XOjMnjamSLKKBJp5LR3VO33VlQ+XCfymBt9Tu7GVAZa5LyXO28y4s1j6UZyNOf+O62xGUKVMcxIFtG13LI1R/zyNBa7KZ3wyROh79iyPF3VScwVeem91HxvuzZQberXM2quTp3Tiiizo4n7Xh+b9tIC9po1kZpuR3hqurGXksiqHeGuzmp+sUsjWehfn8kj6S0icOdDvDmLr08gsT0fmRZMtp3/6WtrMKTNdU3paRT1NvE4GtI9DefvmkFvLOZfgJgfcxc/RPdvv2wej2os8edljDo7fcaC1RFPYfX1+4Tsr01lWLDRaGiRLlv2sQWocebJFIqhO7b98Uw3kjvX2i9zp/3Y2YjhpBed9KM/qPYU5bFR3e2mVRUsSJ9K9a2O9NXqZZz7/vk9jWTZ4Rb1OYrJV/ydY3FtF9mift4SYjbdj+CJiWQ9n+M3hIHmdipzYt3Mc+zcZLSdgerm56wq0VY+BXaRqhV+XhuLiX59ot4fIP2BSE7Mq5DA2k3E+ZvYAdsqhEZgoBc3+3q9jKwRqnccqaPaA5nW1mqgcsqsT/7rK3/cm4hhCmnn0AdjUeaJ7d4KOHHj0nbDhg7URvnb557wc7IEHkz08mg/i9VbqfURfWdjRrvR+Dc5eaM0w8eag3Ev2rrnRrLGt8+aKLf2cBHWzppe5nFmndXfxMP6rhhWaGPZxLYOdzmLPrRRhiuxEBVmRT3oBcpr9lsLw+u0xSFBU+8puSIt0LZBI7ld/efKWkgSC2IntDTpzP5jYUiGkok4Z5gZ1riYN3OYr0xou/rdNjAXxYwgEWLiOu0jVt8q82wEclen+FvYtVWbRpRX/V2scnRecNx+F4zEoL6nHvKax4wl1UEY2Vs1I/sb8aawPmZbjKmFDUu6rtClhZHci3GgafzUVzjr7RK8n62SC5ACfGv5i1S7BBb1WGETAYHxWoU6D7S9c48JMSoXAvmp/X7SQfk8nfOrxUSGy04wGkjX/M7LFydxvrAX+4jxTdfc+bkTI/lTVE+4JumBg5oZ7Bmrs1dv4rOm8wavfxPVH5zF2TeLTojsffsKKL4p/u/+m7mqmbNz76J40DNlDxRQLJ3F2ZJm1B4s4l2ZG9y7rjSSC29/gHeO7sM+YR6fOIuzJ475RvDB0/jwE71c0Uby3HtFHJRG9/eO4cSbZ3FaM5WL//hz16j89BrOBsqqf+/0FbHrW7/mAsKN5FH88XwOn1+q4HcN31D+7Yc5fHlUy598LOGEub79iwX87h+TAaNZ+x6N5Cbdg+3A/5tcUg/qQQbIABkgA2SADCxLBtScmtgt50Usu1h1IyLuzSMn8q7K6FJi0bKM1KTmHt1IY7m9eeSNfznkdiW9iIrtN30EtVEGT0Q6M/V9bQ4hykiOnlsV8xxearPHkijW/XfPkY0hi8/le4eou2P0hJjvjRrKR/PI78khszUBOecee8pNh2bMi6qyh7xvqr9ZGFuXcUNeG/q6obFlbtfQ+VKnvN3Wyc+BreZIOjam/Gu1NZKj5tW0zSNqbvhusTZfR+VU3gkV7kSQlHMJIr/3poLasKXmFxdhJLuc2mhcLqOwOyQ8+tebI38udMOQ0kYLOS859T7rhxMYFnVTc0DeWNzSLHbngYfEcaIPBuYHVP/Tr6XGEm9ORtNTzdOI3wV56rS+Wp+Y2hvuUTSVSx0T0sdE2cViDDm+WSKEdBrZvQWULtSaw54vRmt1/c778T+d9yLVDk0itSsXGFfdsSW71Utb+MRSFn7c3/dkGslRHfBe/D5qwNcHkPvhZ2F4GbvopLESMNaCNxMx6a7vLJaDtRhUtd121gtZLT+vNkg7bSpuAtoqmoCeamWf811tl6Ma2NyBW914A8erwTU40D8bR+IFPd/rGJKHvFVgIedQDxZOORZpJAcMDvXAETAvwkxDM0919I1T1rdpR7LIFRpSL/V9OYCH9jN9t7n/wOTcIINMGNfoTVv33EgOM5C8cqsHJ08HtTjCqFcHNyFn927c2JU/vDaHqpPPtJPj6yis9yMBhIZmEaanyFWu2kznUrSTu3LLfZAZQ+q4CMEU3BmvLw4JtG23418g37riu2lHsl7OcC1MM8zC+NoEYiqskgXr0ThyF/zQSi7HgZDNYrfmC1PqhUa+2Difq2MY1xfB7Pb7vnntiIewCB7Uy5nXJpEvOdpDlmgf/yVr6XUwx8wV5qrpgIlpPSsflJd+3WgjuTfjQNBIjuoTjlG7WVvI5LwoC84CfIeNA7fMftf04C/a3Wk7/4VBtp3JjQXrSTMkus/fFCa9/FCi7YfUysoOyieuH1yoFXg5McvRAb9GfVZgan+HLypNfaATI/ljzBSkkewZu2+au4UPnqzi578IHxfk/cr9lObtaXzYVJYFLPyirq71RvkjzOvnFDuNy+7O432FGdS1v0kjWexKLpy7Zh53q47ZI17537qmGYyyLIEdyT+b8czugzj9E83gdtrxJj6YrWLOu/b8e26+6QOnPzCv+Yt51K9+FKpJuJGsmcBHRvHHHxZx57+5ev7mozy+PKb9/XQev/tkAb/8f6v4/OSKcDOZRrLWzp1wye+Y/ZR6UA8yQAbIABkgA2RgmTAQnBNU8yj+u50zd/JEHFkt1Z1YpD/19cB3oo612m/6CPKg5hrbzb+o+ddhJA5r4bXV3ELrdzlns4GI+Cjm8C7/k1qAPi7DcYe9U6noVaaR3JjJmov8Q/SQ78lOfVUZQ95PA/NI7vxVtN4qIliwvNq8drd1Um0QeLcOtpX/f//dXZ/38v+uRbWMPKcfJlrOZ99t1mT5GlfKyG9xd4E7i8m9OQA1vxg5z+uXOare8hrOpzCwj2b99FzPZpRR2zVDygPQ56fNsUUtypDehMeI+L0bsVOkLRP5r/XFIDnkdiS8v7fYjKLzpsaSUST2+ItSqhdFSjPt35U6bG9zQVf1VX2ii4hxrfqYV3YRrj6pbyJU/XYM8Z0l1GTktcVorcoc3Xf1vi368QdHk36kSFWWiOO1DWHd91eTE4NRvV0H9Gcaye3g6eff293IBxSysE4jjEc3P4PbaUdFeOVGDfm1vpnlh7WWndAPM+AOCGJAbwTCQLuhRf0dxw2Ud0z4u6kebt4xp5cveCNVDw1qYHPLG2kqyDZSA334oNRqV60ojxqoHP4CRpgasN1zGw9M8vriM7CTzb/xmvlwrWE357fSbK6C/EZtl2EHq6SEoeWE1vH6SzD8qa6xUz8Ziie0f+k3av+ByWnzMDNG1bk3bd1PI3khkNtbPtAF9Wr5f89EHtW0XPFSBuVuQhwFDC3FvdLW7YPqQS+MS7FD0ljQkUH5YsmMPmDkmAm0bavxz26gNltEfndG7WSXK0/lw4HPd7D/mC8hYVqaZliwz457prgch+SniGCgjS2a/rJMUZ+6vua1Q150Am2gl1+EUvLbfVTt9tW/4/wcOWb0oA7qBdPTTSzk8RYwOAtStFzWTkhzpz49uG7kjuTejAMdG8kLgbqol6AA32FjV6DfRRvJ/o5gOd4HF+9Esdb0e7U7v4PyibbSVi475wq8mHbNr4hQsEr2se54N7nuxEj2+qpm3MpzfFafxTEvXPUblUB46tA+J83bcCP5U5nDOWAUy+vpRvOJ6qfKLFRG8vGL+CTsutfewgGxwzh/Gh+qesiy6Ebyp6iedE3nQlmb6Ak758ICrr3pffdHc6osqqwRx7Q3kj3T+EQG/2tuwQl3/dvLafzxiDSTx/HFBw38ytmVnKCRHKFzu3bg3+U9mJ9kgQyQATJABsgAGVjGDGhzgiPPBhacvzLh7mS0xpAMpDby30PHkTrUwjTyDKS6NGM6fLZUczpfiSF3OXqTzUK9hKSzIDlgVmtzC612JKsIZCtF+G3/3XNkYwHB1HqKYzHvGtyRrHZ3WhhZnUb+TAUVZZ5VUNzpbmiQ78nOuVQZQ9431d8sTG4vaufSDDl1/ipq9SiNuq1Tn3YkB97XlbYLvimr5h3VPPfdYc2/trtAXUazk/PFzvz7kAVL5QcP9GdtLkKf7zPOG8K9fTmHKXFey9N8MQwpbfT5abN8oUayXUV+tb6JTM59RHzqKTVD6uLUVY0l7ec2ne93W1+tT0RuTgmWTR0T0seM79poXKmgdCiH7NYEYk/5c1vKF1mM1ur6nfdj5bM8lkDufMU04bU+75jzl2vNES8j+5bJRTs+B/3vNJK7mPxvmpDt9bGtjBSjI94HkAbCclpPpVA8n9NW3uk7F/36qoceT/vYrhJKulEs8kHMajsHtRuP035hk/m6tmoAcwd5tbIs8PulGsmWyBNgJHb36ygGFTXAOfXstZG8APt60TT9nOuMYFzbuebyPhodrlfXrak95c5Ds15qwLzVQPW4GzoiJ0LTbNINOf1G7T+ctW2/HrV1X43kAFfdPBw5WoaYyNbz6a7z5ATNIj/8rdl+Zv8LcNkUqtvC6JN+uGxLrJZ1dinLcwbaNmz8m6+htDuJCechMOLByxsLdO3M/tP+Ycs0w5qvM7q+4K+WU9z7D+Ld3RsmIPKiy75gXrvdQ5jUzv1UoXQcDVrUU3vIEmX1X7J6UYdAJAlrAm4+I3fXsQq1rgxWUfYeXDfKSO7ROOC/wLs8RI/5AY7VC3ng92H3niUYyeqlxeO/UwZju8reA3EH5ROsB/UMPDx3za8RKUNGIzG5ln2j9WcXRrLqs+Z1Pnn/hJvH+PszqEd8xy+DNG/DjWRpzB5sYeK6+Zr3Yd+b/u5iZSSXPlRjgn9NUV553QJmVdgr+TvdSL6Gs44x3lk+aGV85ws4+8EcPgkLix7QpGMjWRjHp3K4M7+A2/+zjj+8OeabxqUCfvc/F/Crfy6au5Wl2cwdyREcmOyajPBv1IMMkAEyQAbIABkgA8uOgZbmTwOV3VNwwtsG0+bZVeQ8I0q8g8r0XbalHq8AACAASURBVMH62fYi21x7H4vtikr7twCVvi74HqvPLWg7Po3yid262905Ppl+S+UTfljsUA4zZ/V5BX9uQ81BaTsE/Wv5kc78OQ4Z1cvNMx3fXws8X/sba8TmpWqUEW+HldHUXG2Q6qROT6V7kiPZ2YQV8u6m5sAC7+u+Vn6bKCO5l6w1aqi2zIXr6z6y3ltMoOZD/fb2y2tujvLn+2zUL1abwyPr767ivM6CBDci6aIYUmXT56fN9ldzMtqOZNEO7iarCSR25iDmu0P/7Upi8qtirslP/2bUXa9Py7HELJM4R/f19dvGesnfGGKWJypHshvJ1fxuc5nU32+5fdYZ+2SO9UVp7Ze5436srjOO9Bl/TlaVzdNc7uqWv1d9q106AL3N7uOfaSR3OQnb6WTtor4XZqTcr/AFw2VaI5h8SdsFa5gO2iBk7GayYK2cxKSKu+/lGDDC+fZ7d5pXVjXQuybE8Nos8junvFWH3u9W5yIfWtRA5fAZMOz0BzfDFNJ0EtxE7kh2v9c4I29wbnmamR1DYk/0g6scVJ3PYAhbK1DmNhyrG7BTX/1G3aHZ4Zy/N23dTyNZhfvxxiF9p6qhb5h+USZyiwUK0ec0tZMrBIPfVw8kYVx6zGX18PNevQRbYREGKrtkeBsLVnD8mysjY+QU9zld8VQMU6snvXAw7u/9B8vgQoyIh1JNU9MMsxDbnkd2/ZgfycASkQ6kASf7mY3qtBbOO/iCpZ0/qKP+f/PaXRrJx/XQLIGVwvr1I8eM3tTBX63st0V9roLsC36bmUz14LpRRrIwqfXFRXc9CoX/QuaMoeoFt4OxawlGcmPGy+/i9LH2jOvMuT93UD7BUK+NZOPe2IJZnd/Qn5duJC/Mv4tjTj7hE6h+Kvt11Kc0b8OMZL8sb1S8HMQhZVam8ZF38HPv7+p3kUZyHTPfd3cPn74iyybLohnJqi5v4B3jGUgeE/z8BB/PFnHQ25UtQmsfOHoas1fn8Kna+WweE2kk/0MKn18o4PPzU75hfGQYX1Zq+PUvFvCbWtbflXw0gT/UF/BLu4bPTw9r3/d2LdNIDkx0mW3Q3I/5d2pCBsgAGSADZIAMkIFlyYB674l4VxORvbyIjMOBucH68ZQ31zGO5P5KwDSzUTueRuz5JApXPLPTFiF988gfD343jA090uMEUkerKhyuq6ON+vksphwjzsJEMBR1YG5hfLOf89Y5XhhFh2UEylEkDntGrpif9OYHhpwIerpR613zYTl/4Gumdq1aMWQv6McswL5SQNKLimcYyc57trupQU/lZzcaEJEYxXGu0WhhcluhKSVc42IByRdizgYAFbkx5P1uwUkb6O4+ba7TgqujVyc/Ops2XxVp+gbbzTfMrZe0eWS7odpOzSFHntOft1BG8sICumYtTAcnrVcMK74+idTeMuohixzsywUkvI1LSgvNyB5enUVFLZxewMJ8DcXt/nybmu8TuXcftzC2NoPiZW0TmSyXWMTg7VK3Hk+ieF20d97bodwFQ8p01OenzXZR89jSSBZzVBvdtGdjIupqiOGvxioxz7LV9UCa50rN6yy0G0tk3b3PxdTXmZv2WJ3cVkRNb0OxEWxvAmNfHUNit+cRtOtjF/NIbc2h3LS4QFswsiQjeRH9WLCxw5uDXhlH7nzdGQ9Um9h1lHZNYWKdmSbSns24iwP0ucVbNhpRi1BEO4SMyY3LJRT2F1Be1LgdYCLQ5qoOffg9jWTN6Gg20uRNrE+fQSOlDwD0E7bgtdQKt5A2iB5IAwZE4Fi1g1hpF5IvcybkZuN938z3GZ0jOXp3mte51UDvsiNuevX5Okpb9Z23FlQoB1Ve93j1EODUL2DKBh7cjAcm/TytjORGBbrhN75qClMvjWP0yUlMrU0gNV1ApUtDUhjTerhysTO20/DK6gbs1Fe/UXdodjj17k1b99NIjuRNb8ewn3tqIgvmtAdT0QYvZLQ84/4Nq62RLB5ET8mXBn3cnDQjBXjtFWkk36qjtEU3ckcQ25pD6UJNPSiLh3Y/RK4F9WDZtKPffwkJjkHy/2Fmri2MbBWCV9RFhLg287nWjya0vNSBaAhh7Rbyu7Bry3K1+xT8+H2uRY6iFmNGL+ogzEYj7/2jcWT36ByMI3XGHHeXfN1II7k340DHO5JFOdb5KRmsp2Q0hg7GriUYyf7LgdvPYnv8vNvtuHH/3kH5BK89NpLNMUQf6/1xprPy++atb7B2eY5ffIDTjpF8DO+2eglw+q00b1sbycfeC+Qm1vq8Mo27MpI/wlvf68BIbryDN5y6dGoke1rdmsfHH8zibLGAA9JU/v5ZfPhJs5bhRvIEvrjawC8XFnD70zr+cHbUN4f/IYPfzy/gl/+tgi/+IRDe+l9s/L486X+XO5JpIGt9pbMxoJlRHkdNyAAZIANkgAyQgWXDgJoTjJ6PcAzNx8T73BCmhEEjn4fEfMh2bdH9kzHE1yeR3BiHn+JrBWQYWv/dOjB3KM8X/JyvIr9Wix73uJgHjCO+No6pZ7R32xdCUqYF5hacefSvjCO2NuGWT0t35phpmiHVuJDDlMib7Mz7jWBydQLJzQlMPa+Vxfmbppkwa2Wo4IcnkfR2eWa3xbW5ED3qmugDNqp74+6Ob2sEsc0ZZLbGMf74FHIXhRlto3ZU5rEVoZUnnHlQUZb4Kn8eSuycNQy1oI7ClL6c1/I3h9dpJLDzWc33Rpq+zf24cSGLSUcbC2OrU8jsSCL2xJiKINn+nOFG8kKXrIX2L2HAGXPdI5h4JY7ktixyO1NIqFDuFqxnzQiKdX0e+WHRDoLDKUwGomXK+b7GxZymtwXL6RspZKazyGyOa8eNIL7XmyNZDEOLMJKduQ5nl3HY/Gdzm4oUkW6btvl+B2OJ0S6Lqa/oE4cDfWJdEslN+pgzgriad2rRx975ryhucg110ddHX5hCYmsGme1Jo3+JiAjOmLcIrd36LqIfO16IH3rcKdumJJLrpjChFrJMIqP7RnMlpJ/yxq1n4kjvzCDxwigmhM8TsVigaUyeryDzvHcOkQ5wXkR9kPPJHY7bIeOP0e59+juNZG8gvucmsijHA2YkByfq/TYID2stO4g5ES0fQsRns1khjvEHZ/e7kXk8nNUputE76a94UwObd44WIWCccqqB3v2+vOmJXcK51dqDWVhOlCYjLDCoBB7cFmMkG8atXD211EFHlEvLcS3ac2xjvml1n2xH/dMoj6WbCx2aHV7Ze9HWZlm0B1hDHz+MhsOtsRu1wzIL3rxwPy77Gm/GtQIPHGEm8lNJFOWqplbHtvibkXNV7ao0r232vQCX8tyCg/Xmi8DYlrDVeAGd9PEv0H+adwOLFYp310h2xg6xUlWPePCNOPLOi4erS9DMc1Z2RjxI6LzrPy/FSA7m2B7dGKazp5W2U1wfM3pRB0cr9RDsjnn+eC4WJjSHx1nydSON5P6O+eLlP64eOC34O68DfBtjhNevlmAkL+gPouL5oZPcOrKPOp8dlE98r8dGsrGA7LEkit3kcjfK3wMj+WczOCjM1++9hY+Mc5vjnttfWxnJfs7hnoe2/rSKE00GsSyLtiN5obvQ1voYpH6+dRMXTx50wn0fOPdRk7EZbiR7eY+lkfymZiQfieHzn9r4pWEwD+HLC+5O5d9diNNIbstdGIv8nWKW+jX1U2rD/kEGyAAZIANkYJkwoOY0ouaURDl18yZgXoh5n/0pTIal+RqaRErsVPbmHvw5rA7C5MrnJ7Hjc8cURkPnxIcwuTlv7hCVx6n5yBWI7cghs843Xv05gDHEp8N3pjYuF5B6QZ8T9eYPvjqJ1O6ct8PY1My+XkJ2bch1vj6B+Fp3Dlef43D6QKOK/EYt6qVTzzEkj8rNAWIXdA4JaRAZOowgtr0YGUEy2MfsK0VkVvvGma/DKKa2F5vSpLU3fUMYFvOH03FtI4Or28T2ksNB+3P684/6jmSnLl2wFqy7+r/YtXo0g8QzIfNBnrbjG3MoN21YEmZgGjG1wMA/fvilFNIeX2pOXczxXysjtzXWpIXS/eEY0oerqn+IMnbNkPIA9Plps11UvxNz6o0GSts63GGs9aWCN3fqzyOZ13D07WgsMY/rur5OmWzUz2QR1xaDKE2tCWPMccrVoo/9XPSJdcH+J9t2BFM7Sv4ijW61NjYBLKIfN6oobIsZEWNVPZ9KIDcTDHtto34q08Toisgw4GKnv4we6Y3JYv7am5Nd8YobVaDpO5KLZf5JI1ndLMYQW+2uwBKrsO7Jvy2dmW5qoF7mcLUtpzACAoaT03mjwlrL+gYMJNXhn0iF54Z1wo34Cd2tr08hq+dR9s7bmM1qOZotyFweTj3UwOYOfIvZkSwf8uxrRRV+xSn7UKypPOohwOEzYNipBze3LE0PTFKnyB3JYsfeFFTuUsvC0FMxg/mEWDm2R4TGKaM2Z4aPadWu9sU84t+QNwfv85kkcuflw5p5cxPnEg8B+c26ga/fqDs0O2Sde9DWQTNaPLCYq4xs1MRN5OtaPQ2TKFDmkJ2sot6Ct5j2UiBvJq30FaZOZU/cfNjvgYnsXPNaAQnVduNI6yuwPH07MpJF3cRKU2muPRadAydqR7J9TTfntMgAsp3FzufzWeNGrj9Ymv3HfAkJ07eVmStWSLo5Trz21nfaizHMC13jjkNu/uPm8Ec2amdySG1MIhPY1WxflKsQxfkDu4rbmdLOWOCvprNEuKdgu9kiJJC2mjkYDr8HdXA01cISqTHZu7/KldKG9ku9rjh+rVZ3PcRTD8aB4EInEW6sEgwZLLTdrL/Q6i/ugXHAGCO8cXApRrIXRcDJLePovAJ+/mNznBUhdLJbEkhOl7QwUx2UT/S3dkZyV/w2UNmpjfXeA7TBhdbHW/9+6UbyR+c80/QtP2dx9DWleRu2I3kBKudwISLf8i/qmCm4O4tPVD9V5o/apRwR2lrlcTbOK8uiG8mfonrSPf+BjupjMqLqfeW0mzc6pDzhRrIFHJvCF2/n8Pm5oDE8hD++lcXns1l8eUILY30qg89nc/iiNEEjuWPeI9qLx6u+pBimJtSEDJABMkAGyAAZWA4M2HWUD+WR21sIMc+0ZzthwB3Pu/Nvp0zzy3m+sRuoXSijuF+cK4/iTFV7p/POI85xqoDCmZphnnXyfGTP1VA5U0DeyeWaR+F4GdV6izlANR/pp+VqXKug5NTVK59h9Gh1Ve1io3GlgtLhQJ2EZs7vwjTzjhEhvIUO510d7GslFPaKucsQ7W7ZqF92tcsfKqHaZGKKstmoy7LsyaNwqtLVHKiuceN6FWWtfLXg/IFXf/t6GYW9OeQPh5vt+jmDPzeuyWsUUL7shuoW32l/Thv1GdHOeRRmAiF9Zbt0wpr8botPhwfRjh5T+aNlVNvNK8/XUT1fRF7osr+I8hW3bvULRbfMYXPKdh3VGfcY51p7C2YUw6YydsHQfM1hWpTFCLmtndNlL4f80Qoa8zWP3TyKF81ofME21P8v5mqcOh8qNS04UN/rdCzRyuYe20V99WNlv9H7tBZZQJVLHCO/uz+PsD6mxpe9Ild0HoUzIf2rW61D50kX0Y9FXm+PH4e5i3U/Aqauh/ezXxcxzrUZa0PGZNFHi4eKqMjxNeQ7hrYhZVgOf6eR7E10RyWsXw6NdP+WwQ1BOuy1gTQfosNayweQ8PDWrdqwyQyyRjG1NYv8oSKKh/IQYVHGjHJMIH1eG/x7aCSL9hQhaSe/ohmRIryH9lBjGmG9NpIXIAzBKd0INequlcv5vZYHoe1AJlbqBIw3ee6hCcTWuuFNsiK8ybopxEJXOi3BSBYGY9D467atRagLLber4HJ8fcZ7CMoivTZkVZVhEgUMGqf+Q5jclEHucAml42G8jSN1KrjqSfIuP93QIeErRoNtpv9/BWJN+X3lObVPx3zzj2tapSgeTi/mEJPt2SYPtnh4LB4ttQiRHtDJ2JFc9kOHiOs9k0T+fBXVy1VUZ0vIh6w+vFtG8sKCMO/N/OZjm/wQR8I01xcEOLysSyO7J+c8EOam00g8qxmeXw2YvYaBb8F6Io7MdA6ZjRNYIRYhtOGidjhhLiywxhB3FoLkkNuVDl1NGFx8suQ6eOOCH5rF58h6NIFCU14Ul7slXbeVkdyLcSAw5jv3p8enkJ7Oo3imhMKeDJKBldTO4iP10hzg2xgjvH63JCN5AQsi/LoMj+P1y6HnE8jsFuyJF7fgeGWGIjIWcoSVT7RrGyM5uCu+Jb/z5tjaVU74pntPB0byjVkcO3wCsz+dx2fG8Z9BvJA6u5HzJ1ANCePc/NwlzduD+MF12X6f+vmENaP4jfJHmDfyDH+Cj8tvuAatMIS1vykjOf8GZuufGZN+n928iBMHXXP42Ht67mVZFt1IXsDCT99y67TvIE7/JBBie/4jzBSLeMfLO/XpT9/B2dkPMW+8hH2CD0uuuV54u/l+9OuPcn6uYxmKuseff3yrhN9+pt2XjHbj75u5pCbUhAyQATJABsgAGSADZKCPDIQYydS/j/rz/ch4ZyZ7ZI8M9JcBGsnO5OsKTO11d0w2ZnJIrrtHO5I72Qm9MYNixKT8IHYeJ7ypYWi2Dmst62gaWsK0GEXyaPPEp/y+3Mk5okwwzeho+t0I4jKBvLxJB0yFpexIdsvkmoJ6eUZF/g3PhLjbRrIIJ5MMDeESpcsoEq30lTp5n43ZHOJOrpeo80X/fnJrQQsh04EZE7j2kts6mC+liY+QshsmTKDMHRwflStb8SvqGGBQLrzo6PPJFMqegWCc09AuUO5n0igHVlCa/S6wwME4Vyc3ssD1dCNZhO3Zae6ibVfPu2ckL2DBrgd2nuo5jNxwVH6u4hA+dAaeNxeNLIgXsUBIeKOuz8qcuxGazotQ4mFhlKLLETSSZUitRddBtr0IuRNYHOLkRTLMKr0eS9CujZG85HGg2/72eAKFy/rK7QDfxhjhabBUI1ksShJRIDoda4f1RQwdlE+0azsjuQt+G7MZldfJsrrPKT5/dQZn3zzr/TuNN7zcwYWi/N1ZnP1H+RzwGa55O473idDQBwools7ibKmIwgHXnN2XP9Zk3kaPj/O4eFwedwAHv3/QySl8UA8BPfcuip7xG3q9g0W8GxiHlZF88KBjAh8oFHH6zbM4cfSAazzv24eDpQ/xiexjzmeEkbywgLnKMXXcgYPHcOLNszit8h8fRPHSTSws/BwXi35dCsXTOPvmCRzz9Nx38HRojuRf/XMRXx6TuY7vzucf367iN5rRHt0e+jjCn6kTGSADZIAMkAEyQAbIwPJhwHif1+cCBvxnh7EQI/l+rS/rFT2nRG2oDRnoLQMXL14ciEUSNJKdG7k3oSnMgm0JpHbmUZqtonpxOf2rOPkrxle7sdTvm4fEYDjUdmGt5WRqMLx12CS9/K76tFE7nkH88Rad/fF4U+hZR+uAqbB0I1lM0NdR2qaF+bQsyFywd9NIFmGD/byvw5jaUUDpVMHdPemEHskhtzuD1Gpz5+3I+gLMEM9tHtQbNZR2JdCZObUCE+szKFyQJoA8d4dmh2pj/7hFt7U4lwghvTcR2KXuczO2Povi8Sxicle5wV+gzNYwxvQ8u8bLwziSe/3cNq36tWni+mXp6Oatm7RNWknNgrllm3OOm2W4i0ayKKPItxFpkA4jtr2A8qGkaqO7aiQ75akgu0rXXd8t3CovhzxG5McphOYMjzYDhzG1Uw9H7LeVwUqjgvwms7/6XAjGyqjsT6gcIM1Gsjjv0urglkeELtYXAEwgEwy13cTfIq/bzkh2rtO7Md96bCwyB8/wS5mQHOWBccAYI7x27IGRLHQXIZUyYTmjtLFmfF0WJSOPegflExq2M5Jbmtk6vwE2ns00hwpvYsPkXZmuTs5gzwgN/hwIyfzp3IeYLR3DQWmS7tsHYbCenv0QNyMXOJjXVX3tk2uYKRZcozZ/AIXiD/DBTXMX8cKtm/jg7RM4dtA3gh1D9+0PQq+n6iTM4uvv4rRmIAtT+Qcf3AzsphZlizaSRVnn6xdx9qhrdLsm+kEcK83iQ6Osn+HmBz9A8bBfzn3fK6D4g/ByivPeFrmO3xprDkfds13JXk7lNhyo9uD3BuJFk+0VMZ6QX/JLBsgAGSADZOC+ZcB/F5dzAffHp/NcRyMZ92v7sl73Rz9lOw5mO9JIXnYPRTZqe2LhA/7KpJNbVxhsaWGq7Yr4njYp2/eO+UIGxaMZpA9F55odzMkaG/VZkfNAxMv3cgt0NLkr8zt4x4Xlw4hiUOZREGbpxjjiG1PI7I7INSLP4cXslzkeik2GZ2CiSOYwkHlGwvI5iHPbdVSO5/367y86RpPMb6HyPOi70L0cKjKHSWguEO/cTn4RowxmjsrRTcXm/CqyzsJA2KaZU6vzqEXlRZDHhH3eaqA2K/KW5JDZmvBzMW8W4X+9HAmBna86y25ODK+dW+WNCLv2YtpaO499vYLi7rQbpWB90uGkJPImON+xUXNyjOScXBByN7kw5JpCxl5roCZyL+xKI7EujuT2LESekG7yTy/MVdy8ONLs7+Izf6jD3CuB3YVi8YDR5noZRP4RnUtNN739Wv1stm1IGQU75wvIbku63Ii+ureIsryu6j95FLQ+Fuw/ZS1sfGh56hWHT7e/5VG6rIW11+s1V3Vz/3jai1woxuIKh/Ui8nJsWScWJuU6yjVu1yso7vFYW5dEenexRVjwwHjj8Vi/UHKunVyfcBk7XIbKy6NpFTlmiPMsoQ5CW137rnL+dHtdJ5+Imx9JhHHOH2+xIGMx40DI4qH69QpK+3PIbEm49409IgdPdB4Vk++wnDci37o2/oflSOp0vF+w0RD5n8Q4K8rnpRHIiRws18J5bl8+wZnt9EF1jw4ro2j3dvxeLyKpLaiJ7a5642gYyw/O73QjOXRs0sefZfDzr+fK+OLE0F0wk8fw5YUqfvMvD07bD0J7s4zkkQyQATJABsgAGSADZMBgQL6f7m0xb7IM3luMMrM89+2iDbYzxycy0F8GuCPZsjAkDLJ5G7VDaWSOFpEJ5Eftu2kcYljHpkso7EhH5ppkx+lvxxlYvW/VUdzkh8Ed31pCI8q4F6biuhG1+ELf8Tmw9e/LA2SIkSxzavbl+kvrC/Xj/i5fy5pEZjbchCIDS9OZ+i1z/UKMZHcByTIv97IcY8SYqC3QW5lEcYDGxLvZVwfNSBZa/PKTOn7/4zS+PDmxdEP52CS+PJvBH37awK+WJbvs73eTf56bfJEBMkAGyAAZIANkgAyQATJABsgAGRgMBmgkWxYmdlbQEGFUt2VRPJrGRIiRe0/N5OEp5E6J3dJFc/cbJ924qqprBgImpzXqhLYui1220lCer6M6U0Bm3ZgykWkodjOgBzQOC2nbdbt1c/0lfne+itzqIdX2LXetL+d6sGwcH5fCAI3k3vFTLyH1hB9eKLarwt3IHpuDaCTzBW+J99iljEs8tnfjErWklmSADJABMkAGyAAZIANkgAyQATJABjpmgEay5eb5bFzIIbW7hOJWLZTvMjGUR9blUdqfRuZUMH8sJ7M4odk9A/b1IlJP+pP67RdJDGNqukXYWA64gQF3wI1kkfP0fEYtqBnbzAUsHGe6H2cGXjMayYFxbQkMCCNZ3nOeSaM0t4Rz3Wf3GxrJZGHgx8r7rE+yPdgnyQAZIANkgAyQATJABsgAGSADZIAMNDNAI3loCvnLdZSn086u36S2a6a9wdaNGbfY744isb/k7JYuc/K1dxPbD/jEl32liPSqYbXrNJL14RjSh6vR4a8fcB3DbyqDbySLPLmlHQkk94TkLWabcxx6EBigkdxTzkUO5fzWBNLHuSAu/L7R/IDO71ETMkAGyAAZIANkgAyQATJABsgAGSADZIAMkIHlwACN5GczKF8uIbtN7PpNYHSZ7EJWxt4TSRRO5ZCeLqPxIEzes449nbxvOcjcaqA2U0RuexLxtVOIOYsoRjH5ShzxzRnkjlZQn+dA3VLDCF7rF4rI78khtyeH/KESatSxf1xHtMli2pHHPMD9f76G0qG804dze/IoXqAByv7wAPcHjqu8h5EBMkAGyAAZIANkgAyQATJABsgAGSADZOCBZeCBN5JHNxdROZ5BWuz6XTfSfodmn43m8a1FlHankLvQeGAh5eQ1J6/JABkgA2SADJABMkAGyAAZIANkgAyQATJABsgAGSADZIAMkAEyQAbIQH8ZeMCN5BWY2l1CYXva2fU7NbzY8NN367gJpI8Wnd3SVe5opJHOFT9kgAyQATJABsgAGSADZIAMkAEyQAbIABkgA2SADJABMkAGyAAZIANkoE8MPOBG8gTSe3NI7yigtCu27HYjWy9kUDyaQfpQDXafgOBKjv6u5KDe1JsMkAEyQAbIABkgA2SADJABMkAGyAAZIANkgAyQATJABsgAGSADZGA5MvBgG8mPxZHZkULmaBGZF+7WruLFnzc2XUJhRxqFazZXVtBIJwNkgAyQATJABsgAGSADZIAMkAEyQAbIABkgA2SADJABMkAGyAAZIANkoG8MPNhG8rMJJDeJXb9pTPQ597HV7nrDU8idKiC9o4j6La7CWI6rMFgmckkGyAAZIANkgAyQATJABsgAGSADZIAMkAEyQAbIwL1nwEb9VBqTQxbGNxdQs/vTJo3zaYyLee5nM6g0+nPN7rS2UZ2OYciyML6l1DTPbl8rIbtxAivkXP0zCWRPMTpodxovx3ZnmdiGZKCXDDzQRvLwMzEkdpVQ3Dq+7MJaj6zLo7Q/jcypet9WFfQSLJ6LAxUZIANkgAyQATJABsgAGSADZIAMkAEyQAbIABkgAw8WAxX8X48+im99f66/c7q36ihuHHHnuIfjyF/pT4TLQTCSK7smHV1GNwU2bM2VkH6mOZro5M4K00xyp2d/+y/1pt7LnIEH2ki2Hp5C9ngBySeabxhtdwzLVUp35XMUif0l5Ldl3WQZHQAAIABJREFUUZ7jw+aD9bDJ9mZ7kwEyQAbIABkgA2SADJABMkAGyAAZIANkgAyQgcFk4B4ZyQsLqM/kkFg16WycqnNHsmdM2YgykutHExgRc/tPplAUqSVv2ajNFFG+3h8TfjD55rjEdiMDDyIDD7SRPLQ6h9L+BEbvihm8BHP6iSQKp3JIT5fRWOYrER7ETsM682ZBBsgAGSADZIAMkAEyQAbIABkgA2SADJABMkAGyEAzA/fOSG4uy91vn8HdkeyGvBabyUY3B3Yqcz6eu0PJABkgAwYDD7CRPIz43hLy67yQH8vITB7fWkRpdwq5Cw2jse7FwwCvefcfuKgxNSYDZIAMkAEyQAbIABkgA2SADJABMkAGyAAZIAP3AwP3zkhuXC4hvzeP/PEqGrdCtLzVQO1CCQXxnb15FM9X8f+z936vbVzr/68uNvRiX+Ric3JRODsw0KBCGrNDDblwTYlriDkxMa3ZpidyKNkinFgt1JiUBO+YBCclCJcTlA/YH4UexWGj4JBvvgreJ0GBBgUSrLLjqAEdEPhQYVKOTAz6F96HtWbWzJrRGv3KDzvx+8LIlkYzaz3Pa60Zr/d6nqfywnCcElBeVFC4u2ifcz6NxVt5FAPRukEhubZWQj5rnz99bQn5XyvmNNEvSshl0khfy6EoaiuLtj1Ycq+19EsJ1WZR1TWnL9eca2VyKDw1raU3RiRXHy0hfTWJ6a8cXeCLBJJXU/a1MzmUlE2CbRT2uCPssdgYtVyroKjaf20R+ScV1Aw+qJXztv1vFaSPapUicjecPtzINdi3/qKCouuDReQelYzndeeOagnFe54d08Jna+YIa2kH4dcHto+qvxWwpOxpaovigq/UbMjAjmNg5wrJH8eRvpPC6O5XiBx+I+JzP6azS0ieTaOoblocmDtuYLo3f/qevicDZIAMkAEyQAbIABkgA2SADJABMkAGyAAZIAPvCAOakLy5hsL1GcQP9cCyLFj7ejH0jxlkHur1k9dx+1QU1sks1pv4eOPhDPqsOLK/hwu/pUwMuyMRfDCWRsknwtZQujOL0Y9N6+D9SMzboqa7HvmyhuKNKfT/yXR8BPuPzdqpoOt1uELyRzFMTY7aqaIDa+Z7jyWRrwTEzPIS4h9FENk1jNn5JOKm0pN/HcZ0tugXTl9WUZifwrBlblvvqbQtTLu2DArJ3t/G0pYfxbFUdmys2hjpR+JsQrNHL6bvOaK1tNU0BncZ2vN5AulAoJhrr0/jmJ4clv7yt2MXhi/lUHlRRTFj9sGuI9Ou/V2fVYtYPDeK/QHb2+fei9iVfGBzgWeH/cdnMXu8166v7fv+bgxfyAVYCufPbYtrex5Lm5CB94WBHSsk7/9uEbnLw4YJ0jDp+ybQN/z54VksZWcxnSmZd2txIn5HHho5Sb4vkyT7QZbJABkgA2SADJABMkAGyAAZIANkgAyQATJABtpjwBGSf84j800U0cMTSN3Mo/B4BYX7WaRODSFqRTH0YwEbap338Rz6rBEsPAuz8TqyJy1Ez+a976jvaq9mIbmGol7a8ZNhxE/PInkhgdGDH7hr44Pncqg4EbRC7Ox31sN3fxHH9OUUUpemEP+qH7vE+x/HsShqCutCsrt+vheDYzHET8URO7LfPf/uY4GgKVek9dbaPzg4isSFJGZPxzAoRGZ5TpFVtOiuk1fuTLliqTg+fjaJ1OVpxI/sda/Ve9rrS73uCaZ7T9kprCvBiOTP7YjklIhK1iOSDW3c/dkwYsenkH4i+l9F4cqobZNIBLs/H0XiXBKzk1r7dw0j+YsXKe0Kya69ejF8LI7EqRiGNX/s/7wXHzjH7D8i7Jnw7C/eP5JEQURyS/9Xkb/Q7/Z//5E4pi6lkDyXwPCnyo57Eb+h6w2eXVwh+8N+jB6PI3HS35bhy4GNBhpz7Y0J1U6+0l5k4F1lYIcKyb2YurGE2cNqIt0+r8NzOSxemHZvxu8qWGw3J0UyQAbIABkgA2SADJABMkAGyAAZIANkgAyQATJABnYWA7aQHN0XxcD5PNY3G/2//mAGA1YU4/9SkcllLBxtIhQ/X8CIEJqfN55Lt61JSK79mnYzcoro0ooeqSyiaTMJR5jtxdSdihRH8+dsUXLPicWGaNRauYDcPU+Q9AmjX0xj6akeeVxDKTuFXimIalG8Qoj0ibT7kcgEIo9rFeQuOEFgfxlFSgq3ddRfFJE+nUDyrtcG2wY1lK7F7YjovwqhW9nKE0yVkKyOL1welOLr/slcIFrX+a7exj8NYvqO/5q1JykMy77tRTwY1f2iiMVJJ8pXE3199jo8jZyeKlz02bG9Le4OYvqW/5qVe7MYdK6ZuCX8Zbe19tsSpk/NYulXT7SWn9UqWFLt+CqlZUD17CKu1fvdoj+SW9rftk9Ej9KmiOzaXNmer2qs8fV9ZmFnCskirXXG21nl7rqRk/AWisripnhnEdMX7N1R7zN47BsnVjJABsgAGSADZIAMkAEyQAbIABkgA2SADJABMkAG3i8GbCHZ6ptBYSPMtxsonO+D1TeHFUeY27h/BlFj6uoN5M+2Tn0tbNgoJFdRuGSLgR/4REStXS8ryJ22Bc89JxdRqVXhCclpr15wiIDoCaP9mH0QEDHFd2olpMfs9fbhOS+yWBeS/RHEWtteFJH6yo6aHrxUQDWkDS4/rvDbj1k3CtgTTF9FSBbXr/mu79l278lGwV22qbyEhEzZ7dmmlb1qT9OIOaU4e88G01ELe1aweHy3FMD7L+Rb20SPGv9kCrk1ZV/PLpFPp5CrqPe1V2FPmUK8F9Mm3/rsoX2P71NsJgPvHQM7U0g+Oovkd6a8/1soIkci2HM8jdy1aczK3V+cfN2HAE48793EQ99yfJMBMkAGyAAZIANkgAyQATJABsgAGSADZIAMvH8MOBHJPxaar+c9mIFljSOjBLzNFcz1WRj4acX/vd+ziFt9mHvcmpUGIVmKuLYQOzrvj2zV7V6966SLPjiNfLWO6t1pJ4o4gshHg4hNziKVyaHwa8VfrzhUpNTa+rKK3KSd4rr/nCZ8uqLvfkzdNQjQcj24htL8qBRNdx3T6z7XUHmSw+J8Gqm5aSROxBA7FkNsbBB7G6KfPcG0eyHZIKRqthU1hlNX00jP+39SV2YRd1JLj161RXRXSPaJupq9qnlMHxQaxV4ksl7EsecvIWDbEeMNkdS1Kop3F5GeTyF1YQrx47ZdRlWKcV9ksWeX3ccX3bTm3nXqqFcLmP3CaYsW/ew7huv2/vFKe9Ae7ykDO1JI7j0xhdjHWysaN0ZB70X8Wg7ps0nk3Z1B2k3kPQWQNx76mAyQATJABsgAGSADZIAMkAEyQAbIABkgA2SADJCB94MBp0bydZW2OsSvlQzGLQszD73P12/GYe07g7wWybw6PwLr6ALKbawNNwjJLwpIytKOYaKkfe3ak6SdLlkJjS+rKGamMOhExvrWsa1hTN8ouqmgXWH081mtZq/XJ1FHWEU4m4XkQSRV2mpDHyu3ErY4fCRpp2V+UcLiaa8esK9tbrZRPY22J5h2LyQPe6m1VRtd27anMfQ7EdUt7SXE28/FOfU+6Pb0+qMLybVyDrNHd7l1ko12Uf6VfTCfxzcGXxSRPEIh2WcT5X++UjDeYQzsQCF5F/qP9rvF6o2TqnvTae9G8FrO8bcEFu+kMDWn7czaYTByUtYfCvg7eSADZIAMkAEyQAbIABkgA2SADJABMkAGyAAZIAPvFgNdRiSLdeCNPM7ssxC/uW6LNPLvKCZuOX+3WCtuEJK1qFkVEWuyZTAi2T3mZRWlRyLyN4npU6Po/1Ctle/HlBOh2lIYbSkkN49ILl51IpKP2+mjSzecOsiRfiTmlpB/VETxif1TuJdG4pOgCOsJpq9VSNZsO3huCQWnDaotwddSxa4d3dJe3QjJIurbSU8e+TSOZDbva0/+xhT6hd5BIZniZ4s5xB37PI6sBBjYgUKyKFJfcG8wwUl9a/4uIJ9NYfpUAqlHYak8+NDIiYwMkAEyQAbIABkgA2SADJABMkAGyAAZIANkgAyQATKwfRnorkay6s/KTwN27eTNOmSEsqijvNmevxuE5HrNrZEcOZo0Rwy/rGDJST0thdZak2uJaOCTe2XUq4qGbSmMthSSI9g/uRSaWjl51BavZY1i0dbv7OurCF9lN/m6lsOUTCWtR/O+ISFZs+3uY2k7WjogvMg21WwBWbWzpb26EZJFOuzPhJ3Monz1l1kKySbf8D2KpWSgbQZ2jpD8sorC1Sm7XoKombANf+Ln7J1V6sbC1yYPLhzkbQ9yckSOyAAZIANkgAyQATJABsgAGSADZIAMkAEyQAbIwNtgwIlI3hfFwPk81g0i8PqDGQxYIZHGsiZyFGf+vYKFoxZG0uW21wAbheQ6ak8XEbccMfbsEkq6UCzWy+fjTl3hfkzfEwFONZRuTGPq8hJK1YC9pJBr1zt+nUKyqAccny+46bIlp7USls4N2qmad48i/WsNdS3ydv93AfH5ZRX5y8NOFtK3ISQHbbuIYsBe1SeLSBwexvSdCmrOWvYbEZJfqFrGuxG7FqiFXS0ifXyPbUdGJLc9ljhXBsY+tZgdz87OEZIJ+46HnTcA3gDIABkgA2SADJABMkAGyAAZIANkgAyQATJABsgAGXhzDDg1kv8ri7kvo4genkDqZh6Fxyso3M8idWoIUSuKoR8L2DCuV28gfzYKa18U0UC95FZtNgnJUhjOJrBflXLc1Y/REwkkTsYwKNNA2yLz8OW8LeSu5TF90H4vEtmD/rE4pi4kMTsZw/BBVYO3H9N37ayaLYXRNiKS3bKRnwwiJtp2fBT9u7w2xOaLnhB7dwq9Tl96j00jeTWF1JVZJI44Yqn87O0IyUbbHosj8V0csSO24C76tueEFzzW0l7dRCTXq17keWQvRk8nkRJ2uTyFUc3HTG3Nea/VHMLPyUgYAxSSjTdsAhMGDN8nG2SADJABMkAGyAAZIANkgAyQATJABsgAGSADZIAMkAETA46QfH0N9c01FNJnMHaoB5ZlwdrXi6F/zCDzcK15wM/zBYxYFvqSK82PC6xrm4Vk0cYaKneTiMm0z0qgdV53D2Iqo0cD11C6m0L8cyUaB47fNYipG0XUXtp9bymMthSS+zF1JYm4K15r1/toFLO3AhG2L6soZqYw6ArN3vH7v4ph+CPx99sSkh3b3kuZ2x/Zg+FzS7601y3t1ZWQXEf9hYjgHsZutWHAfd2D4eOj9kYCRiR3NJ44v5nmN763U7mgkBy44e5UENhvToJkgAyQATJABsgAGSADZIAMkAEyQAbIABkgA2SADJCBrWVg4+EM+qw4sr931o5wIdk5z8saKr/msZRJIz2/iNyjEqp6quvAOnn1tyLy2TTSIrpVHP9L4/G1ch6L8ymkb+RRMZ6rhsqDRaSvprH4wEvxXC8vIS5F32Gknoi01TVUnuSwOJ9G+toS8k9K/lTXgbbVX1RQfLBkXzuzhMJvVdRrVRREe+cXkS97tYmrT/PI3VpC7pF2/XodlUdLdrvuBcRqda0XJeSEra4tobDWyhc1VJ4WkLuRRkr09U4BpTWvDWpMtbRXrYK8OEegD+r74rVZu2uVEgp3F5EWdryVt9tQLSJ3LY10JofSC68fzc4jrydSn2fttuR+a+yL3ib+7tmVtqAt3kcGKCSrGwNf3/iOnP9++r+CP+3Z4H2cbNgn3kTJABkgA2SADJABMkAGyAAZIANkgAyQATJABshAEwY2y8jELETP5kNSX/u/W3PF2xoKl+2awiKVcsWJGN62tg4KyVybf+Nr89uWBfqevicD254BCsmE9K1BShG5PRFZ2Ik3dv9DMe1Be5ABMkAGyAAZIANkgAyQATJABsgAGSADZIAMvHcMlDOIfz2H7P0VrDxexsL3A7D2jSNbae3r2tM04p8NInEphdSlOPplOuNd0GsKu/WH3VTHXirorfpM+tAgJG9Ve3jd9pj485//zDVraklkYIcyQCF5hzp+Kx66KCRTSN4K7njN1v940Ea0ERkgA2SADJABMkAGyAAZIANkgAyQATJABraAgfUVZH4YQe8+C5YVRe83c8i3ISKLuselTLyhJu7e4ykUql4/tqNIKjmjkIzt6JtmbaKQ7I0rzpW0xU5jgEIyheS3touEQjKF5J02wbK/fKggA2SADJABMkAGyAAZIANkgAyQATJABsgAGXgzDNRQeSTqCosaxmksPWhRV3g7rYN3VH+Y/LwZfmhX2pUMkIH2GKCQvJ1uoGzLWxO1OUG0N0HQTrQTGSADZIAMkAEyQAbIABkgA2SADJABMkAGyAAZIANkgAyQATJABnYmAxSSKd5SvCUDZIAMkAEyQAbIABkgA2SADJABMkAGyAAZIANkgAyQATJABsgAGSADZIAM+BigkEwgfEBwR8nO3FFCv9PvZIAMkAEyQAbIABkgA2SADJABMkAGyAAZIANkgAyQATJABsgAGSADOgMUkikkU0gmA2SADJABMkAGyAAZIANkgAyQATJABsgAGSADZIAMkAEyQAbIABkgA2SADPgYoJBMIHxA6LsM+Dt3nZABMkAGyAAZIANkgAyQATJABsgAGSADZIAMkAEyQAbIABkgA2SADJCBnckAhWQKyRSSyQAZIANkgAyQATJABsgAGSADZIAMkAEyQAbIABkgA2SADJABMkAGyAAZIAM+BigkEwgfENxRsjN3lNDv9DsZIANkgAyQATJABsgAGSADZIAMkAEyQAbIABkgA2SADJABMkAGyIDOAIVkCskUkskAGSADZIAMkAEyQAbIABkgA2SADJABMkAGyAAZIANkgAyQATJABsgAGSADPgYoJBMIHxD6LgP+zl0nZIAMkAEyQAbIABkgA2SADJABMkAGyAAZIANkgAyQATJABsgAGSADZGBnMkAhmUIyhWQyQAbIABkgA2SADJABMkAGyAAZIANkgAyQATJABsgAGSADZIAMkAEyQAbIgI8BCskEwgcEd5TszB0l9Dv9TgbIABkgA2SADJABMkAGyAAZIANkgAyQATJABl6Rgc11rOYWcOYfQ+jdZ8GyLFj7ejH0jxlkHq3512ErGYyLz1v8zDxso00PZ2BZA5h5uOG/hmHte+36OCxrBgXDZ2/d/53Yy9feDZRzKUx82YuotF8PBr6eQOp+wMb1AmYa7BvS9/VVLF+ZwNihHtcnPYfGMHFlGavrrX1g29Xvz/HrgfZsrqFw/SImvh5Aj2rXgQGMfZvC8vNWvltDJuY/v5Gd8wWNAVP/9XOMI1Np3be3zoXP12wf7U8GtpoBCsmclLQbCwfkVg9IXp8MkgEyQAbIABkgA2SADJABMkAGyAAZIANkgAyQgXeQgfUC5r6Mwto3hIkfM1i+X8DqsxXk72eROjWEqBXF+PWytxa7uYH139fNP2sFpL60YB2aw8pmG7aQQrIQrceRKTc/ftsIyZ3aS63jb5aRPdlj2/lKFvmHK1h5uIzM+TEpzg6cL2BDHVuvY0Oz8cr8mFlEL2cRP2AhenAcM9eXnXPmsSxE38PCp63tWt/QfbmMM5YFn5D8PIvJQxasA2M4k84if38Fq88KyOcymPlaiNetNwJsrOvX0H9fQ+HKiDzHXFHz/4bdjjM5/Vj/7xvt8KXZk3OTZl/axZvPaIv32hYUkgn4ew04b2y8sZEBMkAGyAAZIANkgAyQATJABsgAGSADZIAMkAEy8KYZ2PjPAia+vIh8SPTq6rwQ+kaw8Ly1L8o/i6jhESw8a32s7JcSkkWU66EZFP4I/952EZK7s9cGCj8O2MKuwY4bD2cwEBTstfV/c9/XkT1pwTqawqpJVN0sY0FEAh9dQFk7V3Oe7EhgXUhe+/cMRk5lUDZdo76B5R+EYH0G+Y1w34Ves2xHt4/Mr/rX+mXUex984nLbfeiiHTy33/60B+3xnjBAIfk9cWToTYT942RFBsgAGSADZIAMkAEyQAbIABkgA2SADJABMkAGyAAZ2FoGnFTWE7fWm7fj2QJGmoihxnVgR0iePC+EVAvBqFz9O2YxdRuKhiZ7/Z5F3LIQvxluQynYhwiyxr6v38aEZaGZXzb+fQaWNY7sWrt2ahSSdR8Yf5c+DIi+Imq9lbC8uYqFoxai3xhE6kcXEbWYvtpob86Hzech2of20RigkKwZgxNKuzfCVzuucF7UYQipRbFd/SFv5Ftw091cwVyfSEvT5W40nz2dOhq+Ohmv5svQMSNqiqTPIH7EX+9D1oN5WEazlCmSj1gGa762v6F2NlxD7P5rZ4ehY8u+VumF1nH7lAXrh2Unpc46lqd6YB2YxO3f9T6ZHy6ND7f1sHPo53uffm9W/+X1jEmznbfIhr+vIHs+jiGtHk/04BDGvr2IzMNAXZ0GfreozWwHHyzJABkgA2SADJABMkAGyAAZIANkgAy0ZsAkjAbttlHAxUMhomDwWP1vR0gW9ZTL18cb02hrxzZdB5E1fGcQP6xqD0fR++UEUrlVrGuRtOs347CsOLK+9a3AusRGATN9zUXf0LVF0V6Dvey2n8FyM3HVEZtNwrCx72tZWav6zL+b1Ch+IGpQd7IOZV7ra9rfBiF5FSmRCnvfJG6HRLnX61qEtimluWz3DPKa75q2QeOExwV4pm1az3G00XtrIwrJhPutw00huf2bkNjtFhUpaVrstGvvxv52hOTyzUkM7bNriqh6H+Xndj2YhR/G0Ss+OzyJrCH9jOjH1grJddg7DFukGXIeZC2rD3OPm/jT2dHoPYgKYVmkqZl4JSHZfI4m7XjH5zlT/Re7pk0nD/Dh9jH+E7EFNtt4eFGOnZ6jE0jdzCP/cBWrj/PI31zAmX/YmzLG9FpKW9DG9uaacFvz+7QNGSADZIAMkAEyQAbIABkgA2SADOxUBjbui3W+oSbpqjdQOC/SNgfXjdpgRhOS63Vn/ckawMVHjeJo6DrI2jLOODV8ZZ3gx6tYfZhH9sqEvdb3zQJWVcpsJ/ilIZWytlYhxeZXCI5ptJcTAPJNtkUAyioWjliwDME05r6X7YheNxAkaG8n7bQIKNH615zjzoXkclqkPtdF8jVZCzp6eA6FEOFcpfI2ieaifbK/+y6i0Ha7g33n3839TPvQPjuDAQrJnEQpJLfDwJZEJDsPMWdv4/bZKKxDraJfW01ab15Itnc89iCeXvHtUvTdUNYLmPtSiKnjyBh2ym21kFzfWMYZy8JIuhw6NuSDXd8IRvos9CVXQo+zRemJJrsGlc/MD5fmh1v1nZ39atvmPRKSnX/A+v6ZDx87lRWsNtvp285cxmNCx6tvnqKdaCcyQAbIABkgA2SADJABMkAGyAAZeJ0MiP/7hUjbJAvfxoMZ9FlReAEJHaz9+ITkOup/FDAjrmeol2xcb9osIyPqABuOl/8vl7OY6LMQ1cRWuT4WKhTb65rNhOam/4cb7dXu2qaTIdBga2Pf63XYgqyFge8XUHi+bmdTFGmlnxewMDWEqDWAmYeNonx4H8xrfaHH/34bE/ss9J0vOFkN2/D9H3kZ8a37JHj+wo9RGaAkgpTcn329GPq6Mco8+F3+3YYPXuccwXPxnrONGaCQvI2d875O1jsyIvkP5wGkE94ez6FPRbwW5zAgHiTvd/LAErzZtfuwFfxee39vPLoo2zjeTsSk+3DaKI5vuZBcb5Xe2n4Q7ksWUEj2wQpNb+2c59RtrLf0u/nhMuzh9n2dGzrp13snJMuaNYE6OC25aW9sdmJXHkubkgEyQAbIABkgA2SADJABMkAGyAAZeM0MbK5h+ayINDYHVdj2dtbtlOB3YADx81mshKY0DrQxKCSLNYVyBuMiM2Cgdq5pvcmO/h1pEi1tZ/GLWloWvyb1ioUw29cq9XXYukeovdpf2wxbXzT1XfEu1jaHlP19r0PGyG71PfOrea3PeOwfq1j4RgQRzaCgIr7DbKO9b/dFCcQ9GPjHDLLFQO3oP9ax/rv2U1lF4X4WCz+Mocey0HMyizLTXlPA1LgyMsrPdzwjFJI5CN76IOhKSN5cQ/7KBEYOOruo9vVi5NsU8pXAQ5Pw5+Y6VnMiFeyQTKMsd1sdGMCYOH7NcLxioJJH6tsxDBywb8CiLqn7wBYWkRz4juXs6Lp4vYA1dRP+TwoDloXo9+0Iiqp9Tgqaowsoy/atI3vSgnUy21yU3FzHyk29jkkPBsQOs/uitmr4w9b6s2Us/BDHkLKv5XzvQbs1WZ32GXb6hd58ni1gxJCyO+xBT57HSbHTczLjf8hps35LaFsUA86rHUkcEu36XLTbSWld1MT+wDlUZHMwtYy5f+aHy7CHW/M56ujUj+55TNwEHj7XHmUw46RXFmOq51AcMzdDIs/XnTq/Ok9H4jiTXsZqu/8ABe0Z+Nu2TYiPOuRBt3NH/XRSnIv6Q/W1AjLn4+78YXX6D1+3QrLs60VMfO3VI1dzl5tuSred3mb9fe13lwvtPTV21ovZtjnw2fV+ymljiM8M11LX5Ku6L/CVLJABMkAGyAAZIANkgAyQATJABt45BlxRdARzj5sHiKjSXuXHXjrptsVFk5CsR9r+6EW66v+vK3vKyNUjC1ht9v+5k8Vv/F/eeuGKCLJw1y8Vn/Y6YfRsvv3oWnXdpvYKX9tU/bBfO41I3sDKFSGs9sj15uzDVaxJ8bWMFVd0jWLkp5UO+mNe6/O3U0SOKxF5ErcNmRsbjld2Eq8bjkAsSgreTGHisFg3bz9yWkVhN8vK2PT6elv4+1vXWOgbNd/w9W2wQCGZk9xbn+SkSGHNtF+boZxF/ICoq2vXDS08LCB/P4vUKTutyOQtPQXxKhaORmEdGMHEjxks3y9g5XHBu5nuG0fWID6Xb01Ksbfn6xlkcnmsPLN3Z8lrHIgj+/MMLCsggDi7+tR3Cs9WsXI/j2z6DMYODGCu6ExiFdH+KIaS3gNby8EtxcoodBHS3hmonTfI7h8rTsrCI/e2AAAgAElEQVToIUxcybr1VZevz2BMXP/HDFIiRU2gPsjq/Aii8kHpoux74fGK3Jlm2zcK/eEwtN2OOKW3N/RYt93Ow18gYjdUxHqekRwMfH/bLyJ3Ur/FvXaLG4x6ML7uPRir/thprVVNlBXMhaS3Dktrbe6f+eHS9GAv2mE6Rzd+tM8zg9T3A7Ju9YJiP5fBzNc9zsPnGlZ+GkF0n8OVqo+TtHcuDgRT7jipk9R4zTvHL1+/iInDPT6mlU27ebVtExiTwr9d8KDsnLk+juiBMfjqADn9FDs014L8KFH2Z7HDtwdj58Wcs4LVZ2LOmcOY2JQi5g/DnNPQ5408zshdwlq9oeD1gn+vL+OMmBsPjkPVI195nIc95kU6qouNNXRUm4X4HTyf87eJr3p9A4UfxZyr+llA4aF3reiXc1gJ7JoN2nXuZh6FZ2t2eqiQa4e1ie+H+4u2oW3IABkgA2SADJABMkAGyAAZIAPblIGmomgbbRZrj5aFvp/Cy6q5vg8RkuX/86LusiYwqv/X9bq55rWAYBsN61fOGqYvi6J8r3l0s9tufX2gpb3eTI1kO3q6DzP3A9G8Wtts0bWTbJEGW2nnk/1/FRE5eC7xt8oA2XYtZ0dwb1lzOsgB/zbya/IJ3wtdf6QN361xRCGZg/mtD2b5YNKukLwphOHGFCxqolnLnUGfEHi1HVvrjwt+oVH5WNWNCAipdScytkEQc75n1/0VUcp+0creqZfCqoo8VtcRr6b39M9b/C538wVTJjs1VM27+cSDVHjdYbcuikjLEuz/7ysoPDdNXBvI/7MP1r4ZFFr1Rz6sjvn8oHzU7HXlJ3H+i75NBaYH143/LMhUPANnl71Ib2nnzuu3NGuP95nzYNoQYe2ktdYe4GUfgr5S6bEDIrk4v6l/9br54dL0YB96ji78aI/FkPElHj5FWp0DPegJSb1kjw0nOttheu1f47CsSSwHREVpW8FRK5ZajA3lI9s2/jHpPjCHpQIy1PMR57PPFV4HyK1RFEwt74iy+j9jqn3yVc05be7A3Xh4EUP7LIjMBuM/LCD7uIz1DdPY9N5bfVQw11R2/tkcD26G6FJIFhsjZD2gB4Z/qv5YlZtURH3nDc1/rezqs5X2Pb7v+Ze2oC3IABkgA2SADJABMkAGyAAZIAPvKAMtRdF2+hUeWdvARaiQ7AiMYo3HWd8xrTfJ9a0uIpLrdSeroptFcQOF832tsyoG1wHatJfd9jNYbrZe4qTcNgW8mPou13hbiq9lZP5uWFcN9sP927zW5/rtdYvIznXXb000rGG713Tb5rFnXqf0Pm/2XX5GO5GBncMAhWTDBMoB8GYHgC1etReRbEfhBsQin882sPy9hWhQHPUd4/Wn8ea4gfzZqEzBYhSE5XkckTYoJJ+3YP0946Se9q7xyvz8fhsT+yyY0orIaFhTfRG1++/fTVLkOIJ5g5AcYivZD/kQ2sz+Tr/bPS5wLePDm7CrJuCuP7DFtYHz+QbBrKv6LYE2hPnLmN5a2jlQx9aU3tqJaDY9sDYyKGxofrg02Ue013yOJgyG+Mcei1ptm4BtbBtYGJpfNW842cxjxvJ/rtqcf02CcZh/7Ov42eyWB/tczXaVrmLhiIXojwW/HRxR1ry5w/bH6vxQw2aJsD7J99dXsayn8bei6P1yAiJdfrnZP0kB34Wmsu9KSHY2UASjz/Vr/ieFocAc2dquTZjVz83f/dzRHrQHGSADZIAMkAEyQAbIABkgA2RgezPQpijadH1A+ngN2W8sWIZAhYbvNhOSxbmcDHIie1l2XgQB+Ndmu11Tke14LEq/OetLUsRttsZiWAvoxF5N6jIrm4isfda+M8gb1lHUupUvGvvHKKyWQrK9NtT+uqp5rU+28Q2JyOLcdoDHBG63VVrOKVXYDl+cc7b3nEP/0D9vmAEKyW/YwOoGxlfvIcEWr/wPK2H2kTvCWoi1cqdVy5u9ff3Gh4UCLu7zC2GmtphExY1HFzFgRTE0tYD8s7WWkYOm85reCxWLBauOyNyX9Ke0sR8SWuzGq3f6wFNHvQ3RSfZBPqy+/ohklXLc+tZcX7rb+i0muze8Z0hvLUXBht2Ztl11n9i8mB/azCKw+eGykVebY/M5vDHW0JcQP8rzBCLCfd8tZzBmWZA1gI1zpaE2TSUro8d7vp6zI2pNkcnGczVpv+F42zZ+IblbHtS5sqE11J1+/rDsi7hV46NZ+nf73K3GprnvG+tlrNwU9d6d+sf7WtdT0v1n5CSEhabfW8vKVFozD8zttL9rp3nXN0+0tmuz8/Ez3Sf8nTyQATJABsgAGSADZIAMkAEyQAbeEQY6EEU3HqUwl2ssq+b6+j8pjFj+0nfuZ8G1klZCsjjeCTKJ7hO1dANrsyozXYssb8FsZHZ7vA3oK+kRQ83kJr7rwF6q7ys/DdjR1YYMiyoF9fh1vRSid317rcLfdzu1dRRh3xHXtbNidiKQm9f6Oq6JvLnhrTlvFJBKBrI16hxsriIlMns6wvDGozmM/zP8eGUrfS1H2ZivHjO0BW1BBupBHRmRhnfafIPG5IBqlwEpbgQfVvSbnva7faxIK93qR3sAWMsj9e0IekWKWOP3tGNDIkEb+hIS0blezOKidq3owSGMfXsRmUdNHgK1/jVcp2n6apsxmfY6sKvO9BDUcO66QfQTbdlcQ94XAdlot3Ah0eHeEac6e/BoViN5Afmfx+16rN+IGs4DmHnYGG1tFMoa7Bt8cHOuG2SjIao9mN7aFoxN0blSYHbTWzvfC9nNZ25zsI22XcP8ajxHF340nke3X0vRMYSpSh4LP8QxIGoECzsfGMDQP85gIVf2C7H6tTr8XYmUGa3+cMv+yGs02jrMzt4YcvqpRcrLz1raR6XN9gve3nk7uG+o2s8uZ/Z3N/6TxYwSmoNMi7+7aHODHZ1+mudT/3yhp9JubdcO+t8hH13ZmNfg7k0yQAbIABkgA2SADJABMkAGyAAZeBUGlChqDeBMroz139dDfzY2N1C+OYkBy0L04DjOpLPI389j5dkqCveXkTk/Ltc2B76/bS7hF2xnO0JyvQ6vhJ++Pur8f/5HARcPizJnY5i5voz841WsPswje2VCluLqObmA1ZCAARHoE7X60NdnIX7TUBYr2F7xd0f20tYQNsvInuyBtW8IE1eyyD9cwcpDYbMx9FgWwsoXirUC81rFBgo/DiEqAoZOXUQml0f+cRnlx3nkcxlcPOV89mOhg3WtxvUnV0TuHcfCo7VQNtZ/V2ugq0gdEiXQJmWE8cbzLCbl305JtPuinbaPlq/PYPxgFNahSdx2SkBuPJ7DiFgfPzCCiR8zWPbx5diqXb5M/uN7nC/JwI5hICgTU0gm/G8cfilStCkky/ocf1/ASpMHL/uhzLnBbhRw8ZCF6OFJLORWUA58b2V+LLDjrvuI5KBQsbG+htWHWaSch4tmUYrB76q/12/GQ8Rvv1gjBB2fYCPr0raKejRFJIsHJbGLbwiT6WWsPA884BYXWkSkqoc4JxVKULRqNp6cXZDBh0ubD9HfAZz5txDkRW0VZ6ehVgtb2Kzb+i0b64F+Ck4MD8K+uiLPFjBkDWHhmeqz9io/c2oFN0lrLdrcINJJGxkeLkMfbk3n6M6P5rZo/WoplIYIybrf/1hH+bH2MN/RQ7fWFv2cmm30FNrd8mD+J0K/9jYQkkX/H8zAsrTIfz36++Eq1gLz3fLZ1yQkr9/GhGXhTM4wbgLX1Gs6t7arbmP+ru4DfCULZIAMkAEyQAbIABkgA2SADJCBd5SBtjdiaxvORYmr9BnEjzjZyMSm8H299ob8+x0EqrQpJLvrbGFrs5trKFyfQfxwL6Jyw3oPBr6eQCq32lByzsepExwTllLad6xa4+nGXuq79Q2UcylMfBloZwubNVurWH+2jNS3YxgSgqyzWd8OGkph+Vmb4rjbPsNan+Mjde7wVyXyr0nBPHp4DgWVpntzHas5kb1uyAvgEGXRDsdxJp3HWrDUnPTnRUx8PeQFXQm+hE9b2MroM7d/7+gYZfvfuPZDbt7PsUEhmZPHW588OhGS7foccWR/b3MAPrqIqC60BPxb/jkoJHdfI7nZpCijhhtSILfqg50GxjqZaRDA/TsYy8iecmp3qIeDrmsk20L62M/mdC/1lqmNvT6pVN/N0sC4NhPpcmIWrENzWFF9cHwl+dg3hIt6BHJIep1Xqt8SYMNtm/6+I6AJsVtGHR9dCKmJ7aTwSa6gWVprcQ2zeGt4uNTEUr1ui/kc3fnR3BbPpyp1c3hEehtCsmZPe6NEqw0P2vXFdwN8KD9JfwT+6emWh2b/RNjX2yZCsvyHwxOS7ZT2M9DFdGUf8Zr/p0FI1pjWj3V/F2mQjgS/5/HtHqf5Ney91nYN+LqNc4Zdi+/TlmSADJABMkAGyAAZIANkgAyQATJABsgAGSADZIAMkIHXzwCFZC5cb2shue4IiNFvMiFpXDaw+nDVSytSnEOfNYTUfwyDZT2PGZH+IyA+qfogYWlPvJQv2m7Beh3rz8N34hXOR2HptZ3/WMdGiCCmJja7HkefMYWzOsZ9fSz6qdflEOmUo3Z9kEDUrvzOHwWn7xYsXwpnu67p0H+tNnKwuY68iARuWiPXb2fbVj2Ip1fCdymuFzD3ZXhbQ8VNpw8+FkIEZtdO5Swm+iyY67f42+5+xzcnrOP2KQvWyRnMHLEwkg4R3EVqIFEDpm8GM99bsELSWotrmPv3qkJyd340t0WzSzcRyeXVkLHqpQ8KEz4bfCD8ezKOTJDpzVUsHDXYuUseWgueb15I3rg/g7EfDTtHFY9u37zNF3bE/CSWDdH09ecZWau6IbV13ckecHQBq4Y5yZ3vAtkF7Lo5A5h5ELIDd62AQsBPre2qsab6ydfGuZg2oU3IABkgA2SADJABMkAGyAAZIANkgAyQATJABsgAGdgiBigkb5HhGwSTHdQOKV5ZZ7AcTIka+NsVXrX6HHa9kAIKD/PI30xh4mgPrAMTuL3mCBJKbDHU8hg5OITJU8GIZPt75Vt2TZKer2dkHQy7HomTpnrfODI/i5SympC8UcCMqP+q15h4vIK8qGHyT1HTtweT/8MRXP6TsuudfH8b66F+9sSdcugxuujiCFt6hOwfK45Aq+qDrGL1cR6iRsbYAVEfJIOUiAL2CcmqNkoPxs6LWhkrWH1WcGzbi6HvJ9pMbe21TdR3GdoXqO8ibZPFwg92fReRejz73PuOPh6aipvFOWnLgZ9WvJuGxken9Vv064b9bot1YgPCCBZC2iy/K6PC7RTkwXTd+rnN/XtVIbk7P5rbovmlYyG5jMzXdgqm8R8WkL2fR+HxCgr3RT2dOAZErZkryneG9DxB9oM1b0Ttl/tZzH3dI1OfzxW1tqrvdsFDa8HzLQjJj1NynIr0Va7tnpVlLSI514kaRftGMPdY1cmpo642VxyeQOpmHoVnq1hRdZQOTmLyZDCy2LFX2RaZo+p70kfOfHdoBpn/Gm+srSw2S/wrjh69XtDDgla3KYqhn/y1glrb1eA/5Ue+enMcbUFbkAEyQAbIABkgA2SADJABMkAGyAAZIANkgAyQATKwRQxQSN4iw+vC0k773RaSbcEtvBaEJtoKH22uY+WmXp/DQs+hMUxcWcbqekCM2FxD/soERlQ9i329GPk2hXzFi4gMpgqWPqjkZR2MASEQW0IIHUL8fBYr4vwypWygTRtlFK6LGhPBGiYzyBa1qL1KFvEDUQwl/SKLz++yXrAeYRzok4FTO42vU5dXfd5gJ6eOiax54YhhASFZtGPtvl5TJIreL506GS2FxJB2bpSRD9Z3OTCAoX/MIPOw3DQ6u5W4aUdMBiIju63fouzW7NVJBWzpor3xeCc1udU8Fbu5f68uJHfjR3NbNJ+29L+BKa1WS+8+Nc51DtX5V5GSGQLGkVUbQUx2VUwfEuKxOF8PBv4xg+x/NEE1+L0OeWgteL55IVnOB5rt1DxkyTo3IXOd6Pf6CrLn415dnAMD7rzV1L+m+S65jPIfzjwZiEh256vA9+y6TWJcN9Ztam1XxQJfXfsGWebf/AeBDJABMkAGyAAZIANkgAyQATJABsgAGSADZIAMkIEtZIBC8hYanwvHFA/IABnY0Qw8mIF1MtskUp987Gg+eH/mAzIZIANkgAyQATJABsgAGSADZIAMkAEyQAbIABkgA2RgSxmgkEwAtxRAiiQUysjAzmVg5ac+jF9vjGQlEzuXCfqevicDZIAMkAEyQAbIABkgA2SADJABMkAGyAAZIANkgAxsHwYoJFNIppBMBsgAGdgCBlaxcCSQLp5+2AI/bJ8HEj4c0hdkgAyQATJABsgAGSADZIAMkAEyQAbIABkgA2SADJCB7cUAhWQKFxQuyAAZIANkgAyQATJABsgAGSADZIAMkAEyQAbIABkgA2SADJABMkAGyAAZIAM+BigkEwgfENzpsb12etAf9AcZIANkgAyQATJABsgAGSADZIAMkAEyQAbIABkgA2SADJABMkAGyMBWMEAhmUIyhWQyQAbIABkgA2SADJABMkAGyAAZIANkgAyQATJABsgAGSADZIAMkAEyQAbIgI8BCskEwgfEVuxm4DW5i4YMkAEyQAbIABkgA2SADJABMkAGyAAZIANkgAyQATJABsgAGSADZIAMbC8GKCRTSKaQTAbIABkgA2SADJABMkAGyAAZIANkgAyQATJABsgAGSADZIAMkAEyQAbIABnwMUAhmUD4gOBOj+2104P+oD/IABkgA2SADJABMkAGyAAZIANkgAyQATJABsgAGSADZIAMkAEyQAa2ggEKyRSSKSSTATJABsgAGSADZIAMkAEyQAbIABkgA2SADJABMkAGyAAZIANkgAyQATJABnwMUEgmED4gtmI3A6/JXTRkgAyQATJABsgAGSADZIAMkAEyQAbIABkgA2SADJABMkAGyAAZIANkYHsxQCGZQjKFZDJABsgAGSADZIAMkAEyQAbIABkgA2SADJABMkAGyAAZIANkgAyQATJABsiAjwEKyQTCBwR3emyvnR70B/1BBjQGaiWkj+1GJLIXiWxlS+au6oNp9EYiiBxOovBCaxvvJVviD46PDhgsLyHxcQSRv4wi/bRGf3HMkgEyQAbIABkgA2SADJABMkAGyAAZIANkgAyQATLQkgEKyYSkJSRcqO9goZ48kScy8MYYqD1NY/QvEUQ+SWCpsgXj8mUV+bO9iEQiGJ4rokZfvzFf877z+vmuZBPYG4lg9/E0SrXXf376jDYlA2SADJABMkAGyAAZIANkgAyQATJABsgAGSAD7x8DFJIpBFAIIANkgAy8AwzUULw6KkXc/ZM5VF5uwQ15LYepTyOI/GkYqSfbOaKzhsLlQddW1XZstZZH8qs9+OBgAouMVn0HxkOH/NcqWDy5B5HIbsQypXdjE4TIQDD2gdvmd/afkJcVLJ4QmRQiGLxc2L62F/Y+vldmfIhnSu/fGOB9nj4lA2SADJABMkAGyAAZIANkgAyQATJABshAVwxQSCY4XYHT1YLuxjLOWBZG0uXm16xkMG5Z6EuuND9u/TYmLAtn/r3R/LgwHzvXmXnY4YJ82Pka3l/H8lQPrAOTuP37m7oGz9sViw2+oh23vR1fFJH6KoJIZD+m7la7G/Ov6PfKnSnsj0TwwVgKxW0d0dm5kFy9a/dNRltfYbT1th8PHbJc+20R8b9GELHiWCy/I/MdheS3O89Je+9CJLILsWvvyGaDDsfB+zau2Z93ZC4jp293LqO9aW8yQAbIABkgA2SADJABMkAGyMBrZ4BCMqF67VCFL2xtYPkHC9bRBZSb2H3t+jgsy4LVN4eVzfBFovVbE7CsM1jeCD8mvC111N+CkHz7VBTWvokGIbn8Py7iYrqA9SZ2aNp2fu8tctslX/TRa/VR7UkKw6I28cFp5Ne2wCcvK1j6bj8ikQ8wOr/dRZbOheT6WgGpk4Po/WoaS79t52jrLfD9Oz+Wayhdi2F3JIK9J5ewJdH83djwrQjJNZSy04gfj2HqagHVbtrZ6jvvUkTyGIXk1/HsVXuSxtSJGOJnF1F8wTnrddiU5yBHZIAMkAEyQAbIABkgA2SADJABMkAGto4BCsmtFgD5+WsVgzb+fQaWNYKF52HQl7Fw1ELf0RH0WX2Yexx2nCNKn7rdvRj7xoXksLbXUThvwYplsEa+XitfvJmEM/du26aGwtywTA3bfy6PtlI1v+6xVV5C4uMIIh/GkN72qZ+7EJJft714vu0ztwlB9phIrbwXiVuV7dOuVoy8JSG54zTwrdod/JxC8rvDXNB3Xf5dvTeNXrHx6fNZFKrv632Z/Xq3n6voP/qPDJABMkAGyAAZIANkgAyQATJABtpngEJyl4tEhKx9yHy2apXe+vkCRoSA/KiAub4m6a2d80zcWu9+gfJ9EpI3N7DeJDK7+mgJ6fk0Fu+FRFLWKsjfSCN9I4+KMWVvDZUHi0hf+RHnLlxB+toSiiFRodVfc/JauV9D0g9Xi1j67yu4MHkGP15JI/S4tQKWrqWxeDekzS8rKGTTSM8vIl8OiaB8UUHh7qJsj+z/rTyKgWNVe9O3CmaB8mUVhVviOoa2vqyi9EsOi/P25+kbORSeVsw1MKslFO/ZfhDnSou2rJnb7frrgX2u6m+2LeT3buQa+uAbY/U6auUi8re8fi/dK6LSaVSU6Nsjr2/NztHQ3l/zWLwm+lj02/RlDZUnzmeODUpykb2G0t0QG4s5ulrA7GGR1rofsw80rgLnW3pQNPP7soqi9OEiciLaVnxP69vinQLsdoTPa5VsHHsiEez+3+fw3+n0q48BYZ9MHiXdLy8qHiPXFpF7UkHNVN+4oT9VlB7YbC09EvZpLSQL7hW38jsvSshl7H4VtLHd4NsOWRRsCn5zYn4RPs/kUHDGYPVJi3mp1f054H8xpprxVCvn7T47Y71WKdrtyuT8fhDXbdcXYu505iHJlqHNtd8cW2e1+TXoQ2EnNW7EXN2KyTbmNjUv1H5NY3RXBJFPEshV6mjwafC6OpNiPlkrOn10/PdUG4Om/rY7/7jM5VAU84Do0x0xbzlzekshuYbSPWeeu7bkciX7HWDDNDdIO1xNYvorUTs6gsgXCSSvplxOfWPT0E9lX/1VzL0u62Kuroj5pnWN5NpaCQU1Z4v7yG+6jcX8aPdz0bkn6Nf0fvfs4TuuDVvIc0h7N49IFmMm79wP5f3O105t/gz6VtxPnDlKzANLv5RQNT1rBMdF8HsPSv57ihg3T/PyWaHVfdW1U7v2aGhL6/uGPcekkJwcxAeCqQ+HMTXnMKW4bpMlt708vvvnfNqOtiMDZIAMkAEyQAbIABkgA2SADJABMvBaGKCQTJBeC0jtL3g5kcQh0bjl9Iib0nrlpz739+D57cjmCdxe1xYuhS8315C/MoGRg1E7Pfa+Xox8m0K+EjhOHKsLyX+Usax/78AAxr5NYfmZWaheu5/CxNcD6BEpuC0L0YNDGPv2IjIP13z2DEYey7+d78j03e7v48gE29h2X1aROmTB2jfZaA+H7+qDWfSLRc3PzGmBq7/MYlB8HhnE7C/6ArZjNyHkfS4+78PX/9v/El5DsVbB4kl7UX7PyUWDqFdDKROXKVY/7P9ULt7vPWVKtVpD8eqovRD76RRymrClWJCpjv8UQcT0+csaijem0C8+l/3yv+4/Nuum7y1l7JSvkSNJcwrKF0Ukj4jv70YsU3L9W32URvxT/3ndax2MI3nPEZSrRSyeG5W1dd3P3TbtRexKMMJWEwGPz2L2eK+hD7sxfCGHUmAhvvY0F3K8vaA9ezdE5PbNgzWU7sxiVETfuu1Uv/cjMR8U3L327j02jamxve73PhhLu22s/JJG4jN1Hv11L2KX0pj9SggYfhsrXws+Jb9feNFdwv7G8304jOls0S/AaoLU6NlZJCTLehsiiPypH1M3At9TdqmVsHhCcL0b8Z//jcXjIrozpI5oB2PAHSNCjLwStyPYgjb/NOaxpLUnPfaBbMPw5DRiGoeDlwuotRCSK/eSGN5t97/3u0VbRC0vIf6ReG8YqSdqg4Pn2/0dsih8VyvnkDwu0oEHbB2JoPdkEqmzg/Kz/ZO5BnFI+T7stRue3CjBT+OY/m5YzkOybR/FsaTqBnfqC3duDI/2rdxKYK+wgR6d6DK5B7HLacyOOWKmz1Z7EbscGOcdzG227ey5VPTTtrPnUzFep4+Z/DOI6Vsl1KolLJ3T7KS1rX9y0RZ/FZPC353OPy5z/UicTWjzdS+m71VRd21kmBfEBp+rMduukb2IibTUzqaL9uYGzw4mPiM6E1ofw3isVfJInQiZq08nMS3vIRHY41N7HqmVkLs0KjepBNvRe0I8u9hjUW1kaZrav5JD4hMx1vpt+wmRteN5MkRIXisg/V2/cSzvHZvFUjBLg/LtrmHMzicR/1vjHBD5a7O5eheGT08jftDwvU8TWHxShdigkTzm3W88++1HXONB91nn9hDz7G60e99w5xhtrHjtcrhugye9zfxdGy+0nfsMSi7IBRkgA2SADJABMkAGyAAZIANkgAy8TQYoJHNR4q0vStgisEE4rTtprX9asdtUnAtJbx2S1rqcRfyAhejhCaRu5lF4WED+fhapU0OIWgOYvFX291UJybkCZg5Z6Pl6BplcHiuPV5DPZTDzdQ8sqwfxf/m/V74+jqjVg7HzGSzfL2D12Yq8zsIPY+g55K/rHBSS63+sY/33dSyftWD9fQErv9t/i/c29HrQHfVlDdmTPYgenkMhLCq5WkBSRnTux9SdQGrTl1XkznoL4DJ1cGBcuIujR5L4v/8vOzLzg69SDcKrjHz7i7Pwa0oBLISBY2Khei/+j/9zDqPiWCuOxWBNVre94lwmgcYTAcLaK4VHEUH6RRzTl1NIXZpC/Kt+7BILvB971+xKSBZpjuWCfWaSL6MAACAASURBVASRj4aRuJBEam4WiePDjhjYi+m7ws5V5C94i+/7j8QxdSmF5LkEhl3xby/iN/Soa69v7gL0h/0YPR5H4mQMwwfFwrZt4+HLnnhSf1FE6qhadN+LwWNTmJ1LYva7UfSLaETxnb+MaiKh6WZbQ/Fa3BFnRATjMOKnZ5G8kMCodt3Bczl4dVYN7Y3sx+BYDPFL9nGVu9O2ECzb3Yvhk9NICnsdG/TEPPmZQTDSbKhEmOo9tfFB2H8QsclZadPRz4XAK/q6B7FrRS8y3BWklH0i+ODgMGInEogfH0X/h+p95Te/bWq/LSImjnHEJSXqvOoYkGmGaxUsTXrjb88XMUxdSGJ2Mqa1az8SWY0RQ38i1iBGj8UxLY/zfOIXaWso3ZpyfdF/esmLxFXCT4iQrJiLtMOiEBV/W0LCZXwX+scSmL2cxPQpjUfpKyVw+m3e7EGoW57cecy5ruhT75FRxL5L2XW3u/HFKwvJij2x2aPfZvnCFGIuyxHsP7XobsgQfWh3bpM2dOcFwbY/Wt316ceDGD2RQOKEPhb2ov8zNZ72YnAsjsR3cYx+4Qne/We1ecC9juhPm/OPy5xng92fDSN2fAppsZnB5TwwL7ysIH9p2N5oFNmPhBjrSkTuYG6oiEwdekTy53ZEckpEJZui1AP3RcVorbyEqQDr05dnMXVi0JtLHebUHGb7RmxQ8YTQ3q/imL4kvjfsbTz6YtreCLeWx7TciLMH8Yw2F7htsutgi/ubmpe6mycNQvJa3skIIfxkj+WG/n0UQ/pXtQGljrrBtx8cHJX3ytnTMQzKTSvifLsRm28+V+/5fBTxUwnEj2n2/LAf/eocck5KyPvjoLsBai8SvvtqHd3Zw7vfivHS6r5hjEgWzx9XU0gxItn/DO6y2/7cr8YcX2kzMkAGyAAZIANkgAyQATJABsgAGSADb5cBCslcyHj7CztOWurx6/7o3bpKa11Ug2DFnN7alNZ6c1XWVo5+k0FZF2Qd/67lzqDPGkdGRZ2J9x0hObqvB+M/+8ViNRGVfxai8QAuPtpw7FTAxX0Whv5r1Wy3wLUbhGSnPWHvy+t205eWHNdQvGLXmBXCkicCCjuoKCZnMT8Y4fuygtykiFr7AKNXi6ip4/+kRy4Kn3nXsAUK53itbb4o4nLJiezc3bAw7kZQO4vvbuSmOpcr3pgiqKvIn7PF2z0nPAFG+bRWLiCnpfjuRkh2IwyFrYKR5C9KyN/xUtgKQW361CyWgqm+ddHKJ8p7IqAUur4LRP7VKshdsCM5lbCp+iYWyhNnF6GnJpafCSHgC9u//ZcKqCo7Bl7lRgAnUlVEPPvSnItIyEzCETh6tQ0J/vbuP5H2X7+Sw5QTVdbwmSM4TjttM0YkuwLKIJKPaqiLv52I4t5JJ5pW9UNEKc47Qri+kcEVpIQN7OhFX9/WCkjKiOgIdh3zoqhtu9oCze5IBG70/OsaA2t1CFFaRqtG+jGli8WiT7USls46GxE+8jY/eAKbLcSMXvZ4U21uqPsq/HdN+S8CuRlAj2h3hR99XPt9K6KXZQpiZe8wFkUE90lHIPtsCou6wCS+K6L0v/PEc7/Yreb/kNdX4MknJBva1ZUv3LnItOHF7oM7Xxgjkp1xeXbJFYuVD0tZJfqrzSadzW3iPLUnSQyLefSgykYR8GlwDImxcFSIiXa7IiL6U/efGGNXRu0NOX8Z9dUL73j+cZkTGQEGMX0nIJC641YTkl+UsHRabc7pxZQuFnYzN7SI3rd9EcKiYPllBUvfOVHdf4sj/cSf0UNEKs9q9vSEZG9eiXw4iuQD/wYvEW07LTd/RdB/VmSt0O6vRw3ZMwSHch7dg3i28grzZEBI1jeatejfrjFtc5nuWyH2ZzyxX9pUzh32M4lvg5Prc3uujgcyYFSfpBGzHDbFnHw85b/fvCgircT5w0kUVJr2btgItEVEvbd733DnGn3Mq3mTr+bnZ9qFdiEDZIAMkAEyQAbIABkgA2SADJABMrBtGaCQTDi3AE5zems3rbXmE1N6a1Na6437ZxAVQnFQ1HPPtYHl7y1Ezxe8/jpCshWSZtteQF5DJmbBOnUb6/JcBcxYFsZChOfgonOYYBz2vvh+V31x+xm+4O1GCwdSdqroyl1HEojLheiAIKIWhHfHbNFAW1j2FsXtOrYq6jn23agtjvnSRXsChooidq+ti3fa+ftPJjAsIkF1UVCk67w3bUf++s6v+q6LLWkv4jLERq8qJC8Fo6lDrhNkQ/zt9uMTPX23ZyeZttvEtPCJXEzvxbReMzj02t45dx9fhG8jgfudKgqXbIFaRbQ1tFlsKjhtC4CeuO+dOyhsi+8rH0f+lvDSB7vXtH1We+SIXYbU1q6NHF9X7kzZYvZBg4gvzisW/4/bUZPDV5xIN00QMG0ukL6465z3owSWdJuL7zpR9DKCWFxDY/SVxoCI4vzKjngbvBRMce7w7ApE2sYMrT9SvNEFYWlbzydy40itivxczE2fOyg2CQRrL6txHhaRbNo0Ia5lYLH21KnJG6xpLdvm9MvdINBZRPKr8OSyFOnFlIzOVXOGqM/bpS9eh5CspWz3jbmXVeR9Y7KzuU2vlS3nXOlzj42w+cUVvkU2CCFK6n4Tv6/lMCUzMuzVNpRotgwer4m1vvnHZS6CwUsiJXvgHC7ntpBcqxaRPqlScfc2bLzoam7Q2tbRhganrSJbgT0XG7J9qGN+Tdk1qiNaamuXt132Bq1g38X9QZWkcGpbe1G+jSmS3b5/bm8YcP/ueJ70C8md9U/b2KX5tve0Yb4R/XVtYPtfbnByfR6Bea72xkBEPZMEbOeWQvgw5mY76d4e9vxsbksd1ZD7hjvXUEhunD8C/mqYX/g5bUYGyAAZIANkgAyQATJABsgAGSADZGDbMUAhmVBuCZSN6a1XsXDEwtB8INL32QKGrD7MPVYLzOa01oUfo7D+nkG5iT/Xb03YNZfVMY6QPP6vQGS0+tx5Lf88BsuaQUH+vYHCjwOw9g1hMp3HaiWQkjrw3TDBOOx9saDWVV8C1zUuzIkoQVnbVYsAdt/bg/iNIorzMRlppouEqqaxjMZ0BCt3gVtbJHXfOzyL/NOck4ZTW1h2BRcRWepEbZkiO9V7ItrtUQlLp0RkoyaiuRHSu/wpMTUbVO86QrOIqnNSH6cyORR+rbgpUJWNuhGSxYJ+wk2huR/DJ6aRnF9E7lEJ1QZRT4ibVRTvLiI9n0LqwhTix2OIHYth9IgjivjEfU/o8YkuWv/qrrgYEP3FMdUS8tk00ldTmD0dl9cR1xo+aEcZ6nWLlQ3kq7aAPzofiAzUru0unIsIx6oYl157G6N5hThtRw82FWlC6lBLwdYRrm1R2LtW5LMEZkUK2vm070ekEJ126jSLxX8pmGp9GxZR9Vp/lA1qv6YwLGpqB8QJuQFDpAb/m1+4dnl/lTHgii1OtLWhXdK+jpjoRkTr/Zkz9cez094TKaSdWsQiynS3vmlDv57bFnNEcicsuoxotlF29l49QchjQ0S9TyN+It7wMy1Tlb8aT664E9wsIOzg9r9DX7jzmmEsOvZ1hVndHpoPjSKq812xyULWr3fa3MncJucJGdXaj1l3w4nHRphPRRSzvGYg4tj1nRQARVSoFimsWOpk/nFtHrIhxrXRLozKOtIq1XYEw3NB4dnrV0dzgzZ/eRyq5406qr+kMHWykcfEBTuC3GXq0yk7Pbqyg/4q+2FH0bobT9y+78HoWZH22D+PyXvF5YSTxrwfsyIbg9hY4JSh2HtSy7Yhzn/Mto3MGqL1qSNbyHb6heTO+vcBRq859w63f/sbN224tqmhND8qo9/de4fr8wjMc7WI5B6105rrEcfuOeuoC3H/r8Leai7rko2Wbakj7L7h2k0f83ob+fuW/O/hzmG0P+1PBsgAGSADZIAMkAEyQAbIABkgA2SgIwYoJBOYjoB5bYswwfTWUjAewsIzbwHXvpYtMPclnbrJprTWQnw9b8Gy2vlRgrCX2nrmYfCagb8fzsDSo50317Fy8yImvuxFVF4zit7DY5j4MeNPsajaZYh4biokd9OXNjlW0Xxq0daNUnaiDd3oIyEgiHSmcoFaLCwHoq3cGsZOZJQWoSkXskX6U0f86j2bQ/WlF33ri3bVvqcW2FUbVQSQG0kkFo2FcKkWqE21lZUdXlZRzExh0EnT7KZpFcKyNYzpG0XZJsFYV0KyiBb7JYWErFnppdm0r7MfsUs5NxK6Vs75Upv62qLSx4YIySZhQ44LV3j1i1fVB0lf2k/TtUKF5BeqjnZIFKJjW1dkctvsLdLv/W4J/khXTywUUWmCA+McIhfsDcKUSGP8twgifx5FSvCoCSmmvjW8p1KGu4KAQfhS/XqaRkzw4hOSayhetYWOBl+8hjEgI3dFnfAwwU62zRNOXN+5/dmF2LWSwaaeTxpsIqJxg3XSxXXUuHLFF+Er7zwN/XfsJqIKk0eE7zwWXeFURNqq1LLqePe15s4R7rmFf5209MF298r0vt7n3fDkijufqU0QHo9d++KVhWRNfHNt42+Xj8sO5jY3MtMX8dzap7IEgdyEEzdnEXD584+njucfI3Ne3/0p3APzrKhz/1Srydvt3NCCcZdlNVerV0fEVPerSJioKXwq0l/LDVFeRLLLmzpf01dPjHV982clkop7kVMz/mMn60O3tpB+9QvJlWzCzi7SYf+8+WQQSVHv2sC2eM+1r8ouEsKW/n11z3bnw+C5g1y9kj1ERLKfc70two++8em0xZ1rKCSH+l63I3/X5r0gz/ybDJEBMkAGyAAZIANkgAyQATJABsjANmCAQvI2cMLOXEBZx+1TFlRa6dX5IVhHFrBq8If8rG8OK5t1mNJaC/vJFNh/X8DK7+tYb/qjah17QnJnEcmBxZ7NDaxXVlG4mcLE4SisfePIamlxwwTjsPe77ovBbkauVLSvrG9cQcGpm6xSTYsFb7secgTDVwqoPHGiNIXwsqb33avXKESgym9LSIhUp5oI59ZD/iSBpd/UeW3hS48I1SM7827dZE+UklF1siauiKqrwBchHSZMKnu8rKL0KIfF+SSmT42iX6TJlgv2+zF1y07Z6goBYaKXG/1rWkyuofq0gFwmheTpOIYP2mkwxTUGL+RR/f+qbiroyKdxJLN5FJ4UUXR+8jecGqiuKCts3FroMYl3XpRyBHvGppG+W9CuVcDSJbseZejiu7uAHwlNtSqYcqNNDRHJriCo7C/qZjtCbOSoVj/T/dxhSnEZWLCv3LFFjF1jqm6xZ5tdXyWRe+TZUtnU9/pb1Y4+dvtm8qHdBqMgICIvjwpmejEdTIWs1QTvegy4gkc/Zn/x11b1xq8nuDZGJIf1x7OTzXs/pq7lkD6lIuBj9kYR3Q9uWzyBqlsWa7/M2pGUWmpZrz+Oz91sCP7U1mI85e/mkPP95JGXNcZfjaem4o7b/w598SJQm1a3qfN75UYcosZ2RBeVXCZD0jo733XF4I8T/nrsLee2KvIX7GwAapOO7QOPjcbx6owFMe+L9vrmJcdvol1u2zX+3Hmyg/nHtbnOnOk6zrz9tzhStxYx5dRIF3OA3FwkbeX1q6O5ocV8W6sUkb8X5DGH/C8l3wYpmSbcd48M9sPug+sLt++9mMr47wu+Ocy5V1TUhgyt/ri8b4taw5P2uDalL+/IFtKvfiHZHTNis1nL/mmbItz+eSJ4wxyg3R92HXcirE1sOWNBfb9jIVnzcef2oJCs7M5XbUwHmKRtaBsyQAbIABkgA2SADJABMkAGyAAZeN8ZoJDMxYAt29EhU01bcWR/t6OOR9Jlc1ueL2BEprc2p7UWg9SuKyzO1cGk1VWN5Cbn31zBXJ8/PXeYYBz2ftd9aZdjPQL4bApTsiayln5ar9v7xRSSp+2auSL1qqxfqF3HjWb+KI7kZbv+qpcSW4kNYlF6D2KXZhH7SEQDx92ahe7kqkV2JuZmMSzSCPsWrT2BoPdU0onuDURIa+1yz2t670UJiydFqmxPvHIXykNEE1cQD4icxuu8tIWuXUKEEcL087yT4tu8mO6KRL5re/0NE3pMQrIbqfZXYeMgp54AFyoki8V2J4o8clQXaLRzicg6R7TwUp03b69I/Tn6ZyGi7EfihiFltogWu2yL3L7ILzeKz7/5QAjZvcK+H8cRWp/6Zc2fwrwNccIkJLtphRs2Utg2eeUxUCsiNSbGSASeCKTZWzC8lsesFM60VO4t++P5JPKXYczedercinPJ6OEIIkdm/ZtDXOFHF/W883TCor6pof+suT5q5c60k7bXG4vGMRUYx13zpM9tuqCrzv/KvvCiTX390DbnhAnJ4n3/Rh2HATE2nAhtcy1sjZXg3FZRc08wVXdrn7pziW9e0q5l4M/9Tifzj5E503WECD/ljvfqoxRGnU1BOl9dzQ2ayNiYUUFri+Ik8Opm8QirJ12vw6sBrzGi8SbE5bBsDTVDqQQ3vfnHcaTvpDAqMiloEcqCv65sIf3qF5K9yOLwTBW1R86Gs4hWtsL1rRjfwUwVjl3FvV9u1NE2UxjY8o0nLYtI6L3MvbY3l3Vvj1cUkg3ZD4L94d+txxltRBuRATJABsgAGSADZIAMkAEyQAbIABnYWgYoJAcWBQnkWwRy/TYmLAvxf85gyBrBwvOwa5excNRC3z9nMGlZmLi13ig4b5aR+SaK6DcZlDdN59nA6sNVbOj+doTk6L4ejP9sFrHLP48jag1grqjOuY7yM8P1xXk3C5jZZ2FMO1eYYCzrIDtR1g3MddMXERm9odrY/NWNABZinPgJRopqkWV2NGNQiHDOr0UU2sc1irulG3HsUdeJROBGVOp+0CI77fNE0C+iebVjPPHIaXNA2Kv+msPitUXkZarTGko3pjF1eQklWcNXs4cQJ7+zo7dcYcxddBZRxDlUtIX7WjmP5NgeJ4rZi76rPUlj6nQK+d+CKTtFGuKYHX0ohOT/R0Ur7pYpiPVI7Hq1iPRx59w+waa10GMUkp+mMSpE+MgwkqKepm6/p4tIfGrbTl9899utjtrTRcQt+7jBs3YNUPc8Il35fNxOcxrpx/Q9FUHbor1CSDtrR0aK9Mej59LI/WJHEhceLCF1Sn0mruvZ2BUwPowhraewlfVZbfF191ezyOmfiT6vFZA60Y/Ry3lPnGlDnGgUkr1+hYq8r2EMVG5NYb8cI/uRyBT9AviLIha/67X5E5H9ZW/spceaCRxe213OHR6E+B0XmzoiEfSKVOSKd3cceOJLtxHJ4nulGwmnXxH0npjF4r2CHYn/KI/FSzH3M9GOYBtd5jSG3fe65amVkCzT7HbhC30DhhD2nqhxIVIaV1FUWQeEj3UB22VS+WIRRRV1KvotNqXccDZNRPYifkOkMG9/bnt+x6kTr1IGu7YMZ0PZ2BWFffOSNo+6bffGqxg/nc4/7hj3pVNvfh27jTWUbinb7EFM1s+uQ8yLqa86nBu0qFjfvbBW9Y9F135a+6Sfqsg5dYsjH8WQeqT5X4jIvy1hWtapdubVy15tZ2/s9yJxrYCqGovyWqKP0xj+IuFP4S0+E+nkHQE2IlLjq3ur/v1ubCH9GhCSxWaGC/aGMnP/cm7/dh9XmSP0VPmifXsRnw+I5bUSls45593tlNIQfTOwpbhUr51HJHfJRhttabxv2HwYszK8rKGqj3Hp5wBPfM/37KJ8zldyQgbIABkgA2SADJABMkAGyAAZIANkYGsZoJDMRZstXLRx0luLOsNHF1Bu4otyesSpgdwk6viPAi6K9NIHxnAmnUX+fgGFh3nkRdrpoz2wDkzgtp6a0RGSZ36+jclDFnq+nkEml8fK4xXkcxnMfN0Dy+pB/F+eyLzxcAY9loWeoxO4eH0Z+fsrWHmct4//Ulx7Ere1qOgwIXnj0UUMWFEM/TOD/MMCCrkFzN30rlPvqC+rSB2yYO2bxO31NiYUNwJYLPD6oz3tCdlLWy0WqH01jQM+ctNCC5EkIO7Kc7kpi8W1GoVmdQNwIzuloGYQrgOCnS9C2k0tG4GsUymigA/ai+siGrp/LI6pC0nMTsYwfNAWGSJCCFWpioVA6kbERrDr4DBix2KIjQ2j90/qPOLVEU1qXr1LuYB/eBTx07OYPZdA7IiTOjgSwbCIMqt7taKliHo6idTVFFKXpzAqUoHL/gZTyLYWekxCshRRnOjWyIeDSFxKyWslz8bsCF7nWq6QHLSbXOCuoZT1BMDIrn6MnkggcTKGQa29w7pIq0X0hQqCQhCd1AVjre+iXR/2olcKIp4wVXI2Iaha2YoV8Sp4iTmCt+3jGOLfJRAfG3SEbieqXaWZ70YQcDdUiJTqfnFIb8srjwEhjCpBRdji02HETiWQOK7z149pva5xy/40Z8iLBt6N2FVH2HqtQrItooqNB7ZIHvC3ZHEPeh2mQrkJzDeu3bvgSXzXzT6gC7r6NbrxhRQLFxH/WPVxLwbHYnIOGf1CbUJxPtOv6/pQfS+CyJ96MXwsLsfbsLPxQ8wR+5Xgv9bm3HbnuZvuePhK0U7v7vazORtyfHWT2loIl53MP6I9Rua0e5hrI29ecBnQMxn8adAdox3PDYKLR0kMOvPj/rEpzF5IYPhv+xHPGDIouHbU2lnJY1YTi/ceduajr/rtTUXOuYUv3dTW4jwm3pz51rtXfWAsNVDybdIyz1Ed20LaOyAki3bKyGF174zA2L9PEv5sI65vNb4/GURM9O/4KPrlpifx2R7E5jVGm/ncsX1XQvLbum84bayv5bznkM9imL40i/jhvegXpUBaleRQ5+DrFv5/oo1v+oF+IANkgAyQATJABsgAGSADZIAMkAEyENSREWl4p8033MU9GpUDqwMG7PTWFkLTWqtzyfTWFqyTWayr90yvm+tYuTmD+OFeRIVALUTfQ2OYuLKM1aDIqoTkh3XU11exnIxj6GDUFqwPDGDs2xSWDdHHG+UCMj9OYOyQEJrta0QPDiF+PouVwDXChGQxXsq5GYw714seHMGZfwUiptvuyxqyJ3sQPTyHQltRyZpQbEo17Sy4jkphzyQ0awtsmlDsE3eVb7RU2kahWR2nCcVhwrUn2AWEZi06y/5uDaW7KcQ/9xa+XcFWLOjvGsTUjUDkp6gzeWnUFz2tvjN4ahqJz8SCtydm1J4uYfa4EymqiQT2d/Zg9EIOJRUd9kJEXg03CApiAX34+KgttPki/1oLPUYhWfitnEPymCdmqz5E/tKP2DFbyPWEZC+qzW/zGip3k4hpQpZ7nt2DmMoEIsvaEZKln2soPVjE7HcxDDqiW+/ROKavLqH4WwFJmXLZSZ8qeDghRLg9TiSmxpzDTO23HGZNfRXC27Ekcnq0eBviRDCyzI3cF5Hlwch2xa14fR1jQGxmuJpAv0wBrgkvgq3PEkg9cFJTq+u27E8rhqooXBmFTMEeGcTsvUqIqNfqPE50pPKdU3dcfx6oPs0hfS4OJaru/mwUiQtp5H4tIeekbe49q0WPqz62fO2AJ+dcLYVkcVynvlDnfrKIhFO71x0vwn8fj2LqtDO3GIXkDzB8IYXZ44ZxG9mP2FzeixoXEcntzG3lHKb+JtIdjyL1qz87QTtR5t1EJAufdzT/CLu5YqMeBa+N9VacvyghfcIuVSDKIahU9x3NDY7P83N2eQbdd/3ncl5WA8fPOtu+39cKSPuyK6hxvFtmYUget9vpE5KdaxeuTWHQFVbV95x7lYhUNgmPmlDpn781+wmfdDxPGoRk0c5qEYunTfexCPYfD8y34njXt/2YupJE3N3cpfXvo1HM3gqI9a183mVqa+Wrzu3RLPODyOKRRkykFt8dyJxRr6FyZxbD4jPtGeGDsLIRrfji5/zfigyQATJABsgAGSADZIAMkAEyQAbIABnYQgaCMjGF5C10hlro4qt/IZT2eP32qFUKWJpPI32raF6kFmJKNo30tSUU9CjuhvEhhI1FpOcXkS8HBQu73WLhdnE+jcV7gQXjwLmqT5aQnk9j6VFANFPHVYvIXUsjfUMXVpxrlPNYyiyhUPG3ofpbEXnRDxEFPL+I3C+lQPpQv21rayXkby0ifTWNdDaPojifSE97Ky3blvvVH5kqji/I/ovo3zQW7xZQWvO3QfFbq6hjhd3z9nGqT5kcSlrKy8qjJdmGUJs5/pF90gVTaasaqk8LyIl+C3veK0ohSvlB97lI3W2ym2zzyxoqv4rPxXkWkXsUbruW7RWChkkMUb51RQd7k4BcnBc1UH0Cu99Xrl3LRRTuCJ+lkL6RQ+E3v4/svoT7UJ1HCCWSr2s5FP9frzZtg/Cj2uy+vr4xUK9VUfrFHi/pTA6Fp5VANKljgyZMqv609MnLihzjIkI+nS2gUi0hJ3wdGPOtz2PPFUYWm/lcCEbH7M0eo/PN5wbVJ/21E57U9wTvi/OCk8Y5RB3jvrbrC5cDOx116ZHtP3e+eSkEVsN1DYJZ9beC9EFKjNsHRVS0OcFtl3O9ZnNb5VZCRubvGtNSDWvtbOnTtQKWxFwbmJfcNjTlr/35p/7CzFx713HGQrUo2yrn33v+8VJrZ27Q7OLaVNzPfq2ax552vNtO7b1aRc1HaSzeUfeDGkr37PtK6P1N8PYob/dF+V9tRtLO712zhoo4pzhWT6duPFYwqNrVZJ4UGxV+yWHplphHQ+5j7j0vjcVbeRRD7vuekOxsEhD3kyfO3HZtCfknpdBnj7D7req7KMkg+q3fy9Rn8rUVV3LTQxv2aMq5x5973zBsOPKeEcSYDulziM98feIxXCwgA2SADJABMkAGyAAZIANkgAyQATJABraQAQrJW2h8LhKZhSHahXYhA+8TAzWUMnH0H53GYqB+qPSziAZXqZ0/n0Z+rYbSfExGy5prar8F27gphAPR77xftP3AJqJaY5/HMGvcrGLXUO6VkXoh0aihtu6Up7fAS2hbm1zbICS/lnlP1IE/JaJf1HUlaAAAIABJREFUW2ST6KbN/E7b/L8WX77L9nY3B3U6vpuMmXfZHmw7xw4ZIANkgAyQATJABsgAGSADZIAMkAEy8A4zQCH5HXbejl+opO/annwfPHjgS6+op1rk7/7Uk7TH67OHnKP0WsyRCHZ/PorEObtWdPJcHMNu7eX9SNwQkal2hC/98Pr88DZtKX0uUtqf1lK/fzSI2OSsUx98GvHDXu3g/rNezdBW7eyOp/q2m/tkP0KE5FY24Ofv5rjYSX6TfBuE5J1kg2Z9/Z//83+2/ewmbclnXdqLDJABMkAGyAAZIANkgAyQATJABsgAGdhiBigkb7EDuEjE6JO3wQCFZIoPzRa239RnLtuifujZYWMNanltUbc640+z/qbaxPO+2bHg+rxWQf5qAoOBGqGe/UUt8SVfSnfvM3Mb3XN3yFOr877tz2U/KCRvO4H/bXPwvl5P8k0hOZRvCsl87nfvZfwflAtBZIAMkAEyQAbIABkgA2SADJABMvCOMEAh+R1xFBcduPBEBsjAO89AtYTiPVELW9SUFnWrnRrOTWrBvvN93un3GFn71akbLHwuaomrGuGvapt3mad26q++qn34ff4zslUMtFGnmHM7n2nIABkgA2SADJABMkAGyAAZIANkgAyQATLwbjBAIXmrFtl4XS7wkgEyQAbIABkgA2SADJABMkAGyAAZIANkgAyQATJABsgAGSADZIAMkAEysE0ZoJC8TR3DnRjvxk4M+ol+IgNkgAyQATJABsgAGSADZIAMkAEyQAbIABkgA2SADJABMkAGyAAZeB8ZoJBMIZm7PMgAGSADZIAMkAEyQAbIABkgA2SADJABMkAGyAAZIANkgAyQATJABsgAGSADPgYoJBMIHxDv424J9om7gMgAGSADZIAMkAEyQAbIABkgA2SADJABMkAGyAAZIANkgAyQATJABshAZwxQSKaQTCGZDJABMkAGyAAZIANkgAyQATJABsgAGSADZIAMkAEyQAbIABkgA2SADJABMuBjgEIygfABwZ0Yne3EoL1oLzJABsgAGSADZIAMkAEyQAbIABkgA2SADJABMkAGyAAZIANkgAyQgfeRAQrJFJIpJJMBMkAGyAAZIANkgAyQATJABsgAGSADZIAMkAEyQAbIABkgA2SADJABMkAGfAxQSCYQPiDex90S7BN3AZEBMkAGyAAZIANkgAyQATJABsgAGSADZIAMkAEyQAbIABkgA2SADJCBzhigkEwhmUIyGSADZIAMkAEyQAbIABkgA2SADJABMkAGyAAZIANkgAyQATJABsgAGSADZMDHAIVkAuEDgjsxOtuJQXvRXmSADJABMkAGyAAZIANkgAyQATJABsgAGSADZIAMkAEyQAbIABkgA+8jAxSSKSRTSCYDZIAMkAEyQAbIABkgA2SADJABMkAGyAAZIANkgAyQATJABsgAGSADZIAM+BigkEwgfEC8j7sl2CfuAiIDZIAMkAEyQAbIABkgA2SADJABMkAGyAAZIANkgAyQATJABsgAGSADnTFAIZlCMoVkMkAGyAAZIANkgAyQATJABsgAGSADZIAMkAEyQAbIABkgA2SADJABMkAGyICPAQrJBMIHBHdidLYTg/aivcgAGSADZIAMkAEyQAbIABkgA2SADJABMkAGyAAZIANkgAyQATJABt5HBigkU0imkEwGyAAZIANkgAyQATJABv5/9t4uxK0rzffWRS58kYu66Iu6yEWXyUUKcpGCwJuCMEMK3JBifGE1hrHAFzWi4C10zDlG+MIIMwcjPGCELwphsCPKjDOqHjstt9tGTroG+XSfSsszMa88PU6rmPE7cs/4BGXG0y0Sv0GdcXr+L8/ee6291tLe+qiSXV9/g9EuaX+s9VvPXnvt9V/P89AGaAO0AdoAbYA2QBugDdAGaAO0AdoAbYA2QBugDdAGaAOWDVBIpkFYBrEXV0uwTlwFRBugDdAGaAO0AdoAbYA2QBugDdAGaAO0AdoAbYA2QBugDdAGaAO0AdoAbYA2QBsYzQYoJFNIppBMG6AN0AZoA7QB2gBtgDZAG6AN0AZoA7QB2gBtgDZAG6AN0AZoA7QB2gBtgDZAG6AN0AYsG6CQTIOwDIIrMUZbiUFe5EUboA3QBmgDtAHaAG2ANkAboA3QBmgDtAHaAG2ANkAboA3QBmgDtAHaAG2ANrAXbYBCMoVkCsm0AdoAbYA2QBugDdAGaAO0AdoAbYA2QBugDdAGaAO0AdoAbYA2QBugDdAGaAO0AdoAbcCyAQrJNAjLIPbiagnWiauAaAO0AdoAbYA2QBugDdAGaAO0AdoAbYA2QBugDdAGaAO0AdoAbYA2QBugDdAGaAOj2QCFZArJFJJpA7QB2gBtgDZAG6AN0AZoA7QB2gBtgDZAG6AN0AZoA7QB2gBtgDZAG6AN0AZoA7QB2oBlAxSSaRCWQXAlxmgrMciLvGgDtAHaAG2ANkAboA3QBmgDtAHaAG2ANkAboA3QBmgDtAHaAG2ANkAboA3QBvaiDVBIppBMIZk2QBugDdAGaAO0AdoAbYA2QBugDdAGaAO0AdoAbYA2QBugDdAGaAO0AdoAbYA2QBugDVg2QCGZBmEZxF5cLcE6cRUQbYA2QBugDdAGaAO0AdoAbYA2QBugDdAGaAO0AdoAbYA2QBugDdAGaAO0AdoAbWA0G6CQTCGZQjJtgDZAG6AN0AZoA7QB2gBtgDZAG6AN0AZoA7QB2gBtgDZAG6AN0AZoA7QB2gBtgDZAG7BsgEIyDcIyCK7EGG0lBnmRF22ANkAboA3QBmgDtAHaAG2ANkAboA3QBmgDtAHaAG2ANkAboA3QBmgDtAHawF60AQrJFJIpJNMGaAO0AdoAbYA2QBugDdAGaAO0AdoAbYA2QBugDdAGaAO0AdoAbYA2QBugDdAGaAO0AcsGKCTTICyD2IurJVgnrgKiDdAGaAO0AdoAbYA2QBugDdAGaAO0AdoAbYA2QBugDdAGaAO0AdoAbYA2QBugDYxmAxSSKSRTSKYN0AZoA7QB2gBtgDZAG6AN0AZoA7QB2gBtgDZAG6AN0AZoA7QB2gBtgDZAG6AN0AZoA5YNUEimQVgGwZUYo63EIC/yog3QBmgDtAHaAG2ANkAboA3QBmgDtAHaAG2ANkAboA3QBmgDtAHaAG2ANkAb2Is2QCGZQjKFZNoAbYA2QBugDdAGaAO0AdoAbYA2QBugDdAGaAO0AdoAbYA2QBugDdAGaAO0AdoAbYA2YNkAhWQahGUQe3G1BOvEVUC0AdoAbYA2QBugDdAGaAO0AdoAbYA2QBugDdAGaAO0AdoAbYA2QBugDdAGaAO0gdFsgEIyhWQKybQB2gBtgDZAG6AN0AZoA7QB2gBtgDZAG6AN0AZoA7QB2gBtgDZAG6AN0AZoA7QB2gBtwLIBCsk0CMsguBJjtJUY5EVetAHaAG2ANkAboA3QBmgDtAHaAG2ANkAboA3QBmgDtAHaAG2ANkAboA3QBmgDe9EGxiYkuyfi3yRAAiRAAiRAAiRAAiRAAiRAAiRAAiRAAiRAAiRAAiRAAiRAAiRAAiRAAnuDQGJvVIO1IAESIAESIAESIAESIAESIAESIAESIAESIAESIAESIAESIAESIAESIAESGBcBCsnjIsnzkAAJkAAJkAAJkAAJkAAJkAAJkAAJkAAJkAAJkAAJkAAJkAAJkAAJkMAeIUAheY80JKtBAiRAAiRAAiRAAiRAAiRAAiRAAiRAAiRAAiRAAiRAAiRAAiRAAiRAAuMiQCF5XCR5HhIgARIgARIgARIgARIgARIgARIgARIgARIgARIgARIgARIgARIgARLYIwQoJO+RhmQ1SIAESIAESIAESIAESIAESIAESIAESIAESIAESIAESIAESIAESIAESGBcBCgkj4skz0MCJEACJEACJEACJEACJEACJEACJEACJEACJEACJEACJEACJEACJEACe4QAheQ90pCsBgmQAAmQAAmQAAmQAAmQAAmQAAmQAAmQAAmQAAmQAAmQAAmQAAmQAAmMiwCF5HGR5HlIgARIgARIgARIgARIgARIgARIgARIgARIgARIgARIgARIgARIgARIYI8QoJC8RxqS1SABEiABEiABEiABEiABEiABEiABEiABEiABEiABEiABEiABEiABEiCBcRGgkDwukjwPCZAACZAACZAACZAACZAACZAACZAACZAACZAACZAACZAACZAACZAACewRAhSS90hDshokQAIkQAIkQAIkQAIkQAIkQAIkQAIkQAIkQAIkQAIkQAIkQAIkQAIkMC4CFJLHRZLnIQESIAESIAESIAESIAESIAESIAESIAESIAESIAESIAESIAESIAESIIE9QoBC8h5pSFaDBEiABEiABEiABEiABEiABEiABEiABEiABEiABEiABEiABEiABEiABMZFgELyuEjyPCRAAiRAAiRAAiRAAiRAAiRAAiRAAiRAAiRAAiRAAiRAAiRAAiRAAiSwRwhQSN4jDclqkAAJkAAJkAAJkAAJkAAJkAAJkAAJkAAJkAAJkAAJkAAJkAAJkAAJkMC4CFBIHhdJnocESIAESIAESIAESIAESIAESIAESIAESIAESIAESIAESIAESIAESIAE9ggBCsl7pCFZDRIgARIgARIgARIgARIgARIgARIgARIgARIgARIgARIgARIgARIgARIYFwEKyeMiyfOQAAmQAAmQAAmQAAmQAAmQAAmQAAmQAAmQAAmQAAmQAAmQAAmQAAmQwB4hQCF5jzQkq0ECJEACJEACJEACJEACJEACJEACJEACJEACJEACJEACJEACJEACJEAC4yJAIXlcJHkeEiABEiABEiABEiABEiABEiABEiABEiABEiABEiABEiABEiABEiABEtgjBCgk75GGZDVIgARIgARIgARIgARIgARIgARIgARIgARIgARIgARIgARIgARIgARIYFwEKCSPiyTPQwIkQAIkQAIkQAIkQAIkQAIkQAIkQAIkQAIkQAIkQAIkQAIkQAIkQAJ7hACF5D3SkKwGCZAACZAACZAACZAACZAACZAACZAACZAACZAACZAACZAACZAACZAACYyLAIXkcZHkeUiABEiABEiABEiABEiABEiABEiABEiABEiABEiABEiABEiABEiABEhgjxCgkLxHGpLVIAESIAESIAESIAESIAESIAESIAESIAESIAESIAESIAESIAESIAESIIFxEaCQPC6SPA8JkAAJkAAJkAAJkAAJkAAJkAAJkAAJkAAJkAAJkAAJkAAJkAAJkAAJ7BECFJL3SEOyGiRAAiRAAiRAAiRAAiRAAiRAAiRAAiRAAiRAAiRAAiRAAiRAAiRAAiQwLgIUksdFkuchARIgARIgARIgARIgARIgARIgARIgARIgARIgARIgARIgARIgARIggT1CgELyHmlIVoMESIAESIAESIAESIAESIAESIAESIAESIAESIAESIAESIAESIAESIAExkWAQvK4SPI8JEACJEACJEACJEACJEACJEACJEACJEACJEACJEACJEACJEACJEACJLBHCFBI3iMNyWqQAAmQAAmQAAmQAAmQAAmQAAmQAAmQAAmQAAmQAAmQAAmQAAmQAAmQwLgIUEgeF0mehwRIgAR2LYEuWutV1DY6u7YGLDgJkAAJkAAJ7DQC3XYD1VsNdJ7vtJKxPCRAAiRAAiRAAiRAAiRAAiRAAiRAAiQwHAEKycNx4l4k0J/A8y7aG000Hwb/n2xGkOui86SNLicb+7Pmr2Mn0H1cQeaNBBKJGWSuNjnhPXbCL+iE4+h3njZRv1tDbU3+19Fsd19QYXnaTRPodtDe1DNl01fc9gM7j+qBTdZQu9tA+1lvkbrtduT3vXvymy0TeN5ByxjjtNhPDIW0s15E8jV5ts4hv76ZceFQl+FOoxJo14GfZYCPpoByYmv/P0oBPysDvCdGbQXuTwIkQAIkQAIkQAIkQAIkQAIksIsIUEjeRY21m4raeVBGbimN9EIa6cUsCjeGE6e6j2sonpJjMshfH/KYR1UUTgbXWvCPe+lSyNMacm/JZKH/f+Z0bSQxrvu4itz7wfFvZVB+uFsnHLtoP6yjcjmP7EISs6+ETBKJKcwdzyC3XEbtYRsvvY120w0UWdYu2g+qKJ5JY94TfQO27ySROVdG7dEmbeZ5G7Uzs9p2J46X0VKN022hej7j38dyL0f9P5lHcaXCNo1ssxf85Rb7HSld514es0G/lUhMI7fWfsGF5ulHIdBeLwRCVAJTx4uoPx3l6N26bxfNy0ndJyVeS6PyWHVKAJ41UT6p+qw55G60+Dx50U39pBosNvKfO/PLDTIfyLyDxoW50I6PFtGMWBAx8DTcYbwENkrA6hbF4yjxeTUN/OMmx2HjrSHPRgIkQAIkQAIkQAIkQAIkQAIkQAJjJ0AheexIeUKPgDPpKBPB5UfGRHAUpudtVE9Oh5NuryRRejjEMaeMYxKzyN3dhomcrQg6IuSdngnrnUhgYsEQ86JY7cDv2vcryB+dsuqhhPWoz8kjOVQebENb7UB2A4vUaaJ8ypiQ1sKfLdSnlusjO8V0H5aQfFWdZwqZ64Yo86yJ4hH12xCf72VQWucigYHtOa4dttLvBGWgkDyuxngB5+k0UDhk33f7Q8DrJyR30bqewaTZB76RQfXJC+D/Ak/phTteLaO8WkVjNywOcMZ0+8MOt24A9vN1GtlbxvN166fnGUYl8Ls68NELEJGVsPxRAfjdqIXi/iRAAiRAAiRAAiRAAiRAAiRAAiSw8wlQSN75bbQ7S9htobJkiopTyNxo9a+LM1Ep4mNqpdnf66VdQ+5tY6L97Rxq2+FQtxVBp9tCeWHCFmDfL6CxWzTW5x3UL6cxbU7sD709jcwKcwf2vTHE+27BvJcMe4/gnLzYwNCm87xjeSMn3i+gbh48qpDslWcG2esD7tu+FeaPQxPYSr8TXIRC8tC0X/6O7SqyZvSBRAKjRrt4+YUexxX7C8nNi4a3svQ5suhsY8Cis3EUa1zneN5G5YTq04dYMDeu627lPM74jELykDDdhYJHimjQK3lIeC9gt8/zWwtjrQTj2M9Z4HNzEPUC6sBTkgAJkAAJkAAJkMAWCHSftPyUfI87/edat3CNoQ99Wkfx2BQOvJtFZZDj0dAn3eSO3TaqZ+cxOTmP/BqdI+Iodh8UMCfv4FtczN153ERzo4VO3Gu8zJMvitPYtOfsosrTeVBC+q0EZhZLu2fOXBX+ZX0+a6P1sInWk1i4aCzPexrE/phfelng98d1KCTvj3behlp20VpNW15D0yeraPfJ/9u6kcGUK4wdLfUNBdhZN8OyJjB9qv81XhiILQk6XbRuZA0hdmKwgP7CKjLiiUVEvuA/gFyv48lDaeQulFBaCf5fyCF92PQeDwRRmVjlvFsM+C6aKylMmPfFGynkV6qoP2iica+K0tmUfd8M4/0fXM3Ljfy6EqYdb2TZp0dInkd22WjTlSLyJ5KYMcsn299LDY4mEFNjfj0CgS31O/51KCSPwPtl7yoi1FkzEsE8Cvf2Q2fZT0gGuhtlpL28s37fNX2iEobjf9lttJnrPWugoFJZJCgkbwbhbjrG80rWz0jmSt7Wtvss84KF5Engs+1YzbqtVHlxEiABEiABEiABIeC8m7vzY4nEDJInCiivv/wINZJCsHQ61Ttvk5hC8mQBlfvbI5x27uZ0mZKXt9kZ4XEFme/775cTi7vs/fIl3oGbFpK7bTRuFZE9rBZUq3nIBCbeSyN/tY62ueBWhOTj4nA1gfSqumfM1EGz+2RuZLjG7TyqoXw2baStU3ynkTxZRNVKn9mlkDwcVu4VQYBCcgQUfjUeAt1HZaS+pzqvBBJvZeO9hbumh45xTN/w1h3Uz5uT7BI2cJsmcJxB4+irerpo3augfLWMyt3WSPmVx9NamzmLL4C7IuL0QgHVjXixo/ukjvJpJT7vF2FkM3zlZaSO/HvG/XAoH3EPuYs2zIFWv+s6x72Z7Q0P6wrJb+VQiwrDKqG3T9jh2ecujOAZ3a+Y/C2ewJb7HeZIjoe7Q36RF647Ze/ZYA/+d0j5Xkgx+gvJckl5UapcLaN8o46W+cL5Qsoz5pO2a8i+qfp1CsljprvzTtdtouRNgvhtPnumtkvGeDsP5ZZL9HfpXiH5r7PA5w3gnxrAZyXgdrJ3n1gPZDdM9iTwdwOiL225EjwBCZAACZAACZDAjiTgvJv3Cslq/J/A/NnqyCnJNlvnzv0iUsYi3OhybdNc6tMGSifmMXssj+pjw3vyaR2lU2mkTxTs7zcLQY4bdM5uG7XlNObeS6O4vk3zylup30s6djNCcnejipxeSB3eBz22+F4u9EyPFJKB7sMKckdmkTxd6et09pJwRFymi9atPDKLaeQk+mbEHmP9qtseMkLoFFIX68F7KIXksbbBPjvZnhaS22sFZBbSSI/6fzHr5fncZ7Yw/uo6k2eJxCzy6zHdqBM20XygxIa3Fq+ew8ZDaIuhNbYEwBk0ji4kb+nq23OwhBV/1+CfSGD+XG3oAbEXyuRxjD1sT4123FU794KwMZ43U5/BvQgTb4VtMXeuPnjAIuHnFyd1SPVIb/5hhWQA4t1segkmjvWPJrDjYO/GAo2h36FH8m5s+L1e5sFC8m4m4C2ym1D9NYXk3dyWw5XdjyxyQHklvxOzIGu4kwF/+Bd8unoJly5dwpXq5/j6D8MeuHP2+/Jvr/nl/2QD37zMYkUJyZLX2B2K/r4D/D9F4JorFA/6m0Lyy2xOXosESIAESIAEdhQB/W4eMe/5vIv2Q/EYTOpocqmX4YEr8zlH/feOiSP5HoePzqM6yufSmH0vwqlgO+Hq+eExviu9iHNuJ6NtuvaoQrJEE8vodF1zyCxX0DBCLneftlC/nkcq2GfmdBBlNEZI3qZqj3DZlyjSSoTQ88pJK4GpozmU7zbDRcvS7zyoongycMB7NYnSA1mw8RLLOAI57ro7COxhIbmL1oqTR09N4gzz+co8Cne5CmlrZiyTZ3YbzJ2PEri6aF3PGGGwJzD1ippkTSARE966+6CIeaMtp5Ziwo88a3keXYXTGb2oIHO6gPKdRrwn07MWatd9L7DKWtARP++itV6BPs/JPMp3W+hKuG49aPTLHSckdx/VfS8q8aSS/3f8c4uXrudd5X1fQc1cjfe8g2bgkVa+VddCrQz6Khdz3konWSyROVtE5d6AkDRSBwmHfD48Ln0yj+L1OlruRFrfxu+ieTVthVyePD4e4bDzoOqzWa3qAUa33UR1JY/sYhrpxQxyMvhoGysWVVk30dadjZp/PWEv14zyuBUPOFUu2e96zbId/Zscr8rVaaG2WkB2KVjMspTzOQ/tPedPPutFFYfyqMeUDZ0GCofCe2YoIdkSn6eRvRPR340gJONZA0VzYUe/PN+dFuq3SsifDNhIm14oo/ogxn7N+1FCQck9J7Z8v4rSuax/Xwd2UX80hCEPe/3nEn4nuFevllHtE/JJ7Mi/hyuom/evsk35DPoQ796X6APu/fqsjcZaGcUzRl91SvqqZnTumJh+x7Pp5fAez54rxbIdRUjuPmmgetW06Szyl6toxNXXrHvc9rBtoY7fLluIuv4wzwZ1nOdFW0flct7oEwbz032L1z/V0Iwz724HzfUKimcN2zlT9F8kIrpKo1joPu4tV+Fq2P+a+25lu8d+vHu2jFrPfT9ASDZswIvi4dxHmpnuj/0XqFLAxnv+q2d3UKFuu4HqSmjb3j6qfftUuvu0idr1YtiXLaTh3W9xfYW003UzlcUc8jcafp6yh03vs/U0qsGCySfjvt7cs9uuzNBtoide/OeMlyP5eccfTyibG6EP9sYv5r0gx16M7zvNMVJNRTwJvPULpwKbX8qicLWGZtxzUrW1tNmq0WZy7X7PHxsZepgtDb6PuxslpF5Vz+i5LYRh+wYb1SueCHvpR5/iy5FE5Ef4+INLWP3lAEBOfcf/p18OEcIvXbqGz+L6tPFfGIgSksvTwE/SwFoRuF8HvjTuv24bqOdG8FCmkPwimo3nJAESIAESIIFdQUC/m0cIyboCHTQuBnOk70bP74iw1rjjRyss36ihEeV8IXOEaxXouUp9fntDxqBJmTN9NYXShjHGsXdD91nUb120HzVQu6HmQyqoPQjmYpzjod7PVoP31W4bzbtBHbx5lJhcuPq4YB4u+Lt0Ievn4U1MI32uhJI3TyrzRc7AsdtB60ENldWgjNdraLjzQcOe05h31e8bTj1lXrKu5mbj2kaO0fUakYdzPffP7hO5vsF1vWmHg1YHjOP6wvZ+MDcrbXjPj5w5kpDcaeiFDAnT21iV0/jstusoX66E8x0xQrJ+LzTmxuU0ag5AzbF1NuraLiprvXP/8h5fV3N9UXZjlE02h2HvlUHS/x0Lwne/n0VxpeTPNztzyN7p5T65p+a/K6g/bPtznc61o/8Uz+dsEBp+0vA2jtj7eRfNWyWU19V8a6+Q3HncQFXdRzdqaBpif8QZh+LhHafvq0Dn8MRtNXdahtc2zm3dcz1vIU7YnuU7Sr/oonXXv/fj7lmpl+rDKqIBRc619FyRX/QhQCHZECK1YKO+o5jcx3SG+8nODZdA4nABDVdIE8/IpTBPwsTxIioXDAE6Mry1I7IlJo28CUHZpMO6kUeyXxiX15LI3zBW7KhqWZOm8yiu13tC93r2okL96kFjvJDceVBCWuejTSDxRhrlh/6Azc717Ih63gP0QOA5Oon05Soq55KG8K4mJ/3P2ZPl8OGr6uN5jNZQUA80ZeN9P/us/nvWROmYed1Z5O8O6v2NwsRuhg804Tt9soLGnQKS2nsrvGZyxcihsoW2bl03c3nH1dkuV8Lyfrd/mzlZQe16HsnJsKxW3/JWBmV3ABzLQxqug9ZGK3qAGBxnewMPF9q6c9/wdp5IofwMwzhiAAAgAElEQVQo4uVhFCHZEbMjF4BIO13PYT6iPRWj6YUi6kqMV1yc+7Fwq4LCQkS+bc+ep5G+3AhX4alzyOeo15cVfmdntdd24vtpVKJEU0dEn1goR+ZstfvDKWRUKP5h7Pdw3l5gIvVx+p2p43kUToUrEhVT9Tkn4X+c23QoIflZC9XzTi5uq++YRPJc1VpcYWKP3B61LdRJtssWYq4/8Nkgxz1ronImvl1U+4Sfk0hfl/Codt+SmExH3qft+2VkzRD4VtskkHgnps+R8F3n458licQUUudHbFfFyfwU+znXz34SmFkoGvY9QEi2bCABe+GMzWxqoYDiKTMFRtgvz8pq52eSoiEXTFSEv6m2mDxWQD3qJUrqdCGNaZe18ffcKSPcltuXGvupa6nP5IrKAeVD7D6pobhopw5Q+/qfc8hdb47w0ulPbozUJg7zmcU8csdG74Plxb90wuhTezhMIyMhwGSxkPHPGiPJJMStEjLv9LaXx+O1pLcQtOeJ9ryDxtVsRN6omPMkErAWBW6lH3Sej6mrdhsbVe27+fRvV30R+YNNCLC/vYfVSztBSAbEI7n0wSV8uBM8kqPCVlfywD+2gf8KmuMfy8BfD/JGlt8pJPc1YP5IAiRAAiRAAnuZgH437yckA2F0onkUg/lAD0u3hdqF6Hem2aWSNUfSvqUWpjpzhw7frprzeT3Tm8bM2Tf8s4v2egnZ9yU/bcQ4+f0cqu7ckXpXeGUeuQu56LmwqHdSdVwimIfTf0dcVyIgLjfgjfG9cX0OSXN+1SirNSc67Dn1vKt6Fw+J4GkD5Zh3yunjhfHxMC5pbnYf1VBYjHmHinr3UXUetT3kop7oGDOP/k4GhQsZX7y05kTN0obbrRsZ3wN/IonifWciKtwteitGSNbvhYcKaOhThnMA0wt55Bei3p3nkb/TQrcjcxPRcyBR82XDsw/LEHnfmLyE8Y189Lzooexw88XyfhmEC585NWqo/LCsk0dzyEXymkTyfK1nXnN4HkGzGvdV6mwBWcMBSnN6ZQ65G9HzGfFzXdNIXyijcEz6qd57VhYmlCLnUKaRutBbr2gj5LdRBCgkGw8bbcTmd6/SMznKcIb+zhFYEol5FL1QCuEZbBHMF4Q7D0tIGl7JSTfsi3RGC2FY3sT3HCFMBhbLKctjNrJ9vbaeQGrZmbhUD15lC2auZ/WdfCpvaT1o9Ac81uSjyAEbFWSM0MOJ11IoGQ9S/TD0zu0MBnXHGz2YiqrX3DknB1+7hnxUh23Wxd0WAT9u1eLjCjLfN8oj3qfuAoGwiUfYCh9ofr1iBq+JaeTWAg/aLbb1uIXkqPbo+e7NTJj7YwQ6kbs+a6FyyhhUxomdzsFWvd/Lo64HYcaOrvihFk4Yu6hNEabNCAE9eSBFlL2QHO6efD+Puukg7d6Prq32/D2D7C1non6T17fvzSlkbvTmP3SjIyReixL8HHFMDSRFnBhWZDxaNAbLvUJyj531cElg9ow9yBwoJHcaKC2EC336XWN22AHsJtvCs7VttIXI6w96NshCqZNRLzJG/9nTTpPI3JAbwOkPe4TkLtp38rEiqNVW7sub128aC7Z6yhCWb/5C8MKubvZRPjtNlBaHs5/EO7lggsO5V15zFnA4NtBPSLYY9NTxAOYWkn3FYDl++oQd7aT7uIbC0bhnU8hNjtXP4p7FV/Z+ZjlNIbn7qIJsnGBq1WcK6VVjcVW/NtpMmzjMzfJGb/f2we17JaR1WLP4+icSvcfa/XC/Y4PfXk+jbI1f/CgqkxazwefRY7mt9oPP26ieCO+D2bMqP1W/hnJ++7dPsfqBePFewe2NTQSE/uc1lHaIkOzU7OX9GemR3EcgrpaB3wXF+9cq8FGffT1BmkLyy2tMXokESIAESIAEdhgBPSfYX0iGHlfPoaDmBGVOZylcpDl7LIP8hQJyS8nA4zCBhDFHMqyQHF4rgbkzvYvKowh687Nqru+1OaQkguHFAnKL8zost+cgZM4f6TqF4+uZIylkTmaROT4fvm/JPJi5MF8fFwjJ2ns4oz2SU2dLKK3Ifz+CnZS5vZbTXA68m/KiM5aW88gcMRieqaEti1OHPCf0vKsjSj2tGykVJzB3PIv8srSNUS9xEjLfPXS9RuQR1SDyHhmEJ08kpjG/kEPhYhGFUynMKQeN76VQMhclbPr6HTQuG/PobyWROVNA8XwWqXeVc1NQJzWfFVVm+c5wGPOETmehcNxh+nuvPeSd23aU0e+FMUKyfjd9cx6ppSyySynMaeeyacy9p3SEacwfzyB7KoPU++F72tzZwG6kICOylzDSZdMj+ZDvkSz2G0a1tBlPHkohe66Iwuk05tW7sjt3o6GEG6FjUJwzVLhv75YzzyTvyHKvL2aQPZFG0mjrpKmVjMjDu66+r8J74cC7SaSXssgsmm0jzmnmJDDQvmvOdc0iecLvi7IL845jnX3Pdp9UkdNzKDNILuVQuJBH5lg4bz703GUvvH3/DYXkYSaVXvW9G/a9tWwKQBeNC7Ynlp3z2AlrrSbKrQ4qgcSRIpqmUOkImRMSVtlwP5EOZ9Zq2zlkLpRRu9dA434NlWU1MFGdmdNpRTx41QNp6lAKqcO+MCAT7N74SQ8a/fPpyUd5fj6uImd6i4k9rdsdpH4YemUeTkieOpJFYaWC2loV5fMZu74irOuBTDcMn+OdX7zMJGxGC63HTTTWSshYuY4nMCcD11VHXDfaP3xo9dbX2G0TmxEPNN2Os0geT/qDgDfCAehW29oSVNVKyJ6SO+WyBk3Ob6q876SRv1hG9W7dCweccYR8sRFvYNtzrQFfdNt+CJaVEornM5i3VmFOI3N1GDHBvi8nFyvRZRlSSJaFEpaNJ+bDl6KgOj3t9GYKhRt1NCSc64M6qsu2DVt8Iu/HCcwtFVC6XkPtThlF1xP3sC26bvr6cm/rQYh4yQc5W3QzRbV/RIQE6dMML/6pExU/TL2ba/z1JLLLZVTX61741ez75oDdEbKdfkf1UbOLeY9LfV36hrTdNzi56vsKyRFi4+RRCenvh+KVvrRkcZ9C5roj4GtO4cam20JOsZ22EHt9vx+MejZI3z6n+gTxcFwqonq/idbjlhfGyPWsn3o/hex59ZLv2JZ6PgYo5SU/86Z6hsnnLDLLVdQfSIjkBuo3CkiZv79f0AtGZCW8mdN84ojk0wnadb2K4ulgle5bWVTNl/2wGQdvRdhP4o0U8it+GRvrVZTOpvUkQPjSNn4heXaxgPKtGqqrRbh9sX/fSNg06a9rXsqIpJo88dpuDvn1cKbEXTQz8X4GEgq8fi/i2FdVGLku2ndLyC2lkHzbbLMEZJJF0lP4/zMoqEVSz5r2gjlZhX+qhNr9oJ3ulpE/ql6EJWTdEC+Rm22TLd93fhSZCeNe8PqpGzXU7/p2YHl3O6kR7DGS4jeL9NkiyndqqF4vIXc0nACQNp09ayyoe1JF1lzMdyiLktj74xZaD+u9UV7enEf6VNH3LohgNno/2EVThTFMJDCxaC9OGHgzfbOB21f8vMirv/xy4O5RO3z79zc9b+btD20dVbqX9F2UkLyaAv53CfhfeeDHU71hrH+cB/5P8IIhYnLfvMkUkl9SS/IyJEACJEACJLDzCOh38/5Csl6ErqPCddFaDaLkvZZC8Z49VyiLWPNBCrE5tRgxSPEyKLS1LExumsJgYhrJEwWUbtTjQ9fK2Hcli9xKmFZPwZYoi360wBnkzIiE5ruC1OGuCqHrH9l9GObJ1V7F8pM+znmPifteFUTek85kUZR0Reo771NYBl6w35c5Q+PHQefUgpchSj3voKYi1L2dQflh+E4oZxavR7XA2JuTVnPW+loi0I3AwyiuudlZLyB7ttKbhk9E7sArdU7NTcuBm7y+GUFPvFGtQIHiRXtdhVKWCJsDvNw7deS9eXAjEp9ZqUHbWxCSZ09X7Gh5TyXEtrEQ/J0sKnq+3I9cqAV0x0ltZPaGM4CpC6jqhoxl7taZc5dIdqcDsfOIPZ+pjlef0md479abcuqy55lmJZKaadpe5LpAx3HaeWQe+r6Sd/hppFcatl1J23hexQlYkR2NedKZpXKP7YvOkg9s3/JIlgXcpwJHDonqaEWXk2gLRaS8hQXTyKoIkQoqP4ciQCHZmNRSk/CRnxSThzKoqJ1c0XHSDPsqq5QWw4nQ8Dc3v7I9sGjfCgYHQftZYY5F/NIrtvwHt7U6Kyhk90EJKTP88FFDrDYfvME1DhzJ94YsURXWg0Z/glM/MMQT2Mwbm5hHfs0eVMkp7EnSQULyTO8DB74gP6Xt2Vi15QhYUavB7InxORQcr3FVTfXZuRuuAJT7xRq0qJ029Wk/0Px7ccYPdWmPEP2zj6GtX4SQLA8660EspTUGeV69Xg/F8JFQOSEyw/5qFrkb7kA65swyID4deklqe3V3d4VkCY2zHOT4uFpG6XIB2ePhqi5VllAQCk7ottM7OdSeuBeTELOZcLWq6dXr3o/fT6Go83sE53netupkRT/YyvWF1Rmjjm/nUDPf7VxGwT3o5mz3Qlhp79VJS3CVwUz60DwyF6q9diMCiCEGWkK20++IkBhlA7Ji11xYY4r0/YRkT2w0BDXXM9MjL9xNPu6iH7eZt9IWcq7ttIWo6ycSiH82dNC4YIRVFs9/Nz2pMUCW+8ddaNVYNhZimUKyeHWfM84tizfumaN/H7y8qITPufDZ0r6jwqHF58zqtltbyiFjrWaX++KQO5APyii5tyXPjXrx9iY8DG/pLXkkT3kvK2aoZFdElxcaiTRgPmLsZ6LzjPMmVzKYP5RC/rrz8ifPc2shm/Es9qrbRWvFqFvs4iVA2mjGeKbbtuGzgzwPjDGG7Z0d7GN8bLpNtnrfSRm8F+Mk5o7lUHbyWvve9yYXO3qNPUYK7jl3gUMnnEjxnkVG3jl7zJLsiYzjrZg/EXowSP+tFnqNpx+USa0UDqj2lIVO2t6NBorcDPMiX6luYFRf5M79Cq6s+CK0n5fY3L6NDeeaXz/+DB//+EMv9LS3/wclfPjjj/HZ46+dPeXPDdyWXMdXavgXAN/9x+eoGceWPqyg9vApvnOOfPrLIER31b06gD98jdbf3ca1KyU/jLecf+VDVGqf4+l/2ieSst6+Nng/fVSUkPxRAf6K0GCv39SA27O2oHwtB/xr0EM8LNi/WaGxKSRr1twgARIgARIggf1GQL+b9xGSJcqNitakoht683WyeHzCeRcMAXbuBWnJ3sracxHhLvFb8u4iqde0V6ZalCkpkGSRb814D4s/jfeLIQpZc7DGu0LkO4uIa4GDkSUW6ePs+d7wnd/5fkDxvJ/1OQ2Pb/lBfx9zTl23UEj2Fm57jhszYUREpwyShzrleQYbzhT6Wu77vTo4hof6eejPcP7Ucg7Z1PVl7sKfezhwrGQ7cqnymHM/jsCodtGf7SqynoftLPIR8xR6v7iNzQrJMtdoztcF5w/nP2IERH3/GtEv48rmfR/Dvq+QHDKOnFuT88r8n7fwfC5yfscvUrhI2bqf+pbX/DEsu0SFi+Ll3S+e7Q/bfuE5LVvU91UC7hypKpF+V38ji2rQdlrzeTsbG5ZfFuV4OeCN0NbhPWvcj+pC3mfotCDlbJmTQNZ+/COOAIVkNakz1Oc05o8pr5ExfJ6OEJviWmo3f69XIgUDFmNlmD2ha3vxeSt1zPDWFwNPS2+FSTjhl3AmYvUKv6BN48Nyhp24L4AZE5fGg9f7TTxg3TwgZpvoh04oJLfbdXvVk4g8brjd4Bz2JGk42e/9bHS8UpYDx6Pzr4YDI78MekLZER4jB3ZW+Z3VhWY9g+0wlI5/raRqm4h95StZgZhbirlnThQMj7fw4eO3SQLz5+NDQI6jrccuJBv2beMwVpp6tum0s71z/F9OeypO3uf7uf52qs7qhNmcE8bqN/MzRiS1run0nfNne3Oq2otJ+nitPq0jr73jjZWLzv1orWI1yht3H231+iLEht5y9othuKIw6N8UD2tg7URecIUxow49m05bJcwVh9Z9G+UtHZzNjfBgCiz3zOgN5qDZyUPfx9vRug/1yuqemnhfbLUt3H7uZduCe31ZiRv7bHAWbJjilKbzvG0tprIX5Tj9oSkkiwBteLaaiwP0uWVD7Odk+LxUIeftPnwWOckXZB241T/8/i70QB2lvwsH915f494vTn+gn3VekR1m1n0Y1MlZXJWImpBx+tlJQ1gcSOZp3YpioJj7xw0pJBuhwPy+PfQmt6/vcD7cL82Es29ihDZxmI9639lljv5L+pHQe9/o/3sW29l9cHg2p+2N+8V6zstiIHdBhyxeMAV+PXkyvn5QvwzLM8IKxRbWIGrrSyW6rv4Cn298itonH+PjTz5G7Zef44sobdc5ybf/fM/b//aPfMG19KPb3t9yjo8/aeALvf83ePQ3H2rxtnTtprffTUOo/fBvHjlCdiAkX7qNxq8/xpUPLkHE49uf3Eblw1Dgdb2oY4Xkbx5h7a8CodsTsKWsN3FNCeEf1tAKxGSdL/rSJfhlvRmKz6ufItJvO0pIXk0CPy8DnzehK/e8A9SztmB8swR8BeDbDrA2Z/+mxWQKydqcuEECJEACJEAC+42AfjcXT8Mg8trDph8RURbhS+5gtUD8FWMRsB5nT8EL43y1jLL1v4TScjYYJw92+ojF/ryD1v0qSlFhit/PG3Ny/hm6jxuororzQBH5k2ouLwxFa70P6Do44q1RmPaNjB+O1lx4ro9zxN24743zyULU9sMaKsL2Yh5ZNd+oQ2k77wyDzqnnXUMhWc8vvZPrXRCuyuIdJ3NBB5BaDd6p9bVG5KHOGfXZaenIhIUzGR3RKvmu72lrzRNv5vq6/gmkrsbPDYSi3wCPZP1OPMI7p1lvrzyjh7a2REzjfN2HRT8Vn+NxrHfRcwRh++vfRmHfT0g2GM8sFrxw7fa97jvrZIKIiJFz916humhdTfk5zM37SRd40Eb43hzHy1uw7nn8RrTfKDyMOluLT4wiymIML7Wpfn8PHTJinZ7keD1fHbaZvmcnbCcozVkie54JUi5GzgsYBeNmJAEKyWrSfzs+++QbjWyt3fqleE6pcCAeZzVB6AhrutMIKuqKH6qDlAGaEWo2YXl2uBOl8uCOnx7XK/u8chmeQ/rB64iycW2gB42BmHQojcxhI3SG5Py7Hh9yWHd2XjmcjtroeGVC2RogmOVxBHvd4eoHYlCXCNHQ81LSKxTjBzvqcnrwENw3sUJkcIBdv4BRcKy9ECB8oHmT565NqAJ4n+Npa2uC2VmUEF7OKZclTvT7LTyDbLmi4yAB3j46+EtCW9/wBxgSJnVW5UVRPGXFluup5Z5IxKulMBKA9RJg7qsfzG6b9f49s5CP8DKTkzkT8ZJz9LAZylW9lKSRPp7ErLl4ROVGd+7HuPLafNVgYgzXd0S70N5twWt6IY+sDmOv+jkv5hEqRn7MMPKCCTtm2+0/TQHC6Xf0Pd9zqg7q5w3vVUPsjfVI9mzEDBU7hbm4hVRH54wcJbP9V06uBAPewF53nS04tmiLmC74cADs9Wdq1bm5m/OcswfXTt9i9IfdB8GqdHXfv5NESodHNu6phRTmjZC+KqSuu1BLyiehhstrDbSH9pQ0K+JsOwJ2pFjrHBL+ad9XknM8OpdW8Ew7Zy6EcZhZfXVwBaf/ixT1vOdu2M/FPnfDQodbzxooGl7C9n05pJAs97axUCAxMYdkZPumrZxOiTf7eClspU0cux+tDw7R9NuShYUpI2pD+nqYj94eQziTQsZJdYgv774IJ6SsMYtrT97xdh/pvVDL0HGM/aBVBlnME7l6y6iMbP77vSAv8iVc8vIjm97E/va1X37R4/HrnMX7U4m3caGtvwlCX1+6chON/7B9iL/7jwZuBqG1b/696ROthGTxSq7gsy/s477+9W1cEY/iS9fwmVFfVZZLlkfyN/jVT4L6/ehTfBHhffzZI3XtFtY8cXkVv3Cu+d1/tLDRVvs5JKKEZC0CJwARle81gG8B/FcXuJ+zBeP/3YQH+/9UgNWofMkUkh3i/JMESIAESIAE9g8B593ce/9T72rm59tpL7qaAmOPgcP3j+jjBzt9qPMO+uy2m6hdzurIZTOngxRezztoXs0YkZGiy2S9D+h3hXD87V5fe4SqeV3ZIe64uO/VSSWn9BljfsPkq7edd4ZB59TzrmoeCdCLr605Z1WI4NN4x9JMBl1L8jyrCGEmD+fU6s/OvSLSVkq73jax3lc3c/1njSBMdozHblAYLchGvWerAsunMQ8d79xlHuBse+0xupBsv3uH59RzhXHljmh/OXpk9v2EZGeeIPoeD9vWdjII6+KVS0UJjauPvbvzVzhnEscrFGltfWJkHjFczQJ5DoYSLVbPd4XR9+xF+eZRMs/aQvm48Iq4Z3U/EPLs4R3rBOZch39aBCgkD2NcL2qf/SIke6Ee7dCq06eqaHdaVv6/XnHFmUz2RL6OEwY6AfuhZE8G9kxAW+YPuIM23VHrB6/f6egBgXO8/nPAoLGfV62cw54ktTtqv3MM86RaAwRdADlJAwUjD2/4QAjDpngd56Sf81vL608bKJ8wQvdGhV81ryP9teU51McTMjjOFuzdjtwcbIYPNK+sfR+K42nrlykkw8nt3V+EcqDH/dmVHDb2QN/KDRl1nCOkaLt39+0RkueRXZYVsTmk3zMXSiQwK/e0NirzRI6YNkJ/qss15P2oB4feNdRgYgzXl5eDU6FXZ0J5/Vki4DRyd5qoGznhdRhqKzy1HXnBJOWtqt2QnNolFE75q0xTR8IQ5N49sSkh2RWvwugLsUKyMfDvGXD1bcN+L7djaIvttoUhr6/aVcSjMKz4NNKXjVxTsijkYhphSoKwXfzjnf5QD6wlfLKdXmDoNlKell5YqriX7ykkJT+skwNK1WmoTz2oD/r7fi/fPSd0nv2u8Oe0gd2POsyiniFO/xcvJA/x3O36K/vLlws66oZaFa7aJHwWS0Xde9F8/hkgnGeFOtfAz34vQ1tpE4d53Jgoug826qU2Oy001iresySzKAsfQu8Gv46q//YPsMdIzqSQOieA2Oe5U/7Zk2ZEoC5aawUktYhtLCocYz+oJ4uk/zT7caP89ua3+NVPA2H1gyuo/LKFjgicEkL6my+xUbumvYdtcdc+i/pLibfRQvIX+MWH/rXizqWF5g9/YXgxKyH5Cmq/UVcyPzv47Jp/XvO6qiyWkPzFL/ChiM4f3MSvYnRgfebf3sOqJ1Dfxud/0N8O3hgkJCtR+WdV3ztZPJN/ngzF5L/Owqu8fP8zJ/y1dyyF5MGNwD1IgARIgARIYI8SMOYEpw45C+ePqYXXM8g6KXVCMXUWueuhJ3PzYRNR/8ey6Fc3gZ9ezHsfDRY6eqGaX5V3uEkkz5ZRu98Iy/GghtKCv9jceh/QY+2Yd5s44TTuuLjvg3JLSjT/HXoO2YtV1B+ErBrrZWS9hdTOO8OAc4bzruF7iH4HkfC/PRGNgsLod6woj+QReeh2MTZknjfIBTt1PI/y3QYa2jYaqF7w0wNZ88SD6hrVHl49/PffeE9YYx4i6j3bKLbnUHI5SF0UFz7Z2t/5wyvPNgvJm2HfT0g2GM+fqxrtGNqvec+3oidYfVDtWmDnB2JD4jtEjT/DORN7rsLYRc8FG/rEZnjoOof3lXEVb7NXSDacgaKcMdQJNIPw3PqefSOD0rrRd+l7xmC90YKZAk2dlp/9CVBI7jsh7gpeY/57HwnJcDz6Eu/mUF0v2d4nKgyIYbP2pGQCyeUaaqZnXcLxnnVCiUrY0WpPLlbjAvoB67ft7NkgjLLzvTVIMg7Xm8agMXKi950cqlaSd32kt6E7O88ejY5aftUdr19Ga4BgniZWSAa6T6q2F7d3nSnMGp5qfrmnrdyt5umt7Z72jMj9aR4gqxrvlFFeKaG0UkLhpClgmIOr8IHmladf+42prWMnns3yG4OB3nKNUGbHrmIf2ta1h/jDDYNqhC6OPNphF7vKSw8egr7P7LMk/7excCGRmEJ6NcrrPlxNFnlvxPbBc14+ca/8Dre4+9HuL9RgYgzXNwfaXnl9m/WupzyovdzJXVi5Vd+UfB5dtE3RLyqUjnd/FJHRYb37PGtMAcLpd/rZk+2pF/ab/YTk4pE+5Yhrt7eytveoZYBjaIvttoUhr6+r/ayF8pKxCCHgNv1O73dzZ2o6L6t/vNO3GEKyJUrFtUXE98llI1XAsxaq51OGkO229yRSF+pOmXTN+m84fUfscyvyLLtASH7W8lbwz7kRISKY2/flcEKyfpmKOF+/fnRyISaflXDeSpsMaffRfXDYyN0ndZTPJI0IBq7Nqb9V/+0fa4+RnEmh8PTxQjI6aFxOIQy1Hlznrdle+z9SCEPXOcz6sbd+i+gHrT7YTFFglN/a/PZXuOmJpSXc/nW0svrlepBr2BJ3rbPoP5R4awq6+kctzN7ErwKxWv+mNnR5VnHvt+pLJSSv4tN/V9/Zn+q6l25/rn/Q3xkeyZ2/Deryk195DsF658iNUPi+cuNTtJTCHrmv8eWwQrKIwrU68BzAb+vAR8r7+ACw3gT+C8Dn+VBgVgJ0mUKyQZubJEACJEACJLC/COh386ixqjEWdVMjdZsoHfcX6cs8R5yw0Y1ctD8AcbeD5ka7bwojvUA5CPOqx6xqAbJ5CVmQG0Ras+Zk9LuCObdnHhjjgRt3XNz3ckpjkb92PDAvJe3gRbB02qHfOeV4Pe9qvIfoY+K9dLsPgrC8CVkUHoTg0ceNyMOsR7Ct368iFwyHgpv1vr2p68uifz9HcuJoEQ0jmpAulsc+cHToN1erDhCHimDOeeZkpX8ubrHVBy10Zfwt/7z22F4heVPsjbljz4FO1cevlGYsjnTNuEhwQ93sXTQuBkL9q0kU1iMSQ/sk/Ss/bqCphelwnsmeqzAO0O/BoT6xKR5R95fQXhMAACAASURBVJVxGdnUcx/GfFe4oCVi8Y0cJJEbl4P6Gx7J5sKc/N14JtrOnLLwz8EEKCSPOElnTRRt9VhTlBncVrt7D+Nh7zOcwvxRwwvW6DCsiurOK5j0e3Me8yqviPAX71nrATceL9Ww8/Gvaw2SrAIGf+hBo7//5EIR5Qspa7J08nj8BK89SRp21N7Zdcfrn9saIJhl6SMky26du3kj/2DA07LhGWRW4geu5qXcvJuJUXItxohy/vnDB5pnJ30HJ+Np65cpJOsHZMA9cuBrgpY8NveqqK4PWik1QHgxz+lt2+y056y7n3v/OX2WeJrPmzY0kUTxvnVDyrAATTXAkX37tqlbgOBvPRDufz/qgY1XJvUCMIbrSzEsr2JZ9ddA/XIYplkGYG0ZJBqr9OS+EC/l2pmwr5twc5x326ieNRdWGPfma3NIHU9h3gxjtCkhWV4w1CBLzh++0MQKydLvLIRe57H9TkyTRX89hrbYblsY8vpm/buPwxeouDHE3OkKmu6tY7yEeMcZz0m73ZyXZPPiQ2x3nzRQvSxRBkIP3LCc8S/NfU/tPbcMW95LHslP6ygcDe+NkFUCB95NInV83goFZ7+cDScko11F9o2Q38AxSN/GCH7cSpsMaffRfbB//c6DEtJGnUxuM0dSSB0J+0kzPJUcbY+R4u297/P8WdOKgmNeX21PHHHyw42tH3T6YPc5ENV+//Sx73H8l6YHsLNjpLjr7BP8qcTbSCF547Z/rQ8+xqPowwEo0fgSPv4ntZP6Ll5I/laFzF79FMqRQ5XF9Ehu/U2QU/mT+BKoq3qfv/0cH68GHtsiuJc+RKXWwL98ZYfXto6JE5Jv5oG/KwO3TC/jJPBPHT/E9aepUDT+SQn4/wB8WQP+WgnM6pNCssWbf5AACZAACZDAfiKg5wRjxqoS6WbBTy/mzg2276hoU7PIrjbQsUTjLlp38ki+n0XlUfBDt43GrTLKd9x9beDeGPqVKSTPVdDQIpKxT6cRlmmhjFZXwjkH3r49kQq7aK+Fc4rW+4l+VwjnGYyreJt6IbQZyjnuOGHppfmZRm4tFIO6AkacIoL5lRmJimcKdYG4dMCbD3Laod85pYTeu5K8D6t5pECsOh+Iq2+kUVJCcVC57uMa8kFKo8lFn5/3U1y9guPkI5KH8bvalDnElLd4OYniA8sw0H1UQTZI+2jN12zy+t2NMlISYjiRwPzZqmcPqhzCXSIhTqv5vyHn9dprYYS2qaN5VB70LmzoPq6j5EXJnEZazUl77bHNQvJm2Jup/Uxv2m7HE8mlzTLB/N782d45oM7DCrKHk55Tjd3auiXCDelTjquUhbPIrtTQcueUxGnlRh5JSWX5fh41z8EtnHe35yrCU4eL0EN9YlO2GHVfGZeRTT1Pbsx3ieZQ0/Ok00idk+gIvjdx414VJcs5LeaefTON0rpjb902asspzC2WIubf7IJ1NmqorFZQ79Pv9uxjn2JP/kUhWXWC2/HpiDJ70sKMSun8EhGse8NaqwMd4cE5VnsQq90lbORq2vA6meuTr1PyHZh5Jo1whvrBGzxElxt9V/FBDxr9/T1R6VkbNSdvR1yIa3uSNOyovWrpjtc/tzVA0PXuF9ra/6141D9eBgWzMml7dBbT78wjtZBB7mIFjT4e0+Zl1LYI02HIVv+hVA/HeGq3yE89aPLa0xxshg80b2K37+BkPG3dd+JZl75fufr9pk/gbcTam72b95fnRa7z7U4ifTXK21cd6IQvf32AJ745uJE2UKGa1enU5wAhGVFeXu8b3lzBefTLiNfeoTesuszAzyHvxzgRY8vXlwLKYpgToRfpgcNZZIMQQ55grF9wHJH+WBZpvfjFDTvTReu6CssU9B1euKKmkafW8eLdjJDseKAnDPuwBUnjRc14QfPuxTE9r7bcFtttC0NeX9u0cDwXLhSYfM8XGmffnEXyeBrZcyVUI16m/OOdvsUYWIeDeN9u7NzK+uojb8hLXPms7TE6uVSJCVvf5/Tu4rE3sqgO+XywwmBJn7GTQlvLC81pM9z8FJJnSqiZq6edftN+ORtSSNY5qvz23VQbuM2zlTYZ0u7j+mB06jokm9efTMx7Yegaj8I3Xf0C6T0njJfBsQjJXbRuZUOB//V5f5HO29OYO5pG+lQB5bvNXg+QcfWDTh/cuzrdbSzRbQNx1/Da7d1rsJCrjlHibV8heWUNYWZqdaT6VNcaTUj++n4QgnuAkPzok0AUHlZIDor17b+18NkvbuKalzPZP8e1v/1SFdr+jBKSJVy16pvE+/iaEoUTwM9qvldyqxQKyasZf/9vWsBPjH0Z2tpmzb9IgARIgARIYL8R0HOCjoBpcPBEJG9h5QRSlxvQI2F5xzgXCJYyFn4nifRSFtkTaYRpc8K5hPCd2pk7NK7lpdS5box/EwlMH055497ixQJyi0nMquhqr4YOAV1JsaMWfx7KoHA5iCp4Ys6YZ03ghQrJstj+ZDD3MjmPzLkC8ktzmD5c8ByJzPRRswt5FCXy4eUCskf8sNve+0bCaYcB54wUkoVnp4GisYh4+nAamVNZZHS48gQSbjQi/e5kznVajTO0kOzlGg481hOvzSN7wW+P4tm0NR9rzRNv+vpdNFcNsXhiDqnADufdaJZ952qNuoqQuRrm4pa2mXg3ifSCpDdKI/W+2WZzyKnQ7ztASN4UezGZB0XtcDNzPIfC+SySb88E0T+d91JhvJBBVlLbGWntppYqtpBvIDU3u09qKBwzGU5j/rjPNn3cuMcTCUwdL8Kfsw/nmey5CuPMek7D6GM84TpYUD+sLWo9w36/N64ULSTLDs+aqJwO59L8+zrUNRKvzWLWS0/lnLvnnk0hczKL7KKZTmu+r1YEcz4mcIro6Xcj9jHrtVe3KSR7E1aGIb7Mv8c0Mb9rjFM/zFze/XKGAvbEpHnsLHJ39dBLY5D8vaaXpJ1DWe/mh0KwwmQb+SmdslqDJOMUelMPGv3y6c5YVvjpFULyW3RYhhctJFvCrbkCUFdgExvyQAhWVKoOfeaEmXcw/pxWeQzvSBnsNpaNAfSAwck42touizPY1FVwhFqrXEOWWVZHGoJSwgt902eNmX5wBzbfL6+IO0lvio26DvaGDmEkfV5kmJzeUKiJqD4rInTv3Fk7RK8renk5Tc2Vo3bRev8a8n60+4pwMLHl6wclCgcOZj+UQMILax0WW8Jbz0U9S15NobRhtHm3jcqSWkGYwIGo8FFw7MZs27h+JyyKvyWh6IOVqt7AXaIjBMWIFZJllaxajezVZQbZO2q23b3A8H9vuS222xaGvL4i4tVX5V41hGD1e/9Pp28xjzcHrdI+R4vxoZH6X6T3V1csNVfS9u4d84270Md4AYk5Ivx6QIQFpw1eao5k556bv2CEClcVcPpuPR7wfh9SSHYFzO+nUVYrYdV1Rv7cQps4zOPGRHF9sN0nzlieBaoacq+kgxXwlifAOITkZw0UA2+BkSOojKMftK6fQPJiv4VhAZF/XkNJPG0/+gxfK0ju5x8+x20v/LUZbtrdyf+7r5D8AkNbf/HzK763syEQq7KYHsmjhbaOruPXj3+B1Q9ETL6Gz6KgxQnJSnf+nRnGOgF8VJD1coB8rwXmJPDPXeDbNlCdDgVmCsnRjcJvSYAESIAESGC/ENDvCXFzSgJCchIrcdcRMsTjczWH+ajUORPzyImncjCHEs5hRY+rQ+RdtO9XkF8wF8I6cxnvZ1G+b7/nd+6XotNuvZtC+rA/f2G9D+h3hRGF0z7Hieies1KpJZB4PY2yzKeIOHk9mtXMsTSSnhDe2w59z9lP8Oo0UYlJzzOzWETtsTHHI/D71Eu1jW7DIeZnRSwsRrXh9+aQXvCFtvEIyYGN3ikgpRYTmPNa72ZRXMn78+3WnKiqVfxnZ6OKwtIcfG9xxwZlkcPxPCoPjfn9nSAkyx07KntBIHO/F9M9KZTmztWCe7iL9nrMPZaQCALV0eZ2um3Ur+aQ1A4sDt9X55BdqRuhxcN5Jnuuwmg/Padhz+OMzKPffRVcTs8DmPNduihdtO5VUDiV1tFpZ49mkF+povm4AT8dX0QUPblnHQcJpVsk3s2gdM/u8/Tl1IbUP3DGU/O0+p5NBP1uxD7q8L38uY+F5BnPG0itgtmWz9PDiW57xgDdPK7qgRTZWRi11h2Y0xk64o0+QlbJHDNCdH4vFRFuF+jcLxo5mhOYMMSV8MHvX9MaJOkLGRt60Ojvb3bGXlhTQ8RJRIT/fbFCskwep6wHtrkCTGw/c7aI0oqExqmj9dQZBBnVdDe7D8tIf99pl/eyKK23Yj24PY+3U+aqInOwGT7QvE5+0OBkDG3titHSdlZ4HBnsrxWQVGKQ2K1VLqfMiVnk7vTWX+wtabwUqIeRyzT8u4vmVdO7PoFIof5Zq2eV1tz5eri6NTyhvSUrTXXbzSJ/zxi0qT3dey9KSPZCkVSQsQYtzoIJufcNb95Ews9/3GtpXbTulpA7kUXBZKgH4v3vxzgRQ1aXbun6iodTDjUQ6bEZJ8y82i/hCsViv0akgKgQ49J/5LXncwKJPkKyhKrpiQrgrm6WUE1GPvp+QrKX297M2/y2EU5LMZFPGbiu5pE94Qz+zX3U9lbbwmmDuL75hdnCkNfX1X1oL2xKSLjyYPWtN+446a+gLl+vofHYvQedvsV6Vvr5kMKcrwdg5T9WBRARbqOG4ukMshdroWexhM2/W0HlbkTYfMf7fnIx8Ej2XqDnvZXokxICeICw6a1mN8Oyv5tD1X3Jhv8SlTuR88IO+cXeuUKy1CktYaG88YsRxcTg3V4vIqkF0QTM8YA3eWQ9j+dRfGj0hMYCGyvfuqwgXixF56p62kTlQhaZ0yU0VOxgozzm5qbbZEi7j7vvJKSZDoMWtYjKC5WWNvYJFwJJ+e0xUu+kkKpjbISRTh15sy9LGCu15X5cyqJwsYTy1QpqD9thbi45sSzEMY/dTD9oPW9nIhdBqjroTwlb7YmiFTSiUyTjGxU2eqs5khHmHL75D9FJkqOvpbyUY0Jb/yH6vFFCMr74BT70RPFr+MztCjWUQRtP8akX7jqmPFFCsgjAEtp6vQTcNkNbi7fxHPC/SsDP88Cq8j6eBH5WBNaLwI8PUEge1CT8nQRIgARIgAT2CwF5J75eRulqBfV+0f5EBL1T9uff1iIi4nQ7aD2oo7oq5yqjeq8ZvsMplnKOtZh3ObWP89l92kJjrYKyeO+ulFC+XoUZHcjZ3RPDWg/9cnhjZImi9byL9r0KylKuB4YQ86yF2vUyyqvV2PcRCQNduVpC+VYoiGPQccLivhxXRuVOwxDCgtI+a6N5r+qfV+oj79Pdjh/2O64d4s4ZtIvUrbYRPRj1GN7161+5U0czrp0H1UumUKJ49DSC+UUXnUcN1CSkufBf9+3CP4/M5Rq2NI7ry3yBav/VKurqHelpw7NNmb9oxeX4NYvtbAvDptemYofSrnFz0F2v7at3ZJ4kfF/uPqn77X2jbt0X7QdVlOV8cXPRg8rdt/1HYG/Ut/O4ibrXXhXUNzoRc+RdtKVNb/j9QWWtMdJ8vHEpf1Puz42Gf025x+Xd1oycZhwwkJe8n9/y+7OehRIYgUdfrkGBOk3UVqX/qPWEm+6by1jPURhOgUYdvc1Oy+sjytL3mHbs7hfxt9haVfoVlRYgot/t2SfiPHvtq30rJA8VVm6vtfa218f3hplUAnLwGR/WWhU4Orx1vzZs9+QDnkbqTNEbLFWvlyFhQGascswhv24MFnSH1F+4UiWMCm2tVgvKPl4uWRU2Rq57SOUm8M9gT5LaK37CECt+WayVZroAcpEGCsaKPXPyWiZ3U6YQatVdTYqrzxlkJMyOMaFtXsbetvOkaMFMzj8xh+RCGtmzRRQv5JBZTCFpCuq6DFsQkmWOd6ttLWEvtKeSz2B2qeANrksrReQXzLyNAaO+QrLsM4H5kwWUbtRQuxNlb7ORHlk2WwCSi9MUEYWZrDr0hP8SiucymNdicFC2NzOoGAOtnnOqLzwRPjgmkYDt1RfsNKSQLHubuU88OxAPOkMgkfyYppAu+8wuBiLa1RJKF/PIHDLyjkp4JSVuD3k/xokYUr4tXV8xEw/iE2bYGOFnhINW+7lexIGt94QfFsFOhWySfV6ZR/5GHc0Nyf1RR/VytndFcj8hWc7xRhK55TIqa/LCVUTuaBiO22sXJ/R4XyHZSxVgh96WqArSl3oLT+QlVML0mGKh07dpJMbGltpiu21hyOvr6kq/7PQvVj8Z2Ib6bu6UucCsn5Ac3T9MvO+HH5OXy97+awrpFd8T0rxfp4/lUV5roPmwieaDOirnzNDWU8jckGC3vc9vEZglj1bsP3n5WDZzc0uYagnHVUblbh216yUvRJmqe0L6Lk+c3rlCsvTJliD5Xhbl9aZ/z96voXwm2bPy2HwWCysrGoQIxMfyKHqh2CbhMVD9t4RfO+08f15P+uHMvPYtoXA6ZY1lZk6+oDYZ0u7j+uCeBVtLEg7c59a4W0GhZ4X9mIVkWVBj5KrXNufcf+r7icPmQgmx/a31g1Zql7gIIBE30hc//9D35v3Rp/jiP+0dQu/bK/j4n6LFX/MILd7eaEDp0t9+G+YT1kLxlZto/Ef4vXeO3/4KN6/4YaNv/r06Wn5RQvIlXKl+jq//YFzxD1+j9fNVv/xX1tAyftNlscJ2d/DZR0F46576foenD27j2icbQdmf4le1GhpPnHr/26e+R/IHN/Er5yevZJ9lHOFXicPj+pwEPjMmVQ0c3CQBEiABEiABEiABEiABEiABEhiGgJ8GcM7Lq21oNepQyXWs0gEcyqM+YEG9OoyfWyewT4XkA0hd9T0GO/dKyC4G8eNNL6Gdsn2iEOHBs/WG364zWGE+vQk82zsurlz25KQv3mRv9ZmsCbxbpmImCdVkof85hbQrnA45aarL28cj2d/H9y41yzMtOQ+CFVwvWkjubFSQNT1qBnKZRqYfX11xf0NC36SjQp8MvE4C82cqRtgORzixBFvnourPrba1CCRm7sQhytzfIzkUZ207C7+Py5WtqmR+CtuU9oALzxF57lfmUVjvc1+YJ3bDiL+X9/LNWLuMICR74VvOG2HJExKquWh40PlhnKy82v1Yv28sthjyfrT7CVuIUGGkNnV9DcUfzFiLYd7KohaB3L6npd3MBRP6hL0CfD8m8tsgIbnf8a+nUXpgD8L6C8m+t3HtrN2ukbYXXHf2VNivhbV0t3axLQxpi7rGTxsoLTlifr82kgUWZ8OQR1aof8sj2b9CR6JCDNv3TgaLMyIXRET3LRKpo+GZjNM3Sx3eyQ0esD9rorw4XP2nFsJrNS8bAvSOypHcQf3C8PeD3CuukCwRT7JWBAeb/cypari6+mkdxWNh+Pt+954sakmvDLEIbDNtMqTdx/bBsnBJ5fYaYP9+He3+2+5PN+GRLB4iyylYffegckguJNVdyovqZvtB534bNt+Vd4f/4Ut8diMIDf1BCR/++DY+/uQmrl0p+QLtpSuo3FdxmXWvE73xmxqueB6/l1C6cgVXJKfwB6b37zd49DeBcH3pEkrXbuLjTz7GzWvqWpfw4d880iK0fxElJJdwRYTmD0q49pOP8XG1gg9LgSj8wSo+/Te7SNFCMoBvNvDxX6rjjPqq/Md/VUPrW+C7f67hQ89bW+pyDTc/+Ri3f/whSsF3q7+MYfJ5/gULybPA58po7DrzLxIgARIgARIggb1LoP8Y3R7rc1/yoA3QBmgD8TbgPSmcVG6Th1LInhOHFt+hKqlzdofRMLeb6Z/+6Z/u3YecUbN9KiTPoXBfQl60UT2bQe5CGbX74gG2k/43UD2fwqyEW95EuAijjXfWZteZTIyYGI8ssCtoDSMwikB4p4C07mAiOqq30nYIXXXxISdN1e6DPJK9/cQj5qwZ0jkBlV/RniQdr0eyF8pST1pPInW+gpqEtBEv0CCsTelyAbnjtueTTHbaIZ51baM3Oi3UljMYTqg7gLmlAipmOBzvrI5YMVQ7y4FbaGs5XMToqxnLs8t8CM0sFVG9U0RSeZVb5XLKnJjEjObt2twssleHmOh3CHc3qsgfcz1h7XNPHc2jGhOCxzmd/tP2EovIOe7edzGhrfUJxbv7qOFVnAht3N+nXy4QVZ9ppM5V7JAmQ96PsSKGLuAmr6+PlxBEZmhbXySKvE+cCAGJuNw3kj+lj8AxvVBE9a4RQj5WSJaoCzmkTO9gQyiZOJyzc84EdRooJMt+cn/E5WtS13jNz9ukor4YyGI2N9kW220LQ17fq7QIdkYeecmfVL3rh/TSfe9KCYWTSSOkb5Bz21tR6fQtMc9LCWfV69Gp7if/c1ZyN5mhqJ+1vDFGGG7Y3l/6v9kTdqjkHk9yEdqGGZ8E1zIXUpn9qyeAnq/qhVXSn+9YIVkattNEOXZxwCSS5yqoX1e5zyKEZHle3chGPytfnUfeDOsfXE+8xOP5yQITSSnRjgiXFXP7jdomQ9p9vz5YcpLFL2ibQ261huo5NUYao5As/ZfpGf9uFqU7NUh0GvM+LJ51I3zMofDAcLnfZD9ohxOfROZ6b+qLmFYKvv4OTx/+AjevXdFC6aXSFVyrfooN13O4/4nw5d/fxqoSeFeu4fbftWwvYgBfP/4MHxuirIjDH/74Y3z2OCrpsBKSRSzu4POaKSCXcK36GVoRh8UKyVL+/3yKjV/cxIdKPBZR+68kLNsXdlm/buGz6jVcUfX5oIQr127HlDMA4+ZA9vIaj8sbOcip/LsBjcCfSYAESIAESIAE9hwB+92m972Kv5MJbYA2QBsYzgb0A+JpA+WzfeZBJHf89TCk+3bzpZCsW263bnTRWjE8WtRkt3y+6XuQyeROXkQ1c4LJ3G87tw8XUL1VQH7kCaed3l5dtO9L7oIgL4eZH6Nv0YNcHOo4M/9D3+N8jzrJm1EWsfREGukTORQux+QaUecKckr4k4xO/g+1j/mp8qF45euTl6HbRuNOOaz/atUTzFSeB+96ksdAhbaUa6icAsG5rdwXbhm83ApBrgkvN0QHjQtqYjYBLwerMS9qHi7XqZ01xOTj5f5hS62DjT8kl0aQ86JwJgOdf/yUhDGWkKYNtPo4bPi5GgL7GDXvRtfPkTJSWxtF7z5poHo570cpkJyJl8t+vkRvny5akg/Gyydj5gNxxB4RmR930BKbW84js5j2Vk6Vb8Xl/jAK0Hezi/bDGioSAnUpiKIgtrwSl2+j78n8H7stS+jq8ZSSiXPJi6Huu+t2HpLIK3RaqGs79PNQNN329mzEuCcXZUFPKT5H97D3Y5D3xL+P4nPbiK23pB9SfcKg65sVNZhIXphmnxAqkptW8gB5uV/u9Rd5Og9rKC9LCPg00osZ5Jf9fse/XaX/8/vNspkLRvc7QU4c2bnT8vqY4tmsn/fT6+si8uAGdfL7Hj/PjuRQqZt9j1lv2X7W9vIqlQK7Ti8FfWmQn8fdfai/R22L7baFYa/vhjB+N49aH1tp3zJC576eQfWJT8/qDyNyxoSMu+hs1FG9KuGO/X5X0gqUVK6ocEdrq9v28/YUVV+9mEX+ciU2L5TpAT17tj5kCgT/ktK/Sjhrr3yejcff8x3JcXQ1sEu5z8w+xGmDinNvWcwinyGS9954Dpv3lKIz6LkrdrtegXefSQQb6YuvVsP7Rz/r48cD0j+UJe2Dd3wexev1vs9GaSvJn1Q8l/Wfq/JM9fIeOTl9VR2G+By6TRzmVk408zqD+uBnLdRvlVA45T/DMqclBYRRb8mP5OWWs/tvd4wUl3fOYxosktM52qz8xJI/yTQms/BAd6NspAGJyWU8Uj8o4wPjXSQmgoVdit30lyEk//suKfc/lox8x2MUkVfTwD/G29YuocNikgAJkAAJkAAJkAAJkAAJkMDOISB5jtdlfsjXCbzc8TIHOYxTw86pxZ4pyb70SJ4QgeyZhCjNo3CrOlL+wpe1wiF5sYbK+fxwuU73jDmyImMn4ORgnT2jQqZGXElExcXQ67UnHGfEIfxKCEQIyYEItBv4tO+EnnOJxLwfrWE3FJxlJIEdTUDyqqZwQC1Ie78QhsntKXcXjYuG2NR3356DX+IXviftjFcn9hUvETwvtQUC3YdFzKv78NUUShtxq+kAiQ4zp/Z9Jdl336GK5IQxTy43hvcaH+oC273TLhSSBdnTBrCWAT6a2nqo649SwFoF6LNQaLtbidcnARIgARIgARIgARIgARIgARIgga0S2JdC8tyFBjoSmvBsEdVbxqSRmjza7s/JFEpr4i1dHS208FatgcfvQQKOyJmY9kJb1x8aHkzPxIu3gsLiDMKFEhQJhjcGh7EV9nr4s2zbnk7uyr5e69tWSF6YBHYfATtlQQKzEiL/nrFy8rlEGaijfC5lhC2eQGqluSPFJvHWTAeh02dPc3yy+yxyn5bYCcvthQFfa6D1NBSUO48bqK3kMP+9MNzW9InK5qKyaMxdNFdS4bjqzayONKB32fUbu1RI3vXcWQESIAESIAESIAESIAESIAESIAESeLkE9qGQ7OeflVx/ucs1VM8YoXy3W0AOrj+1WEZtNY/CWvvlWgOvticJdJ9UkXsnnBwNxeK47yaRujh6Ht89CW+oSu1yIVlC8K4XtBfWzCkKREM1O3cigUEEnrX65NKN7n+nl8po7tAQPe21nJdHfuJoEXV63w1qff6+Ywh00LicwsQoY/x3c6j2C/M/VN1MIXkC6as7c4HIUFWJ3YlCciwa/kACJEACJEACJEACJEACJEACJEACe4jA/hOSJ1Iob7RRv5j3vH6zb0dP5g4W217UcdPIrNY8b2lO1O6hO22bq9J9VEX+yGToGRM3oTqZRP5GmKx+m4u9Sy6/+4VkLz/2+QyyK0PkQN4lrcJiksCOICDRT06FeerjxxZTSF0wc6/viNLbhZD84HeqffOCaFHTEwAAIABJREFU2wfwLxLYIQSed1C/nPEWQsTfg/64fmaphLgczCPX5nkXrTsFZE6V+oS2H/msPIAESIAESIAESIAESIAESIAESIAESIAEXiqB/SckHyqgvlFD8ax4/WYwHSeobdf3b2dRWSshf7GOzks1BV5szxN43kHrXhWlc1mkF1JIeosopjF/LI30qQJKtxpMVr9JI2g/qKK8UkJppYTy9R0uBm2yjjyMBEhg8wQ6G3VULuaRWUwjdXjaW9QzcySF9FIOhas1NNphmN3NX4VHkgAJ9CPQbTdRWy0idyKN9LE5L6T8gXeTSC1mkFuuoLbBkXc/fvyNBEiABEiABEiABEiABEiABEiABEhgfxLYd0Ly9KkqGncKyIvX7+LUYA/Nlywoz56ponY5h9IDTmbtz1uStSYBEiABEiABEiABEiABEiABEiABEiABEiABEiABEiABEiABEiCB7Sewz4TkA0hdrqFyLu95/aYmX1R46s2edw75W1XPW3qn5kjcfpNlCUiABEiABEiABEiABEiABEiABEiABEiABEiABEiABEiABEiABEiABF40gX0mJM8hf7WE/PkKasvJHeeNnDhcQPVWAfnrLTDI5Ys2fZ6fBEiABEiABEiABEiABEiABEiABEiABEiABEiABEiABEiABEiABEggjsD+EpLfSKNwPofCrSoKhzfrNfzijkterKFyPo/KY8rIcQbL70mABEiABEiABEiABEiABEiABEiABEiABEiABEiABEiABEiABEiABF48gf0lJB/KIHtSvH7zmHvJuY8Tg643mUJprYL8+Sraz198w/MKJEACJEACJEACJEACJEACJEACJEACJEACJEACJEAC+4lAF82LSUwkEpg9XQvnobttVM/OY3JyHvm19kuIltlFY3neixg6c7qGznbPhz+pIvOGOJAlUXpIJ6/9dEewriRAAoMJ7CshefK9JDLLNVTPzO64sNZTi2XUVvMorLUHtxr3IAESIAESIAESIAESIAESIAESIAESIAESIAESIAES2GYCDZw7eBB/9tG/v/RydB8UhnaWmjtXR8crYSjgTp80HJoeV5D5vh+Jc2KxgtYL11LDclBIfummwwuSAAmQwEgE9pWQnHgtheKdCrJvv7jw1AM9jyM9k6eRWa2hfLaI+tOR2o87kwAJkAAJkAAJkAAJkAAJkAAJkAAJkAAJkAAJkAAJbAuBPSIkd9uoLacx914axfWX4ej0coXk7sMycktpZM5W0HwWYSj0SI6Awq9IgARIwCewr4TkieMl1FYzmI4Uc7dRXH47i8paCfmLamUYzZMESIAESIAESIAESIAESIAESIAESIAESIAESIAESGBnE9gBQvIbGVSfDEspFHAtj+RhDx/bfmE5XoZHcmc9j1nRBA4V0PBds+2aUEi2efAvEiABEjAI7CMheRLpqzWUF6d2XFjr2TNV1C7nUHoQ9RQzWoubJEACJEACJEACJEACJEACJEACJEACJEACJEACJEACO4TAHhGSn3fQvFNG+WoZtQ13jrqLzqM6qqv+7+XVCmoPWuhEhb/udtB6UENF7Xu9hsYj93zSdL1CcrfdRO1GcI0bNTSfRF3AbvbO44Y+pnKngdZT+5jukzoqV0sonp7HARGSX0sid7Hk1bN8tYK6uoYrJHfbaN6tBPuVUb0fU1+7OPyLBEiABPYkgf0jJL+ZQXmthNTkNnoeR3pCzyF/q4ri2XJ0WI09aXasFAmQAAmQAAmQAAmQAAmQAAmQAAmQAAmQAAmQAAnsdgKGkPzdv6Px0TksHXoLBw8exME3/y/8yf99Dtfum/mTv8In/30aB//bT/FVn6r//v45/PHBJfz0d/E76RzJ4/BI7rZQPn4AicQk0tdb+qLddh3Fhelox6yJOWSvNtB5DuB5B42rOSRfj557nz1ZRtPSk0MheWqhgNKZJCYj5s5nT5RQb9visBROylVanIko1zRSF2o6x7P2RI44dyIxi/x6UCgtJM8iczaL+SgN4Z0MynQE07bBDRIggf1DYN8IyTOnKqgtJyMeLtEPt83lOt7EuQ4XUL1VQP56C72PxP1jiKwpCZAACZAACZAACZAACZAACZAACZAACZAACZAACewuAoGQ/KM6ri1OY/pP/gc+uFVH4x9+jcb6T/HBf/8TTB+cxp9caOD3qmL/UMQfH/whrv6/6gv38yv89L8dxPT/rIfHuLuImPqggDkRSF+UkCzi8uJkMJ8+g9SpAkqXi8ifTGP+TX8efH7ZF5LbaznMBGLtgXdTyJwtorScR+ZIKELPnqmhLaKz9y8UksN5+GnML+VQWM4je2w2nMc/lEfNSNvcfVJF7h01Dz+DpBxzIY+McczsqSpEf470SF4uobRSQinSI1mdN4GZIylkTmaROT4fpsp8M4PKY87iq1bkJwmQwP4gsE+E5FnkblRROBw+CMIH1PZ+l7xYQ+V8ng+g/XG/sZYkQAIkQAIkQAIkQAIkQAIkQAIkQAIkQAIkQAJ7hoAvJE+/OY0f/EUdX33XW7Gv7p3DDw5O489uKM/kf8XVH/YRin9zFT8Uofk3vecyv9FCcmIO2QsijAZhoZ3PyrrpwBQKuFaO5AiP5O6jMtKeZ+4cCvcsd2LPA7m5XkPjaVCiZ02Uz2RRvGteS37rorWawZSIzN8XEVbVICyHzNNPHC30eB53HpaRedufu9ci9PM2qqcCT+TDedRUaGrvtF2014tIvSbHTCN7K1SftWfywBzJEv46heLdtuX01ZWyvOGXRcRzSsmqHflJAiSwHwjsDyFZwlpfz/srtCLDWGyTmPy9FEprFeTPV43VWPvB7FhHEiABEiABEiABEiABEiABEiABEiABEiABEiABEtjtBHwh+eAfnUNDuxy7dfo9Gn/xxzj4R0X8Ovjp9+t/junI0NW/R/1/Dg59LacJheT+c9szp2t++Gnv2qGAO5KQvB6Ksm7tBv6tw0bPoXBfCdJhORITKZQ2oqVZ7en8uu8J3H1cQcYLnz1vnMssQRfNy35U0snFSm+I6yGE5NRKM0Io7qJxYd7zkp5YKOvzmlfmNgmQAAnsVQL7Q0g+WkDxlBEOY4eIyVOLZdRW8yisbeFBvFctk/UiARIgARIgARIgARIgARIgARIgARIgARIgARIggR1NIPBIvtDoX8p753Dw4J/hmpoG/u7XKP7RQfzgopKWg8N/91MsHfxjFP+h/+nk11BInkNGPJIlXHPP/zI265EM8VJeUKGtE5g9lkX+YhnV9SZaT6OE3y7aD2uoXC2jdDGP7FIa6YU00jo0tJGTGKGQfOB4H2H2aT0IYz2L/L0OtGfxxDxyyyWUHe/r8koJxTNJTMj8/9s51AKPaX3cQCHZFLvtNmjfyPh5nI8U0Xxm/8a/SIAESGAvE9gXQvLsUg7pIG/DTglpLeE1Mqs1lM8WUVchQPaypbFuJEACJEACJEACJEACJEACJEACJEACJEACJEACJLCnCAQ5kj9SYatjKte+hj87eBDn7oe/f3VrCQff/HPUDU/mR3/5Qxz84VX8a7hb7JYWkl9UjmQRq5/UUFwMQkk7zllzJ0qoq9DSz1qonJkL8xo7+/pz8tFCsuUZ7db2WRPFI0Go6jtttG9lw3zFkdcwvLONUNrDC8lJlB5GieRA+05wbQrJbivxbxIggT1OYB8IyROYOzqHA4MeLC/797ezqKyVkLtYhwroscdtjdUjARIgARIgARIgARIgARIgARIgARIgARIgARIggT1EYJMeyULg93X8+ZsHsXTrK5+H9/c0/kc1+HsApZchJKsidNtN1O+UUbqQQ/pIKCxPHCt53rmtG0EeZMnXfLGK+oMmmg/9/431MrJvicAbLSQn+nok17RHsuRp1oLwGxmU1hv6Gupa1udGS4f01scN9EimkKzanJ8kQAIkoAjsAyF5Hvk7Ax4qwUPNetC80O8aqN8qIX8yi9IDysjKGPlJAiRAAiRAAiRAAiRAAiRAAiRAAiRAAiRAAiRAAruHwOZyJKv6/friD/zcyd8Bnoey5FH+Tv3a//NlCsluSTr3CpgXx6xXkih9/htUT0173shzFxq9TlNPQzE4v67mwsPQ1t45HsR4ASsPZOV1rfMtzyJ/V8UJd0sHdJ/b32kh+b086qoI5i76vBSSTSzcJgESIAEhsHeF5OcdNFZyfh4GycWwA/9nzlXQin5G0jpJgARIgARIgARIgARIgARIgARIgARIgARIgARIgAR2NIHAI/nNafzgL+r4KkIE/ureOfzgYIynsZcTeRp//vNf4+oPD+KHfzVMUGsfyAsXkp/WUTydR/l+G+4UdvdBEUktJH+J2plZT0ieOVXF/9/e/YTGcab7HtfiLGaZxVl4cS6cKe7iNmihoIVOwhBxAxb3hg7hpJnAWByDFQwRycE9GILPhKCQMS24RF6MheG6nQE31g0d40AbfNAN8sggKC90qYAP7UtokTHyQtABm2Ywbojgd6h/3VXVb1dXtyVLlr4B0/+q3nrfz/uW0l1Pve+zEw3i/vJU9p/eD1YL7TMj2S3n3Yu6+9f4UZ7+sKKPg3SVb3x5159d7Jb3v97xl9Ae/1DXNhJ1e76ju386pbfPXtPDSMD4+eZXets9zj98qFvhcX55rqdhrmMCyYf6LKNyCCBwsAJHN5B8sK4cHQEEEEAAAQQQQAABBBBAAAEEEEAAAQQQQOBICwQ5kr+uafmDnHL5osq3bTkP6nI2aiqfyytn5ZS/5CiSCjki0pb9RU7WeE65RL7kyEbGp51A8tgJvf3b9IlUH395y1uCWurOBI7lJn7+k1b+5VcaGzuhD7/9yc2OrIeVD/WaG3x1//3T+/rwXy/qq0sX9fGZdzp5ik+cWfHKffqXz/RGsO0bZy5q+c/XdO3qVzr/z7/29/c+Swkke5+f0Nu/+1Af//5jffiuP8PZO/a7X8mOTj5+6mj5t691ys29e0of//68zp89pbf/IcyR/I7cpbA7//18Vxd/E3z23z/UxUtf6eN3c3r73+76gW8CyR0qniCAAAJJAQLJSRFeI4AAAggggAACCCCAAAIIIIAAAggggAACCCAwUCAIJN9sSrtNOTcWNHtyQpZlyRqfUv6jkqqbzfRSHlVUsCxNX66nb5f4tBtIDoOnKY+d3MBZA8mSfn6oW6VTnaCxF9QNgsXu89fPLsveCWYR//JUD7/9TO+81luH13/3od7/b+775kDyG7+/ppUv39eJSNnhsd7+/YqcnxMNd18+fahbffYZ+83HunY/Gnl2d3iune+/0vsn4vX71W+X5bjxZgLJBmTeQgABBHwBAsmMBAQQQAABBBBAAAEEEEAAAQQQQAABBBBAAAEEDkCgvVnStDWv2pMhD77j6Fblmq65s38H/Fv5zlYY833asHX33+/o7g+RZaHdQPC/r2ilsqK7/z8yk9et0t929HDzbnCsFa3ctvXwr4ltwqq7296/42278u0dOe52z5/Kue2WfUv24+7y1Ts/3PGOd+u+X4/nP/8k5/tbWvnzim597+hhWOGwbNPj05+8461Urmnl/9yR/R87PfmRo7t5x/jLLe+4d+7/5C+X7W7wt59099sVrwxj4NoNRf/VN1i57XT3ixbOcwQQQOCIChBIPqIdexia9b//338R/7IZHIb+og4IIIAAAggggAACCCCAAAIIIIAAAggg8BIFdrdVPWMp94XdZ+nrl1gXDoUAAggggIBBgECyAYW39kaAIHK2ILLrxH8IIIAAAggggAACCCCAAAIIIIAAAgggcMQFHlc1f3pZtY266g/WVfl0Rtb4nGrJlZhTGH744YdOfuBwCWge40tWvwyPP/7xjym9xEcIIIDA0REgkHx0+vLQtYRAMoHkQzcoqRACCCCAAAIIIIAAAggggAACCCCAAAIHJdCqq/p5QVPjliwrpykvz/BwlSGQ/PKDxqbANIHk4cYtWyOAwKsrQCD51e27Q19zAskEkg/9IKWCCCCAAAIIIIAAAggggAACCCCAAAIIIIAAAggggAACRgECyUYW3kQAAQQQQAABBBBAAAEEEEAAAQQQQAABBBBAAAEEEEAAAQSOrwCB5OPb97QcAQQQQAABBBBAAAEEEEAAAQQQQAABBBBAAAEEEEAAAQQQMAoQSDay8CYCCCCAAAIIIIAAAggggAACCCCAAAIIIIAAAggggAACCCBwfAUIJB/fvqflCCCAAAIIIIAAAggggAACCCCAAAIIIIAAAggggAACCCCAgFGAQLKRhTcRQAABBBBAAAEEEEAAAQQQQAABBBBAAAEEEEAAAQQQQACB4ytAIPn49j0tRwABBBBAAAEEEEAAAQQQQAABBBBAAAEEEEAAAQQQQAABBIwCBJKNLLyJAAIIIIAAAggggAACCCCAAAIIIIAAAggggAACCCCAAAIIHF8BAsnHt+9pOQIIIIAAAggggAACCCCAAAIIIIAAAggggAACCCCAAAIIIGAUIJBsZOFNBBBAAAEEEEAAAQQQQAABBBBAAAEEEEAAAQQQQAABBBBA4PgKEEg+vn1PyxFAAAEEEEAAAQQQQAABBBBAAAEEEEAAAQQQQAABBBBAAAGjAIFkIwtvIoAAAggggAACCCCAAAIIIIAAAggggAACCCCQRaCt7bWyih9MKWdZsqwJzZwuqrzR7Nm5eXNOlreNu136v9Jmz+7xN3aqmhtQhn+Mkpz4nkO9chYtWWeq6m3NUMX4G++21FiraOGjvKbGg/aPTyn/UUlVJ+UIu005N0uaPznhuwX71OotcyW87ZdUPD2jidBockaz58taf9Q27+O+23RUXZzXzKRft9ybec0v1tTvMP0Lcj/JPi68ckatc3olvE9bd4rKWTMqbRraPmqfZDgumyCAwKsvQCD51e9DWoAAAggggAACCCCAAAIIIIAAAggggAACCCBwEAK726p9MiFrPK/i1Zrszbrqm+uqLs56AcyZRUfR0J0fSF7Q+pOWWn3+OVdmZFnzqj0Z0KAgkDx7vd63LP8Y0RoMKNPw8Z4FkluOlj/I+VaXqlrfcNTYqsveqKl8Lq+cldPcze3eGjxztJTPyZqcVenmuuwHddXT9nlU04WTlrf9wo2a7I26GluO7LWqSqfdQLQ5oNreXFJ+3NLE6ZKqa7bqD+qyb5dVdI89Pqfq496q9X1nyHGhEevc9/jRDx5XNTfex3bUPomWz3MEEDjSAgSSj3T30jgEEEAAAQQQQAABBBBAAAEEEEAAAQQQQACB/RFoy7k04wcZH/Ueob1Z0kwiOOoHklNmCO/WtfyWpenL9d4Ck+8EgeS5mykzeZP7jPB6rwLJ7R8rKn6wJLvPJOLG9YIsq6BKzLKp2tmcrJMl437bN+d6Zto275VUOFfV9q6psW2tf+4GhhdkR+PrOzXNjVuaWbTVSu63u61qUAfnmanM5HsjjItR6pw8rOn1M0elk5Zy51ZlYh+tT0wH4j0EEDiqAgSSj2rP0i4EEEAAAQQQQAABBBBAAAEEEEAAAQQQQACB/RN4UtO8ZWn+tilE5x/WC45GgpaDAsn+EsTJYGqfJrxigeQ+rei+HbSneCfi+WBZ09a0lh90N4s/CwLDhYoMc5njm4avNkuy3DIjsfr65WlZby2rngwih/s8W9fCuKXCjQxHGWFchIfp+2ios3bbakWD4T07t+UsznhB+GwB8J4CJFOfGDbjLQQQOLoCBJKPbt8empZ5d6xZKXfZHZqaRiri/Y95TtWdyHt7+HSYXChuHpPwrsJBXzT3sIrHrih/nJrz0kycdHOhVOXs03gYhP3K9vtWWXkrp/nb/l2xTS8XS17lrUEtHv7zF74zdret7Y2yiqcj+XncfEbvzWvhxroakd8vsdo5y5qwcrqw5m/Q+Dova7yo1f29EThWhT19Efw4MOZocnMPufmd1hq9d+ZGK7EP/f7KngNRF54jgAACCCCAAAIIIIAAAggcOQH/9+qC1tOCeUFQsRMcbbtLWvfbYVuVgiXrk5px9mgP4KiB5N2W6rcj+YbdayAfldQv33D0ukvTqar0UZh3OKep/LxKNx01+wVgeyqd8oYhaOks5mS9V1EjZTeFweZIYDhtcyWDsruOSuOW8tdTj6JOsDm1cGmkcTGgzJ46q6Gyu3z3+AWt9rlu5c/WLqjyItfiDH0yqKp8jgACR0uAQPLR6s9D2RoCyYZu8b4wJvKgrC3IDd4srCXed3OlBN8tX9lgSstR5dKSVmPL0hhcDvAtf5wm89M01di0/VwoBT9/yoU7Ge463ON2vLL9Lqn9pKV2+EPCvUuy7w+lF0OL/qAZuqROzpopzS26+Xls1bcacjbWVb1UVOFNNwdPSU6f33g9bQxP2KErcgh2CH4c9ORWeuTmK3LzO81patxS7oNl1VOWcuoxecF+f5XPgUPQq1QBAQQQQAABBBBAAAEEEEBgXwTcmbCWrLM1pd9P3lDlPUvWojO4FkFAtLTZ5yJEsoRRAsnJfMObjn8NxMvpnFPhSj2W09k9ZHjdxXaXkY7lgrZVu1r08grn8ksaedZr0K72xoJyVj4S+PTtcpcG2LXXtRCZjJNkSr7evuEuoR25AWCr4k2GWBp0mHvu9dtBk4/2YVxI6qmzml5u7lx+2XzNaquiQmJZ9aRDlte9fZJlL7ZBAIGjJEAg+Sj15iFtC4HkjB3j3QlnqbTZf/tXNpgSfKlNa1v/Vr+cTwaP07bql90vmTOxZW9eRu1e2X5/GTjBMcIfNOk/3MwVat2e934ExPPvRLZ179Ktv/wbCCI1eHlPs/wAfVxT8a3+uXX2o7KcA/uhSpkIIIAAAggggAACCCCAAAIvJtBU9UyWAHFLq+csWWeqAwLOIyzRnOV3fKyRwTH65Btu/1jWnDWt0v14INu77jKeU67PfmrZfh7egUH1WGXiL9zc0O4M25iTo1KmALGfVzpTsP7JqorjlqYXnW7APOvqlHV3me3067fSXo8LSaY6x/Xir4K8yNMX7W4bFc6UHmLlUGOfxA/FKwQQOPoCBJKPfh8feAsHB+gOvIq9Fcj65aF3T/+dZ5FZmP22Sb5PIDkp8lJfZxqn7pcnN4CW5Q7SPaw9QbTBmKMHkpuqnbVknVvNtmTU4Kq82ltk/AEaBt/3a/n/JCLnQFKE1wgggAACCCCAAAIIIIAAAgcvkDVg2J3Rm3oD/CN3Bml6vuWeNmf8Hd/ZzzvGtNJmPHtpu2LB3KD+boA5ZaZ0e7Pk5zLOurx0p1KSdpta/2JG1vicqo+jH2QNJGfsi2cNVc7menMGZ70WHHinT5bJWJfITO/UcdGvzlGm6PPdbVVNbRw2kNy3T6IH4zkCCBwHAQLJx6GXD7iNmQJ0yTruNmVfDZaUtdxcD1MqnC/LNuWo3W2psVbRwkeR3KaTM5p1t0/7v/COrfL5Wc1M+nlxc2+6eXBrqrs5Jfp9eUjs49bLzRm6FM0D8mNZM5al3KdDBqaGDCTH85FYmjg5r9Ltemru0tbWeqzN1uRMSu7fyBe1Vl21xXnl3SV+o0HUQR7BlytjvtVoOUH/t+q1SI6V9DZ1A4dtba+VVfxgSjl3rFg5TX1QVHkjrfOTAy78Qjz4jjz7YvLOyKCsYcZsePgdR9XQNRjneUM+mtQgWvBl0l0+yE7kQxnGM3qMppcr2M11Ey7V448FYz965nGTaFlhU+OPkbEV/8B75de7ez7n3iyoeHVd2+5Syn3Oze54MBSY+taLBZKHOqeiPzYi506YA71TTe+zgreEtGvut9825xqKltn0x1P4N80/v4O/aZ3CBzwJyuupU3K3x1XNJu7A3et+nzg5q+JVv92Dy05WkNcIIIAAAggggAACCCCAAAII7LdA1oBhthnJXv7d8QXZ8cnA6Y1Iu/YWXrOxute7mt/NybJKssM0ZKbSvVm3xVjeXe+6y/iSUld+3rUzzh5OHLQTsCxo+UGy8enXkLolZZiR3AnIXtBqLFjd/3pTt/zg2cuekZxW557K+W94eZF7AvL+Z5mvr6T2SZ8D8zYCCBxZAQLJR7ZrD0/Dhg4kP65pftJSLl9U+bYtZ9ORvVFT+VxeOWtG8Ry1DVUKbv7SgoqX3NymjuoPHD+nbT7n3cVWMwSft+9c8IK9E6dLqq6F+VCDY0zOq/ZNqTffxeOq5sYthfs4Ww3VN2zVbixodjKy3PGOW/+c8pcjy6Nk6Y4hAslVNx/J5KxKN9dlP2h4eXxrl2c1YVma+MSUl6WtxvU55ayc8ufKqm04amzVZa9VVTrt5/5duJcMvAZf1L6uqnQyp/wfKlrfqPvBPLc9WTy8nLgtteoVL+gUy/8cy6/alnPJ7d8JzXo5ah05m7bWb5Y0644FQz5WP3BYVnVxpjtWvD5ZV+UPblnD9UHWceofN7EU0VBj1h8MzXslL3/MxOkFVdxx/qAupzPOJzT/XXcp5b5f8lq2lvI5g8/wnuExwrG17NZpq9nJb+zmvG0Z/rnn0pQ1E7sjNSyr/4+Lfj8C2qpfKQTjdMk/Nx8E4/TslHInL2jVdG5mvYOzz3no55iZUe850GcH7+0Rzqkw6PuN+7dkQrOXa7I3G2pGfiNtfzevich56p4H9u2yiu7fM7f9yR86yTK986euxpb7d3DZO38s92+a4e+gsXVZA8nhcSNL8e9Nv/f+fXJvkqh+7f/Q7T+mjK3hTQQQQAABBBBAAAEEEEAAAQT2UWAPc+G2bS2MWyrc6F4PylTx4Pf57PW68bqNfy2ne+HB/+3uT6pJnTDQmVzg18J4PaynglkD65EdBwYs9yhH8qCA7GHMkTyozhHG8Kk7K3wmJS/y4Gs30dnhpsB+eCQeEUDgOAkQSD5OvX1Abc0aoPOqt+sGhi3lzla1bbgzrrm2oGn3i0wkmNJ64Bi31TNbJdMyxFv+MjEz0TwYERvvri3vjr1wNqb/oXMpJ+u9shqGesn0XqTMTE8zB5Kt3uVXggO077tLyORYCtB8AAATQElEQVS0sNH9guh+FL4/d9P0ZTTM/VtQZStaUz/Y587wNe03lIch6BQ9UvvegneTQOl+Ykqtu9GzhspnLCVzevjjqv9Y2f7GDTwV1DfvbbQCYSAycodm4uPgpf/lNbYM8ghj1gvCW5b6j8ELunCz0clhYvyS11zXwkm3/RU1YkF5aRTPzg+JkyU5ifLMFuHNBL3jw1jfWCHmQLJf797ywl37nZvu59l+0IQlJR53t1X7xL2hwtJEwV1hwFZjJ34OJfYY7ZwKzgM3z7ZxKSjvb1NOc98YzlP3h9Xn016eoNjfxkFlhn8Hv4jnxEm2p/M6KG/QjGS3ryxrOpYvfH/6vS1nccbrG/eOaQLJnZ7iCQIIIIAAAggggAACCCCAwCEQ8H8LL2g97TLCk5rmLUvFO4brXkEb/Jvc51V7MmSjMv6OD0tt3SnKsha0bpgskJxA0I5c7/Suu+z1jOSBQWS/1s6ie022okbYCNPjAzd3cfw6RWezLAHZXUelcUv566lHkTdr/K1lDVq9+4XHRZY6dxoYPgkC+Z2Z6FluGEhca8nYJ+EReUQAgeMhQCD5ePTzgbZymEBye8MNKMYDuPHKt7X+afYctb3BpbbsL3KyChVzQNg7mHs3Ya5nRrJX1qmqDCGeeBVHfZU5kNwbKO4e0nSX3rYfnP98vROY7G4fPAuDobFgUxBILlSMbR7KI/hSa84f4tdvuk9g36vhj2XlE+PCH1cpgeL2uhYsS3PfJWda97Tee8MvL/HlKbFpa6M3UD/8mM0yBuMH7gnQPar6s/aNN1yM5ukfI21sxeukZ45KXiC7dwZ8T30Tu0qmQHKGcSrzuekW7/VfIn9Pz2EHvNHcrMaWVveWhv68ovWt5A+9DHU1nVPBeZCLnWdhpYJxkdaGZ+u6YOUUO49Sy/TLblzPyxr0Yy+sRpYfoLvbqpyxvL+j0b+H+9bvgSWB5LCTeEQAAQQQQAABBBBAAAEEEDg0AkGQeP528tpBt4aN6wVZaUtW7/rLMpuvF3TLMT7L8js+umOQI3n5QfTNwc/962Z7mCN5mIBlGCTuW+fgepHpGuYQAdlOkDgSQI/JPFvPPmv8RcbFEHWO1c+dTNQyrygY3iRQvz6buJEgcgfEMH2SPDCvEUDgSAsQSD7S3Xs4GpclQBfW1JvlOiBY6905l+HOL7fM3sCGo6UMd5f5s+3iAe22s+QtDeIu8WxvNdWK/H82rP8LPWYOJM+p1jc2Gtx5Fg0aN2uasywt3EuvcG+wyQ/25S6Z5wAO5RF8qY0FwEKsoH6l++Ebpkf/C3X0zk1vXKUGx/z6D7qTMDxa33HqLs/9qK5w6fDkLOLhx2y2MRjWy32MjuP2g2UVxi1Z/6OsuumL7Yie/jHSxla0Rm3ZF6f7zoyP1je6V/e5IZCccZyazk23XK//0oKw3YMPfrbbVnPLVvVSN0/7zKer3ZUPMta155wKf9wZb27wx8WsaTZyp8Z+TqXpK5H7XlPL9Hf0+2PA3dHhMcLybvb+kWm3mmpsVHQhSBsQXRnC3X0/+92zZEZy2Es8IoAAAggggAACCCCAAAIIHCKB+pUZL71e9VFvpQYtNezu4U9SSK4U2FuW8Z2U3/HG7RWs/HWyJLtP7Lvp9K7+6F+HyynXb7+W7U84OLeqPsV2qzN0wNK9HuKm/DLX2V/BzrD627AB2SerKo67KwjaaiWvue1uq3rWr0PWlfxGGhfD1tm9bpl+ybfrnnbtZug+iRXLCwQQOOICBJKPeAcfhub1DdAZKudvO+SyG01b5fMFTbnBNePSHdFZpoYAlqEe8oK68UCyu1mrXtNS5Fi5N/OaPb+kqtMbdDEVm/pe5kBytD3JEoNAcjSgFnyhNAZxI7v3BoEGW2X2SKtD8Jm57+J9Gl1ud3Dg0K+/tWgOhEea7j0dOPYmZ7W80dvPA/frjMmw3wa7JusW9s3qfT/PSf7sbP98JyN6hsfIouV9QR+PLzEfrfPgsgwGaWMkWnifc3PweIgWMszzMBeypc7dxRnr2uOQul8wXjvjJT72Y+dHdEynlum3069H798zo0JQXux4sTq5+dKrqht+Ffa0t+cAo/f74LJ7DsYbCCCAAAIIIIAAAggggAACCLwcgTBl1nhexas12Zt11TfXVV2c1URKajO/csG1vE9qgwOwptYEv+Oj18xMm8Xei9b3UlXrG7acTUf2WlWls1PKjee17MSjk/51l7JqVwre59122qpdLSo/bimXXxqcLi0MWFozWljbTsnr3FJ0aW13Zbwl98b2yVmVbq7LflBXfaOm8rm8cqa0fGFAdmpOFaeZcpx4O9ubS15bJk6XVF2zVX9Ql327rGKfm+pjrskXUecs42LoOjdUPmnJGr+gVcN1mmR13NfG6yuj9onpALyHAAJHUoBA8pHs1sPVKD/QFgbR0utWvzIt61RF9YF5OoL/ybcdLbnL6+YvqLJW13ZiP3+5juixs80G7TfrMVp7b3beZuQLi3GWYXSPAc/3K5DcWlXxBWYkZ/0imuqRFuwK67eWvvSKtwRL5Lvd4MBhEJiLBt1SusAfp6YcMU3Zbo7WPrmDhx6z8mdXZ50p7VbZ/5LnBhZzmrvu507ue7fliJ7GL5IGL/9OWsNdnpFtB5dlCCgG9Y7OOo8U2Xna79wcPB46RYzwZFvVU5asi7a/b2g87Cz/tPMgGBez1+spP26CcySawzq1TL+6fn8MF0g21uPHqubG++ewHqnfh5ndzYzkEcYuuyCAAAIIIIAAAggggAACCLwcgba218oqfjClnHdD9oRmThdVNkxKiNXHW7Z5iFRjsZ0ljRJIDspobpRVPD3jBbvdG8rdCTPzi1U5O8mDxFeCa25WtNDZL6ep/LxKNx01k7N4e4vp1Lf/DezhjfWG6xi7TTk3S5o/OeFPJhqfUv6jkmqmu92D66yDjxO9bhzCOKouzmtm0q+L71Iz3lRvamL8vSHGxdB1bqr2yYRy+WUl4v7xKkReGa/dBGNosJWhTyJl8xQBBI6uAIHko9u3h6ZlwwSS/aVc5lV7krH6zpJy1qySS6yGe29/4+Z9iH4hyJKftn8e1rDc5KOXQ+O9ihrJD4Z5vV+BZI2Yz9WYxzZbg3o8UoNdQU7fy5HlejMcZnDgcJRAcnSsRCoR5AOevmj35JkeeswqyxiMHLsTSJ7Q/HfRjLTBUkQ9M4NH8zR+kYxXQ3qcHkgMN/eWn7dSzmMv57Wl+E0Kfr2t1Dtwg6WMEvmy3eMOHg9h7UZ5DO4ODgPJo55TqedBMC5S22+oe2qZ/vajBJLjfdM9rn8Dg3k2+ov0ey66HH/3cP4zciQnRXiNAAIIIIAAAggggAACCCCAAAIIIIAAAgi8FAECyS+F+XgfZJhAsoJ8E7mz1W4+0hhfW41Nf0am93Z9WdNWXuUfYxv5L4LcHPFAsqStigopy8r4gRL3jrP4XVatR43e/BjBYZ3FnKxobudnieVXDNXreWvfAslSej6WtuqXC357H0drZZg1Gvl4KI9g1mFnaeBIOe7TzizX+33WYWk6cmJ1yxI43MNAslvHIEd2T67pYces22A3IJsyBpv3lrW81l1Gu2+Qt09+llE8+x4j7KsgmJ47W1O3ZuGHiccnNc1blgrXDbdWhHW2koFkqX2/pGnTckRB8dvfzAV39cbPTffj0QPJ26p8ckFV092rwXHD8yc6Wzp8b+5mNLgfOvQ5pwYFfcNAfb88yc8acn6MTMt3DzeozM6NCL1mYW1jj0F5/QLJUlM1NydQoaJG8k7jUfv93oJ5GSqvYsENE97d3H1u9Ig1gBcIIIAAAggggAACCCCAAAIIIIAAAggggAACeyVAIHmvJCmnr4AfSDYtGRxfyriT9yKS82LhRk32hiNn0/bzURQmZE0WtRpGssKgVCc/RkONTT83R+HNvC6cS85I9qu5feeCZixLnXwXWw05YV4Nd4bnN6V4ILntqOQuZzJZUDHIHeLlyNhYV/ViQTlrQhf+bxAE/bHslZ37dHW43Cb7GEh2W7393bwmrJzy58qqbThqbNX93CenJ2SN51W6F6KGXZkSSB7GwysuCD5Nzqu85vdn7XJZdiQm1q3fkpeDxN505Li+i3OaGs8pf8WJzQYeHDjc20Cy24z6lRlZ40WtJmfMDzNmA97mvVKQc2VBldu2nAf17hhMBFNTg7xPVlV089Cci4+3YT1Tj6Fglv7UBa0+jp+33pLj7pLyrUhnuuPtphv07Y63+gOnk1NmZrGq8pneQLIU5iN29/PHgXeehTl6JudVS56bgWfveMi4vM/utlb/4ObTsTRRKGrJzbOzUdf2o7psb/wF+Yw+Xe25uaVrnPGcyhD07ebi8ceFfx4Ef9MmLU2cW40H8jOU6fftXgWSJQVjbuZK7yoCo/Z73c2xFBkvsb9PJ0uqfj2XWF0i6HgeEEAAAQQQQAABBBBAAAEEEEAAAQQQQAABBPZNgEDyvtFScCjgB5LD/Bb9HhNBjt2W6rdLms+HeUUsTZycVfHquhrJSau7TdlXiyq8mevkxyicL8veCXPL9pnFtmOrfH7WnO/CC+om6tTelnNzKZY7xDLl4tipaX4yp/zleOAz9Oj7uM+BZPe4ra11Q5vNuU80aGnrrB5hg5/VVTlfCPKuTGjmo2U5yYBsok9C3+pmMsidZQbq3geSFSyxa5wxP8yYDU12/Jwr+cjYNeV2SQ/yhjO6c5pLzmQdwjP1GEGwMjVXyplqPMDpzoSN5drxc+Ysr22rLX+p6H6zXv1xWtDUeJiLptA9973zpKjVxN+B3kByQ+WT/soCtd7hE/ZA57H92FH1UlGzkb851uSMl2vHNP7CHYc6pzIEfb1yW3XVFufVGRdWkFdpzbAqQoYy9zyQ7M7Q92YRm3Nlj9zv9ZpKH+U7/e7/zbe9HEup4zPsDB4RQAABBBBAAAEEEEAAAQQQQAABBBBAAAEE9lSAQPKeclIYAggggMB+CjSu52W9tazeubCGo94vKT3nsmEf3kIAAQQQQAABBBBAAAEEEEAAAQQQQAABBBBAAAFPgEAyAwEBBBBA4HAI7G6rnpKrWG7e87csmZZUNjWgfmVa/WY9m7bnPQQQQAABBBBAAAEEEEAAAQQQQAABBBBAAAEEEOgKEEjuWvAMAQQQQOAABVr3l/y80YWiSl5+dFt1L3+5rdqNBc1OWsp9UFY9no65T40bqryXWJ6+z5a8jQACCCCAAAIIIIAAAggggAACCCCAAAIIIIAAAr0CBJJ7TXgHAQQQQOCgBDq5t7u5ci03R/B78yrdrqu1e1AV47gIIIAAAggggAACCCCAAAIIIIAAAggggAACCBwvAQLJx6u/aS0CCCCAAAIIIIAAAggggAACCCCAAAIIIIAAAggggAACCCAwUIBA8kAiNkAAAQQQQAABBBBAAAEEEEAAAQQQQAABBBBAAAEEEEAAAQSOlwCB5OPV37QWAQQQQAABBBBAAAEEEEAAAQQQQAABBBBAAAEEEEAAAQQQGChAIHkgERsggAACCCCAAAIIIIAAAggggAACCCCAAAIIIIAAAggggAACx0uAQPLx6m9aiwACCCCAAAIIIIAAAggggAACCCCAAAIIIIAAAggggAACCAwUIJA8kIgNEEAAAQQQQAABBBBAAAEEEEAAAQQQQAABBBBAAAEEEEAAgeMlQCD5ePU3rUUAAQQQQAABBBBAAAEEEEAAAQQQQAABBBBAAAEEEEAAAQQGChBIHkjEBggggAACCCCAAAIIIIAAAggggAACCCCAAAIIIIAAAggggMDxEiCQfLz6m9YigAACr47A85+0cuaExsZyOn9750Dq/fT+Rb0xNqaxd5fl/O1AqsBBERhN4PEdnR8f09jfn9JK4/loZbAXAggggAACCCCAAAIIIIAAAggggAACCBxrAQLJx7r7aTwCCCBweAWeN1Z06u/HNDZxXncOIo78y1PZX76hsbExvX/loQjFHd6xQs16BXZun1dubEwnzq7oJwZvLxDvIIAAAggggAACCCCAAAIIIIAAAggggMBAAQLJA4nYAAEEEEDg5Qs818M/n/KCuK//213t/PLya6Cf7+qzfxrT2N+9r2v/cZgjcc/l/OmdjtXTLFY/21r+3a/1q9+c1y1mqx7A4NrnQz7f0a1//bXGxk7ow29/4iaIoblHOKeGPsZL2OH5ju58+Y5OnHhHF7/feSXHgbsqxNt/N6ax//mV7Keh2XP99O15vfHar3XqT7Yy/c0Ld+WxI/B0I1hx4+RXcjq2nY95ggACCCCAAAIIIIAAAggggAACCHgCBJIZCPsn0F7XgmWpcGM7/Rg7Vc1ZlqYv19O3a62qaFlauNdO367fp8FxSpv9NnjR91ta/8OErMkLWn3yomWxPwLHXOBvD3Xtd2MaG3tdn/3lYK5w73z/mV4fG9Ov/uWaHh7mOLKGD3o9/YvfNm+29VVmWx+1s+35X2/p438c09h//Vi3Hh+11r2M9gx/Tr2MWg19jHAcjI3ptbO3XsmZ6Z1g528udgPJnf8/jGls/LzuHsSKFUN3xuHboWNLIPnwdQ41QgABBBBAAAEEEEAAAQQQQOAQCfwnI0oihaQTF9MAAAAASUVORK5CYII=
Paresh Chhajed-Picha
Researcher at Indian Institute of Technology - Bombay, India


This email address is being protected from spambots. You need JavaScript enabled to view it.

Twitter: @Sparsh85
Wikipedia: Sparsh85

Co-moderator of this discussion forum

You need to login to reply
Time to create page: 0.285 seconds