Webinar Announcement: "The Ebola Crisis and Innovative WASH Solutions" (recording available)
2538 views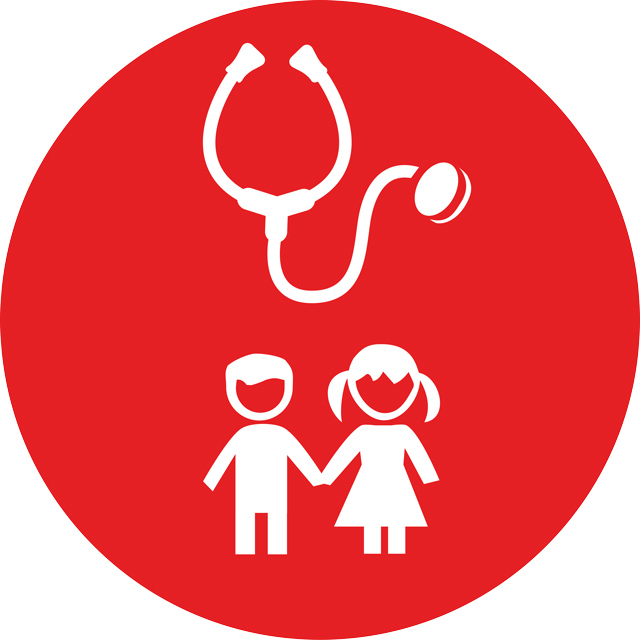 Webinar Announcement: "The Ebola Crisis and Innovative WASH Solutions" (recording available)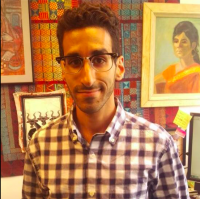 21 Sep 2016 15:25
#19093
by

Bijan
Join The Global Public-Private Partnership for Handwashing next week for our upcoming webinar, "The Ebola Crisis and Innovative WASH Solutions" on
September 28 at 10:00 am EDT
.
Description
In 2015, Sierra Leone, Liberia, and Guinea began to enter periods of Ebola-free recovery. We know that innovative water, sanitation, and hygiene (WASH) interventions, specifically handwashing behavior change programs, played a critical role in halting the crisis and promoting ongoing community health. Now, we must ask ourselves "What's next?" How can we ensure that the lessons learned from this crisis are incorporated into how the WASH sector promotes sustained behavior change? Can the response to the Ebola crisis frame how the world responds other to infectious disease outbreaks?
Experts from the U.S. Centers for Disease Control and Prevention and Global Communities will share key takeaways on the impact of infection prevention and control programs, community-led total sanitation approaches, and WASH interventions in schools.
Join the Global Public-Private Partnership for Handwashing for this interactive webinar on to discuss these questions and more.
Confirmed Speakers
U.S. Centers for Disease Control and Prevention
Global Communities
UNICEF
Please register
here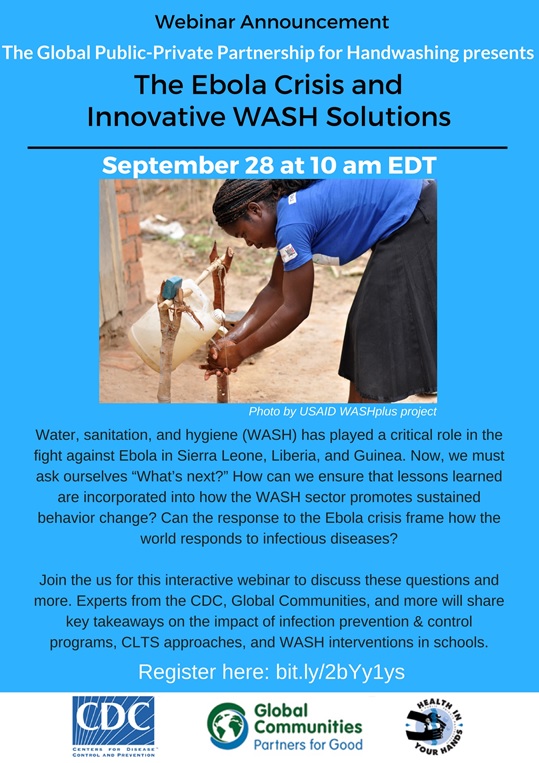 .
The following user(s) like this post:
JKMakowka
You need to login to reply
Re: The Ebola Crisis and Innovative WASH Solutions: Webinar recap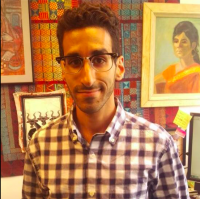 05 Oct 2016 14:57
#19242
by

Bijan
Ebola was once a disease that primarily plagued the African subcontinent. This all changed in 2014 when Ebola spread rapidly through the region. It quickly became a global threat that triggered an unparalleled international response. Despite the fact that good hand hygiene practices, including handwashing with soap, can effectively remove the virus from skin and surfaces, stigma around the infection and poor understanding about its prevention were among the principle reasons for such an unprecedented transmission rate. As a result, there were nearly 29,000 reported cases and over 11,000 fatalities between December 2013 and April 2016. This crisis represents the deadliest Ebola outbreak in history.
Sustaining long-term water, sanitation, and hygiene (WASH) practices are essential for strong public health systems which are influential in preventing the resurgence of diseases such as Ebola and preventing future outbreaks. For this reason, the Global Public-Private Partnership for Handwashing hosted a webinar in collaboration with Global Communities, UNICEF, and the U.S. Centers for Disease Control and Prevention (CDC) exploring how innovative WASH and social behavior change (SBC) solutions were critical in halting the West Africa Ebola crisis and how their programs are supporting the recovery process and promoting ongoing community health and wellbeing.
Global Communities Program Development Manager, Alice Urban, and WASH Specialist, Franky Li assessed the impact of
community-led total sanitation (CLTS) interventions
on helping contain and prevent the spread of
Ebola in Liberia
. They also described how CLTS engagement in other health-related activities has raised government awareness about the need for more targeted support to the community-level health system and demonstrates a low-cost, sustainable option. CLTS can be more than just a tool for sanitation promotion. Community momentum should be leveraged to promote other community health and development objectives.
Learn more about the CLTS methodology used in Liberia
here
and a report on the community-led response
here
.
Gaelle Fohr, a sanitation and hygiene consultant who worked as a specialist between 2014 and 2016 for
UNICEF's West and Central Africa program
(WCARO), delivered a presentation on the impact of
hygiene kits that were distributed in schools
when they reopened in early 2015. Together with handwashing promotion, these kits helped form new norms and improved knowledge of handwashing with soap. Ultimately, hygiene kits became part of the safe school protocol. UNICEF continues to incorporate lessons learned from the Ebola response into their approach towards other infectious disease outbreaks. Programs, such as this, can lead to a stronger evidence base when projects have efficient knowledge management guidelines that work in conjunction with the monitoring and reporting processes.
Read how UNICEF launched global response to the Ebola outbreak in West Africa
here
and WCARO's efforts
here
.
CDC's
Infection Prevention & Control program (IPC)
was described by Dr. Nora Chea, Medical Epidemiologist. Dr. Chea demonstrated how improved WASH interventions in healthcare settings drove the success of
IPC in Sierra Leone
and how key results might be replicated in response to future outbreaks. IPC interventions—which include providing clean water, improving environmental cleaning and environmental waste management practices, and proper disinfection of medical equipment—can have a greater impact when technical guidance and evidence-based knowledge are provided at the regional and global levels and information management systems are supported. Integration is a current hot topic in development, and it is applicable in this context, too. Clearly defining cross-sectoral monitoring between sectors and response clusters can reduce gaps or duplicity between IPC and WASH programs. Dr. Chea concluded his presentation by emphasizing that IPC programs within healthcare structures must integrate improved WASH practices at all levels. WASH is critical in healthcare settings—both for IPC and for promoting public health.
Information about CDC's ongoing IPC work may be found
here
. CDC has also produced Ebola outbreak communication resources, available
here
.
Learn more about key takeaways from these programs by accessing the webinar recording and downloading the presentation slides
her
e. If you'd like to learn more about how handwashing with soap can help prevent Ebola virus transmission, read our one-page summary
here
.
You need to login to reply
Time to create page: 0.449 seconds