Faecal sludge to biodiesel (Columbia University, USA and Kumasi, Ghana)
25.4k views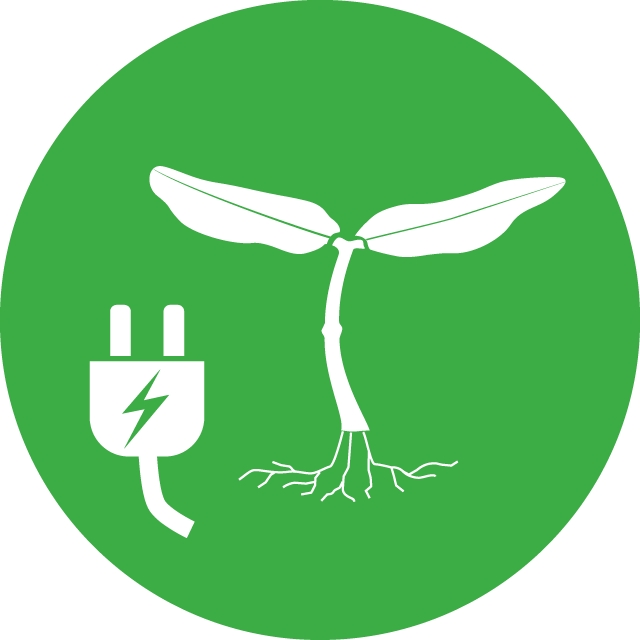 Request for proposals: use of biodiesel research facility in Kumasi, Ghana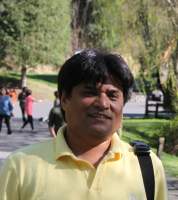 14 Jun 2013 13:11
#4723
by

Roshan
This attachment is hidden for guests.
Please log in or register to see it.
-PLEASE CIRCULATE—
Please find an RfP attached for use of the biodiesel research facility in Kumasi, Ghana (short summary below). Please circulate this call to colleagues and networks.
This is a really incredible research opportunity for partners who might be interested in conducting biogas and/or fermentation field research. FS is delivered to the "door". The project anticipates finding a reliable organization to take over the site and equipment. In the event reliable applicants are not identified, the team will have to formally decommission the plant otherwise.
Roshan Shrestha,PhD
Senior Program Officer
Global Development Division
Water, Sanitation and Hygiene
Seattle - WA
Tel: +206 770 2453
email:

This email address is being protected from spambots. You need JavaScript enabled to view it.


www.gatesfoundation.org
This message has an attachment file.
Please log in or register to see it.
The following user(s) like this post:
tmsinnovation
,
susu
You need to login to reply
Re: Faecal sludge to biodiesel (Columbia University, USA and Kumasi, Ghana)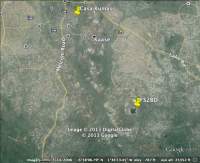 21 Jun 2013 19:26
#4796
by

mv2368
Hello!
We want to introduce our grant here:
Title of grant:
Fecal Sludge-Fed Biodiesel Plants: The Next-Generation Urban Sanitation Facility
Subtitle: Creating a next-generation urban sanitation facility by transforming fecal sludge into biodiesel and methane.
Name of lead organization:
Columbia University
Primary contact at lead organization:
Kartik Chandran
(his faculty website)
and Ashley Murray
Grantee location:
New York, USA
Developing country where the research is being tested:
Ghana
Short description of the project:
This project focuses on the development of a resource-recovery based sanitation technology. which uses fecal sludge as a feedstock for producing biodiesel and biogas. The technology development is being conducted by a team of nine American and Ghanaian engineers based in Kumasi, with the oversight of Prof. Kartik Chandran of Columbia University. Technology development is accompanied by development of a social business model that aims to use revenue from energy products to help finance and incentivize complete and sustained urban sanitation.
Goal(s):
1) To develop a bioprocess technology based on anaerobic fermentation and digestion to convert faecal sludge into biodiesel precursors and biogas
2) To develop an associated social enterprise model that reinvests the revenues into improving sanitation for the urban poor and is widely transferrable.
Objectives (or activities or key research components):
1) Developing a bioprocess technology to convert the organic compounds present in fecal sludge to biodiesel and biogas.
2) Piloting the technology in Kumasi, Ghana at a design capacity of 10,000 L fecal sludge per day
3) Integrating the bioprocess technology component into a social enterprise business model that will further promote widespread implementation of this approach and technology across the globe.
Start and end date:
May 2011 - December 2013 (Phase 2 extension until December 2015)
Grant type:
Other
Grant size:
$ 1,525,979 (Phase 1, see
here
on grant database), followed by $ 273,083 (Phase 2 in 2013, see
here
in grant database)
Funding for this research currently ongoing:
yes
Research or implementation partners:
Kartik Chandran Laboratories at Columbia University School of Engineering, Kwame Nkrumah University of Science and Technology (KNUST), the Kumasi Metropolitan Assembly, and the Ghanaian company Waste Enterprisers Ltd.
Current state of affairs:
1) Phase 1 of the project, which includes the pilot-scale fermentation units (total volume of 120 m3, design capacity of 10 m3 of faecal sludge per day) was commissioned in November 2012. The plant is now being operated at 50% of the design capacity and its performance is being monitored with the use of advanced techniques and assays. The local engineering students from KNUST have been trained in the use of these advanced methods.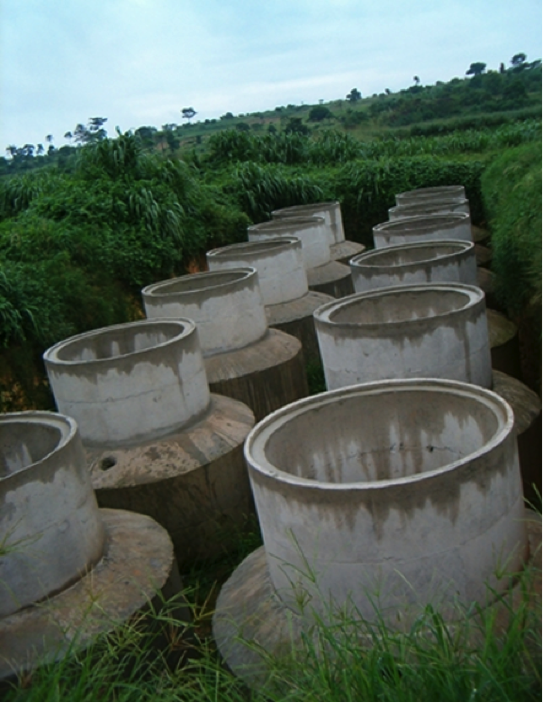 Figure 1: 6 digesters connected in series in Kumasi.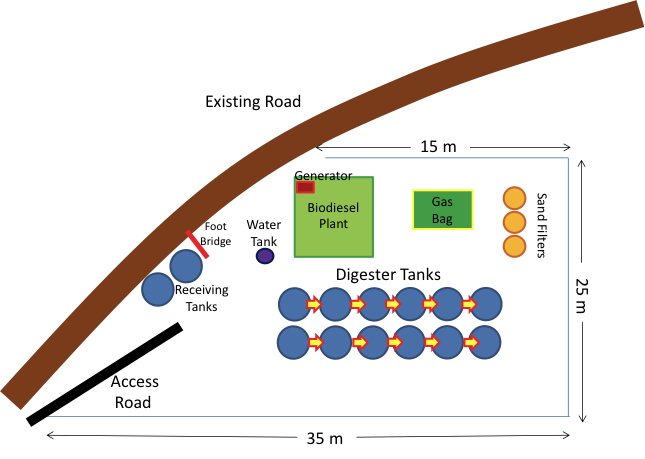 Figure 2: General plant schematic
2) A chemical and analytical laboratory has been constructed in Kumasi specifically for this purpose, under the auspices of this project.
3) Phase 2 of the piloting effort, which includes the biodiesel plant will be commissioned in June 2013.
4) A comprehensive survey of fecal sludge characteristics from different sources around Kumasi was conducted. This survey included approximately hundred samples, gathered over a period of six months. The samples were characterized for not only typical state variables including the particulate, carbonaceous and nitrogenous content, but also specific variables pertaining to the production of biodiesel, including lipid content and free-fatty acid content. These added variables have not been quantified in faecal sludge thus far and therefore, these results are rather novel and informative.
5) In addition to pilot-scale research and development, the team is also undertaking extensive bench-scale work. The bench-scale work to date has been primarily conducted in Kumasi, Ghana in the newly built project-lab. Select activities have been conducted in the Chemistry lab at KNUST and the plant biology lab at the Council for Scientific and industrial Research in Kumasi. The bench-scale work address the following topics:
a. Determination of faecal sludge fermentation kinetics, when subjected to different feedstocks and inocula. These studies were instrumental in informing our pilot-scale startup operations.
b. Development of protocols for testing different wet and dry procedures for extracting lipids from faecal sludge and for converting the inherent lipids present in faecal sludge to biodiesel.
c. Cultivation and integration of axenic yeast cultures into the faecal sludge to biodiesel pipeline. Parallel studies with yeast cultures are also underway at Columbia.
d. Prior to their implementation, project engineer, Jeremy Rushlow conducted extensive testing at the Kartik Chandran labs at Columbia University to determine the impact of free-fatty acids on esterficiation and transesterification yields, different procedures for extracting lipids from food waste (due to the non-availability of faecal sludge in New York) and procedures for extracting lipids from biomass.
6) Although not funded directly by this project, engineers in the Kartik Chandran labs have been developing technologies to biologically convert biogas into methanol. If successful, this technology can serve to reduce the operating costs of converting faecal sludge to biodiesel, by providing an internal source of methanol. Based on our progress, we will explore the integration of this new technology into this faecal sludge to biodiesel project. A paper on this topic was recently published by us in Environmental Science and Technology and reported substantially higher biokinetics and yields of biomethanol from methane than previously documented .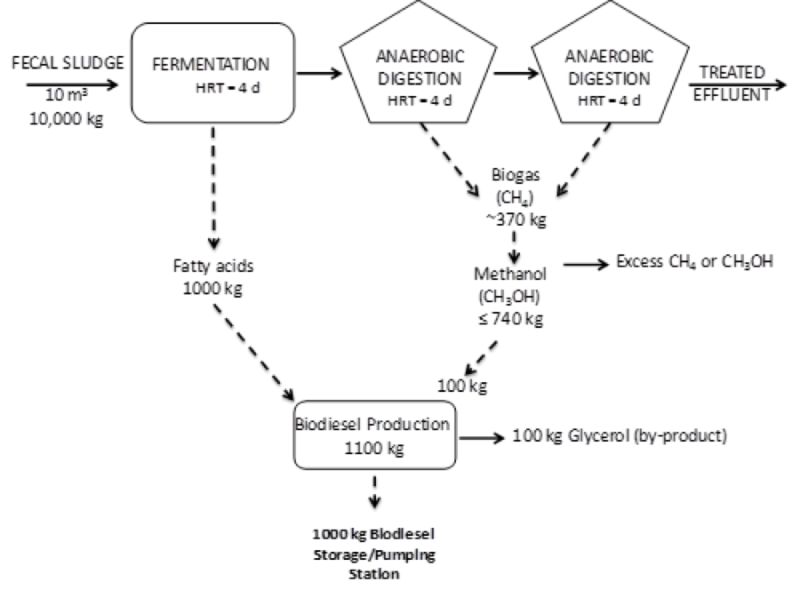 Figure 3: Schematic of fecal sludge to biodiesel conversion process
Publications, presentations, links, further readings, etc:
• Presentation at the 2nd International Conference on Faecal Sludge Management (FSM2) as a foundation for urban sustainability
Powerpoint slides:
www.susana.org/images/documents/07-cap-d...a-university-usa.pdf
Video of the presentation by Kartik Chandran:
• TEDx talk on Resource recovery as a foundation for urban sustainability:
• Journal paper: High-Rate, High-Yield Production of Methanol by Ammonia-Oxidizing Bacteria (April 2013)
dx.doi.org/10.1021/es3042912
•
Press release
of the Columbia University (Nov 19 2012)
Website of Waste Enterprisers Ltd.:
www.waste-enterprisers.com
Check out
our page on the susana library!
We will be posting more documents there soon.
The following user(s) like this post:
rahul
,
susu
You need to login to reply
Re: Faecal sludge to biodiesel. Work in Kumasi and New York (Columbia University, USA and Ghana)
23 Jun 2013 03:48
#4802
by

hanutime
hello,
my name is Hanan,i am from Ethiopia.I am very glad to hear this as someone from low income country and i hope it will be very helpfull for most countries as far as energy is the heart of one's country economic development ...so i would to congradulate the founders.
The following user(s) like this post:
mv2368
,
SusannahClemence
You need to login to reply
Re: Biofuels: The "Food vs. Fuel" Debate, can Human Waste be the answer?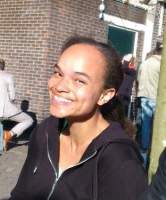 02 Jul 2013 07:47
#4910
by

EstherGlotzbach
(note by moderator (EvM): I have moved this post to here because it fits perfectly into this thread)
+++++++++++++++++++

Food vs. fuel is the dilemma regarding the risk of diverting farmland or crops for biofuels production in detriment of the food supply on a global scale. The "food vs. fuel" or "food or fuel" debate is international in scope, with valid arguments on all sides of the issue. There is disagreement about how significant the issue is, what is causing it, and what can or should be done about it.

Biofuel production has increased in recent years. Some commodities like maize (corn), sugar cane or vegetable oil can be used either as food, feed, or to make biofuels.

With global demand for biofuels on the increase due to the oil price increases taking place since 2003 and the desire to reduce oil dependency as well as reduce GHG emissions from transportation, there is also fear of the potential destruction of natural habitats by being converted into farmland. Environmental groups have raised concerns about this trade-off for several years,but now the debate reached a global scale due to the 2007–2008 world food price crisis. While recent research by the World Bank and OECD has shown that the impacts of biofuels on food prices are much smaller than originally thought, there is still an issue; the demand for fuel in rich countries is now competing against demand for food in poor countries.

Can biofuel made from Human Waste be an alternative solution?
The following user(s) like this post:
mv2368
You need to login to reply
Re: Biofuels: The "Food vs. Fuel" Debate, can Human Waste be the answer?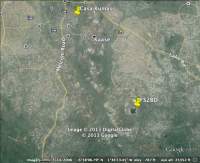 10 Jul 2013 22:59
#5020
by

mv2368
Hi Esther! I am so glad your post got moved here. That is exactly the research question of FS2BD. I hope you can read some of the updated information above and in our library.
Biofuel has definitely gotten a bad reputation among environmentalists and public health workers. I get very mixed reactions when I explain that I am working on biodiesel production-until I describe that the feedstock we are using is fecal sludge - although currently we are analyzing our options for including other feedstocks, such as food waste-.
I am currently in Kumasi as a summer researcher trying to develop an environmental and public health assessment of what the plant is doing in terms of emissions as well as pathogen removal. I am working with KNUST students setting up colilert to determine the pathogen removal from our treatment (the primary public health objective, although protecting our food supply and reducing air pollution from fossil fuels are also pretty high up on the list).
We will soon have more information to share with everyone in the forum about our results!
You need to login to reply
Re: Faecal sludge to biodiesel (Columbia University, USA and Kumasi, Ghana)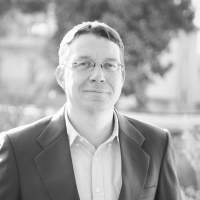 17 Jul 2013 04:58
#5062
by

Marijn Zandee
Dear Melani,

As a professional working in biogas, I am always very interested in projects involving anaerobic fermentation.

One thing that does not really become clear to me from the process schematic that you included.

As I understand you propose to separate part of the VFAs (a precursor to biogas), from the fermenting sludge. Also you propose to turn the biogas made from the remaining VFAs into Methanol and then combine VFAs and Methanol to biodiesel. Correct?

My question is how this process will be more efficient than just producing biogas from all VFAs and using it to generate electricity?

I am sure I have missed some important point and would like to understand the tinking behind the project better.

Kind regards

Marijn Zandee
Marijn Zandee

E:

This email address is being protected from spambots. You need JavaScript enabled to view it.
You need to login to reply
Re: Faecal sludge to biodiesel (Columbia University, USA and Kumasi, Ghana)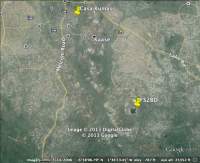 20 Jul 2013 20:07
#5096
by

mv2368
Dear Marijin,

Thank you very much for your question -an important one-. At this point we are not claiming one process to be more efficient than the other (methane to energy vs vfa to biodiesel + methane to methanol to biodiesel). We are currently exploring the latter option to understand its feasibility.

We will have more information soon!

Best,

Melanie
You need to login to reply
Re: Faecal sludge to biodiesel (Columbia University, USA and Kumasi, Ghana)
22 Jul 2013 17:21
#5110
by

former member
Hi Melanie,

Could we get further informations about the lipid extraction method you used to analyse the quantity of lipid in the faecal sludge? Did you use a hexane/methanol solution? And what percentage did you get? Have you also analysed the quantity of fiber/lignin and hemicellulose which can have an important impact on the anaerobic digestion?

Kind regards,

Amédé

++++++++
Note by moderators: This post was made by a former user with the login name Amede74 who is no longer a member of this discussion forum.
You need to login to reply
Re: Faecal sludge to biodiesel (Columbia University, USA and Kumasi, Ghana)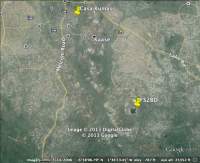 05 Sep 2013 19:34
#5550
by

mv2368
Hi Amédé.

I am sorry this was not answered before. I was hoping to get more information to share before I would post but we are still conducting some experiments to assess the best methodology that makes most sense economically -including energy consumption- among some dry and wet extraction methods. We should be able to share that soon. I don't believe we have been analyzing fiber/lignin and hemicellulose. I will be sure to bring it up! Thank you for reaching out.

Best,

Mel
You need to login to reply
Re: Faecal sludge to biodiesel (Columbia University, USA and Kumasi, Ghana)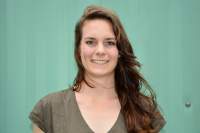 01 Oct 2013 14:39
#5843
by

NaomiRadke
Hi Mel,
Great idea to produce biodiesel from faecal sludge. I am curious about results on the feasibility of it!
I am guessing still being in the piloting phase of the biodiesel production, the business model development has not been in focus yet.
Still, you must have had some ideas on the business set up yet which I am curious to read about.

To what extent does a demand for biodiesel exist in Ghana? Are the local technologies able to be fed with biodiesel instead of fossils?
You mentioned that you would like to set up a social business model that aims at financing and incentivising complete urban sanitation.
Will the revenues of the biofuel sales thus be directly reinvested into building urban sanitation? How high is the sanitation coverage at present? And what sanitation systems are you intending to use?
All the best for the progress!
Naomi
// Naomi Radke
MSc Sustainable Development


This email address is being protected from spambots. You need JavaScript enabled to view it.


seecon international gmbh
society - economy - ecology - consulting
Basel, Switzerland

www.seecon.ch/

check out the SSWM toolbox for info on sustainable sanitation and water management:
www.sswm.info/
You need to login to reply
Re: Faecal sludge to biodiesel (Columbia University, USA and Kumasi, Ghana)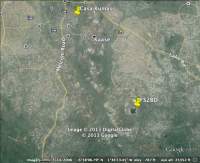 06 Feb 2014 15:57
#7269
by

mv2368
Dear Naomie,

Thank you very much for your questions. In fact, in 2011 there was a publication on the "Decision Impact Assessment: Promotion of Biofuel Production in Ghana" by Dietrich O'Connor that outlined the interest of the Ghanaian government to substitute petroleum with biodiesel in the near future (10% by 2020, 20% by 2030). Furthermore, the aspiration is for Ghana to become an exporter of biodiesel. The Renewable Energy Bill of 2010-2011 also supports this. Nonetheless, most of these projections are based on biodiesel production from crops rather than fecal sludge so there is an opportunity.

With regards to the investment in sanitation, the business model in itself implies the interest in maximizing resource recovery from the sludge. This means that embedded in the vision there is need to optimize collection systems that allows the for the obtention of raw material, in this case fecal sludge, in the most efficient manner. Therefore, if production of biodiesel from fecal sludge becomes feasible in large scale, there would inevitably be investment back into sanitation, one of the premises of this study.
You need to login to reply
Re: Faecal sludge to biodiesel (Columbia University, USA and Kumasi, Ghana)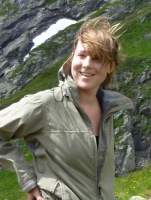 06 Feb 2014 16:57
#7270
by

dorothee.spuhler
Dear Melanie
Thanks for this answer.
It would be indeed a promising story if the production of biodiesel from fecal sludge could become the financial incentives for safe and sustainable sanitation in Kumasi!
I went through previous posts after reading your answer and wondered, if there are already any further results available from the project of Columbia Universities: Is this project now over (you mentioned December 2013) or does it get a second phase funding and if yes, what arethe objectives.
Are you pilot plant results promising and are there plans to scale up?
Was there any work already done on the optimization of the fecal sludge collection system as a raw material for the process? And do you have primary results on the financial viability of the system "collection of fecal sludge - biodiesel production - biodiesel selling" in Kumasi?
I am also little bit confused by the first post of this thread by Roshan: where it seems that the plan was to finding a reliable organization to take over the site and equipment? Has this been done and why exactly?
I am looking forward reading more here (maybe also from the rest of the team) and understanding how far the project objectives have been reached and what are your main lessons learn!
Cheers,
Dorothee
[End of page 1 of the discussion. To access the next page, click on the square page number box below]
WG1 Co-lead
Developing methods and tools to support strategic planning for sustainable sanitation. Particular interested in novel technologies contributing to more inclusive and circular sanitation.

This email address is being protected from spambots. You need JavaScript enabled to view it.
You need to login to reply
Time to create page: 0.617 seconds
DONATE HERE