New paper: Toilet revolution in China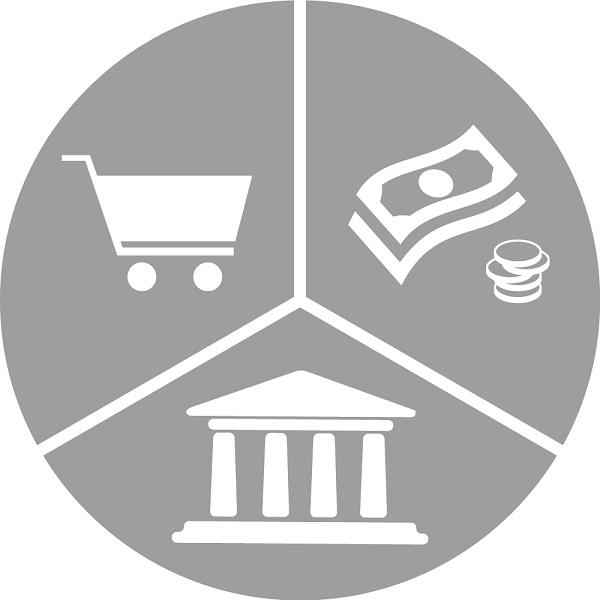 New paper: Toilet revolution in China
03 Nov 2017 19:30
#23122
by

muench
I would like to bring to your attention a new paper by Zifu Li et al. entitled "
Toilet revolution in China
"
It's an open access paper and here is the link:
www.sciencedirect.com/science/article/pi...71730912X?via%3Dihub
I also attach it in case the link changes one day.
Anyone interested in the situation in China will find this an interesting read, I am sure!
Highlights
• The history and current Chinese sanitation scenarios are presented.
• The concept of toilet revolution and the concrete toilet actions are elaborated.
• Challenges and opportunities for toilet revolution are discussed and analyzed.
• China provides valuable lessons-learned for the developing world.
Abstract
The wide-spread prevalence of unimproved sanitation technologies has been a major cause of concern for the environment and public health, and China is no exception to this. Towards the sanitation issue, toilet revolution has become a buzzword in China recently. This paper elaborates the backgrounds, connotations, and actions of the toilet revolution in China. The toilet revolution aims to create sanitation infrastructure and public services that work for everyone and that turn waste into value. Opportunities for implementing the toilet revolution include: fulfilling Millennium Development Goals and new Sustainable Development Goals; government support at all levels for popularizing sanitary toilet; environmental protection to alleviate wastewater pollution; resource recovery from human waste and disease prevention for health and wellbeing improvement. Meanwhile, the challenges faced are: insufficient funding and policy support, regional imbalance and lagging approval processes, weak sanitary awareness and low acceptance of new toilets, lack of R&D and service system.
The toilet revolution requires a concerted effort from many governmental departments. It needs to address not only technology implementation, but also social acceptance, economic affordability, maintenance issues and, increasingly, gender considerations. Aligned with the ecological sanitation principles, it calls for understanding issues across the entire sanitation service chain. Public-private partnership is also recommended to absorb private capital to make up the lack of funds, as well as arouse the enthusiasm of the public.
Two main charts (must have been very hard to collect all the data for this!):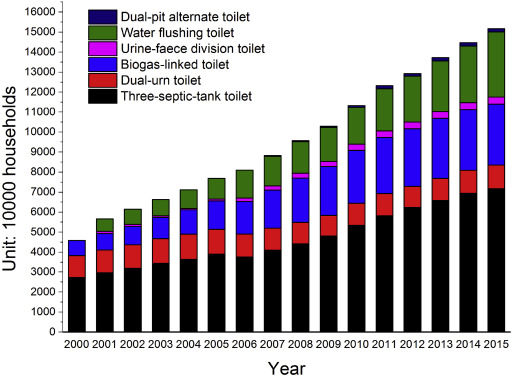 Fig. 1. Yearly number of six different harmless sanitary toilets installed in Chinese rural areas from 2000 to 2015.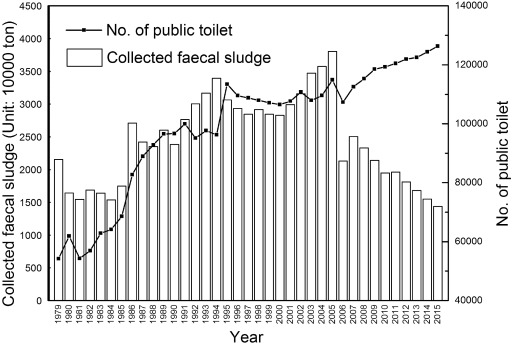 Fig. 2. Collected faecal sludge and quantity of public toilet in urban areas.
Regards,
Elisabeth
++++++++++
Arno had the following questions to Zifu Li (by e-mail):
Figure 2 can easily be misinterpreted. It shows that sludge collection in 2005 from urban areas reached about 35 million tons in China. It then dropped suddenly the next year to 20 megatons and continues to drop, now at 15. In the text you write that this may be caused by the shifting over to sewage systems or that private sludge collection has taken over (which isn't monitored by the govt). Can you add some data on growth of coverage in STPs? Even comment on the JMP data on urban coverage? And isn't the mammoth and expansive building of biogas systems to take farm wastes and human excreta a major component of this revolution – for the rural coverage at least? Didn't see the impressive data in the paper on this huge government programme (100 million installations now?).
Best wishes
--Arno
This attachment is hidden for guests.
Please log in or register to see it.
---
Community manager and chief moderator of this forum
(Funded via GIZ short term consultancy contract)

Dr. Elisabeth von Muench
Independent consultant located in Brisbane, Australia


This email address is being protected from spambots. You need JavaScript enabled to view it.

Twitter: @EvMuench
Sanitation Wikipedia project leader: en.wikipedia.org/wiki/Wikipedia:WikiProject_Sanitation
My Wikipedia user profile: en.wikipedia.org/wiki/User:EMsmile

You need to login to reply
Time to create page: 1.085 seconds