The discussion forum - survey results, latest developments and discussions about the future
11.5k views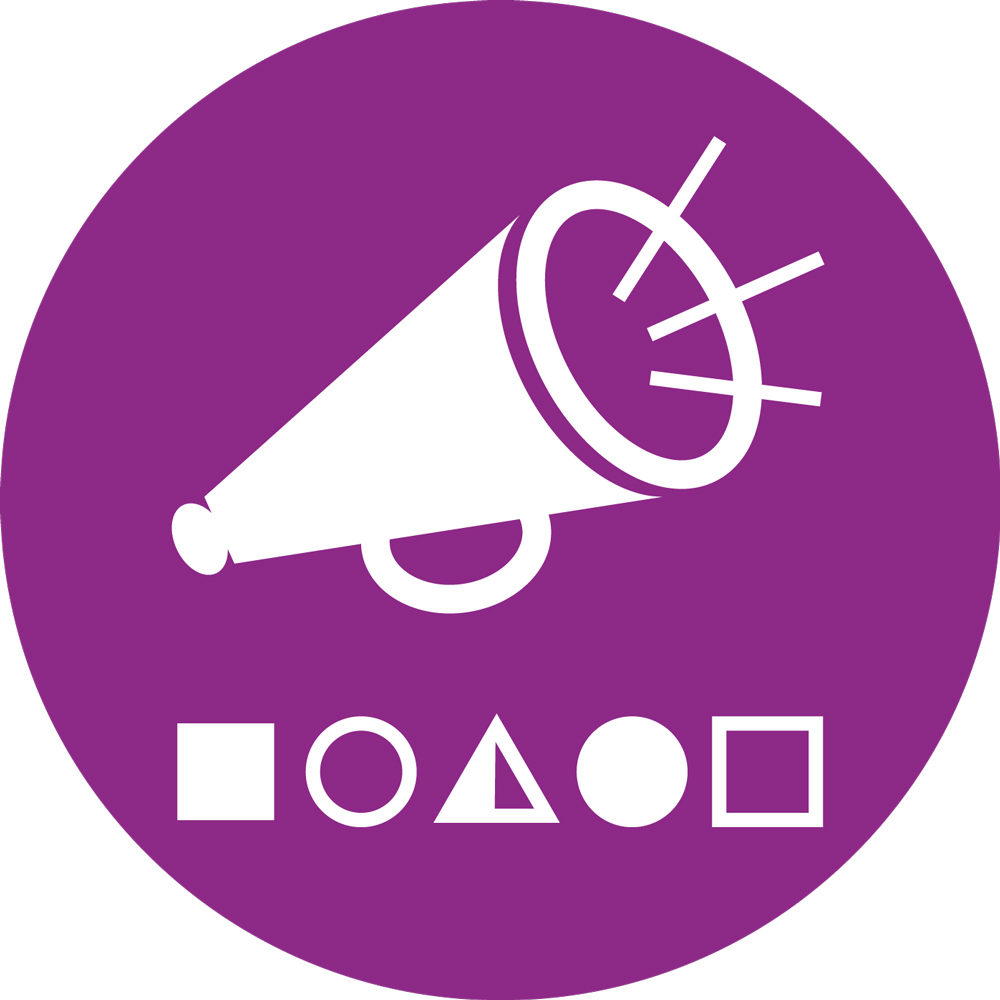 Re: The discussion forum - survey results, latest developments and discussions about the future
22 Dec 2020 13:29
#31413
by

Elisabeth
I am copying below from two slides from the survey report presentation to show what we concluded from the survey and member analysis and our what our plans for 2021 are:
Our reactions to the results of the survey and member analysis:

1. Set ourselves membership targets for the future (how to achieve this?):
- increase %-age of female SuSanA members from currently 36% to 50%.
- increase %-age of members from Global South from currently 67% to 80%.
2. Set ourselves targets with regards to who posts (how to achieve this?):
- increase %-age of posts by females from currently 41% to around 50%.
- increase %-age of posts by members from Global South from currently 33% to around 80%.
- Reduce the %-age of posts by moderators from currently 28% to 20% (or allow higher values if moderators are from Global South?).
3. Conceptualise which new categories or sub-categories should be created and how they would be supported and moderated. Investigate any overlapping topics with RWSN such as water supply, hygiene, handwashing and "leaving no one behind".
4. Investigate how to recommend SuSanA and the Discussion Forum as a knowledge management tool into institutions in Southern Africa. We will plan some pilot activities with institutions in Zambia.
Investigate social media marketing opportunities, e.g.
- emerging tools that are being used widely by practitioners in developing countries, for example Whatsapp groups, LinkedIn.
- a Whatsapp group, Telegram group or Slack channel to deepen the engagement of SuSanA members with the discussion forum. They might build a community feeling and be more inviting to those users who do a lot of their work from mobile phones.
5. Analyse implications, pros and cons of a password-less social media login (e.g. logging in with one's gmail address). Such a system would likely mean decoupling SuSanA membership from discussion forum membership and would therefore require in-depth discussions before it is adopted.
Full details in the presentation here: 
 www.susana.org/en/knowledge-hub/resource...library/details/3630
 (it's the first presentation in the list, called "The Discussion Forum - latest developments, results from user survey and from member analysis").
Regards,
Elisabeth
You need to login to reply
Re: The discussion forum - survey results, latest developments and discussions about the future
22 Dec 2020 13:23
#31412
by

Elisabeth
Hi Kris,
Thanks for this suggestion. I find this page interesting where they compare their software to others, such as Slack, Discourse and Facebook Groups: 
www.talkyard.io/compared-with
I can't imagine that we at SuSanA would change over in a hurry because the survey results did not provide a clear mandate for this (although we didn't specifically ask about it either but asked more questions about the moderation). Also, the IT effort with moving the member databases and the archive of posts would be enormous. But definitely something to keep in mind, especially if others in the WASH sector started using it. 
Regards,
Elisabeth
You need to login to reply
Re: The discussion forum - survey results, latest developments and discussions about the future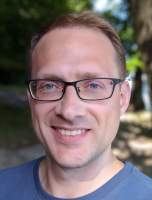 21 Dec 2020 15:08
#31409
by

JKMakowka
As for technical improvements, this seems like a really nice open-source forum/q&a/chat alternative:
www.talkyard.io/
(easy to use on mobile too)
You need to login to reply
Re: The discussion forum - survey results, latest developments and discussions about the future
17 Dec 2020 14:40
#31391
by

Elisabeth
In parallel to doing the forum user survey (see my post from yesterday), we also worked on a
detailed member analysis
, with regards to gender, location, who posts how often and in which category, what fraction of the posts are by moderators etc.
For location, we took a simplified approach of splitting our members into two categories: Global South (= developing countries) and Global North (= the others). We took the World Bank classification of "high income country" to be "Global North". All other countries are taken as Global South.  If you want to check which category your country currently falls under, see here: 
forum.susana.org/forum/statistics?statsview=8
The summary of our member analysis is copied below:
For the first time this year we determined the gender ratio of our SuSanA members and grouped their location into Global North or Global South. We also analysed their posts by Forum category. All this data available live here (note there are several tabs).
67% of our 13,000 members live in the Global South (developing countries) - strive for a value of 80% in future?
36% of SuSanA members are female (strive for 50% in future?); this was analysed based on their first names for the past; and self-identified for new or existing members since 16 July.
The %-age of posts by moderators has increased to 28% in 2020 (lowest value was 10% in 2013). Perhaps strive for a maximum value of 20%?
In 2020 there were about 1815 posts, compared to 1392 in the year 2019 (30% increase).
Members from Global South wrote only 34% of all posts - even though 67% of members are from Global South. This means less posts per person for Global South members.
Female members wrote on average 36% of all posts (also 36% of members are female). Hence, the posts per person is the same for males and females.
Females have a preference for certain categories: Females post particularly in "equity and inclusion" category and females don't post as much in "sanitation systems" category.
20% of SuSanA members have made one forum post or more, whereas the majority of SuSanA members (80%) has never posted. 1% of members have made a lot of posts (30 or more). All "top 10" most active users (all time, since 2011) are male users.
About 2600 SuSanA members have made at least one post since the start of the Forum in 2011.
All these statistics are available in real time for everyone to see here: 
forum.susana.org/forum/statistics
  (note there are 14 tabs to choose from).
Full details in the presentation here: 
www.susana.org/en/knowledge-hub/resource...library/details/3630
(it's the first presentation in the list, called "The Discussion Forum - latest developments, results from user survey and from member analysis").
Regards,
Elisabeth
You need to login to reply
Re: The discussion forum - survey results, latest developments and discussions about the future
16 Dec 2020 04:04
#31385
by

Elisabeth
Dear all,
We learned a lot from the
survey
about the discussion forum usage that we ran during July to September. It took us quite a while to compile everything and to decide what we should focus on or change in future (I will talk about that in subsequent posts later in the week). 
Summary of Forum survey results in a nutshell
:  
538 people filled in the survey from 22 July - 16 Sept. 2020 (24% of respondents work for local NGO; 67% from developing countries; 33% female).
63% said the Forum is valuable or very valuable.
"Learning and gaining in-depth knowledge" was the most important activity when using the Forum.
97% of respondents read posts either often, fairly often or occasionally.
43% of survey respondents never write posts (compared to 80% of all SuSanA members who never write posts).
The main barriers to writing posts: "Users are unsure whether they can add anything of value compared to people with more expertise." and "Users don't have time".
The main activities that moderators should do: "Write posts to enrich discussions" and "Make newcomers feel welcome by replying to their posts".
83% of respondents said forum moderators are important or very important.
69% of respondents said they are satisfied or very satisfied with forum moderators.
There were few perceived shortcomings of forum posts but one that was mentioned a bit was "Too few posts from people in developing countries".
More users want to expand topics to water supply topics (288 responses), compared to users who do not want expansion beyond the current scope (164).
With regards to regions: users had the most interest in Sub-Saharan Africa (248 responses), followed by Central Asia and Southern Asia (182 responses; includes India).
A powerpoint presentation with all the results is available here in the SuSanA library: 
www.susana.org/en/knowledge-hub/resource...library/details/3630
Regards,
Elisabeth
You need to login to reply
Re: The discussion forum - survey results, latest developments and discussions about the future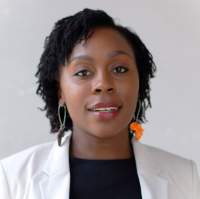 27 Oct 2020 10:41
#31064
by

Chaiwe
Dear All,
In addition to the results of the semi-qualitative analysis results I shared in my last post, I would like to mention that the forum survey collected quite some elaborate suggestions and opinions about the forum and its moderation. Even though most of these are single entry responses, the moderation team and I felt that It would be good for all users to have some insights into some of the elaborate thoughts shared.
Therefore see below the comments in relation to suggested improvements of forum moderation and issues.
Moderation Improvements
Moderate false information and fake news when applicable

Pay close attention to advertising disguised as information.

There are some posts on country chapters. Such posts are mostly unilateral- never discussed. Concerned moderator needs to take active part in rising suitable country topics, contact with the experts of the forum and discuss to conclude the topic.

1) we could have some page where 'common understanding' is summarised, thus newcomers do not put the same questions again; 2) can we try not to open a new topic always but search whether it exists already and append to it (I agree difficult with so many topics existing already)

"In my opinion, the forum or it's moderation could be improved by metamorphosing some important forum discussions to survey format to help those who find it intimidating to post in an open forum, or those who felt unwelcome when their posts are not acknowledged in the past or those who are too busy to participate in forum discussions, thereby getting everyone involved and leaving no one behind."

I think the forum structure is too complicated and overwhelming for it to be considered a useful place to function. It feels overly academic and not approachable for those not in technical roles. It would be nice if the moderators archived old chats and consolidated much of the conversations, as trying to find anything in the forum is too frustrating that I rather not bother.

"Moderators to intervene less and let the conversation flow (or stall) more organically. Asking authors (who won't have lots of time) to change, elaborate posts etc for the sake of ""encouraging discussions"" means they won't want to post again (I have that feeling) - especially if it does not come from someone who has a genuine interest, but from moderators or people that seem to spend most of their time in the forum."

I don't mind how many moderators there are but I wonder if an anonymous moderator account might be a better method with initials of who has edited/posted for tracking like many professional twitter accounts do.

"It would be great to recruit more microbiologists, epidemiologists, psychologists, and other specialists to answer our key questions and to have a look at the systems we develop. Maybe we could somehow offer them something in exchange (e.g., proofreading or translation of texts). "

Could the computer somehow be programmed to send unanswered questions on the Forum to one of the most indicated Forum members or outside experts? To some extent, moderators and other members already do this, but it would be excellent for no questions to be missed, especially now that we have so many members and so many messages.

It is also frustrating that sometimes very important questions are left unanswered. For example, in 2007 I sent a question to the Ecosanres Yahoogroup (which many of us were on before this Forum was activated), asking about the precise location of the wall dividing the urine part of a sit-down UDDT from the feces part, but no one ever answered. This is a key measurement, and certainly varies from one UDDT to another, but I think we should optimally all have an acceptable range of values at our fingertips. (It seems from various photos and my own experience that this should be roughly halfway along the hole in the seat, or a bit farther toward the front.)

I see sometimes, only a few people post on limited agenda and it looks like they are communicating via their personal email chat. Which maybe for many not interesting. Therefore, Moderators should guide the people who want to post and the moderators can also review the posts so that they become more interesting and useful for as many readers as possible from developing countries.

"1. It has been observed that sometimes members don't reply to queries raised against their posts. Central moderator(s) need to check it frequently and request such members to respond. In some cases moderators did it. For one topic there are different threads of discussion at different times. Moderator may raise points of the previous / new topics which were not discussed properly to the valid conclusion."

2. Country Chapter Moderator should raise the important topic of of the country/ region for discussion and take active part in the topic. It has been observed that such moderator sometimes raise the topic (combination of several issues) and only a few participants take part in the discussion by simply putting his/ her view on one issue. There is almost no discussion. Moderator should take part in the active discussion on the topic before it is concluded.

The moderator to particular discussion topics must provide feedback to every post

The moderators should encourage the new comers to post on the discussion forums.

I think there is barrier between different levels of users in the forum. There is perhaps a bit of a technocratic mindset when it comes to engaging with new users, students, and others with perhaps less knowledge and experience. The moderators help here, but as much of the discussion on the forum is understandably expert-to-expert, perhaps there could be a 'learning zone' section that is more dedicated for those open to learning to engage with experts who are interested in sharing knowledge and answering questions.

More posting of questions? Perhaps more behind the scenes work connecting those with questions to those who the moderators know may have answers (I understand this may already take place).

if the subject is repeated, refer to specialist literature and other sources
IT Issues
"Use a better system like discourse (sorry to repeat, but it REALLY makes a difference, both for participation and for moderation).
Help people go beyond ecosan please..."

Cleaner website that is easy to load with slow internet connections. Drive more content via social media. Make things NOT searchable on google as I don't want my SuSanA posts to be what people find first when they google my name.

I feel a trial on LOOMIO and or on KIALO will help in making it more modern in classifying and organizing the take-aways from discussions. Currently, take-away is LOST.

"There needs to be a like or some sort of reaction button, so that if people want to engage but not actively with long sentences, there should be some passive engagement buttons. "

I suggest we add more options for quick feedback than just liking a post or adding or subtracting karma points. These could include adding the following buttons to click: • Please give more support for the ideas expressed. • I would like to put this into practice myself. • This would be an excellent thesis topic. • This is a great option for the billions who have no toilet. • This is excellent for elegant applications. • This is very environmentally sustainable. • This seems to have an excessive environmental impact. If we do this, members could then search for these items. Also, some of our thousands of members may prefer to only see posts that others have ticked with one or more of these items … or to receive all the posts ordered according to these items (with a delay of one day to allow standard members to tick these). This may be especially important now that the Forum has grown so much and the list of posts is sometimes very long. This would make it easier for the "silent majority" of members to give feedback, even if just ticking these items … and some privilege, such as searching, could hinge on ticking. It would be good to know the dates of the different posts when we do a search.

I find the web interface harder to prioritise compared with eg email discussions happening through RWSN

1. The interface can improve
2. Its overall confusing. Threads tend to be too long.
3. I need more clarity on what to get out of it & what to post (I have not been able to figure that out)"

It would also be helpful not to have to log in again every time I visit the site as the view is often different. Thanks for your hard work it is much appreciated.

In the update emails, it would be good to see a couple of the most recent posts. Sometimes you just see a 'thank you' or 'Good reply' which doesn't give you an idea in the email digest about what the discussion / thread has been about.

The look of the email page needs to be substantially improved

Structuring email notifications in a readable way
New types of posts, events or web pages
Are we thinking of video posts? The reach and engagement will increase and it will result in more participation.

maybe some sort of online events to encourage more active participation from "unusual suspects". Maybe a regular "show and tell" section where people can tell a bit about their current work incl. some photos (without it being official announcements of projects or such).

More structured, but more importantly that it eventually leads to something. While the discussions and information are important, it would be great if this forum for discussions could be turned into a forum for building partnerships and for creating "temporary working groups" or something to take these conversations to the next level.

"I am satisfied with the work done by the moderator. I would imagine the issue is more about ensuring economic sustainability for the position. I wonder if starting to ""train"" different moderators could help so to have a pool of people that can rotate. I see the forum main strength in having an active community of experts. It wonder if it could be useful to produce summary tables/data that are particularly relevant (then published on wikipedia or kept within the forum). These tables could link to post/discussions and act as a quick way to aggregate information (which is probably the main challenge in the era of internet).

"The forum can have a listing of Solutions/or a discussion on the practical implementation of such solutions etc to the problems addressed in the discussions, e.g. enzymes for treating waste water, conversion of garbage to energy products etc.

Two ideas:
1) I keep forgetting about the forum and how useful it could actually be for my work. Hence I would be happy to have a physical reminder -> Print stickers or design cool, decorative 3D-objects with commitments or inspirational statements -> members could stick them in their office / keep them on their desks so they don't forget about posting/reading in the forum. Possible slogans: ""Write one SuSanA post every week""; ""Every SuSanA forum post is a step towards universal access to safe sanitation""; ""Give a shit - share your knowledge on the SuSanA forum""; ""Stuck? Ask your peers on the SuSanA forum!""; Towards universal access to safe sanitation - post by post on forum.susana.org""; ""forum.susana.org - answering the world's trickiest sanitation questions""; ""A global sanitation crisis requires a global sanitation forum - forum.susana.org""; ""Keep calm and use the SuSanA Forum"" (ask for better slogans in the forum itself). One such desk item could be a flip calendar with 365 sanitation related facts, quotations etc, and an implicit reminder to contribute. Or 365 member photographs with a statement what the forum is for them, why they post etc."

2) Create a simple webpage which provides an overview of all existing development/humanitarian/environment related fora, along with brief descriptions and a link.
It would be great to know which of the comments stood out for you?
Regards,
Chaiwe
SuSanA Forum Moderator
Skat Foundation (With financial support by GIZ and SIRWASH up to November 2023)

Chaiwe Mushauko-Sanderse BSc. NRM, MPH
Independent consultant located in Lusaka, Zambia
Emails:

This email address is being protected from spambots. You need JavaScript enabled to view it.

,

This email address is being protected from spambots. You need JavaScript enabled to view it.



LinkedIn: www.linkedin.com/in/chaiwe-mushauko-sanderse-21709129/
Twitter: @ChaiweSanderse


You need to login to reply
Re: The discussion forum - survey results, latest developments and discussions about the future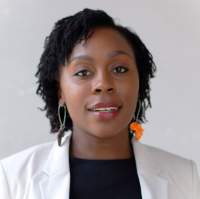 21 Oct 2020 12:52
#31043
by

Chaiwe
Dear all,
The  Sustainable Sanitation Alliance (SuSanA) moderation and secretariate team conducted a survey between July and September, 2020 to find out what the members of SuSanA perceive as being the strengths and weaknesses of the forum. In addition, members were asked to provide suggestions about how best the forum and its moderation could be improved.
Various responses were given, however, a number of strengths, weaknesses, and suggestions on how to improve the forum moderation stood out. See attached a summary of the semi-qualitative analysis of the most frequent responses from two main questions i.e  Question 19. What do you like the most about the SuSanA discussion forum? and Question 20. In your opinion, how could the forum or its moderation be improved?
Strengths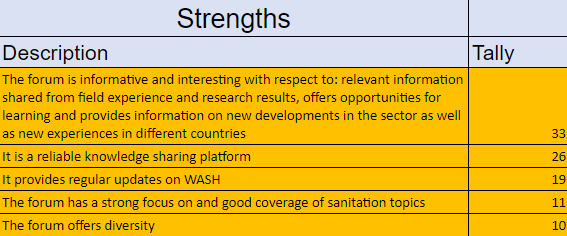 Weaknesses

Suggestions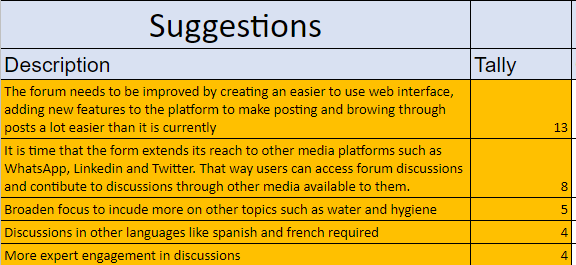 Also, find attached an excel sheet that details out a summary of all responses received in response to the two questions indicated above.
Thank you for the feedback we received. We (the Forum moderators and the SuSanA secretariat) are also having ongoing discussions on the findings in our regular meetings to see how best to address some of the suggestions.
We also plan to communicate possible improvements that will possibly be made to improve the forum user experience in due course.
Thank you for your input and we look forward to more feedback from all of you.
Regards
Chaiwe (and the rest of the moderation team)
SuSanA Forum Moderator
Skat Foundation (With financial support by GIZ and SIRWASH up to November 2023)

Chaiwe Mushauko-Sanderse BSc. NRM, MPH
Independent consultant located in Lusaka, Zambia
Emails:

This email address is being protected from spambots. You need JavaScript enabled to view it.

,

This email address is being protected from spambots. You need JavaScript enabled to view it.



LinkedIn: www.linkedin.com/in/chaiwe-mushauko-sanderse-21709129/
Twitter: @ChaiweSanderse


You need to login to reply
Re: The discussion forum - survey results, latest developments and discussions about the future
31 Aug 2020 06:57
#30637
by

Elisabeth
I am posting today the chat log (slightly edited for better understanding) from the webinar about the discussion forum on 25 August.
We had 42 participants (compared to 455 registered people; so 10% attendance). Thank you again to everyone who made themselves available to attend this webinar live or to watch the recording or the slides afterwards.
The edited chat log in purple:
[10:19 PM] Lesego Lekubu
Seems many members join when there is research funding based on your analysis 
​is that a true reflection?

[10:20 PM] Paulo Bernardo, SAO, Brazil (Guest)
is there any planning for moderators to Latin America?
 
[10:21 PM] Arno Rosemarin
Do we have a strategy to market the Forum to the several thousands of members that have yet to become active?
++++++++
Reflecting on reasons provided by survey participants for not posting on the forum:
[10:23 PM] Carvalho Rodrigues, Maria Cecilia GIZ (Guest)
- I think moderation can also influence the "welcoming feeling"
- Time is a matter of priority...
+++++++
When asked "what are problem areas of the forum?"
[10:27 PM] Lesego Lekubu
information overload
​​
[10:28 PM] Arno Rosemarin
Can be dominated by a few authors
 
[10:28 PM] TAPAN DAS (Guest)
Will   the   form  consider  more   of   discussion  on  issues   of  rural  area ?
​
[10:28 PM] Vishwanath (Guest)
Long winded complex posts sometimes 
​
++++++++++++++
​
[10:30 PM] Arno Rosemarin
Might be of interest to have monthly focus/update on SDG 6
 
[10:38 PM] Tembo, Evans GIZ ZM (Guest)
the word global south maybe misleading as it does nt consider transitional countries (SA, India, Brasil and Chine etc)...
​
[10:39 PM] Paresh Chhajed-Picha (Guest)
Tembo, Evans GIZ ZM These countries are considered  in global south in the analysis. 
 
[10:45 PM] Depinder (Guest)
can you pls share the slide on countries categorised in global south again.
​​
++++++++++
Looking at the slide showing 80% of members don't post but 1-10% post a lot
[
10:44 PM] Sean Furey (Guest)
RWSN communities are very similar
(1 liked)
+++++++++
​
[10:45 PM] Vishwanath (Guest)
Many of the issues with sanitation are local/hyper local . Does one try to capture it also ?
​​
[10:46 PM] Lesego Lekubu
i support rural water supply broadening of scope for equity
 
[10:47 PM] alexandra.papadima
We could invite water utilities from developing countries to join.
​​
[10:49 PM] Barry Jackson (Guest)
Typically, practitioners in Global South are too busy doing to write specific posts. How about encouraging them to send progress reports (or parts thereof)(those they have to write) to a moderator, inviting them to summarise key points that the moderator considers relevant?
 
[10:51 PM] Paulo Bernardo, SAO, Brazil (Guest)
relating to question 2. I think that language issues may play a major role, at least from a Brazilian perspective... since many colleagues do not have enough proficiency in English to participate (some not even to search...)... yet, what to do?
​
[10:51 PM] Depinder (Guest)
Have more active Discussion groups. Each group has more active co leads and leads. Who contribute to an active discussion within each group and across groups. Have co leads from global south.
​
[10:52 PM] Lesego Lekubu
I support Arno suggestions
​
[10:53 PM] Paresh Chhajed-Picha (Guest)
Related to Arno's point on journals - there is research that articles posted on twitter are cited more
 
[10:53 PM] Tolossa Mersha (Guest)
sanitation and water needs action and  resource; is there option to mapping resources and intervention toward SDG in developing country.
​
[10:55 PM] Tembo, Evans GIZ ZM (Guest)
also promotion of partnerships in sanitation between the global south and global north...!
​
[10:56 PM] Arno Rosemarin
Glocalization:
https://en.wikipedia.org/wiki/Glocalization
​​
[10:58 PM] Tembo, Evans GIZ ZM (Guest)
Additionally, different INGO have lots of internal thematic groups/COPs which could be explored and linked with Susana WGs!
​
+++++++
Regarding the question: Would it help to link better with Facebook discussions?
[10:59 PM] Vishwanath (Guest)
It would help , a lot
 
[10:59 PM] Arno Rosemarin
Yes X-posting helps...
​
[10:59 PM] Depinder (Guest)
Yes as a medium, Facebook is more accessible than opening the Susana page for discussion.
​
[10:55 PM] Barry Jackson (Guest)
Can we "lift" conversations from Facebook and post them assummaries in SuSanA groups?
​​
[10:48 PM] Lesego Lekubu

i think we shouldn't overlap with other forums like Facebook it might dilute the forum 

[10:55 PM] Depinder (Guest)
It's the credibility of individuals Vishwanath that drives Facebook discussion, not an institutional FB page posting discussions.
+++++++++++++
​
[10:59 PM] Vishwanath (Guest)
But a BIG thanks to Elisabeth for keenly holding on to this for so long.
​
[11:00 PM] koneru Venkata Subash (Guest)
eawag sandec moocs
Some notes by Elisabeth regarding the Q&A session at the end:
Depinder said: For the WGs I have suggested that the model of one lead and one co-lead is not very suitable to engage more people from the South. Should have 4-5 co leads; expand ownership of the group.
Elisabeth replied: same could apply to moderators (which is what we have already done); but I think the hard part is to find people who have funded hours and can do this during their day job.
Arno said: the results show that 80% of the people are there to learn things on the forum and don't have an emphasis on discussion. Originally it was thought that the discussion would be there for consensus building. If this is the case then maybe focus less on discussions but more on news and announcements. Can we link it with Google news feeds and journals? Post more news and then discuss. Also focus on the research journals. They need to come out of their closets. How can we work together with the journal publishers?
Vishwanath said: FB is more meaningful for discussions, it draws more participation, deeper discussion at the local level. There is no real incentive to bring those local discussions to the global level that the SuSanA forum is and there are sometimes few responses as well.
Elisabeth, Chaiwe, Paresh said: local versus global level; start category in forum that is dedicated to local discussions? But FB will always be more convenient. We have used Twitter for cross-posting but not clear if there is much benefit. Are cross-postings to different platforms worthwhile?
Recording from the webinar is here (skip the first two minutes):
The presentation slides that were used are attached.
This attachment is hidden for guests.
Please log in or register to see it.
I'd be happy to continue the discussion about the points raised in the webinar here in this thread. 
Regards,
Elisabeth
This message has an attachment file.
Please log in or register to see it.
The following user(s) like this post:
JKMakowka
You need to login to reply
Re: The discussion forum - survey results, latest developments and discussions about the future
27 Aug 2020 03:56
#30599
by

Elisabeth
Those are excellent suggestions, thanks Kris! I have passed them on to our IT developer, let's see what he says. He might have concerns about security issues but we'll see. 
The social media sharing buttons we used to have but somehow they got lost during the last Kunena update in April this year. I agree with you that they should be re-instated so that people can share interesting posts to e.g. Twitter with just one click (rather than having to copy the URL across).
Regarding your suggestion that we had a lot of "power users" participate in the survey: my feeling is that this is not so likely as we seem to have lost a lot of our power users in recent years. Or let's call them "very active users".  I am copying below slide 78 showing who our all time very active users were.* From that list, you can see that we seem to have completely lost some (e.g. Mughal), whereas others are still here on the forum but not posting as much as they used to (e.g. Arno, Chris C., Chris P., Joe and yourself).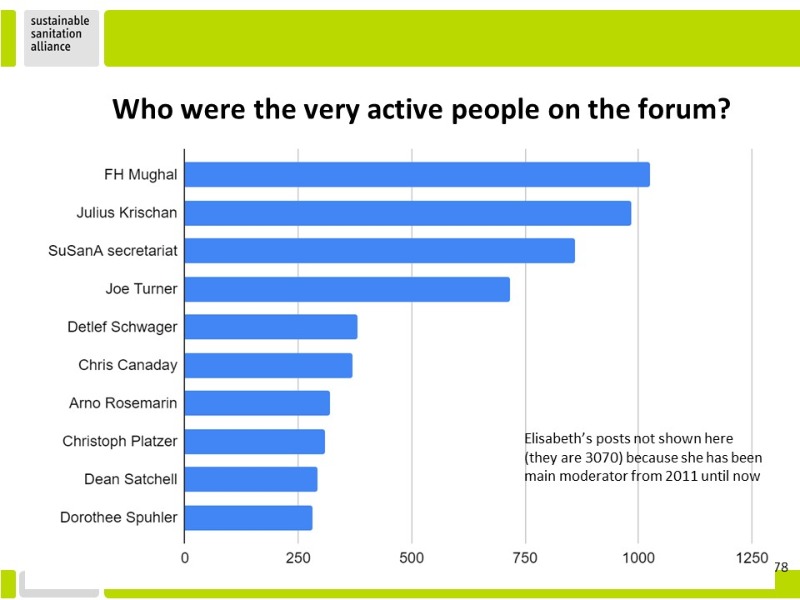 (Interesting that in this list, we only had one female (Dorothee) compared to eight men.)  
During those years when we had those very active users we had some heated discussions on some issues and it was interesting and fun; and I don't want those users to feel bad for having posted so frequently. Nevertheless it is perhaps better now where we have a more balanced situation with less "dominance" of some users. If anyone wants to see who the active users are (in real time) you can see here with the options of "by week", "by month" and "all time": 
https://forum.susana.org/forum/statistics?statsview=alltops


Elisabeth
* I am excluded from that list because I am the head moderator so naturally I post more; often in my role as moderator. Now that we have two other part-time co-moderators (Paresh and Chaiwe), I will post less in future.
The following user(s) like this post:
AjitSeshadri
You need to login to reply
Re: The discussion forum - survey results, latest developments and discussions about the future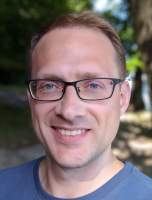 26 Aug 2020 13:45
#30592
by

JKMakowka
Maybe it is just me, but I think with overall less posts the 44% "occasional" poster are probably hiding quite a few former power users.
As for some of the topics raised:
The login problem is actually quite easy to improve by adding password-less social login. That way anyone logged into their Gmail, Twitter or Facebook (etc.) account can just click on the corresponding button to log in. The technology behind it is called Oauth2 or OpenID Connect. A quick search on the Joomla extension directory shows several options for easily adding it, for example (no endorsement as I didn't actually try it):
extensions.joomla.org/extension/slogin/
Social sharing features that allow users to easily share posts from the forum on Facebook etc. are also easy to add, for example (no endorsement as I didn't actually try it):
extensions.joomla.org/extension/social-sharing/
These are a bit of a double edged sword as they often result in the comments being locked on the social media platform and not on the forum. But the moderators could for example try to post some comment summaries of interesting discussions on Twitter or Facebook.
I hope that helps.
The following user(s) like this post:
Elisabeth
,
paresh
You need to login to reply
Re: The discussion forum - survey results, latest developments and discussions about the future
26 Aug 2020 08:41
#30591
by

Elisabeth
Hi Kris and all,
Pity you couldn't make it to the webinar but thanks for your note and here is the link to the recording:
I also took some notes from the chat and the verbal discussions which I will share here shortly. One thing that came up was the "competition" we have from people discussing things on Facebook rather. Vishwanath (India) pointed out that Facebook discussions that he is involved with draw more participation for topics on the local level.
Please tell me more about your statement "
in general I have my doubts that the current survey results are very representative beyond gender and location
"? I am curious. Like you said, gender and location (developing countries or not) seems to be representative. I think also regarding the activeness of posting on the forum it seems quite representative, i.e. most people have never posted. 
Compare slide 26 which says 88% of survey respondents have posted never or only occasionally (and this can mean just once) to slide 55 which says that 80% of SuSanA members have never made a forum post - pretty similar result: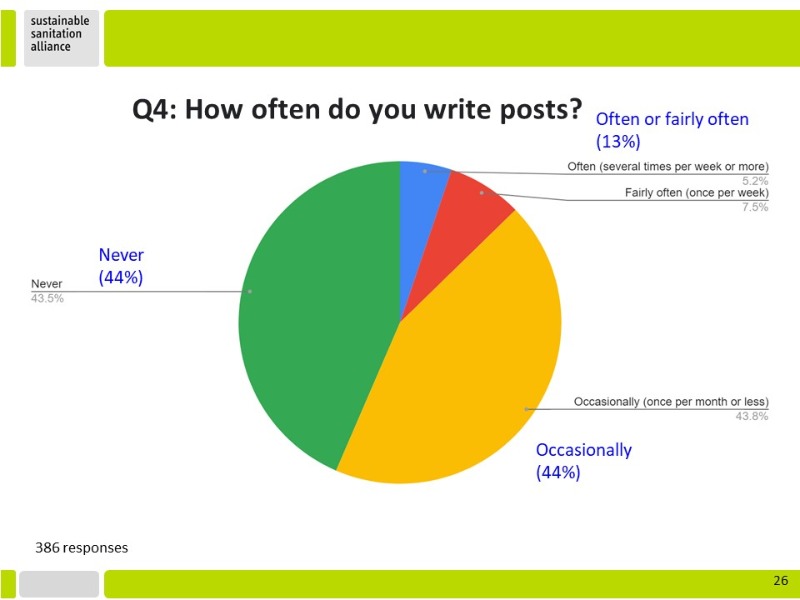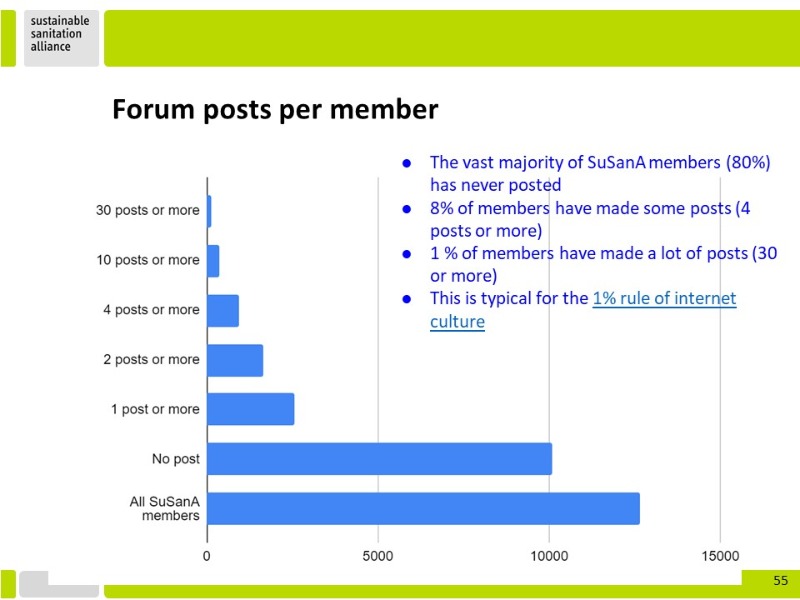 Arno pointed out that maybe some/many people value the forum more for learning and sharing but less for discussion which is interesting. Originally we thought the discussions were really important for consensus building. You can also see it here on this slide that the aspect of "discussion" scored relatively lower than the other ones: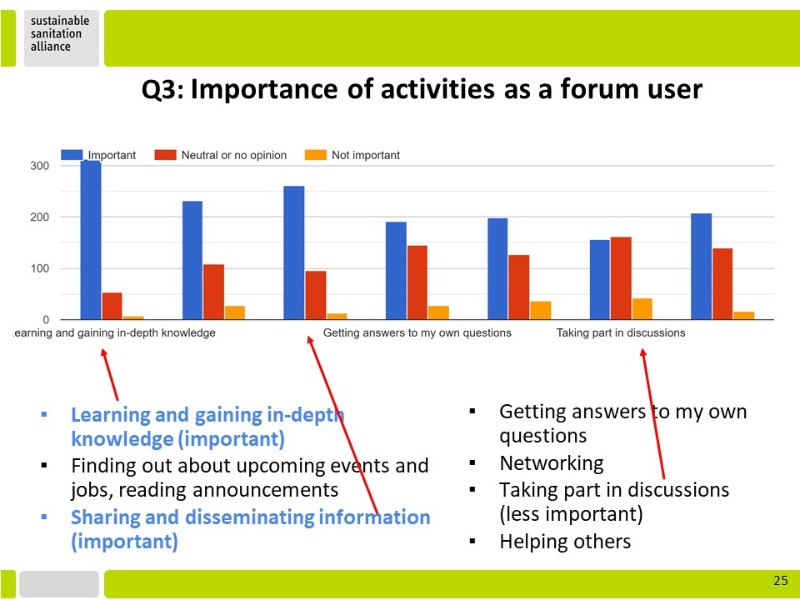 Another point that I would like to make is that because we have only one database (same for SuSanA as a network as for the forum), it could be that some people sign up without the intention of posting on the forum but maybe only for being on mailing lists. This could make the result of "80% of SuSanA members have never posted on the forum" seem worse than it is. Meaning, some people might have wanted to sign up for SuSanA but not specifically for the forum.
Looking forward to more discussion.
Elisabeth
P.S. The survey is still open. Everyone, please help to make the results
more representative
by filling in the survey here: 
https://docs.google.com/forms/d/1Umozxj6DneROpeym_lR61W5EAVuEionNhsY01O8dI_M/edit
You need to login to reply
Re: The discussion forum - survey results, latest developments and discussions about the future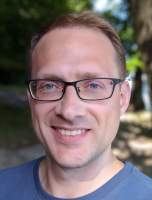 25 Aug 2020 22:21
#30590
by

JKMakowka
Is there a recording that can be shared?

Edit: ok I see. This was a text chat? Well, I guess if there where some especially interesting topics discussed in addition to what is in the slides?

But in general I have my doubts that the current survey results are very representative beyond gender and location, but I guess that can't be changed given that participants were self-selected voluntarily.
You need to login to reply
Time to create page: 0.825 seconds
DONATE HERE