Sharing experiences on Inclusive Programming during the COVID-19 Pandemic
531 views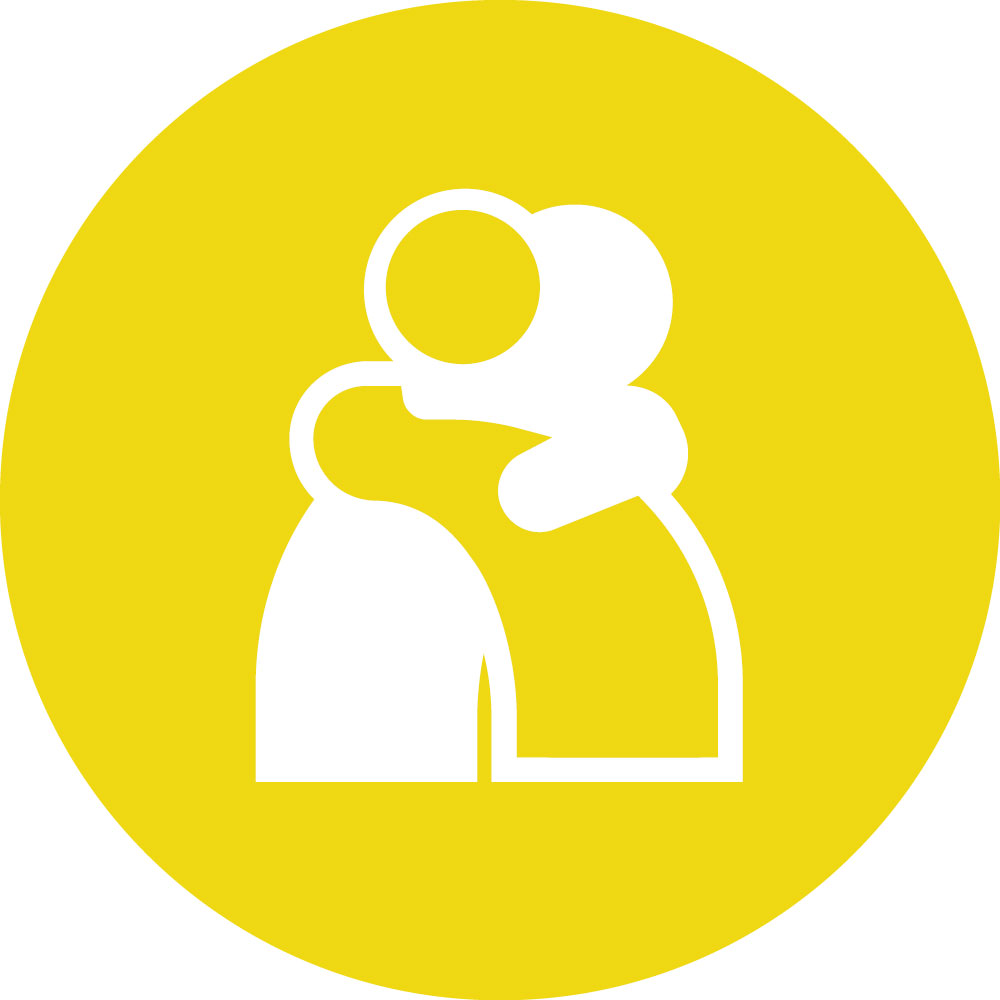 Sharing experiences on Inclusive Programming during the COVID-19 Pandemic
13 May 2020 10:51
#29808
by

LizWamera
Dear all,
Covid-19 came into our lives as a big shock with too many uncertainties! But one thing that has been persistent and consistent over the months is that proper hand hygiene is critical to stopping the transmission of the virus. This has brought our WASH work into the
limelight in a way like never before! Heads of governments, states, companies and agencies are now more aware of the importance of WASH interventions than ever before. Governments, agencies, private sector are all pooling resources to ensure that the spread of the virus stops. Focus is on ensuring that everyone is doing everything possible to stay safe, by for example washing hands and keeping physical distance.
When the whole world is focusing on everyone… we at WSSCC are more concerned about whether vulnerable groups are being helped sufficiently during this crisis. We know that vulnerable populations, including persons with disabilities (PWDs), are at
a higher risk for exposure and complications
.Socioeconomically marginalized populations are also disproportionately affected by the
negative secondary impacts
of the pandemic, such as the rise in prices of WASH commodities. This means that as much as they may desire to keep the physical distance, their accommodations or situations may not allow them.Most of the vulnerable groups face various obstacles—including communication and environmental barriers—in accessing prevention and response measures.
Therefore, today, we wanted to start off a discussion on inclusive COVID response programming with a simple question: what are some particular challenges that vulnerable groups face in relation to COVID, and how could we design interventions that fit their needs?
We would like to highlight our experience inTanzania where the WSSCC National Coordinator –
Eng. Wilhelmina Malima
, focused on COVID-19 emergency response intervention for people living with disability in Dar Es Salaam and Dodoma. WSSCC in Tanzania partnered with specialized agencies that work with people living with disability (PWD) to contribute towards the government response to COVID-19. In this case we worked with SHIVYAWATA (national federation of PWD organizations)and an association of transport entrepreneurs living with disability (driving 3 wheeled tuktuks, known as Bhajaj).This included reproducing government approved information materials in braille for people with difficulty in vision and in large print for the people living with albinism. Also fabrication of portable foot operated handwashing facilities for people with physical difficulties.These interventions required that our WASH colleagues consulted and worked with the specialized agencies to ensure that the interventions were appropriate.
Some of the key lessons that we learnt included;
a)   
Program Design:
this required that we think of how to effectively create awareness on WASH issues – as most agencies thought of the traditional IEC materials such as posters, fliers and banners. We had to think of how those fliers would be accessible to the blind people and how the posters would be visible to people living with albinism. This meant changing the design of program delivery, while ensuring that the message is delivered equitably. 
b)   
Program Time Frame:
The design of the interventions was much slower and longer as compared to the other programming as it required varied consultations with various groups and building a consensus on what worked best. Despite this being an emergency response, it needed time to be effectively designed. It meant testing various approaches, a good example was retraining some core personnel of the ministry of Health to work collaboratively with the specialized agencies in awareness creation to ensure that they were aware of the vulnerable groups seeking the same service, in this case- training in sign language for those hard in hearing. This meant
it took time before the activities were launched to provide direct support to the vulnerable groups. 
c)    
Flexibility on costs for programming:
due to the varying categories of disabilities,it was clear that no one intervention would meet the need of all the people living with varied disabilities. A good case in point is that we discovered that not all people living with physical disability were able to comfortably wash their hands with the foot operated facility. This was only accessible to adults sitting up on a wheelchair. This led the team to further source for a different facility which would have solar powered sensors, which meant it would
cost slightly more and it would take a much longer time to fabricate it.
WSSCC aims at ensuring that the ONE in everyone is reached. As we all know that
WE ARE ONLY AS STRONG AS OUR WEAKEST MEMBER OF SOCIETY. 
The Covid-19 pandemic has proven to us that we are much more connected than we realize.
Our experience during this pandemic requires us to reprogramme our activities and create flexibility in a way that the people who interacted with us during our programme activities were effectively served accordingly.
Looking forward to hearing more experiences from SUSANA members on this platform on inclusive programming during the covid-19 crisis.
We have attached 3 photos for you as part of our sharing;
Foot operated handwashing station set up at the home for the old people in Dar Es Salaam.
Ali from SHIVYAWATA reading messages on Covid-19 in Braille.
An awareness session for people who are hard at hearing in Dodoma using sign language 
Best regards;
Liz Wamera 
Elizabeth Wamera PhD
Technical Expert: Water Sanitation & Hygiene (WASH) Technical Support Unit
Water Supply & Sanitation Collaborative Council (WSSCC)
The following user(s) like this post:
Cate
You need to login to reply
Re: Sharing experiences on Inclusive Programming during the COVID-19 Pandemic
14 May 2020 09:56
#29822
by

Elisabeth
I want to share something in this thread - not my own experience but an interesting chapter in a new publication by Sphere.
The chapter is called: 
5. Inclusion of older people and people with disabilities
It's in this publication on Page 8:
Sphere (2020). COVID-19 guidance based on humanitarian standards. Sphere
https://www.susana.org/en/knowledge-hub/resources-and-publications/library/details/3829


This information served as a good reminder for me that older people can also fall into the category of vulnerable people.
I copy a bit from the chapter:
To compliment the guidance in Sphere, it is important to ensure we leave no one behind and the following guidance from the Humanitarian Inclusion Standards for Older People and People with Disabilities address the following
relevant issues:
• Older people and people with disabilities and/or chronic illnesses face further risks and consequences, as well as
anxieties, adding to the ongoing challenge of surviving a humanitarian setting.
• The people most often cited as being at serious risk are largely older people, people with disabilities and/or
chronic illnesses. They are often excluded in a humanitarian setting.
• Being excluded, it can be harder for older people and people with disability in the humanitarian setting to take
the most effective steps to protect themselves from the coronavirus outbreak.
• COVID-19 coronavirus threatens not only older people and people with disabilities' health, but their
independence.
I think the concept of independence is really important here.
Regards,
Elisabeth
Head moderator of this Discussion Forum
(under consultancy contract with Skat Foundation funded by WSSCC)

Dr. Elisabeth von Muench
Independent consultant located in Brisbane, Australia


This email address is being protected from spambots. You need JavaScript enabled to view it.


Twitter: @EvMuench
Founder of WikiProject Sanitation: en.wikipedia.org/wiki/Wikipedia:WikiProject_Sanitation
My Wikipedia user profile: en.wikipedia.org/wiki/User:EMsmile
You need to login to reply
Re: Sharing experiences on Inclusive Programming during the COVID-19 Pandemic
28 May 2020 03:57
#29947
by

Elisabeth
There were some photos missing in Liz's post about inclusive programming from 13 May. I am inserting all three photos here below for your inspiration:
Foot operated handwashing station set up at the home for the old people in Dar Es Salaam.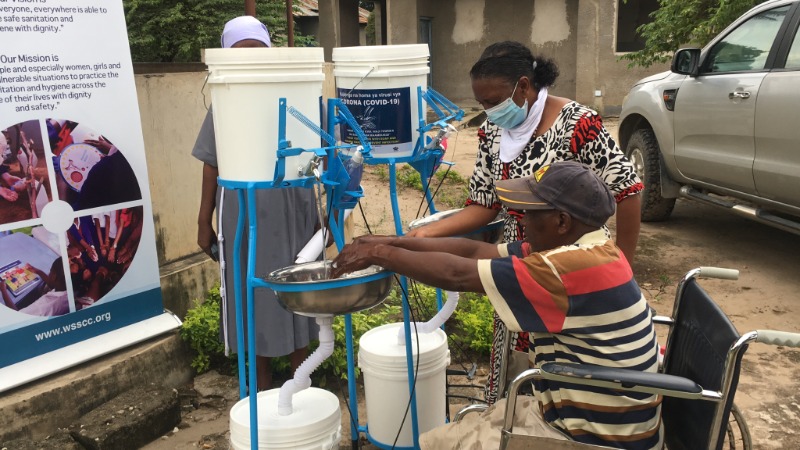 An awareness session for people who are hard at hearing in Dodoma using sign language.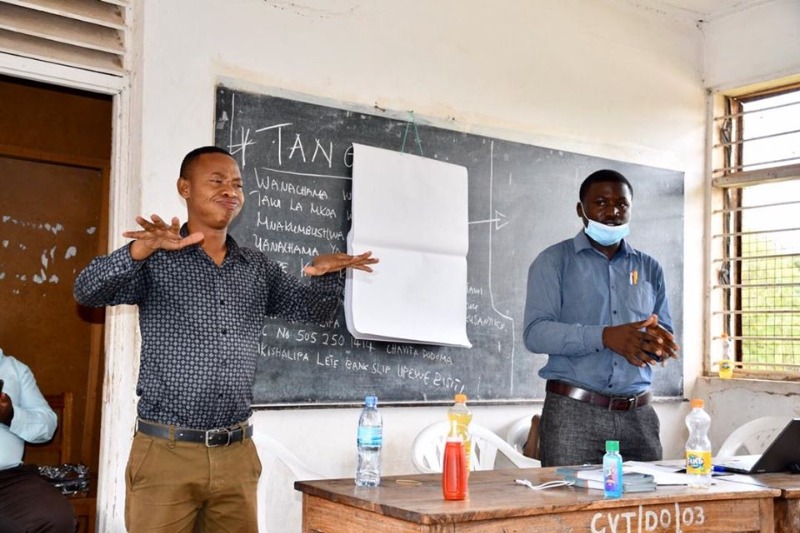 Ali from SHIVYAWATA reading messages on Covid-19 in Braille.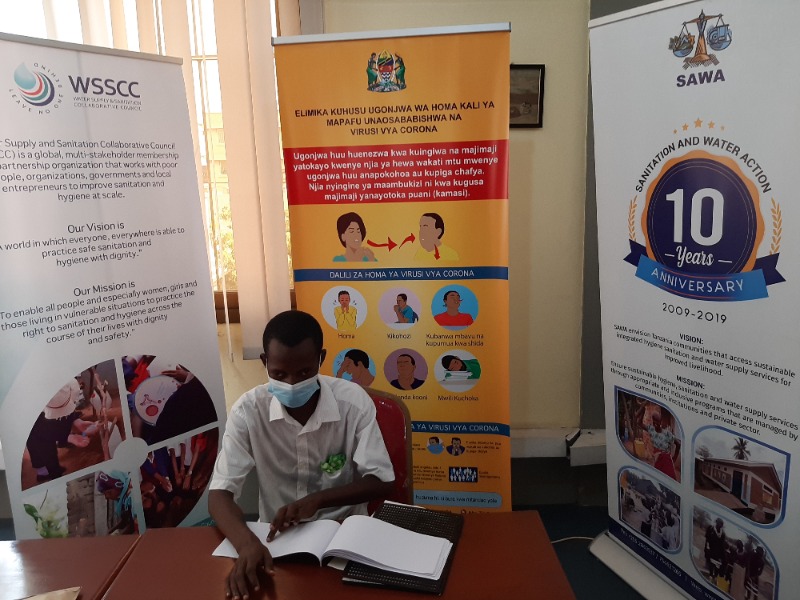 Who has further examples of work on inclusive programming during the COVID-19 pandemic (this can be for a range of people who are particularly vulnerable, such as people with disabilities, older people, displaced people, minorities)? 
Head moderator of this Discussion Forum
(under consultancy contract with Skat Foundation funded by WSSCC)

Dr. Elisabeth von Muench
Independent consultant located in Brisbane, Australia


This email address is being protected from spambots. You need JavaScript enabled to view it.


Twitter: @EvMuench
Founder of WikiProject Sanitation: en.wikipedia.org/wiki/Wikipedia:WikiProject_Sanitation
My Wikipedia user profile: en.wikipedia.org/wiki/User:EMsmile
You need to login to reply
Time to create page: 0.577 seconds