How to change the ordering of posts inside a thread
6549 views Re: How to change the ordering of your posts
04 Feb 2020 03:21
#28936
by

Elisabeth
By the way, in case you prefer to see forum posts in a thread shown in reverse chronological order then please refer to the post by Cecilia just before this one. She wrote it in 2012 but I thought it could be useful to bring it to everyone's attention again, particularly for new users.

The default setting in the forum is that when you click on a thread, you will see the first post ever posted in this thread, then the next replies following in chronological order. If you want to change that you can do so in your forum profile settings (see explanations in Cecilia's post). Whenever you are logged in you would then see the ordering in reverse chronological order.

Greetings,
Elisabeth
You need to login to reply
How to change the ordering of your posts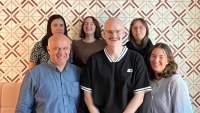 22 Oct 2012 09:34
#2505
by

secretariat
Dear SuSanA Forum users,
We noticed that for some people the order of the posts in the SuSanA Discussion Forum has been confusing or not as expected. The default setting in the forum is that when you click on a thread, you will see the first post ever posted in this thread, then the next replies following
in chronological order
.
If you want to go directly to the most recent post of the thread, you need to click on the page number (if the thread goes over several pages), right corner top and then scroll down.
If you prefer so see the post ordering the other way around (most recent one first or inverse chronological order)
you can change this setting in your profile
and it will be displayed like that for you whenever you are logged in. Here is how it's done:
In your profile page (1), click on "edit" (after logging in) to see this: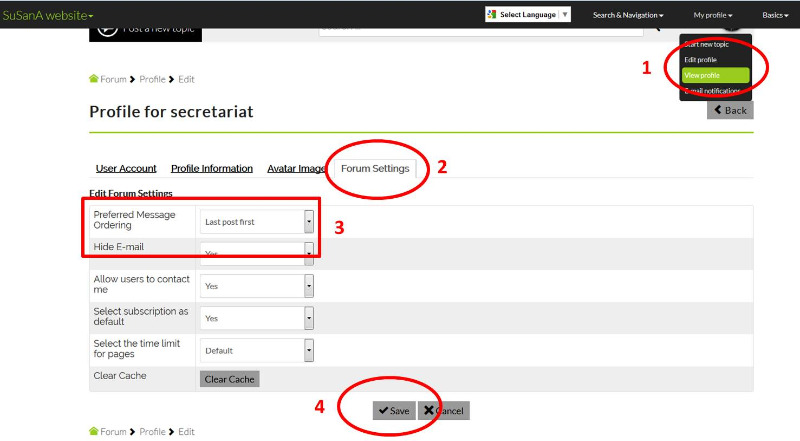 In your editing options, click on "Forum Settings" (2), then you'll see "Preferred Message Ordering" (3), click on that field. The following options will appear: Default, First post first or Last post first.
Choose the option that most suits your needs, click "save" (4), and it's done! (remember the default settig is "first post first".
We hope this explanation will help you to have a more enjoyable, customised experience on the forum!
Best regards,
Cecília
You need to login to reply
Time to create page: 0.280 seconds