Where can I find a list of abbreviations?
1472 views list of abbreviations and acronyms
13 May 2015 21:52
#13334
by

muench
We have a menu item in the top menu bar under "Basics" which says "Abbreviations". When you choose that menu item you first get to an intermediate page that explains a little bit about available abbreviations and glossaries:
forum.susana.org/component/content/article/27
Then one more click takes you to our brilliant new
abbreviations list on Wikipedia
:
en.wikipedia.org/wiki/List_of_abbreviations_used_in_sanitation
Every time I see an important abbreviation pop up, I add it to that list. And you can do the same (Mughal has set the example!). Just click on the edit button at the top of the list and add it. The list also functions like a glossary because I have hyperlinked all the terms to relevant Wikipedia articles.
Here you can see where to find the edit button on the Wikipedia page: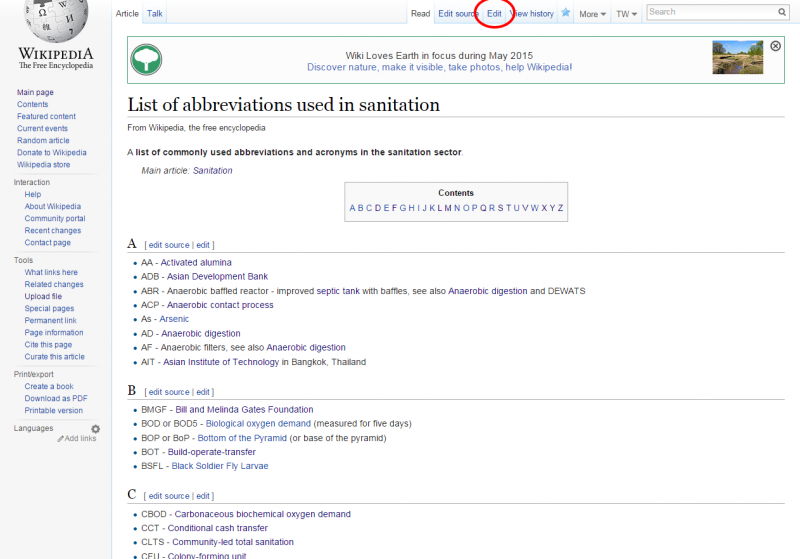 I hope you are finding this useful?
But in any case, I urge everyone to always spell out an abbreviation when you use it the first time in your post.
---
Head moderator of this discussion forum
(Funded via consultancy contract with Skat Foundation funded by WSSCC)

Dr. Elisabeth von Muench
Independent consultant located in Brisbane, Australia


This email address is being protected from spambots. You need JavaScript enabled to view it.

Twitter: @EvMuench
Sanitation Wikipedia project leader: en.wikipedia.org/wiki/Wikipedia:WikiProject_Sanitation
My Wikipedia user profile: en.wikipedia.org/wiki/User:EMsmile

You need to login to reply
Time to create page: 0.510 seconds