Female genital mutilation and the use of urine diverting toilets (case of Kenya, refugee camps)
4777 views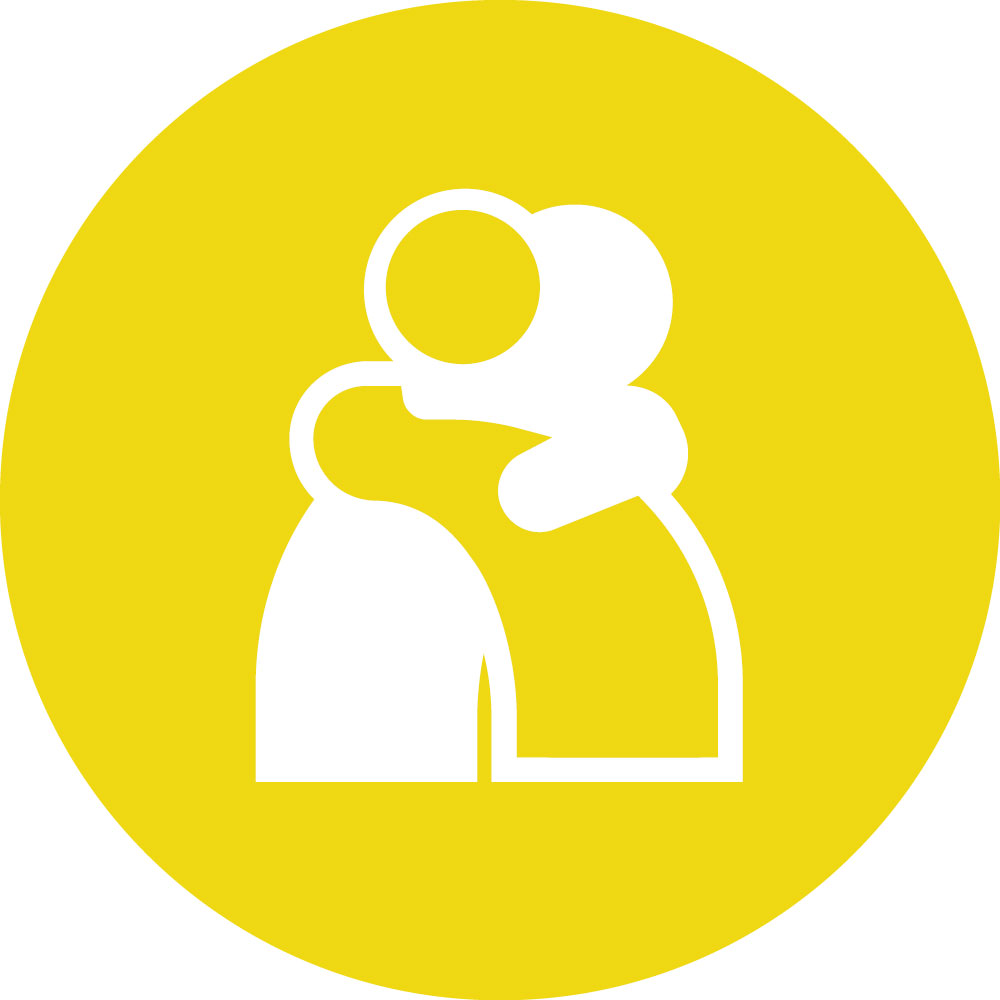 Re: Female genital mutilation and the use of UD toilets
01 Jul 2014 11:56
#9178
by

Elisabeth
Dear Emily,
Thanks for your post. This might well be the very first time that someone writes on the internet about women who have undergone female genital mutilation using urine-diverting dry toilets and their difficulties with it (as UDDTs are till rare, and writing about practical, toilet-related FGM issues is also rare).
Just a question of clarification (and I am so glad that these Somali women trust you sufficiently to speak about this problem with you! That's a good sign for your focus group work):
Urine diversion is most tricky (also for non-cut women) when you urinate and defecate "at the same time" (I put this in quotation marks because in my experience there is nevertheless a time delay of a second or two, during which time one can slightly move forwards or backwards to hit the right hole). I can very well imagine that cut women could have trouble with this, because their urine comes out so slowly.
But one only defecates once per day or even less frequently if one is not getting enough food (unless you have diarrhoea then of course it would be more often).
If we assume that defecation is only once per day
, then perhaps one has to live with the fact that on that occasion once per day some urine will enter the faeces hole. I don't think this would make the toilet fail, i.e. become too wet and smelly (add more sawdust? In fact what cover material are you adding if any?).
But on all the other occasions per day (4 times? 5 times?) when one only urinates, then aiming for the urination hole should work?
Or would you say that the urination section is too small for such cut women? That would mean that they also night have trouble aiming for the hole of a conventional pit latrine?
It would be great if you could clarify this.
Just for those that don't know, I think you are talking about this type of toilet, right?: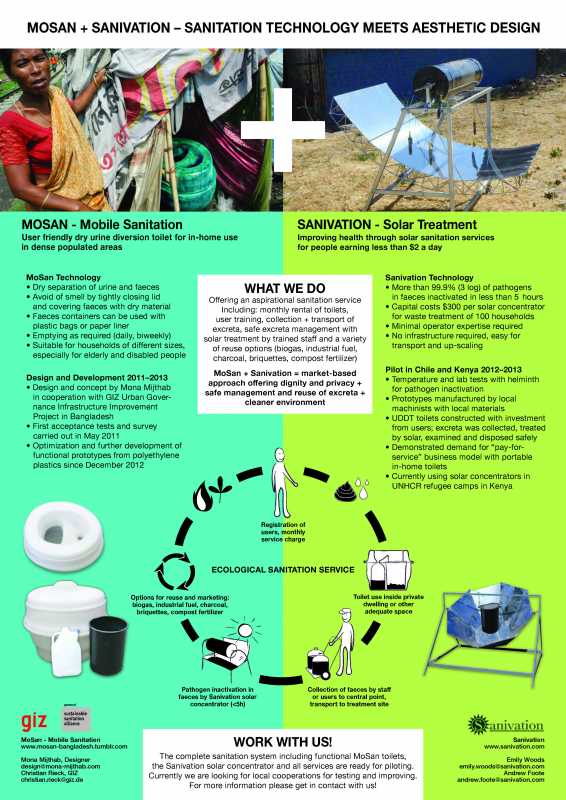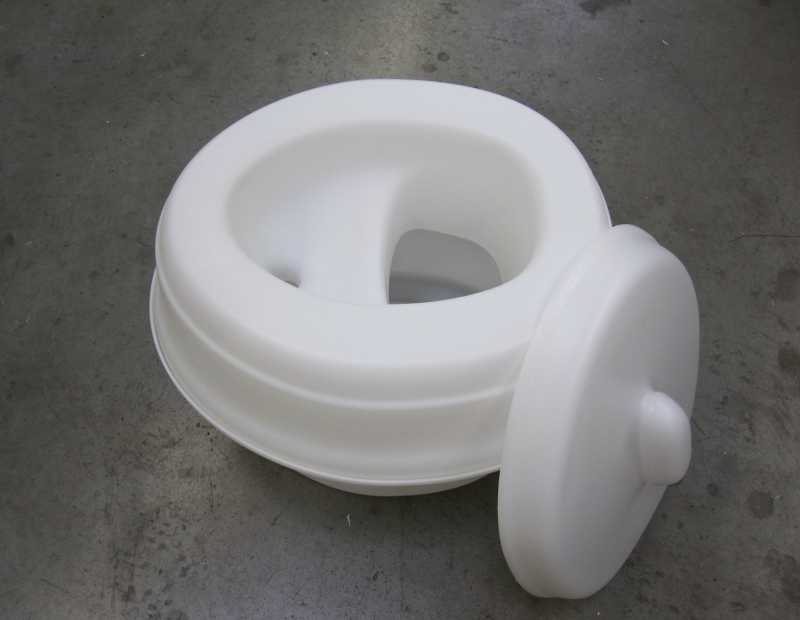 The work with these MoSan toilets in Kenya is described in this thread:
forum.susana.org/forum/categories/52-mob...an-now-in-kenya#5182
Kind regards,
Elisabeth
You need to login to reply
Re: Female genital mutilation and the use of UD toilets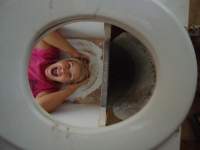 27 Jun 2014 12:12
#9125
by

Ewoods
Dan's orriginal question actually came from Sanivation's current pilot.

Sanivation is wrapping up a pilot sanitation pilot in Kakuma refugee camp with CDC and NRC. In our design, we use mobile, dry, urine diverting toilets. One of our target groups is Somali households. We have encountered some users that say due to their FGM they are not able to urine divert. That it is physically impossible, not just uncomfortable or new. We still do not know much about this and will be trying to collect more data during our Focus Group Discussions. We will share our findings once we are able.

I am wondering if anyone has encountered this before- the difficulty for women with FGM to use urine diverting toilets. Specifically type 3 FGM common in Somalia.

-Emily Woods
co-founder of Sanivation
Co-Founder of Sanivation
Sanitation Engineer working with solar FS treatment
The following user(s) like this post:
Elisabeth
,
campbelldb
You need to login to reply
Re: Female genital mutilation and the use of UD toilets
24 Jun 2014 21:33
#9060
by

Elisabeth
Dear David,
Sorry, you misunderstood me a little bit here. I do think that the issue of FGM (female genitale mutilation) - while to some extent removed from sanitation - does have a "place" on this forum, which is why I posted about it in connection with menstrual hygiene management. As we discussed in that other thread on the forum, there are common elements between FGM and sanitation which is being such a massive taboo topic, violence against women, more difficult for the women. See here:
www.forum.susana.org/forum/categories/24...-links-to-sanitation
But my question to Dan was (and I hope he will reply quite soon): why did you bring it up in the context of urine diversion? This is what I don't understand.
And I do agree with you that occasionally one has to draw the line when topics go too far beyond sanitation (in the case of FGM, however, it is still sufficiently closely connected, for the reasons described in the thread linked to above).
Regards,
Elisabeth
You need to login to reply
Re: Female genital mutilation and the use of UD toilets
24 Jun 2014 15:35
#9055
by

Ecogo
I concur with Elizabeth,
As disastrous as FGM is, its issues are not aligned with the purpose of Susana. There are many disastrous situations in this world, (including torture, financial ruin, toxic toys, etc, and fortunately, there are appropriate forums for all of them.
You need to login to reply
Re: Female genital mutilation and the use of UD toilets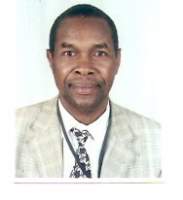 21 Jun 2014 22:21
#9020
by

mwaniki
Hi Elisabeth and Dan

I would like to add some little information on what I know about FGM. This is a disgusting and backward tradition and is being fought from all fronts by the Government, the communities and religious leaders here in Kenya. In fact, the practitioners now risk long jail terms and a hefty fines if caught in the act. The facts are, we maybe way ahead in eradicating this practice in comparison with other countries in Europe and the North America where the Muslim communities have immigrated and the tradition is getting carried out secretly. Again, there are now safe houses within the counties in Kenya for girls who run away from home when they sense what their parents are up to.

At the moment the FGM is being practiced in remote rural communities who are still holding on to customary traditions which have no place in this century. So when we talk about UDTs in these areas of the country is tantamount to talking of a mansion in the middle of the Amazon forest.

Let us forget about the cost.When unfortunate cases of this nature take place, the chances of a reconstructive surgery are very slim given that the dispensaries are many kilometers away and may not have the facilities to conduct operations of this magnitude to save the victim. Mind you, quite a number of deaths have been reported after FGMs as a result of loss of blood and infection due to the unhygienic approach from the crude instruments of trade.

It is a sad affair that women don't have total protection they deserve in many places and they have to undergo such abuse and permanent disfigurement and even death.

Kind regards / Mwaniki
Am the publisher of the Africa Water,Sanitation & Hygiene and the C.E.O. of Transworld Publishers Ltd.,Nairobi-Kenya.
You need to login to reply
Re: Female genital mutilation and the use of UD toilets
21 Jun 2014 14:44
#9014
by

Elisabeth
Dear Dan,
I am wondering what the background to your question is, i.e. what are you getting at?
Are you expecting to see any difference compared to use of conventional toilets?
From what I gathered, one important issue here is the extremely long time it takes to empty one's bladder when the genital cutting has been severe, as the urine only comes out drop by drop almost (20 minutes each time!?). So more toilets per family or more cubicles per shared toilet block would be required.
I wonder how much it costs to have that reconstructive surgery done. Probably beyond the reach of most affected women? (let alone the cultural barriers of course)
Oh, I just see you opened a new thread rather than continuing the existing thread on female gentital mutilation (FGM) which is here on the forum:
forum.susana.org/forum/categories/24-men...-links-to-sanitation
(on purpose? Maybe that thread should be moved out of the MHM category into the general health category?)
Regards,
Elisabeth
You need to login to reply
Female genital mutilation and the use of urine diverting toilets (case of Kenya, refugee camps)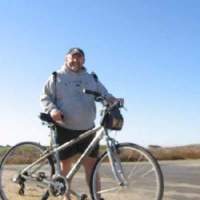 19 Jun 2014 18:12
#9001
by

campbelldb
Does anyone have any references or other information on the use of urine diverting toilets by women who have undergone female circumcision / female genital mutilation?
Dan Campbell,
Communications/KM Specialist
Banjo Player/Busker
Haiku poet
You need to login to reply
Time to create page: 0.252 seconds
DONATE HERE