Windmill-driven ATADS
35.9k views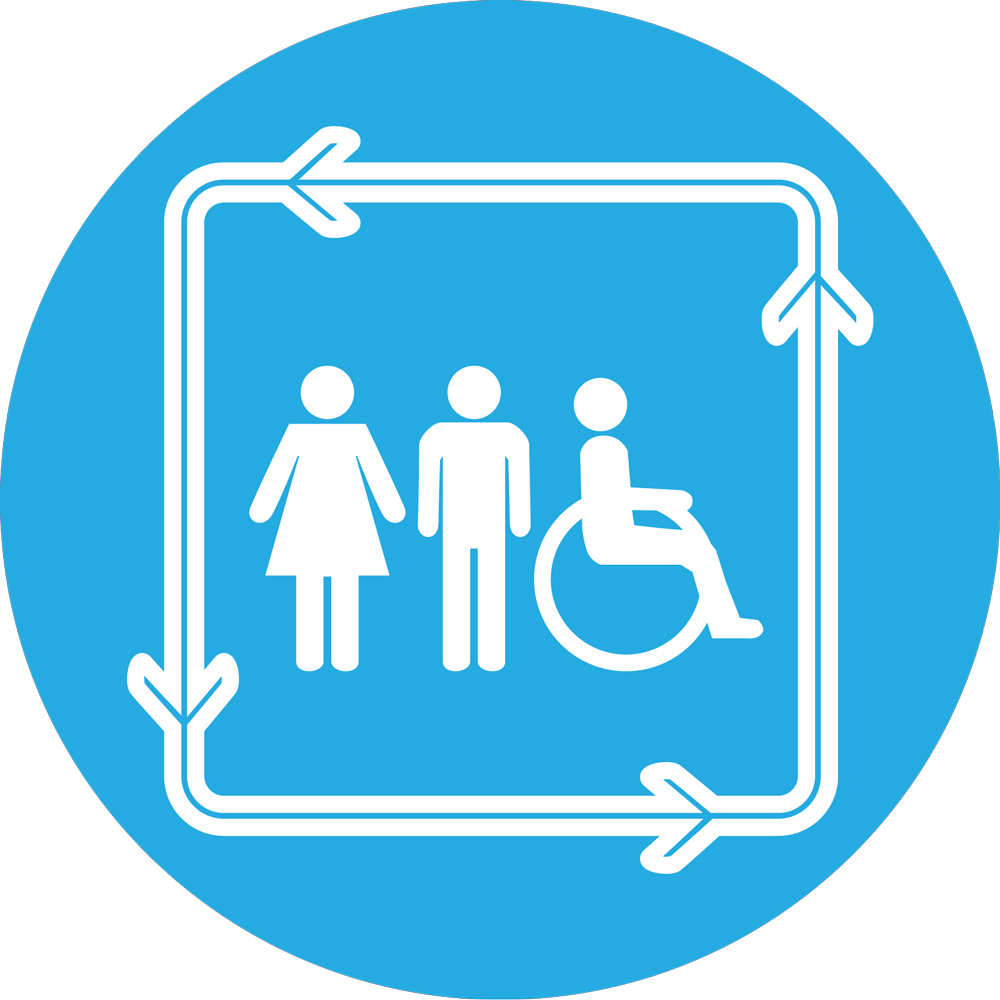 Windmill-driven ATADS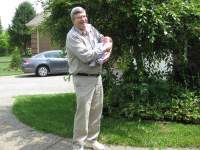 22 Sep 2011 20:54
#291
by

blackburn

Hi:
In a Bill and Melinda Gates Foundation Grand Challenges Exploration Grant we are developing a deployable, 9-m windmill driven system with no electrical power to achieve deep pathogen removal using autothermal thermophilic aerobic digestion on a small scale. I would be interested in any and all comments/ contributions this group might want to make. Regards all, Jim Blackburn
You need to login to reply
The topic has been locked.
Re: Windmill-driven ATADS
25 Sep 2011 19:41
#299
by

Elisabeth
Thanks for posting here and congratulations on winning this grant from Bill and Melinda Gates Foundation! Can you tell us more? What are the applications exactly, what is the raw material, is it faecal sludge or just faeces?
What do you mean by "deployable"? Where and how will you trial it?

(and can you tell us a few more words about yourself and where you work?)

Regards,
Elisabeth
You need to login to reply
The topic has been locked.
Re: Windmill-driven ATADS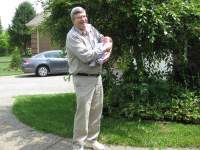 26 Sep 2011 16:44
#310
by

blackburn
Hi, Thanks for your question. First I'm James Blackburn of the Department of Mecahnical Engineering and energy process at Southern Illinois University in Carbondale, IL, USA. My email is
This email address is being protected from spambots. You need JavaScript enabled to view it.
. I'm a Professor, but am trained and worked my career as an environmental/bichemical engineer.
I'm forwarding a "vision" of what this system might eventually look like. We are now working on a 100 gal prototype to be installed at the Carbondale NW WWTP Primary Sludge Effluent for operation as long as possible. The current seed money grant will allow us to run about 6+ months. The purpose is to test a small ATAD (100 wet gallons)on human waste (I have a lot of experience with swine waste and it's kinetics in ATAD systems) in real weather conditions. Carbondale's wind conditions are marginal so there will be times when the system goes anaerobic/anoxic, however the thermal mass may allow maintenance of sufficient temperatures to bridge many of the calm times. The system is designed for whole excreta. With this information we should be eventually able to identify characteristics of an actual (developing world) site which should be met for application. It will not be capable of solving the whole global problem, but may offer and alternative where wind conditions are good. We're hoping that that may be as high as 50% of the global problem. Our design objectives are wind power only (no electricity or fuel), small, agricultural-type windmill with an air blower-not water pump or generator), US Biosolids A product (10 days, 51-65 C) and minimal maintenance. The wet product should be safe for any agricultural use or even to seed solid compost systems with thermophile-enriched biosolids. We're targeting the people whom today only have pit latrine or open defecation options. I'll be glad to elaborate as requested.
My best regards, Jim
You need to login to reply
The topic has been locked.
Re: Windmill-driven ATADS
28 Sep 2011 07:42
#321
by

Elisabeth
Dear Jim,
Nice to see you on this forum, I feel honoured that a professor from the US has posted here (how did you find out about this forum?).

Is your prototype going to take primary sludge from a primary settling tank at a WWTP?
This will be much more dilute than if you take faecal sludge from pit latrines though. Will the results really be comparable?

I vaguely remember the ATAD process from my dim distant past when I was a process engineer designing wastewater treatment plants back in the nineties... But can you remind me again how the aerobic part is done, i.e. what is done to aerate the sludge? You take the windmill to provide the power to get air bubbling through the sludge (how?)?

Are you confident that the ATAD process will destroy even the most persistent of pathogens, i.e. the helminth eggs? Will you spike with eggs, since most likely there won't be that many in the primary sludge (healthy Americans).

Which country do you have in mind to test it with real world conditions?

Regards,
Elisabeth
You need to login to reply
The topic has been locked.
Re: Windmill-driven ATADS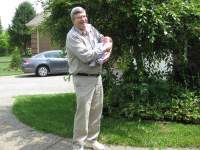 28 Sep 2011 16:04
#323
by

blackburn
Dear Elisabeth (and all),
Thank you for your reply and interest. You asked very probing, but central questions about the technology and our work. I will try to answer them. Pardon the outline format, but this helps me address all of your questions.

1) We started the grant in May of this year (although I have about 8 years of experience in this particular technology with raw animal waste). I found out about your forum because I attended Africasans 3 this summer and apparently was put on a mailing list. I am excited to talk, interact, and learn with other global experts about the human sanitation problems of the developing world. This is why I joined the forum.

2) We are taking the primary sludge from our city WWTP for two reasons, real excreta is hard to come by in the US (at least anywhere near our University), and primary sludge at our plant has the highest solids and COD concentration of anywhere in the treatment plant. It is about 33 g/L Total COD. While I have been unable to actually locate literature on COD characteristics on excreta from the very poor in developing countries, I have cobbled together an estimate from several global health internet sources suggesting it may be around 50 g/L total COD. There is no question that while the physical/ chemical/ biological characteristics will be much different (eg viscosity/ particle or "lump" size distribution, etc.) our proposed and current focus is to demonstrate in a system exposed to the wind and weather with human waste, that we can maintain a 55-65 C temperature for 10 days residence time for 6+ months. By the way, if anybody can help lead me to physical/chemical/biological data on excrement from our target group of people, I would be delighted.

This is the focus of our "seed money" grant and we are aware that engineering problems remain to be addressed if we are fortunate enough to gain a BMGF second phase grant. Also, the trial in a developing country is planned for the second phase and will be the prime focus of a second phase grant... the country to be determined by ourselves, the BMGF and other interested parties in the world.

3) You are correct that in this day of anaerobic digestion, ATADs are relatively obscure. In the latest edition of "Metcalf and Eddy, Fourth Ed., 2003" out of over 1800 pages, there are 5-6 pages dedicated to ATADs. However, in the sections devoted to pathogen removal, including helmith eggs, The US uses a Classification for Biosolids A which, if met, allows unrestricted agricultural use of the remaining treated solids, at least from a pathogen standpoint. In Table 14-11 (pg 1464) from the above reference, thermophilic aerobic digestion is listed as one of the accepted process to further reduce pathogens (PFRP). All literature I have seen indicates that if these conditions are met, helmith eggs will be removed to the detction limit. Of course, we don't know the effects of the physical properties of excreta.

We are planning to work with Profs. Michel and Galas from the "Servicio Enterobacterias", the National Reference Laboratory for Enterobacteriaceae,"Instituto Nacional de Enfermedades Infecciosas - ANLIS Carlos G. Malbrán" in Argentina to explore the effects of survival of Cholera and Shigella in excreta at these conditions. When I applied for the BMGF grant Acute Diarrheal Diseases were the Foundation's focus. Profs. Michel's and Galas' work may result in a clue as to the matrix effects on pathogen survival.

3) A very good and recent review of the ATAD field is available in Juteau, P, 2006, Livestock Science 102: 187-196. Briefly, it is well known (confirmed over and over again by famous investigators in Environmental Engineering and other fields and traceable back to chemical theromodynamics at least 100 years ago) that about 14 Mj/(kg of oxygen removed) of heat is made regardless of organic waste, organism or conditions (within reason). ATADS simply add oxygen, mostly using air and manages the heat of biooxidation to maintain thermophilic temperatures. This requires a COD source (only a fraction is used by microorganisms), sufficient oxygen transfer to maximize heat production, good insulation and concern for the two big heat losses (hot mixed liquor removed and water saturated air (offgas) leaving the system. This hot air at reactor temperatures carries away significant amounts of evaporated water at 0.62 Mj/kg air at 65 C. All applications of which I am aware (including our past work) have carefully metered and controlled the air input (current US patent activity focuses on this), because it both controls the heat production and heat loss rates. These systems use electricity (lots of it) and expensive blowers.

We are exploring if the air provided in a windmill fitted with a rugged blower (not a pump or generator) can be used with the variable wind outside in the weather to hold the temperatures and residence times necessary for deep pathogen kill. Specifically this is a commercial windmill about 9-m high used for fish pond aeration and can be found on the internet worldwide. We are using a fine bubble diffuser air stone. We have done our own engineering tests and have established the performance data up to 4 feet of water head. This application will not require much deeper systems than that.

4) In Carbondale, we are addressing (spending our seed money) on the engineering issues and only measuring fecal coliform/E. coli by an EPA Certified laboratory. While our University has the knowhow for broader pathogen analysis and has famous investigators in these areas, we just don't have the funds. We are relying on the mass of literature sugggesting helmith eggs won't survive the reactor conditions and trying to establish that the reactor conditions can be held even with variable and even no wind (at least for limited durations).

I think I've addressed your questions and am anxious for comments and responses.

By the way, I'm attaching an unpublished steady-state modeled result showing that with current knowledge, we expect that the system will maintain the temperatures here in Carbondale in January.

Best Regards, Jim
This message has an attachment file.
Please log in or register to see it.
You need to login to reply
The topic has been locked.
Re: Windmill-driven ATADS
29 Sep 2011 21:13
#336
by

Elisabeth
Aha, I was also at AfricaSan 3 so you might have seen me present in one of the SuSanA sessions (and true: we added the e-mail addresses of those who attended and who gave their e--mail address to the SuSanA news mailing list - I hope that was not too cheeky and that you didn't mind).
Thanks for the detailed explanations, very useful! I think you will need to decide sooner or later if your ultimate application will be faecal sludge or pure excreta. Two very different things. Faecal sludge could be vaguely similar to your primary sludge (although with a lower water content). But faeces from dry systmes is a totally different story. For the later, it no longer makes sense to try and measure COD - COD is for concentrations in liquids, but here you have "solid" matter.
Based on what you describe with the fine bubble diffuser airstones, you will always need a waste which is rather liquidy. So I guess it will be faecal sludge. There are many good publications from Sandec on faecal sludge characteristics, you find some of them in the SuSanA library by putting into the search field "faecal sludge" here:
www.susana.org/library
A recent publication from South Africa which seems to be very good and comprehensive is this one:
www.susana.org/lang-en/library?view=ccbktypeitem&type=2&id=1243
WIN-SA (2011). What happens when the pit is full? - Developments in on-site faecal sludge management (FSM). Water Information Network South Africa. Proceedings from FSM Seminar, 14-15 March 2011 in Durban, South Africa.
Hope this helps a little bit.
Regards,
Elisabeth
You need to login to reply
The topic has been locked.
Re: Windmill-driven ATADS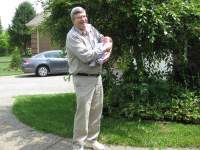 30 Sep 2011 17:51
#342
by

blackburn
Thanks again for your interest and suggestions. You are right, we are dealing with the whole human waste, urine plus fecal material. I believe you call this faecal sludge, we've been using the term excreta. It is not dry, but beacuse it is wet, it is well known that thermal disinfection processes are very effective. Thanks for the reference lead, too. Regards, Jim
You need to login to reply
The topic has been locked.
Re: Faecal sludge Windmill-driven ATADS
01 Oct 2011 21:13
#344
by

Elisabeth
Dear Jim,
Ah, terminologies... Just a small correction: faecal sludge consists of faeces + urine + water. You get it from septic tanks and from pit latrines. Even though the pit latrines are "dry" toilets (unless they are pour flush pit latrines) usually when emptying them, water needs to be added to get the stuff out of the pit (especially if you want to use a pump or any mechanised equipment).

For the ATAD to work, I assume you need to have a sludge or slurry where the total solids content is not too high (or put in other words: you need a minimum water content). Which dry solids content do you envisage to be still workable? Primary sludge has a dry solids content of about 3-5% if I remember right (= 30,000 to 50,000 mg/L of solids). Faecal sludge will usually be higher. Could aeration still work if you have something like a "cake" from a belt press which is 12% d.s.? I can't imagine that it would (?).

Regards,
Elisabeth
You need to login to reply
The topic has been locked.
Re: Faecal sludge Windmill-driven ATADS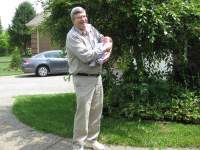 02 Oct 2011 17:59
#346
by

blackburn
Elisabeth,
Thank goodness we have this communication for us new-comers to come to an understanding of terms-in-use. We will use fresh-hot (as high as 37 C)human excreta--mixed urine + feces and if we have to, some toilet paper. This is the material eliminated periodically from the bottom end of humans. It is possible in the second BMGF to consider recycle of some of the treated liquid for pour-flush or maybe even a new type of mechanical system to flush the recycled excreta into the treatment section with no new net water usage. Even after pouring over your important reference, it still seems that "excreta-urine plus feces" held for around 10 days will still be in the 50g/l COD range, not the 157,000 mg/l value quoted in your reference. The latter is clearly inorganic and/or/ organic solids or biosolids, (and trash)compacted for months or years in Latrines. The solids in the fresh excreta will hold 60-80+% water and we do have signifcant solids removal including significant cellulase activity), releasing some of the fecal-boundwater in the aqueous phase, maybe lowering viscosity by it's own dilution as well as by high treatment temperatures

We expect our fluids to be flow-able during the 10 days residence time at temperature, even though we expect them to be more viscous (and rheologically difficult)than our US treatment plant trial. We are exploring building systems above ground to use gravity flow when possible and to make the predictable eventual "clean-out" easier.

It is clear that nearly all physical/mechanical/rheological issues addressed in your suggested reading for current latrines, will be very different than those we are expecting to face at Global-Scale Demonstration, if we are fortunate to win a BMGF Phase 2 award. A good deal of work will be needed to prepare for and address that phase.
As you are discovering, there are some difficult engineering problems to be addressed at that time.

In our swine waste work (3-m3 reactor) we have worked up to about 4% Total solids with no noticeable effects, the Carbondale work is a little under 3% TS. I expect we will have to face 7-10% TS with a Phase 2 International Demonstration on "urine and feces--excreta." We don't have all the answers yet, but we are only 5 months into this project.

A belt filter press cake at 12% TS at the moment seems out of our reach, at least with no electricity and wind-power only--The small windmills can only generate a few psi pressure drops. As you know, belt-presses are 1) expensive, 2) complicated mechanisms, 3)require infrastructure and maintenance, 4)I would not think them to be easily deployable. On the other hand, a material with low enough water can be combusted at small scale with it's own heat, (I teach air pollution) even if the control of the off gasses may be frightening to comprehend.

Elisabeth, lets keep talking, I'm learning a lot. Regards, Jim
You need to login to reply
The topic has been locked.
Re: Windmill-driven ATADS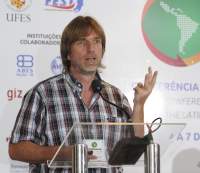 09 Oct 2011 11:44
#375
by

christoph
Dear Elisabeth and Jim,

Jim thank you. It is a very interesting subject you are working on and it gives room for a lot of research.

And Elisabeth thanks for the link, I didn´t see before the mentioned publication about fecal sludge management it covers really interesting points.

I knew the ATAD as a sludge treatment process which never got really to a break through as it is VERY energy consuming (and therefore I never thought about it for developing countries). On the other hand it is a method which is well proven for fecal sludge to work out quite fine (at least I remember from the 90th that there have been some ATAD approaches for fecal sludge treatment in Germany…I could try to make you a contact if needed). I remember there were complete technical solutions. The main point is the energy aspect, so the wind mill approach is an interesting one. I remember as well that they had some odor problems due to the combination of high temperature and NH3. So that might be an important aspect for a decentralized solution as well.
I imagine that you work on the energy balances (how many days could I live with without wind, maintaining the temperature sufficiently high). I could imagine that the crucial point is the right size and the costs per unit.

Thanks again for this discussion.

Christoph Platzer
You need to login to reply
The topic has been locked.
Re: Windmill-driven ATADS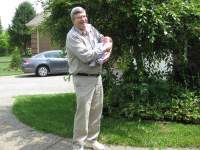 12 Oct 2011 17:25
#381
by

blackburn
This attachment is hidden for guests.
Please log in or register to see it.
Elisabeth and Christoph
Even though I have been working with ATAD for 10 years and sometimes I think I've heard it all, I'm very interested in comments from this forum. I'm aware of 1st and 2nd generation approaches (at least most of them.) It is important to note that we are developing technology to directly deposit warm urine and feces plus a little toilet paper from the human body into the ATAD using an appropriate toilet mechanism. We can recycle treated liquid to increase dilution if necessary, but no additional water will be needed. By the way, our windmill blows air, it does not pump water or generate electricity. No electricity is planned. This is the source of the savings over past electrical blower systems used in Large-scale ATADs--the largest operating cost of the systems. Our idea is to build a small system, to prove out our kinetics (gained from 17 fresh,--whole pig waste feed demonstrations, 3m3 wet volume systems) and to determine how long the system can stay between 55 and 65 C when the wind stops blowing. This would help determine where in the world the system might be applied. We are using a 100 gal (wet) system with a 100 gal head space and replacing 10 gal per day in a "fill and draw" design. Our target is only for small decentralized systems. The system throughput is dependent on its volumetric COD, natural wind (the more the better), the windmill efficiency, fine bubble diffuser efficiency and a few tricks some of which we have patented. For decentralized systems, the Capital Cost may be high, but may be able to qualify for subsidies. Operating costs will be in the $0.05/person/day as dictated by the Bill and Melinda Gates Foundation. The ease of operation virtually eliminating the blower capital costs and electricity to drive them (they are only 60% efficient, you know) and the benefit of virtually pathogen free liquids and solids for any agriculture application (at least in the US) is too good to pass up. By the way while it is easy to find excretion data for Developed Countries literature, by surveying a number of internet reports and SuSana Reports. I arriveed at a "shakey" COD loading rate of 0.07 Kg COD person-1 day-1. I'm still looking for a more reliable value. This is lower than the developed countries. You may also be interested in the number of people serviced if all of our design data proves out in our trial system. I attach our graph. Notice that the capacity depends hugely on the wind flow rate. Also we are also only looking at the 10 day residence time to meet US EPA standards for Biosolids A quality. This allows any agricultural use without restriction.
Oh, you mentioned, rightly so, ammonia. It is true that the nitrifiers stop working at this temperature. However, how much ammonia emitted depends on the pH and buffers, and whether use of control devices such as biofilters or fertilizer recovery devices such as acid scrubbing are used (this last option would require routine handling of a acid, harsh chemicals prohibited under the BMGF GCE6 rule.) It may even be possible to operate a nitrification-denitrification system, but that would require care and maintenance beyond the BMGF scope. I think the developing world may be different than the developed world, since with urine diverting toilets, nobody seems to mention the urine smell??
By the way in our livestock work 90% of the fresh swine odor was removed in 6 days and the 10% of odor left was ammonia.
Any flush toilets would be operated by recycling our treated recycle water with no net increase in water produced.
Finally, the liquid. it can be safely used for any agricultural use under current US BIOSOLIDS A standards. In the developing world I would think that it could be used safely for food production and maybe some other uses, yet to be proven.
Thanks for your comments, keep them coming. Regards, Jim
This message has an attachment file.
Please log in or register to see it.
You need to login to reply
The topic has been locked.
Re: Windmill-driven ATADS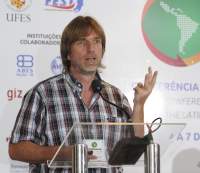 16 Oct 2011 09:50
#399
by

christoph
Dear Jim,
I tried to understand your graphic. I admit do not understand it completely. I understand that the reactor size depends on the wind…energy, I imagine that the cao 20 – 50 situations are estimations of lack of wind. A relevant residence time would be above 6 days or not? So about a 420 l will serve 10-45 people. From your post I understand that the windmill will aerate directy the reactor and that you are interested in the fresh material. As BMGF does not allow a sewer there would be the necessity of one 9 m windmill for each of these installations? I do have a problem to imagine that, especially together with the typical electricity "spaghetti" situation.
Concerning the ammonia, it might be an option to use urine diverting toilets to avoid the ammonia problem.
As for the COD I would go more for a 100 g of COD /d,pe, 70 does seem a very low figure to me, where did you find that?
A question about
"Any flush toilets would be operated by recycling our treated recycle water with no net increase in water produced."
Do you do a phase separation? How do you assure a clarified water for recycling? Up to now I understood that you are doing ATAD, but additionally treating the water for reuse?

Lots of questions
Yours Christoph
You need to login to reply
The topic has been locked.
Time to create page: 0.278 seconds
DONATE HERE