LaDePa is a faecal sludge pelletising machine in eThekwini (Durban)
48.9k views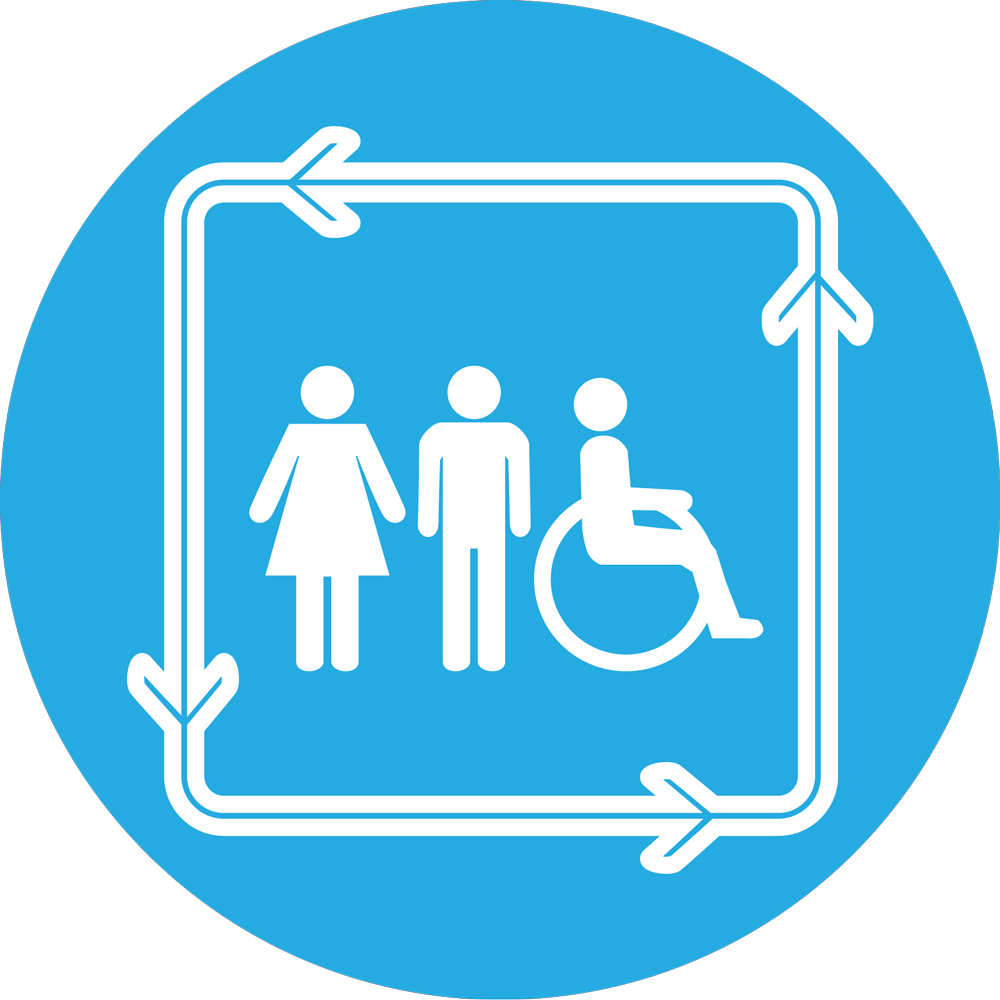 Re: New sludge pelletising machine in eThekwini (Durban) wins IWA award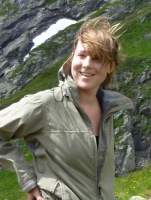 17 Oct 2011 21:26
#409
by

dorothee.spuhler
Thanks Elisabeth for this nice video (and congratulations to the team from eThekwini)!
Do you have an idea what kind of sludge they are using for producing the pellets at the moment – i.e. how they are tackling the problem of material other than fecal matter in the sludge and quality control (from an agricultural point of view) for the pellets?
Best Dorothee
WG1 Co-lead
Working with Sustainable Sanitation and Water Management (SSWM): www.sswm.info
Currently doing research on generating sanitation system options for urban planners and quantifying mass flows for a broad range of options considering novel technologies as an input into decision-making: www.tinyurl.com/eawag-grasp


This email address is being protected from spambots. You need JavaScript enabled to view it.
You need to login to reply
Re: New sludge pelletising machine in eThekwini (Durban) wins IWA award
23 Oct 2011 19:39
#430
by

Elisabeth
Dear Dorothee,

Good questions. I will try to find out - have just e-mailed Chris Buckley and will encourage him to reply directly here (or else to send me his reply by e-mail).
My guesses are that it is mainly sludge from VIP latrines, and that they probably have some manual sorting to take out large items and a mechanical sieving process. And the question is whether the pellets are reused in agriculture or not.

From what our South African colleagues have told us about VIP latrine sludges, it is full of solid waste, as the people often have no other means for solid waste management, so the solid waste is dumped into the pit of the VIP latrine. - This should be one advantage of UDDTs where it is not so easy to dump large objects and if you do, then YOU have to take them out again almost immediately because the chamber is full straight away!

Regarding reuse, when we worked on the eThekwini UDDT case study I asked the question whether the people in the peri-urban areas need any fertiliser for their gardening activities, but I was told they don't do any gardening (urine is infiltrated and dried faeces is buried there, no reuse). This surprised me.

Hopefully, we will have some detailed input from our South African colleagues here soon, I will try to alert them to this discussion!

Regards,
Elisabeth
Head moderator of this Discussion Forum
(under consultancy contract with Skat Foundation funded by WSSCC)

Dr. Elisabeth von Muench
Independent consultant located in Brisbane, Australia


This email address is being protected from spambots. You need JavaScript enabled to view it.


Twitter: @EvMuench
Founder of WikiProject Sanitation: en.wikipedia.org/wiki/Wikipedia:WikiProject_Sanitation
My Wikipedia user profile: en.wikipedia.org/wiki/User:EMsmile
You need to login to reply
Re: New sludge pelletising machine in eThekwini (Durban) wins IWA award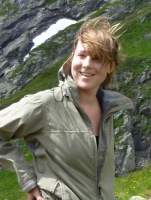 24 Oct 2011 06:22
#432
by

dorothee.spuhler
Hi Elisabeth and all,
They have many different projects on many different types of "sanitation user interfaces".
As mentioned in the film, urine reuse was not the motivation at the beginning, but they are doing research on it now (as I remember including technology option for producing fertiliser, as well as the whole logistics and economics behind).
If the pellets are not used in agriculture – but as a fuel for instance (I do not have an idea of the final TS of the pellets) – solid waste will probably more be a problem for the process of producing the pellets than the reuse.
Looking forward to the feedback from the eThekwini people.
Dorothee
WG1 Co-lead
Working with Sustainable Sanitation and Water Management (SSWM): www.sswm.info
Currently doing research on generating sanitation system options for urban planners and quantifying mass flows for a broad range of options considering novel technologies as an input into decision-making: www.tinyurl.com/eawag-grasp


This email address is being protected from spambots. You need JavaScript enabled to view it.
You need to login to reply
Re: New sludge pelletising machine in eThekwini (Durban) wins IWA award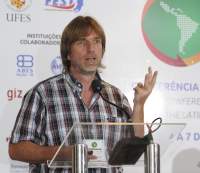 24 Oct 2011 12:15
#435
by

christoph
Dear Dorothee and Elisabeth,
Dorothee, the TS might be above 80% (I guess). The process has been describe (very) shortly here
www.susana.org/lang-en/library?view=ccbktypeitem&type=2&id=1243
p. 28.
Actually it seems to me as sludge drying and each sludge drying process would give a pathogene and ascaris free sludge. The way of heating seems to be the only way to tackle the hygienic aspects safely in scale.
Elisabeth, thank you for the link to the viedeo, it is really worth to see it and the automatic resume link for the Forum. It really helps.
I really appreciate the enormous effort of the Durban people (tariff payers, researchers and employees). I got the impression they might be able to charge for visits and therefore have a third source of money?

Coming back to the hygienic aspects…. I think solar drying should be looked at for the sludge because the way presented (in this case still worse as it is a diesel generator) is not very energy friendly.

Yours
Christoph
You need to login to reply
Re: New sludge pelletising machine in eThekwini (Durban) wins IWA award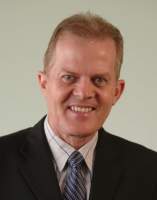 24 Oct 2011 14:34
#436
by

neilmacleod
As the person who is being obliquely referred to in much of this blogging, I would like to speak about the pelletiser and our intentions.
The pelletiser was specifically designed to process pit toilet sludge that is heavily contaminated with garbage. The machine first separates the sludge from the rags, boots, spoons, sheeps heads, etc. It then treats the sludge by heating it to a temperature in excess of 100 deg celcius for about 8 minutes - this renders it pathogen free and produces dry pellets that can be used as fertilizer. The garbage component is sent to a landfill site for disposal.
In Durban we provide one emptying of a VIP toilet every 5 years as a basic sanitation service. At present it takes us 3 years to empty the 35 000 VIP toilets in our area of operations - it is this sludge we process in the pelletiser. We do not empty the UD toilets at this stage, but the pelletiser has the potential to recover nutrients from that sludge as well
We recognise faeces and urine as potential sources of nutrients and energy, rather than as material to be 'avoided at all costs' and kept as far away from people as possible. This pelletiser is part of a series of interventions that we are working on to recover nutrients from human waste and then recover energy from what is left. The interventions have the potential to create many small businesses who will collect and process the waste and the fertilizer will also support food security.
I do not agree with the implied view that these solutions would only work in South Africa - all of Africa has a need for plant nutrients and energy and we are working on solutions that are practical and which can be used in any country in Africa and elsewhere in the world.
The flush toilets we use today were invented in 1860 and pit toilets have been around for millennia - the time has come for new technology that works for everyone and that is sustainable in every sense of the word(I call it a 4G toilet, using the mobile phone analogy)
Neil Macleod
Consultant and Honorary Research Fellow
Durban
South Africa


This email address is being protected from spambots. You need JavaScript enabled to view it.
The following user(s) like this post:
christian.rieck
,
tmsinnovation
,
Doreen
You need to login to reply
Re: New sludge pelletising machine in eThekwini (Durban) wins IWA award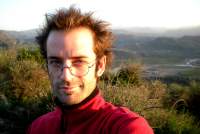 25 Oct 2011 17:24
#441
by

ben
Dear all,

Extremly interesting research you're carrying here !
It looks like it's early to say but could you please give us an approximation of the potencial business model of this kind of installation.

Roughly, what is the price of the pelletiser, the cost of use and maintenance, how much do you expect to sell a kg of downstream product and how much is the VIP emptying cost ?
You said you emptied 35000 VIP in 3 years, can we consider you are emptying latrines of almost a 300 000 people area (5 people / latrine / emptied every 5 years) or the pelletiser has even a higher productivity ?

I know this is reducing the problem a lot to just turn this massive health problem into cost figures but that would be very interesting to see how much we could sell this idea to private entrepreneurs in developing world.

Congratulations again, great work and thanks for sharing !

Ben
You need to login to reply
Re: New sludge pelletising machine in eThekwini (Durban) wins IWA award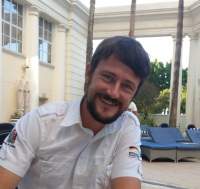 25 Oct 2011 23:00
#443
by

tmsinnovation
Dear Neil

Thank you for your post. I agree with you on the fact that this technology can be adapted where necessary and used in other African countries. But would hastily add that the success in other African countries that do not have an efficient tax collection authority like SARS and stable municipal infrastructure in terms of processes and procedures like eThekwini, would only be a success and sustainable if you as the pioneers are able to make a break-even business case. As if an interested African social entrepreneur knows that it is possible to break even with a sludge pelletising business, innovation will result to ensure that the social entrepreneur can make a bit of profit to pay the bills and sustain his small social enterprise. I would love to know your thoughts and ideas in this regard!

I shall continue to follow your progress with great enthusiasm.
Kind regards
Trevor
Trevor Surridge
Project Coordinator
Climate-friendly sanitation services in peri-urban areas of Lusaka (CFS-Lusaka) project
German Development Cooperation

GIZ Water Programme office
Chaholi Rd. No 5, Rhodes Park
Private Bag RW 37x
Lusaka, Zambia
You need to login to reply
Re: New sludge pelletising machine in eThekwini (Durban) wins IWA award
26 Oct 2011 04:58
#447
by

shrikantbhate
I have seen the video and also the comments posted by various members.
I think while designing the pellet machine which uses lot of energy, we should explore the possibility of Solar Heat which is abundantly available in African Countries.
I would also like to suggest that the roof area of toilet blocks which remains only as a shelter cover can be advantageously used for heating and drying of excreta,which is kept in sealed and well ventilated metal containers. What we require is a temperature of about 50 to 60 degrees Celsius for killing of pathogens.
So by collecting the urine separately and treating the ablution water in reed beds etc the problem of excreta treatment can be effectively tackled.
we are working on such solutions in India which are at experimental stage and we hope that a sustainable solution would be found soon.

Prof.Shrikant Bhate.
Architect and Social Entrepreneur.
India.
You need to login to reply
Re: New sludge pelletising machine in eThekwini (Durban) wins IWA award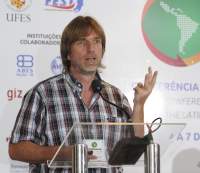 27 Oct 2011 10:10
#449
by

christoph
Dear Shrikant,
Your post sounds very interesting. The energy problem is really a tricky one. Thanks for sharing this interesting aspect. From what I understand…you are heating a UDDT chamber? I thought this because you mentioned drying as well. Could you tell us some more or is it too early? (Size of the chamber, temperature achieved, retention time in the chamber, the heating is done in the walls of the container? Do you mix the material? If so, how do you do that? Do you have a picture?)Sorry lots of questinons.
It would be nice if you could give us some more ideas.
Christoph Platzer
Brazil
You need to login to reply
Re: New sludge pelletising machine in eThekwini (Durban) wins IWA award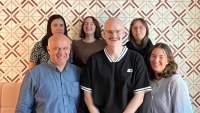 21 Nov 2011 10:44
#638
by

secretariat
(note by forum administrator: I have moved the recent post of Rein to here, as it belongs to this thread on the sludge pelletiser)
+++++++++++
Topic: Processing Pit Latrine Waste into pasteurized saleable fertiliser
For those interested parties please have a look at the Ladepa Process
( Latrine Dehydration and Pasteurization Process)
This is a new technology which separates Pit latrine Bio solids from detritus,
and forms the bio-solids into extrusions which are then dried under Medium Wave Infrared Radiation under a negative pressure.
A 1,5 m3/hr pilot plant is currently being successfully tested by the Durban Ethekwini Municipality, South Africa.
Plese follow the you tube link to see this unique technology.
This attachment is hidden for guests.
Please log in or register to see it.
Thank you
Rein
Posted by a member of the SuSanA secretariat held by the GIZ sustainable sanitation sector program
Located at Deutsche Gesellschaft für Internationale Zusammenarbeit (GIZ) GmbH, Eschborn, Germany
Follow us on facebook: www.facebook.com/susana.org and twitter: twitter.com/susana_org
This message has an attachment file.
Please log in or register to see it.
You need to login to reply
Re: New sludge pelletising machine in eThekwini (Durban) wins IWA award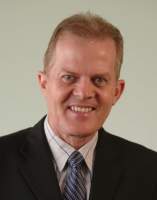 31 Jan 2012 12:41
#987
by

neilmacleod
I have been asked by Elizabeth to respond to some of your questions and comments.

Ben asks about costing information. The prototype pelletiser can process 12 tons per day of wet pit toilet sludge. A comprehensive financial analysis of the viability of this pelletiser has been done by John Harrison in my organisation and he is to present the resiluts at the WISA 2012 conference in South Africa,in a few months time. The analysis compares disposal of the unprocessed sludge at a landfill site with the sale in a pellet form. We can sell the pellets at R15 per 30 cu dm bag or about R500 per cu m (at 80% solids) The cost of disposal on landfill is R1012 per ton. Overall, taking into account all the costs of operating the pelltiser, it is financially competetive. ($1 converts to about R8)
We agree that the prototype plant is not energy efficient and there is considerable scope to improve its performance and reduce costs

Trevor asks about entrepreneurial opportunities. We are not only looking at pelletising VIP toilet sludges, but also UD toilet faecal matter. In addition we are working as partners in a Gates Foundation research project to look at a model for processing urine and recovering nutrients. One of the outcomes of that research will be a logistics model that will enable utilities to work out how best to design collection systems that will minimise processing costs (balancing reactor and pelletiser costs with transport and other collection costs and comparing this to potential revenue). Once that model has been tested we expect that it could be used anywhere, with the variables being adjusted to local situations. We will then have a tool that will tell us where the collection and processing of human excreta, from non- piped systems,will be financially viable or what level of subsidy will be required to make it attractive to private investors

Prof Bhata asks about alternative energy sources. The prototype was designed to be portable and is housed in two shipping containers, with a diesel generator as the power source. We agree that there may be better and more efficient ways of drying the sludge and that is where our attention has moved to now that we know the pellets are pathogen free and they are being used in agriculture. As with all new ideas, the initial attempt is an over-design and then efficiencies are introduced as the process unfolds. We were not sure at the start, what level of heating would be required to produce pathogen free pellets - we now know the power source is about double what it needed to be for the 12 ton/day plant. Solar may be a possibility, as he suggests.
Neil Macleod
Consultant and Honorary Research Fellow
Durban
South Africa


This email address is being protected from spambots. You need JavaScript enabled to view it.
The following user(s) like this post:
Elisabeth
,
tmsinnovation
,
aaron
You need to login to reply
Re: DEM – 1 – LADEPA PROTOTYPE DATA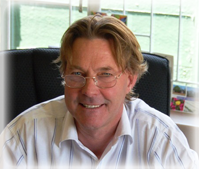 16 Mar 2012 08:14
#1271
by

Reinb
Underneath I have included the data for the Ladepa Prototype dryer. We are refining this process and will release the new data when compiled.

DEM – 1 – LADEPA PROTOTYPE DATA:

Ladepa plant
Durban Ethekwini Municipality

Details of plant

Belt width : 950 mm
Dryer width : 1350 mm
Dryer length : 11000 mm
Dryer height : 1200 mm
Belt Apertures : 300 micron
Belt drive : 0.75 kW
Screw drive : 1.50 kW (2 off)
Blower : 5.5 kW
MIR : 3 x 48 kW = 144 kW
Total Ladepa : 151.75 kW

Engine required 160 kW (engine installed JD 406 x HD – 310 kW – (much too big)

Fuel diesel 7 – 8 ℓ/hr = R80/hr (USD 10.66/hr)(E 7.30/hr)

Feed : 1000 kg/hr @ 30 – 35 % Solids
Detritus : 15 % 150 kg/hr
Product : ± 300 kg/hr @ 80 – 85 % Solids
Evaporation Rate :1000 – (150 + 300)/154 kW = 3.64 ℓ/kwh
Residence time : 8 minutes (4 minutes gas 4 minutes MIR)
Product temperature : 180 – 220 ºC
Bagging : 20 x 15 kg/hr (value R400/hr) (USD 53.33/hr) (E 36.36/hr)

Future changes:

Single Screw Compactor/Extruder with height adjustment
192 kW MIR (Total power installed 199.75 kW)
220 kW Engine
Exhaust gas only
Radiator cooling gas to atmosphere

OPEX

95 % of cost is electricity/diesel
(10 – 11 ℓ/hr) - for a 192 kW Ladepa plant

REIN BUISMAN
Director
Particle Separation Systems Technologies (Pty) Ltd
Rein Buisman
Director
Tel: +27-11-412-2100
Fax: +27-86-553-8088
4 Tambotie Street, Homelake, Randfontein, South Africa, 1759
Particle Separation Systems Holding (Pty) Ltd
Particle Separation Systems Technologies (Pty) Ltd
Particle Separation Systems Milling (Pty) Ltd
You need to login to reply
Time to create page: 0.307 seconds