Use of viral agents to improve the economics of human waste disposal (Amrita School of Biotechnology, Amrita University, Kerala, India)
5309 views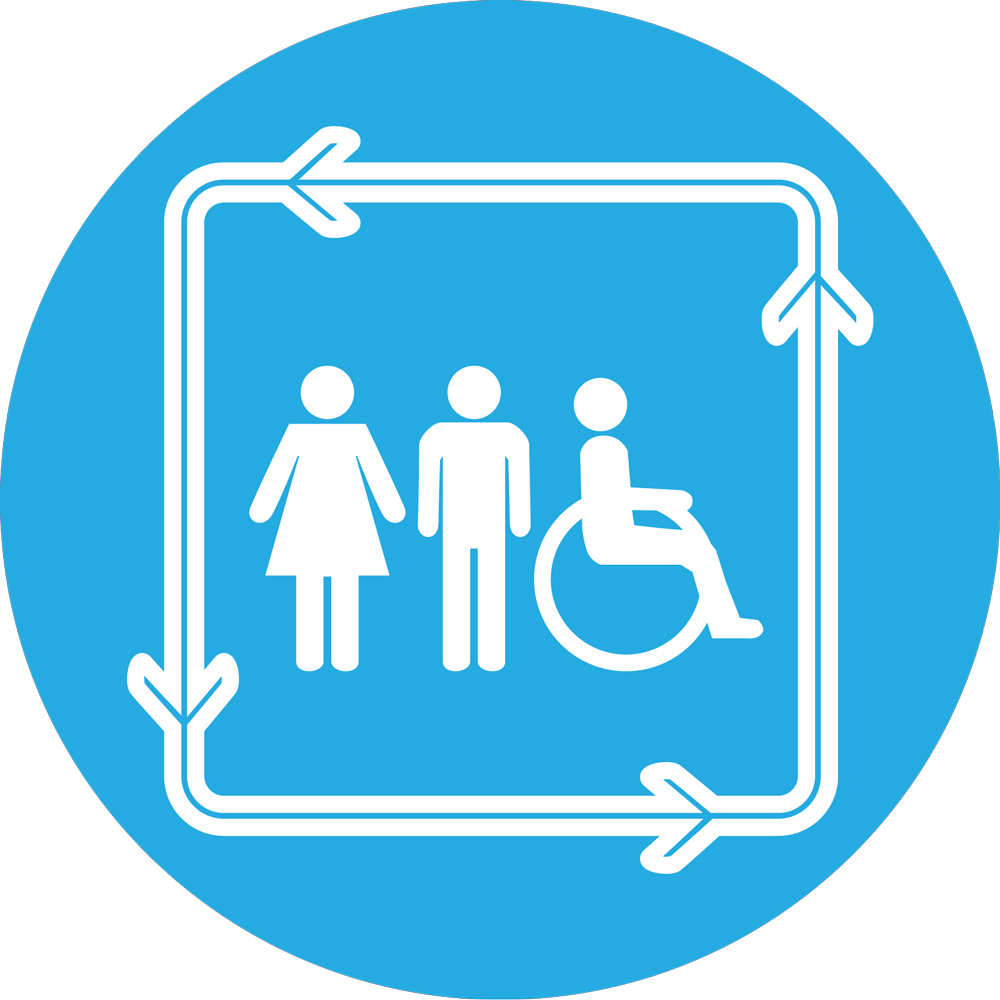 Use of viral agents to improve the economics of human waste disposal (Amrita School of Biotechnology, Amrita University, Kerala, India)
30 Jul 2015 18:02
#14352
by

spal05
Here is a description of the grant that I am leading under the Gates Foundations' Reinvent the Toilet India scheme:
Title of grant:
Use of viral agents (and microbial fuel cell and effective recycling strategies)* to improve the economics of human waste disposal
* Note: This is the original title proposed but reviewers advised not to include microbial fuel cell (MFC) in that project. Even though we are working on MFC for last several years, this is not included in this project.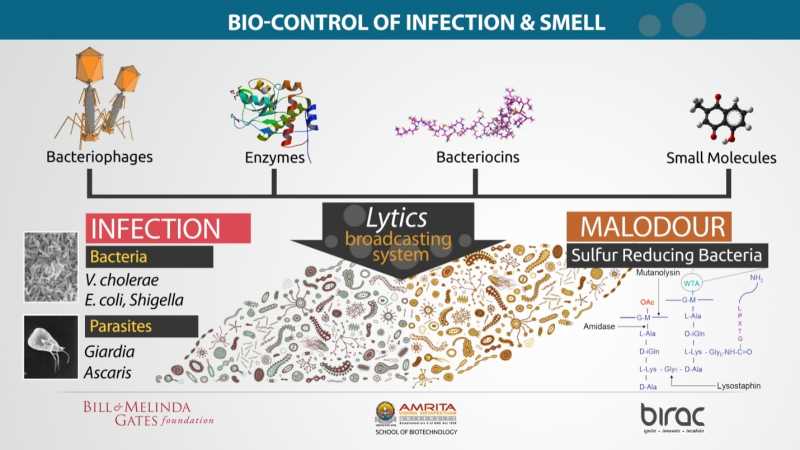 • Name of lead organization: Amrita School of Biotechnology, Amrita University
• Primary contact at lead organization: Dr. Bipin G. Nair
• Grantee location: Amritapuri, Kollam, Kerala, India
• Developing country where the research is being tested: India
• Start and end date: Dec 3, 2014 – Dec 2, 2016
• Grant type: Reinvent the Toilet Challenge India**
• Funding for this research currently ongoing (yes/no): Yes
Short description of the project:
This is proof-of-concept grant, where we have proposed to develop appropriate lytic agents (which "lyse" or kill cells) against major enteric pathogens and sulfur reducing bacteria (that cause malodour in the sewage). After production in a cost effective way, the lytic agents need to be dispensed (broadcasted) in sewage/septic tank. Appropriate lytics broadcasting system (LBS) is being developed to filter and broadcast different lytic agents such as bacteriophages, enzymes, bacteriocins* and small molecules from cheap renewable natural sources such as plant biomass waste (kitchen/agro-waste). Among the lytic agents, bacteriophages (viruses infecting the bacteria) are highly specific to the target pathogens and hence very safe. They are the most important and abundant biological entities on earth. They have been used for over 90 years as an alternative to antibiotics in the former Soviet Union, eastern Europe and France. They are currently being tried as possible therapeutic agents against multi-drug-resistant strains of many bacteria. Phages against many food borne pathogens have been approved by FDA, US.
* Note: Bacteriocins are proteinaceous toxins produced by bacteria to inhibit the growth of similar or closely related bacterial strain(s)
Goal(s):
Reduction of pathogen load and odour in wastewater
Objectives:
Development of bacteriophages and other biological agents and their appropriate broadcasting system in wastewater
Implementation partners:
Mata Amritanandamayi Math (MA Math), Amritapuri, Kerala, India (Parent organization of Amrita University) Note: Amrita University is managed by a non-profit philanthropic spiritual organization, MA Math led by Mata Amritanandamayi popularly known as Amma (mother).
Links, further readings – results to date:
Project website:
www.amrita.edu/center/sanitation-biotechnology
Current state of affairs:
After six months of the formal start of the project, we have been improving the strength and stability of the phages and other lytic agents so that they can be deployed in wastewater treatment. A prototype of the Lytics Broadcasting System (LBS) is being developed.
Appropriate lytics broadcasting system (LBS) is being developed to filter and broadcast different lytic agents such as bacteriophages, enzymes, bacteriocins and small molecules from cheap renewable natural sources such as plants, fungi and bacteria. Bacteriophages have been developed against five different enteric bacteria.
Overall, we have isolated about 25 phages against different strains of E. coli, Salmonella, Shigella, and Vibrio, procured either from hospitals or wastewater. Few phages have been also developed against sulfur reducing bacteria (SRB) such as Salmonella andProteus vulgaris. They were able to reduce production of hydrogen sulfide (one of major causes of the rotten egg smell). We have also started exploring the possibility of hosting the phage population in the human intestine surface layer (epithelia) so that they can work for the human host against the pathogens infecting the gastro-intestinal tract. Furthermore, we have isolated several E. coli bacteriophages that bind fibronectin and gelatin (denatured collagen) which are important matrix proteins of epithelial cells. We are currently testing their efficacy on protecting human epithelial cells (HT29) from E. coli infection.
This work has two purposes: test the safety of phages against human/animal exposure (even it is known as safe) and second is therapeutic purpose. This is not to be mixed with sanitation issue.
Biggest successes so far:
Development of bacteriophages against five enteric pathogens and their appropriate lytics broadcasting system
Main challenges:
The lytic agents are being made from mainly biological sources and they are susceptible to inhibition by heavy metals, detergents and other pollutants. Wastewater is very heterogeneous in composition with respect to biological pathogens, heavy metals, detergents, toiletries and other pollutants. Hence treatment procedures may be needed to be customized to tackle the inhibitors of the lytic agents. Thus the development and production cost may increase. In situ production of the lytic agents by the endogenous organisms which are not pathogenic and sustains pollutants in wastewater is one of the ideal ways. Our study should increase the deeper understanding of the different complex ecological interaction in wastewater and should be able to tackle these issues effectively.
Regards,
Sanjay
Sanjay Pal, PhD
Amrita School of Biotechnology
Amrita University, Kollam, Kerala.
www.amrita.edu/faculty/dr-sanjay-pal
Note by moderator (EvM):
** The total amount of the RTTC India grant is $1,068,908, which is spread over six research projects, one of them is this one (see also:
www.gatesfoundation.org/How-We-Work/Quic...s/2013/05/OPP1055862
)
Further information about the RTTC India grant scheme is also available here on the forum:
forum.susana.org/forum/categories/139-gr...nda-gates-foundation
The following user(s) like this post:
pkjha
,
amritasalim
,
meg20
,
ArchanaPV
You need to login to reply
Re: Use of viral agents to improve the economics of human waste disposal (Amrita School of Biotechnology, Amrita University, Kerala, India)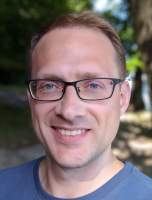 31 Jul 2015 12:05
#14357
by

JKMakowka
Very interesting project... I looked into Bacteriophages as therapeutic agents quite deeply some years back and I do hope they make a come-back in that area.

However, I am skeptical when it comes to waste-water applications.

Contrary to food production where it is currently mainly used as an additional HACCP barrier preventing regrowth in an already low bacteria and usually cooled environment, sanitation systems are pretty much the epitome of where bacterial evolution happens (and thus partial resistance to Bacteriophages or the other lytic agents mentioned here).
Sanitation systems also tested for pathogens to much less detail and at longer intervals, making it very likely that bacterial adaption will occur unnoticed and treatment becomes inefficient.

Of course Bacteriophages will adapt as well, but unless their evolution is constantly guided by scientists with the specific objective of high lytic capacity, it is much more likely that they will become less virulent and somehow "arrange" themselves with their host bacteria.
The following user(s) like this post:
spal05
You need to login to reply
Re: Use of viral agents to improve the economics of human waste disposal (Amrita School of Biotechnology, Amrita University, Kerala, India)
02 Aug 2015 10:38
#14364
by

spal05
Hi Kris
Thank you very much for your thoughts. We agree with your concerns. That's why we have given so much importance to develop the protocol so easy and cost effective which can potentially be done at the local level.
However, phage therapy has been successful to treat diarrhoeal infection in human gut which is as complex as waste water system. Moreover, risks of toxicity to higher organisms or non-target organisms in sanitation is much lesser compared to human therapeutic purposes. So we strongly believe if properly designed, phage intervention in sanitation should work. So far, attention in that regard (research focus) to the waste water has not been enough. We would love to hear from the community to know more about the possible risks of failure or any serious studies about them.

Thank you again, Kris.
Best regards.
Sanjay
The following user(s) like this post:
JKMakowka
,
meg20
You need to login to reply
Time to create page: 0.508 seconds
DONATE HERE