Water Action Month: March 2016! - And World Water Day on 22 March 2016
6582 views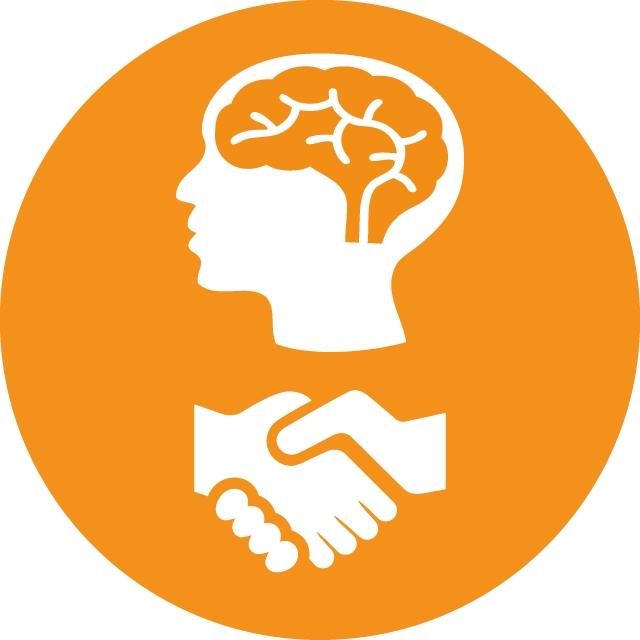 Re: Water Action Month: March 2016!
23 Apr 2016 08:34
#17791
by

Elisabeth
I had a look at the statistics for the World Water Day Wikipedia article.
As expected, the click rates soared on World Water Day (22 March) itself, peaking at 14,000 page views. On a normal day it is around 400 page views.
See this graph (source:
tools.wmflabs.org/pageviews/#project=en....ages=World_Water_Day
):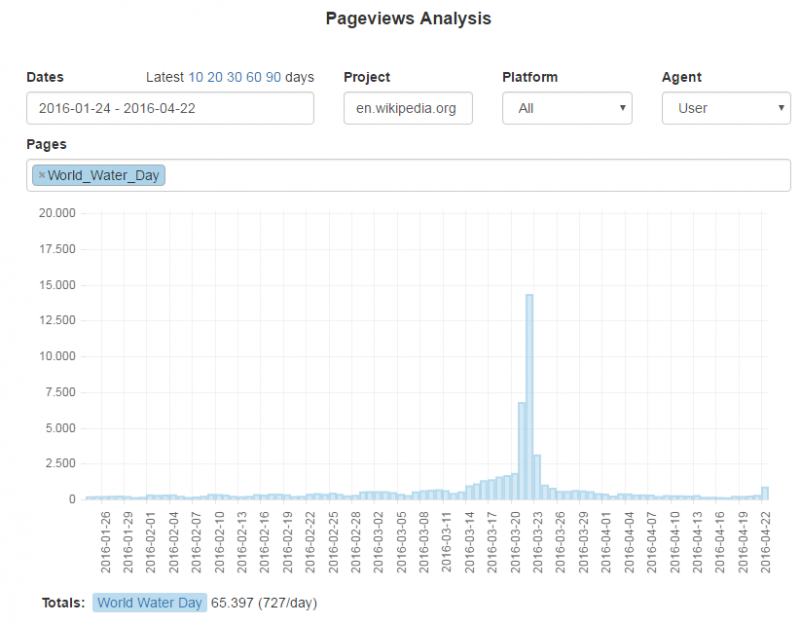 This proves once again that people (the general public, but probably also politicians and journalists) do turn to Wikipedia to find out more when the mainstream media tells them it is World Water Day...
Just a pity that what they find on that page (
en.wikipedia.org/wiki/World_Water_Day
) is still not that great... The article could and should be improved in my opinion.
You need to login to reply
Re: Water Action Month: March 2016!
19 Mar 2016 00:50
#17476
by

Elisabeth
World Water Day is coming up in 3 days time. What better reason then to ensure that the Wikipedia article on World Water Day is saying things that we want it to say?
Please take a look here:
en.wikipedia.org/wiki/World_Water_Day
For me the article looks like it could do with some work, especially to describe this year's theme and to link it with other terms (under "see also" or as hyperlinks to other Wikipedia articles within the text) or websites (under external links) that we think are important in this context.
You can also see by clicking on the history tab for this article that the click rates are already going up (and they are most likely to peak on 22 March).
So, how about it? As you know, anyone can edit Wikipedia, you don't even need a login. But there's people like me who watch this page and to make sure that unconstructive edits get deleted quickly. I would say the quality assurance generally works quite well on Wikipedia. (isn't it also the first place
you
go to if you're interested in a topic that is outside your area of expertise? Well, it's the same for people who don't know much about global water issues but who are curious to find out more, perhaps prompted by media attention for World Water Day)
If anyone has questions about how to edit such a Wikipedia article, just ask me (or put them into this thread, or start a new thread about it).
Regards,
Elisabeth
You need to login to reply
Re: Water Action Month: March 2016!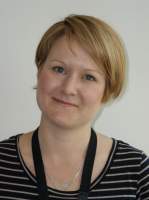 16 Feb 2016 12:25
#17017
by

MeganMacGarry
We want to hear from you! How are you going to be celebrating Water Action Month and World Water Day? Are you meeting with your governments? Engaging with your communities groups? Going on marches? Will you be WEARING BLUE? Go blue4water!
With just under 2 weeks to go until the start of Water Action Month, things are heating up as news of events and activities from around the world are coming in. Join us: unite for a better future!
There are so many ways you can join us in celebrating Water Action Month: find out all on
the End Water Poverty website!
Contact us at
This email address is being protected from spambots. You need JavaScript enabled to view it.
with your plans!
Megan MacGarry
Campaigns and Communications Officer
End Water Poverty
The following user(s) like this post:
Jona
You need to login to reply
Water Action Month: March 2016! - And World Water Day on 22 March 2016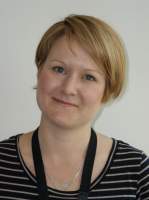 05 Feb 2016 14:04
#16860
by

MeganMacGarry
SAVE THE DATE! Water Action Month is nearly here!
2016 is going to be an exciting year for campaigning and advocacy on water, sanitation and hygiene (WASH). It marks the beginning of the new Sustainable Development Goals (Global Goals), setting the development agenda until 2030. Governments will be developing their national level implementation plans- country road maps on how to achieve this ambitious agenda over the next 15 years. This is going to be a great opportunity for influencing and we have to make every year count!
End Water Poverty and all WASH organisations around the world celebrate the new global framework. We particularly applaud the specific WASH Goal 6 - "ensure availability and sustainable management of water and sanitation for all". Governments across the world have officially adopted these Goals, thereby setting the wheels in motion for addressing inequalities and drafting a better future for all. We have to hit the ground running! Now is the time to ensure that WASH is a top priority, and to ensure the vulnerable and most marginalised groups are not left behind. Improved water and sanitation for all will make early successes and sustainable progress possible across so many of the Global Goals, and truly end inequality. Governments, keep your promises and realise a better future for all.
Water is life. Unite for change. We demand water and sanitation for all. It is critical we leave no one behind. We have come far, but we still have a long way to go. We have to ensure that no one is left behind. Governments, you have signed on to these commitments - now is the time to realise them. Add your voice in 2016 to ensure a better future!
We are so passionate and excited about World Water Day on 22 March, that we will be celebrating and raising our voices for change throughout the whole month! Join us: Now is the time for change!
All information is available on the
End Water Poverty website
, and contact us with your plans at
This email address is being protected from spambots. You need JavaScript enabled to view it.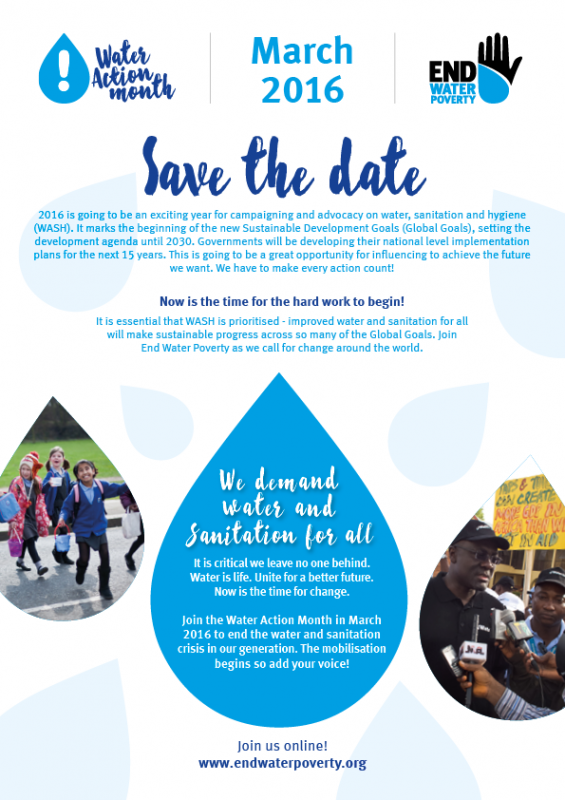 Megan MacGarry
Campaigns and Communications Officer
End Water Poverty
The following user(s) like this post:
fcharlesc
,
pragyan16
You need to login to reply
Time to create page: 0.514 seconds
DONATE HERE