Updates on Sanergy in Kenya (public toilet business with urine diversion and composting)
52.7k views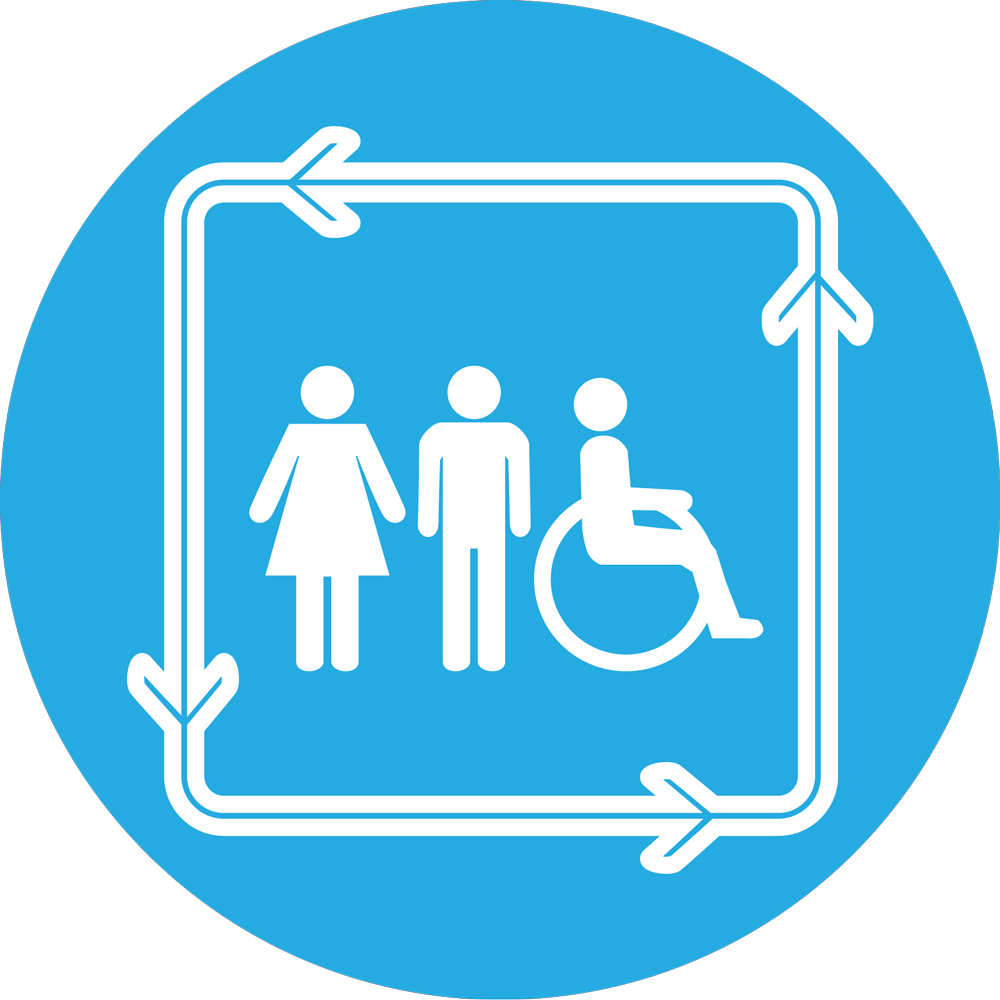 Updates on Sanergy in Kenya (public toilet business with urine diversion and composting)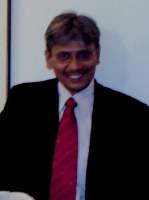 15 Nov 2011 09:12
#609
by

sunder.s
Hi All,
Some of you may be interested in this piece that appeared in Forbes, titled "Who Gives A Crap? Sanitation, Energy and Entrepreneurship in Kenya"
The link to the article is
tinyurl.com/7tlagdw
Cheers,
Sunder
Sunder Subramanian
International Development and Infrastructure Advisor/Consultant
101/15, Silver Oak Apartment
DLF City Phase 1,
Gurgaon 122002
India

Mobile: +91-9910108465
Email:

This email address is being protected from spambots. You need JavaScript enabled to view it.


BB Messenger: 22B52933
LinkedIn: in.linkedin.com/pub/sunder-subramanian/2/956/193
You need to login to reply
Re: Forbes article on Sanitation and Energy
24 Nov 2011 12:37
#649
by

former member
Hi Sunder and everybody on this forum!
Thanks for posting about Sanergy. We have just held a grand opening for our newest Fresh Life Toilet on World Toilet Day. We were very happy to have Philip Kisia, the Town Clerk of Nairobi, cut the ribbon and generally join in the celebrations as you can see in the picture below. This Fresh Life toilet is owned and operated by Caroline Mueni Mutua from the informal settlement Mukuru Kwa Njenga. Caroline has been a successful small business owner in Kwa Njenga for several years. As soon as she heard about the Fresh Life toilet through her bank, Faulu Kenya, she jumped at the chance to apply. Caroline successfully completed the Fresh Life training and is now excited to operate the toilet as an additional business. If you would like to know more about our project check our blog under:
http://saner.gy/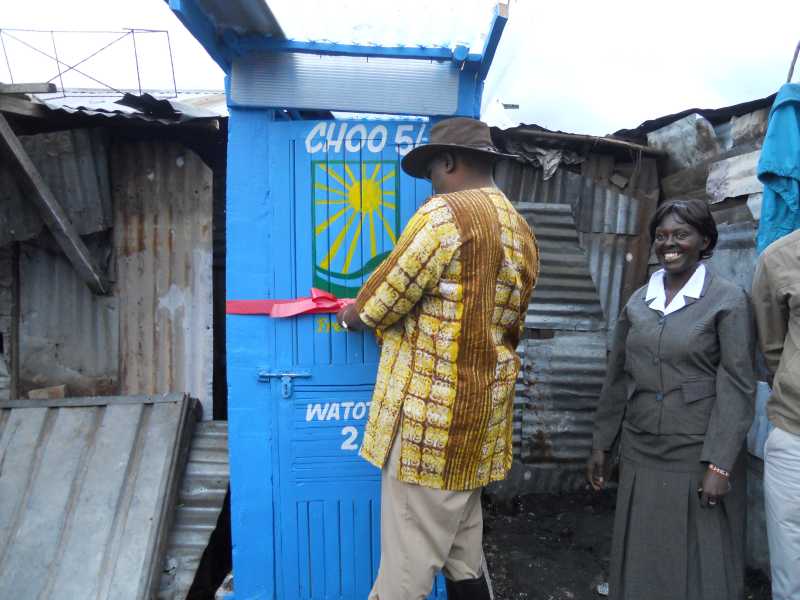 ++++++++
Note by moderators: This post was made by a former user with the login name Laura who is no longer a member of this discussion forum.
The following user(s) like this post:
Doreen
You need to login to reply
Re: Some information about the UDDTs of Sanergy
23 Feb 2012 20:02
#1101
by

Elisabeth
Dear all,
I had heard about
Sanergy
every now and again, but two weeks ago I had the chance to meet two people behind Sanergy when I had a one-day stop-over in Nairobi. Thanks to Doreen Mbalo, who is currently doing an internship with GIZ in Nairobi, we got to meet Ani and Laura from Sanergy, view their demonstration toilet, see their operations and comosting unit and discuss their business set-up.
I must say, I am very impressed with their strategy and the confidence in which they pull it through. While the number of toilets sold (franchised) is still relatively small for now, this could quickly change if all goes well.
The toilet type is actually a
UDDT
with ground level access, meaning without stairs (built from pre-cast concrete components which are added together like a lego set). Half of the price is in the blue paint but Sanergy thinks that this paint is very important to "recognise" their toilet from far away (I can't remember the price now, but it is difficult to compare anyway as it includes the emptying service; it was in the normal range for UDDTs, perhaps around EUR 300 or thereabout). The faeces and urine containers are located in a small chamber below the urine diversion plastic squatting pan.
See here some photos:
Plastic urine diversion squatting pan lifted to reveal the containers
by
Sustainable sanitation
, on Flickr
Closing the faeces container
by
Sustainable sanitation
, on Flickr
The closed faeces container is taken away
by
Sustainable sanitation
, on Flickr
Group photo at the Sanergy site in Mukuru kwa Reuben
by
Sustainable sanitation
, on Flickr
Please see more photos and details here:
www.flickr.com/photos/gtzecosan/sets/721...423/with/6879878563/
The business owner (who runs e.g. a kiosk plus one public toilet) does not need to worry about emptying, as this is done daily (!) by the staff from Sanergy. The cost for emptying services is built into the toilet price. We all know how difficult mainntenance for a public toilet is. But this system is innovative and could well work. The toilet operator relies on people coming back and having a clean toilet is a magnet to come back to (hopefully).
Sanergy is also successful in pulling in
research grants
, e.g. from the Bill and Melinda Gates Foundation. So now they can even study various ways for dealing with the collected excreta. We saw their composting process (with wood shavings) where they achieve pretty high temperatures (50-60 deg C) which surprised and impressed me. They have firm intentions of making also a profit from selling the end product (productive sanitation once again).
Personally I have my doubts on whether significant profits could be made from any final product of excreta. I hope to be proven wrong! But I compare it to e.g. waste paper in Germany: It is collected from the households and even though waste paper is a huge business and recycled paper a big market, the households do not get any money for giving away their waste paper but often still have to pay collection fees. The same with brown bins where organic waste from households is collected. These waste recycling companies make most of their money from collection fees and only a small proportion from selling the recycled products. Well, maybe it is different for excreta, time will tell!
Ani who is originally from India and one of the co-founders of Sanergy (see photo above), told us many interesting aspects about this business venture and how it could develop in future. He also said "we don't treat this as a project (with a start and an end), we are in this for the long haul. We live in Nairobi, this is our business and we want it to be successful."
In development cooperation or when we get EU projects (like the Ecosan Promotion Project in Kenya, ROSA, CLARA, ...), we always battle with the fact that the project is finished and the funding runs out just when toilets are built and beginning to be operated. And this is only when the difficulties start! So being there for the long haul and being patient is so important.
If you have questions or comments about Sanergy or the toilet system, please put them here. I will try to answer or even better, Laura can answer (she is the lady on the right in the photo above). (I am the one in the skirt on the photo above)
Regards,
Elisabeth
The following user(s) like this post:
jkeichholz
,
Doreen
,
Vanden
You need to login to reply
Re: A simple, cheap solution to light in rural toilets
15 Mar 2012 20:21
#1257
by

Elisabeth
Dear Trevor,
Thanks for sharing this and bringing up this issue (see here on the forum:
forum.susana.org/forum/categories/141-ot...ght-in-rural-toilets
). I agree with you, light in a toilet room is one really important ingredient to make the user feel comfortable and to encourage cleanliness inside of the cubicle! Strange that lighting is so often neglected (and aren't VIP latrines purposefully dark so that flies fly to the top of the vent pipe where the fly sceen is located?).
That option with the PET bottle shown in the video is interesting. But does it only work during sunshine hours, i.e. not during cloudy days? The water in the bottle is meant to reflect the sunlight, right?
Your posting reminded me of the solution which Sanergy in Kenya have for this. They use a plastic sheeting on the top (I don't know the exact technical term), see this photo:
Esther's fresh life toilet
by
Sustainable sanitation
, on Flickr
I have been inside one of their toilets and it is very bright (during day time).
Neither solution helps during night-time of course - there you need a torch, kerosene light, solar light with battery, biogas-powered lamp, normal electricity or whatever... Having to use a toilet in pitch black darkness at night is really not comfortable.
But at least during day time we should keep them bright because it should be fairly easy!
By the way, the photo which accompanied the Gates article is from a UDDT in South Africa. Nice how UDDTs are becoming mainstream... Did you notice the plastic sheet inside of the wooden door? Maybe that lets light through as well?
Regards,
Elisabeth
The following user(s) like this post:
tmsinnovation
You need to login to reply
Re: A simple, cheap solution to light in rural toilets
16 Mar 2012 07:56
#1270
by

former member
Hi to everybody in this forum,

Thanks, Elisabeth for posting about our Fresh Life Toilet. Just to add on what you wrote in your post: Sanergy provides every FLO (Fresh Life Operator) with a solar light which is charged during the day and provides light for the toilets during the night. That's how we ensure that people do not have to use the toilet in pitch black darkness which, I agree is quiet challenging.

Laura

++++++++
Note by moderators: This post was made by a former user with the login name Laura who is no longer a member of this discussion forum.
You need to login to reply
I manage the Decentralized Wastewater Management for Adaptation to Climate Change in Jordan (ACC Project) and previously coordinated the Climate-friendly sanitation services in peri-urban areas of Lusaka project in Zambia. My background is in Management, Economics and Information Systems.

Less

Posts: 162
Karma: 4
Likes received: 53
Re: A simple, cheap solution to light in rural toilets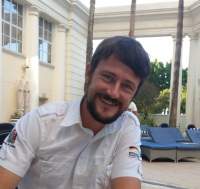 26 Apr 2012 10:28
#1461
by

tmsinnovation
A very valid question about light and flies.
What is Sanergy's experience in Kenya with respect to flies, as their toilet appears to be very well lit judging from the photo that Elisabeth posted above?
Laura are you able to provide us with some insight in this respect?
Trevor Surridge
Decentralized Wastewater Management for Adaptation to Climate Change in Jordan (ACC Project)
Project Manager

Deutsche Gesellschaft für
Internationale Zusammenarbeit (GIZ) GmbH
Ministry of Water and Irrigation, Shmeisani,
Amman
Jordan

You need to login to reply
Re: A simple, cheap solution to light in rural toilets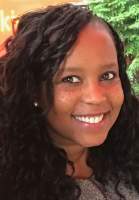 27 Apr 2012 14:05
#1474
by

Doreen
Dear Trevor,
As Elisabeth mentioned, the transluscent roof really helps in ensuring that there is appropriate light in Sanergy toilets.
Regarding flies, they are nonexistent in Sanergy toilets because the urine and faeces containers are emptied on a daily basis. I can attest to that as I use them every time I visit them in Mukuru. They are clean, very well maintained and don't smell at all.
Kentainer slab, solid waste bin, sanitary towel bin and saw dust container
by
Sustainable sanitation
, on Flickr
I also think there are no flies because of the provision of a sanitary towel and a solid waste bin. As you can see from the picture, both of them also have lids.
Best regards,
Doreen
Doreen Mbalo

GIZ Sustainable Sanitation Programme
Policy Advisor in Bonn, Germany
Deutsche Gesellschaft für Internationale Zusammenarbeit (GIZ) GmbH
E

This email address is being protected from spambots. You need JavaScript enabled to view it.
The following user(s) like this post:
Elisabeth
,
tmsinnovation
You need to login to reply
Re: Sanergy question on squat plate
16 Apr 2013 08:07
#4157
by

former member
Hi Elisabeth,
Here my answer to Chris question (which was posed here in connection with the GIZ technology review on UDDTs):
forum.susana.org/forum/categories/34-uri...mit=12&start=12#4133
):
4. Sanergy's "Fresh Life" UDDT seems very practical and well thought-out. Thank you for adding this to the text. How did they make such a strong but lightweight and hygienic plastic floor?*
This is the photo which Chris is referring to:
Lifted Kentainer slab to reveal the faeces and urine container
by
Sustainable sanitation
, on Flickr
Thanks for the credit Chris. The plastic floor is a ready made squat plate, designed and produced by the Kenyan company Kentainers<
www.kentainers.com/
>. However since the urine part of this squat plate design is very shallow it can cause urine splashing. We changed our squat plate and are currently using a wooden frame coated with epoxy (self production) where we insert Kentainer's ecoplate as you can see in the picture. The ecoplate design has the advantage that it has a more wide and deep space for urinating and an additional urine guard which minimizes the risk of splashing. Additionally the feces hole is bigger and the edges are raised so that no water from toilet cleaning enters into the feces container.
Sanergy_Fresh_Life
by
Sustainable sanitation
, on Flickr
Best,
Laura
++++++++
Note by moderators: This post was made by a former user with the login name Laura who is no longer a member of this discussion forum.
The following user(s) like this post:
canaday
You need to login to reply
Re: Questions about Sanergy
31 Jan 2014 08:36
#7177
by

Elisabeth
Dear Laura and Edith from Sanergy!
I read about Sanergy's achievements on your twitter account and other places (e.g. here when you won the Sarphati award in November last year:
forum.susana.org/forum/categories/95-cal...ack-sim-and-ide#6289
).
I have three questions for you today:
(1)
Have you considered for Sanergy to become a SuSanA partner? You would be very welcome.
(2)
I recently saw an article about
Sanergy and children
in Sanitation Updates (
sanitationupdates.wordpress.com/2013/12/...loration-of-sanergy/
). The title was:
"Improved Sanitation and Its Impact on Children: An Exploration of Sanergy. Impact Case Study No. 2, 2013."
I copy a part from their executive summary:
Based on the likely outcomes Sanergy has on children across its value chain, we identify opportunities that Sanergy can explore to enhance, deepen, and expand its impacts on children age eight and under and on pregnant women:
• Sanergy should explore more opportunities to work with schools, clinics, women's groups and workplaces that employ persons from the BoP to increase awareness of the link between improved sanitation and positive long-term impacts on health and finances.
• Sanergy should explore working with ngos and the government to reduce negative impacts that franchisees face during the loan repayment period, as well as encourage the exchange of financial information and best practices among franchisees in quarterly or semi-annual meetings.
• Sanergy can explore piloting pre-paid paper and/or mobile-based payment options for
unaccompanied children to use FLTs.
• Sanergy should explore different payment options for different types of franchisees to attract users from low-income segments.

Beyond these key recommendations, we also offer guidance on conducting impact assessments in a systematic and manageable manner.
The study looks very interesting. Could you please tell the SuSanA forum readers more about this publication, e.g. what does it mean for Sanergy? And how did this study come about? The organization behind it is not one that is well known in the sanitation sector.
And what do you think of the study's recommendations, are you planning to follow any of them?
(3)
I have seen on the twitter account of Oxfam that they have a partnership with Sanergy regarding schools. I asked them where I can find out more about this. The answer from Andy Bastable (Oxfam) was:
Our relationship with Sanergy is relatively simple. We want to get a number of latrines maintained and desludged - currently we are funding Sanergy to install their toilets at a number of schools in Nairobi. In this way the schools have working latrines and it saves the school money.

Oxfam does support the Sanergy private sector model. We would like to see them increase their coverage of latrines and spread the model to other parts of Kenya and possibly other countries. We would like to support this private sector initiative to make toilets in poor areas more sustainable.
In the long term this decreases the role NGO's currently play.
Could you tell us more about your partnership with Oxfam, please?
I look forward to your answers to my three little questions. Thanks in advance.
And please feel free to use this forum to update people about your progress (even if you just tell people when one of your newsletters has come out, for example). I think your work is very relevant and interesting because you are running one of the few sanitation projects with urine diversion and resource recovery that is really going to scale now.
Laura Kimani (formerly Laura Kraft) told me recently:
Meanwhile, we have more than 300 toilets and collect daily about 4.5 tons of urine and faeces.
Regards,
Elisabeth
You need to login to reply
Re: Questions about Sanergy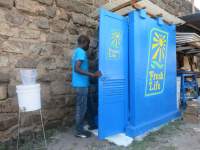 05 Mar 2014 11:00
#7647
by

Sanergy
Dear Elisabeth,
Sanergy is delighted to formally join the SuSanA Forum! We have contributed as individuals in the past, and now we are excited to have our company's views be represented in a more professional capacity. We believe that this community offers compelling insights and shares the best of the best practices in hygienic sanitation delivery. We also admire the tireless work of Elisabeth von Muench as she truly advances the conversation on sustainable sanitation. We look forward to working with participants in the forum to improve our work.
This month, we wanted to draw your attention to two interesting pieces of work that are happening here at Sanergy: schools and mystery loo users.
In April 2013, we partnered with Oxfam to provide hygienic sanitation in schools.
Oxfam provides financial support, Sanergy identifies schools in the communities we serve and installs Fresh Life Toilets, and Wash United provides ongoing trainings for the students. The results?
15 schools with about 2800 kids having 40 Fresh Life Toilets.
Enrolment - a key driver for sustainability - is up 20% at schools. Attendance is up about 20% also - indicating that girls in particular are benefiting from private, dignified hygienic sanitation. You can read more here:
saner.gy/archives/3908
(July 2013)
and
saner.gy/archives/4320
(Nov. 2013)
Our work has attracted the positive attention of the
Ministry of Education
, which is working with us both to implement our program in government-run schools and to develop relevant curriculum.
The Mystery Loo User program is an important innovation
that we developed when we realized that while we love our Fresh Life Operators, we know that they might put their best foot forward when our field officers are coming to visit. Therefore, we set up a program that we've now run for about 6 months which ensures that we secretly visit every toilet in the Fresh Life Network at least twice a month. The "mystery loo user" filled out 16 questions about cleanliness and the quality of service. The results have been really interesting. Most notably, those who are responsible for re-paying a loan to
Kiva
were far more likely to have extra clean toilets to provide better customer service (Kiva is a micro-lending online platform:
www.kiva.org
). It's early days yet, but once again a strong indicator that market forces and a clear business mindset lead to better provision. You can read more about our findings here:
saner.gy/archives/4478
We welcome the community's feedback!
Edith and David
Edith Karimi (Communications) and David Auerbach (Co-Founder) work at Sanergy, a social enterprise that makes hygienic sanitation accessible and affordable in Africa's informal settlements.
Sanergy is a social enterprise that is building healthy and prosperous communities through provision of hygienic, affordable and accessible sanitation in urban slums for everyone, forever - starting with Nairobi, Kenya.

For more information on Sanergy visit:

Our website: saner.gy/
Like our Facebook page: www.facebook.com/Sanergy
Follow us on Twitter: twitter.com/Sanergy
The following user(s) like this post:
Elisabeth
,
ande1978
You need to login to reply
Re: Upping the Usage of Fresh Life Toilets (update by Sanergy in Nairobi, Kenya)
16 May 2014 14:01
#8635
by

Elisabeth
Dear all,
Many of you have heard of
Sanergy
, the impressive social business venture serving an ever-growing number of people in low-income areas in Nairobi, Kenya (also present here on the forum:
forum.susana.org/forum/categories/52-mob...ry-loo-user-and-kiva
).
Whilst they are not yet a grantee of the Bill & Melinda Gates Foundation, they are an important partner for the BMGF because quite a few of the other grantees are using Sanergy as a full-size testing ground (or "real life lab") for their R&D work. One example is
The Climate Foundation
with their pyrolysis reactor, see here:
forum.susana.org/forum/categories/98-res...n-usa-and-kenya#8628
.
For that reason, Sanergy was also invited to exhibit at the Reinvent the Toilet Fair in Delhi, India, in March 2014.
Here you can find some photos that I took from their exhibit:
www.flickr.com/photos/gtzecosan/sets/72157644699243384/
I had the pleasure of interviewing one of Sanergy's co-founders,
David Auerbach
. The focus of our conversation was their newly designed urine-diverting squatting plate - which simply looks awesome, see for yourself here in the photos and two videos:
Fresh Life urine-diverting squat plate
by
Sustainable sanitation
, on Flickr
Urine-diverting and splash-reducing squat plate
by
Sustainable sanitation
, on Flickr
See the interview with David Auerbach here (focussing on the new squat plate that they exhibited):
The second part of the interview, which describes the Sanergy approach and business model, as well as their collaborations with other grantees is available here:
The improved squatting plate has the following benefits:
Less splashing due to a "fin" which is also used in urinals, and due to a deeper urinal section.
Urine hole and faeces hole are closer together on a horizontal level, so that less horizontal shifting of the user is needed when they are doing both, one after the other (i.e. urination and defecation).
One disadvantage is that due to the production process (heat moulding if I remember correctly), the squatting plate now has to consist of two parts (because the urine section is so deep), which means they are joined, and that joint could be a weak spot in terms of urine stone deposits and clearning issues (my personal guess).
You can barely see that joint on this photo, almost at the very base of the deep urinal section:
Fresh Life urine-diverting squat plate
by
Sustainable sanitation
, on Flickr
Questions and comments are welcome, I am sure that David or one of his team members will be happy to answer them here on the forum.
Kind regards,
Elisabeth
+++++++++++++++++++++++++
Some further information about Sanergy's work:
R&D work that Sanergy is doing with funding by the Bill & Melinda Gates Foundation:
forum.susana.org/forum/categories/98-res...-scale-sanergy-kenya
Some more information from a recent blog post of Sanergy:
A Fresh New Look for the Fresh Life Toilet
saner.gy/archives/4592
An excerpt of their recent blog post:
Through a partnership with MCAD Technologies and Dassault Systèmes SolidWorks Corporation, a computer-aided design software company, Mike was able to bring the new Fresh Life Toilet to life through 3D modeling, structural simulation of parts, as well as renderings and manufacturing drawings to communicate designs with vendors and field experts.

During initial user testing it was very clear that women were subjected to splash-back when they used the toilet. The new urine-diverting squat plate has a unique form with a deep urine bowl and a splash-eliminating 'fin'. The squat plate is made from a hard and glossy plastic that is easy to clean and lasts longer than previous squat plate designs.
From the Technical Guides of the Fair
(
www.susana.org/lang-en/library?view=ccbktypeitem&type=2&id=2001
):
Here you see Sanergy's cooperations with other grantees:

Key information: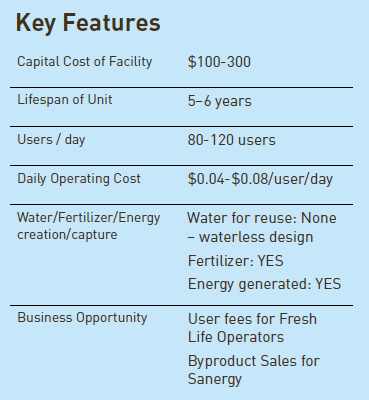 Fresh Life Toilet

In African slums, Fresh Life makes hygienic sanitation
accessible and affordable for everyone, forever. We
franchise a dense sanitation network of clean toilets,
collect the waste, and convert it into valuable byproducts.
As of January 2014, 12,000 residents in
Nairobi's slums are using Fresh Life Toilets every day
with a projected 200,000 in 5 years. Sanergy's franchising
creates financial opportunity while solving a critical
social and environmental challenge.

Toilet Design

The Fresh Life Toilet is based on a continuous customer
feedback loop and related user research suggests that
a clean, comfortable and friendly sanitation experience
dramatically increases uptake. The Fresh Life Toilet
delivers an enjoyable experience by leveraging features
such as an easily cleaned tile floor and an ergonomic
splash reducing squat plate for women, men, and
children. A durable concrete modular construction,
coupled with powerful community-driven branding –
in partnership with Wash United - makes Fresh Life
preferred sanitation option for all slum residents.
The following user(s) like this post:
JotaCarlos
You need to login to reply
Re: Fresh Life Toilet in Kenyan slums - improved urine-diverting squatting plate (Sanergy in Nairobi, Kenya)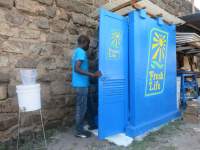 19 May 2014 09:22
#8655
by

Sanergy
Hi Elisabeth et al,

Thanks for the thoughtful piece on our new Fresh Life Toilet design. We appreciate the spotlight as well as the analysis of our work.

One point that we would like to clarify in response to the comment, "One disadvantage is that due to the production process (heat moulding if I remember correctly), the squatting plate now has to consist of two parts (because the urine section is so deep), which means they are joined, and that joint could be a weak spot in terms of urine stone deposits and clearning issues (my personal guess)."

While there are two parts to the squatting plate, the joint which connects the two parts is a shingle joint, which easily allows for liquid to flow over both parts.

However, as we have only in the last 6 weeks put the new design into circulation, it is still too early to tell about the exact wear and tear that the design will take.

Regards,
David Auerbach
Sanergy is a social enterprise that is building healthy and prosperous communities through provision of hygienic, affordable and accessible sanitation in urban slums for everyone, forever - starting with Nairobi, Kenya.

For more information on Sanergy visit:

Our website: saner.gy/
Like our Facebook page: www.facebook.com/Sanergy
Follow us on Twitter: twitter.com/Sanergy
You need to login to reply
Time to create page: 0.419 seconds
DONATE HERE