We have an internal contact function on the forum Reply: Investigating the social determinants of open defecation in India
07 Oct 2017 19:13
#22881
by

muench
Just in case not everyone knows about this: There should be no need to ask someone on the forum for their e-mail address as
any user can contact any other user by using the internal message function
. You can see the message button to the left of the person's post or in their profile information. I have attached here a screenshot to indicate where the message function button is: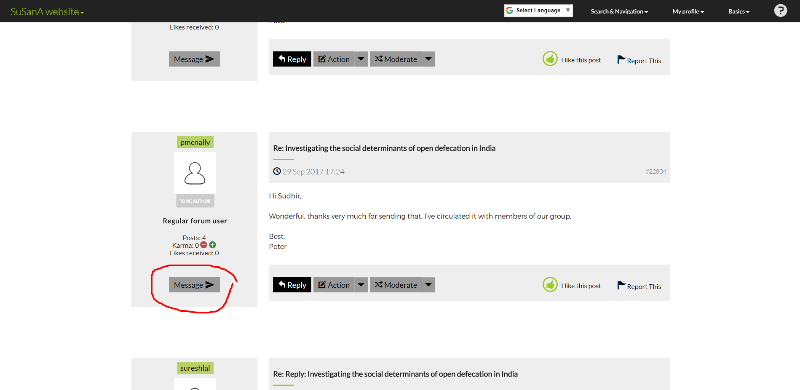 It is only visible/usable when you are logged in.
And strangely there has been some cases when the message button has disappeared. Our IT support person has been trying to solve that problem. I find that I sometimes have to refresh the page to make it re-appear. Therefore, if it is not visisble for you, please let me know (also tell me which browser you are using). Just e-mail me at
This email address is being protected from spambots. You need JavaScript enabled to view it.
or open a new thread for it, thanks.
Regards,
Elisabeth
---
Community manager and chief moderator of this forum
(Funded via GIZ short term consultancy contract)

Dr. Elisabeth von Muench
Independent consultant located in Brisbane, Australia


This email address is being protected from spambots. You need JavaScript enabled to view it.

Twitter: @EvMuench
Sanitation Wikipedia project leader: en.wikipedia.org/wiki/Wikipedia:WikiProject_Sanitation
My Wikipedia user profile: en.wikipedia.org/wiki/User:EMsmile

You need to login to reply
Re: Reply: Investigating the social determinants of open defecation in India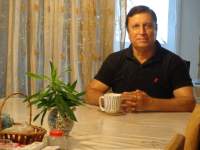 08 Oct 2017 07:46
#22882
by

F H Mughal
Just one small query:

Can someone send publications, say 4 publications of total size of 10 MB, through the message function? In case the answer is in negative, then, that means you still need the email address.

Regards,
F H Mughal
---
F H Mughal (Mr.)
Karachi, Pakistan
You need to login to reply
Re: Reply: Investigating the social determinants of open defecation in India
08 Oct 2017 22:27
#22892
by

muench
No, the internal forum message function does not permit adding attachments. But I just wanted to point out that if you want to ask someone for their e-mail address it might be better to do it by using the internal message function, rather than making a forum post.
It relates a little bit to the "email charter" that you posted (
forum.susana.org/39-miscellaneous-any-ot.../21807-email-charter
) which is all about reducing e-mail traffic and saving the readers time. Forum posts get converted into e-mail notifications so they should follow the equivalent guidelines.
Anyhow, if you have good publications to share then best if you post them in a new forum thread (or into an existing one), either by attaching them or by providing the link (e.g. several of those publications by Coffey and Spears are already in the SuSanA library and have a URL from that.
We also have one of their projects in the project database here:
www.susana.org/en/resources/projects/details/101
Anyhow, you know that I always love seeing your forum posts and always say we need more people like you!

My post on 7 October was aimed towards new people who might not know yet about the internal message function - so I thought I should point it out when I saw your question of "Kindly indicate your email address".
Regards,
Elisabeth
---
Community manager and chief moderator of this forum
(Funded via GIZ short term consultancy contract)

Dr. Elisabeth von Muench
Independent consultant located in Brisbane, Australia


This email address is being protected from spambots. You need JavaScript enabled to view it.

Twitter: @EvMuench
Sanitation Wikipedia project leader: en.wikipedia.org/wiki/Wikipedia:WikiProject_Sanitation
My Wikipedia user profile: en.wikipedia.org/wiki/User:EMsmile

You need to login to reply
Time to create page: 1.553 seconds