Low-cost Decentralized Sanitary System for Treatment, Water and Resources Recovery (National University of Singapore)
7398 views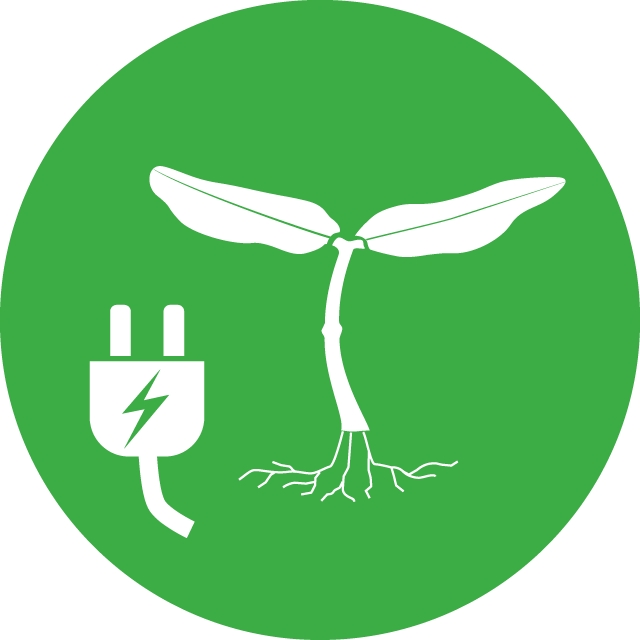 Low-cost Decentralized Sanitary System for Treatment, Water and Resources Recovery (National University of Singapore)
18 Jul 2014 08:25
#9389
by

Elisabeth
Dear all,
I would like to introduce to you today a sanitation research project that was recently carried out by the National University of Singapore (NUS) with funding by the Bill & Melinda Gates Foundation.
Title of grant:
Low-cost Decentralized Sanitary System for Treatment, Water and Resources Recovery
Subtitle:
Tackling the sanitation challenge with water and energy reuse from human wastes
Name of lead organization:
National University of Singapore
Primary contact at lead organization:
How Yong Ng, Associate Professor
Director, Centre for Water Research
Department of Civil & Environmental Engineering
National University of Singapore
Grantee location:
Singapore
Developing country where the research is being or will be tested:
India or Cambodia
Short description of the project:
Process flow diagram:
[/u]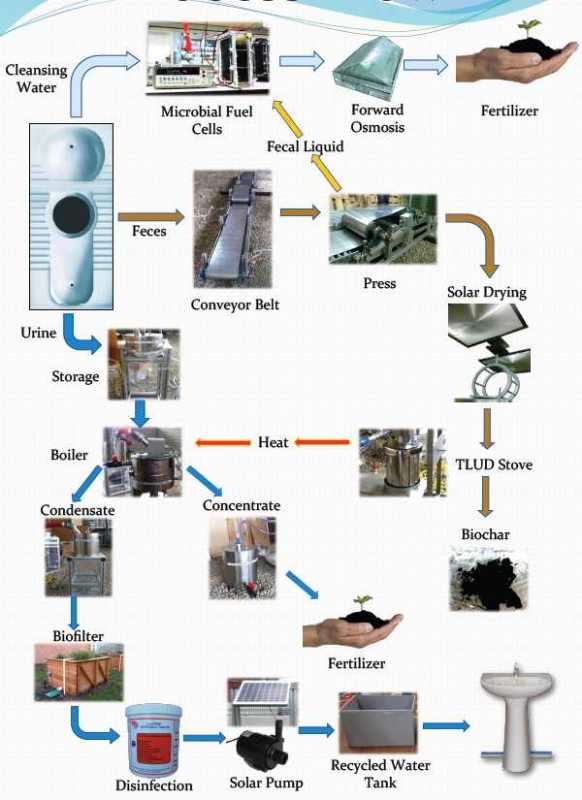 This toilet block integrates energy and water reuse in a single sanitary system. It uses biochar or animal dung to: i) dry feces (covered with sawdust) and convert dried feces into biochar under oxygen-deficit environment for subsequent combustion (i.e., energy recovery from feces); and ii) extract water from urine by boiling under reduced pressure conditions to produce potable-grade water after ion exchange resins and activated carbon treatment. The base component is a urine diversion dehydration toilet.
The
diverted urine
is directed to an evaporator, while the feces are collected on a metallic netted conveyor system. Any liquid from the feces and cleansing water were allowed to drip through the metallic netted conveyor system and be collected underneath in a container that houses an MFC for organic matter removal and electricity production to power a small ventilation fan for odor management.
The fecal liquid and cleaning water is then subjected to FO (Forward Osmosis) process to produce: 1) a diluted fertilizer solution from a concentrated stock solution; and 2) a concentrated fecal liquid and cleansing water stream that will be pumped to the evaporator. Using a mechanically operated metallic netted conveyor system (to avoiding direct contact with the feces), the solid feces is transferred into a solar dryer and then subsequently, into a feces combustion chamber for conversion into biochar.
In the meanwhile, the urine-boiling chamber is maintained in a vacuum at a desired negative pressure to assist easy boiling of the urine and fecal liquid at a lower temperature. Therefore, combustion heat from the feces is used to boil the urine and fecal liquid, and water is vaporized under vacuum condition and then condensed by circulating ambient-temperature water in a condenser coil. The condensed water is finally collected and passed through a water purification tank containing mixed exchange resins and activated carbon to produce highly purified water.
Goal(s):
The goal of this project is to research and develop a decentralized pneumatic flushing urine-diversion dehydration community toilet block for five to six households with separate collection and treatment of urine and feces to recover water and nutrients. The toilet system will recover energy from feces combustion and clean water from advance adsorption desalination.
Objectives:
Objective 1: Construction, optimization and mechanization of pneumatic urine-diversion dehydration toilet.
Objective 2: Development and optimization of options for urine concentration and water recovery and disinfection
Objective 3: Development of feces collection/drying/combustion chamber
Start and end date:
6 June 2011 to 30 June 2014
Grant type:
RTTC (Reinvent the Toilet Challenge) Round 1
The funding consisted of two grants:
The first grant started in June 2011, size US$ 276,251
(
www.gatesfoundation.org/How-We-Work/Quic...s/2011/06/OPP1037488
)
The second grant started in March 2013, size US$ 1,157,107
(
www.gatesfoundation.org/How-We-Work/Quic...s/2013/03/OPP1069475
)
Funding for this research currently ongoing (yes/no):
No
Research or implementation partners:
World Toilet Organization (to help miniaturise and think of the post technology business side)
Links, further readings – results to date:
Edit on 28 Nov. 2014:
Article about this project in IWA Water Wiki
www.iwawaterwiki.org/xwiki/bin/view/Arti...randresourcerecovery
Here you can see two videos of their exhibit at the Reinvent the Toilet Fair in Delhi in March 2014 which I also attended:
Project leader How Yong Ng in an interview with me, explaining the basics about this project:
Video of How Yong Ng giving a tour of their exhibit:
:
Further information is available in the two documents attached below.
Also the
Technical Guides
document from the Reinvent the Toilet Fair has two pages about this project on page 61-62:
susana.org/lang-en/library/library?view=...eitem&type=2&id=2001
Here is a schematic of the prototpye displayed at the fair.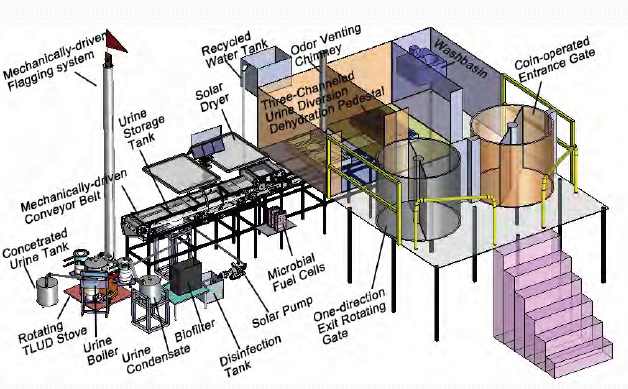 I hope you found this information interesting. If you have any comments or questions about their work, please don't hesitate to ask your questions here on the forum.
Regards,
Elisabeth
You need to login to reply
Time to create page: 0.411 seconds