Skat Foundation is hiring: Part-time co-moderators of the SuSanA Discussion Forum (applications open until 31 Dec 2019)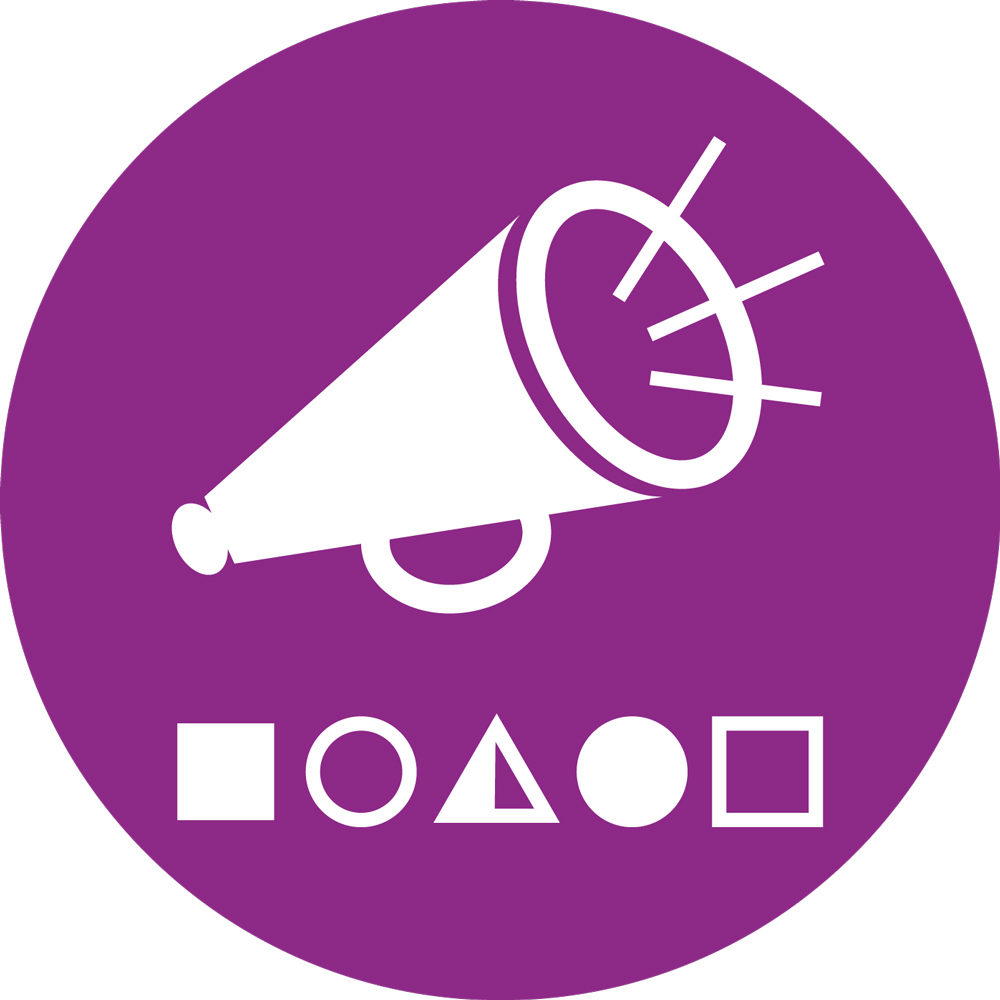 Skat Foundation is hiring: Part-time co-moderators of the SuSanA Discussion Forum (applications open until 31 Dec 2019)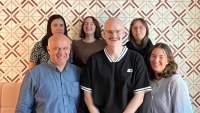 02 Dec 2019 16:12
#28571
by

secretariat
Dear all,
A new cooperation system between SuSanA, the Water Supply and Sanitation Collaborative Council (WSSCC) and the Rural Water Supply Network (RWSN) at Skat Foundation started in November 2019. To achieve the objectives of this project we wish to
recruit several paid co-moderators who will work hand in hand with the head moderator by joining a "Forum Practice Group".

The objectives of this project (follow
this thread
for more updates) are to:
1. Establish, operate and steer a functioning, diverse "Forum Practice group", consisting of trained and active moderators
2. Harmonise online sanitation communities in the WASH sector (by creating mutual understanding through exchange, building upon each one's experience and the creation of collaborative content)
3. Ensure sustainability of the SuSanA Discussion Forum and its active moderation
Your role as a moderator
can be found in the
moderator guide for the Forum
and a description of the Forum in general can be found in the SuSanA library here:
www.susana.org/en/knowledge-hub/resource...library/details/3630
If you are interested in joining the SuSanA Forum as a moderator, and you fulfil the requirements below, please send your application by filling out this form: docs.google.com/forms/d/e/1FAIpQLScdcz-E...V2Qv09qyBng/viewform

This application form will be open until 31 December 2019
. Applicants will be informed until end of January 2020.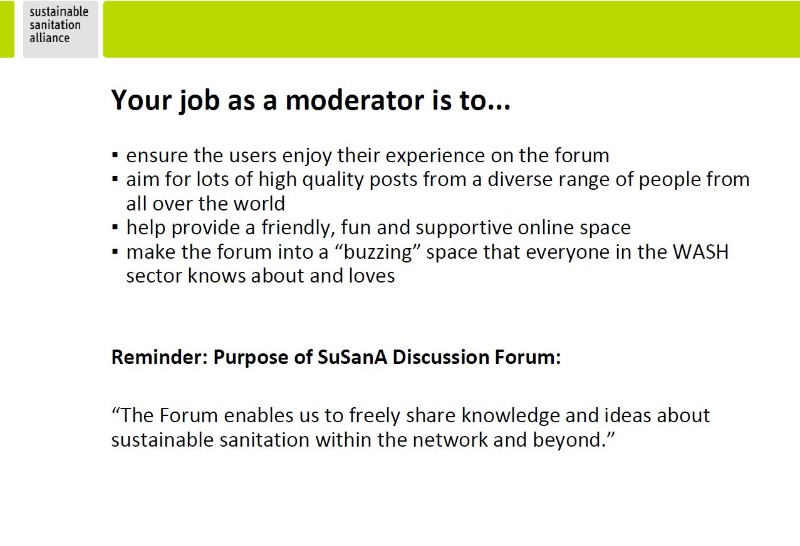 Requirements (compulsory):
1. Proven experience with moderating an online discussion forum, or at least an online community (like a Facebook group, community blog, larger WhatsApp group or alike).
2. Excellent English written communication skills (provide links to pieces you have written).
3. Very strong connection to the realities of countries of the Global South: ideally country of residence and country of origin are within Global South
4. You have to have a workspace with internet access.
Secondary requirements (not compulsory but advantageous):
1. Prior engagement with the SuSanA community.
2. Active participation in SuSanA Discussion Forum or similar WASH-related online forums
3. Several years of work experience in the WASH sector or a closely related sector
4. Strong and growing network with other WASH professionals or practitioners (online but also face-to-face, for example within WASH coordination meetings).
5. Prior experience with knowledge management activities
6. Outgoing personality, willing to "put your personality out there" and be approachable and honest. Not easily offended.
7. Able to (in principle) work at any time of the week (even though we fully respect a good work-life balance). Sometimes a post on the forum requires an urgent response, even on the weekend.
8. Good written command of another language, other than English.
9. A network with WASH practitioners who use a language other than English
10. Prior experience with Wikipedia editing (provide your Wikipedia login name if you have one).
What can we offer you?
- An interesting, varied job that you would carry out remotely, within a supportive team environment (the Forum Practice Group) which meets up via video links.
- Training in SuSanA discussion forum moderation by using Kunena and on-boarding provided by head moderator (using video links or alike).
- An opportunity to grow your network in the WASH sector.
- An opportunity to learn more about a range of topics in the WASH sector.
- A competitive hourly rate based on your experience level, within the context of your country of residence. Our budget includes about 20 days of somebody's time for a period of three months, with a possible extension to a further 40 days for another six month (i.e., in total about 60 days for a nine-month period)
- An opportunity to demonstrate your skills visibly to potential future employers
- A job/consultancy which does not require any long-distance travelling or time away from home
---
Posted by a member of the SuSanA secretariat held by the GIZ Sustainable sanitation sector program
Located at Deutsche Gesellschaft für Internationale Zusammenarbeit (GIZ) GmbH, Eschborn, Germany
Follow us on facebook: www.facebook.com/susana.org and twitter: twitter.com/susana_org
You need to login to reply
Re: Skat Foundation is hiring: Part-time co-moderators of the SuSanA Discussion Forum (applications open until 31 Dec 2019)
09 Dec 2019 07:02
#28608
by

muench
If you have any questions about this consultancy "Part-time co-moderators of the SuSanA Discussion Forum" (either because you are wondering if you should apply or just in general), then please don't hesitate to post your questions in this thread (if they are of a general nature) or to e-mail the scretarat or myself (if it's specificially related to yourself).

We look forward to hearing from you.
Elisabeth
---
Head moderator of this discussion forum
(Funded via consultancy contract with Skat Foundation funded by WSSCC)

Dr. Elisabeth von Muench
Independent consultant located in Brisbane, Australia


This email address is being protected from spambots. You need JavaScript enabled to view it.

Twitter: @EvMuench
Sanitation Wikipedia project leader: en.wikipedia.org/wiki/Wikipedia:WikiProject_Sanitation
My Wikipedia user profile: en.wikipedia.org/wiki/User:EMsmile

You need to login to reply
Time to create page: 0.593 seconds