Updates on the Sanitation Wikipedia (or WikiProject Sanitation) - inviting SuSanA members to get involved
9170 views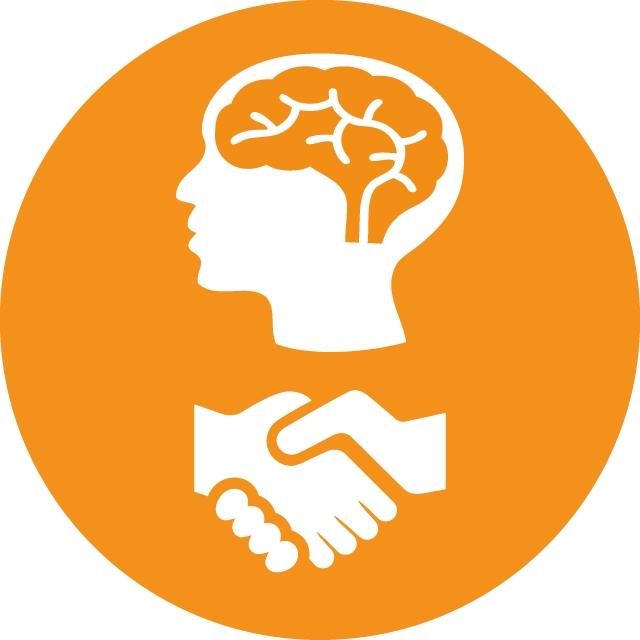 Re: Announcing the new WikiProject Sanitation - inviting all SuSanA members to get involved and donate a little bit of their time
18 Aug 2017 13:22
#22389
by

Elisabeth
Dear all,
Two years ago I introduced you in this thread to the "WikiProject Sanitation" - which we are now renaming to "Sanitation Wikipedia". You might be wondering what happened to it? So it's time for a little update:
In short,
it is progressing really well. And we still need more volunteers to make it even better.
The project page in Wikipedia is continually being improved and now looks like this, with currently 35 members:
en.wikipedia.org/wiki/Wikipedia:WikiProject_Sanitation
The page contains easy to digest information on how to get involved and how to get started, and which Wikipedia articles to work on.
Behind the scenes, Diane Kellogg, Carol McCreary, Arno Rosemarin, some others and myself are also working on a new "event/drive" towards improving Wikipedia,
spurred on by the upcoming World Toilet Day in November 2017
. As part of this, you'll see some action in the 2 months before that.
Details of all this will be announced very soon, so please stay tuned!
Edit on 30 Sept: Here is the thread with the announcement:
forum.susana.org/213-world-toilet-day-wo...of-500-to-be-awarded
Just in case you have some spare time already now, do check this out:
en.wikipedia.org/wiki/Wikipedia:WikiProject_Sanitation
You can put here in this thread any questions you may have.
Oh, and we are changing the name to "Sanitation Wikipedia" (rather than "WikiProject Sanitation") - similar to the hugely successful "Medical Wikipedia" (which I posted about recently here:
forum.susana.org/198-wikipedia/17957-off...es-sanitation-topics
)
I've also re-arranged the threads and sub-categories in the Wikipedia category here on the forum:
forum.susana.org/198-wikipedia
I hope it's now easier to find what we have already discussed so far (make sure you scrol down far enough) as I have grouped the existing threads by:
- Discussions about specific Wikipedia articles
- Frequently asked questions and how-to questions about Wikipedia
- Languages other than English
- Others (uncategorised)
Regards,
Elisabeth
The following user(s) like this post:
dianimbus
You need to login to reply
Re: Announcing the new WikiProject Sanitation - inviting all SuSanA members to get involved and donate a little bit of their time
15 Jun 2015 11:35
#13699
by

Elisabeth
The "Wikipedia Project Sanitation" has come a long way since I announced it on the forum a few months ago. Slowly, more and more people are adding themselves as members and are starting to contribute to articles. A big thank you to these fellow Wikipedians! See here:
en.wikipedia.org/wiki/Wikipedia:WikiProject_Sanitation#Members
Today I would like to announce to you that we now have a
list of popular pages
for all those articles on Wikipedia that are tagged with the Wikipedia Project sanitation. A tag means that someone, like myself, has decided that this topic is of relevance to sanitation and to the WikiProject Sanitation.
The list of popular pages which displays the number of views for the different sanitation-related pages for the last month is here:
en.wikipedia.org/wiki/Wikipedia:WikiProj...tation/Popular_pages
A screenshot of this list, showing the top 30 (out of 213 articles that we have tagged so far):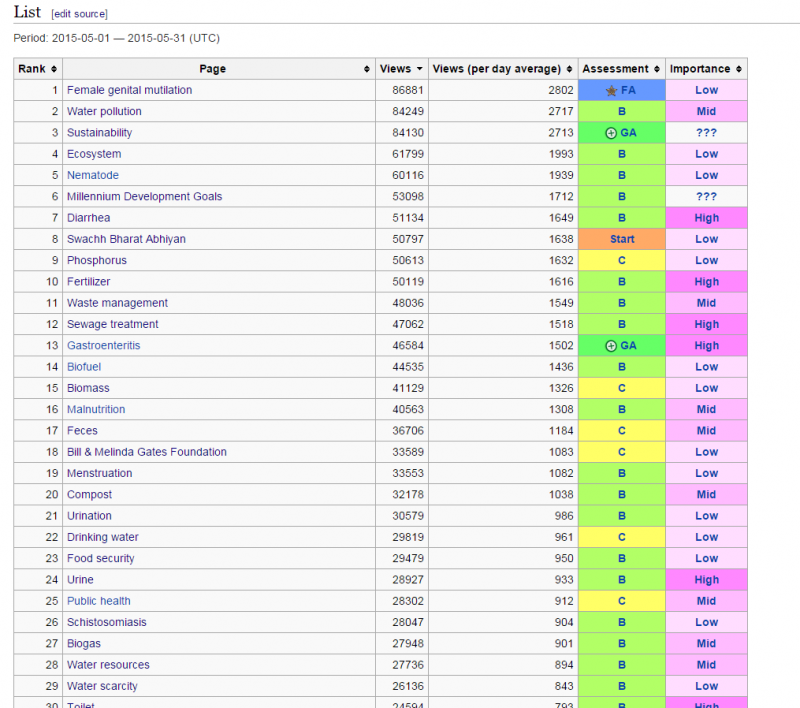 You can order this list by:
popularity (page views)
alphabetical order
assessment or article quality (in increasing quality: stub, start, C, B, A, GA (good article), FA (featured article))
importance (low, medium, high, top)
This can guide your decision on which article might be worth your time to contribute to. E.g. you could start with one that has very high page views. Or take one that has importance top but only quality C and so forth.
You could also help by tagging additional articles that should be part of the WikiProject Sanitation. Tagging is easy, see here:
en.wikipedia.org/wiki/Wikipedia:WikiProj...them_to_this_project
Please let me know if anything is unclear.
Regards,
Elisabeth
P.S. If you want to see a list of popular pages for
all
Wikipedia articles, please see here:
en.wikipedia.org/wiki/Wikipedia:WikiProj...ist_of_popular_pages
For example what I found interesting was that in 2014 the article on Bill Gates (
en.wikipedia.org/wiki/Bill_Gates
) was ranked as the
135th most viewed
article (nearly 5 million views in that year)! That's really good. I invite you to check out the article and see what it says about Bill's interest in sanitation topics.

The following user(s) like this post:
jankn
You need to login to reply
Updates on the Wikipedia WikiProject Sanitation - inviting all SuSanA members to get involved and donate a little bit of their time
09 Feb 2015 10:40
#11962
by

Elisabeth
Dear all,
I am excited to announce today that we have created a
Wiki Project Sanitation
on Wikipedia which all SuSanA members could rally behind and contribute to.
Here is the link to the new WikiProject Sanitation:
en.wikipedia.org/wiki/Wikipedia:WikiProject_Sanitation
The initiative to create it and the basic work for it came from James Heilmann who has extensive experience with the WikiProject Medicine (see:
en.wikipedia.org/wiki/User:Doc_James
) and who has seen the benefits that this WikiProject Medicine project has brought to improving the medical content on Wikipedia - for the benefit of all of us.
Since December of last year, I have worked with him and Milli (who works for me) on setting up the WikiProject Sanitation page. This involved setting up the project page but more importantly
collecting a list of articles that need further work
. This is done by
"tagging"
the article on their talk pages.
We have so far tagged 103 Wikipedia articles (anyone can tag additional articles, or modify existing tags).
Members of the project so far include: James, myself, Milli, Chris Canaday and Kai Mikkel Førlie. Who would like to become the sixth member?
So far, I have formulated the goals and objectives of this
WikiProject Sanitation
as follows (and anyone can modify these, you would just have to click on the "edit source" button
here
):
Goal [edit source]
The WikiProject Sanitation which began in December 2014 seeks to benefit the world by giving the general public and professionals in all areas that touch on sanitation topics (such as public health, infrastructure, water, agriculture, gender, environment, poverty, etc.) information which they can all read, appreciate, and respect, free of charge.

Objectives [edit source]
The objectives of this WikiProject Sanitation are to:


improve sanitation related articles on Wikipedia
add links to sanitation issues into articles where such links were so far omitted (for example article on malnutrition)
ensure that the lead paragraph of articles are written in basic, clear English such that they are understandable to as wide an audience as possible and can easily be translated into other languages as part of WikiProject Medicine Translation Taskfore
promote further engagement by other sectors (medical, humanitarian organisations, public health, environment, agriculture) involved in the sanitation sector
raise awareness amongst the general public in developed countries (in particular USA, Europe, Japan, Australia etc.) about the sanitation crisis in developing countries and countries in transition and what could be done about it - partly with their tax money that goes into development cooperation activities
The WikiProject Sanitation page provides you with list of articles that we could focus on. They are grouped by thematic category, by importance and by quality to date, see here:
en.wikipedia.org/wiki/Wikipedia:WikiProj...rticles_of_relevance
The overview table that Wikipedia generates automatically from the tags looks like this: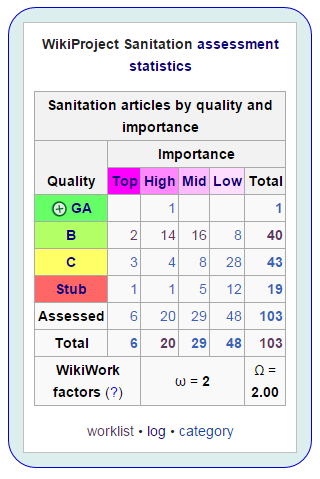 When an article on Wikipedia has been tagged with the WikiProject Sanitation on its talk page it looks like this (does the icon of the WikiProject Sanitation look familiar to you?

I used the one we had used in our forum):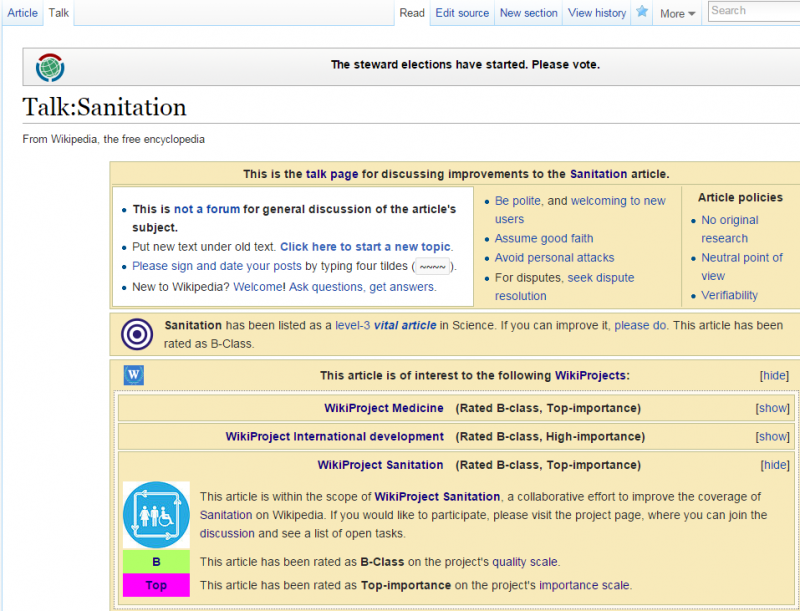 The WikiProject Sanitation page also gives detailed information on
how you can help
, e.g.:
6.1 Student assignments
(this is particular interesting for anyone working in tertiary education; Wikipedia is providing plenty of tools for this; as James has pointed out before, you don't have to be an expert to edit on Wikipedia; the key is to cite reliable, reputable sources for your statements; a good skill that students should learn anyhow)
6.2 Edit
6.3 Maintain the integrity of articles
6.4 Collaborate
6.5 Work behind the scenes
So, I hope I managed to got you a little bit curious about this.
We have 4500 SuSanA members, imagine how good the sanitation content on Wikipedia could get if everyone contributed their watchful eyes to spot any typos or inconsistencies. And even if just 1% got actively involved, it would already be 45 people...
If you have any questions or comments about this WikiProject sanitation, please don't hesitate to ask or to put them into this thread.
Our previous discussions about Wikipedia are available in this sub-category:
forum.susana.org/forum/categories/166-de...naries-mapping-tools
Regards,
Elisabeth
The following user(s) like this post:
rkaupp
You need to login to reply
Time to create page: 0.630 seconds
DONATE HERE