Benefit of Dry Fecal Matter Reuse- is it worth the cost/effort of processing?
55.3k views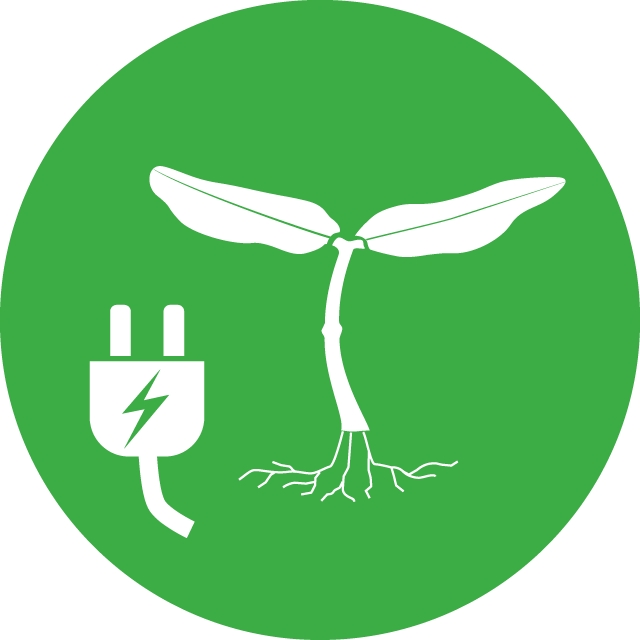 Re: Health risks Benefit of Dry Fecal Matter Reuse

07 Nov 2011 14:15
#525
by

Chris_Quintero
Thanks for everyone's input thus far! Great discussion.
Elisabeth- Good google sleuthing and thanks for those studies

. Yep, I've been involved with the
Sanivation
project working to design a better Solar UDDT to fully inactivate ascaris lumbricoides. It actually started
because
of the Moe/Corrales studies referenced in this thread. I had posed this question to the community because we're trying to evaluate the marginal cost/benefit of providing hardware for feces disinfection at the rural family scale.
i.e. while our Solar UDDT would render fecal matter safe for reuse without secondary treatment, is it worth the added cost (+~$150) for this assurance? Especially if the dry feces output isn't a particularly compelling fertilizer? We're trending towards thinking this answer is no for all but niche cases, but wanted to see if anyone has had experiences teaching them otherwise.
Side note: In terms of cost, use of Ammonia for fecal decontamination (through urea addition) has been a compelling option (as in addition to providing disinfection, the output's fertilizer value is raised)- Nordin's papers on this provide good info although we've yet to see data from this option implemented- let us know if you have.
As a result of these cost/benefit issues the team has recently been experimenting with prototypes of community sized decontamination systems (currently using parabolic solar concentration). The idea is that while rural and peri urban users often have containment by burial as an option for disposal, urban scenarios lack this option. As there is a recognized lack of options in urban fecal sludge management, it's an interesting avenue of exploration. We hope to have some more concrete results to share soon and are working with Toxocara canis as the indicator organism (as Ascaris Lumbricoides and Ascaris suum have been difficult to get a hold of).
Thus, I guess our real questions are:
Has anyone had experience where assurance of waste decontamination at a family scale would be worth such a cost premium? Say (+$150). We see the value in this at more community level systems and thus have been moving away from focusing on only the family model.
Has anyone seen case studies re: real world use of urea for fecal decontamination?
Thanks!
You need to login to reply
Re: Health risks Benefit of Dry Fecal Matter Reuse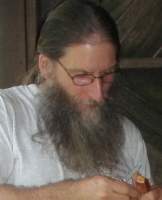 07 Nov 2011 15:49
#531
by

canaday
Hi everyone,

Yes, Elisabeth, I am saying that the dried feces and cover material, which has been stored dry for over 6 months in the Tropics or a year in the Temperate Zone (or whatever more precise times we determine in the future), is excellent for scooping and covering new feces. Since the beginning of 2011, I have been doing this and there are notably fewer flies and smells ... and no negative reaction from the users.

For extra safety, I currently mix in one part new wood ashes to three parts recycled cover material that has been stored for over a year (here in Amazonian Ecuador).

I sift the recycled cover material with an open (8 mm?) mesh and mainly remove nails that have come with the wood ash and larger fragments of wood that have come with the sawdust (in the initial cycle of cover material). Sometimes there are clumps to be broken up, but there is nothing disgusting about them and, upon inspection, usually contain sawdust, etc., in their centers.

The volume seems to be very close to that which is needed, since, even though the feces largely disintegrate, the sawdust and ashes mostly do not. (I would also like to experiment with biochar, which is very absorbant and does not decompose.)

One EcoSan publication (I cannot remember which) listed GREATER BIODIVERSITY in the list of factors that speed up pathogen die-off, together with the commonly stated factors of temperature, dryness, pH, exygen, etc. Recycled cover material would likely still contain some of beneficial soil microbes that broke down the feces in the previous cycle. These would likely be in an inactive state, but ready to jump back into action when given more food. (And I doubt that mixing with some ashes would kill them all, although it may restrict them to the centers of the tiny clumps of dry material). Fresh ashes and sawdust, in contrast, would have almost no microbial biodiversity.

Some UDDT webpages suggest using a mix of soil and ashes as cover material. This would be largely indistinguishable, to the human eye, from reused cover material mixed with ash, except for the lack of the larger fragments of old sawdust.

Advantages of recycling cover material:
## Not needing to find and transport so much wood ash and sawdust, etc. (New users could be provided with enough material to be used and reused forever ... until they have more children.)
## Not needing to transport feces and cover material away, just store it on-site long enough for it to be safe to use again.
## (Apparently) Fewer flies and less smell.
## (Likely) Faster die-off of pathogens due to the greater biodiversity.
## Feces from the previous cycle remain dry and pathogen die-off will continue (IF any pathogens still remain).
## If users are concerned about using recycled cover material, this would be an added incentive for them to wash their hands, as we would like them to do anyway.
## Users could occasionally make withdrawls from this nutrient bank account, when they establish new garden plots, etc. (and mix in new sawdust, etc., to maintain the required volume of cover material.)

Squeemish users may be put off by this concept at first, but should find this acceptable once the benefits are explained (and they observe no smell!!), especially if they do not have to scoop it manually, but only step on a pedal (as in the models Fioravanti, Henry and I are developing).

Earthworm composting, as mentioned by Pranveer, could be part of this cycle, and could shorten the detention cycle, as would thermophilic composting, especially in urban cases with limited space for storage. (And the final compost could be used again as cover material.)

Even feces have an expiration date, after which they are no longer feces, but rather compost, organic matter, soil or whatever we want to call it, but it is no longer digusting or dangerous (if they have been stored under the proper conditions for this transformation). It seems we need to prove this to ourselves a bit more, in order to later prove it to society at large.

Why has no one commented on my mention that the El Salvador UDDT users (in the study we are talking about with respect to parasite loads of the users) WERE NOT STORING THE FECES FOR A SPECIFIED LENGTH OF TIME BEFORE USING THEM IN AGRICULTURE? This is the key point: if we are going to reuse the feces in agriculture or whatever, there have to be clear rules and the rules have to be followed, to avoid transmission of parasites.

All of the above points would benefit from further scientific research and hopefully there are students and professors in this forum taking note of this.

Best wishes,
Chris Canaday
Conservation Biologist and EcoSan Promoter
Omaere Ethnobotanical Park
Puyo, Pastaza, Ecuador, South America
inodoroseco.blogspot.com
You need to login to reply
Re: Benefit of Dry Fecal Matter Reuse- is it worth the cost/effort of processing?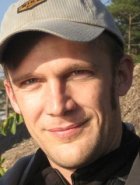 07 Nov 2011 16:09
#532
by

Florian
I am not so convinced that this reusing of dried feces as cover material is such a good idea.
canaday wrote: --Containment of any potential lingering pathogens (as you say)
I think this is not really containment, but rather the opposite: users come directly in contact with the stuff on a daily basis.
You need to login to reply
Re: Health risks Benefit of Dry Fecal Matter Reuse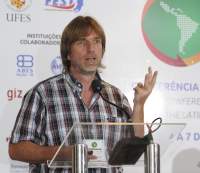 07 Nov 2011 18:55
#535
by

christoph
Dear Chris,
I do consider myself a "Squeemish user"

in your definition.
I think the concept is critical. Why do you promote direct use in our conditions (tropics or subtropics) after 6 month of storage? That is critical when your pH is not above 9 for > 6 month. The studies I attached earlier shows clearly that 6 month is not enough, the WHO (see page attached) says the same. It seems to be difficult in the daily use with 6 month to be secure.
It might be better with ashes (higher pH) and storage of a year as you say, but then why promote 6 month?
I agree totally with Florian, but I already pointed out my position before.
Concerning the length of the storage (in the study) as you are asking… maybe…. not possible to know…the average of the pH was above 9 and only 6 % had a storage time below 6 month (the study I attached which has the same base) ….ok it might be that exactly those who let to the problems in the field are the 6%, but statistically speaking that is not so probable.
ANOTHER QUESTION:
Does anyone have data or a graph for complete Ascaris elimination concerning temperature versus time? I was thinking that maybe the point in the solar UDDT is not the medium temperature, but the temperature peaks during the day… does anybody have an idea about that?
Yours
Christoph
You need to login to reply
Re: Health risks Benefit of Dry Fecal Matter Reuse

07 Nov 2011 21:34
#536
by

Chris_Quintero
You need to login to reply
Re: Benefit of Dry Fecal Matter Reuse- is it worth the cost/effort of processing?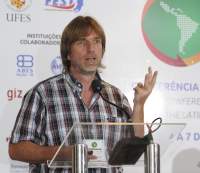 07 Nov 2011 23:56
#537
by

christoph
WoW Chris

Those two links where very nice stuff I did not know. THANKS! The temperature thing was exactly what I was looking for. Funny I´m going to visit the Durban people next week and you send me a publication by them.
Christoph
P.S. Could you send me the third publication by mail? chr (add) rotaria.net
You need to login to reply
Re: Benefit of Dry Fecal Matter Reuse- is it worth the cost/effort of processing?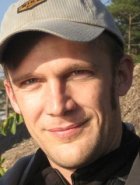 08 Nov 2011 09:05
#539
by

Florian
Very interesting publications indeed. Especially the Durban one on helminth analysis, this a very tricky thing.

The temperatures required to inactivate Ascaris eggs in short time can only be safely achieved by external heating or thermophilic composting. Composting needs to be very well managed to guarantee that required temperatures are maintained during several hours uniformely throughout the material, this is not realistic for small scale systems. Both options are normally not feasible in the context of UDDT toilets where users take care themself about the products.
Solar heating may work as well, but I think it is diffcult to control and be sure that required temperatures are really reached at all parts of the feces heap.

Thus the only option we have is long storage time and minimzing exposure to users.

Chris Canadys concept of reusing dried feces as cover material for the toilets does not respect both points sufficiently I fear.
You need to login to reply
Re: Benefit of Dry Fecal Matter Reuse- is it worth the cost/effort of processing?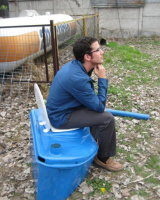 08 Nov 2011 15:25
#544
by

AFoote
Hi All,
I have enjoyed the discussion. Thanks to my colleague Chris Quintero for starting it.
I wanted to add a few more resources and future outlooks on a couple points.
1. Reemphasizing the Nordin 2010 thesis "Ammonia Sanitisation of Human Excreta Treatment Technology for Production of Fertiliser." The thesis has a great in depth review and research on treatment technologies and their effect on pathogen inactivation. Here is a sample about composting:
"However, in the composting process, prolonged pathogen survival
despite a seemingly adequate temperature increase has been observed
(Germer et al., 2010). Non-homogeneous temperature distribution may
allow pathogen survival (Tonner-Klank et al., 2007) and re-growth in colder
outer zones (Elving et al., 2009). Frequent turning of large-scale composts
and insulation of small-scale composts can overcome such temperature
distribution problems (Germer et al., 2010; Niwagaba et al., 2009; Vinnerås
et al., 2003a)." (Nordin, 2010)
2. Another thesis done on pathogen inactivation in composting latrines not mentioned in Nordin review. This one done by Jim Mihelcic's team in Panama. Mehl, Jessica. (2008).
Pathogen Destruction and Aerobic Decomposition in Composting Latrines: A Study from Rural Panama
. Master's Thesis. Michigan Technological University
"The temperature results support previous findings that compost latrines do not get hot enough to kill pathogens; rather, the latrines remained close to ambient temperatures. The pH results show that many latrines were operating within the range for ideal decomposition, pH of 7.5-8.5 (Jenkins, 1994), but only 17% of latrines measured pH 9 or above, the recommended pH for pathogen destruction (WHO, 2006). Most composting latrine users added desiccant materials, sawdust and wood ash, to lower the moisture level and provide the necessary carbon for decomposition. However, it seems not enough desiccant materials were added because moisture levels remained above the suggested maximum of 25% for pathogen destruction (WHO, 2006) and C/N ratios were in the range of the ratio of raw human faeces. More importantly, the results of the microbiological analysis show various pathogens, mainly helminthes, still present in the compost samples that had been stored for the recommended 6-month storage time." (Mehl, 2008)
3.
Viability of Ascaris and other helminth genera no larval eggs in different conditions of temperature, lime, and humidity
.
Key takeaways are: To have excreta be free of helminth "a temperature above 70°C and 80% humidity for a duration of 120 min; and, (b) a 20% CaO dose (pH 12.5) and a humidity level of 80% for a duration of 8 months are needed. With regard to the resistance of different genera of helminth eggs. Ascaris, Toxocara and Taenia,
in that order, were the most resistant, while the most sensitive were Trichuris and Hymetiolepis" (Maya, 2010)
The study also includes a summary of all previous work on helminth inactivation. A highly recommended read for those interested in environmental conditions for pathogen inactivation.
4. WASH Benefits project research and proposal attached from 3ie. Research consortium looking to identify health benefits and sustainability of WASH interventions. This research will be a real game changer and is Gates funded.
5. Literature review from Sanitation Ventures that focuses on on-site waster characteristics, digestion and decomposition. Found
here
This has been already been a very informative discussion. The question I would pose is similar to a past one from Chris Quintero. What are peoples viewpoints on interventions that guarantee pathogen inactivation with an option of reuse and what would be an affordable cost for such an intervention?
This message has attachments files.
Please log in or register to see it.
The following user(s) like this post:
Florian
You need to login to reply
Re: Benefit of Dry Fecal Matter Reuse- is it worth the cost/effort of processing?
08 Nov 2011 16:24
#546
by

daneric
I'm currently in Kenya working for energy generation and nutrient reuse for schools. One idea is to have hot water from solar panels heat the slurry to 70C for about an hour to remove pathogens. The toilets are no flushing 'hole in the flor' style. Anybody heard about this kind of pre-treatment before and would like to share their experience?

The 'effort' of safe fecal reuse would in this case be about 0.14 kWh/person,day; heating urine, faeces and some cleaning water from 25 to 70 C. This is less than the energy of the potential biogas per person and day, 0.33 kWh. (this is though including potential from kitchen waste) Further, there is a big win cos biogas has much higher exergy content than heat at below 100 C; a lot more useful and valuable.

Shouldn't this be a nice thing to develop?

I've attached a preliminary plan, however the school project we were planning to build it for has run a bit low on funding so will look for another way to test it.
This message has an attachment file.
Please log in or register to see it.
You need to login to reply
Re: Benefit of Dry Fecal Matter Reuse- is it worth the cost/effort of processing?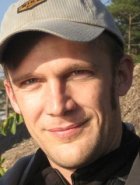 08 Nov 2011 16:26
#547
by

Florian
Hi AFoote, thanks a lot for all this good information. I have yet to dig through all of your links, but your excellent summary posted here helps much!
AFoote wrote: The question I would pose is similar to a past one from Chris Quintero. What are peoples viewpoints on interventions that guarantee pathogen inactivation with an option of reuse and what would be an affordable cost for such an intervention?
On household level, I see basically these options:
- after removing dried feces / compost from chamber, additional storage outside on a safe place (e.g. coverd heap) for another 1-3 years; then reuse. This option is interesting when users anyway know of the benefit of bringing organics to the soil and already do composting of vegetal matter or similar activites where feces use could be included.
- no reuse but safe disposal (burial). This option is probably best when users have no real interest or need in using feces.
Collection systems would allow for more sophisticated centralised treatment (e.g. well controlled composting) and quicker reuse. If such a solution is economically viable can probably only answered case by case...
Florian
You need to login to reply
Re: Benefit of Dry Fecal Matter Reuse- is it worth the cost/effort of processing?

08 Nov 2011 19:10
#551
by

Chris_Quintero
Daneric,
I've heard about two studies who used flat plate solar collectors to raise the temp of wastewater or fecal sludge- neither was designed for the sludge to hit temperatures as high as you're proposing, but the general idea seems possible. The studies are:
www.sid.ir/en/VEWSSID/J_pdf/102620110205.pdf
and
www.ipcbee.com/vol6/no1/87-F10043.pdf
I'd be very skeptical about the cost-effectiveness of such a system on a school wide scale (you say 250 people?) - especially if you're counting on making a profit off fertilizer/biogas sales.
That said, technically I see no glaring reason it wouldn't work. By your diagram however, wouldn't you need another water circulation pump between the panels and hot water tank? It looks like you have an evacuated tube collector drawn (who's circulation operates off a thermosiphon) but you'd need another pump to circulate that hot water to the tank below it.
Florian: I agree- nice summary of the options available- There will always be niche cases, but for the majority of rural users I think that's a good way of looking at the problem.
All the best,
You need to login to reply
Re: Benefit of Dry Fecal Matter Reuse- is it worth the cost/effort of processing?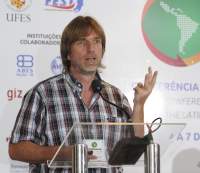 08 Nov 2011 23:26
#553
by

christoph
Dear Chris and AFoote,
as you asked three times for reactions to your question I will try to answer with a clear: I don´t know.

Some thoughts:
- We build over 400 UDDT in Peru. In the mountain region, which is the region the people are very interested in the feces as well about 150, we had costs of about a 100 U$ for the whole toilet. This is due to the use of Adobe bricks (0 cost) and neighbourhood labor. In this case 150 US would be expensive, but on the other hand I do not see 150 US additional costs (I looked at the picture on your site). But even if the costs are the half… would it not be much cheaper to build a larger chamber? Especially if the mountain situation makes that possible without steep stairs. Another advantage is that you do not have the hazel with the direction of the sun in relation to the toilet. I always felt that the direction to the sun is a very limiting aspect.
+ The Ascaris point is important so why not invest by donors a little additional sum in order to secure the safe reuse? And in the rural area the available space makes the direction into the sun possible without being a very limiting factor.
-
Wouldn´t it be better to invest in X U$ for a treatment for the people together with a good regular UDDT toilet? Once worm free the ascaris aspect is not important any more. I know ….that depends on the rest of the environment.
- Perhaps the pH option with a long storage is better as cheaper..the cost aspect is VERY important as we are talking about lots of people….and we when we are talking about 150 US / toilet or ..in 10 users (Africa) or 5 users (LA) about 15-30 U$/person.
+ On the other hand the discussion I know about suitable costs for mass application, is surrounding 50 -70 U$/person for the whole toilet (complete construction). Our costs for a complete toilet (Lima -Peru) build by a professional are about 100 U$/pe (just for a comparison - normally we only build the basic bench to bring down the costs, the surrounding has to be constructed by the owner of the toilet). So in the Mountain region with natural building material there might be room for a solar aspect (as it eliminates the necessity of a secondary treatment which would be necessary additionally necessary in the peri-urban and urban situation and has to be aded to the price of the toilet)
Sorry, not very clear and I´m pretty sure you already came to these conclusions. Having written these aspects, I would vote for no. I would save the money for more toilets.
Yours
Christoph Platzer
Rotária do Brasil
P.S. to Daneric.
There has been a post #447 in this forum from India about a solar solution for ascaris.
You need to login to reply
Time to create page: 0.292 seconds
DONATE HERE