Resource recovery from faecal sludge as a solid fuel. So many technology options, but how to decide?
3179 views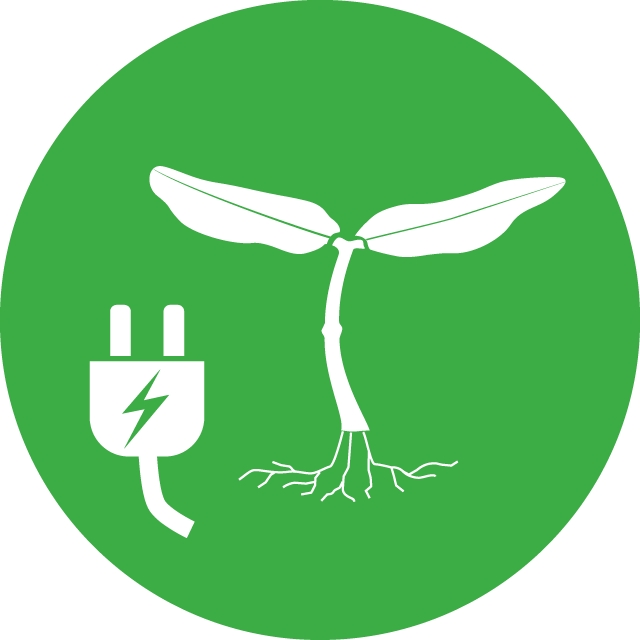 Marine Chief Engineer by profession (1971- present) and at present Faculty in Marine Engg. Deptt. Vels University, Chennai, India. Also proficient in giving Environmental solutions , Designation- Prof. Ajit Seshadri, Head- Environment, The Vigyan Vijay Foundation, NGO, New Delhi, INDIA , Consultant located at present at Chennai, India
Re: Resource recovery from faecal sludge as a solid fuel. So many technology options, but how to decide?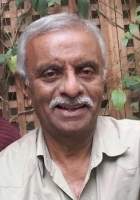 10 May 2020 08:26
#29782
by

AjitSeshadri
Dear Nienke and Members.

It is very apt to use dried, cured and safe FSS from different routes as solid fuel.

Ideally made as briquettes with bio- mass, fillers viz agri waste and this FSS- mass,

All thse  can be used by communities.

Another route is this FSS- Mass is loaded with other bio - solid fuel in brick kilns and duly fired .
Furnaces of brick- kiln in shape and design of - Up draft bio mass gassifier is also in use. 

Ash and sweepings ex site floors and others are also fed into the raw matter with mud clay, soil and raw bricks made prior baking at the kiln.

Adaptations  of the following products can researched and developed .
They are as below :
1. As raw fuel,
2. Raw matter for casting bricks / special tiles Etc.
3. Soil enrichner, nutrients,

The above can be developed for future products and projects using- NSS FSS and aspiring for sustainable closure of projects loop.

Well wishes
Ajit Seshadri. 
Prof. Ajit Seshadri, Faculty in Marine Engg. Deptt. Vels University, and
Head-Environment , VigyanVijay Foundation, Consultant (Water shed Mngmnt, WWT, WASH, others)Located at present at Chennai, India
You need to login to reply
Re: Resource recovery from faecal sludge as a solid fuel. So many technology options, but how to decide?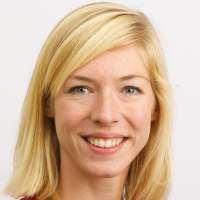 08 May 2020 17:17
#29772
by

NAndriessen
Hi Elisabeth, 

Thank you for your questions and interest. 
I will send you Figure 1 via email. You can use it for the Wikipedia page then with reference to the paper. 

We compared different groups of technologies that produce a solid fuel product. In Figure 1 'Drying' for example also encompasses thermal drying technololgies. We did consider the Omniprocesser for the paper, however, we set the boundary for the analysis/comparison to technologies that produce a solid fuel product. Since the Omniprocessor immediately uses the solid fuel it produces, it doesn't make a product and that is why we didn't include it here. What Sedron calls 'boiling' the sludge would fall under (thermal) drying in Figure 1. 

Figure 2 is indeed meant as a summary of the 'Considerations' section. 

Best wishes, 
Nienke
The following user(s) like this post:
AjitSeshadri
You need to login to reply
Re: Resource recovery from faecal sludge as a solid fuel. So many technology options, but how to decide?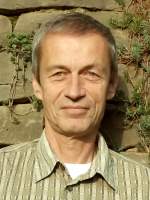 06 May 2020 12:19
#29738
by

Heiner
Dear Ladies,
very useful links and comments to that topic. But I'm still mixed up after reading as I was when I read things like this 5 years back. And again I think we have to consider the topic in dependance to the regional environment.
We are talking about the carbon cycle. In nature this carbon (shit) is falling down on the ground and processed by bacterias and worms (destruents) who use the energy (and minerals) to make it useful for plants (producer) and after  a successful photosynthesis the plants are eaten by men or animal and falls down on the ground again. 
But this simple circle works only in nature. It is interrupted (destroyed) in big cities and everywhere the population has grown to a level which is not sustainable. In Germany f.e. almost all FS is burned and they say the do it to extract the energy out of it. Ridiculous, because under our climate in combination with our sewage system there is no energy surplus after drying and processing. At the same time the arable land is lacking humus and heaps of scientist are "working on this"..... but don't care about the sludge.
Now they developed all this things you mentioned: carbonization, terra-preta, slow-pyrolysis a.s.o. The success and the efficiency depend on the technical standard you choose and which is available in your region. Big rich cities in the will construct very sophisticated plants to produce sellable products (non smelling dried pellets).
But in most parts of the world we should think about the efficiency and the water circle as well. The questions are: how much energy is used in the process (C is energy!), do we have other energy sources or is cowdung the only source, do we have a sewage system and so on.
There will never be ONE answer and we have to pick up the regional situation. When I read the posts of Haico and Dean I favour very much the vermifiltration as a very simple way with very little technic. Technic breaks down, an experience of working as a farmer all my life. And to do it the digital way makes things even worse, when you live in a poor country.
Last year I had a little job in Zimbabwe. Here I saw a pit set up by concrete and broken. So the liquid part found its way to the banana trees under the surface. Perfect ecological system in the dry months! Perhaps not perfect in the rain season. Where I was born, on a small farm, we had exactly the same way to handle our leftovers. And the trouble was in the winter when the trees and bushes didn't need any water. But in those years we didn't care....
What I want to state is: wherever you go look at the given situation and try to improve with the technic available. There is no such thing as the one solution made by a company and payed by Gates foundation. And the more steps you go in processing the worse the sustainability becomes. Keep it simple and let us have a look how nature works rather than looking after new apps.
If you make a living out of  writing papers to compare an evaluate it is very okay. But we should never underestimate the regional solutions developed by smart craftsman in the simplest  possible way.
Okay, I'm an old farmer

Heiner, the old farmer.....
You need to login to reply
Re: Resource recovery from faecal sludge as a solid fuel. So many technology options, but how to decide?
05 May 2020 06:32
#29727
by

Elisabeth
Thanks for highlighting this publication here and I'm happy to see it's open access. Your Figure 1 is very interesting: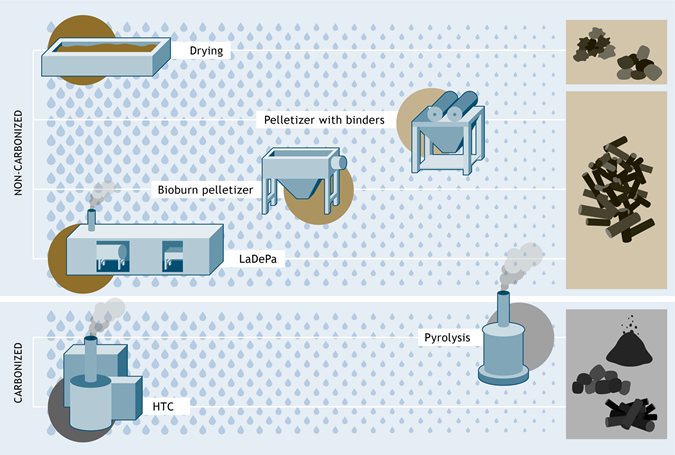 Figure 1: An overview of technological options for producing solid fuel, starting from dewatered faecal sludge at 20% ds and ending at non-carbonized or carbonized solid fuel end products. The position of the technology icons from left to right indicates the required dryness of the input sludge for each technology, as indicated by the size of the droplets, ranging from 20% ds on the left to 90% ds on the right
.
So you are basically comparing five different technologies, right?: Drying, 
pelletizing
, 
hydrothermal carbonization
, LaDePa and slow 
pyrolysis
. 
I would like to include this figure also in the Wikipedia article but I am not sure if the figure is also open access? When I download the slide it says "Copyright © 2020. InternationalWater Association. All rights reserved.".  
Also, did you include the Omniprocessor that is installed at pilot scale in your review (see
here
on Wikipedia  or
here
on the forum). I am not clear if it's still operational but if it is, it would be the largest scale example of a solid fuel production process from faecal sludge, right? It talks about "boiling the sludge" - would you classify that as "drying" in your Figure 1?
The treatment process first involves boiling the  sewage sludge , during which water vapour is boiled off and recovered. A dry sludge is left behind which is then combusted as fuel to heat a boiler. This boiler produces steam and the heat necessary for the boiling process. The steam is then used to generate electrical energy. Some of this electrical energy is used for the final water  reverse osmosis  purification stages to produce safe drinking water, and to power ancillary pumps, fans and motors.
I've copied some of your paper's general statements about resource recovery from faecal sludge into a couple of Wikipedia articles, see here:
This figure 2 might provide some of that information but I was looking for something in text form: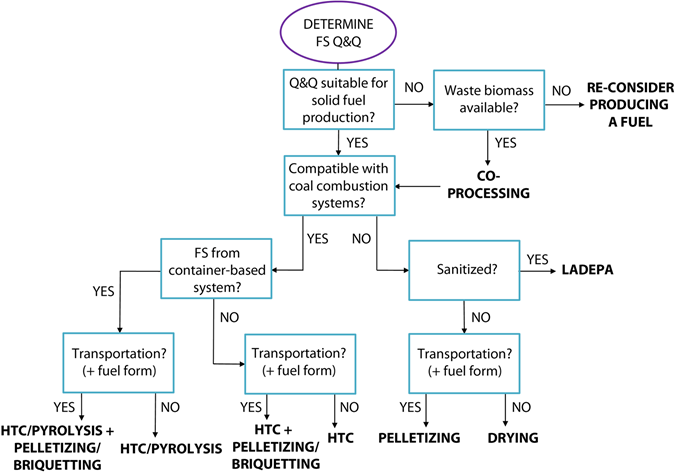 Figure 2: Decision tree suggesting a decision basis for selecting appropriate technologies to produce a solid fuel from faecal sludge, starting from the quantities and qualities (Q&Q) of influent faecal sludge.
It's a very useful summary / review you have put together. I'd like to spread it further, hence my questions about open access for the figures for the Wikipedia article.
Regards,
Elisabeth
The following user(s) like this post:
HarryTams
You need to login to reply
Resource recovery from faecal sludge as a solid fuel. So many technology options, but how to decide?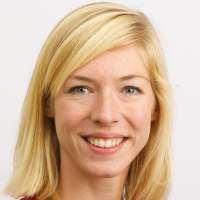 15 Apr 2020 15:37
#29551
by

NAndriessen
Resource recovery from faecal sludge is an attractive option for sustainable sanitation. Specifically reuse as a solid fuel is relevant for places where solid fuels are scarce and/or in high demand. Multiple technologies for resource recovery as a solid fuel are currently in development. If you're wondering which technology options are currently available, and what to take into consideration while choosing one, this paper could be interest to you.
To char or not to char? Review of technologies to produce solid fuels for resource recovery from faecal sludge

This literature review provides an overview oftechnologies that can produce a solid fuel from faecal sludge, and evaluates in which context each is most appropriate. You can find it open access here:
https://iwaponline.com/washdev/article/9/2/210/66755/To-char-or-not-to-char-Review-of-technologies-to
Abstract:
Resource recovery from faecal sludge can take many forms, including as a fuel, soil amendment, building material, protein, animal fodder, and water for irrigation. Resource recovery as a solid fuel has been found to have high market potential in Sub-Saharan Africa. Laboratory- and pilot-scale research on faecal sludge solid fuel production exists, but it is unclear which technology option is most suitable in which conditions. This review offers an overview and critical analysis of the current state of technologies that can produce a dried or carbonized solid fuel, including drying, pelletizing, hydrothermal carbonization, and slow-pyrolysis. Carbonization alters fuel properties, and in faecal sludge, it concentrates the ash content and decreases the calorific value. Overall, a non-carbonized faecal sludge fuel is recommended, unless a carbonized product is specifically required by the combustion technology or end user. Carbonized and non-carbonized fuels have distinct characteristics, and deciding whether to char or not to char is a key judgement in determining the optimal solid fuel technology option. Based on the existing evidence, this review provides a decision-making structure for selecting the optimal technology to produce a faecal sludge solid fuel and identifies the top research needs prior to full-scale implementation.
The following user(s) like this post:
HarryTams
,
BJWard
You need to login to reply
Time to create page: 2.104 seconds
DONATE HERE