The Microbial Fuel Cell Latrine – Enhanced Electricity Recovery from Domestic Waste (University of Massachusetts, USA and Ghana)
6364 views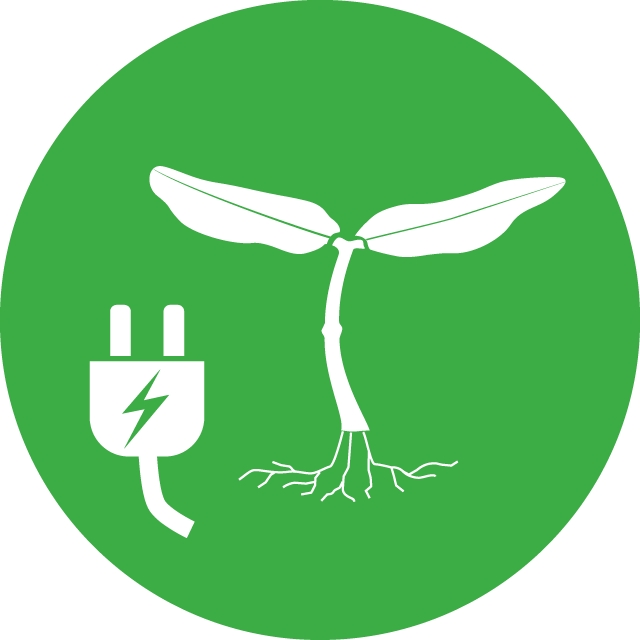 Re: The Microbial Fuel Cell Latrine – Enhanced Electricity Recovery from Domestic Waste (University of Massachusetts, USA and Ghana)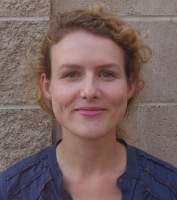 15 Feb 2016 11:08
#16996
by

SDickin
Dear Caitlyn,

This project sounds like it addresses many fundamental issues: "low-cost, low maintenance toilet that directly converts the potential energy contained in human waste (human excreta) into electricity, while simultaneously removing the organic matter and nutrients"

Is there a plan to scale up the concept after this grant? What have been the reactions of potential users and government to your innovation? There seem like many benefits so I am curious what limitations you are facing. For instance, is there any interest in the use of the waste to fertilize crops or are there some cultural barriers. Powering a light isn't very much, but maybe it would be enough to motivate efforts to ensure the unit keeps running?

Best regards,
Sarah
Dr. Sarah Dickin,
Research Fellow
Stockholm Environment Institute
Stockholm, Sweden


This email address is being protected from spambots. You need JavaScript enabled to view it.
You need to login to reply
Re: The Microbial Fuel Cell Latrine – Enhanced Electricity Recovery from Domestic Waste (University of Massachusetts, USA and Ghana)
21 Dec 2015 17:17
#16336
by

cytec
dear Caitlyn Butler,
i am very much interested in MFC . may i get the details at
This email address is being protected from spambots. You need JavaScript enabled to view it.
regrads
manoj k jain
bhiwani
india
You need to login to reply
Re: The Microbial Fuel Cell Latrine – Enhanced Electricity Recovery from Domestic Waste (University of Massachusetts, USA and Ghana)
14 Dec 2015 16:44
#16247
by

kevinorner
Dr. Butler, I am interested in learning more about your MFC latrine. The link you had above (
washdev.iwaponline.com/content/4/4/663
) does not load your PDF. Could you send me a PDF of your journal article? korner at mail dot usf dot edu. Thanks!
You need to login to reply
The Microbial Fuel Cell Latrine – Enhanced Electricity Recovery from Domestic Waste (University of Massachusetts, USA and Ghana)
11 Jun 2015 14:42
#13645
by

csbutler44
Please find below information about our research project (funded by the Bill & Melinda Gates Foundation) which was in the news recently as we won an innovations award at this year's AfricaSan conference in Senegal.
Title of grant:
The Microbial Fuel Cell Latrine – Enhanced Electricity Recovery from Domestic Waste
Name of lead organization:
University of Massachusetts, Amherst
Primary contact at lead organization:
Caitlyn Butler
Grantee location:
Amherst, Massachusetts, U.S.A
Developing country where the research is being tested:
Ghana
Start and end date:
1 May 2013 to 30 October 2014
Grant type:
Grand Challenge Exploration
Grant size in USD:
$200,000 (as per grant database
in 2011
and
in 2013
)
Short description of the project:
The Microbial Fuel Cell (MFC) Latrine has potential to be a viable sanitation technology. Built with community resources, our MFC Latrine is a low-cost, low maintenance toilet that directly converts the potential energy contained in human waste (human excreta) into electricity, while simultaneously removing the organic matter and nutrients that can pollute ecosytems and allow pathogens to persist in water sources.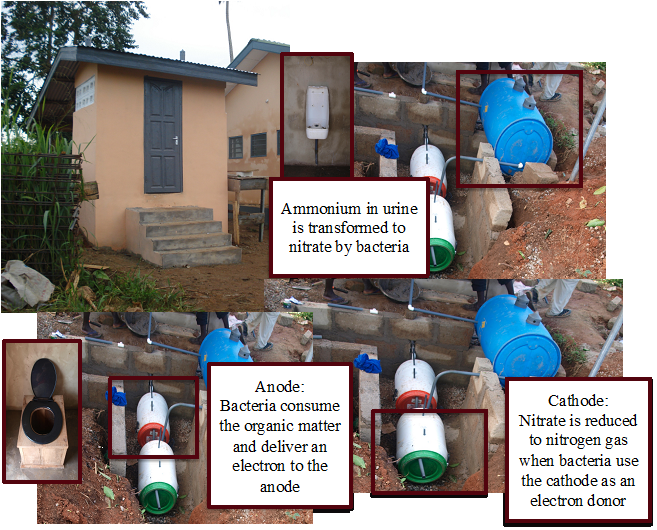 There are actually five other research teams that are or were funded by the BMGF to investigate microbial fuel cells - you can find them here in the project database:
www.susana.org/en/resources/projects?search=MFC
Copied from the abstract of one of our papers (see link below):
A microbial fuel cell (MFC) latrine that treats human waste and produces compost and electricity was deployed in Agona Nyakrom, Central Region, Ghana. After solid wastes were composted, the MFC treated organic matter and nitrogen from the remaining liquid stream. Organic matter was oxidized in the anode by anode-respiring bacteria that transfer electrons to an external circuit, producing electricity, which was observed to be 268 nW/m2 after two years of operation. A separate nitrification stage transformed ammonium present in urine, to nitrate. Nitrate was reduced to nitrogen gas by cathode-oxidizing bacteria in the cathode completing nitrogen removal. The MFC Latrine was constructed on-site using local labor and materials. Evidence of total nitrogen removal and power production was observed while the MFC Latrine was in operation. Multiple user challenges and maintenance affected the performance, yielding low power output. The initial findings suggest that the viability of the system is directly correlated with its use. Incorporating the MFC Latrine system into the user community's typical social practices is key to a successful deployment of the MFC Latrine as a sanitation technology.
Goal(s):
Our goal is to incentivize sanitation practices by recovering resources from human excreta. The 'one-seat' MFC Latrine, built at the Nyakrom Secondary Technical School, Agona Nyakrom, Ghana, generates electricity that powers an interior light and the composted solid wastes can be used to fertilize agricultural crops.
Objectives:
The objectives of the current project were to:
o Increase electricity recovery through further lab-based, pilot-scale testing,
o Investigate the biological processes that degrade waste to overcome the electrochemical inefficiencies of the large bioelectrodes.
o Create a new, more modular MFC design that could retrofit existing composting latrines (a.k.a composting toilet).
Research or implementation partners:
Brad Rogers and Mark Henderson, Arizona State University and Nyakrom Secondary Technical School
Links, further readings – results to date:
Castro, Cynthia J., et al. "Deployment of the microbial fuel cell latrine in Ghana for decentralized sanitation." Journal of Water, Sanitation and Hygiene for Development 4.4 (2014): 663-671.
www.iwaponline.com/washdev/004/washdev0040663.htm
Current state of affairs:
Our current efforts are on stand-by as we pursue more funding to continue this project.
Biggest successes so far:
Our field demonstration of the MFC Latrine is our biggest success so far – note that only a few full-scale MFCs have been demonstrated (Logan et al, Appl Microbiol Biotechnol (2010) 85:1665–1671, DOI 10.1007/s00253-009-2378-9,
www.ncbi.nlm.nih.gov/pubmed/20013119
) and the MFC Latrine is the first to directly use human excreta.
We are also very honored to have recently (May 2015) received the Research and Technical Innovation Award from AMCOW AfricanSan:
wssccafricasan4.wordpress.com/2015/05/27...at-africasan-awards/
Main challenges / frustration:
Our biggest challenges have been our research team's distance from the MFC Latrine in Ghana. This has made monitoring and education efforts limited and a challenge. We are pursuing some creative ideas and collaborations to improve these efforts in the future.
I would be happy to answer questions anyone might have about this project in this thread.
Caitlyn Butler
Assistant Professor Civil and Environmental Engineering
University of Massachusetts, Amherst
USA
You need to login to reply
Time to create page: 1.312 seconds
DONATE HERE