Forum e-mail digest has been improved: it is now ordered by category Forum e-mail digest has been improved: it is now ordered by category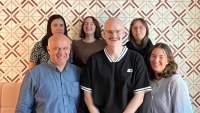 30 Sep 2014 14:58
#10340
by

secretariat
I am happy to announce that we recently made a small but significant improvement to the forum e-mail digest which I am sure many of you will like. Perhaps you have already noticed it (if you have set the frequency to daily or twice a week for the digest you have seen it already in your inbox):
The forum e-mail digest is now set up so that the new posts are
grouped by category
, using the same category icons that we have here on the forum (and - for now - in the same order as we have it here:
forum.susana.org/forum/categories
).
This makes for much easier reading, now that we usually have quite a few posts per day or per week, so that you can quickly jump to the category that interests you the most.
Here is what it looks like for me in my inbox with Outlook 2010: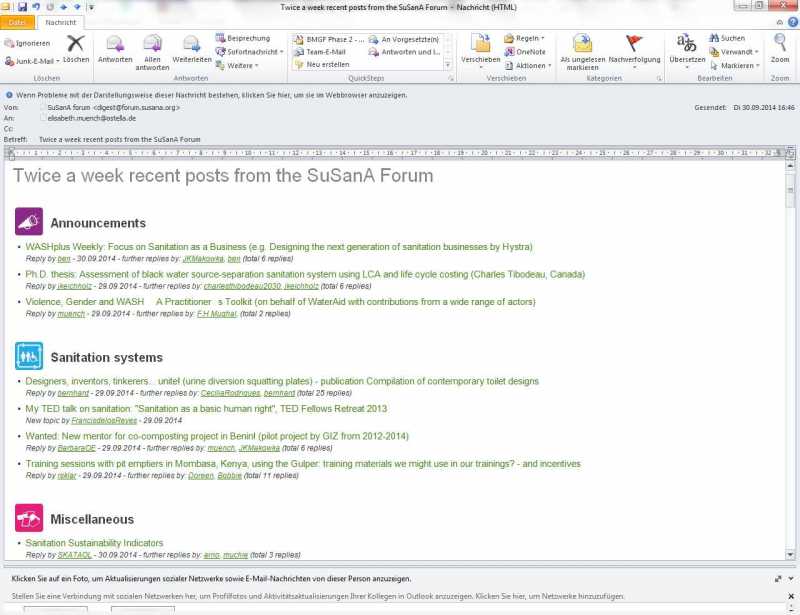 Please let us know how you like this change?
Also if anything is not displayed correctly in your e-mail software, please let us know, by stating which mail browser you use (in this thread or by using the contact button on the left). We have tested it with quite a few mailing systems (e.g. Outlook 2010, Hotmail, Gmail) but it is still possible that there is an e-mail client out there where it needs to be adjusted.
Also if you have further suggestions for
simple
improvements to the digest, please let us know.
I am saying "simple", because I have to state already now that customised versions of the e-mail digest will not be possible (for example each user being able to choose in which order the categories are displayed or not displaying certain categories etc.). This is too much IT programming work. To subscribe to only selected categories, you are better off using the subscribe function directly in the Kunena Forum (see
here
how to subscribe to sub-categories).
One idea that Trevor had which we didn't implement yet: if there is large demand for having a digest that excludes the category "Announcements" (as this rarely involves discussions), this option could possibly be provided. It could possibly appear on this kind of list where you currently only choose the frequency: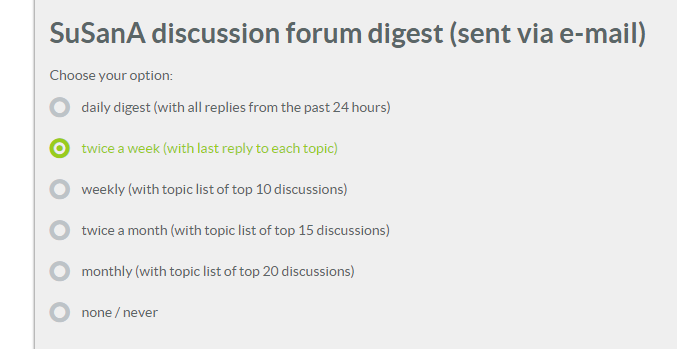 But we would have to weigh up if the additional programming required would be worth it, i.e. if enough members would desire this.
As the desires of our 4000+ members are difficult to know, we are starting a large user survey tomorrow! You can add suggestions about the e-mail digest into one of the comment fields of the survey (or put them into this thread, of course).
Regards,
Elisabeth, Trevor, Shobana and Steffen
(for SuSanA secretariat)
P.S.
If you want to change the frequency at which you receive the e-mail digest or want to unsubscribe from it, please simply login and change your settings here:
www.susana.org/login
If you want to know more about this digest or other subscription or e-mail notification options, please read here:
forum.susana.org/forum/categories/143-qu...e-mail-notifications
---
Posted by a member of the SuSanA secretariat held by the GIZ Sustainable sanitation sector program
Located at Deutsche Gesellschaft für Internationale Zusammenarbeit (GIZ) GmbH, Eschborn, Germany
Follow us on facebook: www.facebook.com/susana.org and twitter: twitter.com/susana_org
You need to login to reply
Time to create page: 1.217 seconds