What's the deal with the karma? Or: how to estimate the "esteem" of a user
6815 views What's the deal with the karma? Or: how to estimate the "esteem" of a user
22 Sep 2013 19:38
#5716
by

Elisabeth
Some of you may have noticed that we recently added two new pieces of information to the user profile which is displayed next to a user's post.
These are:
Likes received
Karma (the word karma is explained here but we use it here as something good that you've done)
It looks like this for example: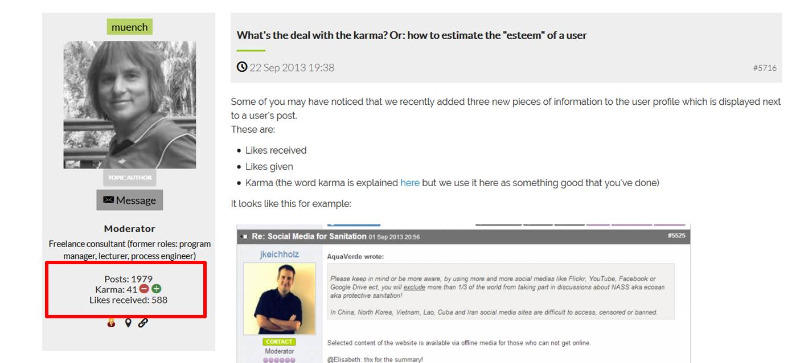 Why have we done this?
It is an attempt to generate information so that users can get a rough idea of the "esteem" that other users
have been awarded by others
on the forum. So that if someone makes a bold statement and you are wondering "could this be true?", and then you see that this person has received already 100 Likes for past posts and has e.g. 50 karma points then you might think to yourself "could well be true"; whereas if he/she has few Likes received and few karma points you might be more hesitant to follow the person's argument. (but of course it could also be that this second person has only recently joined the forum and thus has accumulated fewer Likes and karma points for that reason; so be careful)
Of course this method is
not fool-proof
. It is just an approach.
Note the "Likes given" and "Likes received" come from the button called "I like this post" which you can click on underneath someone's post (you have to be logged in to see it). The number displayed there is a
summation of all the Likes since the user started
, e.g. it could be since two years ago.
The karma points is a new feature and they have only been accumulating since a week ago. That's why the karma points are still low for everyone.
Feel free to start handing out karma points if you want to hand out a sign of esteem for a certain user (by clicking on the green plus sign to the left of someone's post).
The system is set up so that:
a user can only give one karma point to one other user within a 6 hour time period. You can not give user A one point and user B one point within 6 hours. This is to avoid misuse.
You can also give a negative karma point if you are unhappy about someone's post (= "thumbs down").
The karma points are anonymous, i.e. you can't know who gave them to you.
I am assuming that negative karma points won't happen all that often because the posts where I would immediately hit the "minus" karma are the spam posts - and they get deleted by the moderators anyhow... But OK if a post is somhow lacking content or not helpful at all, maybe even rude, then feel free to click on the red minus symbol to reduce someone's karma.
You cannot change your own karma points.
Once the system with the karma points has been going for a while, it could also be interesting to look at the ranking by users by karma points every now and again. You can access it under the Button "Basics", then "Statistics" (top menu bar, the white text on black) or under "Search & Navigation", then "Find User".
Edited on 28 June, 2017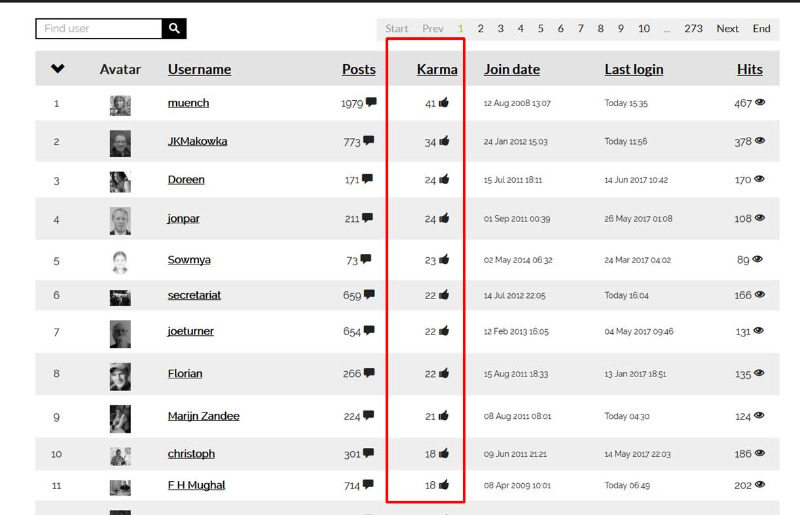 A word of caution:
please don't take this all too seriously
. Don't get upset if you don't have many karma points yet. See it more like a game - something fun (with a useful aspect to it).
The theory behind this is called
gamification strategy
, and I was introduced to it by Juergen Eichholz: It's about using elements of "playing" to engage users in the forum and making it more fun for them to participate.
Wikipedia gives a good explanation of what gamification is:
en.wikipedia.org/wiki/Gamification
If anyone has examples of similar little fun or practical things implemented on other people's forums or websites, please let us know so that we can investigate if it's worth doing it for SuSanA forum or website as well.
Regards,
Elisabeth
You need to login to reply
Time to create page: 1.043 seconds