Social media sharing buttons for the forum
1996 views Re: Social media sharing buttons for the forum
08 Oct 2020 16:40
#30938
by

Elisabeth
Has anyone tried out the new social media sharing buttons at the bottom of a forum thread yet? If so, what are your experiences? Can it help to direct more attention to our discussions here on the forum? Are they easy and convenient to use?
You need to login to reply
Social media sharing buttons for the forum
16 Sep 2020 08:32
#30773
by

Elisabeth
Today I would like to highlight that we have re-instated the social sharing features for forum threads (we used to have these buttons but then lost them in the update in April). If you scroll to the bottom of this thread, you can find the buttons where you can share this thread to your preferred social media account. 
It should look like this: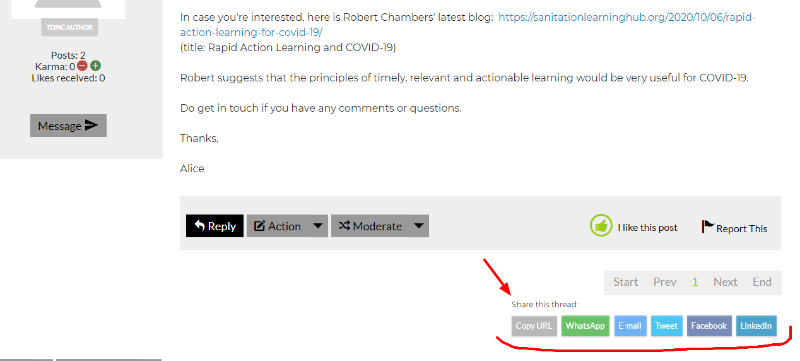 If you can't see the sharing buttons then it means you have to adjust your profile settings. There is an option there to turn off the social media sharing, see here (make sure it's set to "yes" if you want to have the social media sharing buttons):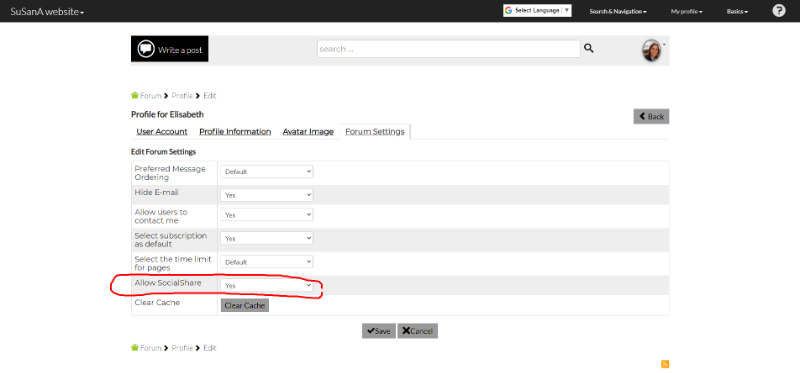 Also, if you have interesting experiences to share how you use social media for your sanitation work, please post them into this thread.
Regards,
Elisabeth
You need to login to reply
Time to create page: 0.459 seconds