SuSanA library resources and filters - suggestions for improvements regarding finding training materials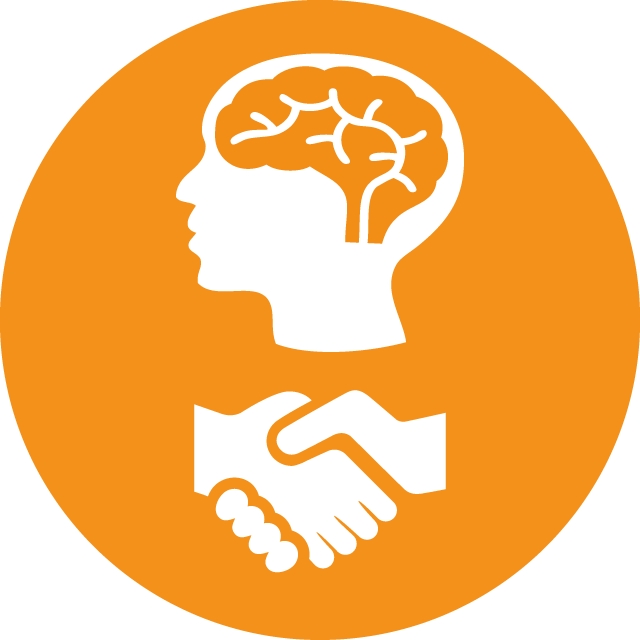 SuSanA library resources and filters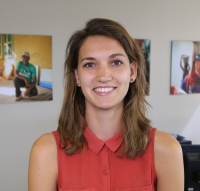 27 Feb 2018 23:44
#24207
by

sterennphilippe
Dear SuSanA community,

The SuSanA Library is a great knowledge hub of sanitation resources. But there's always room for improvement. Working Group 1 is looking into the following two questions:

• Is it easy to find resources using the filters?
• Does the library contain all types of sanitation resources?

CAWST has observed a gap in accessing training resources on sanitation. The SuSanA library currently does not have filters to easily search for them, which is possibly one reason why there are not many training resources in the library. As part of our new capacity development initiative supported by funding from Bill & Melinda Gates Foundation, we have conducted an online search to get a sense of what training resources exist. We are also connecting with capacity development organizations in 12 countries in Africa and South Asia to further understand what resources exist.

From these activities, we would like to recommend creating a new filter category called "Type of training resources" with (to start) three filters:

• Trainer manuals
• Games and activities
• Syllabus/curriculum: (focused on adult education programs such as universities and vocational schools).

What are your thoughts?

Sterenn
The following user(s) like this post:
dorothee.spuhler
You need to login to reply
Re: SuSanA library resources and filters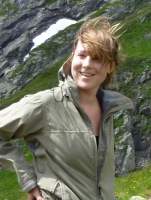 01 Mar 2018 14:34
#24222
by

dorothee.spuhler
Dear all
Thank you Sterenn for the post: as discussed earlier, I agree with your suggestion.
I just want to point out that this resources are not going to be used only by trainers, but also people educating themselves in a particular topic. Related to that I am I wondering under which category would you put MOOCS there? And where would you put online resources like the SSWM toolbox or similar? Would those deserve an own category? Or could we change "Syllabus/curriculum" into "Syllabus/curriculum and web-based training/learning packages" (I am not very happy with this wording...)?
I also would like to make some further suggestions:
In the "filter by type of resource" we have currently: guidelines and manuals; factsheets; case studies in SuSanA template; case studies in other formats; posters, brochures and flyers; technical drawings; presentations; and videos and webinar recordings. I suggest to remove "guidelines and manuals" and "presentations" and add three new category "resports/miscellanouse" and "PhD and master thesis", "scientific publication".
Delete the filter by treatment technology (one could use text search in case it is relevant)
Delete filter by reuse material (also better use text search)
I am aware that these changes are controversial. I would like to ask ALL MEMBER if you think these changes would bring a considerable improvement of accessibility of SuSanA library resources?
And maybe some member also want to react on if they are actually using the library and what is most useful with it?
For those who are not very familiar with these filter categories, have a look here:
www.susana.org/en/knowledge-hub/resource...publications/library
Cheers, Dorothee
---
Dorothee Spuhler
WG1 Co-lead
Working with Sustainable Sanitation and Water Management (SSWM) based at seecon, Switzerland
www.sswm.info / www.seecon.ch


This email address is being protected from spambots. You need JavaScript enabled to view it.
You need to login to reply
Re: SuSanA library resources and filters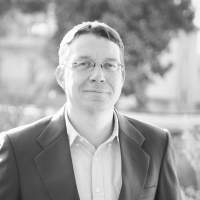 02 Mar 2018 03:38
#24235
by

Marijn Zandee
Dear Sternn, Dorothee,
I think the searching through filters is great. The main worry I have is that no-one will use it, because, it is not obvious that it exists. My brain (and I think many others) is trained by internet use the search function when I try to find something. So, when I open the library that is the way I would try to find something. However, the searching through filters may in many cases actually work better. If I open the library page on my (15.5 inch) laptop it is not very clear that the searching through filters system exists (see attached screenshot).
There is about 10 cm of white in which there is only a SuSanA logo and three lines of text. I know that white space is the scientifically proven "thing"in web design these days, but in this format the only options that the user gets to see are: "Filter by region" or the search bar. I know from experience that it would not occur to me from this design, that there is a whole list of "filter by options" available below the "filter by region" option. I think that this design will lead many to just always use the search bar, because they overlook the other option, which is a shame.
Even shortening the white space on top of the page, may already be an improvement: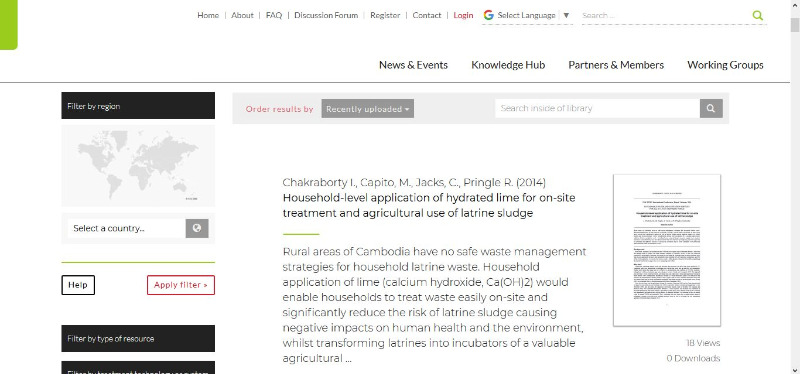 Otherwise, I think we should include some instruction, or draw attention to the fact that searching through filters is an option for the user in that white space.
Regarding the categories,
"Trainer manuals" feels a bit odd. Maybe "Manuals for trainers" is better?
and
"Syllabus/curriculum: (focused on adult education programs such as universities and vocational schools)." , I would probably call those: "Formal education materials"
Regarding Dorothee's comments,
I would like to keep the "filter by treatment technology", as I am quite likely to use it.
Other suggestions are fine by me.
Finally, "Filter by SuSanA aspect". I really had to look at the options under it to get an idea (it seems to me that it is a toggle to only search for SuSanA publictions?). Do we need this category? If so, I suggest renaming it to something that is clearer.
Regards
Marijn
---
Marijn Zandee

E:

This email address is being protected from spambots. You need JavaScript enabled to view it.
The following user(s) like this post:
muench
You need to login to reply
Re: SuSanA library resources and filters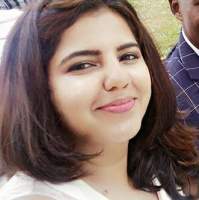 07 Mar 2018 17:10
#24292
by

shobana
Dear All,

Thank you for bringing up the need for additional filters.
The secretariat would love to receive feed back on the need to rearrange filters on the library interface.

If the filter names are too long , they might cause incovenience. Do you think 'open educational resources' encompasses formal curriculum and MOOCs?

Best,
Shobana
---
Shobana Srinivasan
SuSanA Secretariat, GIZ Eschborn
BORDA e.V Germany


This email address is being protected from spambots. You need JavaScript enabled to view it.

;

This email address is being protected from spambots. You need JavaScript enabled to view it.


Working as a part of Bill & Melinda Gates Foundation Phase 3 SuSanA project ( www.susana.org/en/resources/projects/details/127 )
You need to login to reply
Time to create page: 0.954 seconds