Other non-household settings (e.g. hospitals, health centres, prisons, train stations, offices, work places)
Treebogs: A Sanitation System for IDP Camps?
4294 views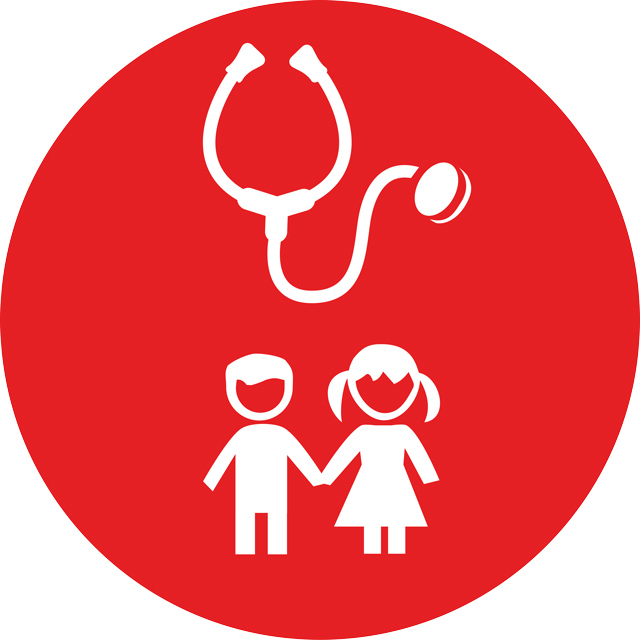 Re: Treebogs: A Sanitation System for IDP Camps?
27 Jul 2022 19:41
#33749
by

Jay3
Dear Anthony,
Yes, it's almost like digging holes is a part of being human!
Digging holes for pools/ponds, for ditches, holes to store things in or to dispose of wastes, mounds and trenches for defence, ridge and furrow to manage water in the landscape, Motte and Bailey, and of course the Chinampa wetlands of Mexico…the list goes on and on.
Through Biologic Design, I am lucky to be able to dig holes for a living for the 'construction' of the wetland systems we create using permaculture design principles.  These Wetland Ecosystem Treatment or WET Systems are densely and diversely planted, soil-based wetland ecosystems which integrate water purification, resource production and increased biodiversity through habitat  creation.  
They hold water in the landscape as a part of water retentive landscape design - on any scale.
They are as Bill Mollison put it they are an example of the  'recombinant ecologies' we need to create to repair the damage wrought on the Earth.  These ecosystems comprise all of the six great kingdoms of life - The Archea, Bacteria, Protista, Funga, the Plants and Animals - which are given a place to flourish, within a designed, specifically constructed and densely planted 'Land:Water Harmonic'.  
A wave form of water and earth - which can change depending upon local conditions and what yields are required from the 'system'.
See attached drawing of examples of the most productive Land:Water Harmonic there have ever been - The Chinampa - from Permaculture: A Designers' Manual, by Bill Mollison, which outlines all of the Permaculture Design Principles and Design Directives necessary to create regenerative human habitation, and has been the basis of my design practice since 1992.
All the best,
Jay - Biologic Design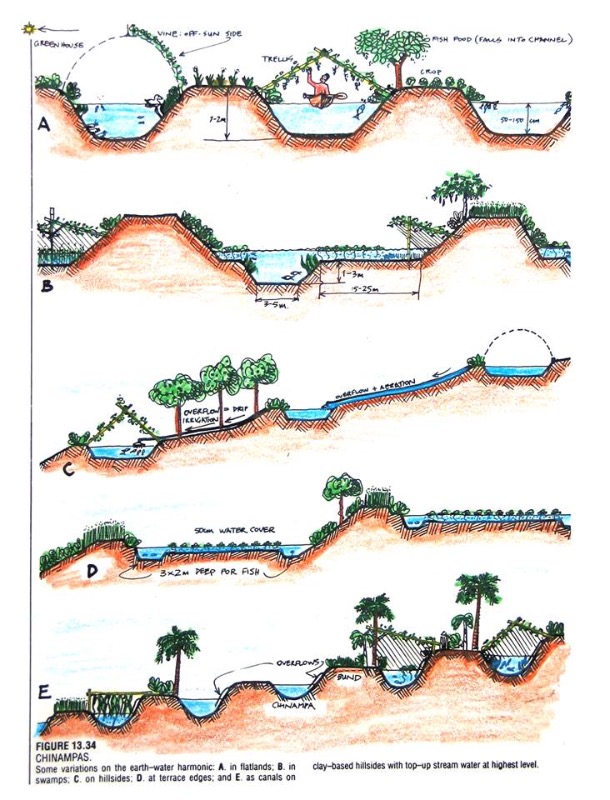 You need to login to reply
worked in sanitation for most of my life. taught plumbing. have plumbing and builders license, certified inspector in all facets of construction, PhD in public administration & have taught construction management in university, traveled numerous countries, Interest UDDT and sanitation & clean water

Less

Posts: 61
Karma: 2
Likes received: 19
Re: Treebogs: A Sanitation System for IDP Camps?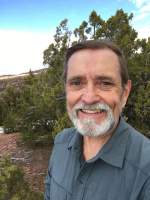 27 Jul 2022 20:21
#33751
by

Tore
Using a wetland design to clean sewage is outstanding.  It allows plants to gradually clean while water is slowly flowing through the wetland and at the end it is clean and can flow into the natural salt or fresh water.  I don't know why more developing countries don't use it.  Once the grading and berms are built there is very little maintenance required.
Sanitation & water consultant in developing countries
You need to login to reply
Re: Treebogs: A Sanitation System for IDP Camps ?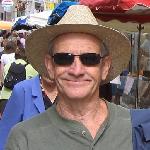 28 Jul 2022 01:27
#33752
by

bowenarrow
I still  have a problem with the urine not being separated from the solids. I agree that by mixing we elevate the pathogen travel to any ground waters. 
Cheers    Ross
You need to login to reply
Re: Treebogs: A Sanitation System for IDP Camps ?
29 Jul 2022 16:47
#33757
by

Jay3
Hello Ross,

Some people do build Treebogs with urine separation.

However, because the pee drains off the pile, by gravity flow, it is separated from the solids - which stay in a pile and compost into soil.

I have used a Treebog for almost around 35 years, and have observed this 'separation' first hand!

Cheers,

Jay
You need to login to reply
Re: Treebogs: A Sanitation System for IDP Camps ?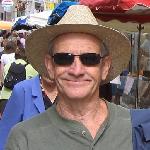 30 Jul 2022 01:26
#33758
by

bowenarrow
Morning Jay. I can see where there would be separation on contact with the pile however I still cannot see how some absorption from the pile would not occur. Once mixed the affected urine would then continue in a contaminated state (presuming there are
 pathogens present) to  a waterway.
Regards     Ross
You need to login to reply
Re: Treebogs: A Sanitation System for IDP Camps ?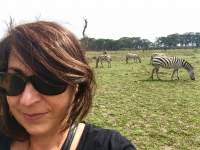 01 Aug 2022 18:00
#33764
by

AKSantaCruz
Hi everyone,
Very interesting discussion. I am currently implementing Container-based Sanitation at scale in Uganda and Kenya. I do not believe the Treebog approach is scaleable in most high-need contexts we get invited to work in — informal settlements, urban areas with non-sewered sanitation, schools, refugee settlements, and rural towns. 
First of all, I don't think we should call these chambers
compost chambers
.
According to the United States Composting Council (presented in full quotes here):
The official definition is:
Compost – is the product manufactured through the controlled aerobic, biological decomposition of biodegradable materials. The product has undergone mesophilic and thermophilic temperatures, which significantly reduces the viability of pathogens and weed seeds, and stabilizes the carbon such that it is beneficial to plant growth. Compost is typically used as a soil amendment, but may also contribute plant nutrients.
The prior definition was: The biological decomposition of organic matter. It is accomplished by mixing and piling in such a way to promote aerobic and/or anaerobic decay. The process inhibits pathogens, viable weed seeds, and odors. (Official 1997)
"The USCC has been working on quality compost for 25 years, and we don't want to have the compost industry's product being confused with other products after all the work we've invested in best practices and quality product standards," said Alexander, who spearheaded the AAPFCO workgroup that has worked for two years on the new definition.
The new definition also helps the makers of other products, from biochar to mulch to dehydrators and anaerobic digestate, to more clearly describe their products, as well.
---
GiveLove utilizes a CBS approach without urine separation based on a modified Humanure Composting approach developed by Joe Jenkins. We are implementing at scale and composting on slabs (using decomposed granite and gravel) in Kampala, and other prepped ground surfaces using a biological sponge inside brick bins. Our systems do not produce leachate and we document the high temperatures and compost phases, including sufficient curing time. Site design and preparation take a lot of time and we work with environmental engineers to construct our sites properly. 
Heavy rain fall is a very real problem in many contexts. In Haiti, I worked with Habitat for Humanity to remove the Otji Toilet system when the poop slurry never decomposed or dehydrated. Over 300 households were burdened with a failed system. Before we recommend systems for refugee settlements we should take into account how these systems work at scale. In terms of behavior change and self-management, we also need to look at lifecycle costs and environmental impact (as people point out here).
In most of the refugee settlements I've worked in (and visit), there is simply a very high density of people. Thus, the Treebog system is not technically scaleable in most high-density environments. 
I also think we need to critically take into account the use of the term "composted or "compost" in the description of this process. The process does not meet the definition of composting by any EPA, WHO, or any other professional standards. Composting requires a correct c:n ratio, containment, aeration, and adequate heat treatment and curing phases. 
There might be some level of  pathogen reduction via microorganisms in the Treebog system,  but arguably not sufficient to reduce pathogens to safe levels in a refugee settlement, where disease spread is a concern, in addition to nitrate run-off into the groundwater or surrounding water resources. Cholera, Ebola, and parasites are serious risk factors in many parts of Uganda where hundreds of people are living in temporary and permanent refugee settlements. 
Alisa Keesey
[/size]
Program Director, GiveLove.org — EcoSan Training Program
You need to login to reply
Other non-household settings (e.g. hospitals, health centres, prisons, train stations, offices, work places)
Time to create page: 0.295 seconds
DONATE HERE