Solar treatment of feces? - to treat feces with solar energy in order to kill the pathogens in the feces quickly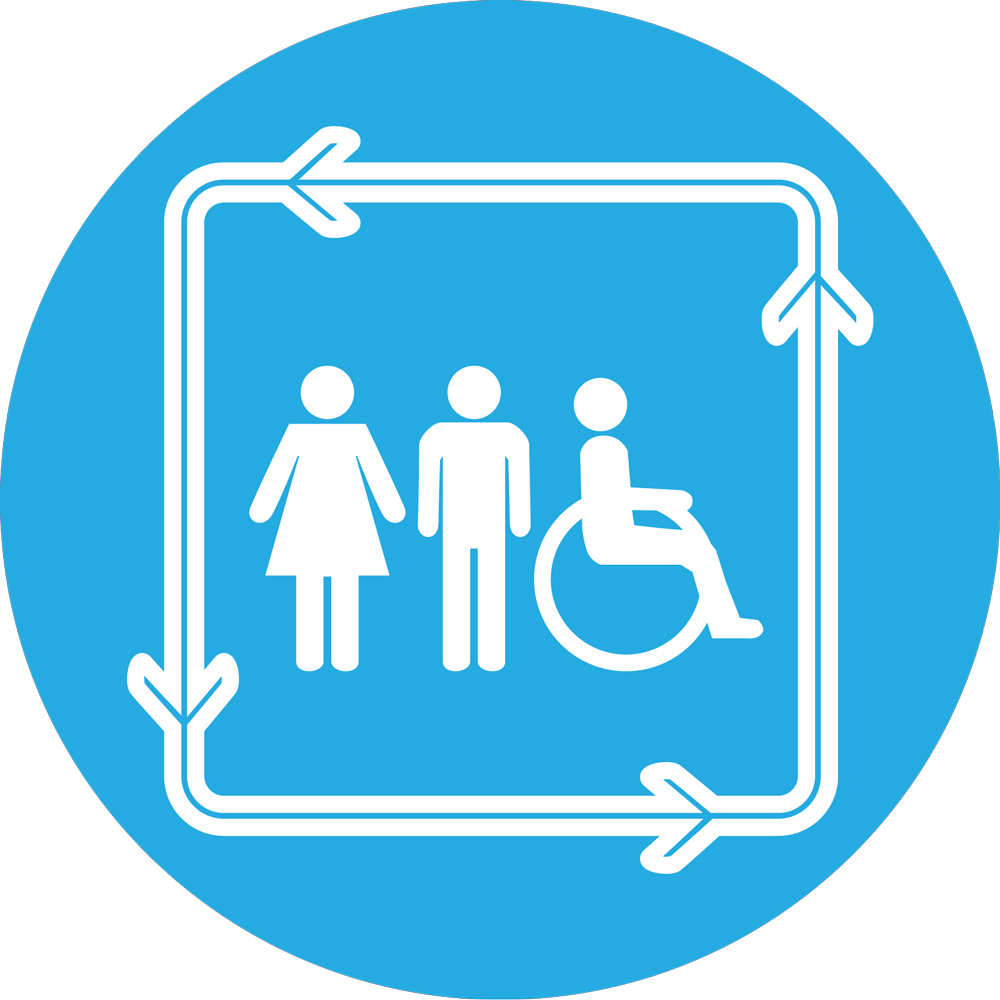 Re: Solar treatment of feces?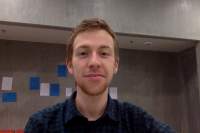 27 Jan 2018 13:49
#23853
by

Kevinkuhn
Hi Harry,

interesting idea. Thanks for the input.

So what I see is that, the pad is quite small. So I guess the feces chamber has to be designed smaller as well. Do you have any idea about the ratio from the pad to the volume it can heat up? I would also like to know what the lifetime of such a pad might be? I would like to set it and forget for min 10-20 years.

Best
Kevin
You need to login to reply
Re: Solar treatment of feces?
27 Jan 2018 15:11
#23854
by

RaVikas
Dear SuSanA members,
Greetings,
My solar therm worm toilet, is functional for more than 18 months till date here in India
Installed for general public this toilet averages between 30~40 users daily along with 45-50 urinal users.
It generates between 65-90 degree C from regular temperatures ranging between 25-42 degrees C to sterilize pathogens
UDDT is customized to anal washing for India.
Working with negligible maintenance has no moving parts,needs no electricity, no water to flush, no odor, no flies or vectors and has extended holding capacity.
Thank you
Ravi Senji
09789984730
The following user(s) like this post:
HarryTams
You need to login to reply
Re: Solar treatment of feces?
28 Jan 2018 07:13
#23864
by

Ashok
Dear Ravi Senji,
I would like details of your solar therm worm system.
My email address is
This email address is being protected from spambots. You need JavaScript enabled to view it.
.
Ashok Jain
You need to login to reply
Re: Solar treatment of feces?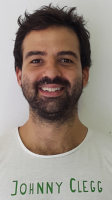 30 Jan 2018 12:19
#23904
by

SeptienS
Hello again,
The design of Harry is interesting, but I am not sure if it would feasible for a large volume of feces. It will be necessary to perform a heat balance to determine the amount of heat required to maintain the faces at the desired temperature for its disinfection. With this information, it will be possible to determine the electrical power required for heating and thus the area of solar panels. Once this study will be performed, we will know if this possibility is feasible with the available resources.
I have an alternative suggestion. We can use a water solar heater and make circulate the hot water inside the chamber containing the faeces. We can expect that this system would have a higher efficiency than the photo-voltaic one. Indeed, a solar water heater has an efficiency to convert the solar energy into heat between 50 to 70%, whereas a solar panel exhibits an efficiency to convert the solar energy into electricity about 20% . Moreover, in the photo-voltaic system, the electricity has to be converted into heat, which represents one more step in the conversion of solar energy into heat, so an extra stage of loss of efficiency. Nevertheless, a full technical-economical study should be performed in order to determine if the gain of efficiency in the thermal system is worthy by considering the capital and running costs of both systems.
Another alternative is to add a transparent window in the chamber in order to allow solar radiation penetration, as suggested by Tore. the orientation of the window should be south in the north hemisphere, or north in the south hemisphere. You could also include mirrors and reflectors aside to increase the amount of heat received in the faeces storage chamber.
To maximize the performance of pasteurization, you could combine the transparent window design and heating by water heater or photo-voltaic cells.
I hope that my answer was helpful. I am available for further discussions!
Kindly,
Santiago
++++++++
Note by moderator (EvM): there was a further reply to Kevin by Jochen. This reply was:
Dear Kevin,
I just read your post regarding the possibility of killing pathogens in faeces generated in a UDDT. In that context I would like to draw your attention to Sani Solar, designed as a dry sanitation system for rural areas with hot climate (
3psanitation.de/the-product-sani-solar/?lang=en
).
Sani Solar consist of a functional unit based on solar radiation and convectional air- flow, which can be combined with any kind of cabin structure.
It would be good to know more details about your project in order to evaluate the feasibility of using this technology.
Best regards,
Jochen Scheerer
Jochen's reply and the discussion following on from that are now in a separate thread, see here:
forum.susana.org/suppliers-of-pans-seats...eas-with-hot-climate
---
Dr. Santiago Septien Stringel
*

This email address is being protected from spambots. You need JavaScript enabled to view it.


*

This email address is being protected from spambots. You need JavaScript enabled to view it.


+27312601122
The following user(s) like this post:
canaday
You need to login to reply
Re: Solar treatment of feces?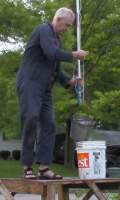 07 Feb 2018 23:14
#23991
by

dandreatta
And another idea that has been tried was this. At a nearby farm I took 2 20-liter buckets with a mixture of cow manure and water (about what I thought would be the consistency of pit latrine waste with urine and feces) and tried to pasteurize it inside a "solar tent". The top of the tent was clear plastic, the bottom black plastic with a few cm of straw for insulation. There was a frame inside to keep the buckets up off the bottom of the tent. The idea is the black plastic gets really hot (80 degrees C) quickly, and transfers heat to the buckets by both convection and radiation. The tops of the buckets were opaque plastic lids.
Here at 40 degrees north latitude near the summer solstice it worked marginally when the buckets were full. Later in the summer it worked better with the buckets 80% full. It probably would have worked quite well near the equator, or if the buckets were 60% full, but I ran out of summer before I had a chance to try it. I used temperature loggers near the bottom center and top center of the buckets, estimating where the temperature would be the coolest. I did no biological tests.
The smells were contained in the buckets, and what escaped the buckets was contained in the tent. Cow manure isn't all that stinky, so that's not as tough a test as human manure.
If anyone wants more details, I can provide those. I'll probably be doing similar tests this summer.
Dale Andreatta, Ph.D.
This email address is being protected from spambots. You need JavaScript enabled to view it.
---
Dale Andreatta, Ph.D., P.E.
Mechanical Engineer
You need to login to reply
Re: Solar treatment of feces?
16 Feb 2018 18:33
#24114
by

Tore
The chart relates to the temperature of the feces. What is the temperature of the feces as related to the air temperatures. That is a good question. I wish some university would do research on the topic of what it takes to kill pathogens. Time at lower temperatures work but at what temperature and for how long. At lower temperatures does the temperatures need to be continuous or just peak each day at the temperature? Another study seemed to show that varying the temperature, as would happen from day to night, causes the pathogens to stress and die quicker but there are no studies that I can find that support that. More work needs to be done to provide definitive conclusions on the relationship of time and temperature. From what I have read it seems that if the air temperatures are in the range of the chart then the pathogens are destroyed in the 6 month range.
Urine on the other hand is usually sterile. If it does contain any pathogens it is small and letting the urine sit for a week will kill the pathogens from the uric acid.
You need to login to reply
Re: Solar treatment of feces?
23 Feb 2018 16:28
#24169
by

Tore
Great information. Ascaris should die with a temperature of 65 degrees c. If you were able to reach 75 degrees at the bottom of the container then every biological pathogen should be dead. In the Namibian sun I would expect that the FS should dry very quickly which will help the pathogen dieoff and the temperature at the bottom of the container should be higher. I wish some university would take this on as a project. Find out at what temperatures and for how long is required for pathogen die off. As well, if temperatures are raised and lowered ie day and night temperatures, does it stress the pathogens and cause quicker die offs.
You need to login to reply
Re: Solar treatment of feces?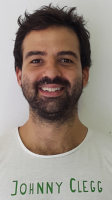 23 Feb 2018 17:01
#24171
by

SeptienS
Hi Tore!

Actually we are conducting research about the deactivation of Ascaris eggs with temperature at the Pollution Research Group, University of KwaZulu-Natal, Durban, South Africa. We expect to present our results in a paper from a peer-review journal at the end of 2018 or beginning of 2019, and also during FSM5 conference.

Please contact me if you need some data before the publication of the results.

Kindly,
Santiago
---
Dr. Santiago Septien Stringel
*

This email address is being protected from spambots. You need JavaScript enabled to view it.


*

This email address is being protected from spambots. You need JavaScript enabled to view it.


+27312601122
You need to login to reply
Re: Solar treatment of feces?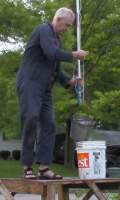 24 Feb 2018 19:48
#24176
by

dandreatta
And just a side note, most of the data for pathogen die off gives time temperature values with a constant temperature. It is possible to take this data and turn it into a mathematical model with varying temperature, perhaps on some daily pattern, warm in the day and not so warm at night. The mathematics are a bit involved so I won't get into them here, but contact me for more information.
A related question is, to what extent is the whole container uniform temperature? And also, where are the cool spots? If the container is more than about 10 cm from the middle (presumably the coolest) to the outer edge (usually the warmest) then it should probably not be considered to be uniform temperature. Again, this can be analyzed reasonable well with calculations, but they are a bit involved, so contact me for more information.
Dale Andreatta, mechanical engineer
This email address is being protected from spambots. You need JavaScript enabled to view it.
---
Dale Andreatta, Ph.D., P.E.
Mechanical Engineer
You need to login to reply
Re: Solar treatment of feces?
24 Feb 2018 22:24
#24177
by

Tore
Please let me know when it is available. Suggestion is also to look at temperature fluctuations and if it stresses the Ascaris and causes quicker die off. ie When temperatures get hot during the day and cool off at night, does that help in the elimination of the Ascaris. Another is to be able to define how long it needs to be exposed to certain temperatures for die-off. Look at the parameters of a UDDT and see what would give pathogen free fertilizer.
The following user(s) like this post:
lamore
You need to login to reply
Re: Solar treatment of feces?

25 Feb 2018 21:28
#24193
by

hajo
Hi Tore,
Please take note that in my posting
#24121
I mentioned that the temperature in the FS never surpassed 45
0
C although we had 75, 90 and 120
0
C in the oven and in the container respectively and that I assume that the dried FS works like an 'insulation' for the wet FS inside. I further assumed that the LaDePa in Durban therefore produces pellets reducing volume and increasing surface for the drying process. The FS in the drum in the oven in the Namibian sun was still not dried after one (1) week in the sun.
@Edwin: references to the graph/chart mentioned by Tore you find in the link quoted by me in the posting
#24121
mentioned above. The chart depicts die-off of ascaris at different temperatures and associated exposure times.
ciao
Hajo
---
We can't solve problems by using the same kind of thinking we used when we created them.
Albert Einstein
Any intelligent fool can make things bigger and more complex... It takes a touch of a genius - and a lot of courage to move in the opposite direction.
E.F. Schumacher
Everything should be made as simple as possible, but not simpler.


Albert Einstein
You need to login to reply
Re: Solar treatment of feces?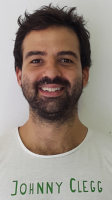 27 Feb 2018 14:02
#24205
by

SeptienS
One of the objectives of the investigation of the Ascaris deactivation with temperature is to develop a predictive kinetic model. As mentioned before, I expect to publish this work at the end of this year or beginning of the next one.

Santiago
---
Dr. Santiago Septien Stringel
*

This email address is being protected from spambots. You need JavaScript enabled to view it.


*

This email address is being protected from spambots. You need JavaScript enabled to view it.


+27312601122
You need to login to reply
Time to create page: 0.834 seconds